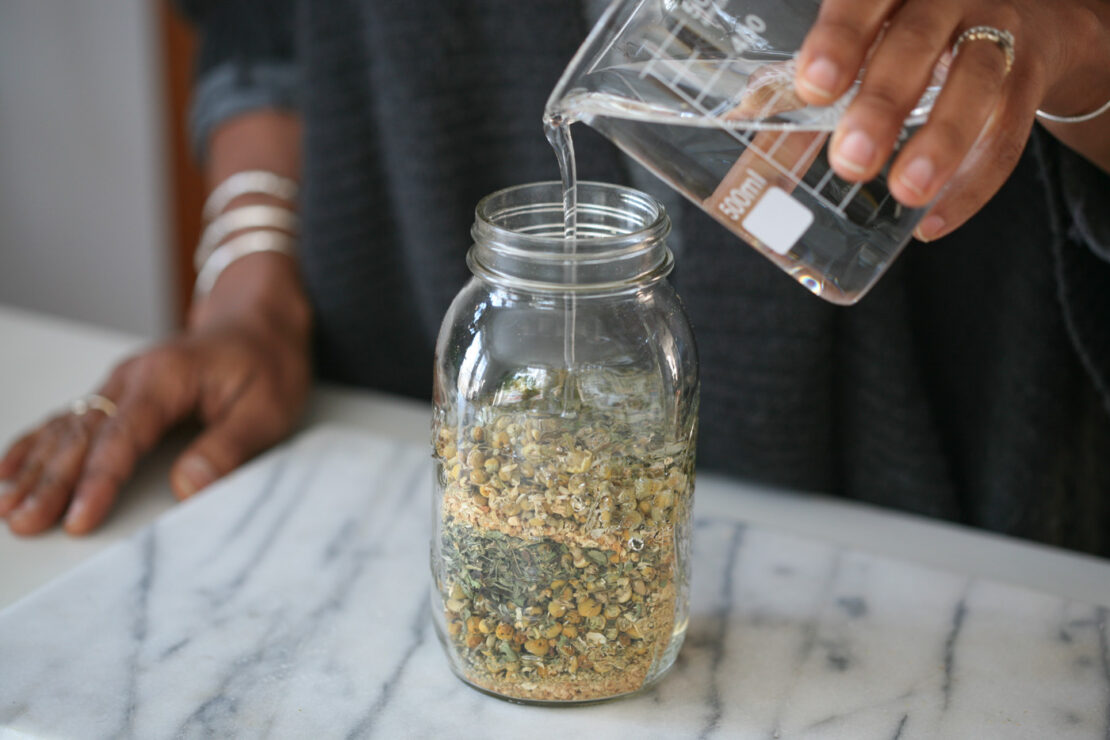 Vegan Herbalism: How to Find Alternatives to Honey, Beeswax, and More
From infusions to tinctures, salves, syrups, electuaries, fire ciders, and more, there's no shortage of accessible herbal preparations to integrate into daily life. For those who adhere to a vegan lifestyle, the practice of vegan herbalism means understanding the options for animal-free ingredients to use in common herbal preparations. 
A vegan lifestyle is one that may exclude all animal products, including those from bees, such as honey and beeswax, byproducts like gelatin, and ingredients that involve animal-based processing. 
For those wondering if Herbal Academy's online courses are designed with vegans in mind, fear not—they are indeed! Herbal Academy's recipe-rich programs support vegan lifestyles, with ample recommended substitutions, vegan as-is recipes, and guidance on plant-based alternatives infused throughout course material. 
Understanding vegan herbalism isn't just for those with animal-free lifestyles. If you are ever missing or running short on one common ingredient, this knowledge can also support you in navigating appropriate substitutes without sacrificing the quality of your herbal creations.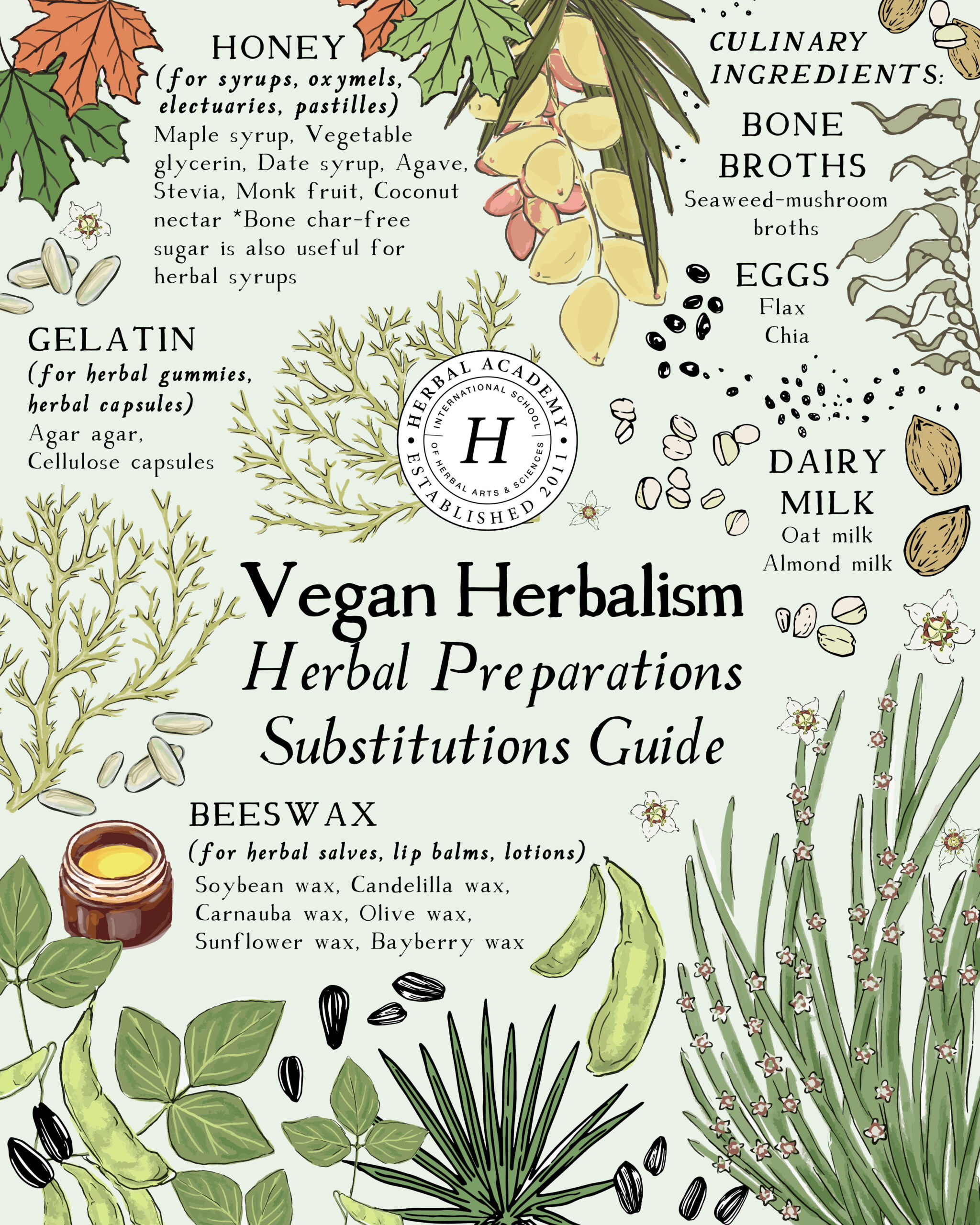 Honey Alternatives
Honey is a prevalent ingredient in many herbal preparations, including syrups, oxymels, electuaries, and pastilles. While some herbalists opt for honey for its preservative actions and health benefits, those practicing vegan herbalism need not worry—there are many suitable swaps to choose from!
Maple Syrup
Maple syrup is a readily available alternative that can stand in as a honey substitute at a ratio of 1:1 (Visser, 2018a). Not only is it a pleasant, flavor-boosting ingredient, maple syrup also has its own benefits to add to herbal recipes: it is antioxidant-rich and has been shown to exhibit anti-inflammatory, anti-neurodegenerative, and antibiotic properties (Yamamoto et al., 2017). When possible, opt for darker maple syrups over light, as dark maple syrups have greater overall positive effects on health; research points to dark maple syrup's specific capacity for inhibiting gastrointestinal cancer cell growth (Yamamoto et al., 2017).  
Maple syrup is a great stand-in for honey in herbal preparations like oxymels and electuaries. Note that preparations made with maple syrup will have a shorter shelf life than honey (as it has a higher water content) and will need to be stored in the fridge. 
Try this Herbal Fever Ease Syrup that offers a maple syrup substitution!


Vegetable Glycerin
Versatile by nature, vegetable glycerin is a key ingredient in vegan herbalism and is an appropriate honey alternative for both internal and external herbal preparations. Though not an actual sugar, vegetable-derived glycerin is ideal for herbal syrup recipes as it is demulcent, sweet-tasting, and doesn't cause blood sugar level spikes (Eccles & Mallefet, 2017; Thornit et al., 2009). Vegetable glycerin's humectant properties also make it a fitting substitute in skin care recipes that call for honey, as it helps moisturize the skin while improving skin barrier function (Fluhr et al., 2008). 
Vegetable glycerin is shelf stable, and preparations that contain at least 55% glycerine can last up to one year (Visser, 2018b). With both animal-derived and vegetable-derived glycerin being sold on the market, be sure to double check that your glycerin is indeed plant-based before using. Additionally, be sure to choose a food-grade glycerin versus a cosmetic-grade glycerin. 
Date Syrup 
Date fruit is a low glycemic index food with ample potential as a useful ingredient for vegan herbalists. Date syrup has been shown to have antimicrobial, antioxidant, and nephroprotective activity, is rich in minerals, and has a lower calorie count than many other natural sweeteners (Rahmani et al., 2014; Al-Belushi et al., 2021). 
Though used since antiquity in the Middle East, date syrup is only now becoming more available and popular around the world. Its caramel-like flavor makes for a tasty take on elderberry syrup, and its thickness lends well to pastille (rolled pills) recipes. Date syrup (whether purchased or homemade) typically has a high water content, so it's best to store preparations made with date syrup in the refrigerator.
More Honey Substitutes
Other vegan-friendly ingredients like agave, stevia, monk fruit, erythritol, and coconut nectar can also take the place of honey, depending on the herbal preparation. Not all ingredients will offer the same health benefits or preservative qualities, so it's important to be mindful of your selections. If you plan to consume large quantities, it's also worth considering the fructose content of each substitute, as high fructose consumption may cause insulin resistance and can be harmful on the liver (Mai & Yan, 2019). Each of these sweeteners come with their own set of pros and cons, so each individual should carefully research these alternative options before deciding which ones to use.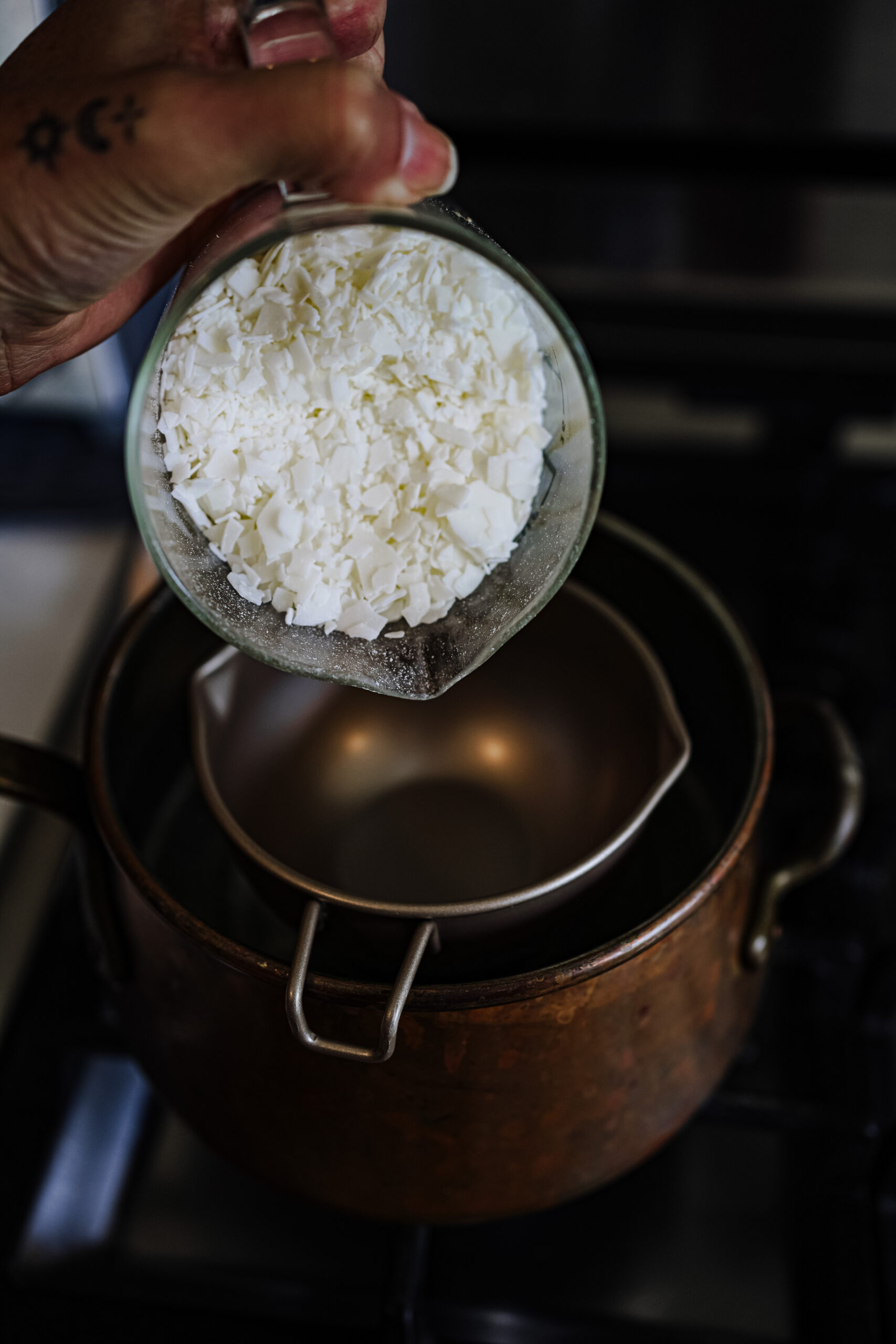 Beeswax Alternatives
When it comes to crafting botanical preparations for external use, many recipes rely on beeswax to create a structured, spreadable ointment or salve texture. Though beeswax is such a frequently occurring ingredient in topical herbal preparations, the primary active ingredients in these recipes are in the infused herbal oils, so the added wax is more a matter of preference, availability, and ease of use. Thankfully, there are several alternate choices to replace beeswax in salves, lip balms, lotions, and other skin care recipes. 
Candelilla Wax
Candelilla wax is a natural plant wax obtained from the leaves of Euphorbia antisyphilitica or Euphorbia cerifera, small shrubs native to Mexico and the southwestern United States ("1 Final Report", 1984). Though a popular alternative for vegans, candelilla wax poses potential ethical and sustainable harvesting concerns as the plants of origin are endangered, and most harvesting happens under intense working conditions. If you opt for this wax, be sure to shop from brands that are transparent in their sourcing practices.
Candelilla wax is harder than beeswax so isn't a 1:1 substitute for beeswax. You'll want to reduce the amount of wax in the recipe by about half if you plan to use this alternative.
Carnauba Wax
Carnauba wax is derived from the fronds of the Brazilian palm tree, Copernicia cerifera. It has the highest melting point of all commercial vegetable waxes, making it the hardest plant-based wax available ("1 Final Report", 1984). Like beeswax, carnauba wax's structuring potential helps stabilize emulsions, but it's best to combine it with other plant-based butters (such as shea and mango) to give skin care recipes a softer texture. 
In 2018, the Initiative For Responsible Carnauba Wax (IRC) was formed to improve the social and environmental conditions around carnauba wax production—purchasing from an IRC-approved supplier is one way to ensure you are choosing the most sustainable option. 
Just like candelilla wax, using far less of this wax than the amount of beeswax called for in herbal recipes is the key to softer, more spreadable salves.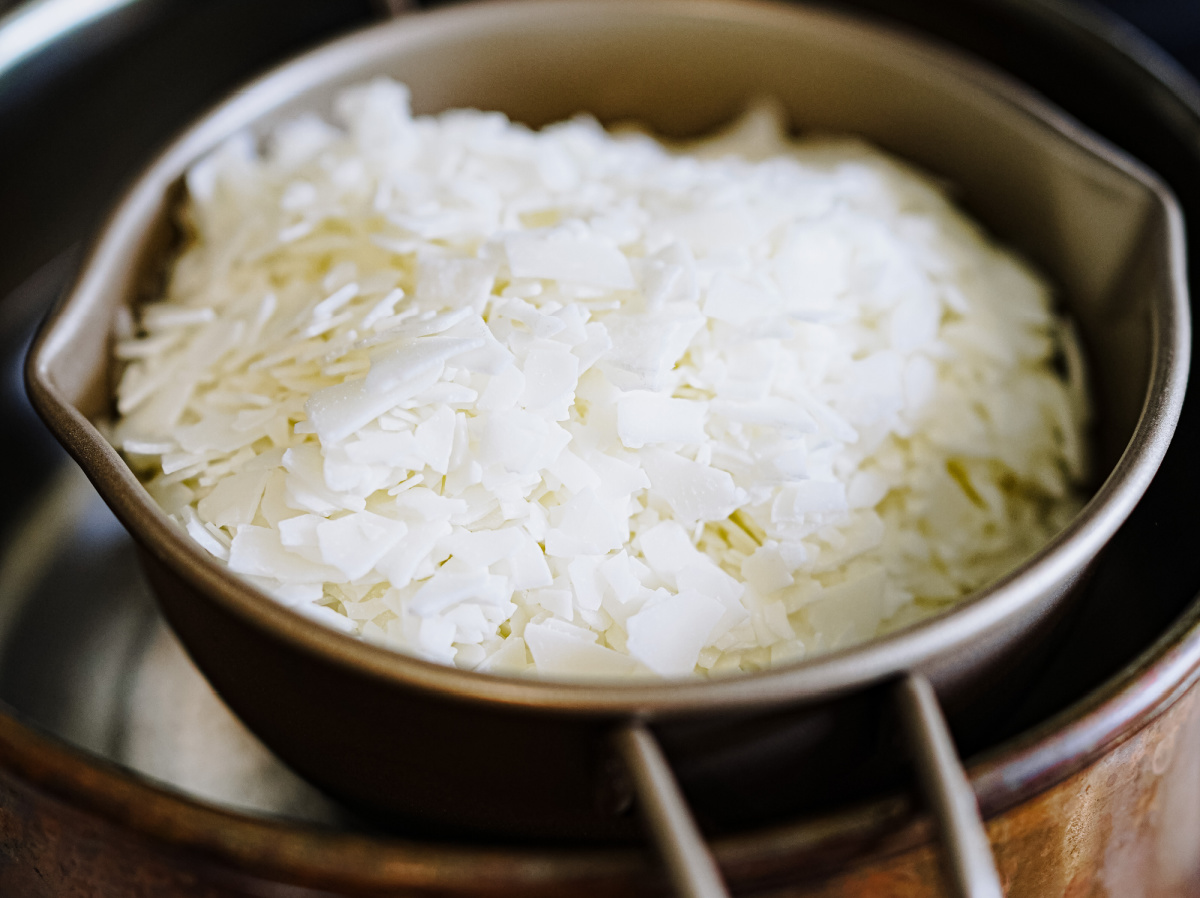 Soy Wax 
Although soy wax is most often used as a beeswax alternative for candles, this soybean (Glycine max) oil-derived ingredient is an ideal plant-based substitute to use in many external herbal preparations. This vegan-friendly wax is widely available due to the popularity of soy products, but with greater soy demand has come increasing sustainability issues. Shop soy wax products with Certified B-Corporation and Fair Trade Certified labels when possible to ensure ethical, environmentally friendly sourcing. 
Soy wax is often sold for candles and crafts, so it's essential to choose a cosmetic grade, preferably organic option to avoid pesticides typically found in conventionally grown soy products.
As soy wax is softer than candelilla and carnauba wax, it can easily be used as a 1:1 replacement for beeswax in a variety of herbalist-favorite recipes, but it's worth playing with slightly different ratios to achieve the desired texture depending on the exact preparation. 
Use soy wax in place of beeswax in this giftable Herbal Chapstick recipe.
More Beeswax Swaps
Although the above options are among the most tested alternatives in vegan herbalism, other ingredients like olive wax, sunflower wax, and bayberry wax may also be worth exploring. These alternatives vary in price, sustainability, and ability to directly replace beeswax, so it's important to thoroughly research the benefits and drawbacks of each one depending on your specific needs.
Gelatin Alternatives
Gelatin is used as a thickening agent primarily in herbal gummy recipes, and gelatin-based capsules are commonplace in the herbal supply market. Vegan herbalists have one primary substitute available for each of these categories.
Agar Agar
Agar agar is a flavorless, seaweed-derived ingredient with gelatinous properties, making it a fitting alternative for gelatin in food recipes. Agar agar is the most direct vegan gelatin substitute for herbal gummies, and it makes a better option than other thickening agents like guar gum, cornstarch, and pectin. However, agar agar is not a 1:1 substitute for gelatin; experiment with using a half to a third of the amount of agar agar in place of gelatin.
Here's a simple, vegan Matcha-Lemon Balm Gummy recipe that uses agar agar.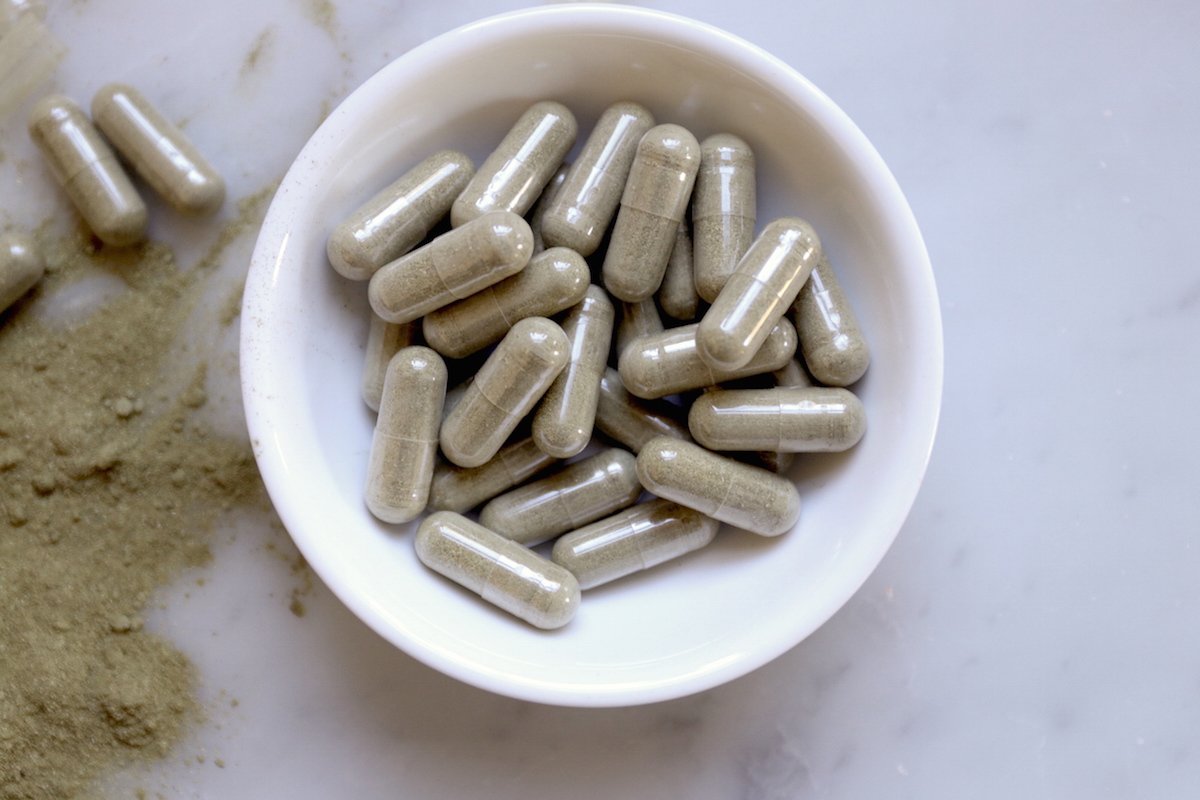 Vegetable Capsules
Whether you prefer to buy ready-made encapsulated herbs or like to create your own herbal formulas to encapsulate yourself, opting for vegetable capsules will keep things vegan friendly! Vegetable capsules are made of cellulose, a key structural component of plants. They dissolve more readily than gelatin capsules, leading to a quicker rate of nutrient absorption (Chiwele et al., 2000).
Though more expensive than gelatin capsules, vegetable capsules are just as available on the market, and some herbal brands default to vegetable capsules over gelatin to ensure formulas are accessible to all lifestyles.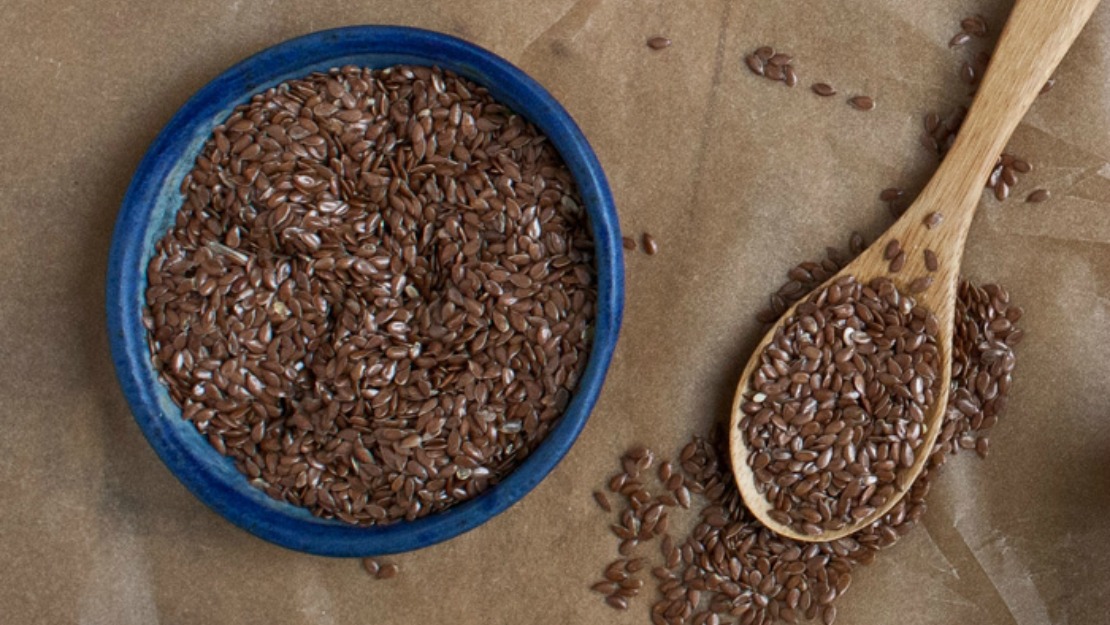 Other Alternatives to Consider 
Those practicing vegan herbalism may need to make other ingredient swaps in some herbal recipes, particularly when it comes to culinary herbal creations. For instance, flax and chia seed can take the place of eggs, plant-based milks like oat and almond can sub in for dairy milk, and seaweed-mushroom broths can be made instead of bone broths. Bone char-free sugar is also useful to have on hand for simple botanical syrups. Finally, vegans will need to pay special attention to the ingredients listed in purchased herbal preparations to ensure they don't contain honey, bee pollen, gelatin, butter, or other animal-derived products.
Here are some favorite vegan herbal resources by category:
Vegan Guides for Herbalists
How To Stock A Vegan Pantry
Spice Guide For Vegan Cooking
How To Make Vegan Herbal Syrups 
Herbal Vegan Raw Recipes
3 Simple No-Bake Vegan Cake Recipes
Healthy Chocolate Pudding for Valentine's Day  
Vegan Snack Recipes Using Herbs
Adaptogen Cherry Bites
Homemade Crackers With Scallions and Black Mustard Seeds
3 Herbal Popcorn Seasoning Blends 
Herbal Vegan Breakfast Recipes
Vegan Golden Cinnamon Turmeric Latte
Botanical Vegan Pancakes
Zucchini Summer Squash Chocolate Chip Muffins
Herbal Vegan Savory Recipes
Vegan Herb And Veggie Stew
Mushroom Immunity Broth with Astragalus and Calendula
Botanical Vegan Tamales
Warming Turmeric Cauliflower Soup
Chamomile Canna Bedtime Biscuits
Herbal Vegan Dessert Recipes
2 Herbal Desserts Featuring Pumpkin: Brownies & Pie
Raspberry Rose Shatavari Chocolate Delights
Moon-Inspired Cookies
Pear Crisp with Blackberry-Sage Sauce
Healthy Homemade Caramel Apples 
In Closing,
While many herbal preparations tend to default to animal-based ingredients and may require modifications to suit a vegan lifestyle, there are many worthwhile alternatives available to try. Whether you adhere to an animal product-free lifestyle yourself or are simply interested in trying alternative ingredients for common herbal preparations, having knowledge of vegan herbalism can be beneficial for all. 
Ready to put your newfound vegan herbal learning to work? Start today! Herbal Academy's expansive course catalog offers something for every interest, be it luscious botanical skin care, safe and sustainable foraging, fascinating mycology, easy fermentation, effective formulation, and more! Most recipes found in courses highlight substitutions for animal-sourced ingredients, and courses like the Botanical Skin Care Course and Emulsifiers and Preservatives in Botanical Skin Care Course feature guidance on working with plant-based alternatives. As you experiment within the practice of vegan herbalism, remember to share your results with the MyHerbalStudies student community (available with select course enrollment) to help fellow learners through your experiences!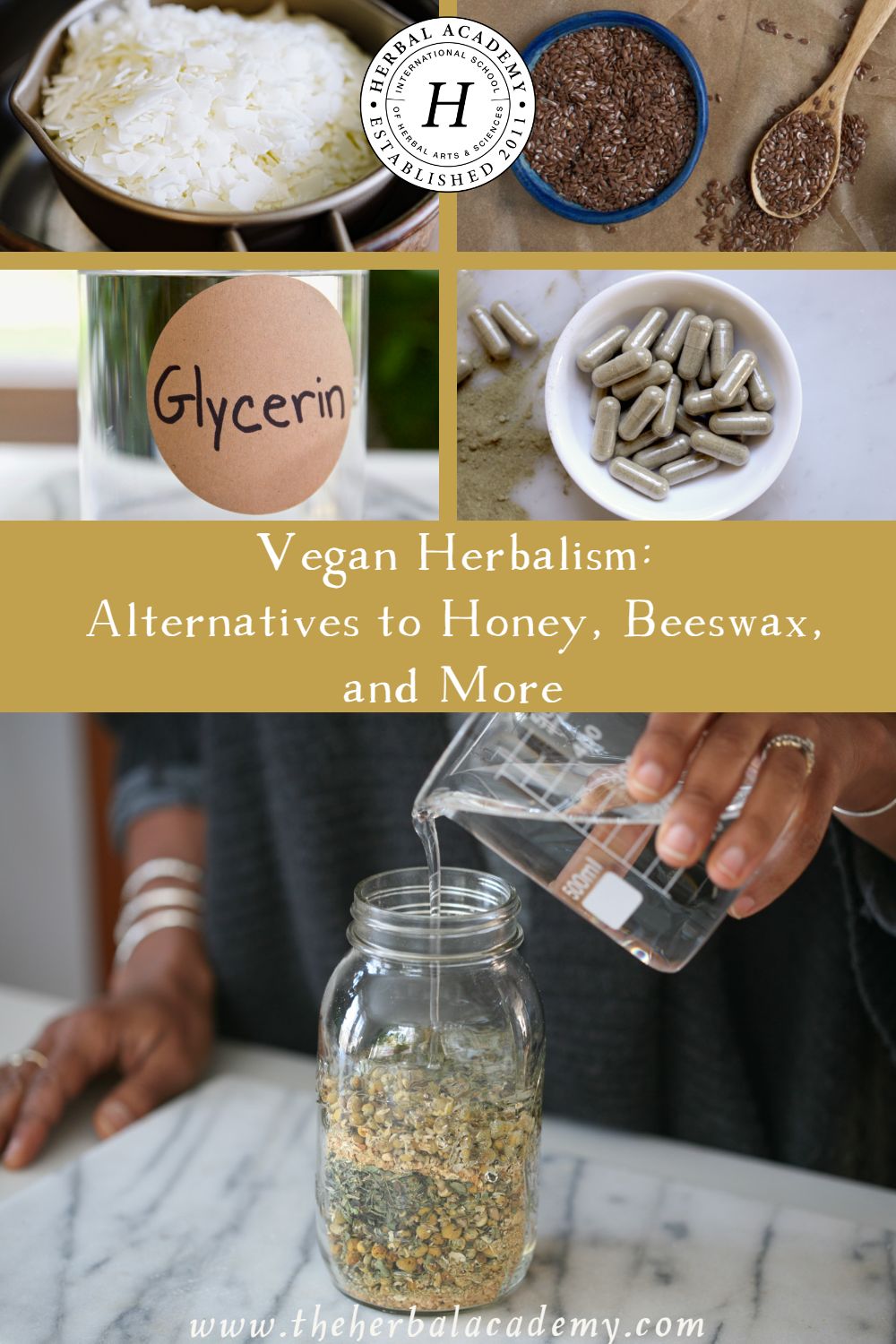 REFERENCES
1 final report on the safety assessment of candelilla wax, carnauba wax, Japan wax, and beeswax. (1984). Journal of the American College of Toxicology. 3(3), 1-41. https://doi.org/10.3109/10915818409010515 
Al-Belushi, M., Butt, I., Ali, A., Bhuian, S. (2021). A hidden gem in the world of natural syrup market: Consumer's preferences of date syrup in an emerging market. International Journal of Nutrition, Pharmacology, Neurological Diseases, 11(2), 108-117. https://journals.lww.com/ijnp/Fulltext/2021/11020/A_Hidden_Gem_in_the_World_of_Natural_Syrup_Market_.3.aspx 
Chiwele, I., Jones, B. E., & Podczeck, F. (2000). The shell dissolution of various empty hard capsules. Chemical & pharmaceutical bulletin, 48(7), 951–956. https://doi.org/10.1248/cpb.48.951 
Eccles, R., & Mallefet, P. (2017). Soothing properties of glycerol in cough syrups for acute cough due to common cold. Pharmacy, 5(1), 4. https://doi.org/10.3390/pharmacy5010004
Fluhr, J.W., Darlenski, R., & Surber, C. (2008). Glycerol and the skin: Holistic approach to its origin and functions. The British Journal of Dermatology, 159(1), 23–34. https://doi.org/10.1111/j.1365-2133.2008.08643.x 
Mai, B. H., & Yan, L. J. (2019). The negative and detrimental effects of high fructose on the liver, with special reference to metabolic disorders. Diabetes, metabolic syndrome and obesity : targets and therapy, 12, 821–826. https://doi.org/10.2147/DMSO.S198968 
Rahmani, A.H., Aly, S.M., Ali, H., Babiker, A.Y., Srikar, S., & Khan, A.A. (2014). Therapeutic effects of date fruits (Phoenix dactylifera) in the prevention of diseases via modulation of anti-inflammatory, anti-oxidant and anti-tumour activity. International Journal of Clinical and Experimental Medicine, 7(3), 483–491. https://www.ncbi.nlm.nih.gov/pmc/articles/PMC3992385/ 
Thornit, D. N., Sander, B., la Cour, M., & Lund-Andersen, H. (2009). The effects of peroral glycerol on plasma osmolarity in diabetic patients and healthy individuals. Basic & clinical pharmacology & toxicology, 105(5), 289–293. https://doi.org/10.1111/j.1742-7843.2009.00462.x 
Visser, M. (2018). How to make vegan herbal syrups. Herbal Academy. https://theherbalacademy.com/vegan-herbal-syrups/  
Visser, M. (2018). What every herbalist should know about herbal preparation Shelf Life. Herbal Academy. https://theherbalacademy.com/herbal-preparation-shelf-life/ 
Yamamoto, T., Sato, K., Kubota, Y., Mitamura, K., & Taga, A. (2017). Effect of dark-colored maple syrup on cell proliferation of human gastrointestinal cancer cell. Biomedical reports, 7(1), 6–10. https://doi.org/10.3892/br.2017.910