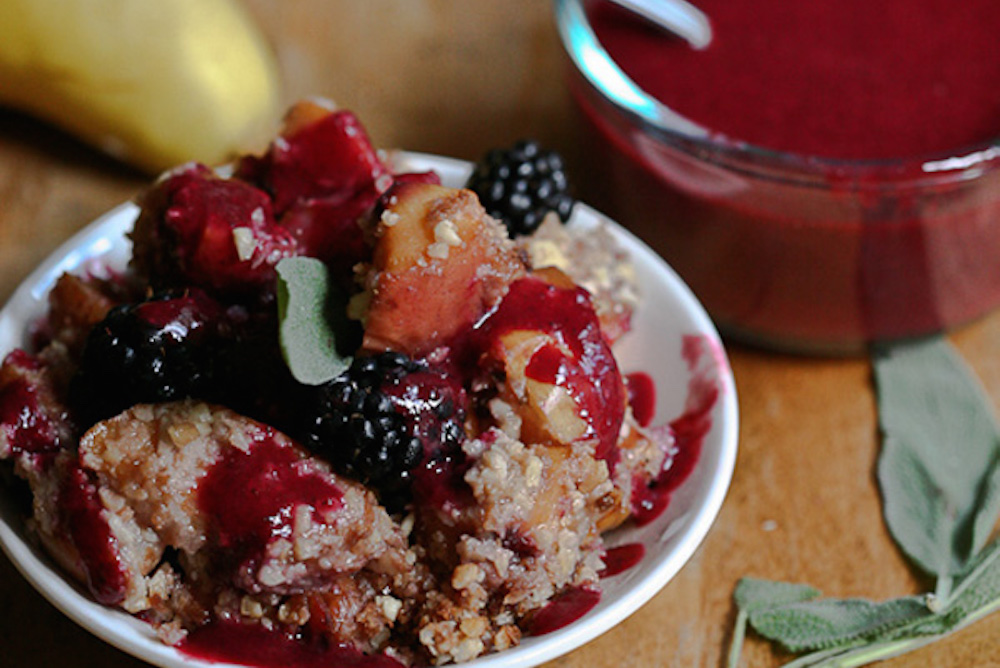 Pear Crisp with Blackberry-Sage Sauce
It's nearly fall here in New England and as the land starts to cool and settle after an active, busy summer, many of us are shifting ever so slightly away from light and airy summer foods like salads and raw veggies to warmer, cooked dishes like soups and fruit crisps. Every turn of the year brings opportunities to experiment with locally available foods and find unexpected ways to combine the season's herbs into everyday life. With those two principles in mind, I pondered some fresh sage and late-summer blackberries and wondered how to combine them into something delicious. It turns out that in the right proportions, the sweet-tartness of blackberry is a perfect match with sage's fragrant astringency and warmth.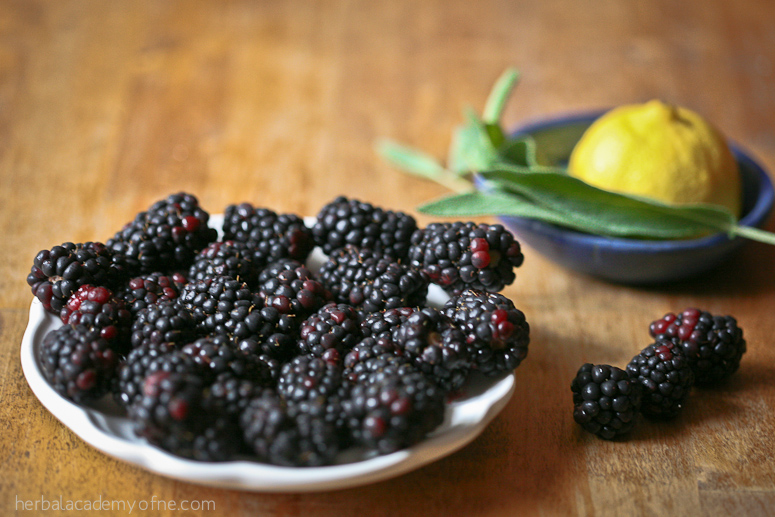 Blackberry-Sage Sauce
Makes one cup.
Ingredients
2 cups fresh, ripe blackberries
1 Tablespoon medium-sized fresh sage leaves, chopped
5-6 medium-sized fresh sage leaves
1/2 cup water
1 optional teaspoon date syrup (or maple, honey, agave, etc.)
1 teaspoon fresh lemon juice
Directions
Bring 1/2 cup water to a boil, remove from heat, add 1 TB fresh chopped sage and let steep for 15 or more minutes.
While the tea is steeping, prepare the other ingredients.
Place just 1/4 cup of sage tea along with the spent sage leaves and the berries, date syrup, lemon juice in a sauce pan over medium heat.
Simmer very gently for 5-10 minutes, watching the pot to ensure mixture doesn't burn or congeal.
Remove from heat and let cool slightly.
Pour mixture into a blender and add a few more sage leaves at intervals, testing and adding more as needed until desired taste is achieved.
Process until smooth. If you'd like a thinner sauce, add a little more water or leftover sage tea if available.
To remove seeds, the mixture can be strained and pressed through a mesh strainer.
Store in a covered container in the fridge, but for a more flavorful taste this sauce is best served room temperature or slightly warmed.
Note: For an easier version, you can try skipping tea, and just add 1/4 cup plain water and 7-10 fresh sage leaves in during the blending process.
After a quick search on the Internet, I found that the sage-blackberry combination is already an actual thing so I can't take credit for this particularly brilliant melding of flavors. When blended into a balanced, luscious sauce, the blackberries and sage dance together without upstaging each other, and combined with pear, well…have mercy! For a quick dessert, sage-blackberry sauce is divine simply drizzled over fresh, ripe pears.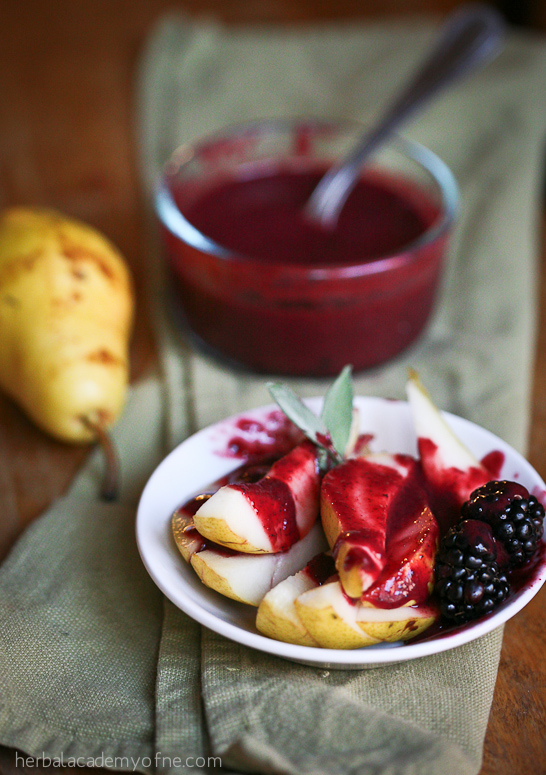 Or for a slightly more involved treat, throw the pears in the oven as a fruit crisp. I usually don't even use a recipe when making fruit crisps: just chop up some fruit, toss in something that will add a crunch, bake until done. And I really don't see a need to add sugar to perfectly ripe and already sweet fruit. The "crisp" can come from anything from oats to ground almonds or other nuts sprinkled over the top of the fruit. This version uses cashews, coconut, and date syrup for the grain-free crowd and adds just a light crunch to the delicious pear crisp.
Easy Pear Fruit Crisp
Ingredients
For the crisp:
1 cup almonds or cashews
1/2 cup shredded coconut
1 Tablespoon date syrup (optional)
Dash of salt
1/2 teaspoon vanilla extract
For the filling:
3 – 4 fresh, ripe (but not too ripe) pears
2 fresh, ripe peaches
Directions
Pre-heat oven to 325 degrees F and oil a standard-sized pie dish.
Place crust ingredients into a food processor and pulse until crumbled, but do not allow to get too soft.
Chop fruit leaving the skins on, and place into pie dish. Toss with a splash of date syrup or other sweetener if desired.
Sprinkle the crumble over the fruit.
Place pie dish on middle rack and bake for 25-30 minutes. If the fruit needs more time but the crumble is becoming singed, cover with tin foil and bake for another 5-10 minutes.
Serve warm with a drizzle of sage-blackberry sauce. Enjoy!