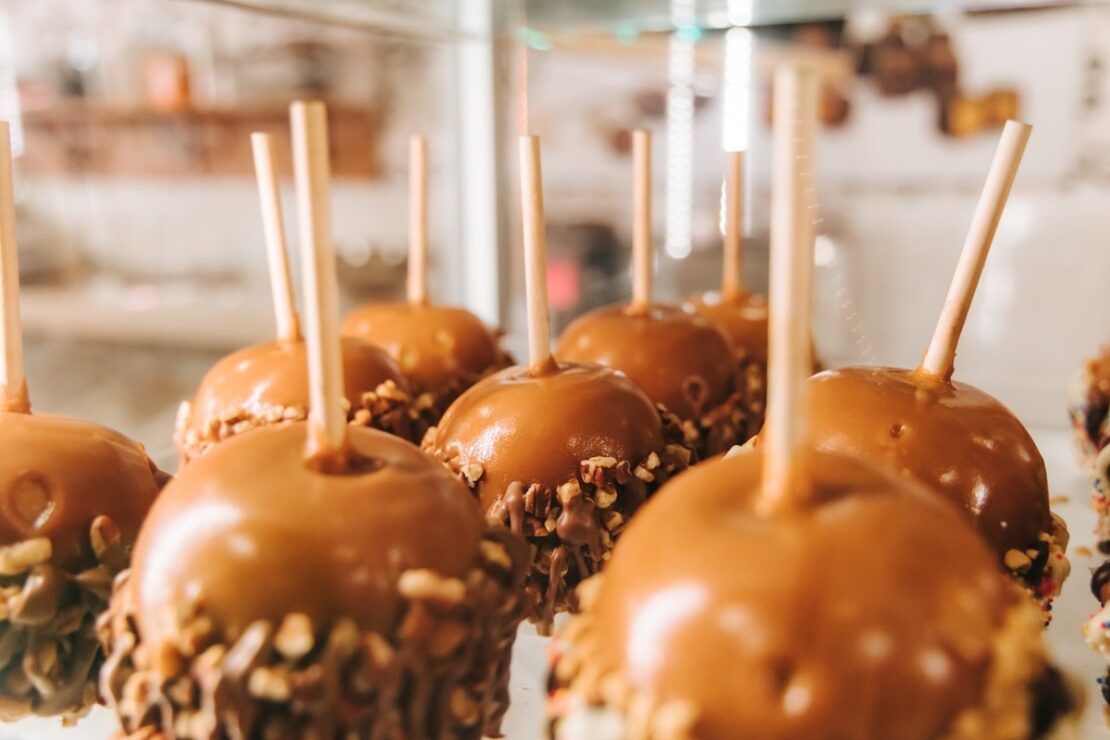 Healthy Homemade Caramel Apples
Homemade caramel apples are a firm fall favorite and a fun way to eat freshly picked local produce. Herbalist Brigitte Mars (2010) offers a healthier alternative, a caramel apple dip that is sure to satisfy your harvest time cravings. By using softened dates instead of processed sugar—and locally sourced organic apples instead of big-box store bargains—your healthy homemade caramel apples will not only taste good, you'll feel good too! 
"The wholesome nutrients in apples include beta-carotene, vitamins C and B, calcium, phosphorus, boron, polyphenols and pectin (Mars, 2004). Pectin is a soluble fiber that, along with the polyphenols in apples, helps to lower cholesterol, in particular damaging LDL cholesterol ("Apples," n.d). Pectin also adds bulk to the diet assisting the body in waste removal and hence helping to alleviate constipation (Justis, 2015)."

"Apples have many healing properties. They are cooling, antibacterial and antiviral, astringent, and anti-inflammatory (Mars, 2004). Apples help to promote a healthy immune system while also assisting in balancing blood sugar (Justis, 2015)."
Healthy Caramel Apples
Choose sweet apples, such as 'Fuji' and 'Honeycrisp' to accentuate the natural sweetness of the dates. Different apple varieties are ready for harvest at different times during the picking season. Check with your local grower to see what is native to your local area and what they recommend for making the best healthy caramel apples.
Yield: 6 servings.
Ingredients
6 fresh organic apples, washed
2 cups pitted dates
1 cup water
2 tablespoons raw tahini
1 teaspoon vanilla extract
1 small pinch of salt
2 cups finely chopped nuts (walnuts, almonds, pecans, or hazelnuts)
6 skewers or chopsticks
Directions
Soak the pitted dates in one cup of water until softened. (Roughly 2-3 hours or overnight)
 Place dates, water, tahini, vanilla extract, and salt in a food processor and blend until smooth. This creates the healthy caramel apple dip.
Push a chopstick through the core of each of the washed apples.
Coat each apple with the caramel, using the stick as a dipping handle.
Place chopped nuts in a bowl big enough to encompass the apples.
Roll the apples in the nuts while the caramel is still sticky.
Place on a ceramic plate and refrigerate to harden.
This caramel apple recipe calls for raw tahini. Tahini is just sesame seed (Sesamum indicum) blended into a paste with a little added light olive oil to improve the texture. Upcycle chopsticks from the kitchen drawer for your skewers to make your healthy caramel apples even more planet-friendly.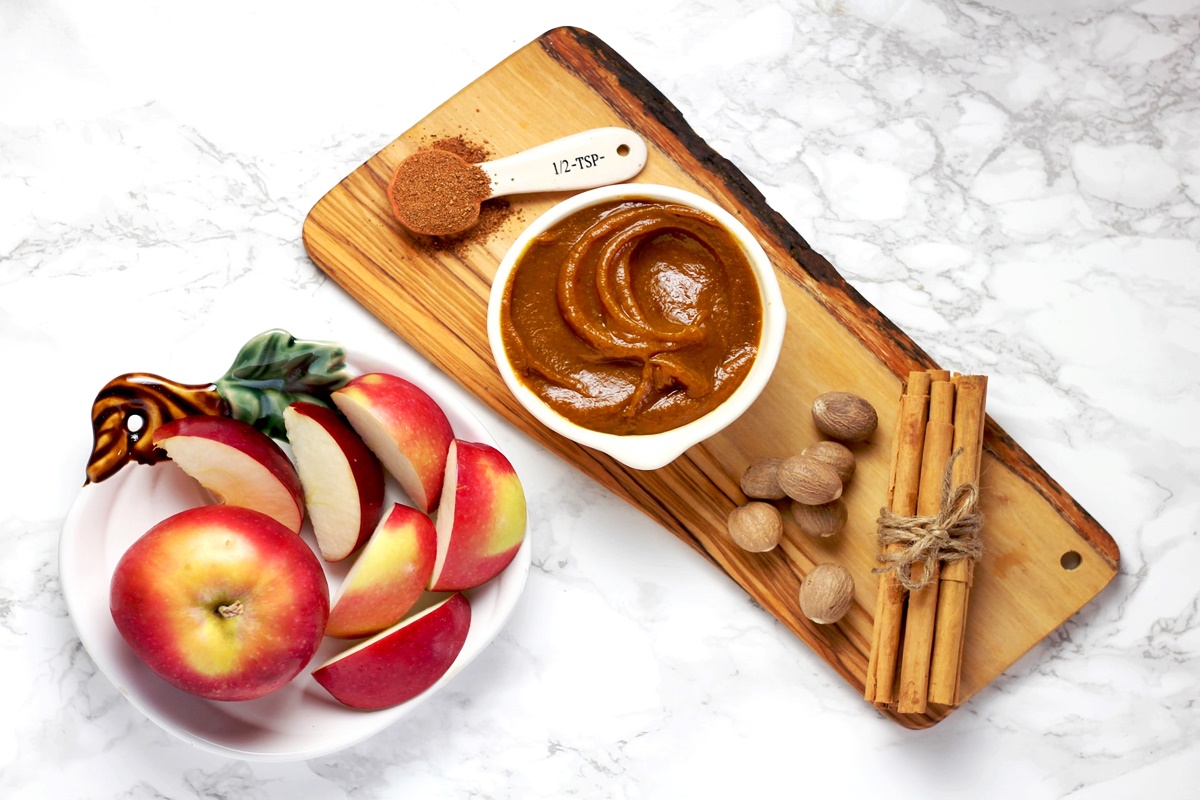 Be sure not to waste leftover caramel dip. If you run out of skewers, slice up apples for hand dipping.
For more harvest time apple recipes, check out: Harvest Time Apple Recipes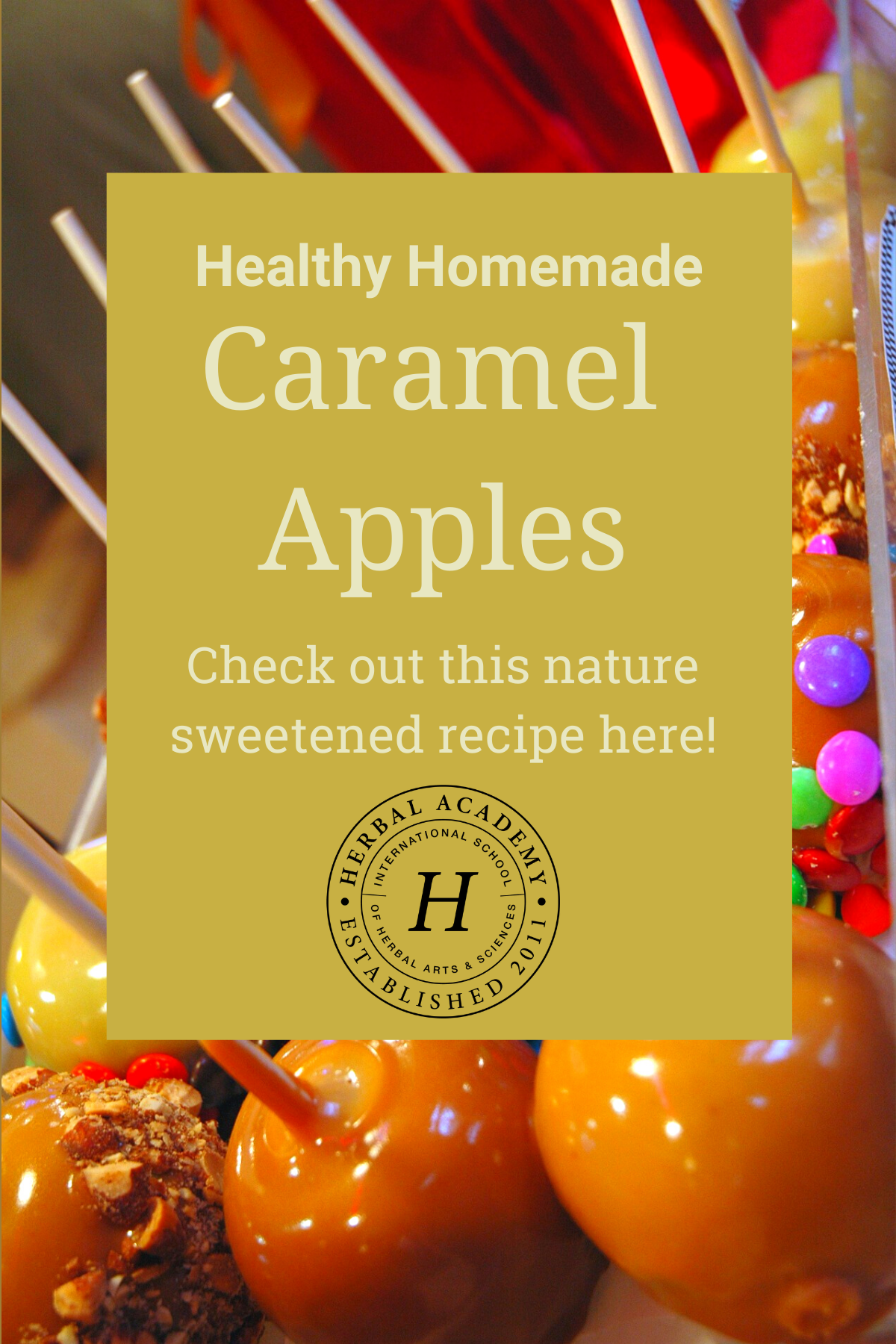 REFERENCES
Apples. (n.d.). "What's New and Beneficial About Apples" Retrieved from http://www.whfoods.com/genpage.php?tname=foodspice&dbid=15
Justis, A. (2015). Harvest time apple recipes [Blog Post]. Retrieved from https://theherbalacademy.com/harvest-time-apple-recipes
Mars, B. (2010). Rawsome caramel apples for the holidays [Online Article]. Retrieved from http://www.elephantjournal.com/2010/10/rawsome-caramel-apples-for-the-holidays-brigitte-mars
Minimalist Baker (2020). How to make tahini [Blog Post]. Retrieved from https://minimalistbaker.com/how-to-make-tahini/#:~:text=Tahini%20is%20made%20by%20grinding,The%20possibilities%20are%20endless