The site-wide holiday HERBAL COURSE SALE is here for 5 DAYS only! – Register by December 5th to secure your seat in class with savings!
Held in Hope: Resources for Holistic Cancer Care
Cancer Resources You Can Trust
The Herbal Academy team is on a mission to bring herbs, hope, and healing support to the cancer community. We'll share helpful resources, uplifting stories, and a spirit of community through this special email series. Anyone is welcome to opt in at any time, and it's free. If you have recently been diagnosed with cancer, if you are already walking this difficult path, if you consider yourself a support person to someone with cancer, we welcome you to join us for this free Held in Hope Series through which we aspire to bring you trustworthy cancer resources from reliable and experienced herbal experts. 
We do not promise a cure, no, nor does this replace medical treatment. Our mission is to help you cut through the clutter of an overly saturated "cancer cure" market to bring you resources we trust, and to be a source of hope and connection. Opt in to this special series for weekly emails and allow us to provide supportive resources as you walk this difficult road. Because you, our friend, are not alone.
This series has been developed in honor of Marlene Adelmann, Herbal Academy Founder and Visionary, and her friends in the cancer community.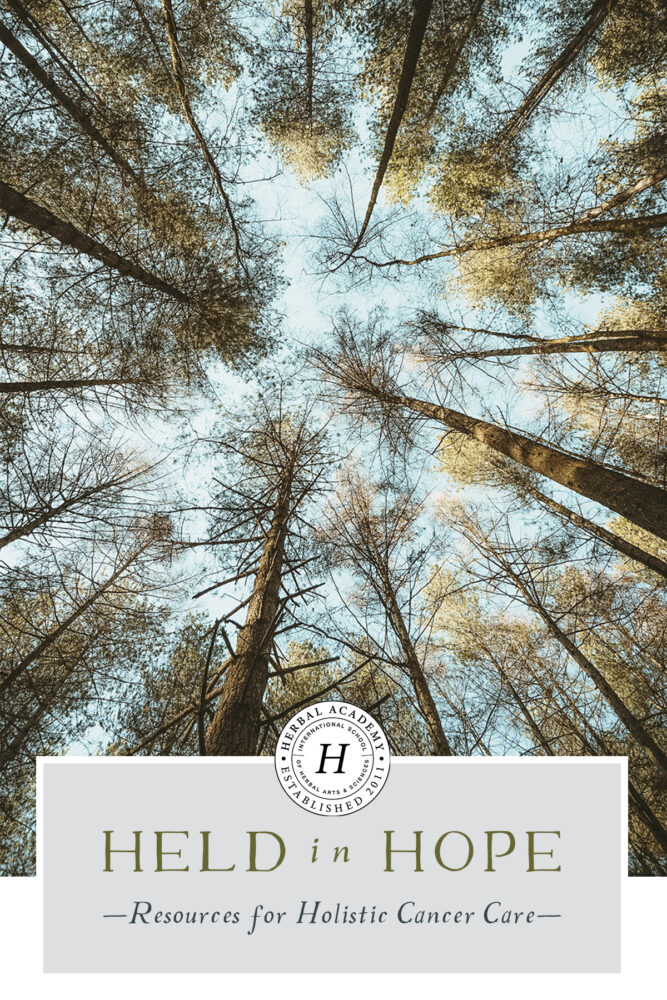 © COPYRIGHT THE HERBAL ACADEMY