Clinical Herbalist Path Package
Clinical Herbalist Path Package
Do you have your heart set on an herbal career? Do you dream of supporting clients or developing an herbal product line, and are you ready to dig deep into your new craft? Do you want to start with the basics, establish a strong foundation, and grow into your potential as an empowered and knowledgeable herbalist with advanced level skills?

This online clinical herbalist course package is presented by some of the most brilliant minds in modern herbalism and is absolutely packed with everything from seasonal recipes and in-depth plant monographs to anatomy, physiology, and herbs for common imbalances, to legal considerations and case studies. 
If your goal is to become a clinical herbalist, we encourage you to pair this coursework with a mentorship alongside a practicing professional herbalist, with the understanding that obtaining hands-on clinical hours—and even additional course training—is advised before opening your own practice. (Don't worry, we won't leave you hanging! The package includes recommendations for how to best acquire this hands-on training.) 
As our most extensive package, we've combined our online Introductory, Intermediate, and Advanced Herbal Courses so you can purchase them at once and save with bundle pricing. All of our courses are self-paced with Lifetime Access* – allowing you to study whenever is most convenient for your schedule.
Embrace your herbal calling today with the Clinical Herbalist Path Package!
Valued at $2,545.00!
Description
All across the world, clinical herbalists spend their days sharing time-tested herbal wisdom with their clients and communities. Some herbalists also formulate custom products for their clients—carefully blending, measuring, and infusing the perfect herbal recipes. Others may feel called to specialize in a specific client group, like females or elders, or to focus on a type of condition, like digestive upset or hormonal support. Perhaps you'll choose not to work with clients at all, but rather to pour your passion into developing a unique herbal product line, opening an herb store, or teaching the next generation of aspiring herbalists. 
There are many roads you can take when becoming a professional herbalist, but all of them require an in-depth understanding of the plants you will use.
We hope you're ready to dig in and truly transform your understanding of ancient herbs combined with modern science because this is our most extensive and robust online herbalism path! When you're finished with this clinical herbalist course package, you will be well on your way to having the advanced level foundation needed to become a well-trained, practicing herbalist and share your unique gifts with the world.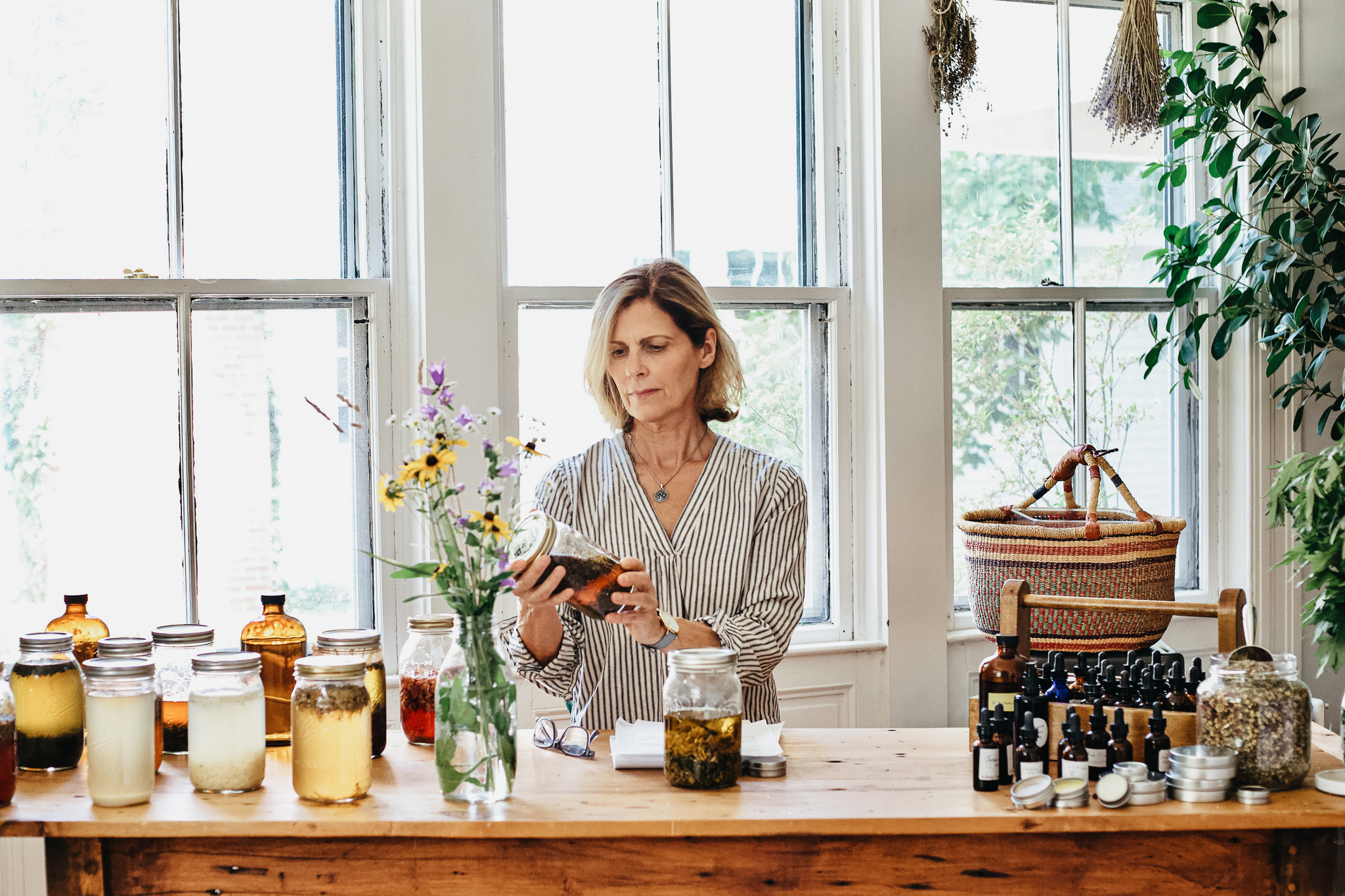 THE CLINICAL HERBALIST PATH PACKAGE BUNDLES TOGETHER 3 OF OUR MOST POPULAR COURSES:

Ready to get started in the wild and wonderful world of herbalism? Build a strong foundation and learn the basics of herbalism with our classic beginner's herbalism class, the Introductory Herbal Course. This beloved online course for beginning herbalists features 34 content-rich written lessons supplemented with nearly 80 recipes along with quizzes, handouts, charts, beautiful illustrations and photographs, professional videos, an exclusive students-only community, access to herbal teachers, and all the other amenities of a modern online classroom.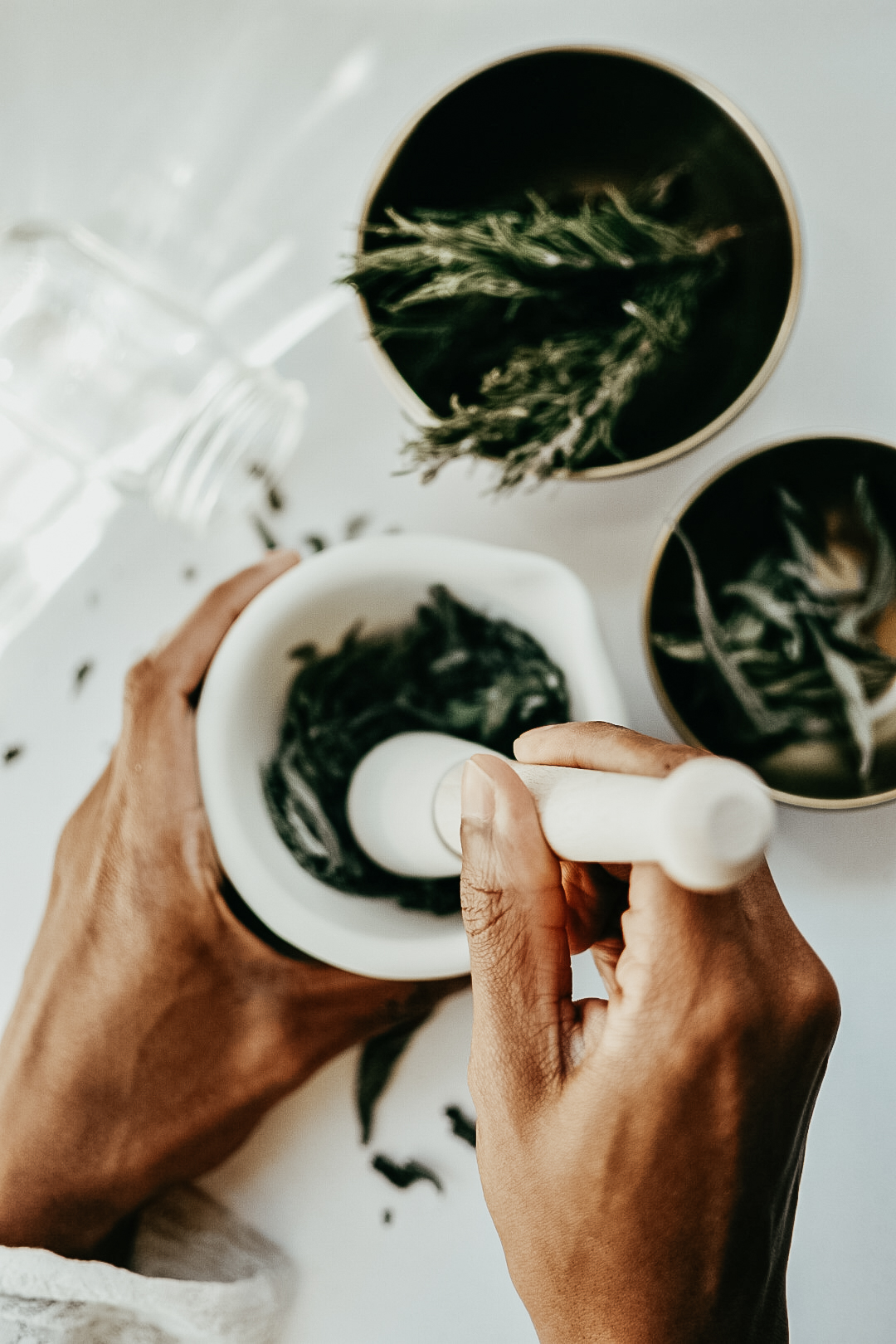 INTRODUCTORY HERBAL COURSE OVERVIEW
Introduction to the herbal approach and world healing traditions

Sourcing and storing high-quality herbs

Step-by-step instructions for making teas, tinctures, syrups, salves, infused oils, vinegars, and other time-tested herbal preparations

Herbal actions and terms: from "adaptogen" to "tonic" and everything in between

Basic human anatomy

Introduction to herb gardening, foraging, and plant identification

Herbal support for immunity, stress, sleep, reproductive health, natural skincare, and more

Herbs for children



And more!

Now that you have laid the groundwork for creating an herbal home, the Intermediate Herbal Course will take you beyond the basics with an additional 59 in-depth written lessons, 175+ recipes, 150 plant monographs, and numerous handouts, charts, videos, quizzes, and exercises to further your herbal studies.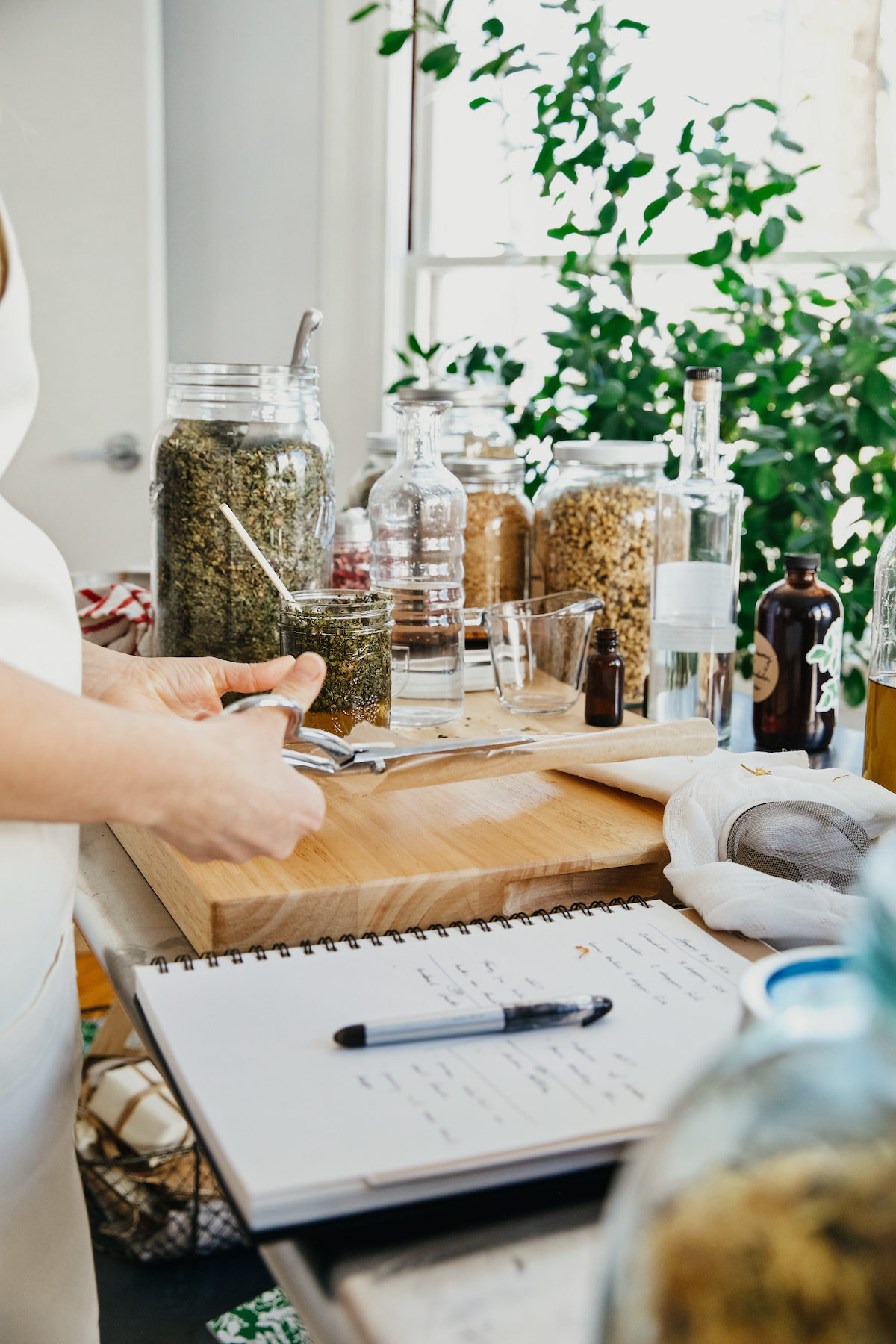 INTERMEDIATE HERBAL COURSE OVERVIEW
Herbal first-aid: Bites, stings, burns, rashes, wounds, and more 

What is an herbal action? Decoding labels like "expectorant" or "sedative"

Introduction to energetics: dry, warm, moist, cool, etc. 

Food as the foundation of wellness: kitchen spices, pantry potions, and more

How to formulate your own multi-herb recipes

Side effects and safety considerations

Herbs for children

In-depth units with anatomy, plant profiles, charts, and dozens of recipes specifically related to:

The digestive system 

The immune system

The nervous system

The cardiovascular system

The liver

The respiratory system

The urinary system

The in-depth Advanced Herbal Course will elevate your studies to a professional level. Taking approximately 500 hours to complete, this robust online herbalism course features 78 text-based lessons written by some of the most brilliant minds in modern herbalism along with printable charts and downloads, case studies, exclusive videos, and more.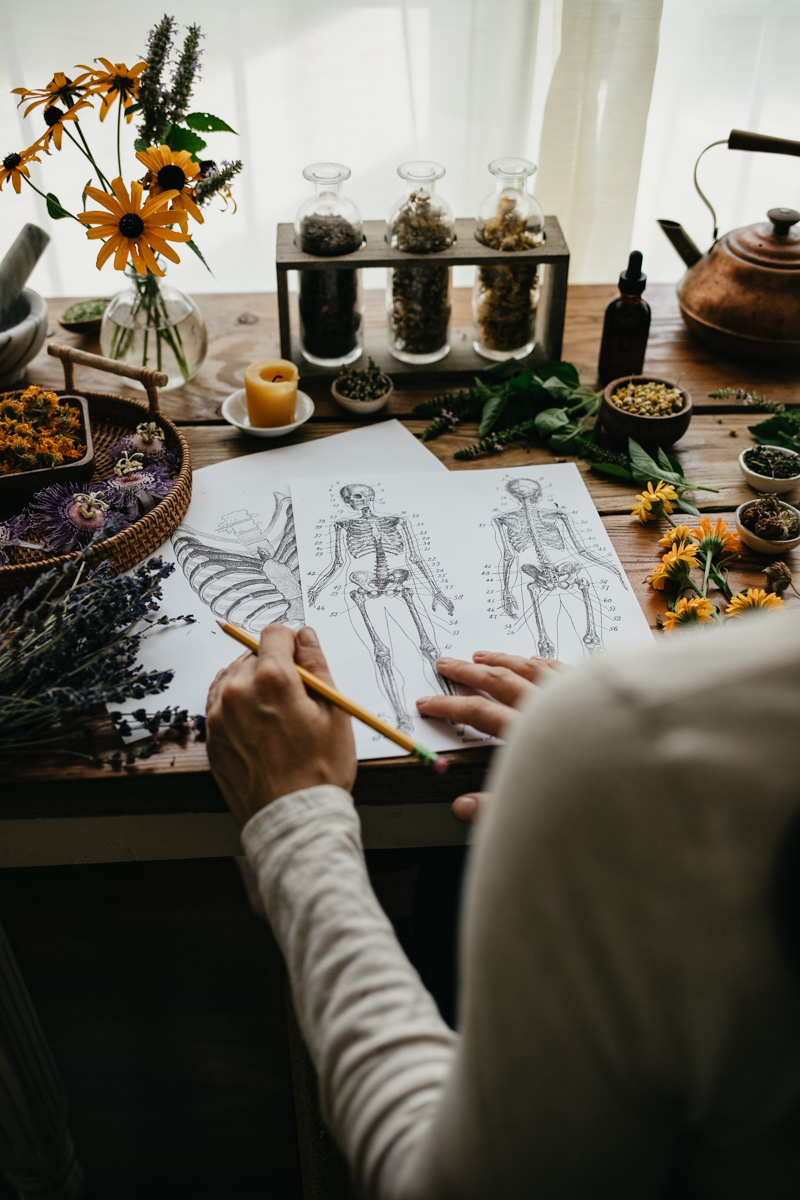 ADVANCED HERBAL COURSE OVERVIEW
Introduction to herbal history and traditions

Phytochemistry and herb-drug interactions

Evaluating herbal research

Working with elders

Weight management

Holistic approach to healing

Assessment and herbal therapeutics

Advanced formulation

Making and selling herbal products

Establishing a clinical practice

Understanding legal guidelines for making herbal products and working with clients

In-depth units with anatomy and physiology, plant profiles, and charts specifically related to:

Blood, lymph, and mucous membranes

The endocrine system

Sexual and reproductive health and wellness

The musculoskeletal system

Pain management

FREQUENTLY ASKED QUESTIONS
What kind of certificate will I receive and will I be a certified herbalist?
Upon completion of any of our foundational courses, you'll receive a certificate of completion suitable for framing that states you've completed the course under the direction of the Herbal Academy. You will receive a certificate after successfully completing each individual course.
Note that because the field of herbalism is not officially regulated by any specific set of standards or governing body in the United States, certification is a tricky subject. While one can study in herbalism courses for a certificate of completion, one cannot become a "certified herbalist." We discuss this topic in this article, which you may find helpful: https://theherbalacademy.com/can-you-really-become-a-certified-herbalist/
The practice of herbalism is protected by the first amendment right to free speech. An herbalist cannot treat, cure, diagnose, prescribe, or see patients, instead, they can educate clients about dietary and lifestyle habits and make suggestions for herbs that will help balance the body and support wellness.
After taking this course, can I become a Registered Herbalist with the American Herbalists Guild (AHG)?
Our courses will provide study hours on such foundational topics as history and herbal traditions, materia medica, botany, anatomy and physiology, therapeutics, and practice management that are required educational topics for becoming an AHG Registered Herbalist. See AHG's recommended areas of study here: https://www.americanherbalistsguild.com/herbal_education 
Depending on how extensive the student's herbal background is, additional advanced training hours may likely be needed to fulfill the AHG requirement of 800 study hours. In addition, students need to seek out 400 hours of hands-on training under the guidance of an experienced herbalist or mentoring program to gain the clinical experience needed. Of course, the AHG review process will evaluate a student's proficiency in herbalism, including a working knowledge of an extensive materia medica as well as case studies gained through hands-on experience, and is not just based on study hours. You can read more about the AHG requirements, including their two-step application process and the detailed requirements for both steps, here:  http://www.americanherbalistsguild.com/becoming-ahg-professional-member
How long will it take me to complete this course package?
All of our online herbalism courses are self-paced, which gives you the flexibility to study whenever your schedule allows. Everyone studies at a different rate, but we have found that the average completion time is approximately 95 hours for the Introductory Herbal Course, 175 hours for the Intermediate Herbal Course, and 500 hours for the Advanced Herbal Course, which is a combined 770 hours for the Clinical Herbalist Path Package. Because our courses are self-paced, there are no live lectures to attend and students have access to their courses 24 hours a day, 7 days a week. 
What materials will I need?
You will need an internet connection to access course materials along with a computer, tablet, or smartphone. You will also want to have a writing utensil and notebook to keep notes (our Materia Medica Journal is a great resource for this!). You may like to purchase herbs, oils, butters, waxes, and containers for any of the recipes that you choose to make. This package comes with discounts to a variety of online herb suppliers to help make your studies more affordable!

Do I need to purchase textbooks for this package?
Textbooks are an optional add-on for students who also want the course material in book form. You can purchase the Introductory and Intermediate Herbal Course Textbooks separately via our Goods Shop. (We do not offer textbooks for the Advanced Herbal Course at this time.) After you register, log in to your student account to receive significant student savings on textbook upgrades. Students enrolled in the Clinical Herbalist course receive $150 off the price of the Introductory Herbal Course textbook and $298 off the price of the Intermediate Herbal Course textbook.
When can I get started?
After you purchase the course, it will be available via your Student Dashboard immediately. Simply click the "start course" button for a given course to begin your studies!
How long will I have access to the course materials?
You will receive Lifetime Access* to your courses. Simply press the "start course" button in your Student Dashboard when you wish to begin each program! You can also download all course materials as PDFs for future reference.
Does this package include video content?
Yes! Our courses have videos sprinkled throughout to help supplement the written material. However, videos are not the primary medium through which our courses are taught. The Clinical Herbalist course package features approximately 21 hours of video content altogether, and each video comes with a video transcript.
Can I take this course if I don't live in the United States?
Our classroom is truly a global classroom. We are honored to have students joining us in class from around the world. Herbal Academy courses offer a wide range of information about plants, and much of the information will be applicable outside of the United States.
Is this course available in any other languages?
No. At this time, our courses are only available in English.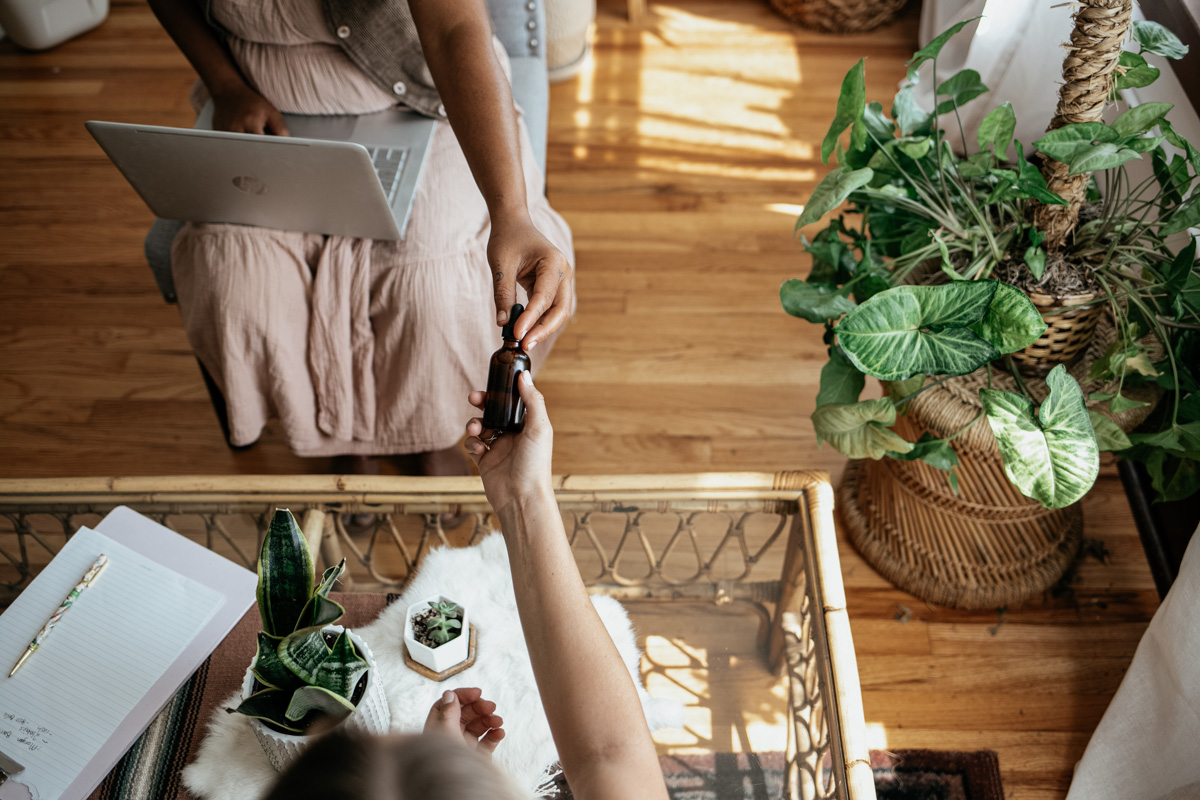 I'm ready to become a Clinical Herbalist – let's get started!
Testimonials from Class
---
* Lifetime Access is access to the course that you purchased for as long as the particular course is offered by the Herbal Academy. View Terms & Conditions for more detail.
Additional Information
| | |
| --- | --- |
| Payment Mode | At Once, 6 months installments |