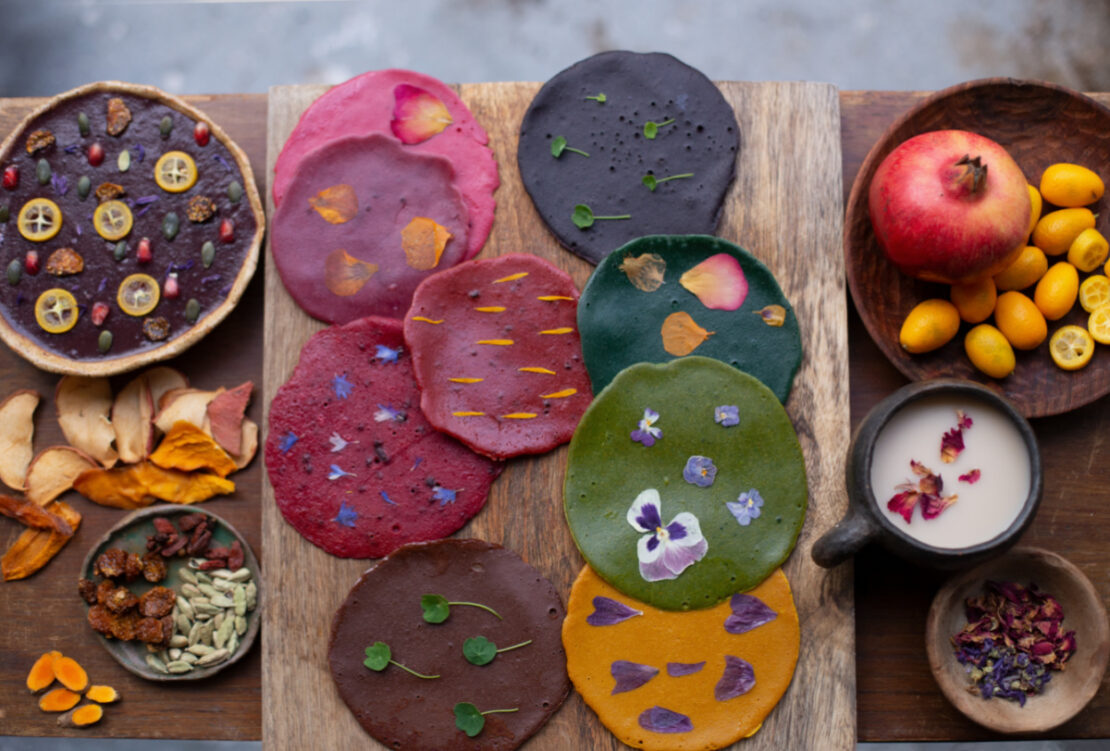 How to Make Botanical Vegan Pancakes Inspired by the Colors of Nature
Today I am sharing a recipe for botanical vegan pancakes made with rice milk, buckwheat flour, and egg substitute. I mixed the pancake batter with different powders to give a variety of colors to the pancakes.
The powders I used are:
Barley grass

Aronia berry

Maca

Beetroot

Rosehip

Cacao
For the dark green I used spinach and for the purple colors, I used blueberries.
On top of the pancakes, you find all edible flowers like Indian cherry leaves, cornflowers, calendula, and pansy.  
I decided to create pancakes inspired by the colors of nature. This is how I often start my kitchen creations. Intuitively, I choose from my collection of natural ingredients. I like to create from feeling and I rarely follow recipes. To give you an impression of how to make the pancakes, I have written down the recipe for you. 
Colors are very important in my work. I like to use natural products to achieve abundant colors without compromising on health.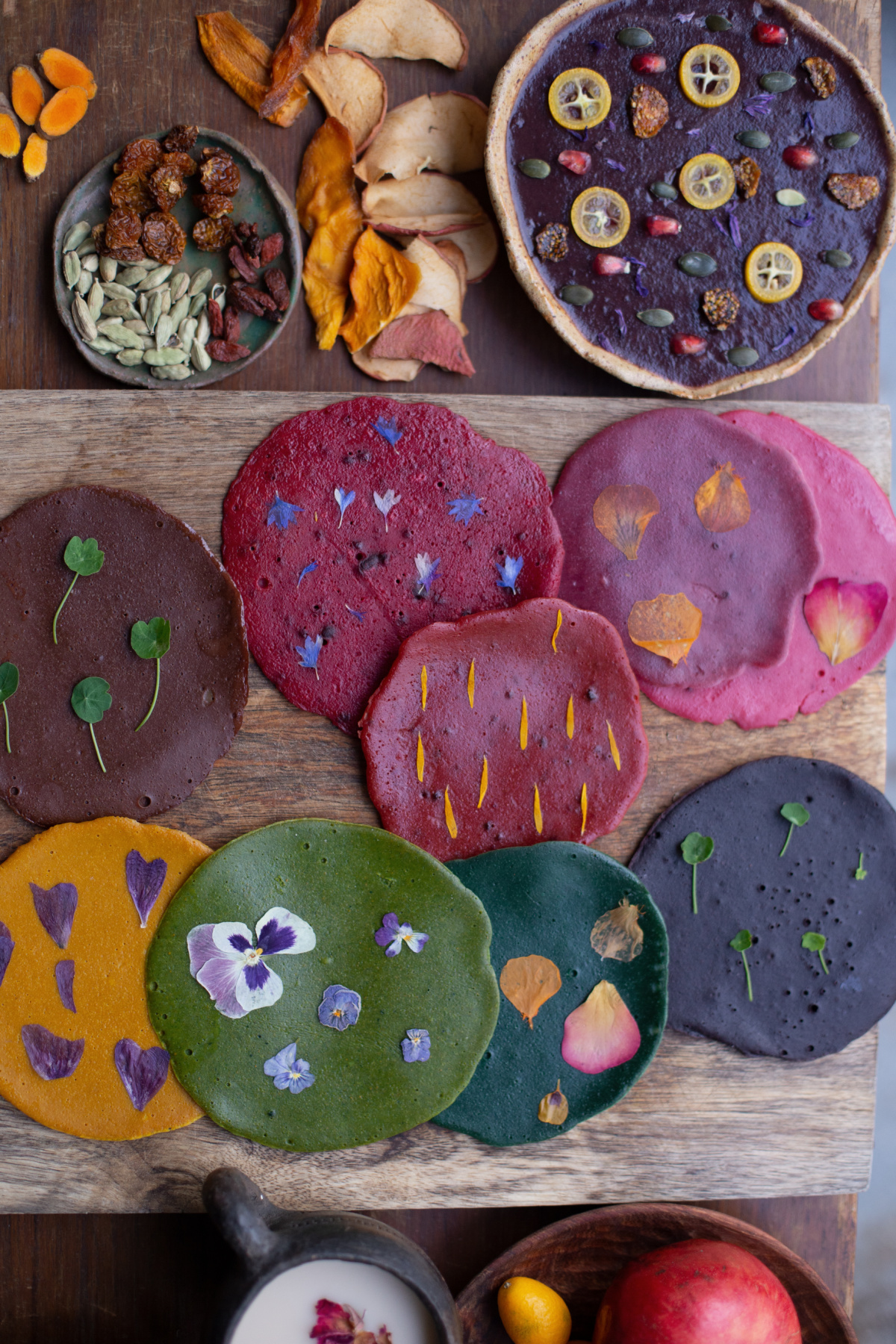 Botanical Pancakes
In these pancakes, you find a mix of rice milk, banana, blueberry, and almonds. And on top, there are dried Inca berries, pumpkin seeds, maca, kumquats, pomegranate, and dried cornflower. 
Botanical Vegan Pancakes
These pancakes are made with inspiration from the colors of nature. They use natural ingredients to achieve vibrant colors without compromising on health.
Ingredients
300 grams buckwheat flour
2 tablespoons egg substitute
500 milliliters rice milk
½ tablespoon of the powders for each pancake 
Directions
Heat a frying pan on a low heat. 
Mix the ingredients in a large bowl. 
Divide the batter into a few parts and add a little of the powders. Use as much as you would like until you like the color. 
Put a bit of vegan butter and 1/8 of the batter onto the pan. Cook for 2 minutes before carefully flipping onto the other side. Cook for another 2 minutes. 
Repeat with the rest of the batter. 
For more on herbal vegan pancakes, see:
Moon-Inspired Herbal Pancakes and Cookies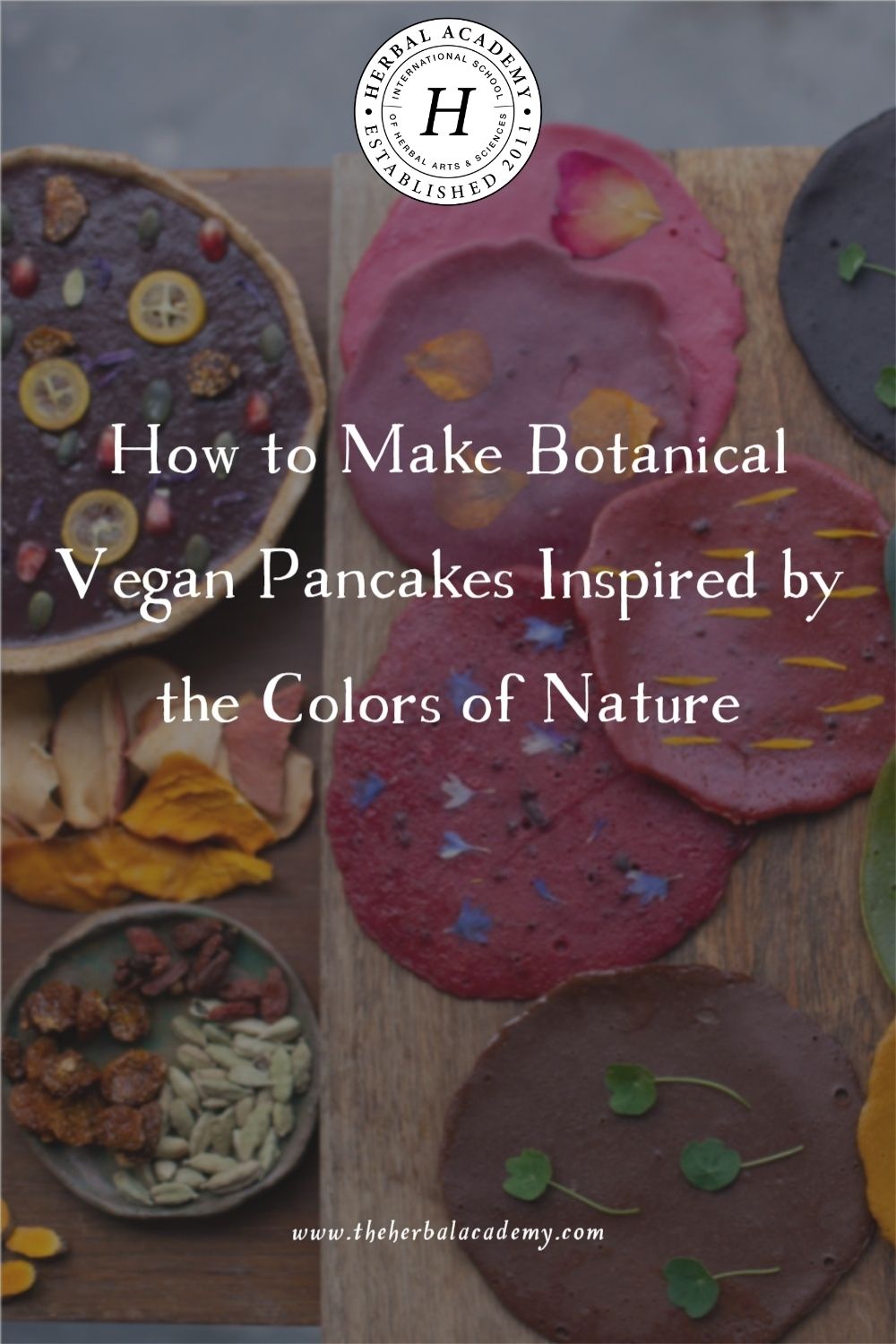 This recipe and photography come from Lieke Romeijn (@liekeromeijn).
Specialist in: Artisanal food art
Location: The Netherlands, University of the arts, St. Joost, Breda
www.liekeromeijn.nl