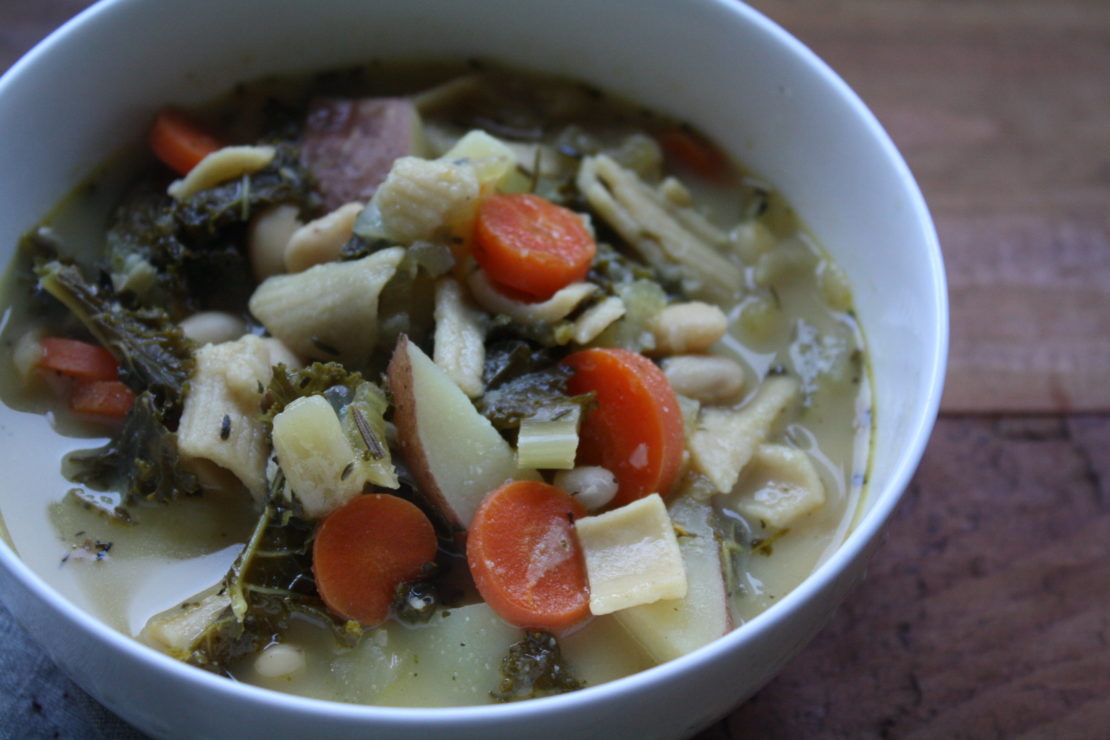 Vegan Herb And Veggie Stew
Because nothing says warming and comforting winter foods quite like a big, hearty bowl of stew. Yes, even vegan herb and veggie stew!
This plant-based soup is nutrient dense and loaded with beans, kale, herbs, and other seasonal winter veggies that will make any belly happy—especially after a long day of trekking around in the snow!
Not only is it delicious, but it provides nourishment in multiple forms. The beans provide a large dose of vegan protein, while the potatoes contain high amounts of potassium and fiber. Fresh parsley is known to have health-supporting and anti-inflammatory properties, as well as being high in iron. And of course, the kale is a nutritional powerhouse, loading the stew with vitamins A, C and K, fiber, antioxidants, and calcium.
However, the star ingredient of this recipe might be the lesser known nutritional yeast. It's an extremely important staple for vegans and vegetarians to incorporate into their diet as it's difficult to find other plant-based sources of vitamin B12. Vitamin B12 is crucial for optimal brain, bone, and nerve health. Nutritional yeast provides your daily required amount of B12 is just one tablespoon along with trace amounts of protein, zinc, and folate. It gives dishes a nutty, "cheesy" flavor and is a great addition to soups, sauces, pasta dishes, casseroles, or lasagnas as a Parmesan replacement. It gives this particular stew a cheesy, creamy consistency that really amps up the flavor factor.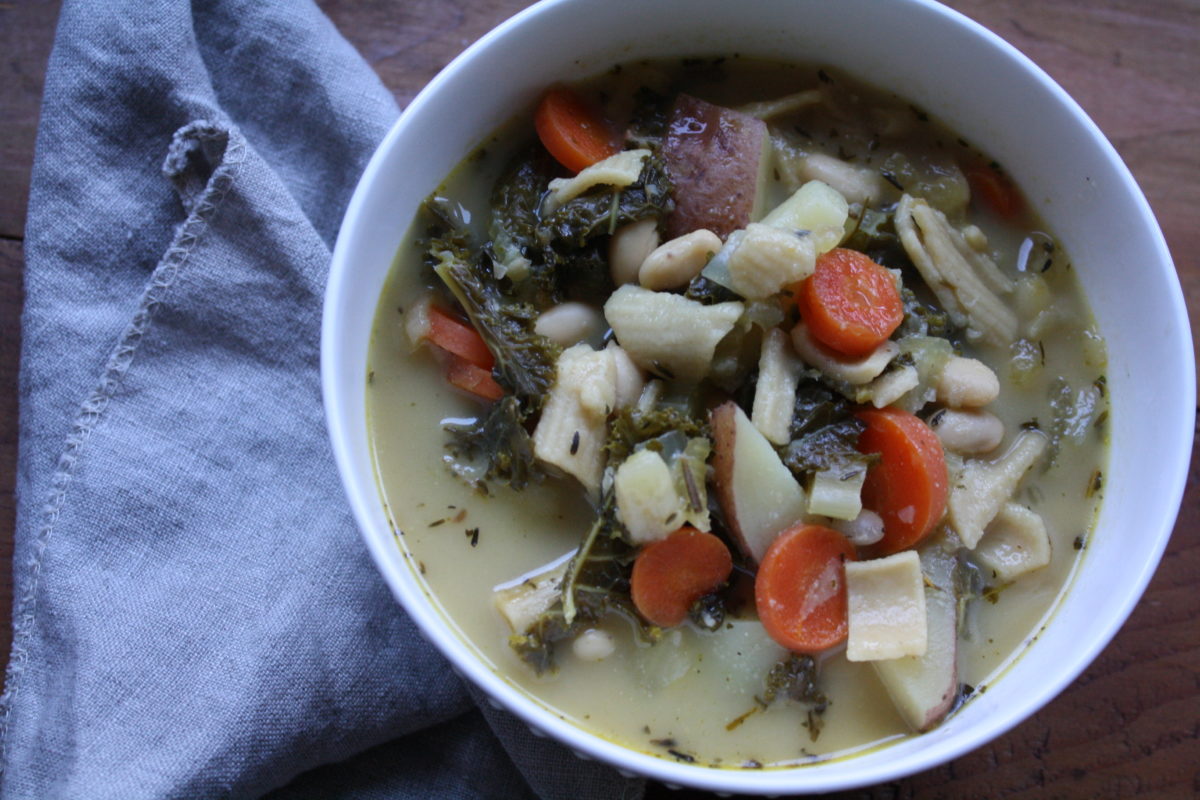 Vegan Herb and Veggie Stew
This stew comes together effortlessly, even on a busy weeknight, and is easily substituted with other veggies like zucchini, spinach, peas, or green beans. It freezes well and is fairly budget-friendly, making it a great choice for busy families who have a lot of mouths to feed.
Cozy up with this stew all winter long and enjoy all the delicious health benefits it has to offer!
Vegan Herb And Veggie Stew
Ingredients
2 tablespoons olive oil
1 large yellow onion, chopped
2 cups sliced carrots
1 cup chopped celery
3 cups cubed red potatoes
3 cups chopped curly kale
1/3 cup nutritional yeast
2 tablespoons dried rosemary
3 teaspoons dried thyme
1 1/2 teaspoons garlic powder
1 teaspoon all-purpose seasoning
1/4 cup chopped fresh parsley
2 cups organic cannellini beans
6 cups organic vegetable broth
Sea salt and black pepper to taste
1 cup cooked brown rice pasta (optional)
Directions
Saute onions in olive oil in a large saucepan over medium heat for about 10 minutes

Add carrots and celery and cook for five more minutes

Add potatoes, kale, nutritional yeast, rosemary, thyme, garlic powder and all-purpose seasoning and stir well to combine for a few additional minutes

Add parsley, beans, broth, salt and black pepper and bring to a boil

Once boiling, reduce to low heat and simmer for 20 minutes

Add pasta once cooked, if using
You can find more healthy recipes on the Herbal Academy blog in our "Eat Well" category. Check them out today!