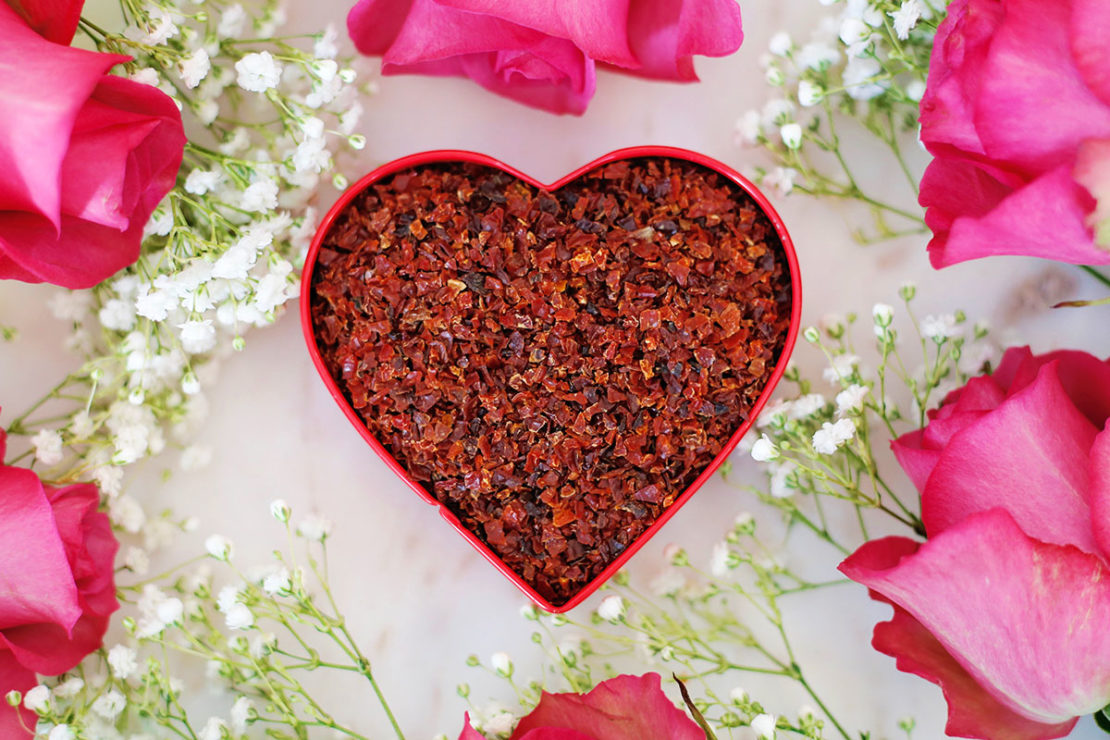 26 Handmade Valentine's Day Ideas: Gifts, Recipes, and DIYs to Show Your Love
Valentine's Day and flowers go together with delightful ease! This combination is no surprise—flowers and other plants have long been embraced for their beauty and symbolism in romantic relationships. At this time of year, many of us look to spread a little love to those around us, and we might even desire to give ourselves some much-deserved love too! We have pulled together 26 ideas for a handmade Valentine's Day that will help you find the perfect floral gift as well as unique herbal-inspired ways to celebrate this day of love!
26 Handmade Valentine's Day Ideas
Have fun creating sumptuous body care preparations to share with a loved one or yourself this Valentine's Day. You can even package these recipes up and give as a Valentine's Day Spa gift set. These recipes are simple to make and filled with decadent ingredients that nourish the senses and the body!
Infused Butters, Massage Oils, and Balms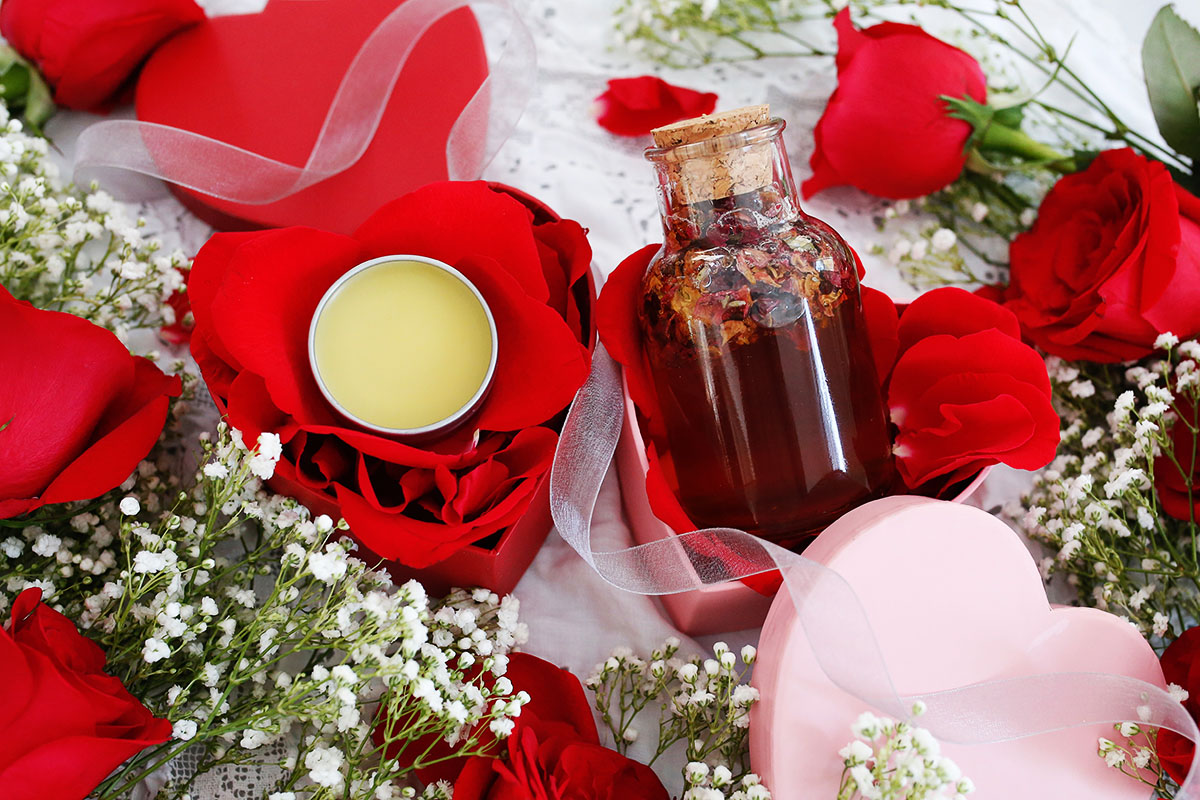 There is something special about anointing the body with aromatic oils and balms. Find options below for your own handmade Valentine's Day ideas creations.
1. Rose Vanilla Massage Oil
Graced with both roses and vanilla, this Herbal Academy favorite is just as sensual and delightful to make as it is to use! Enjoy the recipe as well as tips for creating a wonderful evening.
https://theherbalacademy.com/make-your-night-memorable-with-a-rose-vanilla-massage-oil/
2. Hibiscus Rose Whipped Body Butter
Made with hibiscus and rose-infused avocado oil, this recipe brings two aphrodisiac herbs to play in a moisturizing whipped body butter. Divine!
http://www.lifeinfused.space/hibiscus-rose-whipped-body-butter/
3. Marshmallow Lip Balm
Lip balms are wonderful for keeping soft and kissable lips. Infused with the soothing, mucilaginous goodness of marshmallow, this lip balm is a great companion to nights filled with plenty of kisses!
https://theherbalacademy.com/homemade-marshmallow-root-lip-balm/
4. Chai Rose Lip Balm
If your sweetie loves the warm spice of chai, this lip balm is for them! Blended with the lovely floral overtones of rose, this lip balm promises to be totally yummy.
https://www.holistichealthherbalist.com/chai-rose-lip-balm/
5. Perfume for Winter Romance
Aromas speak to the heart and soul and evoke emotion. Composing a special perfume for a loved one or yourself is a lovely way to say you are special and I love you!
https://theherbalacademy.com/essential-oil-solid-perfume/
Luscious Skin Care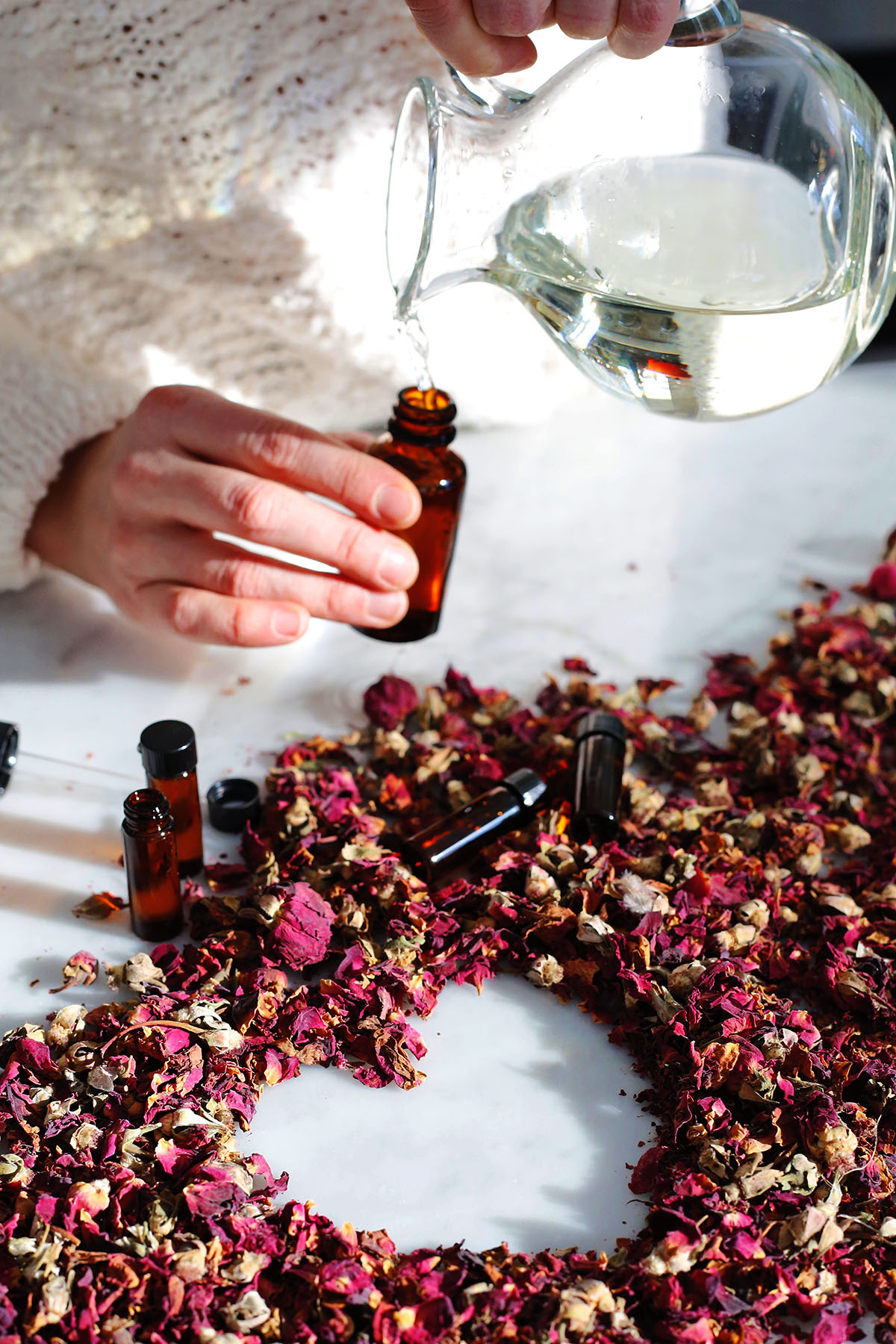 Masks are an important part of any spa experience, while fragrant waters and toners can be enjoyed after Valentine's Day has passed. Discover how easy it is to make these preparations with the recipes and techniques offered below!
6. Chocolate Covered Strawberry Face Mask
Chocolate and strawberries? Yes, please! Who knew these two delicious items could come together to make a wonderful skin treatment. Enjoy!
http://pistachioproject.com/2015/02/chocolate-covered-strawberry-face-mask.html
7. Hibiscus Face Mask
Another delightful mask with a lovely pink color, this is filled with the goodness of hibiscus and aloe vera. Wonderfully soothing and nourishing for winter-dry skin.
https://naturalfitfoodie.com/hibiscus-face-mask/
8. Make Your Own Rose Water
Rose water has long been revered as a soothing, fragrant beauty product. Its soft pink color, beautiful aroma, and many useful applications make this herbal preparation perfect for a handmade Valentine's Day!
https://theherbalacademy.com/how-to-make-and-use-rose-water/
9. Rose Infused Witch Hazel
Witch hazel is a great toner for skin, especially when infused with the goodness of rose. Discover how easy it is to create your own infused witch hazel for an easy gift!
https://www.holistichealthherbalist.com/rose-infused-witch-hazel/
Floral Polishes, Scrubs, and Powders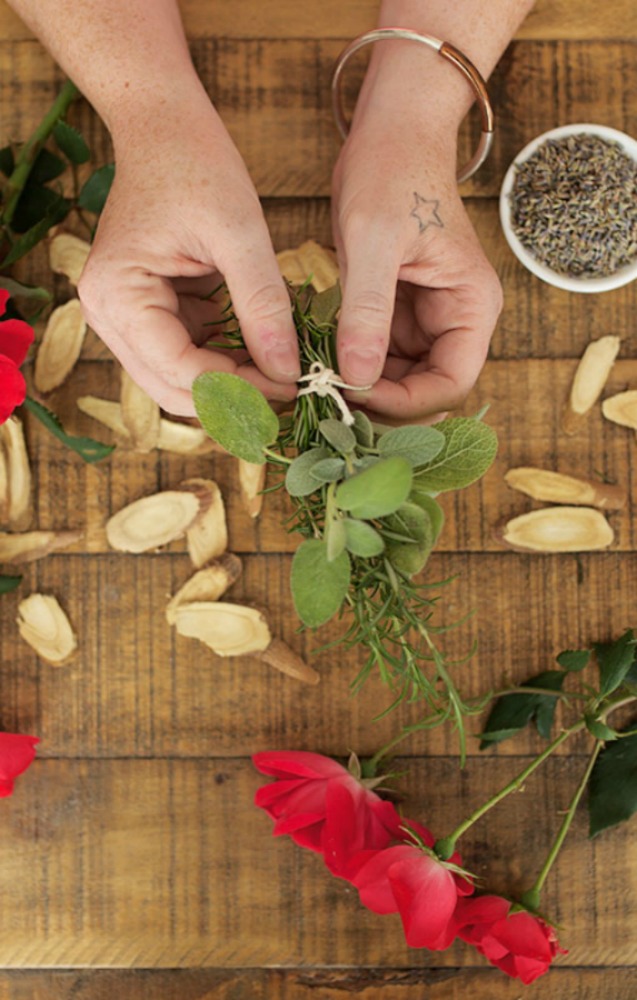 These recipes bring a little bit of luxury to body care and are perfect for creating something special to share your own handmade Valentine's Day.
10. Floral Body Polish Recipes
This post is filled with information to help anyone create a body polish with ingredients that appeal to the individual recipient. You will also find 4 recipes to try, including a scrub made with roses and chocolate!
https://theherbalacademy.com/tips-creating-diy-floral-body-polish/
11. Calendula Sugar Scrub
Calendula is well known for its benefits as a skin herb and this delightful recipe brings those benefits to the skin as a scrub! Discover how to make your own scrub to share.
https://theherbalacademy.com/how-to-make-a-homemade-sugar-scrub-with-calendula/
12. Floral Body Powder
Body powder enhanced with the fragrance and benefits of flowers is a treat to be sure! Find plenty of suggestions for creating your own blend with herbs and a base blend custom suited to your recipient.
https://theherbalacademy.com/homemade-floral-body-powder/
13. Herbal Blush
A herbal blush made with hibiscus, rose hips, and arrowroot—this is a special treat for anyone who loves herbs! It can be customized to the individual skin tone bringing a bit of herbal delight to every day.
https://www.deliciousobsessions.com/2015/08/natural-diy-blush/
Divine Herbal Bath Blends
Soaking in a warm, fragrant herbal bath is a wonderful experience nourishing the body, mind, and soul. Including botanicals in the bath provides a delicious aroma along with skin benefits.
14. Aphrodite's Bathing Herbs
Enjoy a bath blend recipe just for Valentine's Day, fit for Aphrodite, along with a tasty cordial and sensuous massage oil recipe!
https://theherbalacademy.com/love-potions-charms/
15. Nourishing Milk Bath
It is said that Cleopatra regularly bathed in milk and honey. Milk baths are wonderfully soothing to the skin, providing a silky experience like no other. Discover the benefits of milky bathing and learn how to make your own milk bath to share!
https://theherbalacademy.com/diy-nourishing-milk-bath/
16. Lavender Bath Salts
Reputed for its cleansing and relaxing properties, lavender makes a wonderful addition to any bathtub blend. This recipe goes well beyond a simple combination of salts and lavender to offer a delightful experience in the tub!
https://theherbalacademy.com/diy-lavender-bath-salts/
DIY Sweets, Eats, and Drinks
Roses, chocolate, honey, berries, cinnamon, and vanilla are all delightful additions to the Valentine's Day table. What could be better than sharing these truly delicious items with a loved one?
Herbal Aphrodisiacs and More
We are serious about enjoying our herbs here at the Academy and Valentine's Day recipes make it so easy to do just that!
17. Rose Petal Honey
Beloved by herbalists and so very simple, herbal infused honey is a wonderful way to enjoy herbs. Discover how to make your own honey infused with the goodness of rose petals!
https://theherbalacademy.com/make-use-rose-infused-honey/
18. Valentine's Lollipops
These lollipops are not your kid's simple lollipop! Enhanced by heart-friendly and adaptogenic herbs, this recipe offers a unique way to incorporate herbs into the day.
https://theherbalacademy.com/rose-petal-rhodiola-valentines-day-herbal-lollipops/
19. Enjoy Herbal Aphrodisias
Find four of our favorite recipes that are filled with aphrodisiac herbs including a love elixir, mousse, libido tea, and rose vanilla honey—yes, more herbal infused honey! These recipes will surely give your Valentine's Day a delightful boost!
https://theherbalacademy.com/love-it-up-with-herbal-aphrodisiacs/
20. Discover Rolled Herb Pills
Learn how to make your own rolled pills and fill them with aphrodisiac herbs such as damiana, rose, vanilla, maca, and ginger—yum!
https://theherbalacademy.com/rolled-herb-pills-video/
And Now for Chocolate…
Chocolate, romantic love, and Valentine's day are tightly linked, and bringing herbs into the mix just makes it all the more sweet!
21. Herbal Chocolate Recipes to Inspire Love and Passion
These 3 recipes are filled with chocolate, herbs, and a passion for something divine. With options that include the spicy heat of peppers, sweet rich spice of cinnamon and ginger, as well as floral blends, there is something here to appeal to everyone. Enjoy!
https://theherbalacademy.com/3-herbal-chocolate-recipes-inspire-love-passion/
22. Hot Chocolate for Valentine's Day
Take hot chocolate to another level! Paired here with calming, adaptogenic ashwagandha and cinnamon, this hot chocolate is perfect to sip on a chilly Valentine's Day afternoon.
https://theherbalacademy.com/valentines-day-hot-chocolate/
23. Herbal Truffles for Good Circulation
Good circulation is important for overall health, including sexual health. These truffles are a delicious way to support circulation with tasty, warming herbs nestled in a ball of delicious chocolate. What could be better?
https://theherbalacademy.com/herbal-truffles-for-good-circulation/
24. Healthy Chocolate Pudding
Speaking of chocolate, if you are looking for a wonderfully healthy way to enjoy chocolate this Valentine's Day, look no further! Touched with maple syrup in a base of avocados and bananas,  this recipe creates a smooth delicious pudding that will satisfy your sweet-tooth.
https://theherbalacademy.com/healthy-chocolate-pudding-for-valentines-day/
Don't Forget Breakfast
Wake up to a bounty of love and start the day off right!
25. Tulsi Love Latte
Not your regular cup of joe, this delightful morning treat is filled with tulsi basil, rose, strawberries, vanilla, and cinnamon all warmed together for the perfect way to say hello to the day!
https://theherbalacademy.com/vintage-valentine-diy-and-morning-latte/
26. Strawberry Rose Granola
Enjoy roses, strawberries, and chocolate all in your breakfast bowl! With the goodness of oats and coconut, this granola recipe offers a delicious way to greet loved ones in the morning.
http://www.lifeinfused.space/strawberry-rose-granola-gluten-refined-sugar-free/
Whether it is creating gifts for a loved one, making special treats to enjoy, or even putting together a spa experience, these ideas will give you plenty of inspiration for composing and enjoying your very own handmade Valentine's Day! We hope that you will join us in creating a day filled with love!