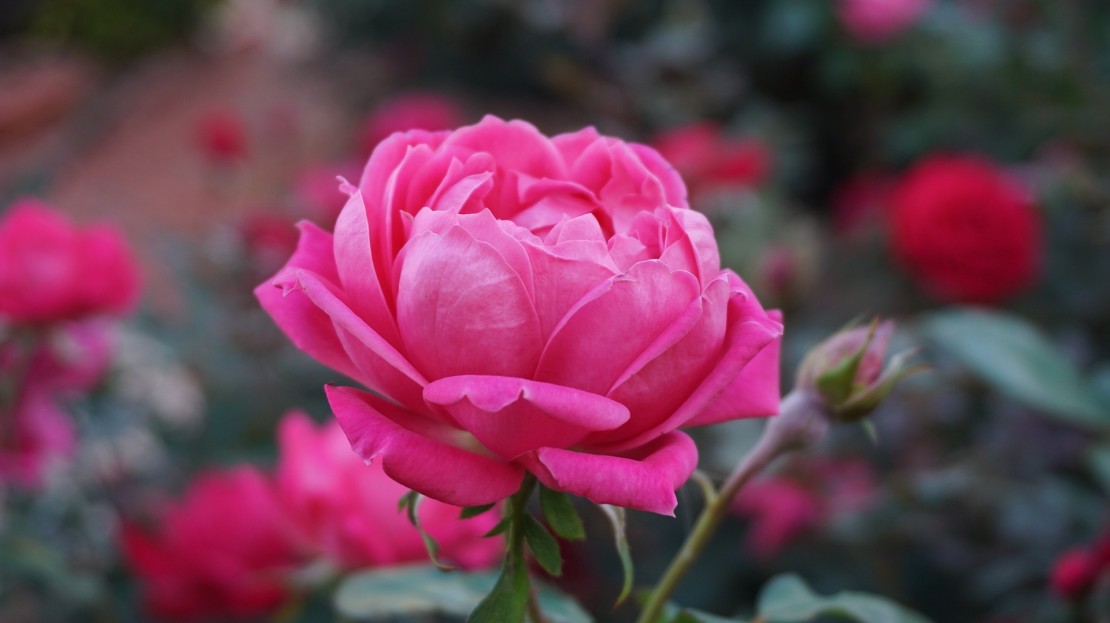 Summer heat means decadently fragrant roses are in riotous bloom! What could be more lovely than the full blossom of a rose? However, roses are more than just beautiful—would you believe that roses hold many beneficial herbal properties? There is plenty to love about this plant, and below we will discover many ways to use rose, some that may even surprise and delight you!
The lovely soft petals of rose (Rosa spp.) are cooling, calming, and uplifting, making them a perfect companion during the heat of summer. Rose petals are also astringent and anti-inflammatory, while the tangy rose hips offer nourishing vitamin C. With so many ways to use rose and the wonderful benefits of this plant, it is surely an herb to enjoy!
A bit of fragrance always clings to the hand that gives roses. – Chinese Proverb
Rose for Uplifting the Heart, Calming the Nerves, and Keeping it Cool!
Herbalists have long turned to rose for its heart-opening and uplifting benefits. Below, discover many ways to bring the beauty of rose into your life and enjoy its gentle nervine properties.
1. Uplift & Open the Heart with Rose
This article in From Scratch magazine takes a look at the heart-opening property of rose. Find ideas for herbs to use in combination with rose, simple ways to incorporate rose into your life, and some delicious recipes!
https://issuu.com/melissajones0/docs/from_scratch_magazine_june_july_201_c9f6d0cc9e39ee/111
2. Keep It Cool with Summer Rose
For those of us who get easily overheated during the summer, help is here! Rose is a wonderful herb for helping to cool the body and overheated emotions. Other foods and herbs can also be helpful as well. You will find a list of some of these food as well as a recipe for rose honey with vanilla beans in this post.
https://theherbalacademy.com/cooling-down-with-summer-rose/

3. Love it Up with Rose!
Perhaps most well known as a symbol of love, rose's ability to open the heart may be attributed to this age old symbology. Using roses to create decant aphrodisiac recipes such as Chocolate Rose Love Elixir and Love Your Libido Tea is a lovely way to invite this herb into those intimate parts of life!
https://theherbalacademy.com/love-it-up-with-herbal-aphrodisiacs/
4. Ease Grief & Provide Comfort
When someone has experienced a profound loss, there is not much that can be done except support the person by giving them love and comfort. Herbs can lend a helping hand during these times, and rose is certainly one of those botanicals to turn to.
https://theherbalacademy.com/herbal-grief-tea/
5. Strengthen & Nourish
Rose really does lend itself beautifully to the tea cup, and this recipe is no exception! Filled with stabilizing and nourishing properties of rooibos, holy basil, and roses, this blend is a tasty treat any time of day!
http://www.indieherbalist.com/journal/holy-wow-green-rooibos-tea-recipe
Roses for Supporting Wellness
Among one of the best loved ways to use rose is for its many properties during those times when we all can use a little help!
6. Use Rose to Help Ease Allergies
It is that itchy, scratchy time of year, and many of us are searching for ways to help ease those irritating seasonal allergies. Rose helps to cool the heat of allergies, tighten up lax mucus membranes, and soothe coughs! Give this simple-to-prepare rose hip jam recipe a try the next time your seasonal allergies start to bother you.
https://theherbalacademy.com/allergy-home-remedies-for-families/

7. Support Seasonal Wellness with Rose Tea Blends
Herbal teas are wonderful preparations to turn to during the winter when the chance of getting sick can be high as well as during times of stress, travel, and other times that leave us more open to illness. Along with many other herbs, rose petals and rosehips offer wonderful seasonal support.
https://theherbalacademy.com/18-herbal-teas-to-stay-healthy-this-winter/
8. Rose Petal Glycerite
Preserve all the benefits of rose to enjoy year round with a delicious rose petal glycerite. Sweet and tasty, this preparation is great for kids and adults alike! Rose glycerite can be used for its nervine, anti-inflammatory, and decongestant properties.
http://studiobotanica.com/diy-rose-glycerite-rose-book-give-way/
9. Tea Kettle First Aid with Rose
When faced with times of duress—when you need help now—your tea kettle can be a great ally! Learn how to use your tea kettle, roses, and other herbs to calm stomach upset, soothe the nerves, balance skin issues, and more!
http://www.motherearthnews.com/natural-health/10-herbs-for-tea-kettle-first-aid-zbcz1611
10. Three Flower Vinegar
Herbal infused vinegars are a tool many herbalists turn to for helping to soothe afflictions of the skin. The discomfort of sunburns, achy muscles, and itchy bug bites can be calmed and eased with topical herbal infused vinegar applications. This recipe is replete with herbs commonly used for the skin, including roses, lavender, and elder flowers!
http://www.indieherbalist.com/journal/three-flower-vinegar-first-aid-for-skin
"The world is a rose; smell it and pass it to your friends." – Persian Proverb
Roses are for Kids!
Rose is a gentle yet powerful herb to share with everyone in the family. If you are interested in introducing herbalism to children, rose is a great herb to start with. The soft, fragrant buds and petals are enchanting for children as well as relatable. From seasonal care and wellness to arts and crafts, delight in sharing this lovely flower together. Find plenty of ways to use roses with children below!
11. Keep it Simple with Roses
Our Introduction to Herbs for Kids Series provides plenty of ways to share roses and a variety of other herbs with children. This post helps to narrow down the focus to working with one herb at a time, including rose!
https://theherbalacademy.com/introduction-to-herbs-for-kids-keep-it-simple/
12. Learn About the Rose Family!
All plants belong to their own families. The rose family (Rosaceae) is filled with familiar favorites such as apple, pear, peaches, cherries, and more! This makes it a great plant family to study with children. Learn about what distinguishes this family from other plant families, and find a tasty rose family recipe to enjoy together!
https://theherbalacademy.com/learning-about-the-rose-family-with-kids/

13. Marshmallow Root Infusion with Rose Syrup
Help encourage healthy digestion and cool off with a delicious drink at the same time! This delicious blend of marshmallow root and rose is a great drink for kiddos and the rosy syrup can be used in many other ways as well—top your favorite homemade herbal ice cream or pancake with it, or blend it with sparkling water for a healthy, homemade soda pop!
https://www.growingupherbal.com/make-marshmallow-root-infusion-rose-syrup/
14. Baby Rosebud Barrettes
Crafting with baby rose buds is so fun! Invite your child to make their own beautiful barrettes decorated with the beauty of these tiny buds! Rose buds also make a fine addition to wreaths and homemade fairy furniture. So fun!
http://mamarosemary.com/blog/2013/9/21/baby-rosebud-barrettes
15. Scented Rose Dust Cards
With plenty of hands-on time, kids can get plenty of time to enjoy roses by using them to make their very own greeting cards to share! This is a great craft for Valentine's Day but can also be used for crafting cards for special thank you's and even party invitations!
https://www.growingupherbal.com/scented-rose-dust-valentines-day-cards/
Bring Roses to the Table
Roses are one of many edible flowers available offering a special touch to dishes and indeed make a lovely base for many delights crafted in the kitchen. Here are some well-loved favorites along with some new ideas to try as well!
16. Enjoy Rose Infused Honey
Rose infused honey really is a culinary treat that is not to be beat! It is so very simple to make, too! Discover how to make your own rosy honey as well as ideas for using this delicious honey in this post.
https://theherbalacademy.com/make-use-rose-infused-honey/
17. Infuse Rose Petals in Vinegar
Yet another simple preparation to make, rose infused vinegar can be used as a substitute for any vinegar in your recipes. It adds a delightful floral lift to food and brings those great properties of rose right to your dinner plate. Rose vinegar also makes a great spray for sunburns!
http://studiobotanica.com/rose-medicine-rose-vinegar/

18. Make Wild Rose Petal Jelly
Oh my, what could be better than waking up to a jar of this lovely jelly or enjoying it with afternoon tea? It is not as hard as it may seem to craft your own rosy jelly right at home!
http://nittygrittylife.com/wild-rose-petal-jelly-scottish-scones/
19. Blend Rose Petals with Butter
Roses make a wonderful addition to any herbal butter. For a culinary treat, this recipe combines the goodness of fresh rose petals with pansies, vanilla, and touch of honey!
http://mamarosemary.com/blog/2013/8/31/flower-vanilla-butter
20. Lemon-Rose Raspberry Parfait
Chock full of goodness, this delicious dessert is a raw vegan delight that makes a wonderfully refreshing summertime treat!
https://theherbalacademy.com/rose-herbs-we-love-for-summer/
21. Rose-Infused Cheesecakes
Another raw, vegan treat—these cheesecakes are filled with the goodness of nuts, fruits, and coconut oil, and are a great addition to any herb-centered table!
https://www.growingupherbal.com/rose-infused-cheesecakes/

22. White Chocolate Rose Coconut Bark
Filled with healthy fats and tasty rose, kiddos and adults alike will enjoy these tasty treats! Eat them for dessert or gift them to friends and family. No matter, everyone is sure to love them!
https://www.growingupherbal.com/white-chocolate-rose-coconut-bark/
23. Herbal Lollipops!
Roses make their home in candies of all types and these lollies are no exception! Filled with rose petals and hips, Rhodiola, hawthorn, and hibiscus—what better way to enjoy a little sweet lovin'.
https://theherbalacademy.com/rose-petal-rhodiola-valentines-day-herbal-lollipops/
24. Lavender & Damiana Drinking Chocolate with Rose Whipped Cream
Bring rose water to the table with this amazing recipe! Floating atop a thick and creamy chocolate-herb concoction, rose water lightly flavors a cloud of delightful whipped cream. Yum!
https://theherbalacademy.com/3-herbal-chocolate-recipes-inspire-love-passion/
25. Harvest Rose Hips!
Before we know it, autumn will be here and if we are lucky, we will find bushes filled with plump, tasty rosehips! Discover how to harvest and prepare rose hips from your garden or foraging adventures. Also learn about using rose hips in the kitchen and for herbal preparations in this post.
http://homespunseasonalliving.com/rose-hips-for-food-and-medicine/
26. Tasty Rose Hip Preparations for Your Table
These four useful and simple rose hip preparations are a wonderful addition to any table! Find instructions for making rosehip infusion, vinegar, syrup, and even wine – yum!
http://studiobotanica.com/rose-hip-medicine/
There is simply the rose; it is perfect in every moment of its existence. – Ralph Waldo Emerson
Delight in Rosy Bodycare
Wrap yourself up in the goodness of roses! Bodycare is one of those wonderful ways to use roses—the gorgeous, silky petals offer soothing anti-inflammatory and astringent properties that help to nourish skin and enhance skin care routine.  

27. Learn How to Make & Use Rose Water
A staple in rose body care, making your own rose water is easy and the benefits of using it are not to be missed! Find out more and enjoy this time honored way to harness the goodness of roses.
https://theherbalacademy.com/how-to-make-and-use-rose-water/
28. Rose Vanilla Massage Oil
This recipe is a favorite at the Herbal Academy. It is great for moisturizing and nourishing the skin, and what's more, makes a sensual addition to date night!
https://theherbalacademy.com/make-your-night-memorable-with-a-rose-vanilla-massage-oil/
29. Make a Facial Steam with Roses & Flowers
Steams are wonderful for opening the pores and bringing vitality to the skin. This recipe uses roses, chamomile, lavender, Calendula, and yarrow to nourish the skin.
https://theherbalacademy.com/herbal-skin-steam-aloe-calendula-cleanser/
30. Cleanse, Tone, & Moisturize with Rose!
If you are looking for a complete skin care routine look no further! Replete with floral goodness, find 3 recipes chock full of the goodness of rose to help keep your facial skin lovely and nourished.
https://theherbalacademy.com/4-herbal-recipes-everyday-skin-care/

31. Create Bath Salts, Salve, & Lip Balm
Roses and honeysuckle come together in the creation of a delightful salve and lip balm perfect for moisturizing dry skin and keeping lips supple. Rose also makes its way into a beautiful bath salt! Find all three recipes in this post.
https://theherbalacademy.com/3-herbal-gifts-to-celebrate-mothers-day/
32. Layer Roses & Oatmeal for a Beautiful Bath Blend
This recipe makes a great gift—it is pretty to look at and a pleasure to use. The oatmeal and roses combine to help soothe and tone dry, itchy skin while uplifting and soothing nerves. Whip this up with just a few simple ingredients and enjoy!
http://mamarosemary.com/blog/2014/11/25/pretty-layered-oatmeal-baths
33. Roses & Chocolate Scrub
If you are like me and love roses and chocolate, then this sumptuous body polish is for you! Body polishes are wonderful for exfoliating and moisturizing the skin. Enjoy whipping up a batch and scrub those cares away.
https://theherbalacademy.com/tips-creating-diy-floral-body-polish/
34. Rosy Lavender Body Powder
Stay fresh and dry with your own homemade, fragrant body powder! This recipe is so simple to make and will add a wonderful depth to any self-care regime.
https://theherbalacademy.com/homemade-floral-body-powder/
Do you want to learn even more about roses? Our online Herbarium offers a wonderful monograph for rose and many, many other herbs as well as in-depth herbal articles, media, and more!