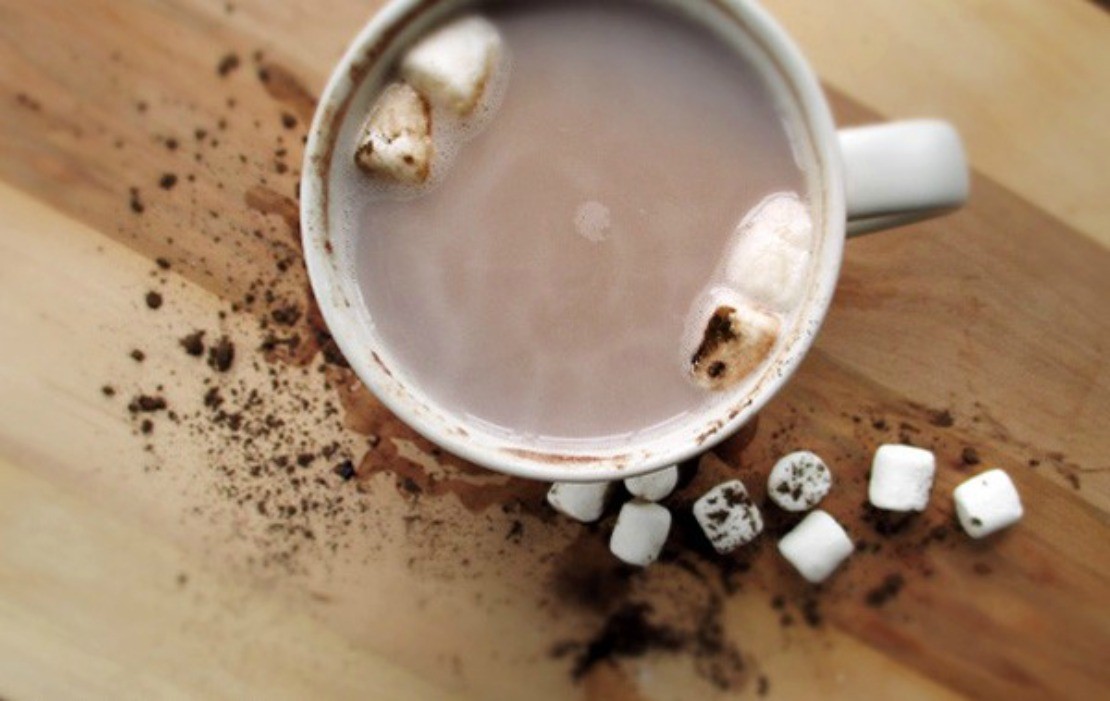 Valentine's Day Hot Chocolate
Holidays often include brewing something festive in the kitchen. February 14th, Valentine's Day, celebrates lovers and all things love, including aphrodisiacs. Whether in boxes or candied roses, it all starts with melt-in-your-mouth chocolate.
Our delicious Valentine's Day Hot Chocolate can help spice things up!

Cocoa and Love
But what is the connection to cocoa and love? The "food of the gods," Mayans first used cocoa beans and chocolate beverages as sacred offerings as well as ceremonial drinks for betrothals or marriages.
Cocoa contains tryptophan which is a precursor to serotonin, a neurotransmitter with roles in mood regulation. When it comes to matters of the actual heart, cocoa can reduce blood pressure and contains antioxidants and flavonoids, which may decrease the risk of cardiovascular disease and metabolic syndrome. Cocoa is also high in magnesium.
When you look at the chemistry of falling in love, you can easily see how Cocoa and Love stroll happily hand in hand together. It is said that when we are in love, the brain releases the neuromodulator phenylthylamine or PEA which is a stimulant, as well as dopamine, which then leads to the release of oxytocin, or the cuddle bug. Cocoa is said to contain this love-inducing phenylthylamine as well.
It is no wonder a hot cocoa can be a very pleasing love decoction, and an appropriate gift for your sweetie on Valentine's Day!
Choosing Cocoa
The darker the chocolate and the less sugar and milk it contains, the better! Compassion is sexy, so choose fair trade cocoa to avoid supporting child slavery and other serious ethical issues in the cacao/cocoa industry. You can also search here on Amazon for fair trade options. Furthermore, some people prefer raw cacao, which is minimally processed.
Valentine's Day Hot Chocolate Ingredients
In addition to cocoa, this easy homemade herbal hot chocolate mixture features ingredients that also have aphrodisiac properties (read more about aphrodisiacs). They are as follows:
Honey
Honey is connected to the origin of the name honeymoon; lovers were given a month's supply of mead or honey wine.
Ashwagandha
Also known as Indian ginseng, ashwagandha is a strong adaptogen that helps the body modulate stress levels. Due to the stress relief of the root, sexual desire may be increased. You can use either the root or the powder, and it can be purchased in your local health food store or here.
Cinnamon
It is said that cinnamon warms up the body which is believed to heat up sex drive. The smell of cinnamon is at once relaxing and stimulating.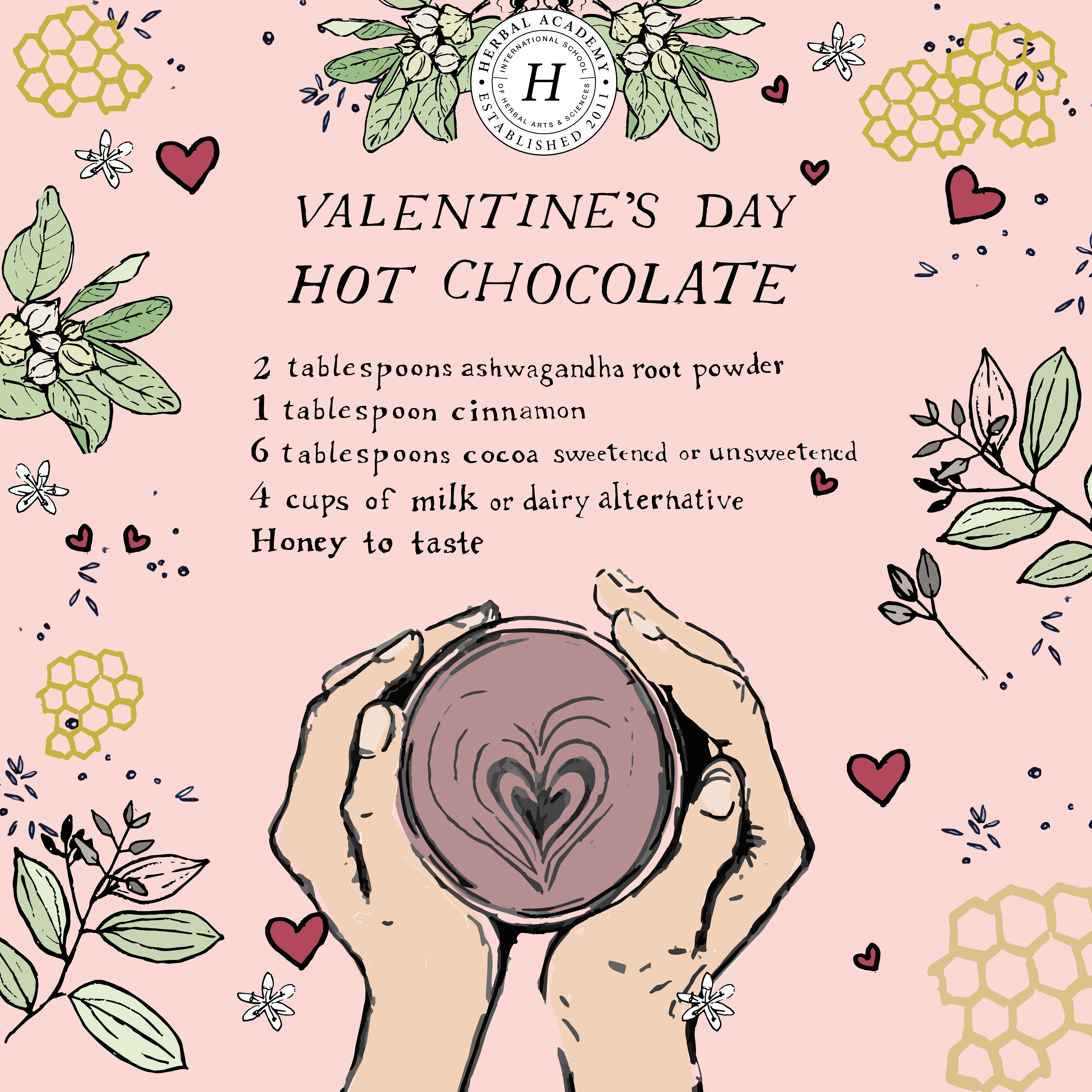 Valentine's Day Hot Chocolate
Ingredients
2 tablespoons ashwagandha root or powder
1 tablespoon cinnamon
6 tablespoons cocoa, sweetened or unsweetened
4 cups of milk, dairy or milk alternative
Honey to taste
Directions
Place a pot on stove heated at medium heat.
Add 4 cups of milk of your choosing.
Mindfully stir as you wait for steam to rise slowly off the top of the milk.
Add 6 tablespoons of cocoa, unsweetened or sweetened.
Add 2 tablespoons of ashwagandha powder and 1 tablespoon of cinnamon.
Whisk ingredients to combine.
Drizzle honey in whisking slowly until cocoa reaches desired sweetness.
Reduce heat and let it simmer for 20 minutes, stirring occasionally.
This easy homemade hot chocolate recipe generously serves two. If you would like to make this drink a little more adult, feel free to add a dash of maple whiskey or creamy Irish cream.
Cocoa Safety
Cocoa is also a natural source of theobromine, a mild stimulant. People that are sensitive to caffeine may also be sensitive to theobromine. Some women have noticed a connection between chocolate consumption and fibrocystic breasts.
See the article below for more hot chocolate recipe ideas:
How To Make Herbal Hot Chocolate (3 Recipes!)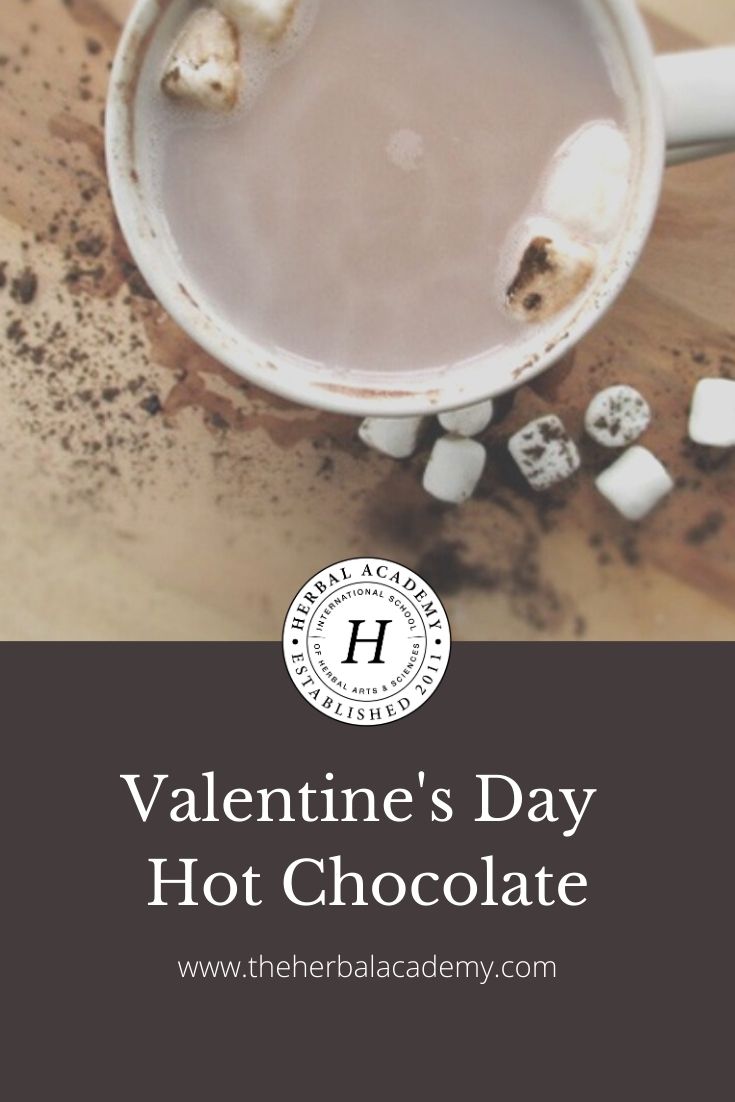 REFERENCES
McKay, Brett and Kate. (17 December 2012). The suprising manly history of hot cocoa. Retrieved from http://www.artofmanliness.com/2012/12/17/the-surprisingly…
Kilham, C. (Date Unknown). Ashwagandha. Retrieved from http://www.medicinehunter.com/ashwagandha%20
This article is written by Lena Yakubowski, yoga teacher and communications assistant at the Herbal Academy of New England.