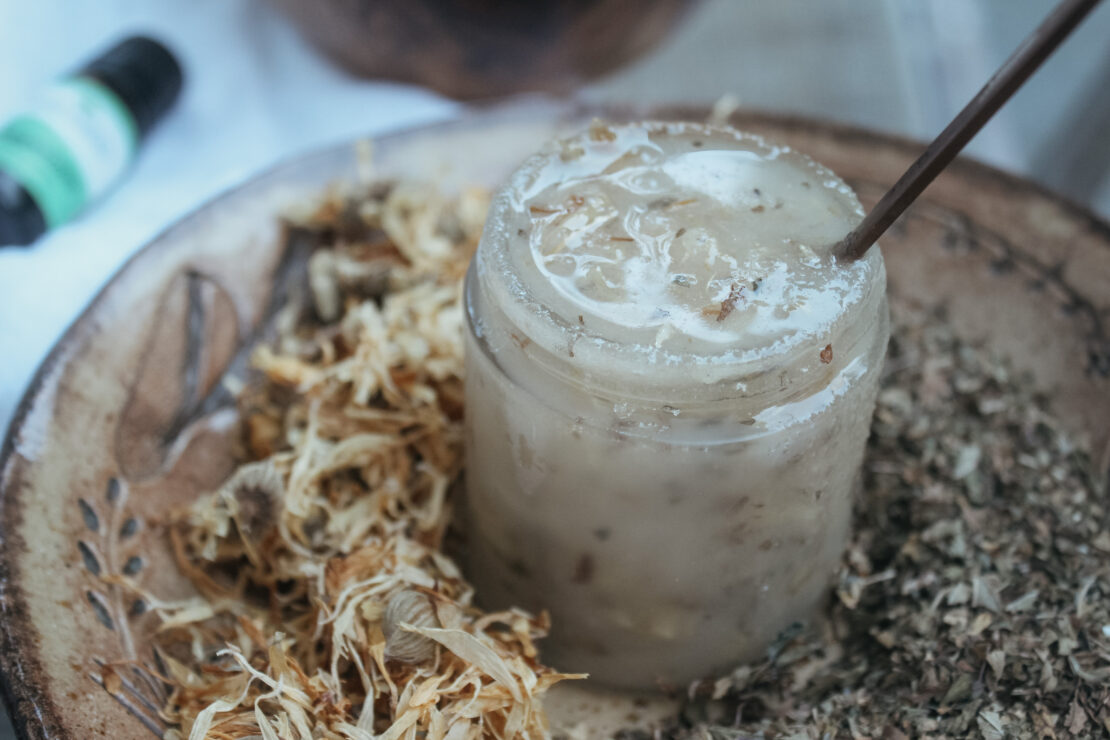 How To Make A Homemade Sugar Scrub with Calendula
Over the last 8-10 years, I've become more focused on living a healthier lifestyle and raising my kids with that mindset as well. Because of this decision, I've had to change a lot of things in my life–things that most people may see as harmless, but I can see that they do more harm than good. Switching out the skincare products I use on a regular basis with less toxic versions is one of the bigger changes I've had to make.
Toxins And The Skin
It's crazy the amount of toxins the average American is exposed to on a daily basis. The exact number is not known as it varies based on one's lifestyle, but it's estimated to be over 2 million toxins a day! I think it's safe to say that it would be an impossible feat to live toxin-free, but I do think it's well worth the effort of decreasing toxins as much as we possibly can, as well as helping our livers stay healthy.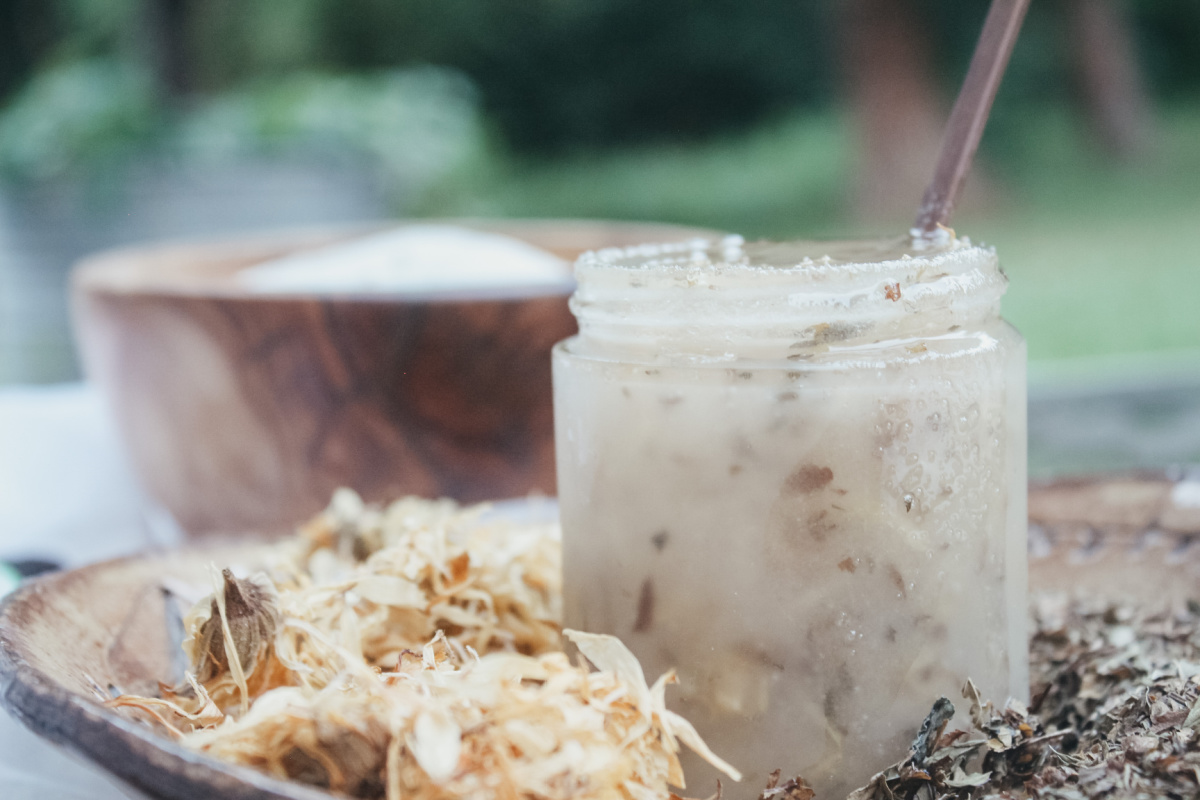 Reducing Toxins With Homemade Skin Care Products
In an effort to decrease the toxic load on my and my family's bodies, I've taken on the task of making the majority of our skin care products at home, from scratch. For many people, this may seem like a burden, but thankfully, I love it! Not only is it healthier for my family, it's cheaper too. Both of those things make this mama happy!
One of the things I've been making for myself on a regular basis lately is sugar scrubs. Seeing as how I'm not a big fan of using soap every day in the shower, I decided to alternate the things I use to get my skin clean so that I don't dry it out so much, but instead, nourish and moisturize it regularly.
Today I'd like to share that recipe with you, but before I do, let me explain how I take it up a notch or two from your basic sugar scrub.
Using Herbs In Homemade Skin Care Products
When it comes to making sugar scrubs, you can use plain carrier oils and sugar, but where's the fun in that? Sure plain carrier oils are nourishing to the skin on their own, but herbs add so much more nutrition (not to mention therapeutic benefits) that it's worth adding them into your products. This is why I choose to infuse herbs into my carrier oils and use my herbal infused oil in place of plain carrier oils.
In this recipe, I'm using the herb calendula. Calendula is a well-known herb for the skin. It has anti-inflammatory, anti-bacterial, anti-fungal, astringent, and vulnerary properties, all making it great to use in skin care products. But beyond its therapeutic properties, it's a beautiful plant as well.
When I infuse calendula into oils for sugar scrubs, I use the petals only in the infusion (as opposed to the whole flower), and instead of straining the herb out of my oil, I like to leave the petals in the oil adding them to my sugar scrub. I think it not only gives it a pretty presentation, but it also makes you feel good seeing those beautiful golden petals swimming around in there, knowing that they are benefiting your body. Learn how to make oil infusions here. 
So now that you know why I like to include herbs in my homemade sugar scrub, check out the recipe below so you can try it out and see what you think.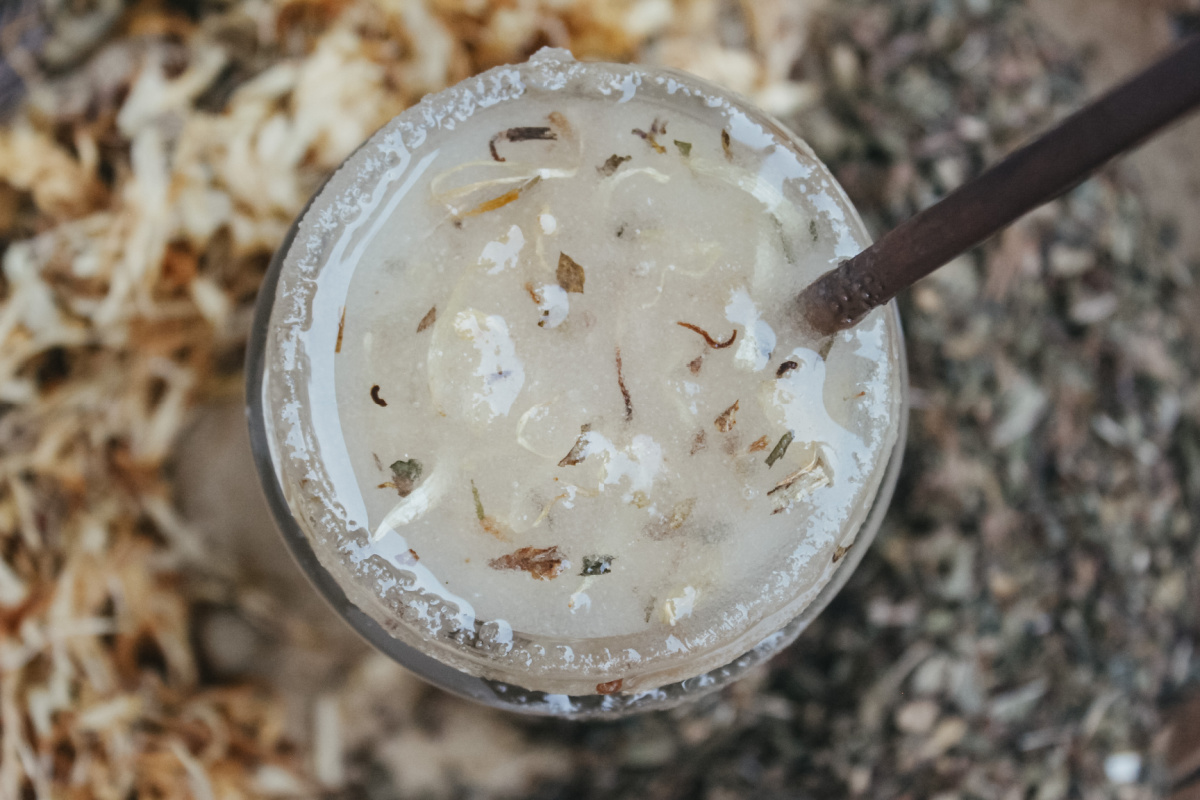 Calendula Sugar Scrub
Ingredients
1/2 cup of calendula infused sweet almond oil
1/3 cup calendula infused coconut oil
2 cups fair-trade white sugar
10-20 drops of essential oil (optional)
Directions
Infuse calendula flowers into sweet almond oil and coconut oil separately. Reserve specified amounts of each.
Combine coconut oil with sugar and mix well.
Slowly pour in sweet almond oil while mixing until desired consistency is reached.
Add essential oils if desired
In Closing,
You can use this herbal sugar scrub every time you shower (I even use it to shave with), or you can alternate it with soap as often as you'd like. Gently massaging it into your skin feels great and the oils will leave your skin soft, nourished, and glowing. Just be sure to use a mesh catch for your drain so you don't clog up the plumbing with the calendula!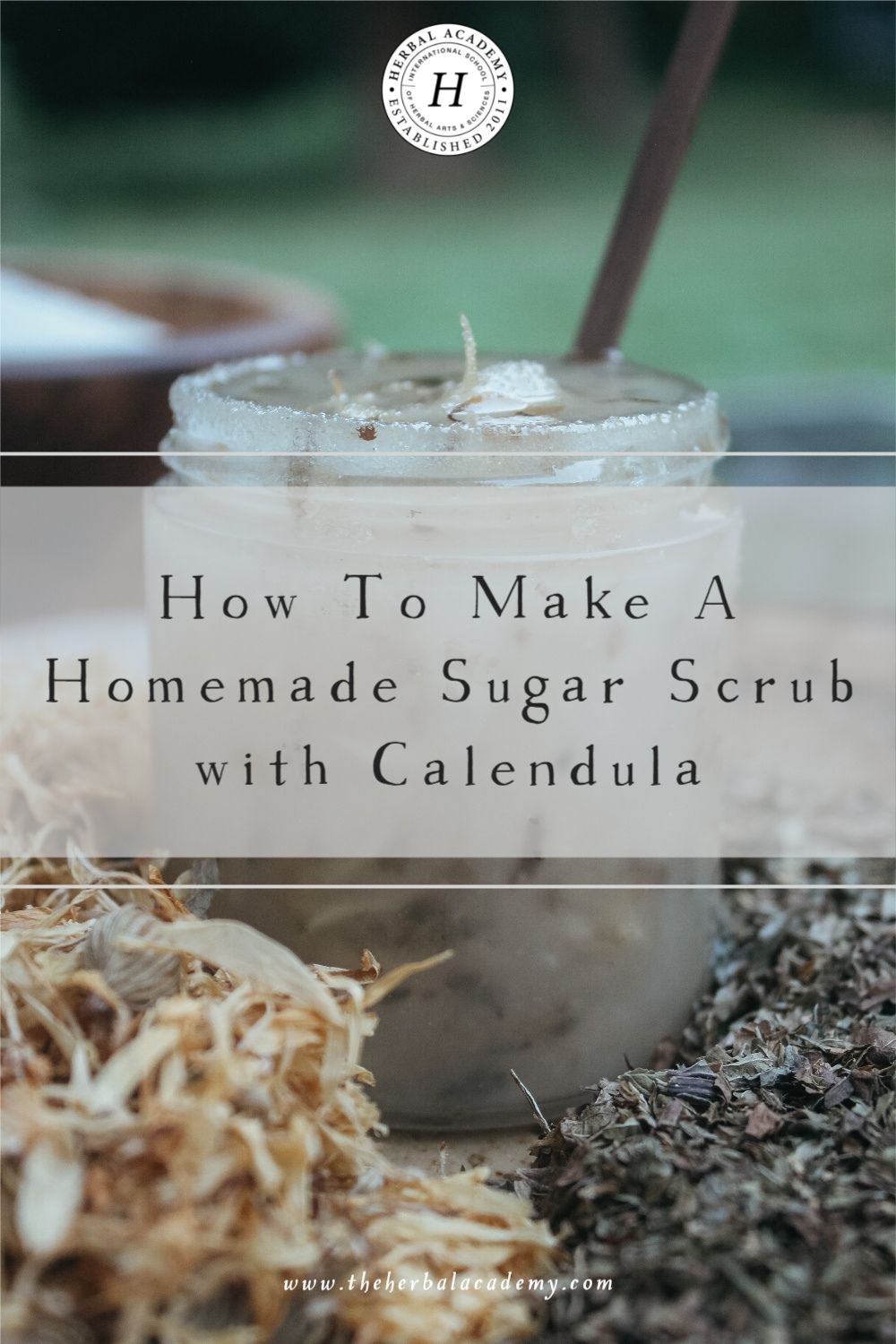 For more sugar scrub recipes, see:
Lavender-Infused Oil and Sugar Scrub Recipes
Meagan Visser is a registered nurse turned home-schooling, stay-at-home mom to 4 small boys. She live in the Southern Appalachian Mountains of East Tennessee, and is currently a family herbalist that is passionate about using herbs for health and healing. She teaches natural-minded mamas how to take charge of their children's health naturally on her blog GrowingUpHerbal.com and in her Letters To Natural Mamas emails.
Photo of sugar scrub provided and copyrighted by Meagan Visser.