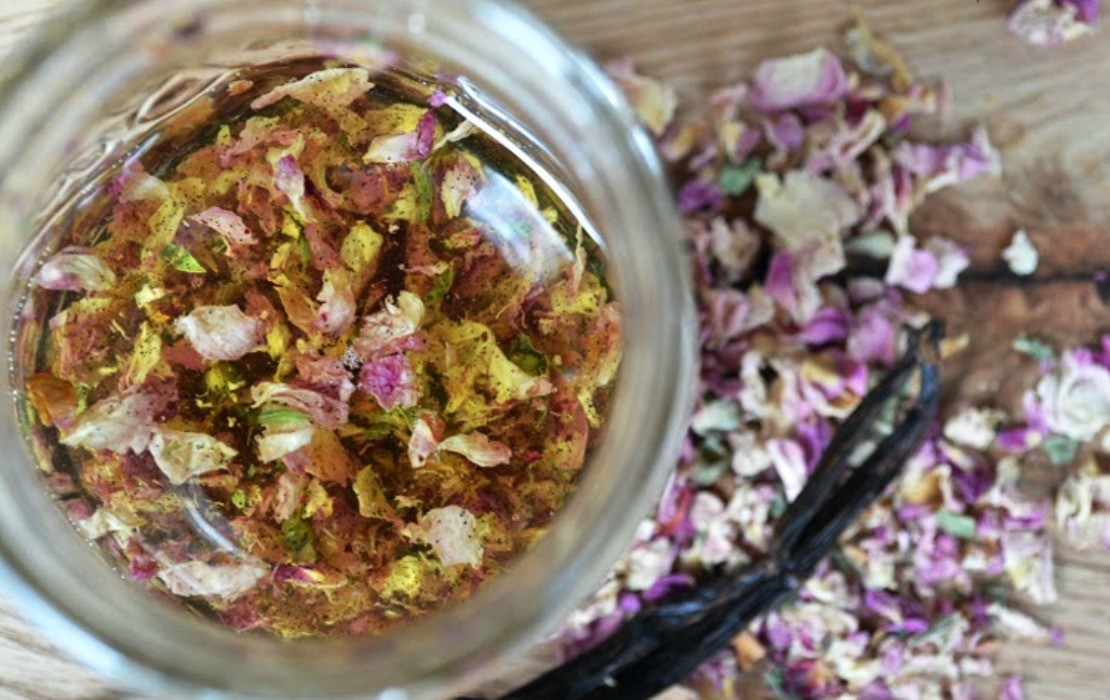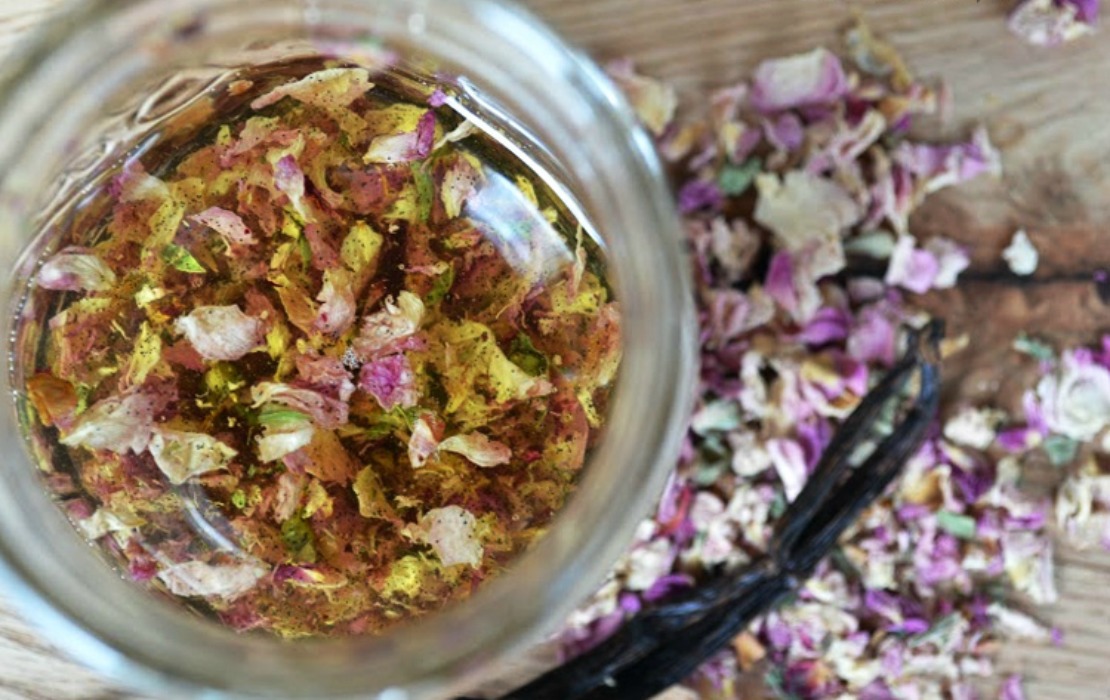 Make Your Night Memorable With a Rose-Vanilla Massage Oil
Valentine's Day is looming, tantalizing us with its impending possibilities. With a five year old son who loves to come to our bed every night around midnight, and both my husband and I busy with work, it can be hard to find time for quality romantic time together.  Since we are parents, we spend most nights at home unable to leave the house for a date night, so we have begun creating our own romantic love palace right in our own home (while the kid is sleeping, of course!).
Create a Sensual Experience in Your Own Home
It's really not that difficult to create a romantic setting at home if you have the right ingredients on hand. Herbs can be very helpful for putting together just the right setting for you and your lover this Valentine's Day!
Set the mood with rose petals
Rose petals are such a great addition to any romantic situation. Revered for centuries, roses are the oldest herbal symbol of love and romance. You can spread these upon your bed, around your home, in the bath, or decorate the home with bowls of dried rose petals for potpourri. To enhance the scent, you can add a couple drops of rose essential oil or rose absolute to the petals, and it will diffuse throughout the room! For dozens more ideas using rose, check out Things To Do With Roses ebook.
Or how about setting the mood with this Herbal Valentine's Day Kit by Original Organics?
SCENTualize your room and pillows
It's a proven fact that scent triggers all sorts of states of mind and it's no different with aphrodisiacs. There are all sorts of methods that you can use to make your home have that sexy scent that sets the mood for you and your partner but these are my two favorite: you can simmer herbs and water on the stove (rose petals, cinnamon sticks, vanilla beans, orange peels, etc.) or make your own pillow and room spray using essential oils (The Twilight Gypsy blend is my favorite for an appealing, sensual spray).
Set the mood with candlelight
I love to make my own soy wax candles! They are so easy to make and are great for candle lovers who want to avoid the toxins that paraffin waxes and fragrance oils contain. You can customize your favorite sexy scents using essential oils that are known aphrodisiacs (rose, sandalwood, jasmine, ylang ylang, sweet orange, vanilla, coriander, bergamot, etc.), and not only set the mood with low flickering lights, but also with beautiful scents.
Make an unforgettable meal 
Food has long been used as the start of the date ritual. Even certain foods have been touted as aphrodisiacs and are used to help you to "get into the mood." Whether it's a full three or more course meal or a sensually delicious dessert, you can make a special meal just for the two of you.
Get the music going
I don't know if it's my ADHD brain or if it's just because I always have something that needs to be done, but complete silence can be deadening to my mood. If there's nothing playing in the background to keep my mind from straying in the moment, I can find myself thinking about my to-do list instead. I can't give you advice about what music to pick, but I will say that if you and your partner test the waters with different music in both your playlists, you will find something that can help both of you stay focused on one another and your present moment together.
Give a sensual massage
Touch is key to turning up the heat. I find that starting things off in the bedroom with a sensual massage can really help to get the two of us tuned into one another.
It's really easy to make a massage oil with oils that you have on hand, but my favorite is a massage oil infused with vanilla and roses. It has a beautiful sensual scent that is sure to delight your senses!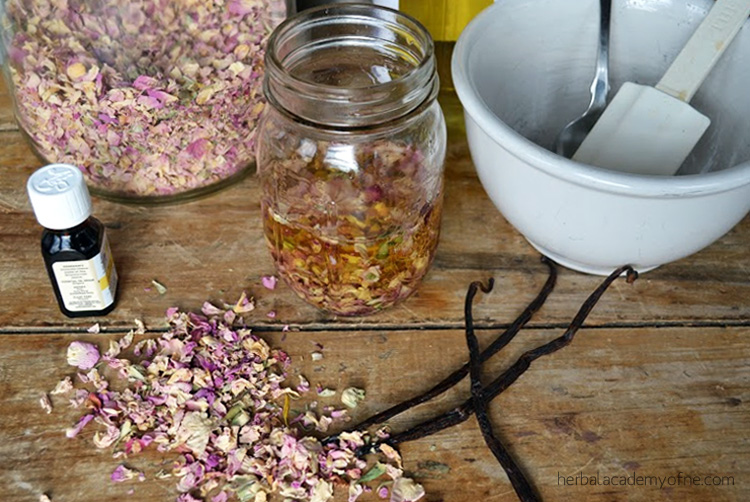 Making Your Own Massage Oil
Rose-Vanilla Massage Oil
Ingredients
½ cup jojoba oil
½  cup coconut oil
2 tablespoons dried rose petals (like these)
1 vanilla pod, chopped into ¼-inch pieces
½ teaspoon vitamin e oil (optional – helps to keep the oils from going rancid as quickly)
5 drops rose absolute essential oil
Directions
Using one of the oil infusion methods described here, infuse the chopped vanilla pod and dried rose petals into the oils. Note that you can substitute your favorite carrier oils for the jojoba oil and coconut oil in this recipe, or you could also do just one oil instead of two if that is all that you have on hand.
Using a cheesecloth or fine mesh strainer, strain the herbs from the oil and compost the leftover herbs.
Add the vitamin E and rose absolute essential oil to the infused oil, shake to combine, and keep in a sealed bottle in a cool dark location when not in use.
To Use the Massage Oil:
Pour a generous amount of massage oil into the palm of your hands and rub together your hands before massaging into the skin. Be sure to warm the oil slightly before using for massage by running hot water over the closed bottle or by setting the closed bottle in a bowl of hot water. Do not microwave oil before use, as this could cause hot spots in the oil that can burn skin.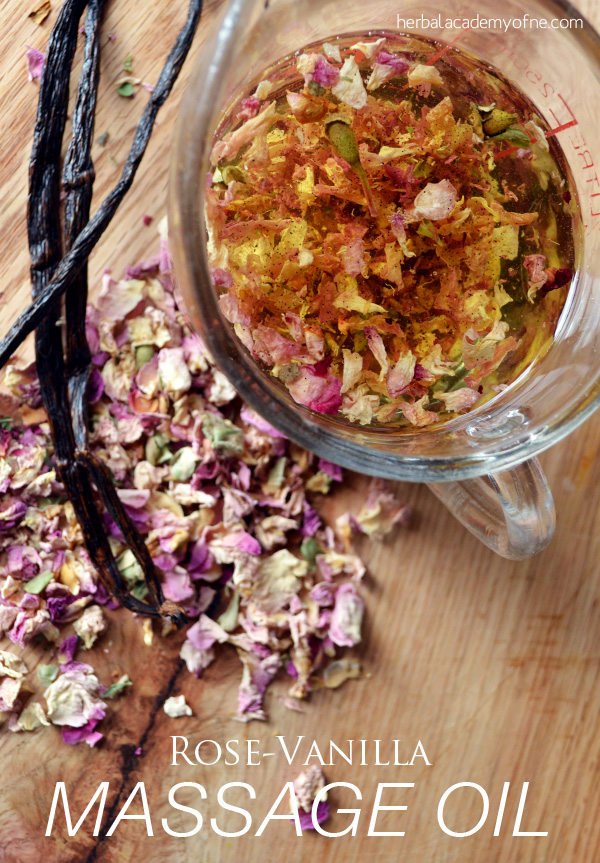 This post was written by The Hippy Homemaker, Christina, who loves to share what she's learning about green and eco-friendly living, natural health, aromatherapy, herbalism and more!