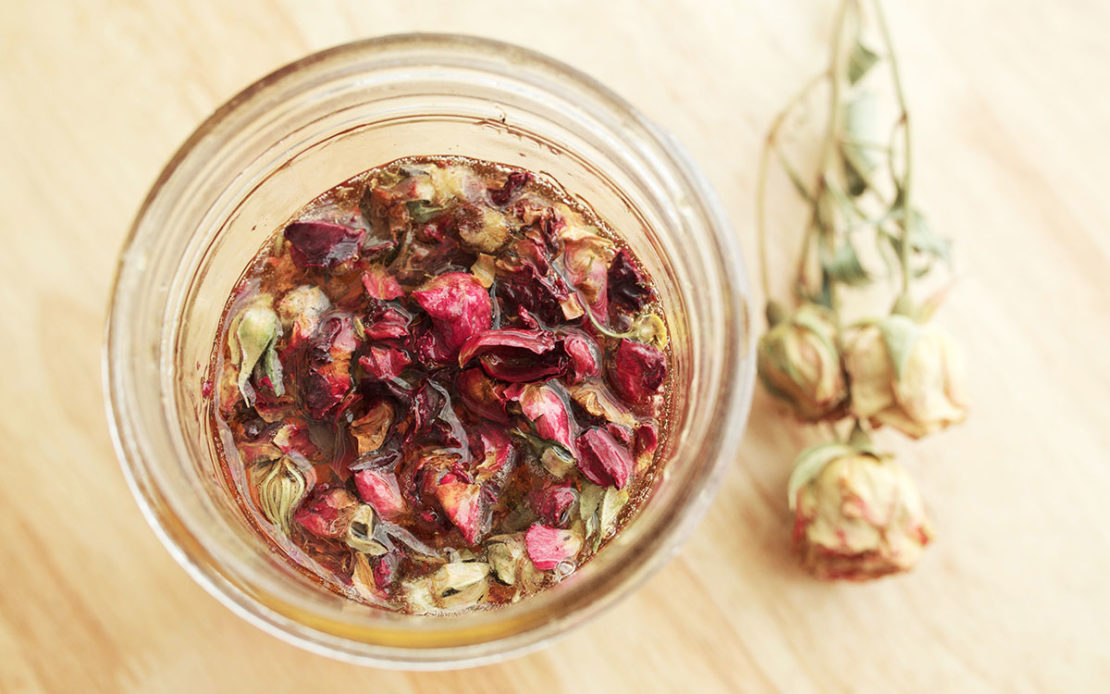 How To Make and Use Rose Infused Honey
Tranquility, love, and contentment are some of the emotions triggered when inhaling the beautiful aroma of the humble rose. For thousands of years, roses have been powerful symbols associated with love and beauty. Not only are roses an elegant way to say "I love you," but they offer extraordinary health benefits, both for our bodies and spirits. A wonderful way to enjoy the beauty, aroma, and beneficial properties of the rose is to create a simple rose infused honey.
Let me share the wonders of the rose—the history, magic, and power of the rose, varieties used for making herbal preparations, how to create a simple rose infused honey, and ways to use rose-infused honey.
History and Folklore of the Rose
Distinctive, exceptional, alluring, exquisite, and graceful; the significance of roses is a common theme in art, religion, myth and folklore through the ages.
Aphrodite, the Greek goddess of love, beauty, and eternal youth, shed tears when grieving the death of her lover Adonis. Her tears turned a white rose to red.
In Christianity, the red rose has symbolized the blood and suffering of Christ.
Rose is associated with Isis, the most significant goddess of the Egyptians, representing the purest example of the loving wife and mother.
In Islam, the rose has a significant role in art and symbolizes truth and love.

The Many Varieties of Rose
Roses are herbaceous shrubs found throughout the northern and southern hemispheres. There are thousands of varieties of rose species. When choosing roses for making herbal preparations, the best varieties are those with a strong fragrance.
Some of the commonly used varieties for making rose preparations are:
The apothecary rose (

Rosa gallica officinalis

) – This rose has a history of use for medicinal purposes since medieval times.

Autumn damask (

Rosa damascene semperflorens

) – This variety is exceptionally fragrant and cultivated for rose oil.

The cabbage rose (

Rosa centifolia

) – This rose produces a strong fragrance and is also cultivated for rose oil.
Using Rose In Herbal Preparations
In the 1st century C.E., Pliny the Elder recorded thirty-two different therapeutic uses of the rose. Roses were grown in medieval gardens for their beauty; as food, and for making rose remedies.
Scent is a powerful way to alter your mood. Try inhaling the scent of a rose and feel the effects as its delicate aroma lifts your mood. Herbalists commonly use roses to support those suffering from a broken heart, grief, or sadness (Rose, 2007).
Rose petals are astringent and frequently used in skin care products (Grieve, n.d.). Rosewater can be used directly or as part of a skin care product. Roses are sensual and evoke the spirit of love in the heart and mind, and are considered an aphrodisiac. The rose is often used to lift depressive moods and to create a sense of well-being (Rose, 2007).
The energy of the rose is fluid and elegant and has a way of adjusting to the body's needs. Common uses for rose include; calming heart palpitations, reducing nervous tension, to relieve sadness, eliminate liver congestion, and reduce inflammation throughout the body (Wood, 2008). Spiritually and emotionally, the rose can offer profound effects.
The following are key actions attributed to the rose:
antidepressant

antispasmodic

aphrodisiac

astringent

antibacterial

antiviral

antiseptic

anti-inflammatory

blood tonic

cleansing

digestive stimulant

expectorant

increases bile production

kidney tonic

menstrual regulator
The Whole Rose
When making herbal preparations with rose, all parts can be used including; flowers, petals, rosehips, root, root bark, and essential oil. When choosing roses for making food, remedies, or skin care, use only organically grown roses. Roses with the most fragrance make the most effective remedies.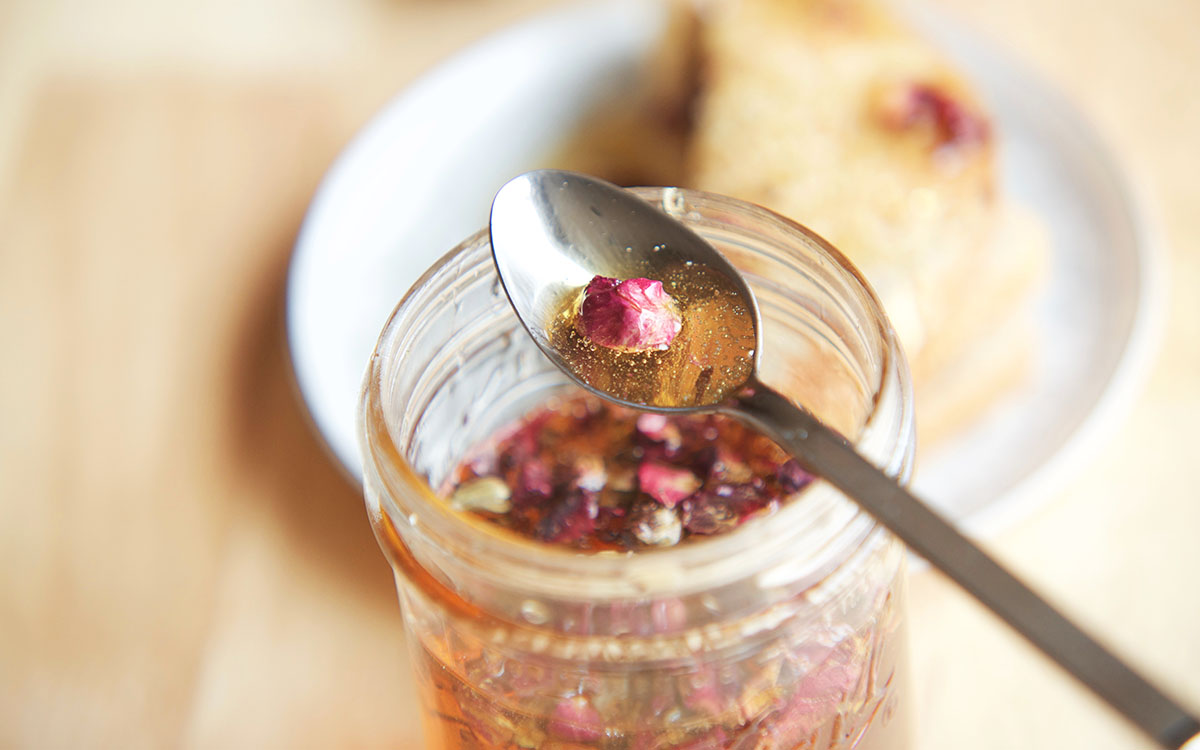 How To Make A Rose Infused Honey
Rose infused honey is a delightful way to enjoy the benefits of rose. Simple, yet luxurious, rose honey is a treat and makes a wonderful gift for those you love.
Rose Infused Honey
Ingredients
Directions
Gather fresh or dried rose petals (if you are harvesting your own, be sure to use only non-sprayed to avoid toxins) or you can order dried rose petals

If harvested, lay the rose petals on paper to allow any insects to find their way out

Fill your jar with rose petals

Fill the jar with honey

Stir to remove air bubbles

Add more honey as needed to completely cover the rose petals

Allow the honey to infuse for a few days before using

At this point, you can either strain the petals from the honey, or serve the honey with the petals
How to Use Your Rose Infused Honey
Rose infused honey can be used anyway you would use unflavored honey.
Here are a few suggestions:
        

Add rose honey to teas for an uplifting aroma and for lifting your mood

       

Rose honey is a delicious and decorative topping for desserts

       

Add to hot cereals like oatmeal – a delightful taste of summer in winter months!

       

Add to plain yogurt

       

Serve on toast

       

Enjoy a spoonful when you are feeling anxious or upset

       

Give to those you love
Roses are often overlooked for their therapeutic benefits. They offer many benefits beyond skin care, and creating a simple rose infused honey is a beautiful way to enjoy the aesthetic, physiological, and spiritual gifts of the alluring rose.
Learn even more about roses and how to use them in The Herbarium.
Further Resources on Rose Medicine:
Herbal Academy article on How to Make and use Rose Water: https://theherbalacademy.com/how-to-make-and-use-rose-water/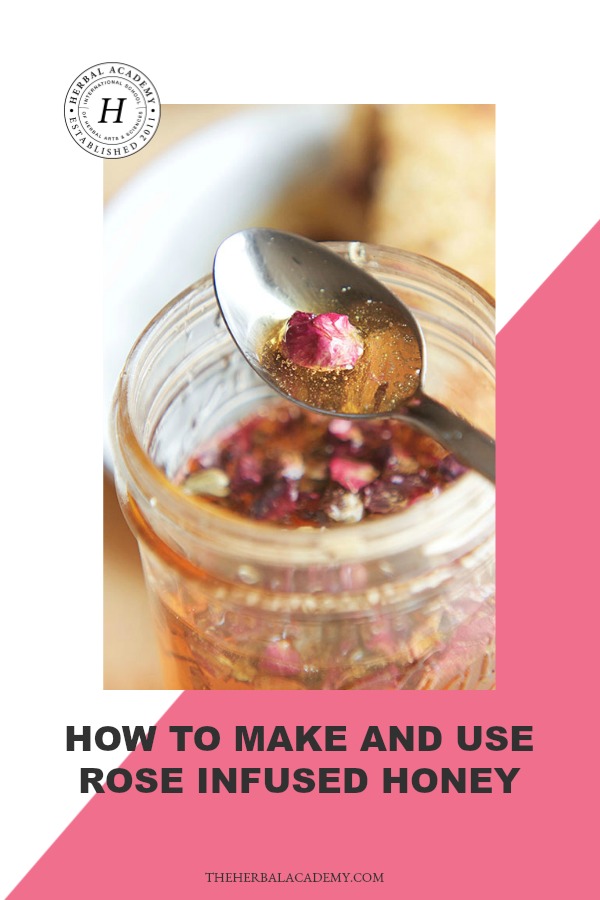 REFERENCES
Grieve, M. (n.d.). Roses [Website]. Retrieved on 1/5/2017 from  http://botanical.com/botanical/mgmh/r/roses-18.html#con
Rose, K. (2007). Sweet Medicine: Healing with the Wild Heart of Rose [Website]. Retrieved on 1/5/2017 from http://bearmedicineherbals.com/sweet-medicine-healing-with-the-wild-heart-of-rose.html
Wood, M. (2008). The earthwise herbal: A complete guide to old world medicinal plants. Berkeley, CA: North Atlantic Books.