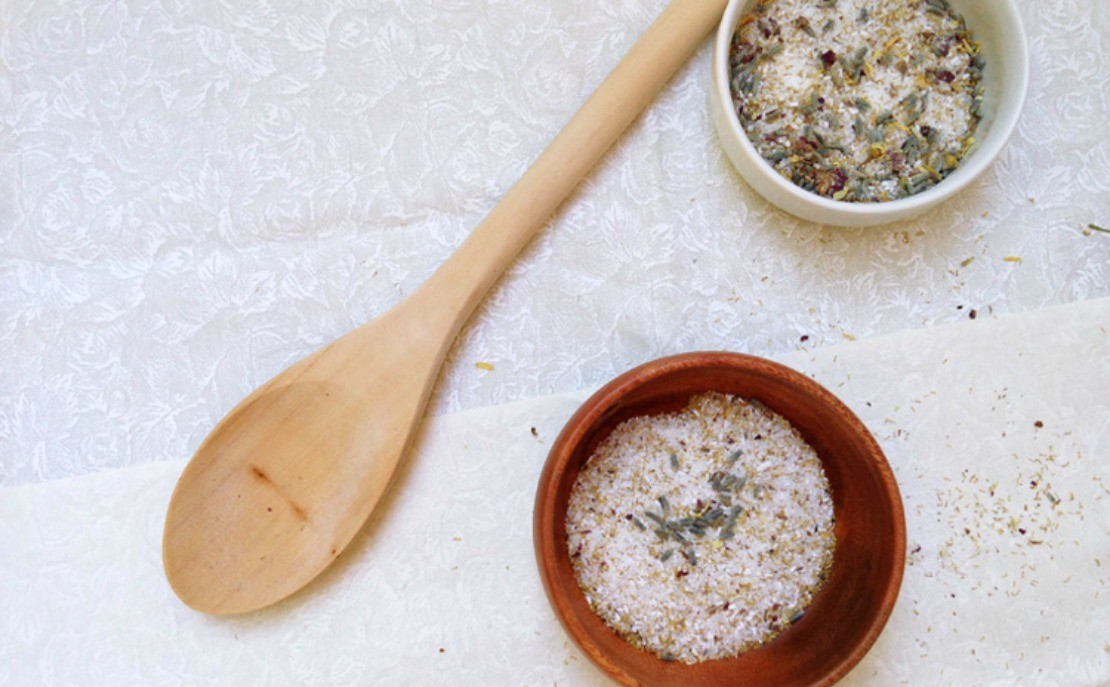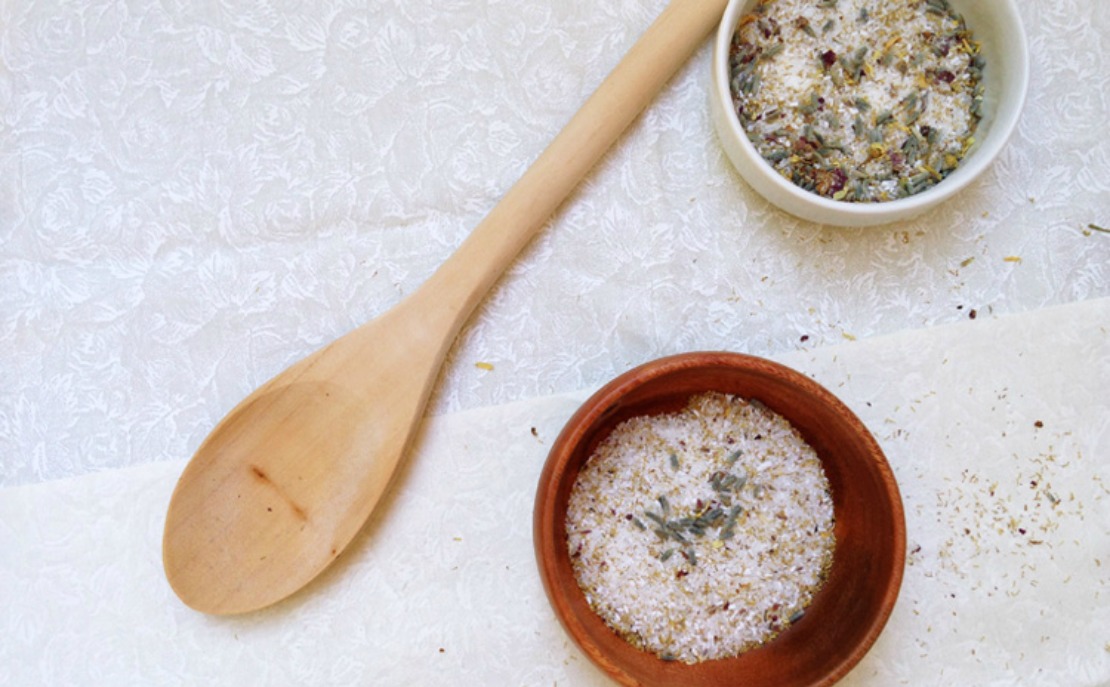 Is there a person on the planet who does not wish for a long bath at the end of a stressful day or week? Unfortunately, not much of us have enough time to do it on a regular basis. But when we do, we want to make this experience even more blissful by means of nice music, a glass of our favorite wine, and by adding some fragrant bath salts in the water. I will not engage in commenting on the first two things, for their choice depends on you and your tastes. As for the third, I intend to give you an idea of how to make soothing lavender bath salts yourself that will take you less than 5 minutes.
Generally speaking, the merits of bath salts are not just limited to the relaxing effects their fragrance has upon us. They are the perfect remedy for dry skin, not to mention that they might reduce arthritis-related pain. Ready-made bath salts might be really expensive, but not half as effective as those prepared at home. This is why I would like to introduce you to the easiest way to mix those yourself. And I chose lavender for its amazing aroma which is able to make you forget all the unpleasant events that took place earlier in the day.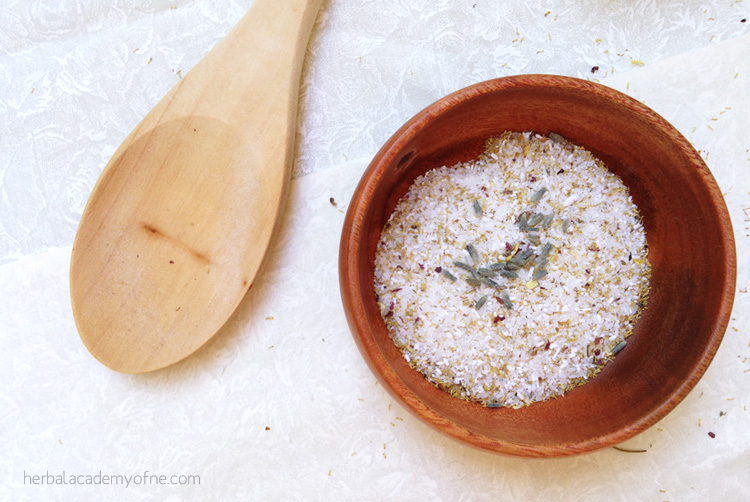 Basic Lavender Bath Salt Ingredients
In order to prepare your DIY bath salts, you will need several ingredients. Some of them you may already have in your home and use every day for various purposes, while others can be found everywhere on the Internet or your local alternative stores. Mind you, not all of the ingredients are particularly cheap, yet they cost less than ready-made bath salts. Not to mention the benefit of knowing what the product actually contains, for you have mixed it yourself.
So here is a list of the ingredients you will need:
• A cup of Epsom salt
• A cup of sea salt
• A cup of baking soda
• A cup of dried milk (or powdered coconut/soy milk)
• 10-15 drops of lavender essential oil (the more you add, the stronger the aroma)
• Three tablespoons of olive oil* (you can replace it with jojoba oil or any other pure oil)
• One-quarter cup of lavender buds (like these).
*Always use caution when adding oils to the bath as it can cause a slippery surface.
Get creative with your herbs. In our recipes, we've also sprinkled in rose petals and calendula flowers for extra color!
You can always add some color to your salts, if you want to as well. Mind you, food dye is not particularly suitable, for it might blemish your tub and we all know how hard and time-consuming it is to clean such types of stains. The natural colorants that are used for hand-crafted soaps are just perfect for the purpose, yet they are not particularly easy to acquire and might be a bit costly.
And here are the utensils needed:
• A large mixing bowl
• A measuring cup
• A tablespoon
• A larger spoon
• A container with a tightly-fitting lid to store your salts in
It is highly recommended that you use glass bowls, cups, and containers. Plastic ones are not particularly suitable for the purpose for some oils react badly to this material.
Making Your Salts
Once you have acquired everything needed, you need to measure all the dry products and put them into the mixing bowls, except for the buds. They will be added later on. Then you need to whisk thoroughly. Add the olive oil and the lavender essential and mix again. Finally, you need to add the buds and drop a small quantity of colorant (optional). Et voilà! Your lavender bath salts are ready.
Store the product in a glass container and make sure to place it somewhere dry and perfectly clean. After all, it is something that will be in direct contact to your body.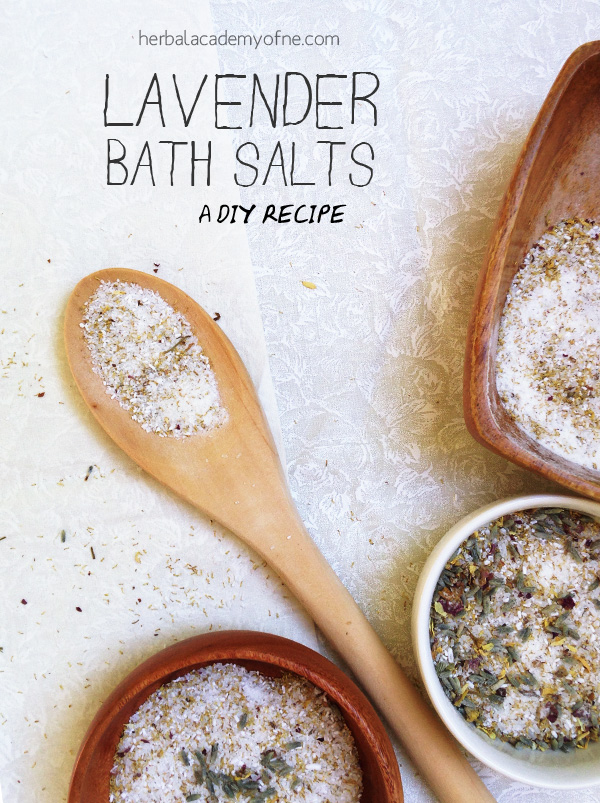 Pheeby Snow manages a team of carpet cleaners in London. She is really keen on herbalism, natural living, organic gardening, and alternative medicine. DIY beauty products is her hobby and she has many recipes to share.
Save