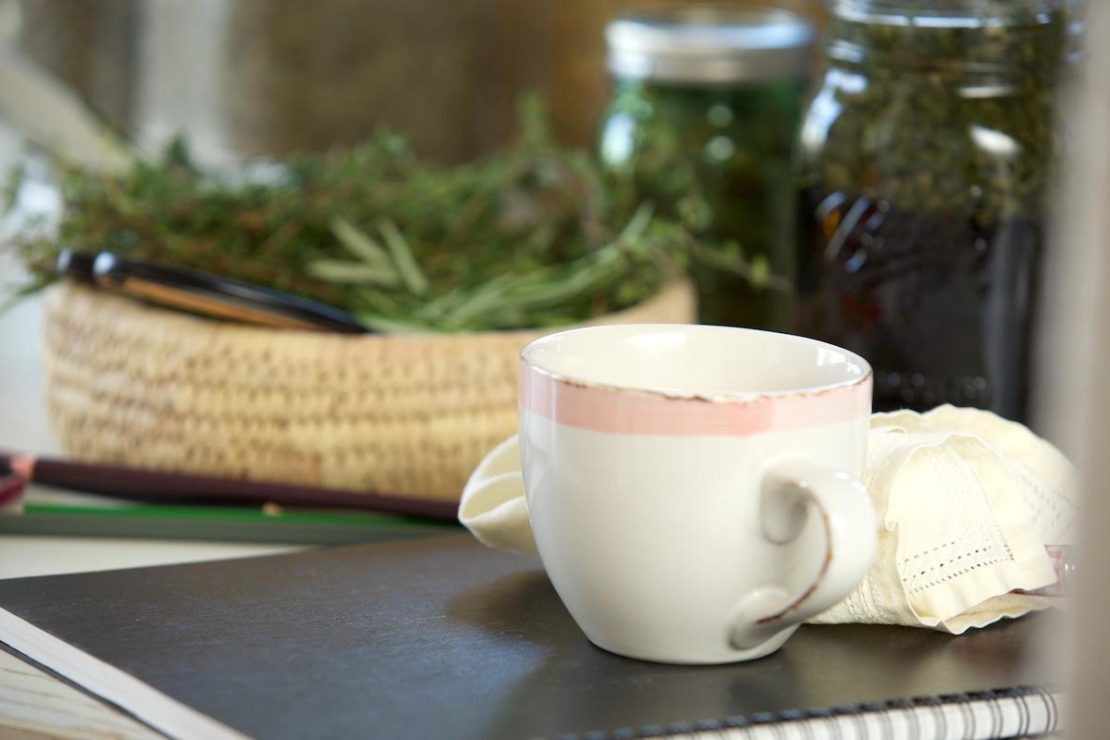 18 Herbal Teas To Help You Stay Healthy This Winter
Keeping our bodies healthy and strong during winter can be a challenge! Thankfully, there many wonderful herbs that we can use to provide the support we need. Prepared as tasty teas, these herbs can help support wellness right in your tea cup! Brewing up a cup of tea to enjoy is a wonderful form of self-care, encouraging us to slow down and rest a bit while waiting as the herbs steep, giving their goodness to the water. Make herbal tea a part of your life and stay healthy this winter!
Stay Healthy This Winter with the Help of Herbs
Common herbs used during the winter season include herbal allies such as ginger, cinnamon, hawthorn, rose hips, Echinacea, elderberry and flower, tulsi basil, Astragalus, and Calendula. Each of these herbs offer their own unique array of useful properties. Herbs can help to bolster the immune system; provide essential vitamin C and other nutrients; support digestion and good circulation; and also soothe the nerves and while encouraging a healthy response to stress. All of these actions are important for supporting wellness at any time of the year but especially during the winter!
Learn more about the goodness of herbs in the tea pot with 10 Herbs for Tea-Kettle First Aid.
5 Tea Blends to Support the Immune System
The basics of good health are most important to preventing illness during the winter. Good hand washing, healthy diet, exercise, plenty of sleep, and stress management—all with striving to fill our lives with meaning and joy—go a long way towards nourishing a deep vitality. However, we can get a helping hand from herbs by incorporating them as part of a healthy lifestyle.
Certain herbs are known by herbalists to have immunomodulating and immunostimulating actions. These herbs are used during the winter months to help "enhance the body's natural defense system to assist in infectious conditions or other situation which tax the immune system" (Tilgner, 1999, p. 23). Some examples include Astragalus, Echinacea, elderberry, ginger, Calendula, garlic, hyssop, licorice, holy basil, and medicinal mushrooms.
The following tea recipes are created with immunomodulating and immunostimulating herbs. Drunk frequently, these teas can help you to stay healthy this winter.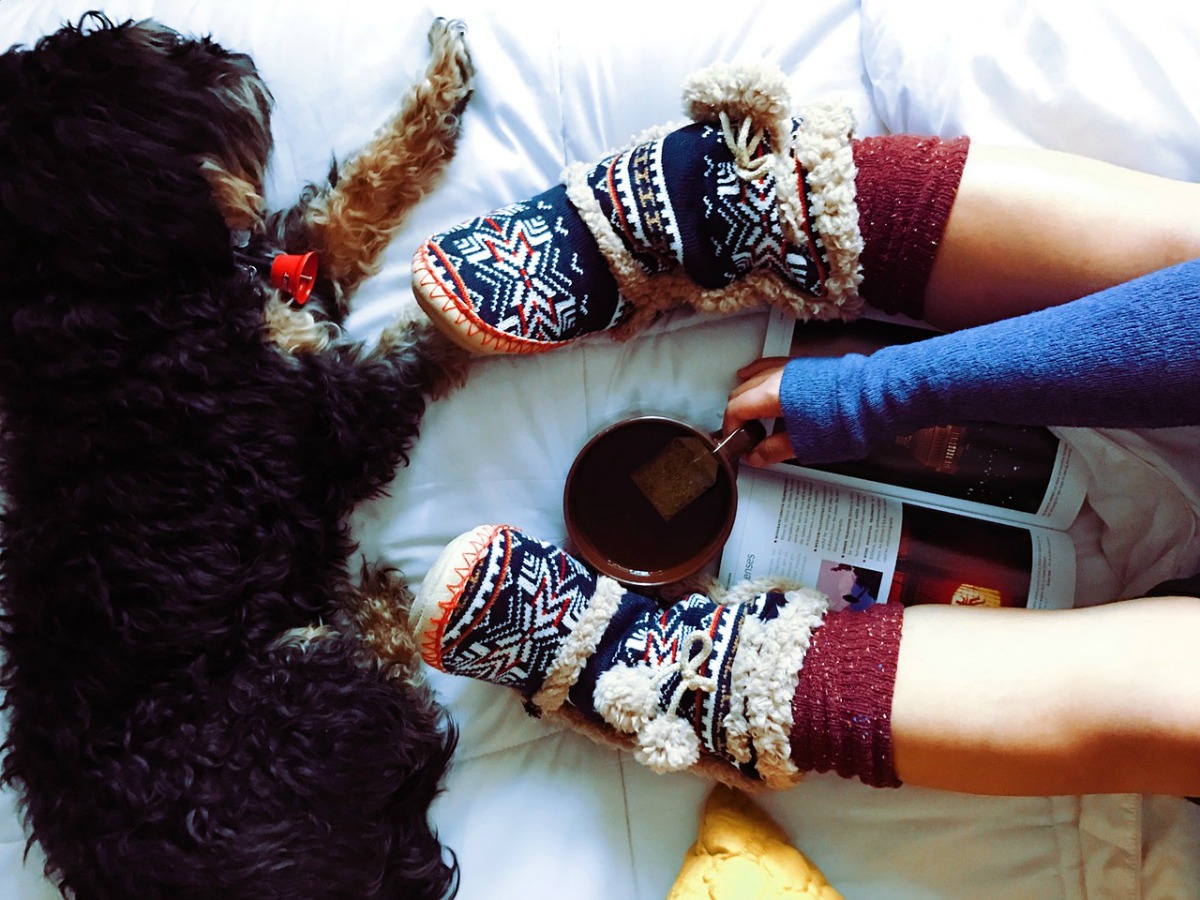 Berry and Flower Spice Tea
This recipe makes one big mug of tasty herbal tea.
Ingredients
1 teaspoon dried elderberry berries
1 teaspoon dried holy basil leaves
1 teaspoon dried Calendula flowers
1 teaspoon dried rose petals
1 teaspoon cinnamon chips or 1 cinnamon stick
½ teaspoon dried ginger root or ½" chopped fresh ginger root
12 oz boiling hot water
Directions
Place all the herbs in a heatproof container and cover with boiling hot water.
Let steep for 15 to 30 minutes.
Strain and serve with honey if desired
Another herbal tea to help you stay healthy this winter is this delicious Immune Supporting Tea Blend. This tea is filled with herbs to fully nourish the body and mind. With herbs such as calming lemon balm, nourishing nettle, carminative cardamom, as well as Echinacea and elderflower to help bolster the immune system, sipping a cup of this will give you the support you need!
Another lovely herbal tea blend is this recipe for Immune Boosting Tea. This tea is rich with Echinacea and elderflower as well as calming nervines and digestive soothers.   
A favorite herb for helping to strengthen the immune system and support wellness is Astragalus. It is "one of the most respected herbs in the Chinese herbal repertoire for strengthening general resistance against illness" (Romm, 2001, p. 195). Please note that traditionally, Astragalus is not used during the beginning or acute phase of an illness. Instead, enjoy it to support general wellness before or during the end of an illness.
Enjoy incorporating Astragalus into your daily tea with these two blends. Formulated especially for the whole family to enjoy, Super Immunity Tea Blend offers the goodness of Astragalus with nettles, elderberry, rose hips, cinnamon, and licorice, and
Immunitea Wellness Herbal Tea offers a blend of elderflower and berry with chamomile, rose hips, Echinacea, and of course, Astragalus.
5 Herbal Teas to Help Ease Stress and Encourage Healthy Sleep
Stress has a profound effect on the immune system and can be a "significant contributor to immune dysfunction" (Romm, 2001, p. 195). Lack of sleep, which often goes along with increased stress, also has a negative effect on the immune system, and in fact research has found that there is "surprisingly strong evidence that sleep enhances immune defense" (Besedovsky et al., 2012).
Herbs can be very helpful for inducing a sense of calm in the body, mind, and spirit. Even just the simple act of making and drinking a cup of warm tea is relaxing. Nervine herbs often have nutrients such as calcium, magnesium, and B vitamins that help to feed the nervous system. Examples of nervine herbs include chamomile, linden, milky oats, skullcap, rose, passionflower, lemon balm, and valerian. Enjoy drinking a nice warm cup of tea rich in nervines before bed to help relieve the stress of the day and encourage deep sleep.
Adaptogens are also used by herbalist to assist in promoting a healthy response to stress, including stress on the immune system. Herbalists David Winston and Steven Maimes explain that "adaptogens have a focused effect on immunity and the immune system. They help to counter chronic immune cell depletion, and they improve the body's defenses" (Winston & Maimes, 2007, p. 74). Look to herbs such as schisandra, licorice, ashwagandha, cordyceps, holy basil, and eleuthero which are wonderful examples of adaptogenic herbs.
Enjoy teas made with adaptogens and nervines on a regular basis to stay healthy this winter and help curb the negative effects of stress.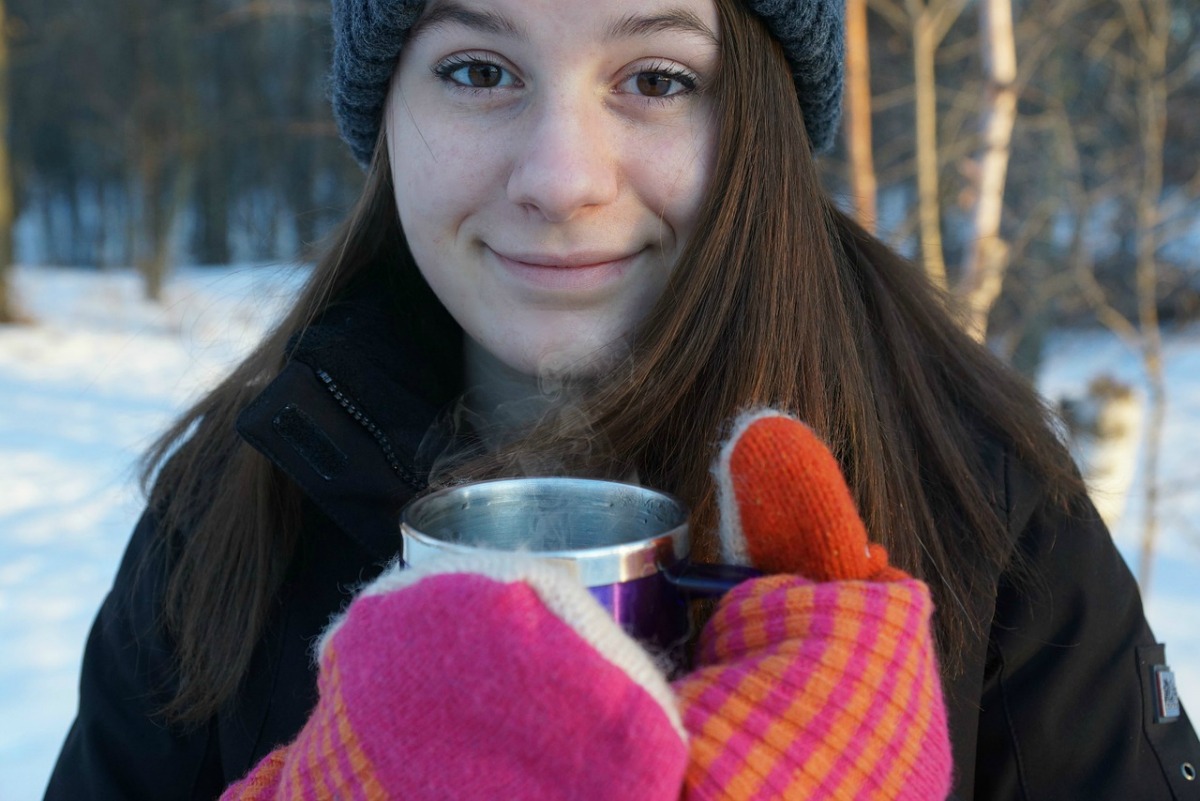 Calming Linden Tea
This recipe makes one big mug of tasty herbal tea, perfect to enjoy before bed or anytime a little calm is needed.
Ingredients
2 teaspoons dried linden leaf and flower
1 teaspoon dried spearmint
1 teaspoon dried Calendula flowers
1 pinch catnip leaf
1 pinch lavender blossoms
12 ounces boiling hot water
Directions
Place all the herbs in a heatproof container and cover with boiling hot water.
Let steep for 15 to 30 minutes.
Strain and serve with honey if desired
Here's a deliciously Soothing Nighttime Tea that is chock full of calming nervines such as chamomile, roses, lemon balm, passionflower, and more. Sip slowly at the end of the day and let your cares float away.
This Sleepy Time Tea Recipe is a tasty blend, perfect for the whole family to enjoy at the end of the day or when stress is high and tempers become fractious.
Rooty Schisandra Tea Blend
Recipe adapted from David Winston and Steven Maimes
Ingredients
1 tablespoon dried schisandra berries
1 tablespoon dried licorice root
2 teaspoons dried ginger root
2 teaspoons dried eleuthero root
3 pieces Astragalus root, optional
6 cups water
Directions
Place the herbs and water in a pot and bring to a boil.
Reduce the heat, cover, and let simmer for 10 to 15 minutes.
Strain and enjoy with honey if desired.
For a lovely adaptogen boost, enjoy this rooty Adaptogen Herbal Tea Blend made with ashwagandha and shatavari roots, holy basil, and warming cinnamon.
4 Warm and Spicy Tea Blends to Support Digestion & Circulation
Maintaining good digestive health can help you stay healthy this winter. It may surprise you find out that the much of our immune system is actually located in the gut. "The gastrointestinal system plays a central role in immune system homeostasis… and almost 70% of the entire immune system" is found within the GI tract (Vighi et al., 2008).
Good digestion is essential for the assimilation of nutrients into the body and healthy circulation helps to distribute those nutrients to cells while increasing energy and warmth. Ginger is a well-known herb often used for supporting digestion and increasing circulation. "Ginger is a warming herb with a fiery nature. By stimulating circulation and energy, it enhances the 'fire' in the body that supports digestion, heart health, immunity, and reproductive system vigor and balance" (Ginger, n.d., para. 2).
Herbs that have warming, carminative, and digestive properties can be brewed up into delicious teas to help support healthy digestion and circulation thereby promoting overall wellness during the wintertime. Look to yummy blends that feature herbs such as cinnamon, ginger, cardamon, turmeric, rosemary, mints, thyme, anise, and black pepper. Rich in aromatic oils, many of these herbs also assist the body in fighting infections and easing inflammation.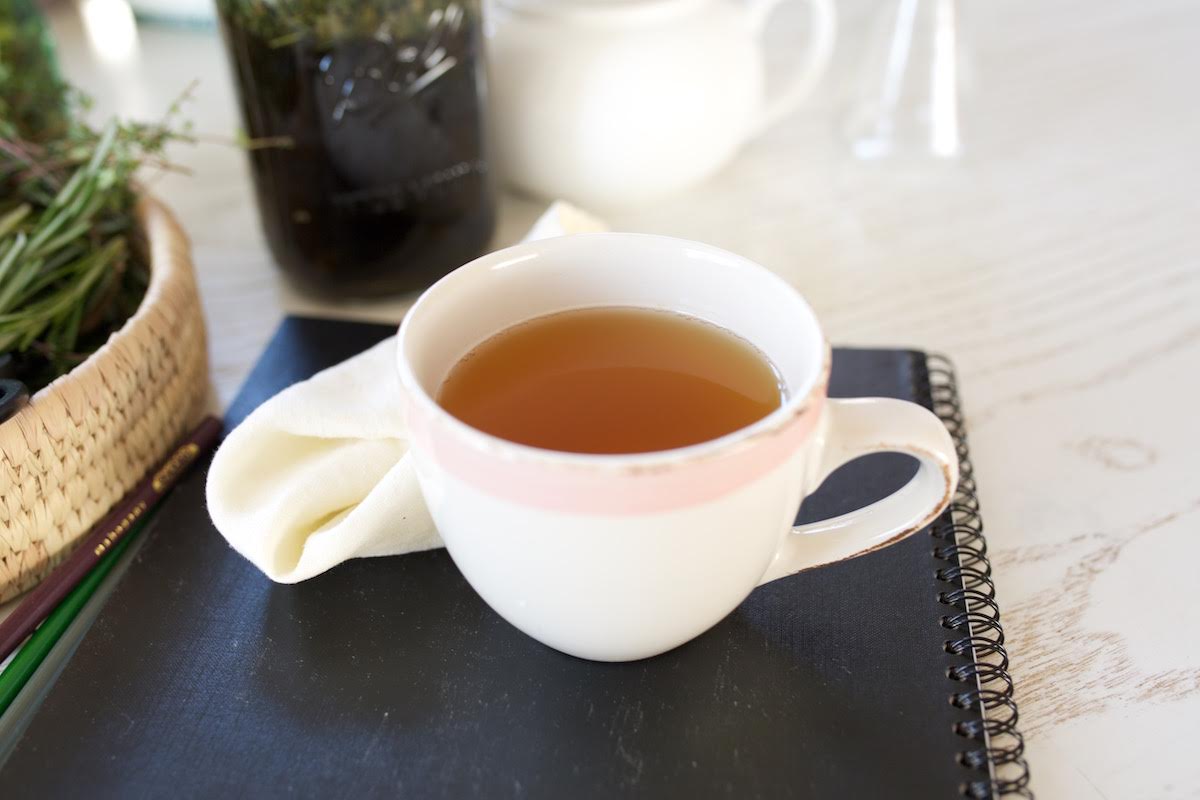 Minty Ginger Tea
Makes one quart of spicy warming tea to enjoy!
Ingredients
2" to 3" fresh ginger root, roughly chopped
1 tablespoon peppermint or spearmint leaves
1 tablespoon chamomile flowers
1 quart plus ¼ cup water
Directions
Place the water and ginger root in a pot.
Bring to a simmer over medium high heat.
Reduce the heat and cover. Let simmer for 20 to 30 minutes
Remove from the heat and add the mint. Replace the cover and steep for another 10 to 15 minutes.
Add the chamomile and steep for 4 to 8 minutes. The chamomile will become bitter with longer steeping times. While the bitter flavor can be healthful some people don't enjoy it, so steep for less time if needed.
Strain the herbs from the tea and add honey to taste.
Chock full of delightful, warming herbs such as cinnamon, ginger, and black pepper, chai tea is a perfect blend to enjoy during the winter months! Recipe variations for chai are endless. Here are some of our favorite recipes for you to brew up on a cold winter day.
Brewed with antioxidant rich rooibos (and caffeine-free), Family Friendly Herbal Chai is perfect for the whole family to enjoy together.
Additions like Astragalus, orange peel, and black tea make this Immune Boosting Chai a great option for a pick me up on a cold winter morning.
This Tulsi Rose Hawthorn Chai has all the goodness of traditional chai spices along with adaptogenic tulsi basil and traditional heart supporting herbs.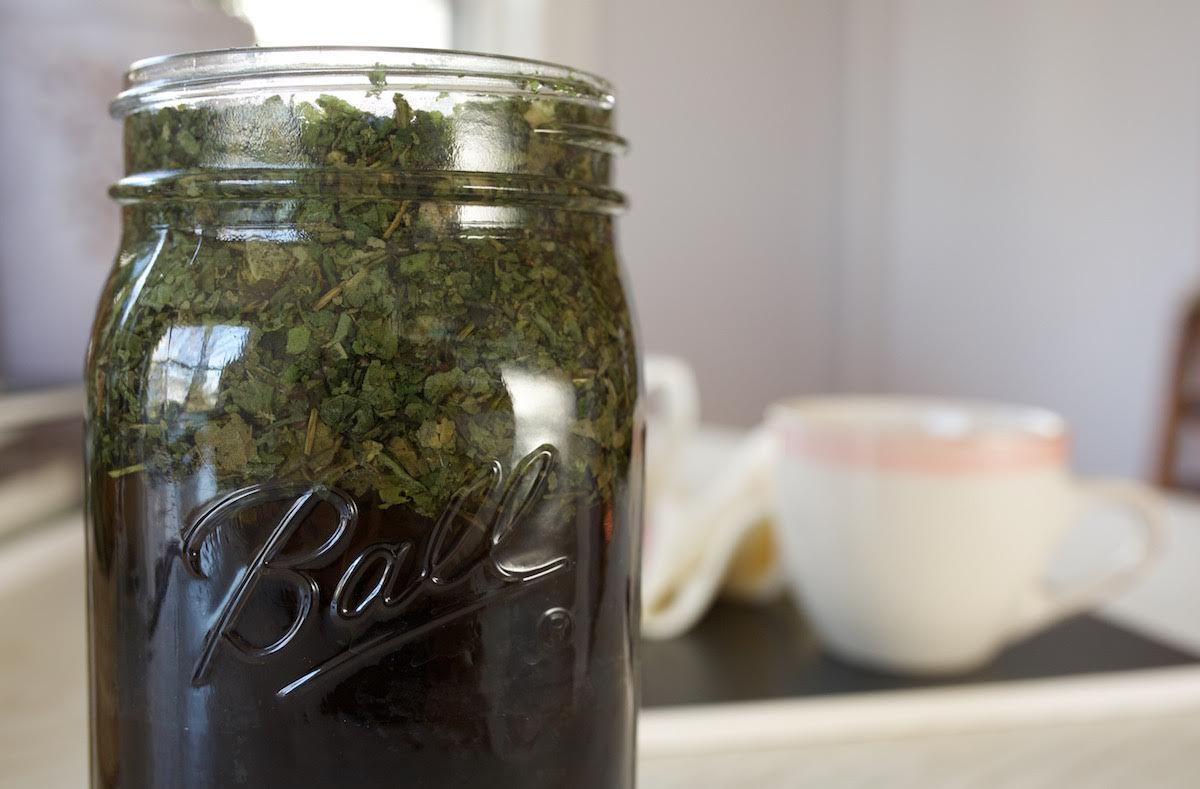 4 Tasty Nutrient Rich Tea Blends
Many herbs have high vitamin and mineral content offering a wonderful nutrient boost that supports overall vitality. Water does an wonderful job of extracting these nutrients making the tea cup a wonderful place to get excellent nourishment.
Incorporating nutrient rich herbs into your lifestyle will help give your body the nutrients it needs to stay healthy this winter. Examples of nutrient rich, nourishing herbs include nettles, rose hips, red clover, alfalfa, oatstraw, chamomile, mints, and many more!
High Calcium & Vitamin C Infusion
Adapted from Rosemary Gladstar
Ingredients
3 teaspoons dried rose hips
2 teaspoons dried lemon balm leaf
2 teaspoons dried oatstraw
1 teaspoon dried nettle leaf
1 teaspoon dried raspberry leaf
½ teaspoon cinnamon chips
1 quart boiling hot water
Directions
Place the herbs in a jar and cover with the boiling hot water.
Cover and let steep for up to one hour.
Strain and enjoy with honey if desired.
This Immunity Building Vitamin C Herbal Tea offers a simple blend of just three herbs to create a tasty vitamin C rich blend.
Find a delicious High-C Immune Boosting Tea Blend here that is filled with the delightful tart flavor of hibiscus, rose hips, lemon peel, and lemongrass with a bit of cinnamon spice.
Herbalists often like to make nutrient rich herbal teas from dark leafy green plants like dandelion, nettle, and red clover because they offer so much nourishment in a cup! This Nourishing Weedy Tea blend is a favorite at the Herbal Academy!
As you can see, it's easy to enjoy the advantages of hot, tasty teas during the winter. These delicious brews keep us warm while also adding the wonderful benefits of herbs into our lives. Enjoy inviting herbs into your tea cup and stay healthy this winter while making the most out of this season of cold and dark!
Want to learn more about herbs and how to craft your own tea blends? Our online Herbal Courses will help guide you in this and so much more! Visit our
Course Page
to learn about all the Herbal Academy has to offer its students.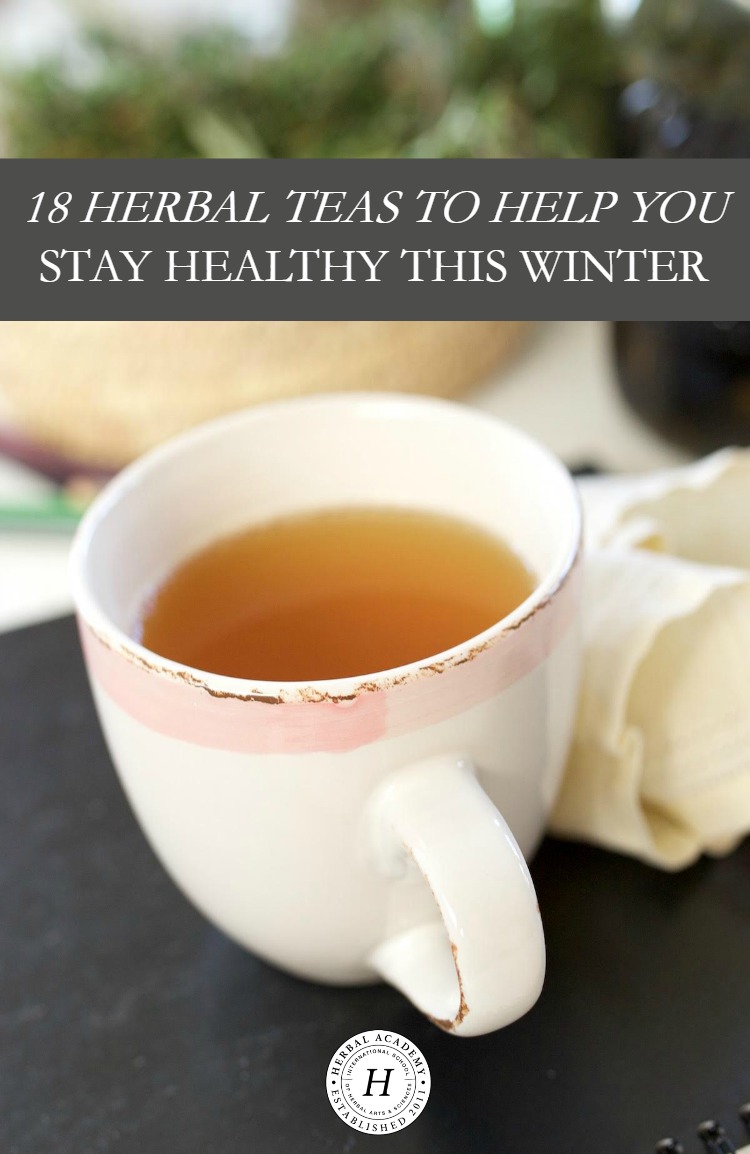 REFERENCES
Besedovsky, L., Lange, T., Jan Born, J. (2012). Sleep and immune function. Pflugers Arch, 463(1), 121–137. http://doi.org/10.1007/s00424-011-1044-0
Ginger Monograph. (n.d.). Retrieved on 12/3/16 from http://herbarium.herbalacademyofne.com/monographs/#ID=1012
Gladstar, R. (2001). Family herbal: A guide to living life with energy, health, and vitality. North Adams, MA: Storey Books.
Romm, A. (2001). Vaccinations, a thoughtful parent's guide. Rochester, VT: Healing Arts Press.
Tilgner, S. (1999). Herbal medicine from the heart of the earth. Creswell, OR: Wise Acres Press, Inc.
Vighi, G., Marcucci, F., Sensi, L., Di Cara, G., Frati, F. (2008). Allergy and the gastrointestinal system. Clinical and Experimental Immunology, 153(Suppl 1), 3–6. http://doi.org/10.1111/j.1365-2249.2008.03713.x
Winston, D., Maimes, S. (2007). Adaptogens herbs for strength, stamina, and stress relief. Rochester, VT: Healing Arts Press.
Save