Immune Boosting Chai Recipe
Masala chai (Masala means "a mixture of spices," and chai means "tea") is an Indian beverage combing spice-infused black tea with milk and sweetener. In the deep dark winter months, I crave a good chai recipe for its warming, soothing soulfulness that melts me from the inside out. On a cold weekend day that is deliciously free of plans, I can barely wait to warm up a mugful and settle in with a book and my winter daydreams.
If you look at a label on one of the overly-sweetened prepared chai drinks found in markets (I'm not fan in case you couldn't tell), the list of ingredients may give the wrong impression that making chai is a complicated and time consuming endeavor. But it's basically as simple as making any other kind of tea, and I bet you already have all of the ingredients in your kitchen cabinet.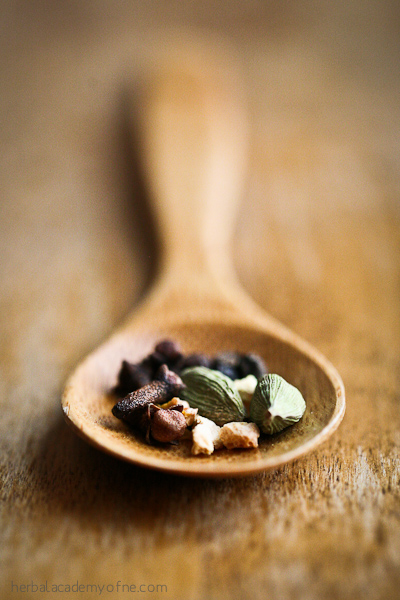 Basic Chai Recipe Ingredients
Cardamom, black pepper, cinnamon, clove, water, black tea, and milk or milk alternative are all you need for a basic chai recipe. I prefer mine unsweetened, but you can add a touch of maple syrup, date syrup, or sugar if you'd like. Simply bring spices, water, and milk to a simmer and heat for a few minutes, remove from heat, and then add the tea and allow to steep before straining and serving.
In my mind, "mixture of spices" indicates that masala chai is a versatile, free-form drink that allows for experimentation of spices and measurements. If I'm feeling whimsical, I'll add in vanilla, rose petals, orange peel, fennel, star anise, and when I'm in the mood for something caffeine-free I replace black tea with red rooibos. Use what suits your fancy!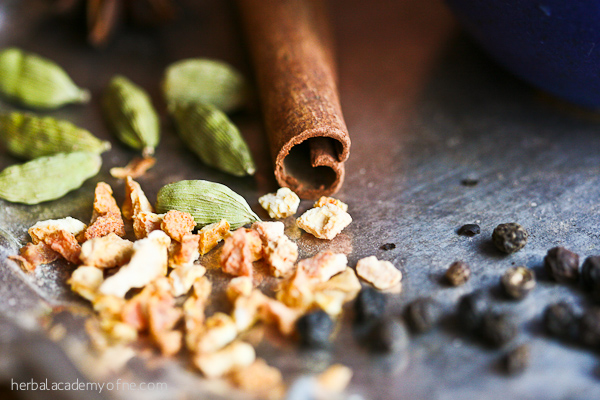 While the basic spices in chai are already naturally health promoting, wintertime colds and flu are sneakily afoot so before infusing the chai spices in today's batch, I decided to create an astragalus root (buy astragalus root here) decoction for extra immune support. Astragalus is an adaptogen used in Traditional Chinese Medicine to promote long-term immune health and to help the body adapt to stress. Roots can be decocted for 20 minutes before adding in the rest of the herbs.
Astragalus Root Dosage
Typical dose of astragalus is 2-4 teaspoons dried root decocted for 15 – 20 minutes in 1 cup water. (Astragalus safety: Should probably be avoided by those taking immunosuppressants.)
Immune Boosting Chai
Ingredients
1 1/2 – 2 cups water
2 teaspoons dried astragalus root
6 black peppercorns, crushed
4 cardamom pods, crushed
A few cloves, ground or crushed
1 slice fresh ginger, minced
Two cinnamon sticks
1 teaspoon dried orange peel
1/2 – 1 cup almond milk
1 tablespoon loose black tea (or two tea bags)
Maple syrup/sugar, to taste (optional)
Directions
Place water and astragalus root in pot and bring to boil, then simmer covered for 20 minutes.
Add the spices and the milk and simmer gently for a few minutes more.
Turn off heat and add tea. Steep for 10 minutes.
Strain into mug, then stir in sweetener to taste if desired.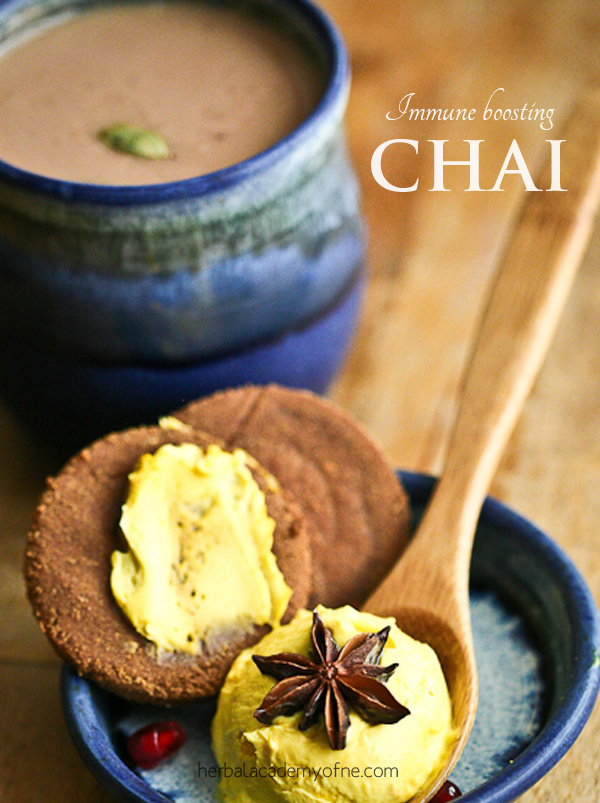 Experiment with Spices!
The spice factor can be dialed up or down by adjusting amounts of pepper, ginger, and other spicy spices. You can also play around with amounts of tea, water, and almond milk. Go ahead and experiment with your own chai blend and let us know what you use!
Masala chai is delicious alone or as as accompaniment to cookies, muffins, or sweet breads. Or how about vegan gingersnaps with a zesty saffron-lemon coconut cream…because why ever not? Thanks so much to Earthsprout for the recipe, found here.