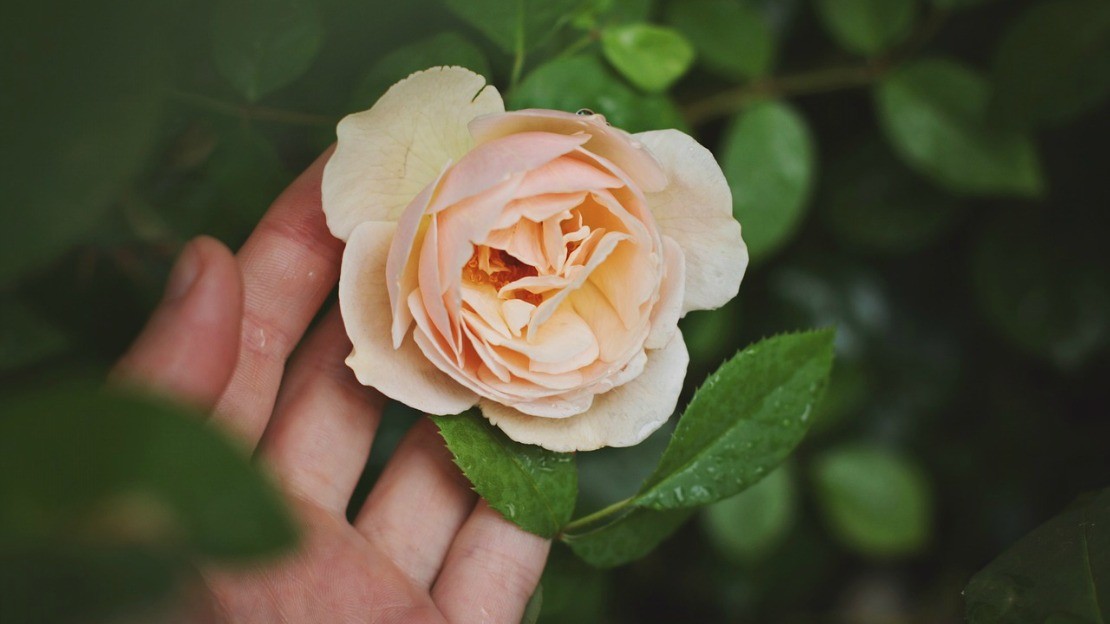 A Family Herb: The Comforts Of Rose
The lovely rose has more than a beautiful face. Highly prized throughout history as an herbal remedy, roses (Rosa spp.) have long been used to help soothe and heal humanity's woes. Gentle rose is a calming nervine and a helpful respiratory and immune ally as well as a useful topical remedy. Bring the comforts of rose into your home and enjoy its herbal virtues with your family.

Comforting Heart-Nourishing Rose For Wellness
Rose is a lovely cooling, nervine for the entire family. Long used to comfort and calm the heart, rose's gentle antidepressant and sedative properties can help uplift the emotions while providing a sense of ease. Rose can be used to get through difficult times in life with emotions are in turmoil. Herbalists use it to help ease depression, anxiety, irritability, and even grief and broken heartedness. Rose may also be helpful for alleviating exhaustion and insomnia. All this makes it a fantastic herb to turn to for grouchy, overtired kids and their parents at the end of a long day!
Roses are nourishing and can be included in recipes for helping to maintain wellness. Fruits of the rose, rose hips, are wonderfully high in immune boosting vitamin C, much more so than citrus fruits when comparably measured (Gladstar, 2001, pp. 359). Plus they contain nourishing beta carotene, and vitamins K and E. The leaves and petals can aid the immune system in prevention of cold and flu by "helping to restrain the development of infections [through the] clearing of heat and toxins from the system" (McIntyre, 1996, pp. 192).
 
As a helping hand during colds and flu, rose can bring comforting relief. Rinses, gargles, and tea made from rose petals deliver rose's useful astringent and anti-inflammatory properties to assist in soothing irritated eyes, a swollen sore throat, seasonal allergies and illnesses with copious nasal discharge. The petals and hips make a wonderful syrup to ease coughing. Rose can help to bring coolness when there is heat held within the body as may be the case with fevers, inflammation, and headache. The tea and syrup make useful remedies for upset tummies with diarrhea. Furthermore, the lovely rose is a wonderful herb for women helping to soothe PMS especially when associated with emotional stress and painful cramping during menses.
Include rose when you are making remedies to stock your herbal medicine chest. To have rose ready at hand when needed add the petals and hips to tea blends, syrups and honeys.
Double Rose Syrup
Ingredients
¼ cup of dried or ½ cup fresh rose hips
¼ cup of dried or ½ cup fresh rose petals
Peel of one organic lemon or orange, optional
¾ cup of raw unprocessed honey
3 ½ cups of water
Directions
Combine the rose hips and citrus peel if using with the water in a sauce pot.
Gently simmer for about ½ hour or until the liquid has reduced by just about half.
Remove from the heat and stir in the rose petals and cover the pot with a lid.
Let steep for at least 30 minutes and up to 4 hours.
Using a mesh strainer strain the rose petals and hips out of the liquid, squish the herbal material to release as much of the liquid from the herbs as possible.
Return the liquid to the pan and add the honey. Heat very gently until the honey is just dissolved.
Bottle your syrup, add a label and refrigerate. It should last for about 3 months in the refrigerator.
Add the syrup to hot water for a nice cup of tea, to sparkling water for a yummy soda-type treat or just enjoy by the spoonful!
If you wish you can add other herbs to your brew such as: elderberries, lemon balm, cinnamon, a pinch of cardamom, tulsi basil, and ginger to name a few!

Rosy Body Care
Externally rose acts to cool inflammation and astringe tissues making it a useful addition to body care. It tones and nourishes dry skin. The cooling property of rose assists in soothing inflammation from acne, rashes, and burns. Take advantage of rose's wonderful properties by adding the petals, essential oil and hydrosol (rose water) to herbal preparations such as baths, infused oil, creams, facial scrubs and steams, salves, and spritzers. An added bonus? Enjoying rose in body care also brings the delightful emotionally soothing components for rose into your day. As a first aid ally, external applications of rose can help to stanch bleeding, promote wound healing, and prevent infection Hardin, 2011). A diluted preparation of rose petals infused in vinegar help to make a fine remedy for sunburn (Hardin, 2008).
 
Get Crafty With Roses
Children are enchanted by the beauty of roses. They love stroking the soft petals of a fresh rose and playing with the tiny dried baby rosebuds. It is easy to integrate roses into craft projects. Using a hot glue gun, the dried whole flowers can be used to decorate wreaths that will add beauty to your home. Fragrant crowns and pretty barrettes can be similarly made and makes a great project for tweens and teens. Petals are perfect to add to lovely smelling homemade potpourris. For young children, there isn't much better than using rose to make a wonderfully scented and pretty play dough! Simply use a strongly brewed rose tea in place of water when making playdoh, add a some rose petals to the dough and use baby rosebuds for decoration while playing!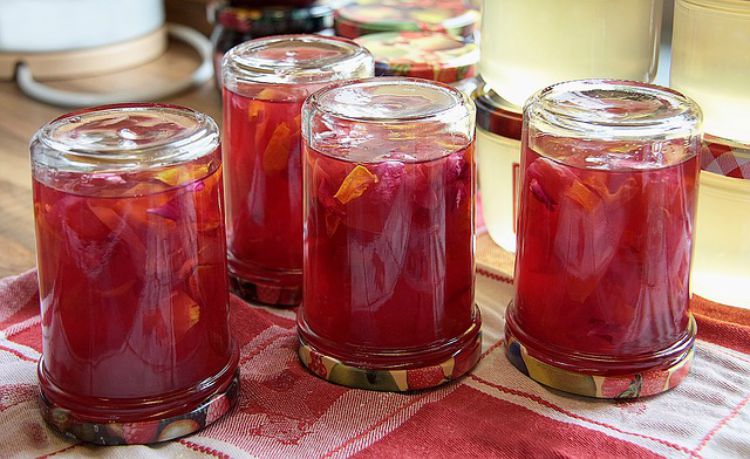 Lovely Culinary Rose
Roses lend themselves beautifully to food. If you have ever enjoyed the subtle fragrant taste of rose water in baklava or sipped a refreshing glass of rose water lemonade on a hot summer day then you know the tasty delight that rose offers to food. Add fresh rose petals to salads and use to decorate baked goods. Mix them with butter or cream cheese for a lovely spread and add the petals to homemade ice cream. Use the petals and hips to make tasty jam. When using fresh rose petals in cooking be sure to remove the bitter white nib at the base of the petal for best flavor. The nourishing hips, are also a wonderful tart addition to pies, breads, and muffins. Rose water is absolutely heavenly whipped into whipped cream and added to lemonade, yogurt and even smoothies. Of course, don't forget rose petals and hips prepared as a simple cup of comforting tea.
Cooling Rosy Balm Tea
Makes 1 quart of tea
Enjoy this tea hot or iced on a summer day!
Ingredients
6 to 8 teaspoons of rose petals
6 to 8 teaspoons of lemon balm
Pinch of lavender blossoms
Honey and lemon to taste
4 cups of water
Directions
Place the herbs in a heat-proof container
Cover with just boiled, hot water and cover the container to keep the essential oils from escaping in the steam.
Let steep for at least 10 minutes.
Strain, add honey and lemon to taste.
Please note: Roses are often highly sprayed with conventional pesticides and grown using unfair trade practices so it is important to find organically grown and fair-trade sources to make sure your roses are really health enhancing.
Did you enjoy this post? Learn more about herbs with the Herbal Academy of New England's wonderful, affordable online learning opportunities including Introductory and Intermediate level courses along with a wonderful Herbarium! Join us!
REFERENCES
Bergner, Paul. (2001). Folk Remedies Database. Colorado: Bergner Communications.
Gladstar, Rosemary. (2001). Rosemary Gladstar's Family Herbal. Massachusetts: Storey Books.
McIntyre, Anne. (1996). Flower Power. New York: Henry Holt.
Hardin, Kiva Rose. (2008). Rose Vinegar: My Favorite Sunburn Soother. Retrieved from http://bearmedicineherbals.com/rose-vinegar-my-favorite-sunburn-soother.html
Hardin, Kiva Rose. (2011). A Flower For First Aid: Rose and Wound Care. Retrieved from http://bearmedicineherbals.com/rosefirstaid.html