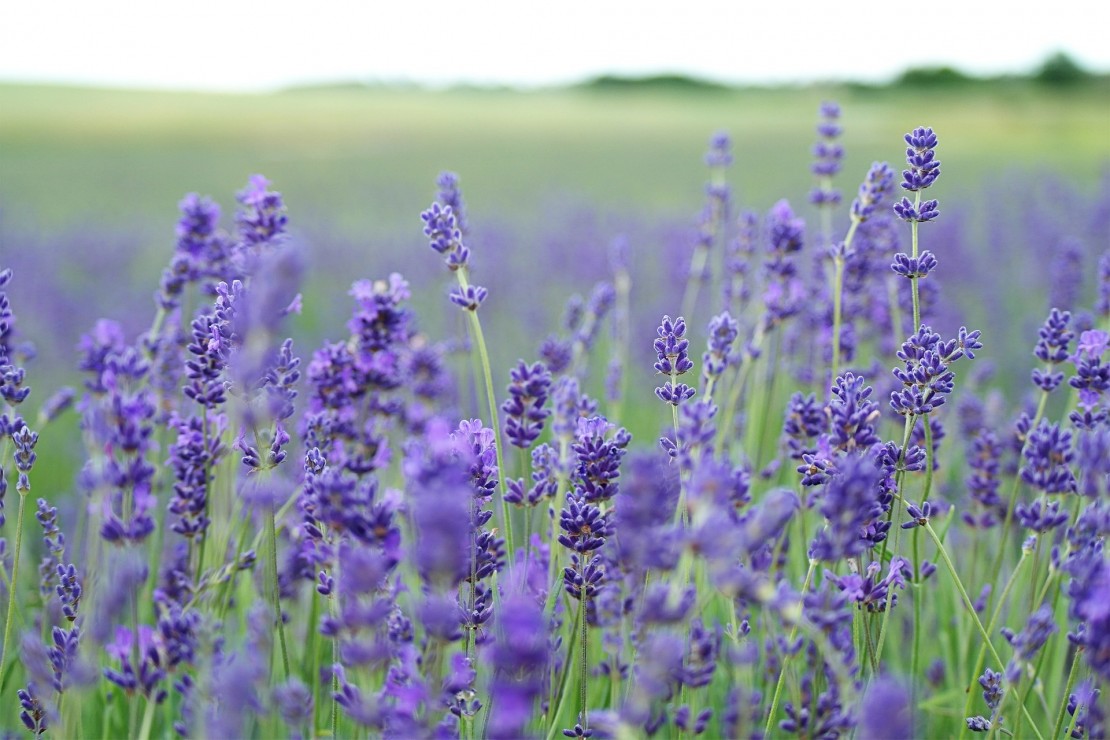 9 Edible Flowers And How To Use Them
The use of edible flowers in cooking is an act of pure earthly delight! Fragrance and sheer beauty combine to create a truly sensually scrumptious experience right on your plate. You may be surprised to learn that there are a wide variety of flowers to enjoy. Discover how to enjoy using edible flowers and take a closer look at nine special blooms below—get ready for your dishes to become works of art with some help from Mother Nature!


9 Edible Flowers and How To Use Them
Flowers add a touch of whimsy to culinary creations, and in some cases, even surprising herbal benefits. Even the tiny flowers of culinary plants in the mint family are edible. Basil, rosemary, lemon balm, and yes, mint flowers are delicate and flavorful addition to food. There are plenty of other delightful options to consider as well such as chives, scented geraniums, sunflowers, lilacs, yuccas, and so many more.
Below are some of my favorite flowers to use in cooking!
1. Pansy & Violet flowers (
Viola
spp.)
These delightful little flowers are simply a joy to work with and make an especially lovely decorations for desserts, salads, and more. The flowers are cooling and provide a wonderful dose vitamin C (Weed, 1989). Violas are used by herbalists to help soothe coughs, sore throats, digestive disturbances and inflammation especially for childhood woes (McIntyre, 1996; Weed, 1989). As a gentle nervine, violas help to ease grief and relieve tension (Hartung, 2000).
2. Rose petals (
Rosa
spp.)
We cannot talk about edible flowers without mentioning the beautiful rose! As an addition to food, rose brings a lovely lilting flavor to dishes with an uplifting and even aphrodisiac quality. Rose petals and rose water have been used in culinary creations for thousands of years, and yet the properties of rose petals goes way beyond its usefulness in cooking. The petals are astringent and cooling as well as offering a calming nervine action (McIntyre, 1996). Rose speaks to the emotional heart, calming and uplifting while soothing grief and anger (McIntyre, 1996). To use, gently pull the petals off of the flower base leaving behind the rest of the flower to mature into tasty rose hips in the autumn. Trim away the white nib from the base of the petal and enjoy!
3. Borage flowers (
Borage officinalis
)

This plant boasts starry violet flowers that, when munched, are refreshing with a flavor reminiscent of cucumbers. Used by herbalists to calm the nerves and ease melancholy, these lovely flowers are a cheerful addition to beverages and food alike (Gladstar, 2001). As a cooling treat during the heat of summer, be sure to use borage fresh, add them to salads, and freeze in ice cubes!
4. Calendula petals (
Calendula officinalis
)
These cheery flowers are like a little ray of sunshine or a sprinkling of gold. Beyond being a delightful addition to food, the flowers are well known for their useful herbal properties. The dried petals make a wonderful addition to soups, stews, and teas during the winter months for their lymphagogue, antiseptic, and immune building properties (McIntyre, 1996). To use, simply pull the petals from the flower head and add to your favorite salads, soups, sauces, baked goods, and use a bright, happy decoration on desserts!
5. Hollyhock & Mallow flowers (
Althaea
spp.)
Hollyhocks and the common little malva we see growing in the wayside are directly related to the marshmallow that is more commonly used in herbalism. With a lovely presence and somewhat bland flavor, all of these plants have edible flowers that are perfect to add to foods for decoration. Similar to the roots of these plants, the flowers are soothing and cooling helping to ease mucus membrane irritation and inflammation (McIntyre, 1996; Hartung, 2000).
6. Red Clover blossoms (
Trifolium pratense
)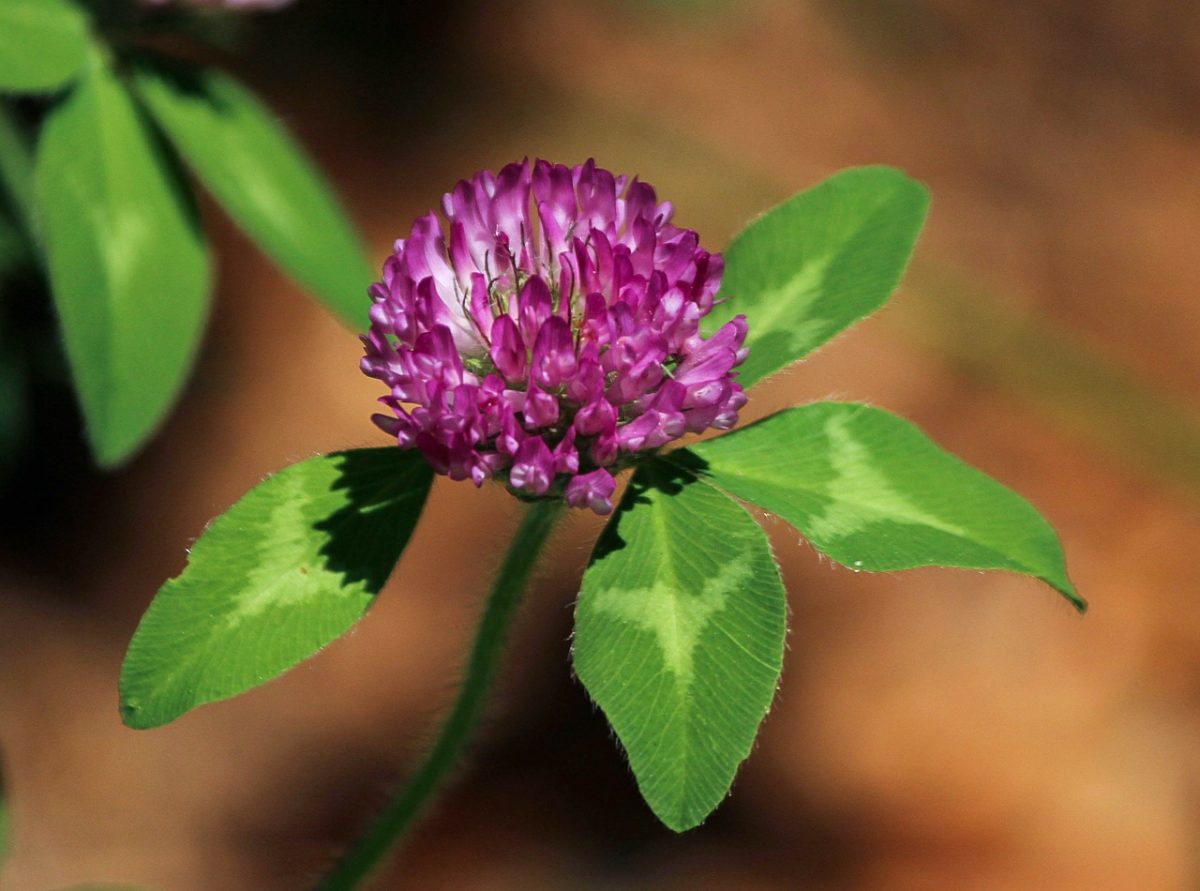 Sweet tiny purple flowers comprise the larger blossoms of this common herb of the wayside. Used by herbalists to help detoxify the body (Gladstar, 2001). The flower tops of this delightful plant also help to soothe winter cough, even for children, and to help support women's health (Hartung, 2000; McIntyre, 1996).
A fun way for children to enjoy this edible flower is to carefully pull the little flowers out of the bigger blossom and suck the sweet nectar out of the base of the flower. Otherwise, use the full flower heads to make teas, chop them and add them to food, or pull out the tiny flowers and sprinkle them in your dishes!
7. Dandelion blossoms (
Taraxacum officinale
)
Beloved by herbalists, the humble yet vital dandelion offers beautiful golden flowers that can happily grace the kitchen table. Though the root and leaves are most often used by herbalists, the flowers also have useful properties and are used to help relieve pain when taken both internally and externally (Weed, 2001). Like the rest of the dandelion plant, the flowers also benefit the liver (Weed, 2001).
Dandelion fritters are an herbalists favorite springtime treat! To make your own fritters and join in the fun, simply gather the blossoms and rinse well with water then leave to dry for a bit. Mix egg and milk together. Dip the dandelion blossoms in this mixture and then dredge them in flour. Fry carefully in olive or coconut oil and enjoy!
8. Nasturtium flowers (
Tropaeolum majus
)
These vibrant, peppery flowers are easy to grow and offer a great addition to the flower connoisseur's palate! With bright yellow, orange, and red colors, nasturtiums look beautiful nestled into salads and other dishes. They offer a spicy kick to foods and are particularly fun to stuff with guacamole and soft cheeses. The spicy flavor along with hints of bitterness highlights nasturtiums' usefulness in warming the body and stimulating digestion (McIntyre, 1996). This tasty plant is also found to be helpful in nourishing the body with vitamin C (McIntyre, 1996).
9. Lavender buds (
Lavandula
spp.)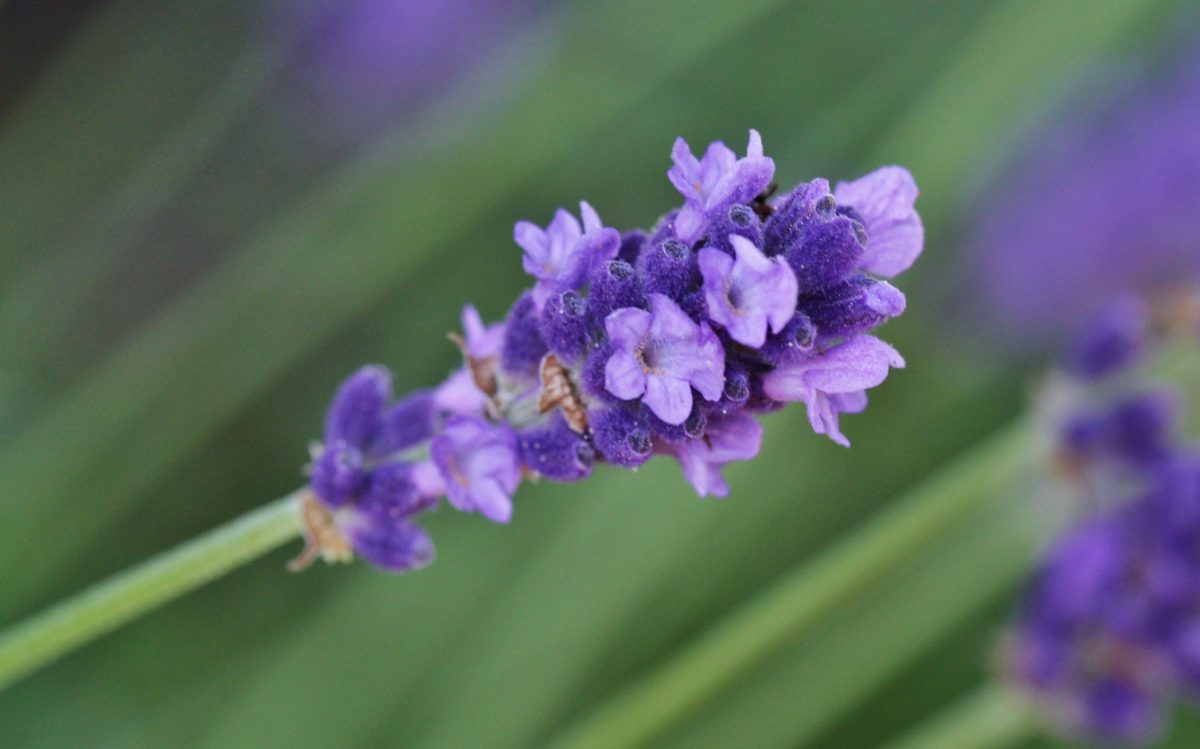 A treasured plant from the mint family, lavender boosts little fragrant flower buds that are powerfully flavorful; a little goes a long way! I like to add a pinch of lavender to teas, cookies, and even sauces—just grind the flowers up a little with your fingers and toss them into the brew. The flowers are well known as a calming nervine, yet they are also used to help ease spasms and as an antiseptic both internally and externally (McIntyre, 1996).
How to Use Edible Flowers
There are plenty of ways to invite edible flowers into the kitchen onto your plate! Now that you are familiar with which flowers to use, let's discuss some fun ideas for incorporating flowers into cooking.
Preserve them for later!
Edible flowers lend themselves well to many forms of preservation. Infuse them in vinegar for later cooking and as a tasty dressing for greens. And, for a true herbal treat try infusing your blossoms in honey!
Flowers can also be used to make syrups, some flowers such as red clover, violas, mallows and Calendula will find particular use as syrups for winter wellness. Syrups can also be used in teas, lemonades, and with seltzer water to make delicious drinks. A hearty drizzle of syrup on biscuits, ice cream, and over pancakes is especially yummy!
For an extra lovely treat, try layering flowers in sugar or salt! This will add a lovely delicate scent and flavor to the sugar/salt; find directions here. Flowers can also be crystallized with an egg white wash and fine sugar coating. This helps preserve the flower's shape and color so you can use them for later decorations!
Spread it on!
Add flowers to softened butter and cheeses, blending in well for a delicious accompaniment to your meals. You can also add more herbaceous plants such as thyme, chives, basil, and dill to increase the depth of flavor.
Flowers are an amazing addition to jellies and jams, keeping the loveliness of the season right in your jelly jar! Find ideas and recipes for making your own wildflower jelly here.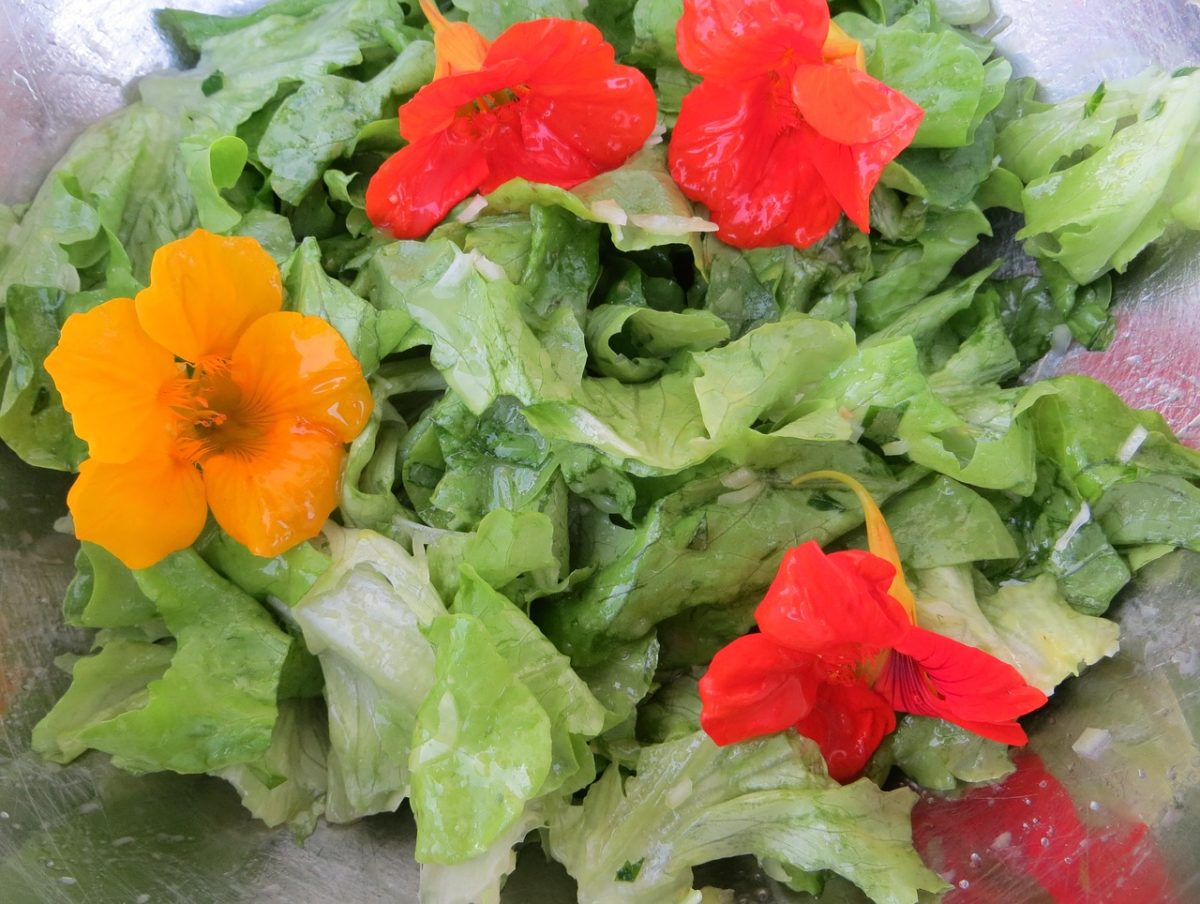 Toss in a Salad
Perhaps one of the easiest ways to use edible flowers is to add them to salads. Often times salads are simply beautiful, filled with colors and textures from vegetables and fruits. The addition of flowers makes salads all the more lovely.
Beverages & Ice cubes
—
Drink Up!
There are just so very many ways to enjoy flowers in beverages. Recipes abound and the possibilities are endless, and don't forget to freeze some of those lovely blooms in ice cubes to adorn your flowery beverages!
Here are a few of my favorite ways to incorporate flowers into my cup:
Lemonade becomes extra-special when flowers are part of the recipe! Simply infuse flowers in water, strain, and use this water to make your lemonade. It couldn't be easier!
Desserts
—
Make it Sweet
Flowers are happy to join in on our baking endeavors! Add the petals and blossoms to muffins, cookies, scones, cakes, and biscuits. Use flowers to make beautiful decorations on your baked goods, too! Popsicles, jellos, and ice creams also lend themselves well to flowery additions. Try using tea make from the flowers as a base for these treats and use the whole flowers to to add visual appeal!
Tips for Enjoying Edible Flowers Safely
There are a few things to keep in mind that will help you enjoy your flowers safely!
Positive Identification

– Be absolutely sure that you have positively identified your flowers—not every flower is edible and some are poisonous!
Know your source

– Enjoy flowers that have been wildcrafted or grown without pesticides and herbicides. Flowers from a florist or nursery are likely to be sprayed with harmful chemicals, and therefore, are not fit for consumption.
Allergic Reactions

– Watch out for allergic reactions which are possible when consuming edible flowers. If you are a sensitive individual, you may want to do a scratch test before eating any flowers that are new to your culinary repertoire. Simply rub a flower on the inside of your arm and then wait 24 hours. A reaction indicates potential allergic sensitivity, and that particular flower should be avoided!
Preparation

– For some flowers, you will want to remove the stamens and pistils before consuming, and remember to remove the bitter white nib off the bottom of rose petals!
Bring edible flowers into your kitchen this summer and enjoy sprinkling floral love into each and every dish you serve!
We would love to see your flowery creations! Share the delight with us on our social media pages!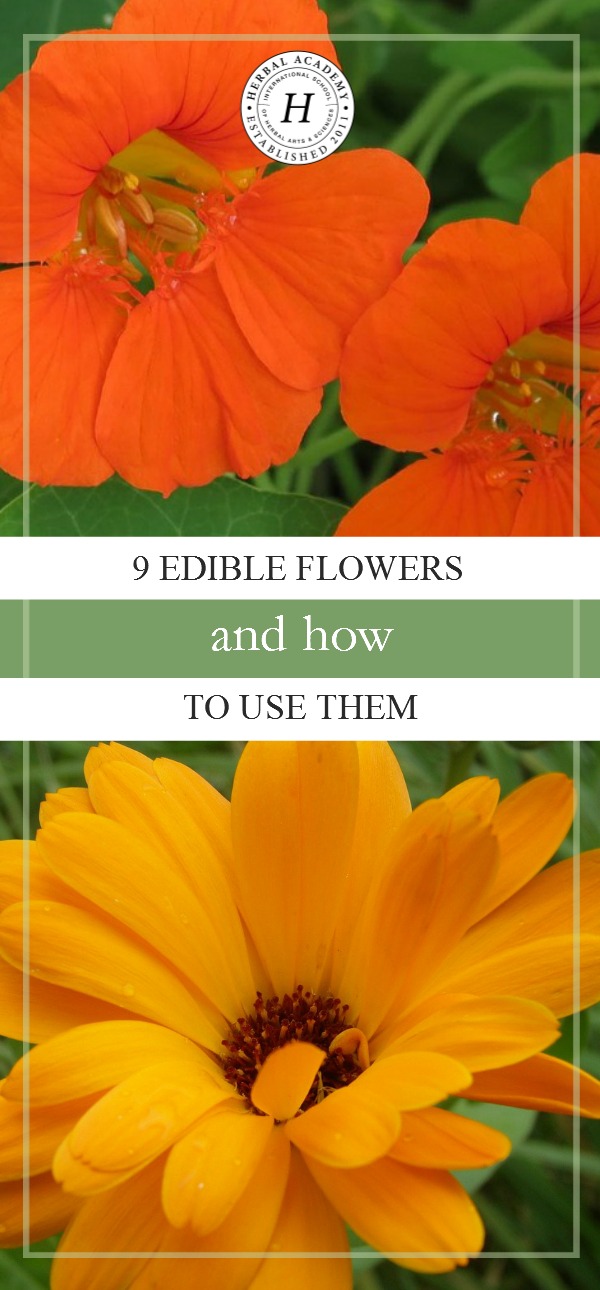 REFERENCES
Gladstar, R. (2001). Rosemary Gladstar's family herbal. North Adams, MA: Storey Books.
Hartung, T. (2000). Growing 101 herbs that heal. Pownal, VT: Storey Books.
Mars, B. (2004). Rawsome. North Bergen, NJ: Basic Health Publications.
McIntyre, A. (1996). Flower power. New York, NY: Henry Holt and Company.  
Weed, S. (1989). Healing wise. Woodstock, NY: AshTree Publishing.