Fall is a bountiful and busy time of year. Now that I have decanted my infused oils and most of my herbal tinctures, I take to the gardens to harvest herbs and plants that will be dried for use during the winter and spring.
Making herbal vinegars from flowers and culinary herbs is also something I look forward to at this time of year. It's an easy gardening craft and a great way to use the fresh plant for winter salads, marinades, and cooking. The book Herbal Vinegar by Maggie Oster has been an inspiration to me for several years. Each time I open it I notice something fun and interesting that I am persuaded to try. Not only does this book guide one through all of the vinegars available with descriptions and history, but also the many herbal and plant combinations and recipes, including those for cosmetics and home cleaning.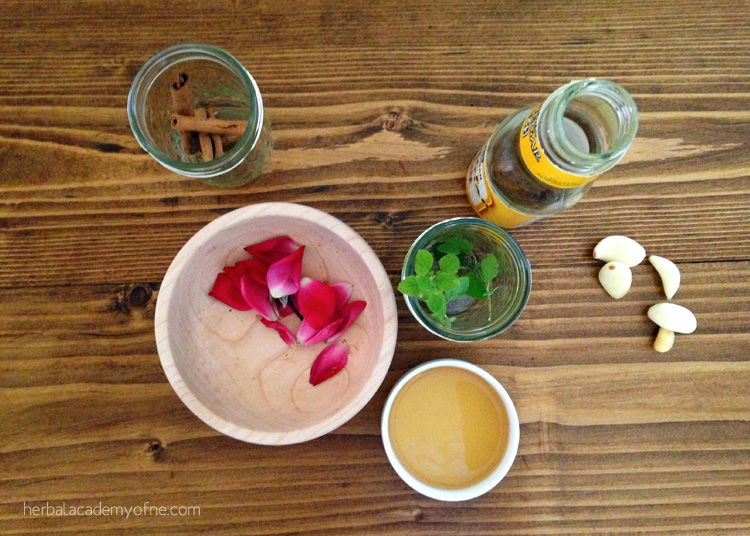 You can create beautiful vinegars from your gardens with just about any type of vinegar. I have used apple cider vinegar, rice vinegar, and champagne vinegar with good results. You can also use balsamic vinegar and red wine vinegars. The combinations of herbs, flowers, fruit, and spices that can be added to the vinegars are almost unlimited. The only requirement is your creativity. Herbal vinegars make beautiful gifts to package up for holiday giving. Look for some pretty bottles to store them in once they're finished brewing.  Sometimes I can find some nice bottles at yard sales and flea markets. Specialty Bottles also has some nice choices.
The challenge may be in choosing the vinegar. According to Maggie Oster, a medium priced vinegar is usually sufficient for bringing out the flavors of herbs, spices, flowers, and fruit. She recommends that you taste and compare. When it comes to the apple cider vinegar, I usually choose Bragg's or something equivalent. The rice vinegar I have always used is one that is traditionally brewed so that there are no competing sugars or extra salt to begin with.
Here are some vinegar and plant combinations adapted from Herbal Vinegars by Maggie Oster.  You'll most likely start to brainstorm your own combinations based on what you have in your garden.
Apple Cider Vinegar
Nasturtium petals, a hot pepper, and peeled garlic cloves
Tarragon, chives, lemon balm, garlic, onion or shallots
1 teaspoon each of whole cloves, peppercorns, and peeled garlic cloves
Rice Vinegar
Calendula petals, lemon thyme, chive blossoms
Anise hyssop, fennel seed, and mint flowers
Garlic, ginger root, lemongrass
Champagne Vinegar
Rose petals and lemon balm leaves
Peaches and a cinnamon stick (broken to fit in a jar)
Lemon balm, lemon thyme, lemongrass, lemon verbena, lemon zest (any combination of these)
Red Wine Vinegar
Marjoram, rosemary, oregano, thyme, and peeled garlic cloves
Raspberries, lemon thyme, and thyme
1 teaspoon of each: whole cloves, allspice berries, black peppercorns, cardamom seeds, whole cracked nutmeg, and a small cinnamon stick.
White Wine Vinegar
Dill, peeled garlic cloves, mint
Lemons, limes, oranges, lemon balm, & orange mint (regular mint is fine too).
1 teaspoon of whole cloves, caraway seeds, and black peppercorns
If you are looking for a place to purchase herbs, we recommend Mountain Rose Herbs as a quality source.
Making Your Herbal Vinegar
Fill a 16 ounce jar with 1 cup of the combination of herbs listed or of your own creation to 2 cups of vinegar. Press the air bubbles out. Cover (if using a metal lid, place a thick sheet of waxed paper underneath, otherwise the vinegar may corrode the metal) and store the infusion in a dark place at room temperature for up to one month for an intense flavor. Shake the contents regularly. Begin taste-testing for flavor strength after one week and take it from there.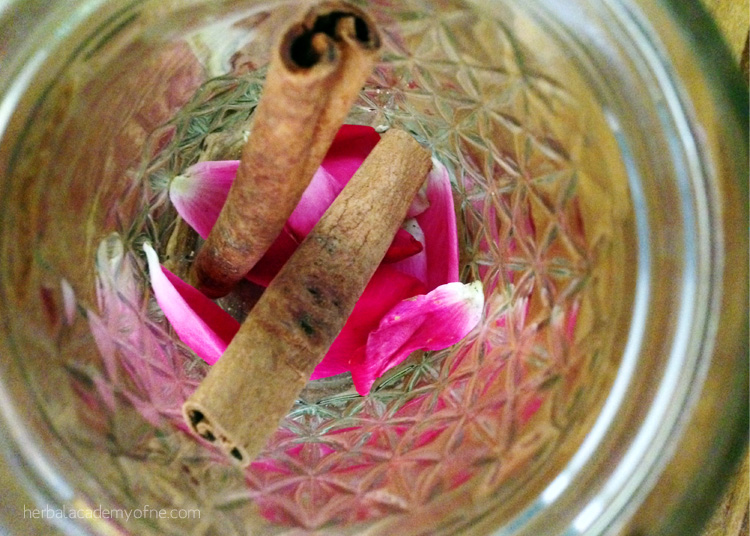 In the meantime, choose your glass bottles for storing your finished vinegar. You should always use new corks, plastic caps, or ceramic caps to top your bottle rather than metallic lids. Wine boutiques will sometimes have corks available for sale if you're using bottles purchased from yard sales. Just before you are ready to decant your vinegar, you should run the bottles through the dishwasher and keep them heated until you decant (make sure they are completely dry). I usually scrub the bottles I purchase from a yard sale with a bottle brush, soap, and hot water before loading them into the dishwasher. It's an extra step, but I want to make sure to the bottles are sparking clean. I also wash the funnel and set it on a paper towel to dry.
When the vinegar infusion is to your liking, decant the vinegar into a clean and dry pretty glass jar with a funnel and coffee filter. Add a sprig or two of the herbs that were used for flavoring. To this you can add a fun label that you create and some suggestions for use if you're giving them as gifts. Store the vinegar in a cool dark place and enjoy using them in your culinary recipes.
This article was written by Donna Onacki, who has been working with herbs for most of her life and is a Clinical Herbal Apprentice and Certified in Aromatherapy. She has taught many workshops on aromatherapy and enjoys sharing what she knows and has learned with others. Donna is the treasurer for the Herbal Community of Central Massachusetts and is a Financial Recovery Counselor and Coach at Pot of Gold.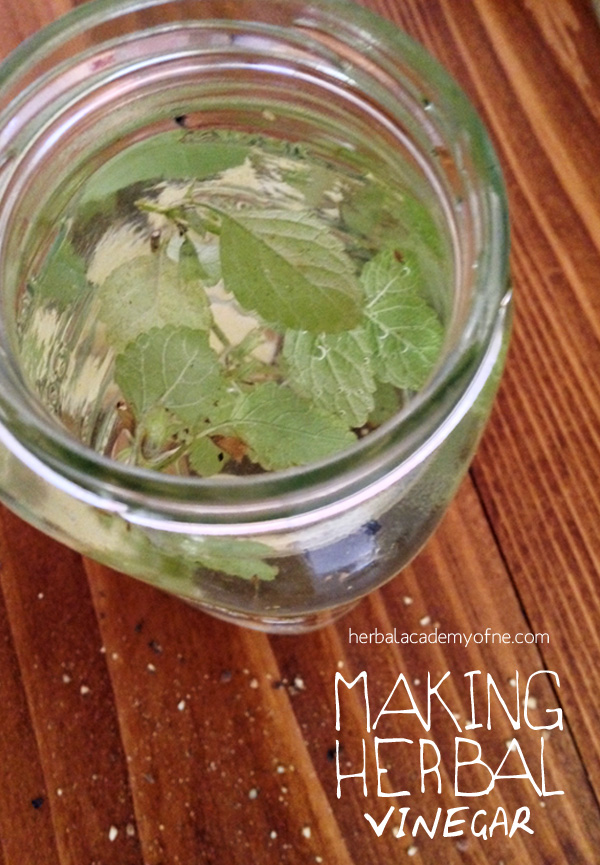 REFERENCES
DeCleene, C (1983). How to Make Herb Vinegar. Retrieved September 18, 2014, from http://www.motherearthnews.com/homesteading-and-livestock/how-to-make-herb-vinegar-zmaz83jaznet.aspx#axzz3Dz8BK52E
Oster, M (1994). Buying, Making, and Flavoring Vinegar. In Herbal Vinegar (pp. 1-26). North Adams: Storey Publishing.