Magical Rainbow Fruit Salad With Herbs & Flowers
Can you eat a rainbow? You can with this beautiful rainbow fruit salad that is just a delicious as it is beautiful! Challenge your children to eat a rainbow and ask them to help you create a tasty salad with you. Kids love being part of food preparation and will have fun choosing fruits, herbs, and flowers from every color of the rainbow. Making this salad can teach them about nature's incredible variety, too. Plus, eating a rainbow helps children (and their parents) get the important phytonutrients found in fruits and veggies. 
Making a Rainbow Fruit Salad
So challenge your children to see if they can find something they enjoy in every color of the rainbow. Take your child to select the fruits as well as out into the garden to harvest herbs and flowers. If your children are old enough, have them help wash and prepare the ingredients. And be sure to let them assemble the rainbow, too. Inspiration from the beauty and excitement of making a rainbow fruit salad may even encourage your child to try new foods.  After all, it is pretty exciting to eat a rainbow!
Magical Rainbow Salad
Choose at least one fruit, flower, or herb leaf from each color group to make a delightful tasty rainbow right on your plate!
Ingredients
Red: Fruits: raspberries, strawberries, cherries, watermelon, & red apples. Flowers: rose petals
Orange & Yellow: Fruits: mango, navel or mandarin oranges, pineapple, nectarines, & cantaloupe. Flowers: calendula petals & dandelion flowers
Green, Fruits: green grapes, kiwi, honeydew, & green apples. Leaves: lemon balm, mint, violet leaf, & anise hyssop
Blue, Fruits: blueberries. Flowers: blue pansies & borage flowers
Indigo & Violet, Fruits: blackberries, plums, & purple grapes. Flowers: pansies, violets, lavender, & lilacs
Herbal-infused honey: you can use any kind you have on hand; tasty choices include rose, chamomile, lavender, & violet. Learn how to make your own here.
Fresh lemon, lime, or orange juice
Directions
Gather all of your ingredients, including one item from each color group to assemble your rainbow.
Prepare each item for your salad by washing all the fruits, leaves, and flowers.
With adult help, carefully chop up the fruits into bite size pieces and add them to a bowl.
Use kid-friendly scissors to snip any leaves or leave them whole. Then add them to the bowl.
Toss everything with some of your herbal infused honey and citrus juice. You will probably need a couple of tablespoons each of the citrus juice and honey, though the amount you need to add will depend on what fruits you have chosen and how much fruit you have.
Finally, top your salad with a sprinkle of lovely flowers!
You can make this salad with vegetables,too. Instead of honey and citrus juice, use herb-infused oils and vinegars to make a tasty dressing!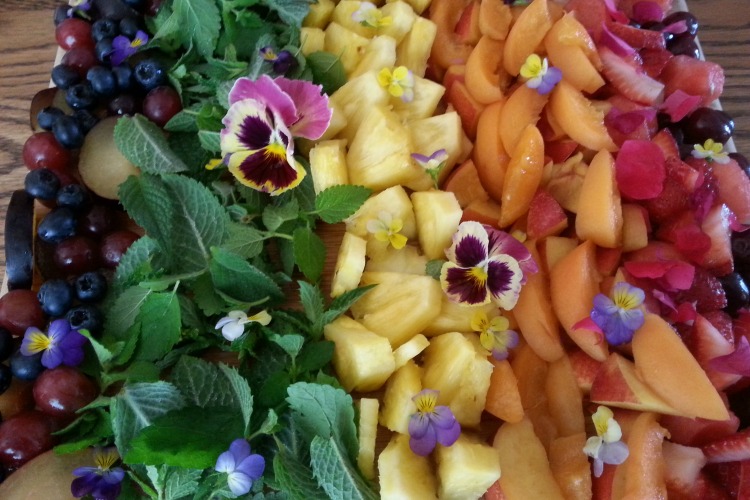 Here are some more great herbal recipes to make and share with your kids: