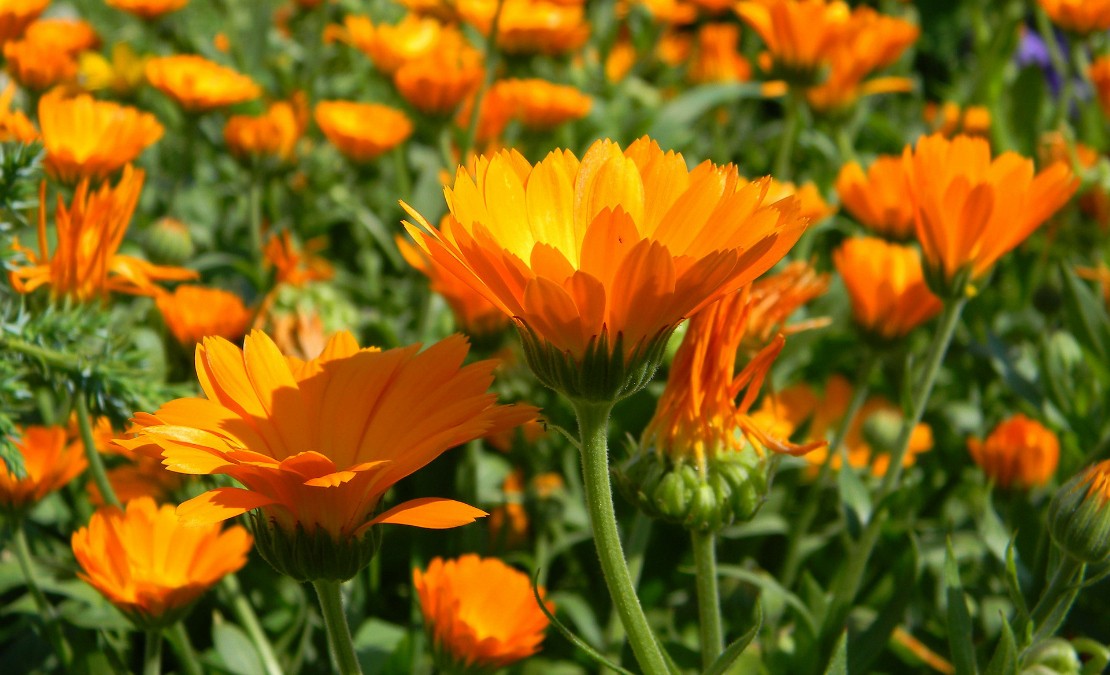 A Family Herb: Helpful Calendula Blossoms
Vivacious, happy Calendula blossoms are a delight to grow and use in herbal remedies for everyone in the family. 
As a member of the Asteraceae family, Calendula (Calendula officinalis) is a relative of other helpful plants such as chamomile, yarrow, dandelion, Echinacea, and Arnica. And just like its family members, Calendula has a plethora of wonderful benefits and uses!
Helpful Uses for Calendula Blossoms
Like many herbal plants, Calendula has a long and extensive history of use, though in recent times it is probably best known as a skin herb.
Calendula is used to soothe the irritation and pain of skin afflictions while promoting skin repair through its vulnerary actions as well as helping to curb bleeding, and address infection ("Calendula," n.d.). It has been approved by the German Commission E as an herb that can help ease inflammation of both external and internal mucous membranes and promote healing of external wounds including ulcerated wounds or those that are healing badly (Commission E, n.d.). This makes Calendula a wonderful herb to use when faced with wounds, abrasions, rashes, burns, and even bruising.
Beyond its helpfulness for skin injuries and afflictions, Calendula can be used as a body care herb to help keep skin healthy and strong. No wonder so many people love Calendula blossoms for the skin!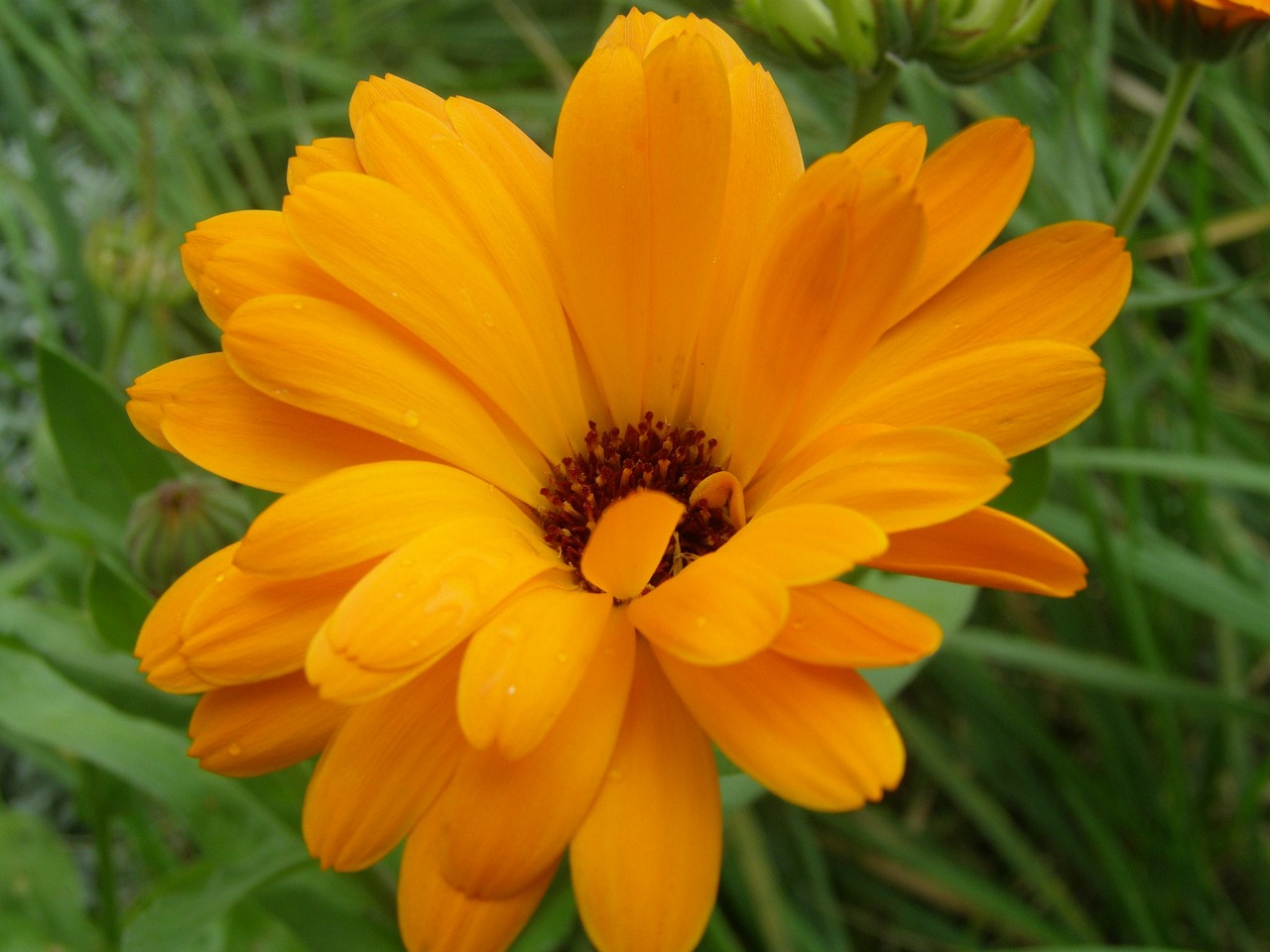 Calendula blossoms are also well known by herbalists as a wonderful lymphatic herb to turn to for helping to ward off infection and hasten recovery from illness. Herbalist Anne McIntyre explains, "research has found Calendula to be effective in controlling flu and herpes virus, to reduce lymphatic congestion and infections, and swollen lymph glands" (McIntyre, 1996, p. 77). It can be used during fevers to assist the body by bringing on a sweat and can be used by everyone in the family, including children (McIntyre, 1996).
Herbalists employ Calendula's slightly bitter flavor and cholagogue action to help support digestion through gentle stimulation of the liver and gallbladder ("Calendula," n.d.). Also, similar to its topical vulnerary action, Calendula is used as a vulnerary for the digestive tract helping to soothe gastric irritations including ulcers (Hoffmann, 1998).
As a gentle yet powerful ally for menstruating women, Calendula can help to "normalize the menstrual process" (Hoffmann, 1998, p. 91) and it is said to have both emmenagogue and estrogenic properties (McIntyre, 1996). It can be used to help with menstrual issues such as delayed menstruation, cramping, excessive bleeding as well as pelvic congestion and infections (Trickey, 1998). New moms may find topical use of Calendula helpful for encouraging healing of sore, cracked nipples (Weed, 1986).
Helpful Properties of Calendula Blossoms
This wondrous flower is full of useful properties!
Vulnerary – assists in promoting healing of tissues

Anti-inflammatory – eases inflammation

Hemostatic – helps to stanch bleeding  

Topical analgesic – assists in easing pain

Astringent – promotes tightening and toning of tissues

Antiseptic – helps to prevent or stop microbial growth

Diaphoretic – assists the body during illness by promoting perspiration.

Lymphagogue – assists in stimulating the lymphatic system

Cholagogue – helps to stimulate flow of bile from the liver and gallbladder

Emmenagogue – assists in stimulating menstrual activity
*The above information was taken from Calendula Monograph by the Herbal Academy, The Herbal Handbook by David Hoffmann, and Herbal Medicine From the Heart of the Earth by Sharol Tilgner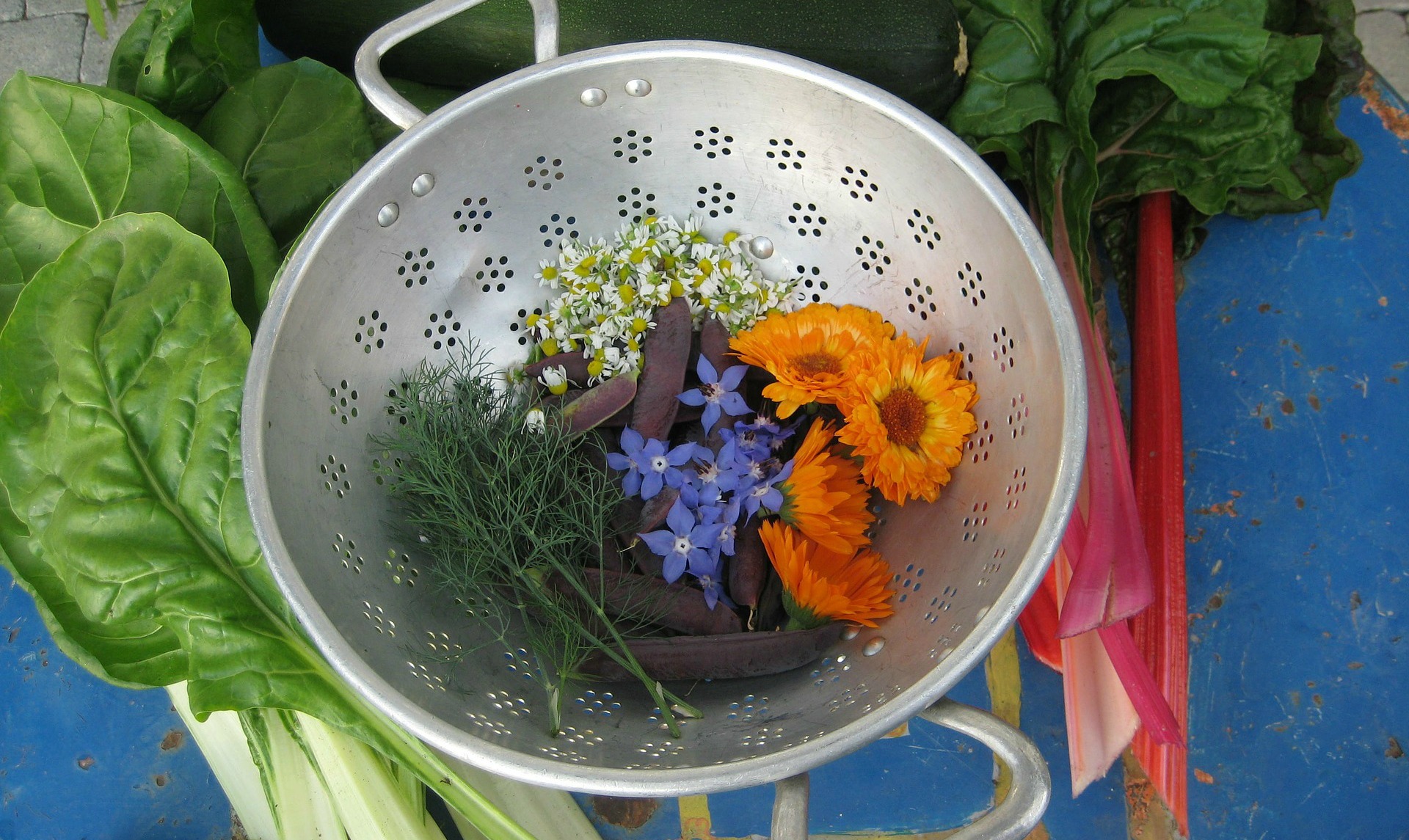 Cooking With Calendula
Surprisingly, these pretty flowers can be enjoyed as a regular addition to many of the foods we love to eat, and they have been included in food by cooks for thousands of years! According to herbalist James Duke, Calendula blossoms were used as a "soup starter in the Middle Ages" and as a saffron substitute (Duke, 2007, p.11). He also explains that the flowers are a wonderful source of healthful carotenoids including lycopene and lutein (Duke, 2007).
The mild tasting flowers are easy to include in a wide array of foods for their nutritional content and herbal benefits. Simply pull the petals off of the fresh or dried flower heads and toss them into stews, soups, casseroles, sauces, eggs dishes, rice and other grains, veggie and fruit salads, herb cream cheese, muffins, cookies, whipped butter, puddings, and more!
The petals can also be ground and used to add a delightful yellow color to foods, similar to saffron, giving rise to another common name for Calendula, poor man's saffron (McIntyre, 1996).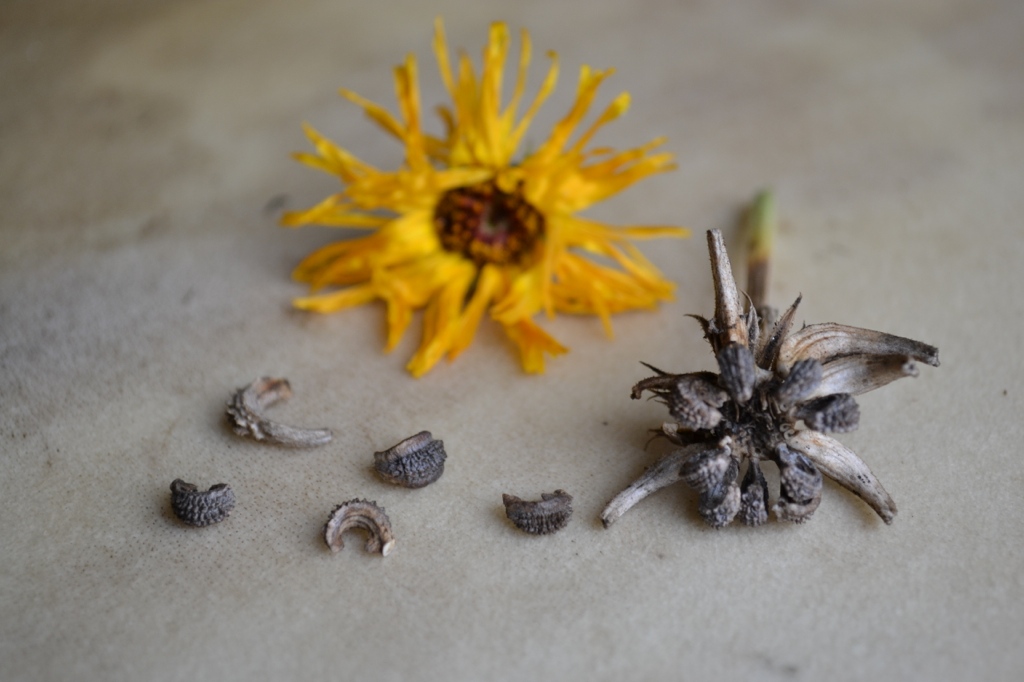 Kids Love Calendula!
Calendula's bright orangy-yellow flowers and funny looking seeds make this plant a child's favorite. Happily, there are plenty of ways for children to make friends with Calendula.
Calendula is easy to grow and fun to have in the garden. Plant the seeds together, watch them sprout and grow into beautiful, strong flowering plants. Give your child a bucket or pot to plant and encourage them to tend to their very own Calendula patch. You can even add these vibrant flowers to a fairy or dragon garden!
Calendula is not only fun to grow, it also has an interesting history much of which is based on the way it behaves. In olden days, it was called "the calendar flower" because, in temperate regions, it can often be found blooming at the first of the month (Samaha, 2007, p. 5). Calendula is a phototropic plant, and it spends its days following the sun across the sky with its beautiful blossoms (Samaha, 2007).
Also, Calendula can tell time! It's true! If observed from day to day, you will find that Calendula opens its flower blossoms around 9 o'clock each morning, welcoming the sun. Then, at about 3 o'clock in the afternoon, Calendula says goodbye for the day and closes up again (Samaha, 2007)! Share these fun Calendula facts with kids and challenge them to observe Calendula's interesting behavior.
Be sure to help your children enjoy harvesting and cooking with these beautiful, happy flowers. Add the petals to your children's favorite dishes and let your child use them for decorations. Grind up the petals and add them to frosting to make a beautiful yellow adornment for baked treats!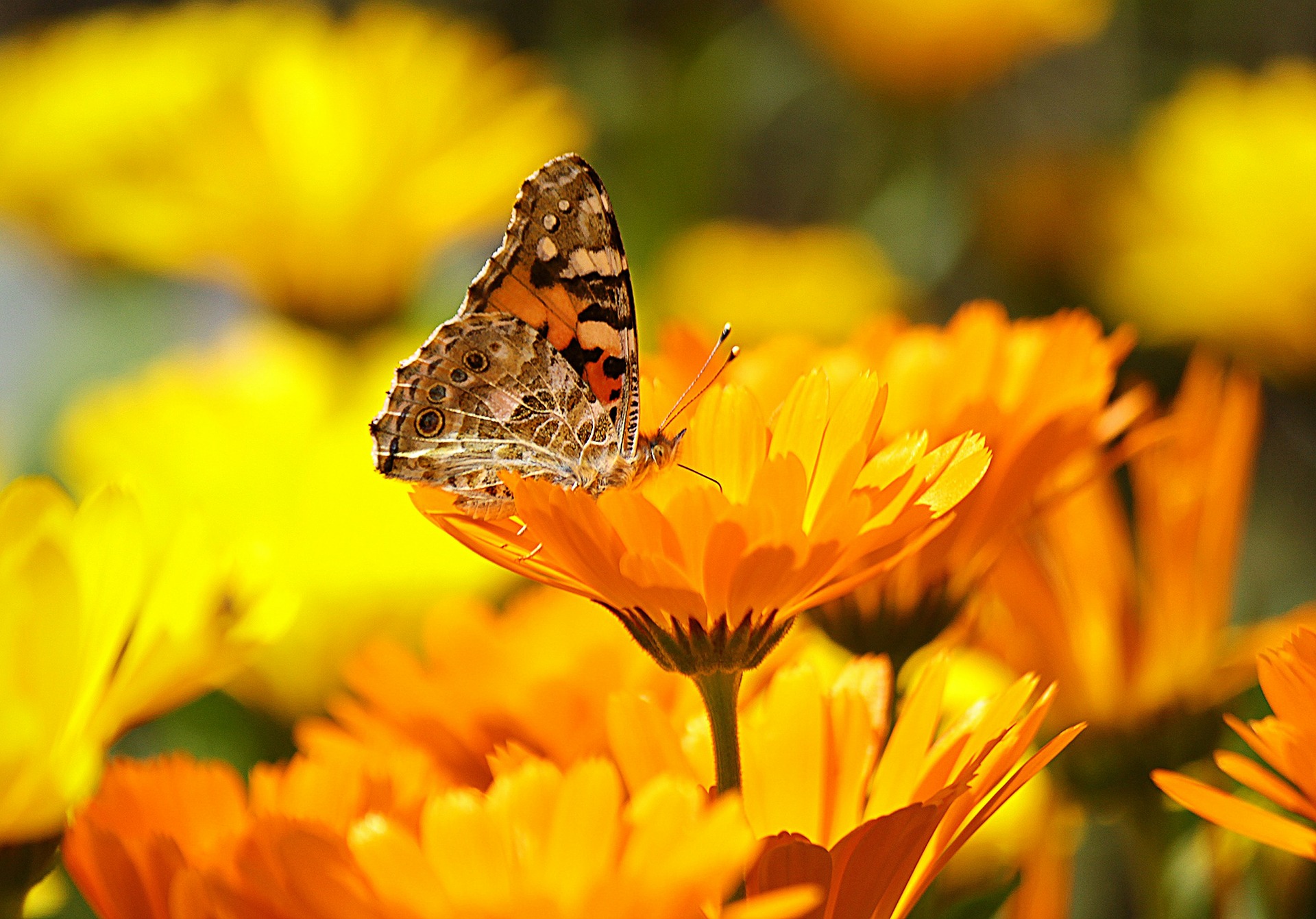 Calendula Uses in the Herbal Remedy Cabinet
Calendula is a great herb to have on hand for easing many of the daily woes we all experience, and it can be used in many simple herbal preparations. Keep it stocked up so you have it on hand for your family should the need arise!  
A Simple Cup of Tea
A simple cup of Calendula tea or infusion can be an extremely useful ally! It is used topically as a wash, or you can soak a cloth in the tea to make a compress for cleaning and soothing skin wounds, rashes, burns, bug bites, and bruises. It can even be useful for sore, tired eyes. Add a strong brew of Calendula blossoms to the bathtub to help ease the itch of rashes and insect bites or to soothe a hot, tight sunburned skin. It can be made into a wonderful sunburn relief spray and makes a wonderful poultice for topical application.
Sip a cup of hot Calendula blossom tea or infusion during illness, such as colds and flu, to help ease lymphatic congestion, gently stimulate the immune system, and promote sweating; and a woman can enjoy a cup to help soothe menstrual issues. Try combining Calendula with lemon balm, linden, elderberry and flower, or spearmint to make tea for everyone in the family.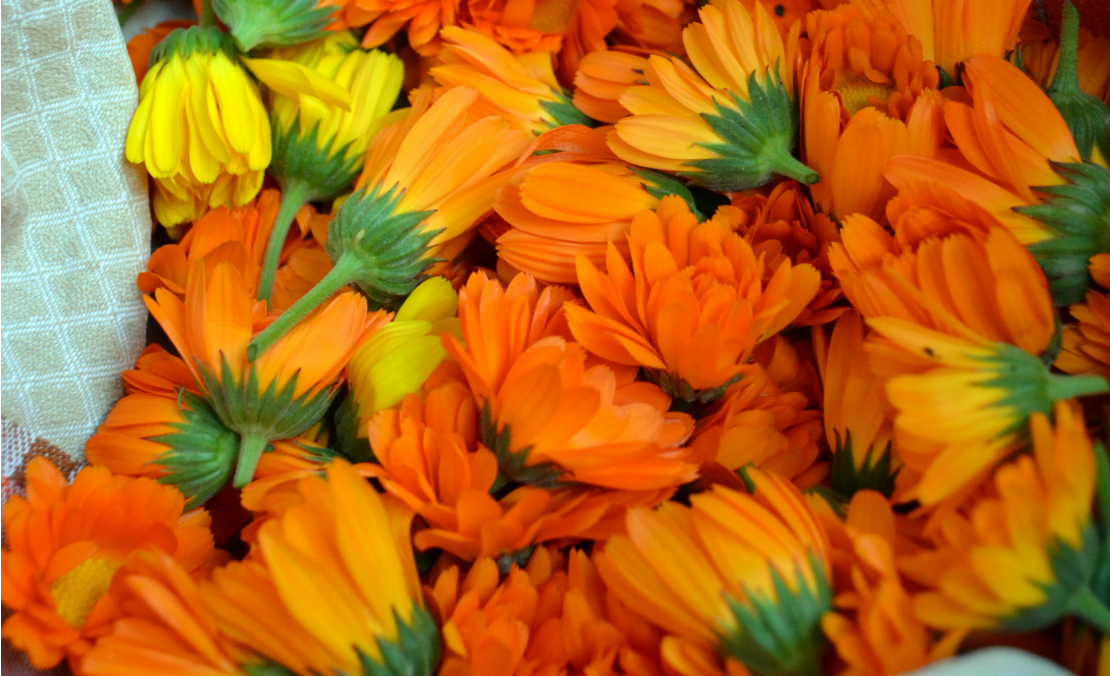 Calendula Infused Oil & Salve
With spring well underway and summer soon to come, now is a great time to stock-up your family's first aid kit to ensure you are prepared for those inevitable scrapes and bumps that come with warmer weather. Calendula infused oil and salve are well-loved herbal preparations that make the perfect addition to any first aid kit. Enjoy the infused oil as a wonderful massage oil for sprains, strains, general skin care, and even rubbed lightly on bruises. Calendula salve is easy to apply and use in first aid for encouraging healthy healing of wounds, rashes, insect bites, and burns (once the burn has cooled and the skin is no longer holding heat inside). Don't forget Fido! Calendula can also be made into a wonderful salve for pets!
Tincture, Syrups, & Elixirs
Calendula makes a wonderful companion in many internal herbal preparations. Use it in syrups, elixirs, and tincture blends to help support and nourish the body. It blends wonderfully with immune system herbs that help to support and nourish the body during illness or even to assist in preventing the onset of respiratory infections. As any mom or dad knows, keeping kids healthy during the school year can be a challenge!
Add a handful of Calendula blossoms to any homemade syrup or elixir you are brewing up such as a seasonal elderberry or rose hip brew, or try this delicious elderberry calendula cold and flu elixir. When blending tinctures be sure to look to Calendula as a potential ingredient when faced with issues discussed under Calendula benefits!
Calendula is also right at home in blends for women who may want a little extra support for healthy menstruation. So invite Calendula to give you a helping hand!
With so many uses and simple applications, it is easy to enjoy Calendula!
Use Calendula Safely
Calendula is generally considered to be a very safe herb for general use by most folks. However, due to Calendula's action as an emmenagogue, it should not be used during pregnancy (Tilgner, 1999). Calendula is in the ragweed family, and it may cause issues for some folks that are allergic to ragweed. Also, please be aware that children have different needs than adults when it comes to using herbs so it is important to know how to use herbs safely with them! Read about using herbs safely with children here.
Join us in the Herbarium to find a complete monograph for Calendula blossoms and enjoy learning even more about this amazing plant!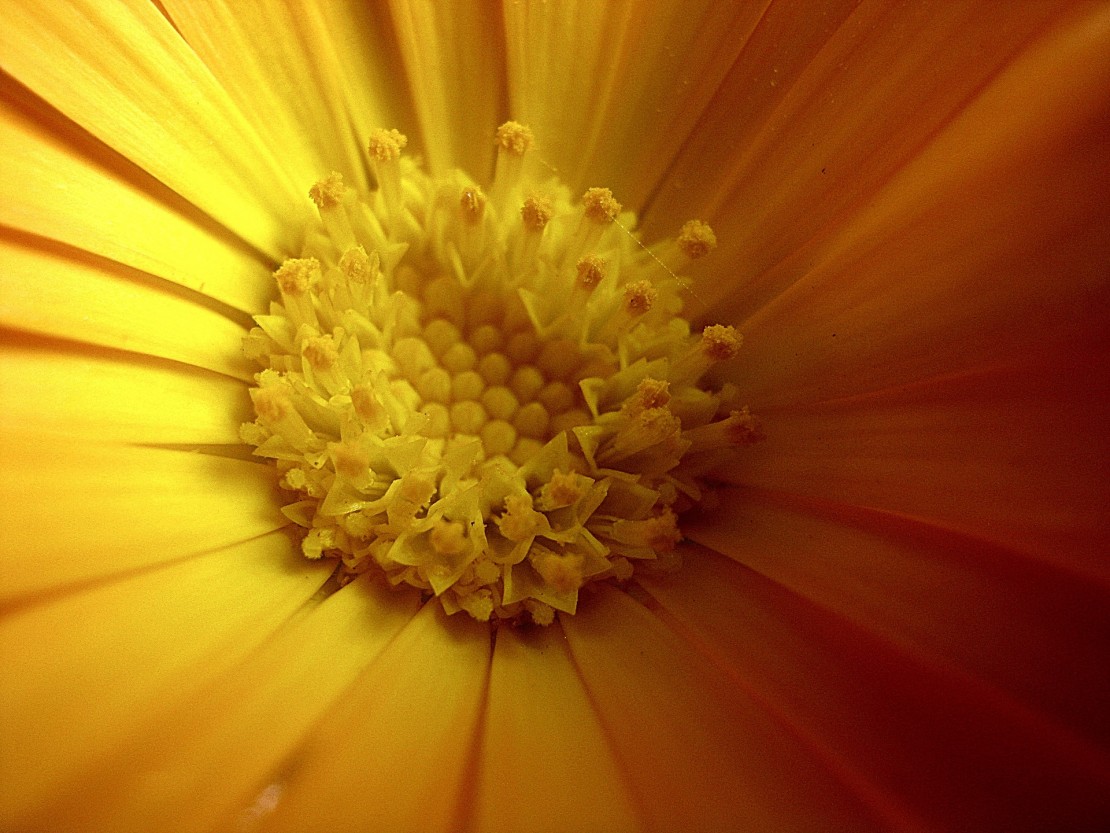 How do you use calendula in your home? Share your experiences with us!
REFERENCES
Commission E: Calendula flower. (n.d.). Retrieved on 4/18/2016 from http://cms.herbalgram.org/commissione/Monographs/Monograph0043.html
Duke, Jim (James). (2007). The Medicinal Point Of View. Retrieved on 4/18/2016 from http://www.herbsociety.org/factsheets/Calendula%20Guide.pdf
Hoffmann, David. (1998). The herbal handbook. Rochester, VT: The Healing Arts Press.
Samaha, Brother John M. S.M. (2007). Myths And Legends Of Calendula. Retrieved on 4/18/2016 from http://www.herbsociety.org/factsheets/Calendula%20Guide.pdf
Calendula Monograph. (n.d.). Retrieved on 4/15/2016 from http://herbarium.herbalacademyofne.com/monographs/#ID=2025
Tilgner, Sharol, N.D. (1999). Herbal medicine from the heart of the earth. Creswell, OR: Wise Acres Press, Inc.
Trickey, Ruth. (1998). Women, hormones, & the menstrual cycle. St Leonards NSW, Australia: Allen & Unwin.
Weed, Susun. (1986). Wise woman herbal for the childbearing year. Woodstock, NY: Ash Tree Publishing.