3 Ways To Prevent A Sunburn Naturally + A DIY Sunburn Relief Spray
Sunburns are such a bummer, but if you're like me and you enjoy being outside when the weather is nice, getting a sunburn is a likely possibility.
Today I'm sharing some tips that could help you to naturally prevent a sunburn as well as sharing a DIY herbal sunburn relief spray with you that you can use if you do end up with a burn. When it comes to decreasing your chances of getting a sunburn, it's all about what you do to protect your skin. Below I'll be sharing three approaches to keep in mind when you're out and about on sunny days so you can prevent and treat a sunburn naturally as best as you can.

1. Timing is Everything
The time you're outside in the sun matters. Sun rays are typically the strongest between the hours of 10 AM and 4 PM because the sun is highest in the sky during those times of the day. If you get to choose when to spend time outside, shoot for mornings or evenings when it's nice out, but not too hot. If you can't help but be out during these times, following some of the below steps can helpful for preventing burns.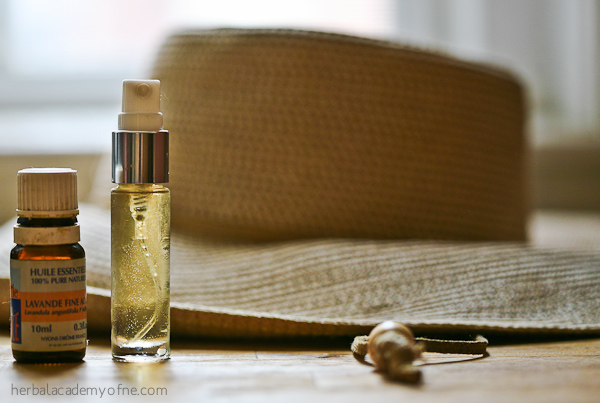 2. Eat Healthy Fats and Antioxidant-Rich Foods
Another way to protect your skin from UV-damage is to eat a diet high in omega-3 fatty acids and antioxidants, especially skin-protecting lycopene found in cooked tomato products, and carotenes found in orange and red fruits and veggies. Healthy foods are not only good for your overall well-being, but they are very good for your skin. They nourish the skin, stave off dryness, and help protect the skin from burning by acting as an internal shield of sorts.
3. Cover Your Skin
One of the easiest ways to prevent a sunburn naturally is to cover your skin. When I say cover your skin, I mean to shield it from the sun's rays. This can be by going inside or by finding some shade. It can be by putting on a wide-brimmed hat and a light-colored, light-weight piece of clothing that reflects the sun and isn't too hot to wear outside. It can even be by applying a natural non-nano zinc-based sunscreen that will reflect the sun's rays. No matter, if you've been out in the sun for a while or you feel like your skin is starting to burn a bit, covering up is an easy way to prevent sunburn.
Now, let's say you, unfortunately, end up with a sunburn for whatever reason. What are you to do to help ease that burn and allow it to heal? You can make and use a DIY sunburn relief spray that uses skin-soothing herbs.
DIY Herbal Sunburn Relief Spray
Ingredients
Directions
Put equal parts dried calendula flowers and marshmallow root in a small jar.
Pour cold water over the herbs, filling the jar 1 inch from the top. Allow to sit at room temperature for 8-12 hours.
Strain herbs and compost.
Combine 1 ounce of herbal infusion with 1-ounce organic aloe gel in a 2-ounce spray bottle.
Add 12 drops of lavender essential oil and shake well to mix.
Spray on sunburned skin as often as needed.
Calendula, aloe, and lavender essential oil are all soothing and nourishing to burns and aid in cell regeneration. Marshmallow is an emollient that becomes very slimy when allowed to sit in cool water for an extended period of time and helps to soothe irritated skin. This combination of herbs is a great remedy to use on hot, damaged skin from sunburn.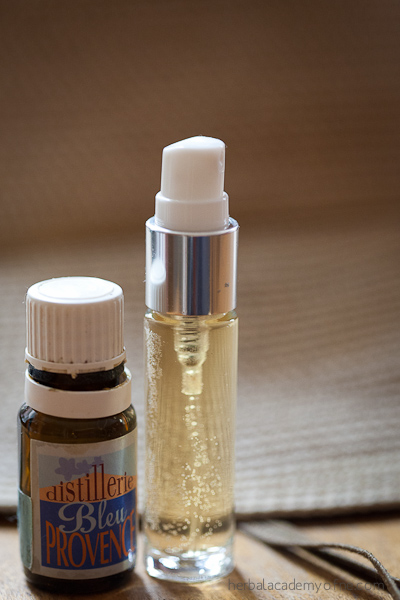 Now it's your turn. Do you have any tips for preventing sunburn naturally? What do you do to help your skin when you do get a sunburn?
For more tips on staying cool this summer, read this post!