How To Make A Healing Salve
In the Online Intermediate Herbal Course, we study plant energetics and their actions. Many of us in the herbal community share a passion for seeking out natural homemade remedies. We are not only studying plant's actions individually but also how to create vehicles for these herbs to work together with the body. These vehicles have names like a healing salve, tincture, infusion, decoction, and many more.
One of the best ways to receive the benefits of herbs as well as alleviate dry skin is through the creation of a healing salve. The skin is one of the largest gateways on the body to receive the actions of the plants. Calendula, or Calendula officinalis, known commonly for its skin rejuvenating magic is a great herb to start with when making a salve. It is used for wounds, rashes, and other skin irritations. This time of year, dryness, and irritation can be prevalent due to the weather's icy bite and moisture-sapping indoor heat.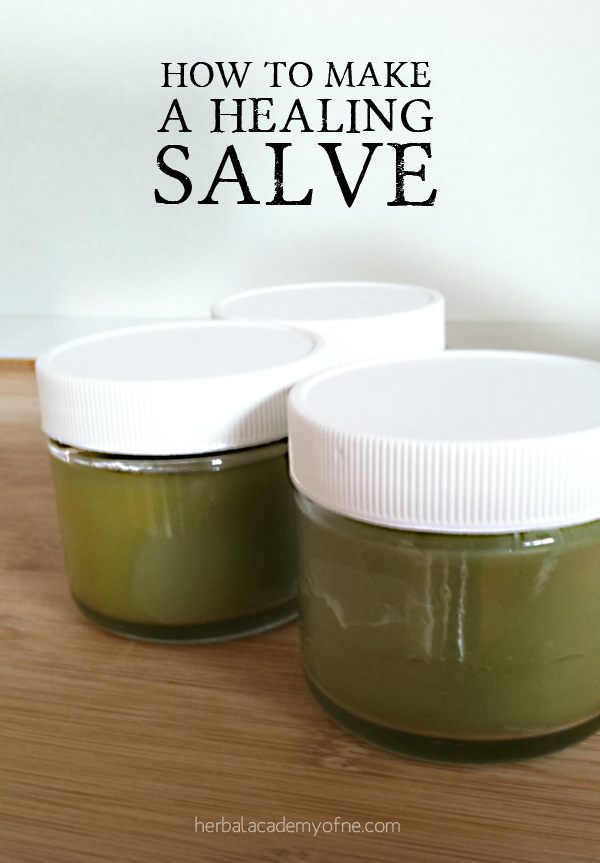 A How-To Guide to Making a Healing Salve
If you would like to play with your own mixture, it is highly recommended to research the actions and energetics of herbs. For the recipes provided today, here is some brief information on the herbal actions indicated.
Meadowsweet (Filipendula ulmaria) has anti-inflammatory actions. Meadowsweet, combined with calendula can soothe sore feet, hands, and shoulders as well as the rough cracked skin that goes along with hard work.
For a dry skin salve, you can use a calendula base, then add lavender (Lavandula), which is soothing and anti-inflammatory. The addition of coconut oil is very moisturizing as well as a nice compliment to the lavender smell.
To make a salve, you must have the following materials:
1 cup of oil (coconut or olive oil is best) – choose an organic oil like this one 
Equal parts dried herbs – we purchased our herbs at Mountain Rose Herbs
1 ounce of beeswax (shaved)
Jars or containers to store salve in – We recommend using glass or tin containers which you can find easily on Amazon. Containers can be purchased in a number of sizes based on personal preference.
Essential oils are optional – like these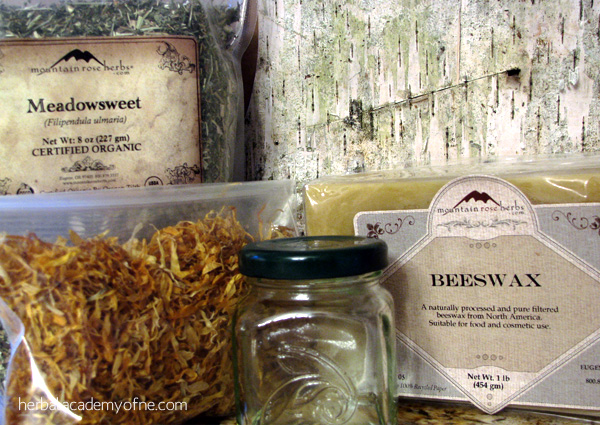 For the suggestions recommended above, here are the homemade salve recipes below.
Aches and Pains Salve
Ingredients
One part dried meadowsweet
One part dried calendula
One cup of olive oil
One ounce of beeswax
15-20 drops of roman chamomile essential oil to relax
Winter Salve-ation
Ingredients
One cup of coconut oil
One part lavender
Two parts dried calendula
One part dried rose
One ounce of beeswax
15-20 drops of grapefruit essential oil to uplift
The first step to making a healing salve is to create an herbal oil infusion.
Creating an herbal oil infusion can be completed through the double boiler method:
Place herbs and oil in Pyrex container or smaller pot, over top of a large pot with water about  ¼ full.
Bring water to a boil.
Once water is boiling, you can then turn the stove down to a simmer and let the herbs and oils infuse in this double boiler method for 30-60 minutes.
Take care not to splash water into your oil/herb infusion.
Another method for making an infusion is called solar infusion. In this method, place herbs and oil in a sealed Mason jar and then position the jar in a sunlit area for 4-6 weeks. You can find more methods for creating making herbal infusions here.
Once you have completed your oil infusion, remove from heat and set aside.
Now you will prepare your infusion for the salve:
Place three layers of cheesecloth over top of a funnel or atop a bowl.
Pour the infused oils over the cheesecloth to strain the oil and keep herbs separated.
Once drained, gather the cheesecloth with your clean, dry hands and squeeze out the remaining oil.
Super Side Note! You can compost the remaining herbs in the cheesecloth. Or, if you are using coconut oil, you can tie off the cheesecloth with a rubber band or string and place it into a steaming bath for moisturizing and soul-awakening deliciousness.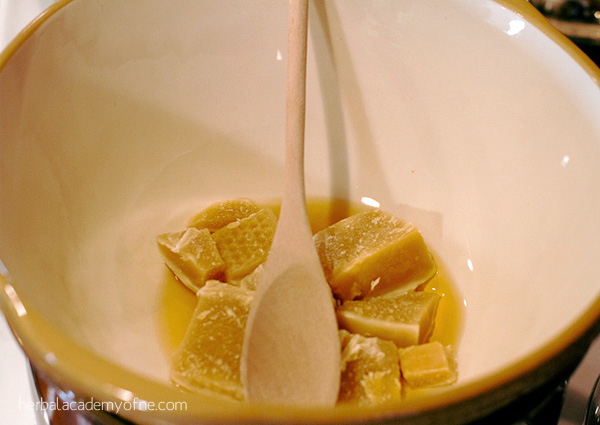 Making The Healing Salve
Place your shaved beeswax in a pan over low heat, and pour the infused oil over top and melt together.
Once the beeswax and oil have combined, pour the mixture into jars.
Place your herbal salves in the refrigerator for about 10-15 minutes to determine the solidification of the salve.
Using less beeswax will yield a more creamy salve, and more generous usage will yield a harder salve.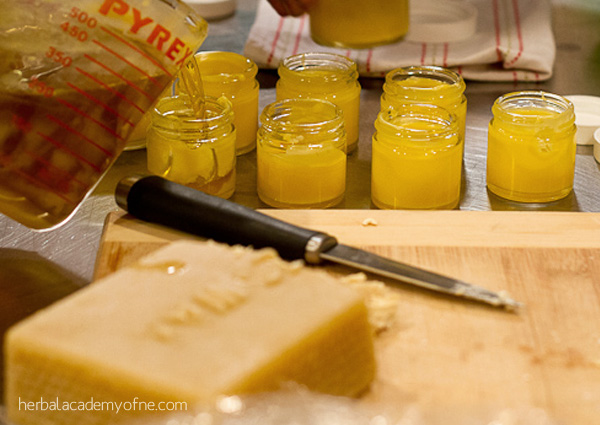 Salve Application
Once complete, you can simply rub fingers over the top of your salve and then spread over the desired area on the body, avoiding the eyes. One of the hidden benefits of salves is that they can make wonderful massage oils. Coconut oil is especially known for its ability to heat at lower temperatures, so it warms very well with natural body heat and the salve instantly becomes a massage-like oil. Use this opportunity, after a bath or whenever you are using your salves, to mindfully take time for yourself or your loved one and massage any worries or tension away.
Learning how to make a healing salve is just one of the first things beginners learn in herbalism. If you are interested in studying herbalism, start your journey in the Online Introductory Herbal Course or in the Online Intermediate Herbal Course. Learn more about herbs and how to use them as medicine and as food.
This article is written by Lena Yakubowski, yoga teacher and herbal student. Photos by Lena.
REFERENCES
de la Floret, Rosalee. (2013). Meadowsweet herb: Queen of the meadow. Retrieved from http://www.methowvalleyherbs.com/2013/06/meadowsweet-herb-queen-of-meadow.html
Gladstar, R. (2012). Medicinal herbs: A beginners guide. North Adams, MA: Storey Publishing.
Herbal Academy. (2013). Herbal First Aid, Herbal Academy of New England's Medicine Making Handbook.