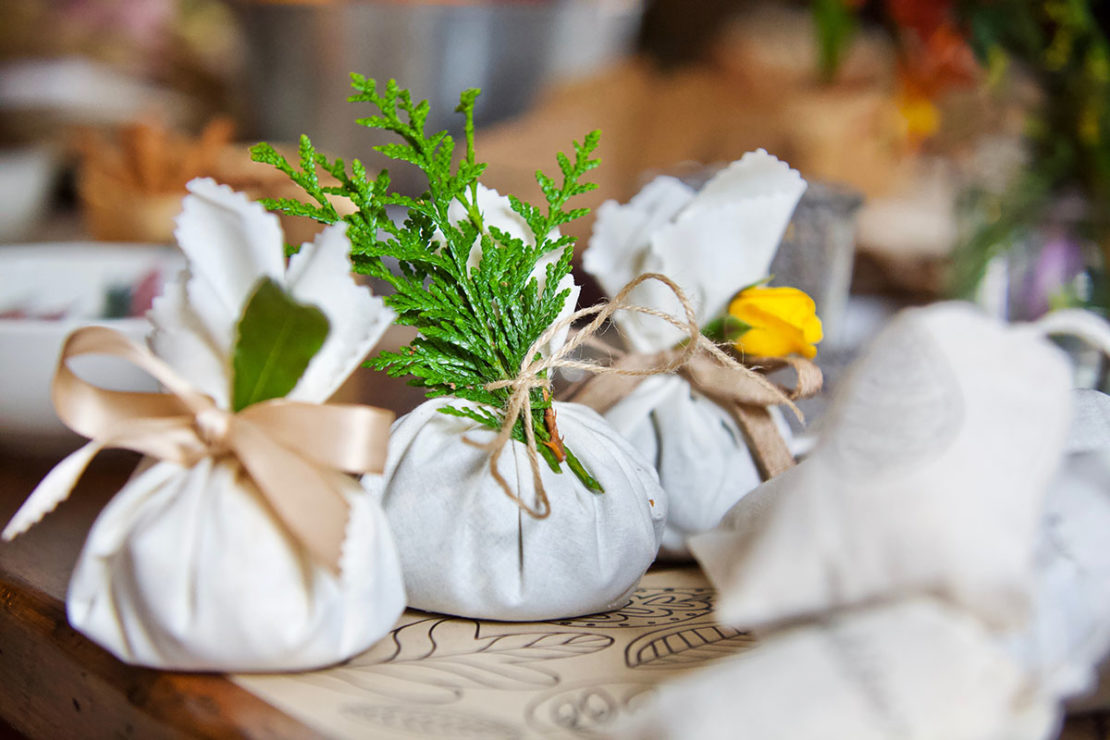 8 Ideas to Create a Natural Holiday Home
For many of us, one of the warmest traditions of the holiday season is welcoming in this special time of the year by decorating the space in and around the home. As much as a home festooned with lovely decor heralds in the holiday season, the very act of decorating often brings the most joy! Using beautiful botanicals and making herbal crafts to use in the natural holiday home invites a special element to the season that is reminiscent of times gone by.
Fragrant evergreen boughs, crafts filled with sweet spices, and lovely candles can all be arranged and made by hand to bring a special glow to the season. Spending time crafting is a lovely way to be present during the flurry of the holidays and enjoy time with loved ones. 
Enjoy Botanical Holiday Crafting
If you enjoy crafting or are interested in trying your hand at creating your own botanical crafts, the holidays offer a great excuse to whip up something new! You can find some of our favorite holiday crafts below.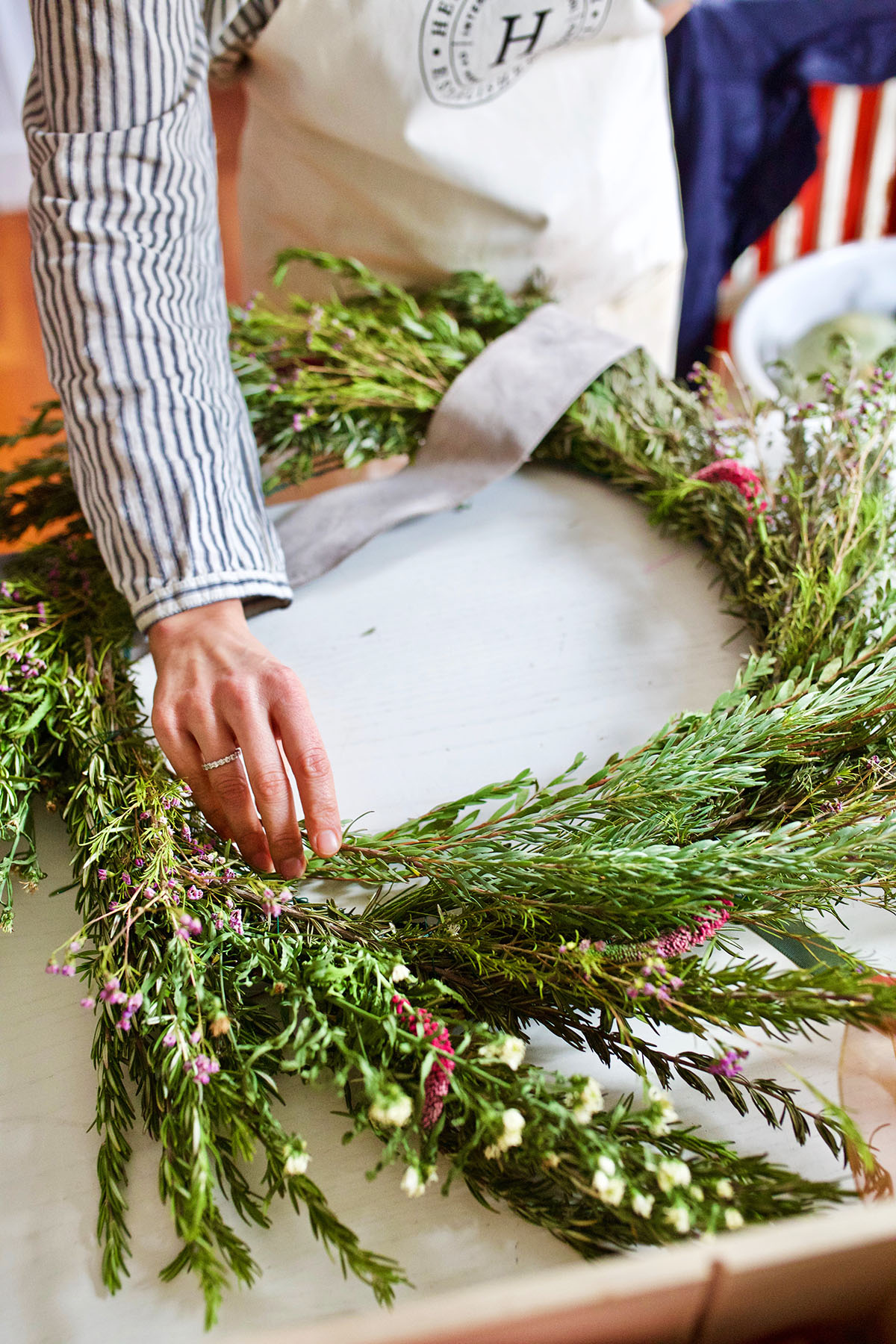 1. Construct a Rosemary Wreath
With a fragrance and appearance similar to pine (Pinus spp.), fresh rosemary (Rosmarinus officinalis) can be used to create a delightful wreath to adorn a wall during the holidays. This member of the mint family is a symbol of remembrance, making it a special choice to use in decorations.
Learn how to make your own fresh rosemary wreath here.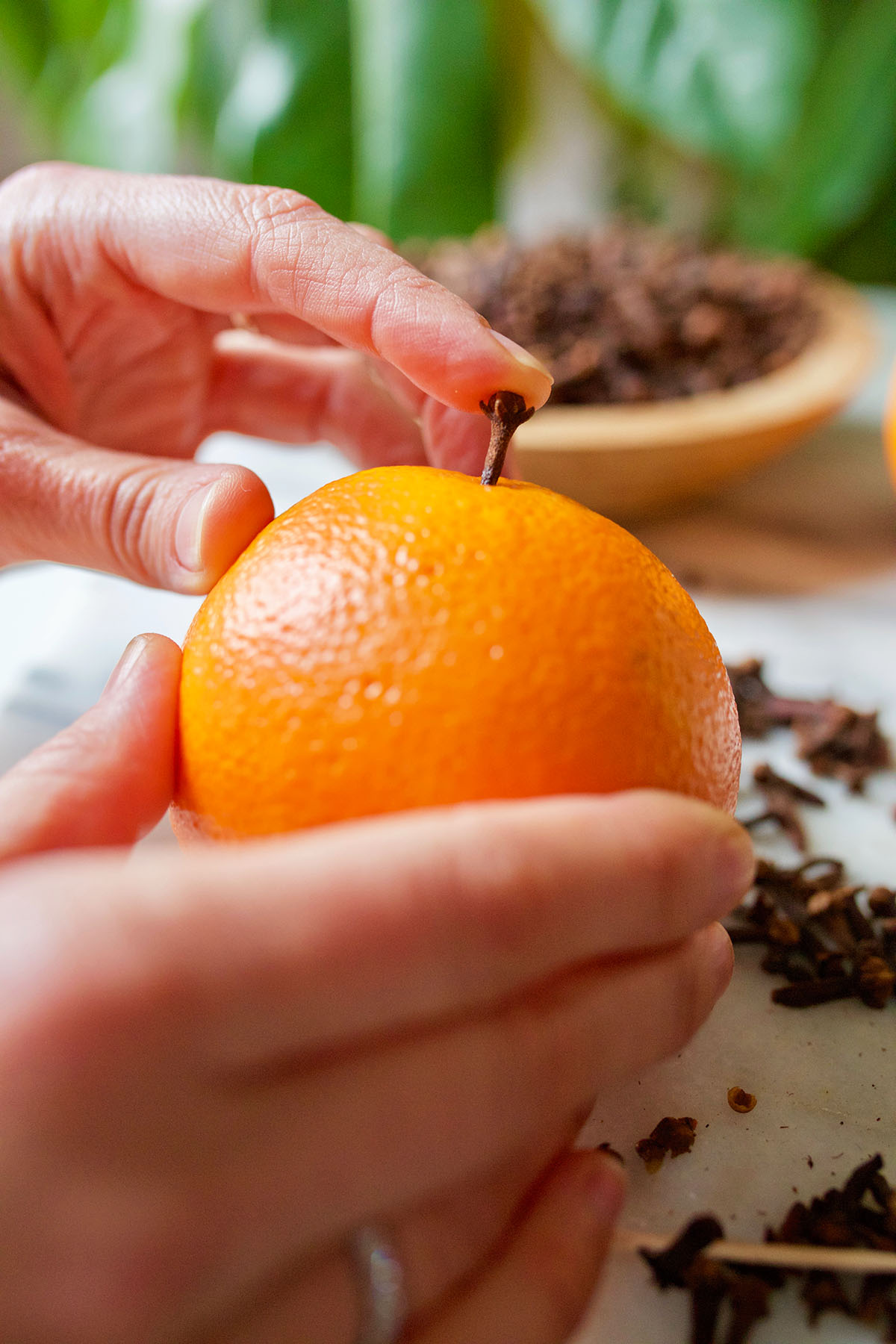 2. Make Old-Fashioned Pomanders
Create studded pieces of delight to place around your home with this time-honored craft using clove (Syzygium aromaticum). Pomanders are a fun activity for the whole family and the result is deliciously fragrant clove–studded fruit to place around the home. 
Learn how to make old fashioned clove pomanders here.
3. Whip Up a Batch of Cinnamon Ornaments
Ornaments made with cinnamon (Cinnamomum verum)? Yes, please! We have two versions of this childhood favorite to share with you. With a few simple supplies, you can create delightfully fragrant ornaments to place around your home. This is a wonderful craft to do with children so be sure to invite any little ones in your life to join you! 
These cinnamon and squash ornaments are made with just cooked, mashed squash, powdered cinnamon, and a bit of glue to help hold everything together! These look wonderful strung as a garland and hung in front of a sunny window where the heat will help release the spicy fragrance. 
Learn how to make cinnamon squash dough ornaments here.
If you want to get fancy with your cinnamon ornaments, try adding a bit of decoration. This is a particularly fun way to involve children! Let little ones be free to really personalize theirs as they see fit. If it gets a bit zany, consider all the future giggles over these fun, holiday keepsakes! 
Learn how to make fragrant cinnamon applesauce ornaments here.
Create a Fragrant Natural Holiday Home
Wrapped in lovely aroma, the natural holiday home is a delightful place to be! Find ways to bring the natural fragrance of plants into your home with the suggestions below.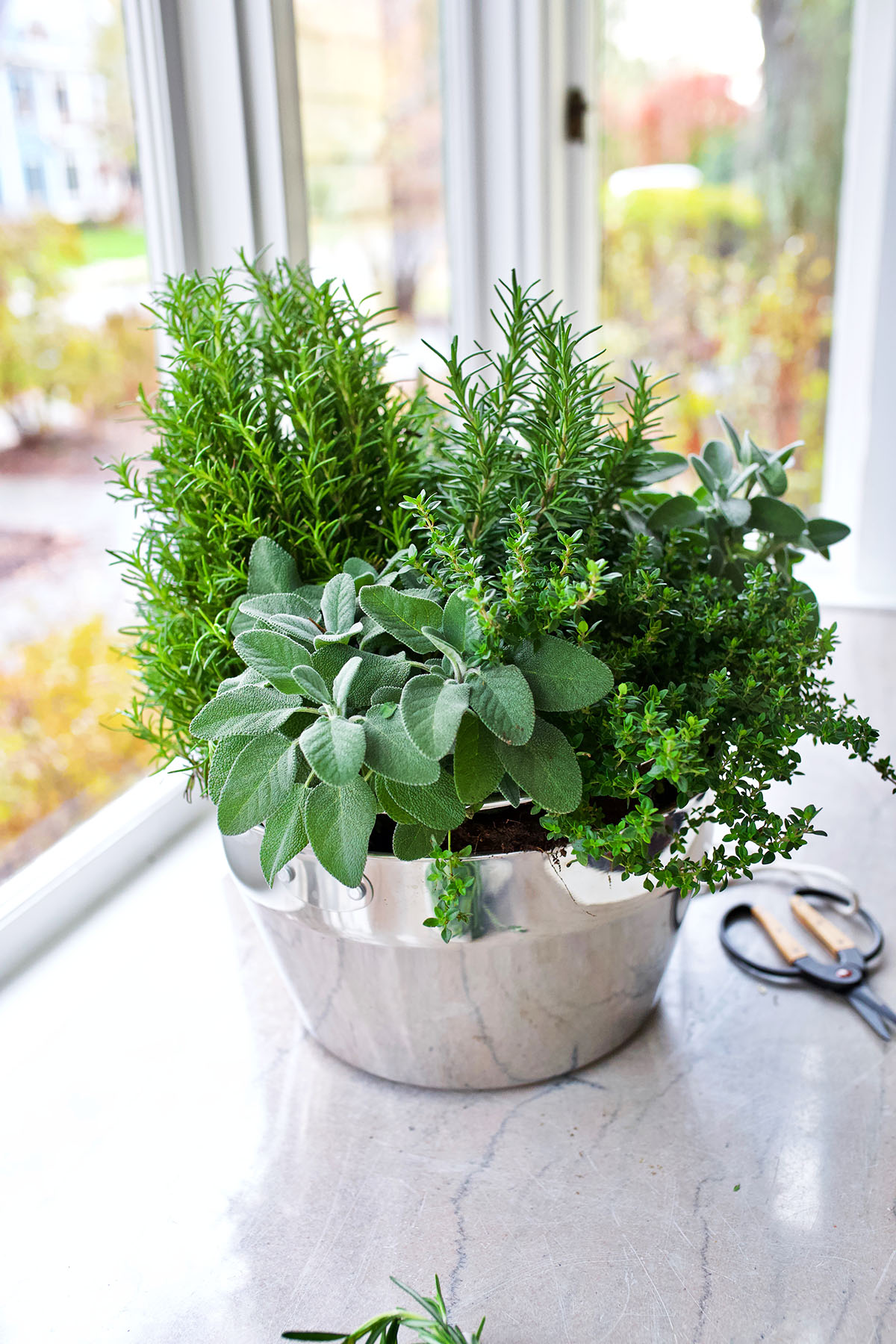 4. Discover Many Ways to Fill Your Home with Holiday Fragrance
Aroma is often one of the first things we experience when entering a space. The smell of home during the holidays can fill us with goodness and calm. Happily, botanicals provide an abundance of ways to create that warm, welcoming aroma and atmosphere! 
Learn how to make your home smell good for the holidays here.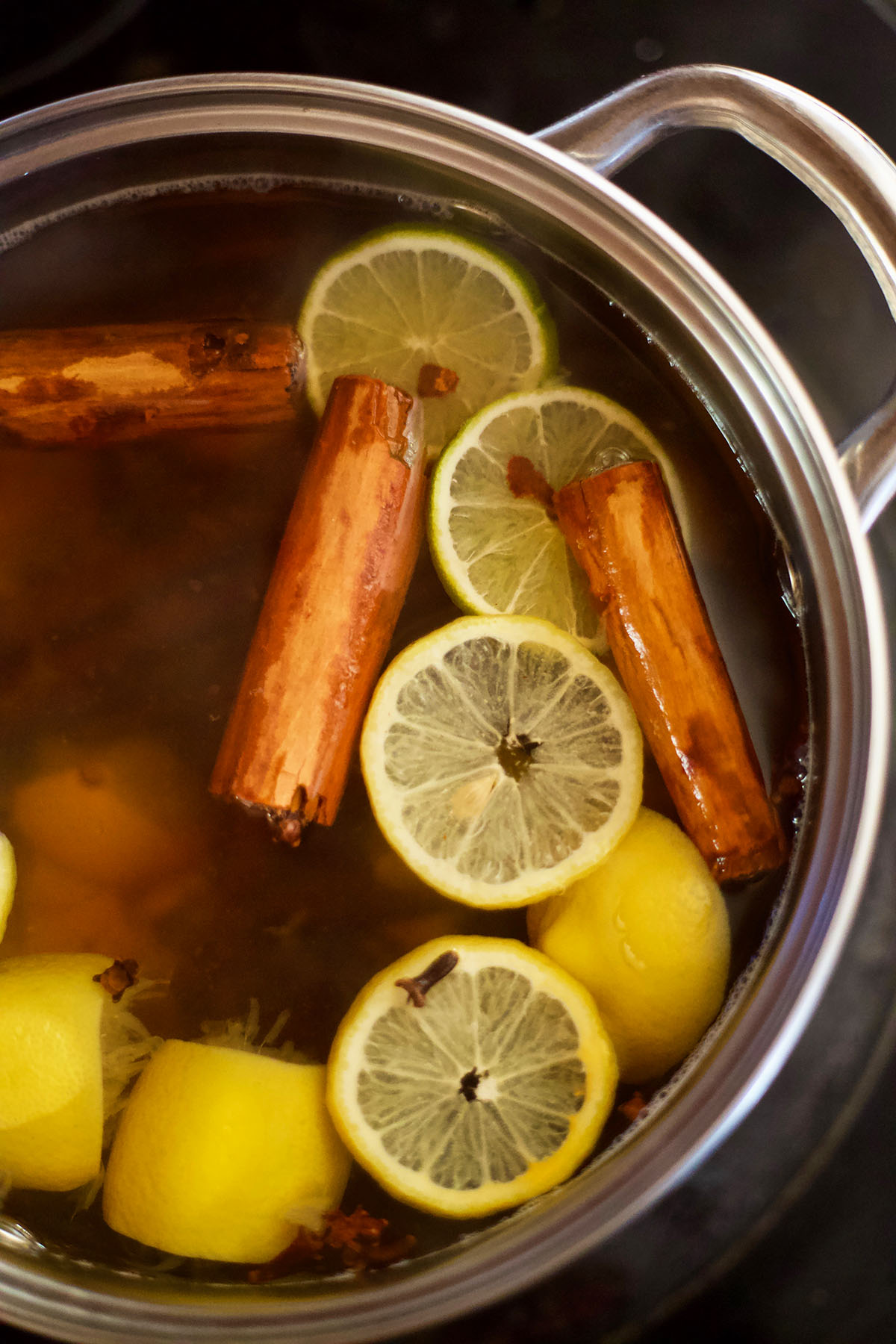 5. Create a Simmering Stovetop Potpourri for Simple Fragrance
A simmering herbal potpourri is easy to make and extremely versatile. All that is needed is a selection of herbs and a pot of water to make your home smell and feel amazing! Turn to classic holiday botanicals such as cinnamon, cloves, pine, peppermint (Mentha × piperita) and you can even throw in a few sliced apples (Malus domestica) or oranges. Plus, the simmering potpourri provides moisture along with the plants' aromatic volatile oils to help offset and freshen dry, winter air. So breathe deep, and enjoy! 
Learn how to make a simmering herbal potpourri here.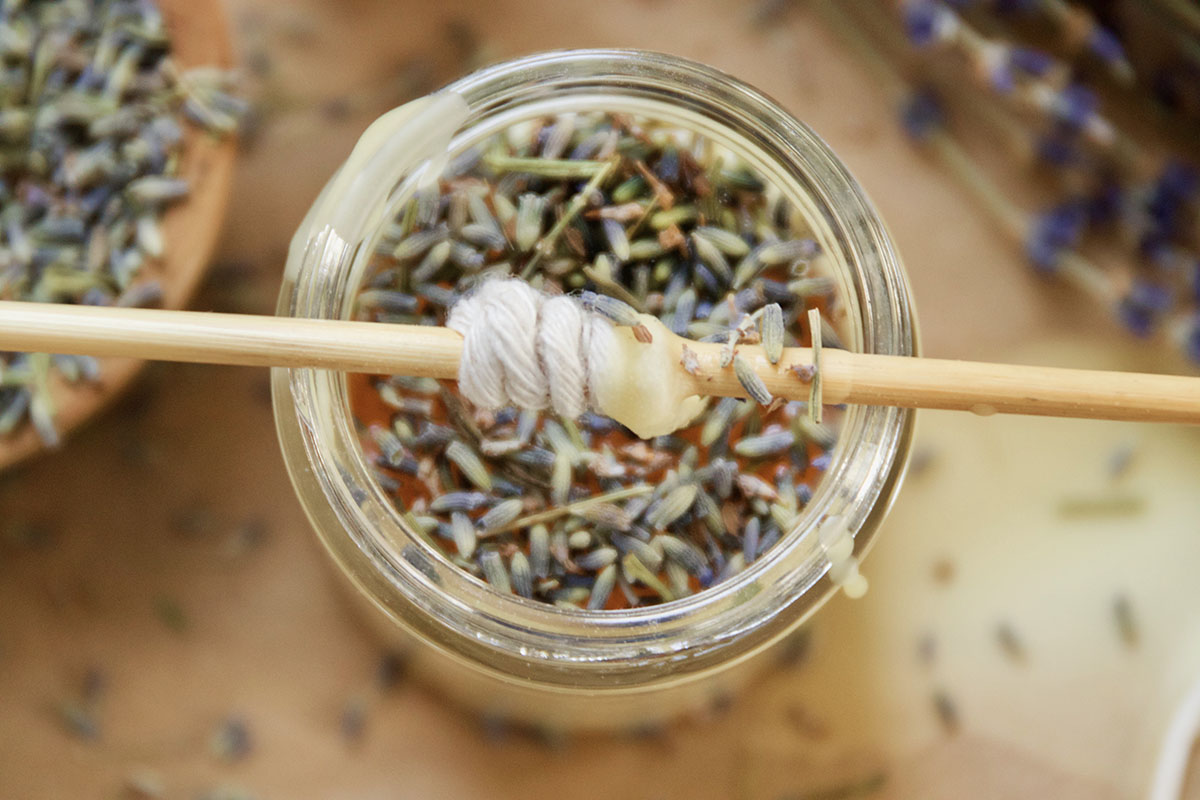 6. Bring Light And Beautiful Aroma Home with Candles
Twinkly lights and flickering candles are a warm part of the season, providing light on dark, long nights. Deceptively easy to make, hand-poured candles made fragrant and lovely with the addition of herbs and essential oils is a wonderful way to bring light and beauty to the home!
Learn how to make hand-poured herbal candles here.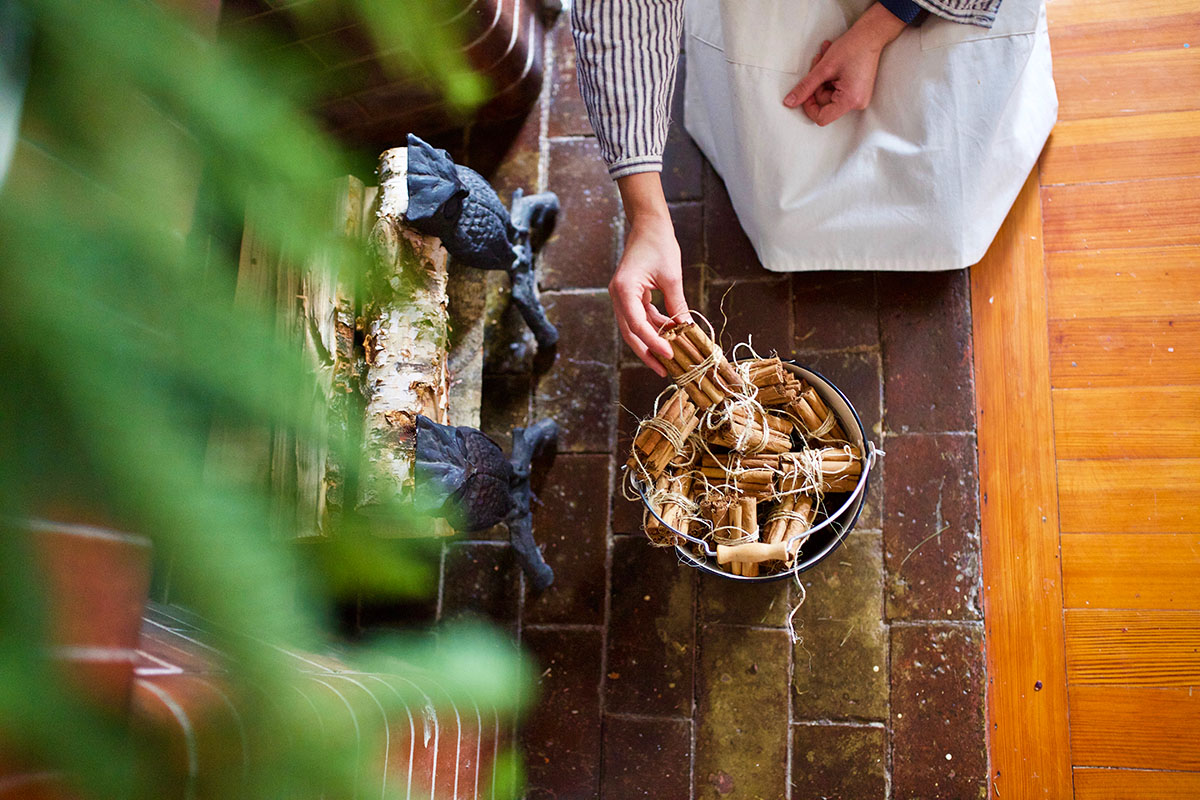 7. DIY Aromatic Fire Starter Basket
This is a simple craft to put together, and it truly makes an inspired addition to your own fireside or to give as a gift. Be sure to add your own little touches to make it personal and delightful! 
To make your own aromatic fire starter basket, follow the steps below! 
Pick a container:
Choose a container that works well for your space and needs. A lovely basket with a sturdy handle is a good choice! Other ideas include a vintage metal bucket or a wooden box.
Fill your container with herbal goodies:
Choose aromatic material to fill your container. Oftentimes, you will be able to find many things at hand that work as a wonderful addition to this fireside pleasure. Consider what dried plants you may have left over from the harvest or even lingering in your garden. Or, you may have dried herbs that are well past their prime. Here are some ideas to inspire you! 
Stalks and small branches of

peppermint, rosemary, lavender (

Lavandula

spp.

), yellow sweet clover (

Melilotus officinalis

), sweet woodruff (

Galium odoratum

), pine, spruce (

Picea

spp.), juniper (

Juniperus

spp.

)

, and cinnamon sticks can be used to create individual bundles of each type of plant tied up with ribbon or twine. Add a little label for each plant if you wish!

Blossoms, leaves, berries, and seeds, such as lavender, pine, spruce, juniper, sage (

Salvia officinalis

), cloves, and cardamom (

Elettaria cardamomum

) can be bundled in their own little bags or boxes to be thrown on the fire. 

Add some final touches by including a few pinecones and some lovely long-handled matches!

 
*Note to use caution and adhere to basic fire safety sense when enjoying your aromatic fire starter basket. 
Don't Forget to Include Beloved Holiday Botanicals!
Wreaths of evergreens, freshly strewn holly with bright red berries, and bunches of mistletoe merrily hung in doorways are happy additions to the holiday bustle. Don't forget to include these traditional plants in your natural holiday home and festivities!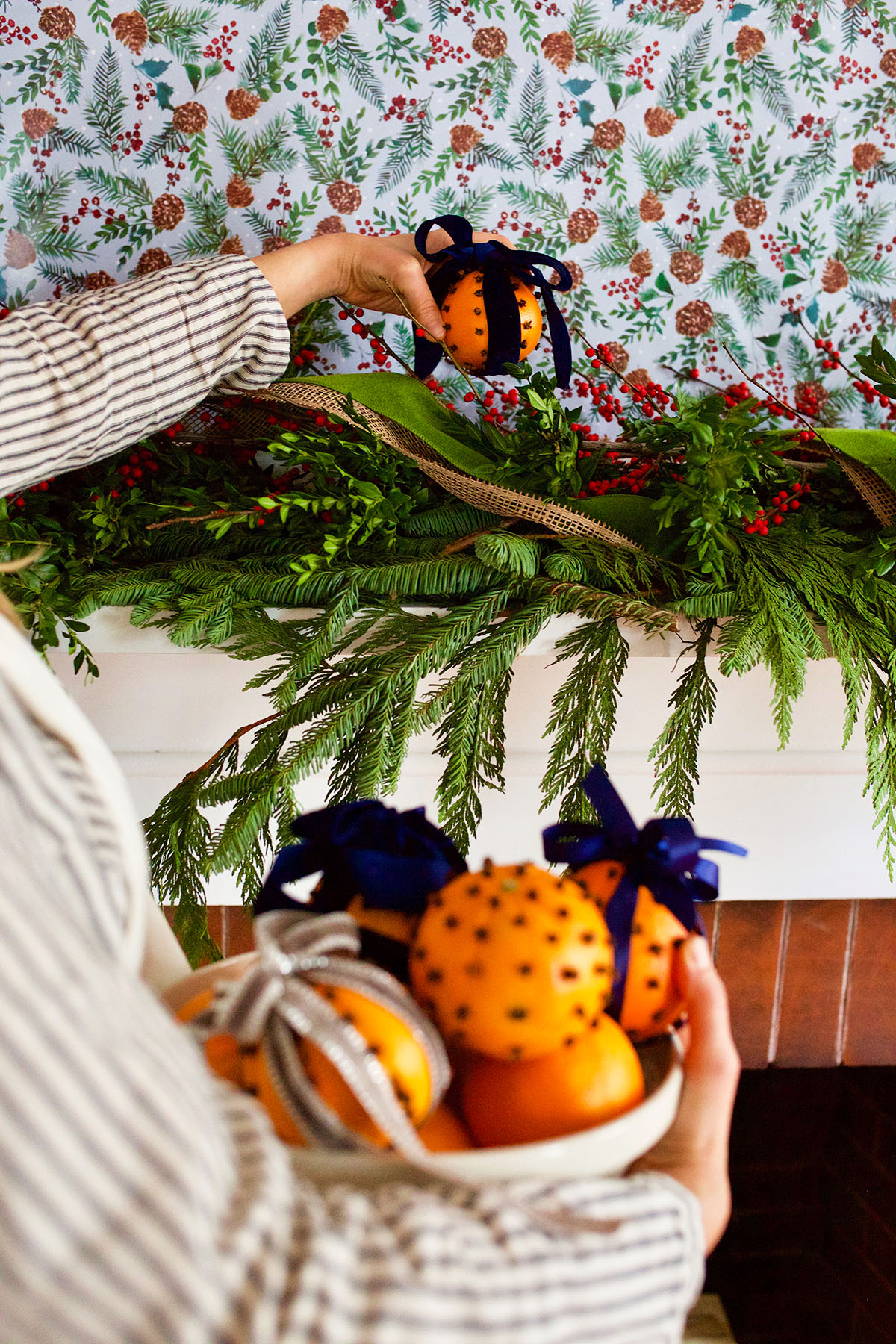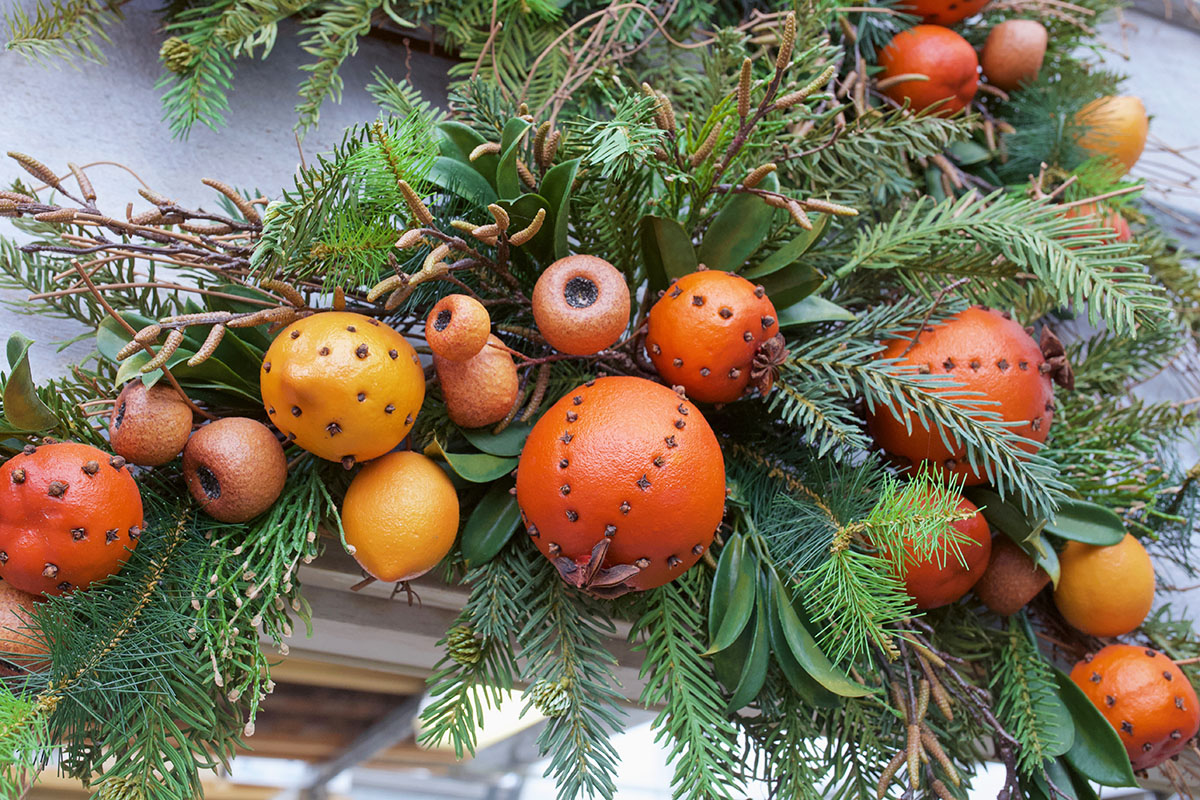 8. Use Traditional Plants in Your Decorating
Botanicals have long played a central role throughout the traditions of the holiday season, and these plants often have symbolic meaning that humans have enjoyed over time. Appreciating what plants have symbolized in the past is a lovely way to add a depth of meaning when using botanicals in holiday decorating.
Check out this lovely holiday table setting with herbs for some additional inspiration!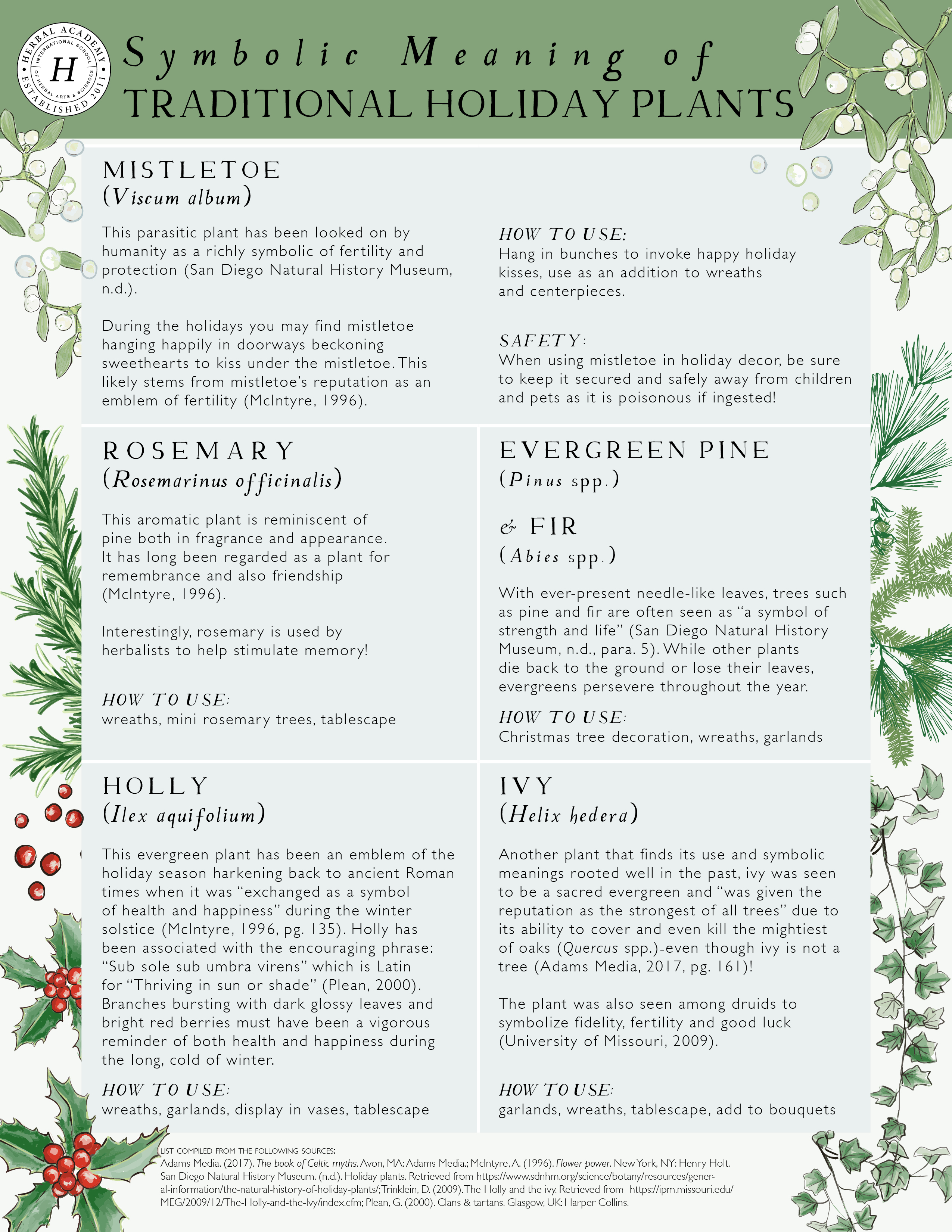 Click Here to Download your Free Chart!
With a little imagination and some time well spent, botanicals can be a wonderful addition to any natural holiday home! From old-fashioned pomanders to classic wreaths to delightful pots of potpourri simmering on the stove, there are so many ways to enjoy plants as part of the holiday season, and we hope that you will enjoy welcoming plants into your celebrations!