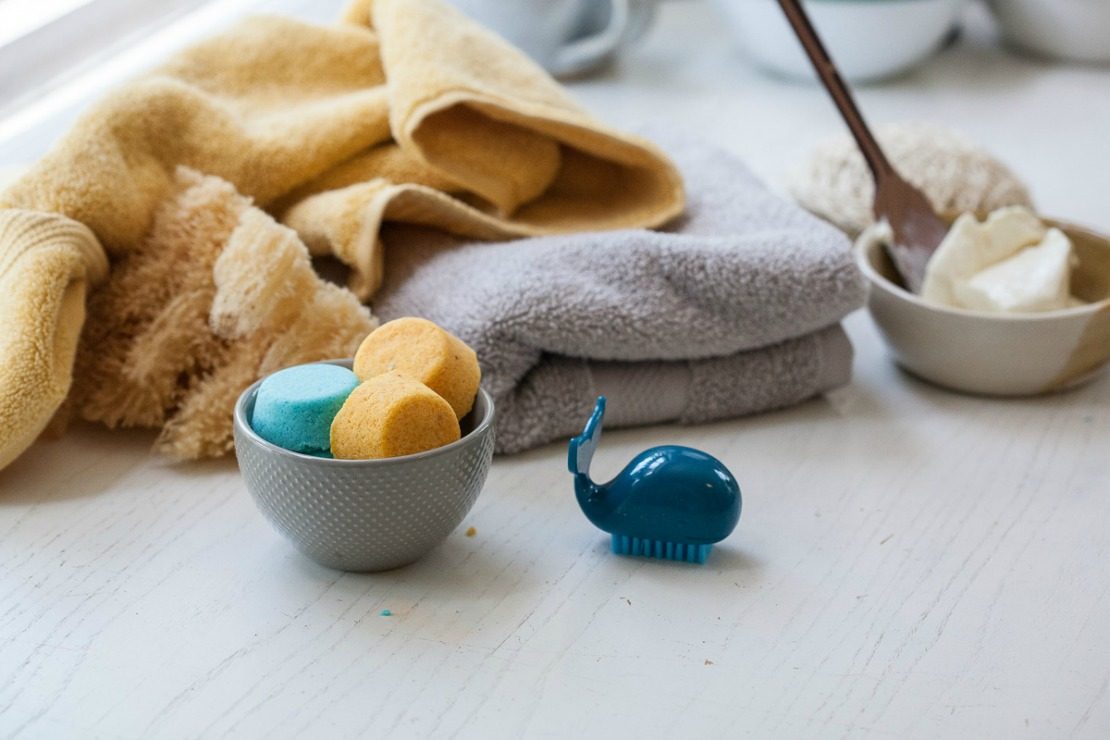 Kid-Friendly Body Care (Family Herbal Summer Series: Part 5)
It's week five for our super fun Family Herbal Summer Series, and I am so glad your family is joining us. This week we get to incorporate all of our learning into good, squeaky-clean fun by making kid-friendly body care!
Herbs are great fun to use in body care products, easily lending their beneficial properties and amazing scents to handmade baths, lotions and creams, scrubs, spritzers, and more. Kids love to add herbs, infused herbal oils, essential oils, and hydrosols to their very own kid-friendly body care creations and usually look forward to giving those products a try. So push up your sleeves and get ready to craft some lovely body care together that your whole family will love.
Kid-Friendly Body Care
Don't forget to share all that your family is learning on Instagram with us! Have a favorite recipe from this week? Snap a photo and tag it with #HAFamilyHerbalSummerSeries so we can see what you're up to!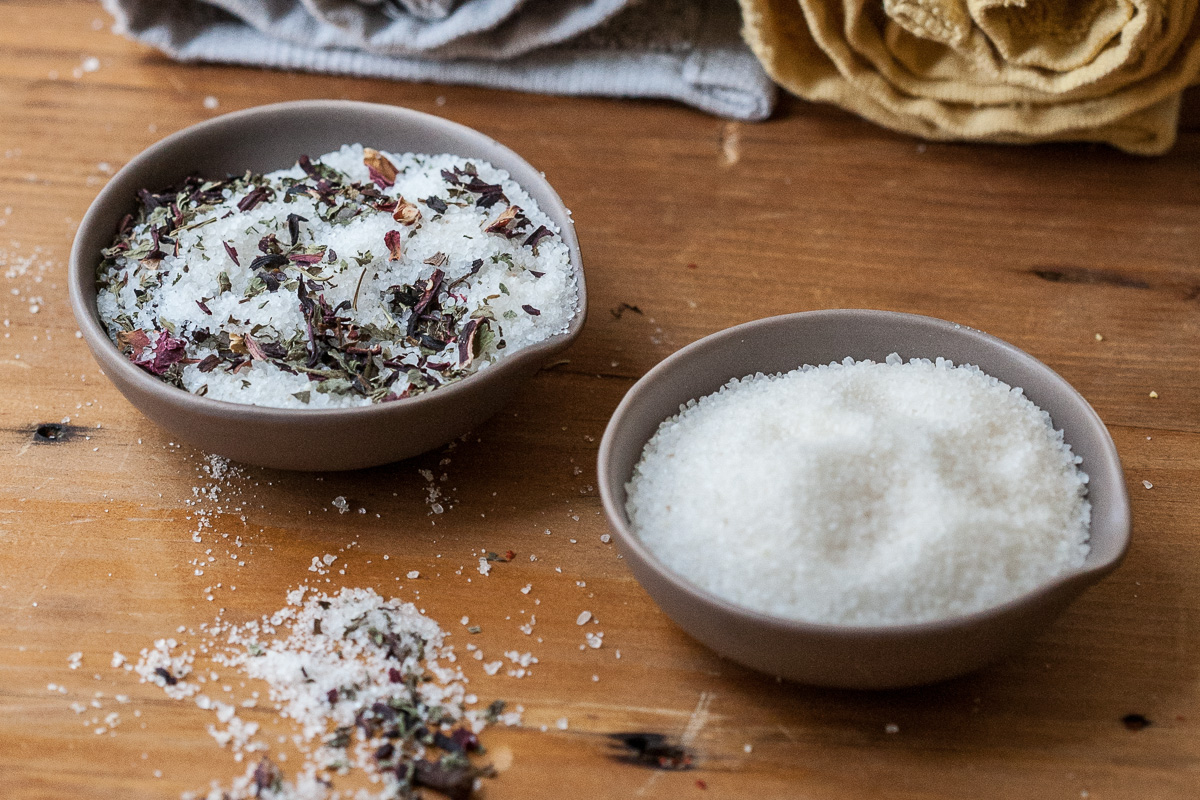 Fun in the Tub!
Everyone needs to bathe, much to the dismay of some kiddos. So why not make bath time fun and healthy with the addition of your own kid-friendly body care in the form of homemade herbal baths? Some kids will even look forward to bath time when they get to take along a new bath preparation that they helped to make!
A favorite way for both children and adults to enjoy a nice herbal soak is to make a sock bath. These baths are simple to make and use! Learn about this great bathing method in How To Make A Child's Sock Bath.
Or you can always whip up a simple bath salt. Try these Lavender Bath Salts or for a special treat check out this neat Cucumber Mint Bath Soak from the Nerdy Farm Wife. This bath would be great for cooling down in the midst of summertime, but be sure to leave out the peppermint oil or substitute spearmint for kiddos under six! These Chamomile Bath Salts are another great option, perfect for a calming bedtime bath, also from the Nerdy Farm Wife.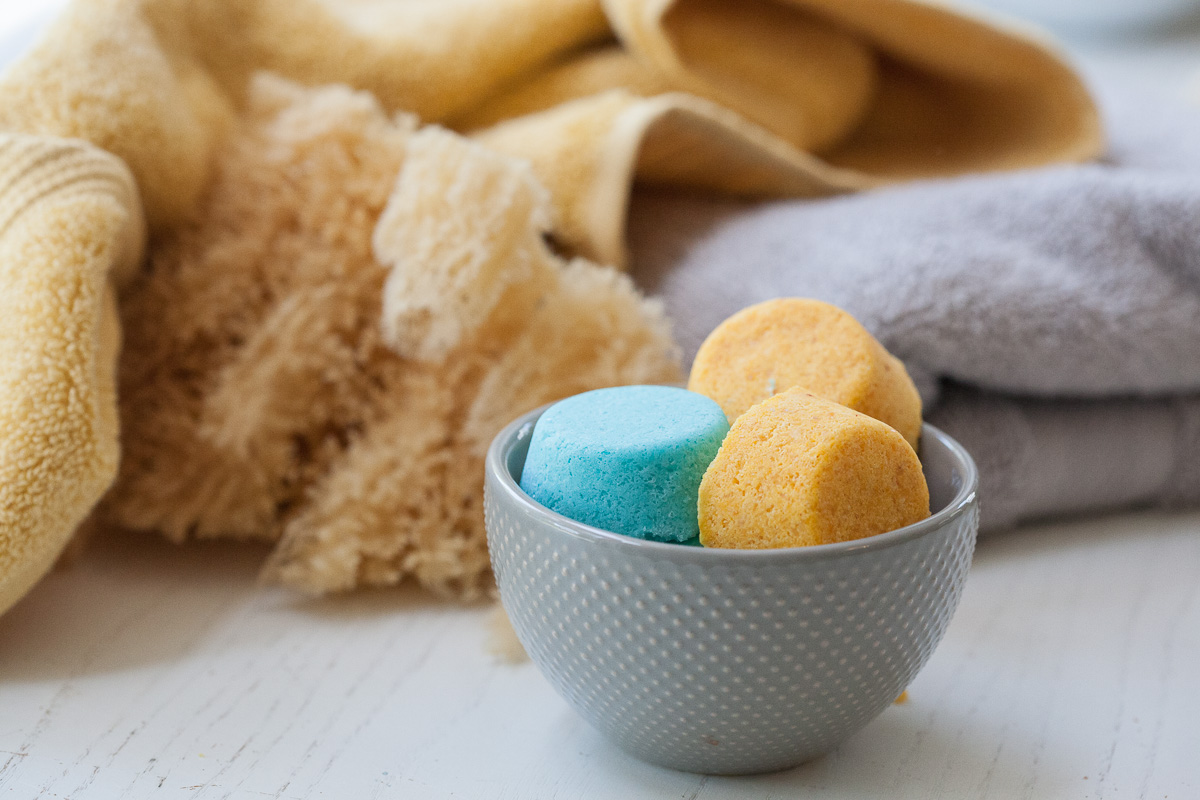 Make Your Own Bath Bombs
Adapted from Love Inspired Body Care Recipes by Irene Wolansky
An exciting spin on bath salts is a fizzing bath bomb! These are simple to make and a lot of fun to use. Here is a basic recipe for creating your own.
Ingredients
1 cup baking soda
1/2 cup powdered citric acid
1/2 cup Epsom salts
10 to 20 drops total child-friendly essential oil, such as lavender, rose geranium, mandarin, grapefruit, and spearmint.
1 teaspoon oil – use any herbal infused oil that you have made!
1 tablespoon of water or hydrosol
Molds for shaping your bath bombs. You can really choose from many things you might have on hand such as plastic Easter eggs, cupcake pans and silicone liners, ice cube trays, plastic Christmas balls, and soap or lollipop molds.
Directions
Mix together the the baking soda, citric acid, Epsom salts, and if using, the flowers and beet powder. Be sure to combine well. Children love to measure and stir, so get them involved in this process.

In a separate container combine the teaspoon of oil and the essential oils, mixing well.
Add the oil mixture to the dry mixture stirring the whole time to limit any reaction of the baking soda and citric acid.
Finally, add the water/herbal tea/hydrosol. You want to be very careful during this step to avoid making the bath mixture react – stir quickly while adding the liquid and only add a little at a time.
Keep slowly adding the liquid and mixing well until the bath holds together when you squeeze it with your hand.
Pack it into your chosen molds and let air dry for a few days.
Pop the bath bombs out of the molds and then store in an airtight container until ready to use!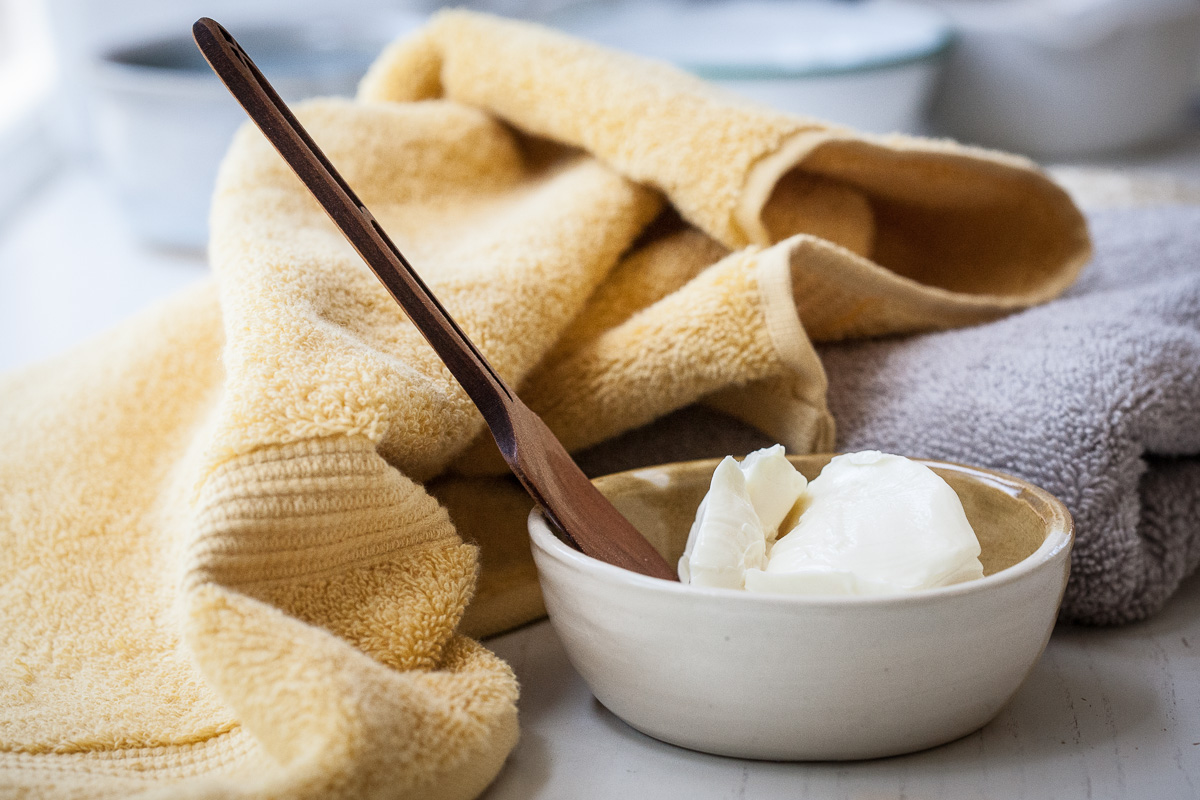 Soothe Your Hide
During the summer, it is easy for skin to get dried out and irritated from outdoor adventuring, visits to the swimming pool, and sun exposure. You and your family can soothe your hides with your own homemade whipped body butters, lotions, and lotion bars. And you can make it special by custom scenting your creations for each person in the family. There are oodles of wonderful recipes to try that involve melting and beating oils in various ways to create luscious creams. Here are some of our favorites that your family might also enjoy!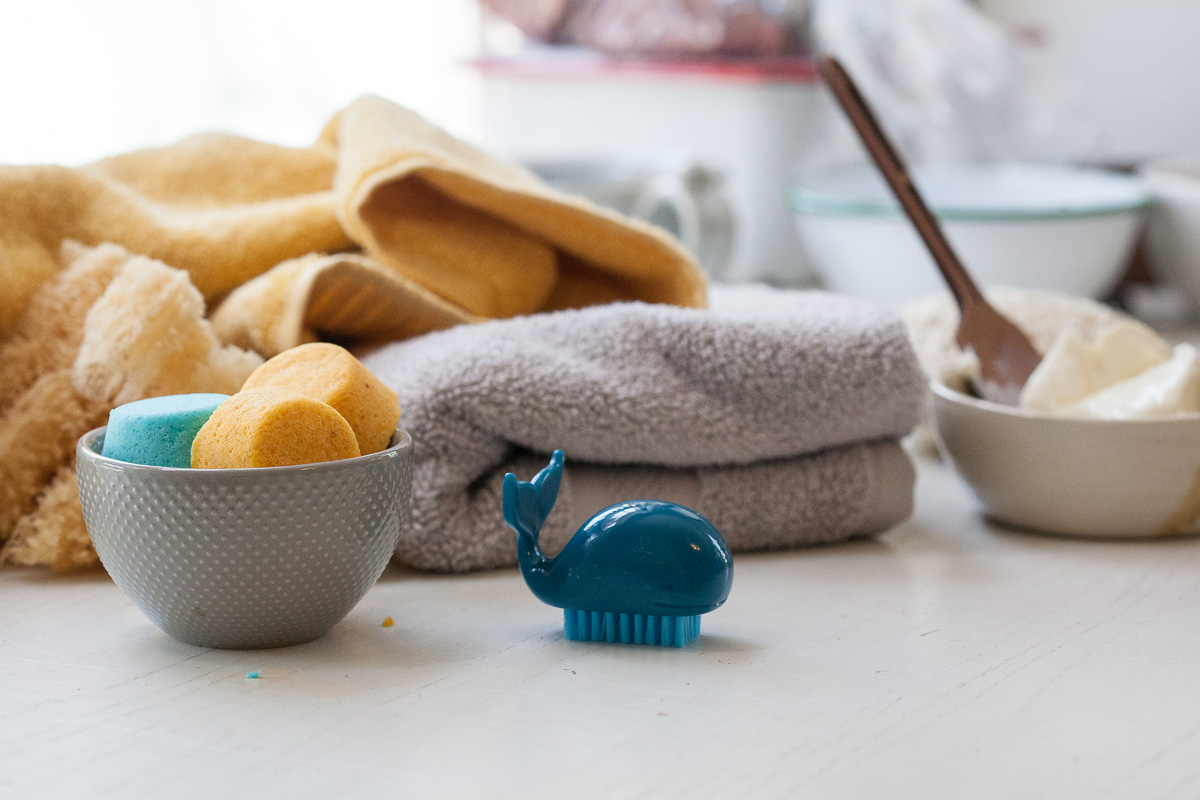 Find Some More Ways to Get Clean!
Sometimes the best kid-friendly body care lets you get messy to get clean. Host a DIY Spa Day in Your Backyard for a true summertime activity full of messy, silly fun that your kids will adore! Use some of the body care preparations you have made if you wish, invite a couple of friends over, and get ready to have a blast!
Did you know that you can make your very own shampoo from a plant? It is true! Learn all about the magic of the common soapwort and also how to make your own Natural Soapwort Shampoo and Body Wash. Enjoy being nice and clean with the help of a plant!
Summer can be a tough time for little feet. Enjoy these Summertime Foot Care Tips for Kids and help keep little feet happy and comfortable.
Have you ever heard of hydrosols? How to Use Hydrolats for Babies and Young Children explains what hydrosols (or hydrolats) are and the use of these wonderful floral waters for kiddos. Perhaps the most well-known hydrosol is rose water. You may have had rose water in a tasty Middle Eastern or Indian dish or enjoyed it as a body spray.  Other lovely hydrosols include orange blossom, lemon balm, rose geranium, mint, and even cucumber! Get crafty! You can make your own with plants right from your garden! Visit Mama Rosemary where you can learn How to Make a Hydrosol. There are special instructions for creating hydrosols with kids including a cool look at how making a hydrosol is like creating a mini water cycle right on your own stove. Find another wonderful way to make your own Rose Water here! 
Thank you so much for creating some kid-friendly body care with us this week! As parents, we are all charged with teaching our children the fine art of self-care and I hope that these crafts and activities have given your family plenty of fun and interesting ways to enjoy this important part of life together!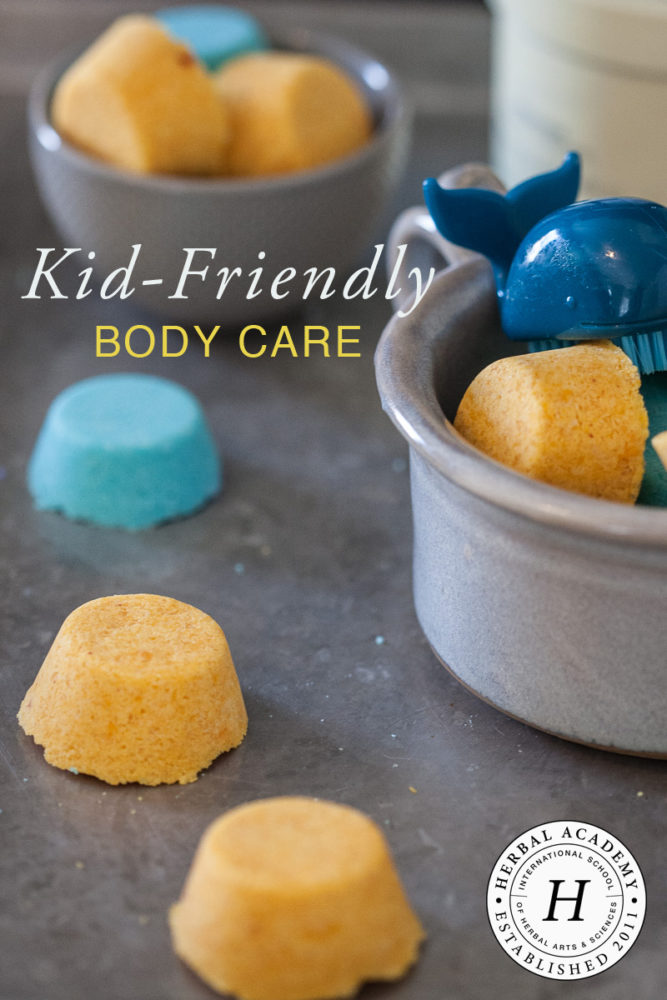 A Note About Safety
This week is a great opportunity for sharing the beauty of self-care with your child. As always please appropriately supervise children to keep them safe and ensure great fun for all this week. As a special note, many of the recipes and activities in this post call for the use of essential oils. These are highly concentrated plant products that must be used carefully to be safe especially with and around children. Please visit our post Using Essential Oils For Children for usage guidelines and safety information. As a little side note, now that you have learned a bit about essential oils you can enjoy using them as a wonderful enhancer to playtime for kids. Learn more about how to enjoy these simple Essential Oil Crafts for Children from Golden Heart Essentials. Have fun crafting!
Week 5 Recap & Action Plan
Make and use an herbal bath or two!

Create a lovely cream to help soothe your skin.

Host a spa day!

Share photos of your body care adventures on Instagram using hashtag #HAFamilyHerbalSummerSeries!
REFERENCE 
Wolansky, Irene. (2011). Love Inspired Body Care Recipes. Retrieved on 6/29/16 from http://mountainroseblog.com/love-inspired-body-care-recipes/