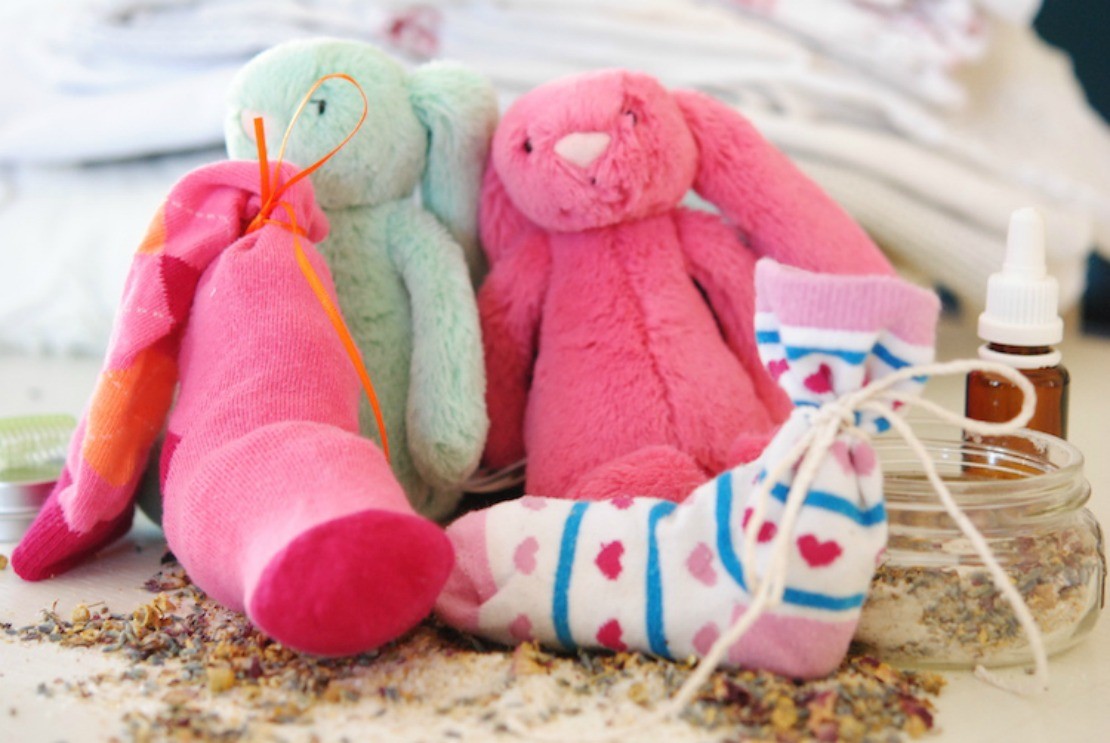 How to Make A Child's Herbal Sock Bath
Do your kids love bathtime? You can make it extra special by crafting an herbal bath together. For those kiddos who resist bath time, perhaps this craft will help coax them into the tub.
I love using bath herbs and other nourishing things like oatmeal in the tub, yet it can get very messy. And let's face it, it is hard to relax and enjoy bathtime with your child when you are thinking about the mess you will have to clean up afterward. Sock baths keep all that messy goodness contained inside the sock while the goodness of the herbs, oats, and salts soak right through the sock and into the water!
Most kids truly love making sock baths. Once the sock is stuffed it becomes almost like a cuddly fragrant friend and your child may want to just snuggle with it for a while before putting it in the tub.
Herbs & More In The Tub
Our skin is highly absorbent and herbal baths provide a wonderful chance for nourishing the skin and body with the healing properties of herbs and other suitable bath additions. Here are some of the wonderful options for an herbal soak bath. For the best and most nourishing baths, make sure to use high quality, organically grown herbs from a reputable source such as Mountain Rose Herbs.
Herbs For Kid's Sock Baths
Lavender Blossoms – This is one of my favorite herbs to use in the bath. The tiny little purple flowers cleanse and heal the skin and ease muscle soreness all while relaxing and rejuvenating the nervous system. It is a wonderful herb to add to bedtime baths to help send little ones off to dreamland.
Chamomile – Chamomile is considered to be a wonderful herb for kids. Herbalist Matthew Wood says that "chamomile is the remedy for babies. . .babies of any age" (Wood, n.d.). In the bath, it helps to soothe topical inflammation and skin irritations. Emotionally, chamomile can help to calm down a cranky or angry child and ease them right off to sleep! Need a bit of relaxation for yourself? Here is more information about how to use chamomile to reduce stress.
Please Note: Chamomile is in the ragweed family and can cause reactions in susceptible individuals.
Linden – The flowers from the lovely linden tree act as a mild sedative in the tub, helping to ease away the tensions and stress of the day while calming hyperactive children. Linden also cools and soothes hot irritable skin conditions.
Elder Flower – Elder flowers heal and soothe inflammation, promote wound healing, and help to treat burns including sunburn. Elder is also helpful for skin eruptions such as rashes.
Roses – Roses are anti-inflammatory and help to heal inflamed conditions of the skin. They are well known for their heart-opening abilities and can help those suffering from heartache.
Calendula – The pretty yellow-orange flowers of calendula are known by herbalists everywhere to be wonderfully healing for irritated, injured skin. Often used to promote skin repair, calendula encourages healing of wounds, burns and bruises.
Peppermint & Spearmint – Cooling and invigorating, mint will help you get up and go. Use it on those days that your little one is dragging. Peppermint and spearmint both smell lovely in the bath and their aromatic oils help to cleanse the skin.
Lemon Balm – This is another herb for helping to soothe away cranky emotions, especially those stemming from too much excitement and exhaustion. It also smells delightful! Most children love lemon balm.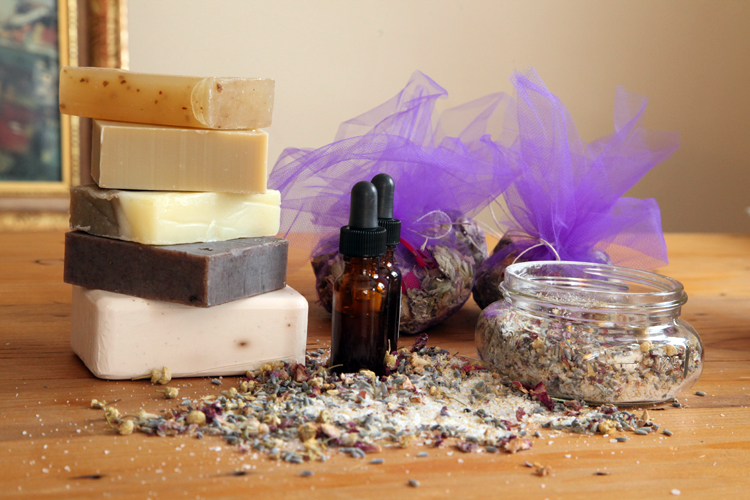 Other Nourishing Bathtime Add-Ins
Oatmeal – Beyond the breakfast bowl, oatmeal is perhaps best known for its ability to soothe itchy skin. In the tub there really couldn't be anything better for those suffering from itchy rashes, dry skin, burns, and insect bites. Studies have found that oatmeal contains substances called avenanthramides that are anti-inflammatory and anti-itch. The saponins in oatmeal also help to gently cleanse the skin, while oatmeal's emollient properties help to moisturize dry skin. When using oatmeal in the bath for a rash, use cool water as hot water may irritate and dry already sensitive skin.
All of these benefits, and oatmeal is fun, too! Oatmeal becomes slippery and slimy in water. When the sock bath is soaked in water, kids have great fun squeezing the sock and releasing the soothing slipperiness into the tub. They can then use the sock to gently scrub their skin.
Read More About Using oats and oatmeal here:
Oats Benefits: Getting To Know Avena Sativa
Salts – Salts are used in the bath to help relax sore muscles. Salt baths also provide nourishing minerals to the body and can help to move lymph which is helpful during illness. My favorite salt to use in the tub is epsom salt. You can also use pretty pink Himalayan salts, sea salt, and dead sea salt.
Powdered Milk – Milk baths are so soft and silky. Milk in the bath helps to gently exfoliate and moisturize dry, rough skin.
Baking Soda – Baking soda is another wonderful addition to baths. Just like oatmeal, it is particularly good for soothing the itch of insect bites, poison ivy, and rashes. Plus, it adds a nice silky feel to the water!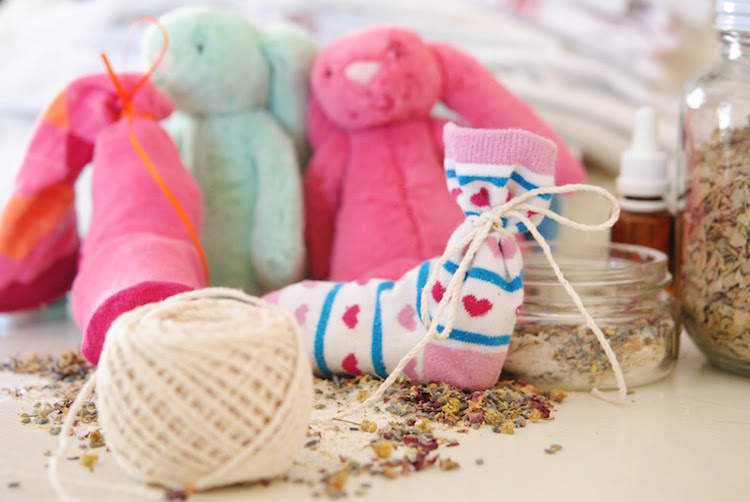 Make Your Own Sock Bath
Making a sock bath is really easy! Here is how to make a sock bath with your child.
Ingredients
A big clean, adult size sock
Herbs for your child to choose from
Any of the following: oatmeal, powdered milk, baking soda, salts
A big glass or plastic cup (a good choice because it won't break).
A big spoon
Directions
Gather all of your supplies and lay them out on a work surface such as a table.
Have your child pick which ingredients they would like in their bath . I like to go through and explain the benefits of the herbs and other ingredients while encouraging my child to smell, touch and look at what is available.
Put a handful or big spoonful of each chosen ingredient into the cup. This is the mixture that will go into the sock. You want to have around 1 to 2 cups of bath mixture in the cup when you are done.
Using the big spoon, have your child mix the herbs and other ingredients inside the cup.
Stretch the opening of the sock over the top of the glass and then have your child invert the cup so that the contents of the cup fall into the sock.
Tie the top of the sock into a knot. If your sock is not long enough to tie, use a rubber band or piece of string to secure it shut.
Encourage your child to squeeze and smell the sock. This will release the good smells of the herbs inside! At this point your kiddo might want to cuddle with their sock a bit.
How To Take A Sock Bath
Here is my favorite way to take a sock bath. First, fill the tub with the hottest water you can get from your spout. You will need to closely supervise your child so they don't get burned. Add the sock and then let it steep in the tub while the water cools down to bathing temperature. As it soaks, your sock becomes like a big tea bag and your tub like a big tea cup. Check that the water is cool enough for your child to bathe and then have them get into the tub. Encourage your kiddo to swish the sock around in the tub and squeeze it. All kinds of fun, lovely smelling herbal goodness will be released from the sock as they play. Use the sock to gently clean your child's skin.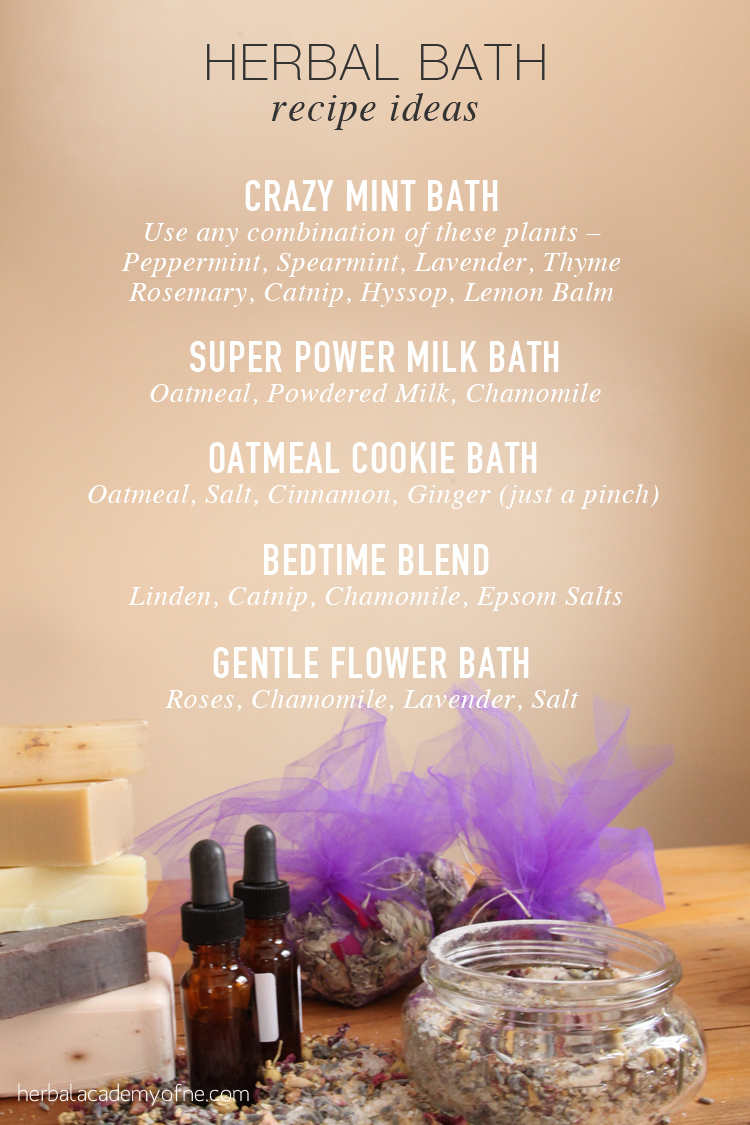 A Few Sock Bath Recipe Ideas
Gentle Flower Bath
Roses
Chamomile
Lavender
Salt
Super Power Milk Bath
Oatmeal
Powdered Milk
Chamomile
Oatmeal Cookie Bath
Oatmeal
Salt
Cinnamon
Ginger (just a pinch)
Crazy Mint Bath
Use any combination of these plants from the mint family!
Peppermint
Spearmint
Lavender
Thyme
Rosemary
Catnip
Hyssop
Lemon Balm
Bedtime Blend
Linden
Catnip
Chamomile
Epsom Salts
REFERENCES
Lim, David. (2011). Oatmeal. Retrieved from http://www.dermnetnz.org/treatments/oatmeal.html
Mars, Brigitte. (1998). Herbs For Healthy Skin, Hair & Nails. Connecticut: Keats Publishing.
McIntyre, Anne. (1996). Flower Power. London: Gaia Books Limited.
Other Health Promoting Compounds. (2013). Retrieved from http://www.oatsandhealth.org/composition-oats-and-health-27/other-health-promoting-compounds-oats-and-health-39
Rose, Jeanne. (1976). Jeanne Rose's Herbal Body Book. New York: Putnam Publishing Group.
Wood, Matthew. (n.d.). The View From Sunnyfield: Herbs To Treat Anger. Retrieved from http://www.woodherbs.com/TC_Wellness_Articles.pdf