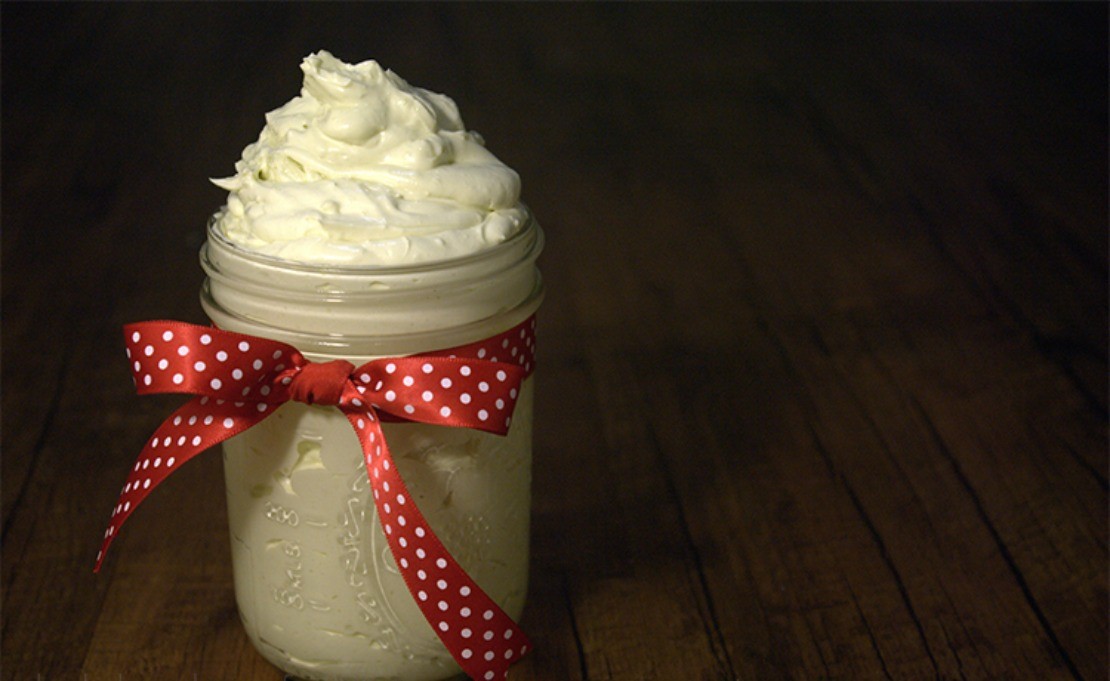 Wintertime Herbal Infused Whipped Body Butter Recipe
'Tis the season for cold and dry winter weather, which also is synonymous, in our world, with dry cracked hands and feet. My husband has worked for a prominent coffee company for as long as we have been married, and every winter his hands take a huge beating because of all of the numerous hand-washings he has to do each work day. Last year, he was desperate for some relief so I went to my drawing board. I decided to combine the idea of my really awesome calendula infused owie salve with my favorite base body butter recipe, and this herbal infused whipped body butter recipe was created!

Body Butters Give More Moisture than Lotions
When great moisture is needed, I prefer to use body butters over lotions and creams. My reason behind this is because body butters contain no water in them. Water moisturizes to a small degree but it sinks into the skin quickly. Oils on the other hand moisturize to a much deeper level and take longer to sink in. Without any water in body butters, they can be a tad on the greasy side, but once the oils have sunken in, your skin will feel a billion times softer than water based lotions can provide. When you need lots of moisture, body butters are your best bet!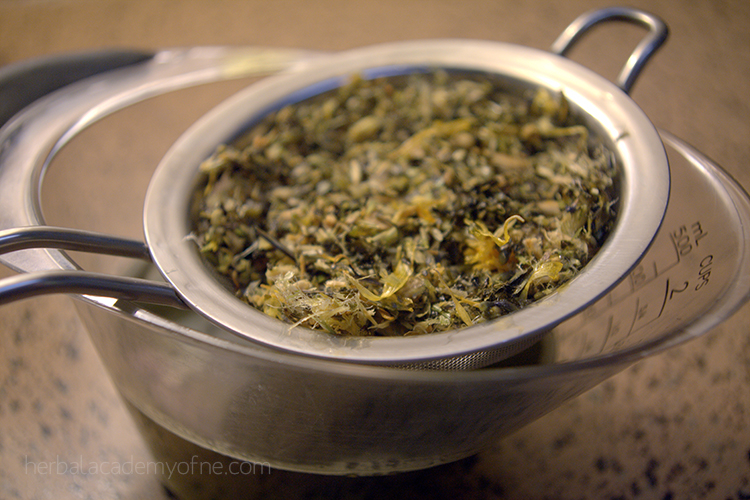 Making an Herbal Infusion for that Extra Oomph
You can make this body butter without the herbal infusion and it will still deeply moisturize your skin, but adding in specific herbs can greatly boost the healing effectiveness of this butter! You can pick any of these herbs to use in your infusion. I like to use four different herbs, 1 tablespoon each, for this recipe. Make sure you get your herbs from a quality source, like Bulk Herb Store.
Calendula – One of my favorite herbs for skin healing and long been hailed for it's ability to gently cleanse and heal wounds of all sorts, calendula is always featured in my healing body butters. 
Chamomile – A natural anti-inflammatory and slightly smelling of sweet apples, chamomile is a very gentle herb that also has been known to help reduce scar tissue and heal wounds faster.
Lavender – Naturally analgesic (helps relieve pain) and soothing to the skin, lavender is a great choice for even sensitive skin. It makes for a great addition to bath salts!
Licorice root – Naturally anti-inflammatory, licorice root has been known to help with all sorts of skin conditions including rosacea, psoriasis, and eczema. Licorice root has been known to be very effective at reducing redness and swelling. 
Marshmallow root – extremely moisturizing and anti-inflammatory, marshmallow root has been known to help soothe and heal everything from dry skin to psoriasis and eczema.
Oatstraw – the stem of the oat plant that you are used to eating for breakfast (ideas for Fancy Oatmeal), oatmeal is well known for gently soothing and healing all sorts of rashes and skin conditions. Oatstraw has all the same healing properties and is great to help soften and smooth the skin. Learn more about oatstraw.
Plantain – A powerful vulnerary that heals wounds, cuts, and scratches, plantain is highly anti-inflammatory and great at keeping infection at bay.
St. John's wort – A natural analgesic as well as anti-inflammatory, SJW is also anti-infectious (antibacterial, antiviral, antiseptic, antimicrobial) which makes it great at keeping wounds clean and from getting infected. 
We buy our herbs from Bulk Herb Store.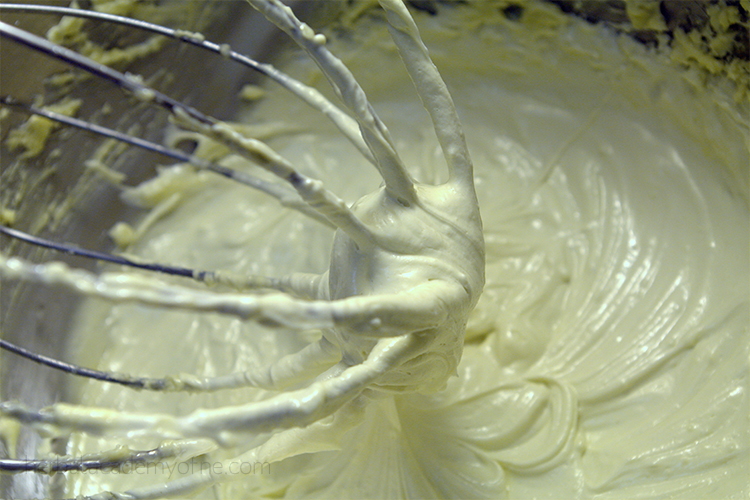 Making Your Whipped Body Butter

This recipe is adapted from my own whipped body butter but you could apply the idea of the healing infused oil to any of your favorite body butter or lotion recipes! (You could substitute this oil in is HANE's Favorite Body Butter recipe.)
Herbal Infused Healing Body Butter
Ingredients
¼ cup skin healing herbs of your choice (for this batch I chose to use 1 Tbsp. each of calendula, marshmallow root, plantain, and oatstraw)
1/2 cup unrefined shea butter (like this)
1/2 cup unrefined mango butter (or another kind of butter such as cocoa butter or more shea butter)
1/2 cup unrefined coconut oil
1/2 cup hemp seed oil (you can substitute extra virgin olive oil here if that's what you have on hand, but I prefer hemp seed oil because it's a drier oil, and sinks into the skin faster)
2 Tbsp. arrowroot powder (optional) – helps the oils from the body butter to sink into the skin faster, leaving a less greasy feeling
1 tsp. vitamin E (optional) – helps to moisturize skin and to keep the oils from going rancid longer
Optional Essential Oil Addition (get essential oils here)
30 drops lavender essential oil
20 drops sweet orange essential oil
15 drops roman chamomile essential oil
Directions
In a double boiler (I like to use a glass bowl over a pan of boiling water) combine liquid oil and coconut oil with ¼ cup herbs of your choice. Bring double boiler to a boil, then turn down to a low simmer and let herbs steep for 1-2 hours over the low heat.
Combine the butter(s) in the, cleaned out, double boiler and melt.
Once melted, remove from heat and pour into a bowl to cool quickly in an ice bath. (larger bowl underneath filled with ice and water to help the bowl above it cool quicker.)
In a separate smaller container, combine herbal infused oils, vitamin e, and arrowroot powder. It's easiest to combine the arrowroot powder into the oil with a fork.
When it looks like the butter is half way hardened, (there is still a small pool of liquid on top while the bottom and edges are hardening), pour in the liquid oil/arrowroot powder concoction and take out your electric hand mixer or emulsion blender.
I usually use the whisk attachment on my electric hand mixer, blend until there are no chunks of hardened butter left. This can not be done by hand. I usually take a spoon and chip away the bottom pieces first to make it easier to blend in the final result.
Pour in essential oils and blend for a minute more to mix them in.
If you added the liquid oils too soon and it's still not solid enough to pour into your containers, put the bowl of body butter mixture back onto the ice bath for a minute or two more then blend with it there in the ice bath.
Spoon butter into the containers that you plan to store the butter in, like these.
The consistency of the butter will be more solidified into it's true consistency, over night.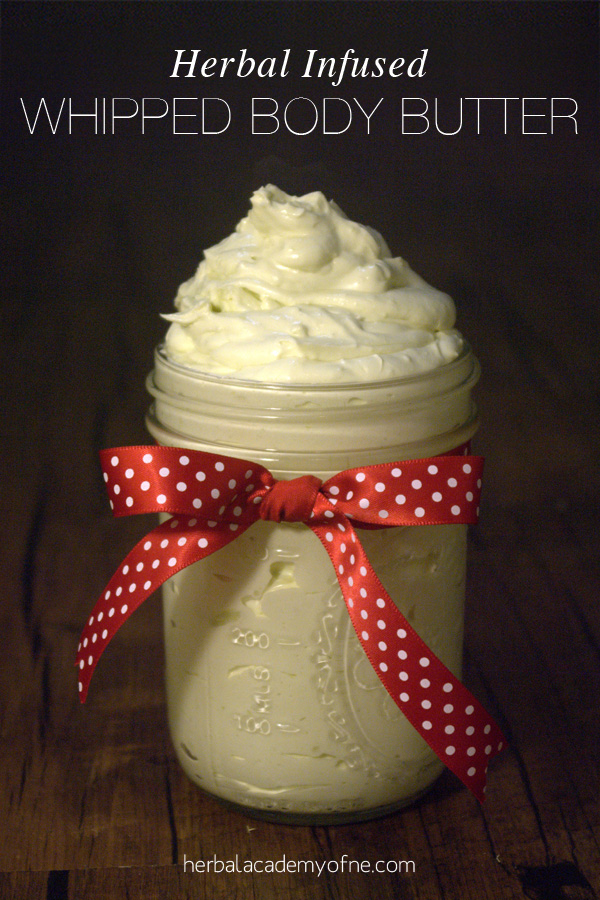 To Use The Whipped Body Butter:
Dab a small amount onto your fingers and apply generously to your to your whole body. Use as often as needed, wherever your skin needs extra moisture and healing. A little bit goes a LONG way!  
To deeply moisturize extremely dry hands and/or feet, before bed, slather on a layer of butter and cover hands with gloves and feet with socks. 
This post was written by The Hippy Homemaker, Christina, who loves to share what she's learning about green and eco-friendly living, natural health, aromatherapy, herbalism and more!