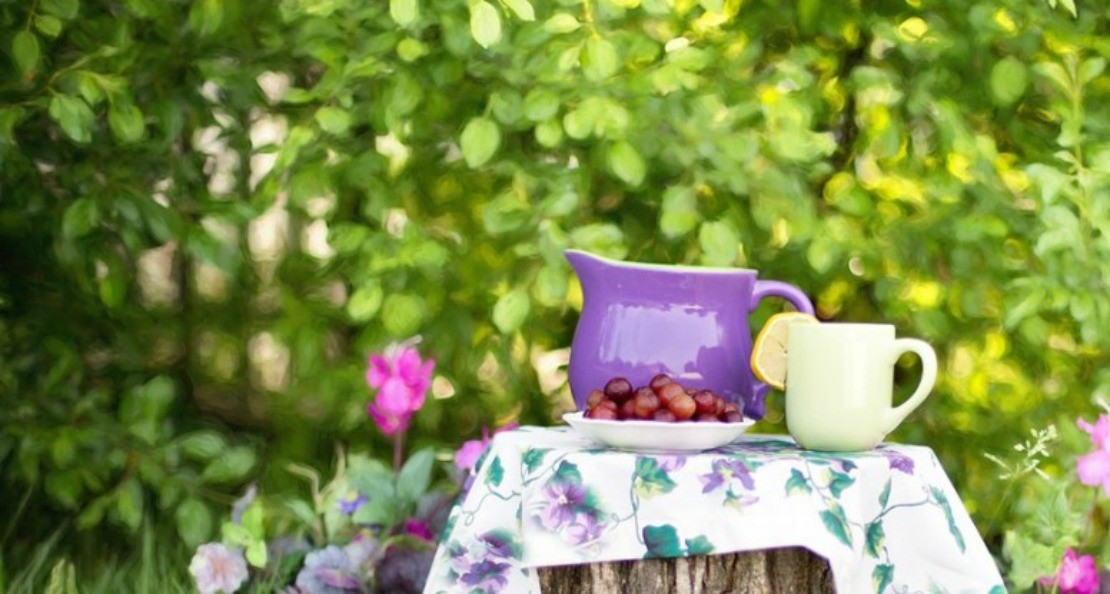 Host A Kid's DIY Spa Day In Your Backyard
When you are a kid, nothing is much more fun than making a mess! A squishy, messy backyard DIY spa day party full of wet fun is a perfect way to spend a hot summer day with friends. This summer activity is great for kids age 2 ½ to 6, or you can modify it for older kids who might still like to play, yet appreciate a more relaxing experience.
Before starting the spa day, gather the children together and explain what you are doing. Show the children the facial ingredients and body paints you have laid out for them to enjoy. Make the herbal bath together and then set them free to enjoy the day!
Facial Ingredients & Body Paints
Set up a little station with a supply of fresh fruits, veggies, and clay on kid-sized tables. Kids love spreading squished avocado and smooth, cool clay over their body and using it to make designs on their arms and legs. Fresh, sliced fruit rubbed over the body helps to soften and exfoliate the skin, while creating another opportunity for artistic expression.
Set out child-size chairs and lay out towels for the kids to relax on after they have applied their facial and body paint. If you have very young guests at your spa day, make sure to explain to them that they will have to wash off anything that they put on their body. It is no fun to have a clay-covered child who doesn't want to rinse off!
You can use any fruits or veggies you happen to have on hand. Here are some ideas for ingredients to include on your facial/body paint table to get you started:
Various colored clays: rose, kaolin, and french green clay are especially nice. Red clay is super fun for the kids because of its bright, lovely color, but it can stain both the skin and clothes.
Smashed avocados
Mashed cooked carrots
Sliced fruits & veggies, good choices include: cucumbers, grapes, peaches, tomatoes, and apples
Discard bowl: For collecting used pieces of fruits and veggies
Optional Activity Extension:
If you wish, supply each child with a bowl and spoon for blending their own facial brew. Encourage them to add whatever they would like to their bowl, to give it a good squish, and use on their skin. If you decide to invite kids to make their own custom facial blend, you can offer some nice dried or fresh herbs for them to include, such as elder flowers, rose petals, lavender blossoms, or chamomile flowers.
*Please Note: When clay dries, it can get flaky and fall into little eyes. So, I always instruct kids to use the clay below their eyes on their face.

Create An Herbal Bath Outside
No spa day is complete without a good herbal soak. Set up a little pool in your backyard to make a place for the kids to soak and play.
Supplies:
Kiddie pool, pre-fill this and add warm water or warm herbal infusions if necessary.
Uncooked oatmeal
A long sock to stuff with oatmeal
Selection of ingredients (see below)
Part of the fun of this activity is creating the bath with the kids. Have the kids circle around the pool with you and explain that you are all going to be creating an herbal bath together! Show them each of the ingredients, and help them smell and connect with what you are offering. Then stuff a sock with oatmeal and tie it off on the top. Toss it into the pool. The oatmeal will get soaked with water and make a nice gooey bag for the kids to squeeze and enjoy.
Next, invite each child to choose and add an ingredient!
Ingredients to offer:
Warm herbal infusions made from any of the herbs below:
Lavender blossoms
Rose petals
Chamomile flowers
Elder flowers
Hibiscus flowers (turns the water pink!)
Pansy flowers
Borage flowers
Calendula flowers
Fancy salts, such as epsom, sea salt, or Himalayan
Baking soda
Essential oils: lavender, spearmint, cedarwood or rose geranium. Please make sure that you, the adult, add these, as it is important to be safe using essential oils with children. Use 5 to 10 drops total of essential oil, depending on the size of your pool. making sure to swish around the water after adding the drops.
Find all the lovely botanicals, essential oils, and salts that you need for your herbal bath at Mountain Rose Herbs!
 
Calming Foot Rubs
Wind up your spa day with some calming foot rubs. Once everyone has rinsed and dried off, you can help them give their feet a little love with this super simple foot massage.
Supplies:
Cornstarch or arrowroot powder–if you wish, add a few drops of lavender essential oil and mix well to break up any clumps
Massage oil, use any herbal infused oil you have on hand
Have each child sit comfortably and give them a small handful of corn starch/arrowroot powder. Instruct them to massage the powder into their feet. Give them more powder as needed. Most kids really love doing this activity! The powder is silky soft on the skin, and it feels great! Once the kids are done using the powder, you can give them a small amount of massage oil to use on their feet.

Extras To Have On Hand
If you wish, you can set up a couple of kid-friendly extras to add to the spa day fun. These are not at all necessary and may only appeal to certain age groups. So that kids can enjoy these activities, have them set up to enjoy while the kids are playing in the pool and doing their facials.
Aromatherapy spritzers: refreshing after playing in the hot summer sun
Herbal infusions and cloths for compresses
Music
Bubble machine
Sprinklers: great for rinsing off in. Crazy sprinklers are especially fun!
As you can see, this party is a lot of messy fun. Please plan accordingly for any messes that will result. Usually, a good blast with the hose and a few minutes picking up bits of fruit and veggies is all that is needed for clean-up.
Enjoy hosting your own kid's DIY spa day, along with all the squeals and giggles that come with messy summertime fun!
Find more herbal summertime fun for kids on the Herbal Academy of New England: