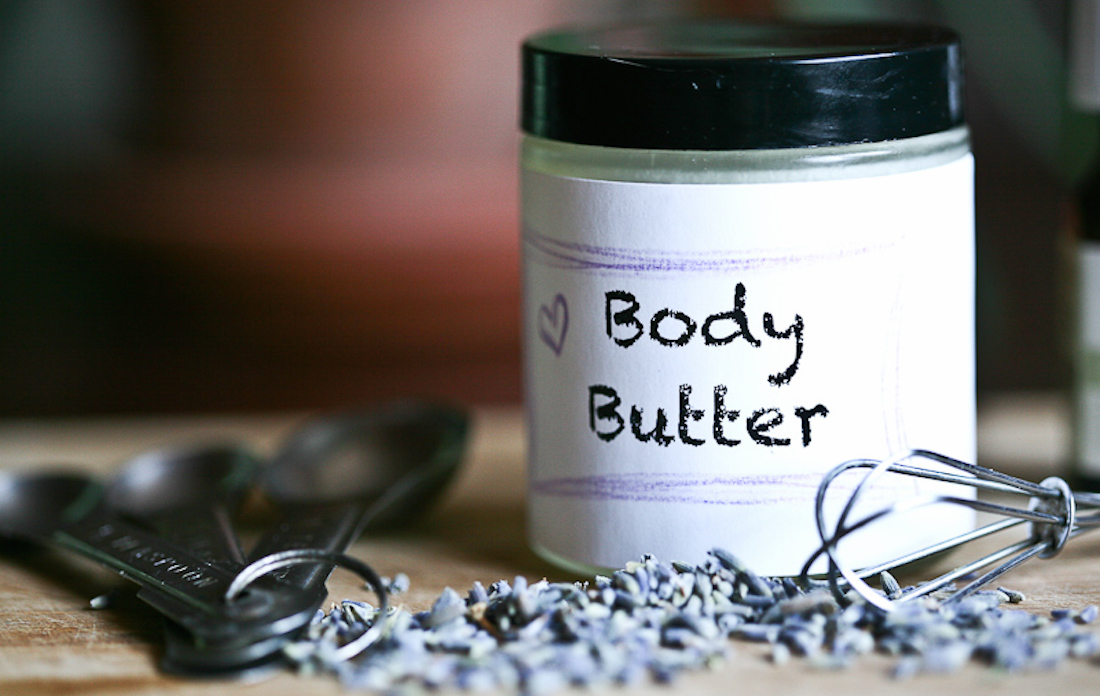 Favorite Homemade Body Butter
Wintertime necessitates the use of double-duty moisturizers that protect us from both the cold wind outside and the heated super-dry air inside—something more emollient and longer-lasting than what we might use in the summer months. Body butters to the rescue! Butters provide heavier moisturizing for dry winter conditions, are protective of the skin, and are easy to make right in your kitchen.
My absolute favorite homemade body butter recipe is the result of hours of kitchen laboratory experiments with different butters, oils, and varying proportions. My goal was to develop a body butter with staying power but without the excess grease.
Now, body butters ARE buttery, without a doubt. They will need a little time to absorb or oil stains may appear on clothing. Apply after bathing, wrap yourself in a thick, warm bathrobe until the oils soak in, and you'll have baby-soft skin all day.
The star of this body buttercream is an organic and raw Nilotica shea produced by a Northern Ugandan women's cooperative that pay their members a fair, living wage. Nilotica shea is pressed from the fruit of the Vitellaria nilotica tree, a Karite subspecies. Nilotica is a fluffy-soft, pleasantly scented cousin of the better-known and more commonly used yellow shea (which I find heavier, greasier, and smellier).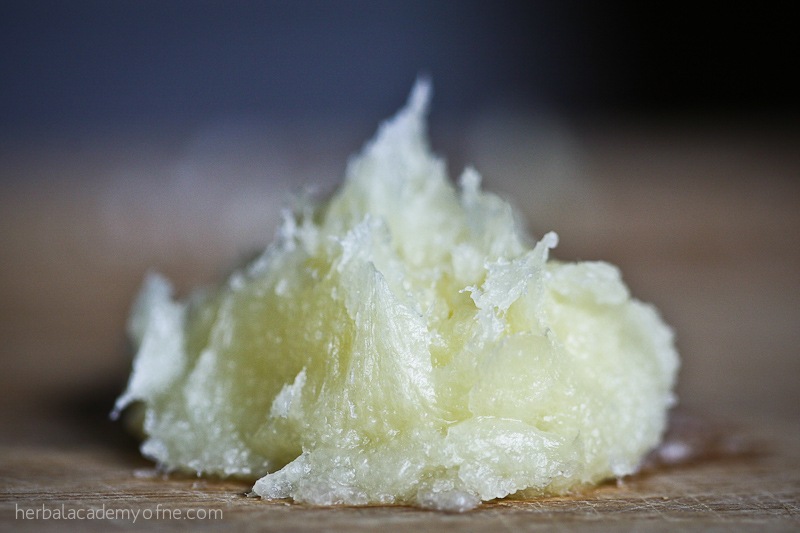 Nilotica can be used straight-up on lips, as a lotion, and as a deep conditioning mask for hair. Nilotica shea has a good shelf-life, and contains antioxidants and a natural sun protectant (cinneamic acid).
Next up is mango butter, which is pressed from mango tree kernels in India. Mango butter is rich in essential fatty acids and has a neutral, slightly sweet scent, making it a great base for body products.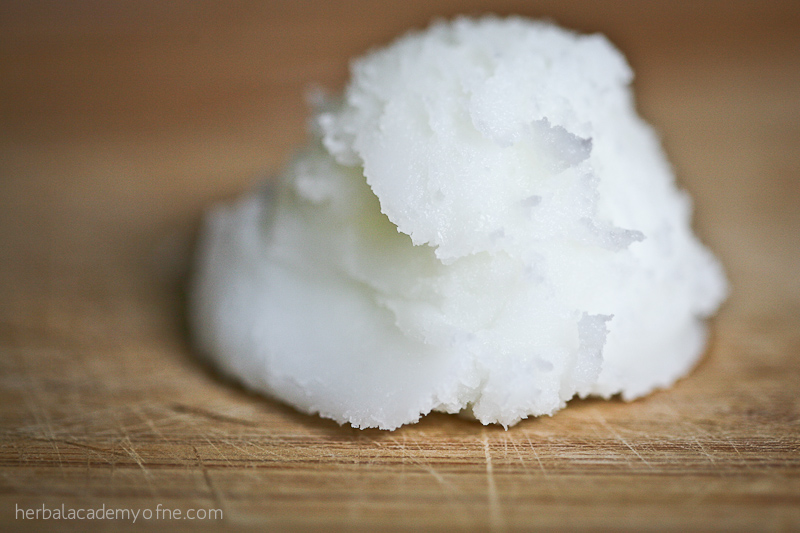 The third butter used in this recipe is organic kokum butter pressed from the Garcinia indica tree native to India. Kokum is one of the hardest cosmetic butters, and offsets some of the softness of the Nilotica shea.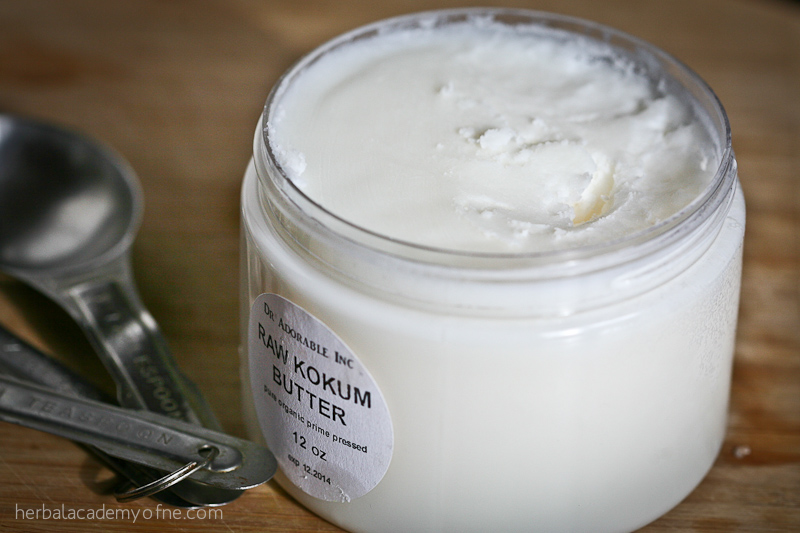 The oils used in this recipe are meadowfoam oil, blackberry seed oil, and jojoba oil.
Native to the Pacific Northwest regions of the U.S., the meadowfoam plant is renewable and hardy, elminating the need for chemical herbicides and pesticides. The oil produced from the seeds is highly stable with a long-shelf life, and is a "dry" oil that is rapidly absorbed.
Cold-pressed blackberry seed is rich in natural vitamin E and other natural antioxidants.
Lastly, jojoba oil is said to be the plant oil that most closely resembles human sebum. Like meadowfoam, it's also considered a "dry" oil and is well absorbed.
Body Buttercream
To make, procure a kitchen scale and the ingredients listed below. All ounces are weighed, even the liquids. This recipe makes 2.5 ounces of perfect body butter.

Ingredients

Ounces are in weight
One ounce Nilotica shea
.3 ounces mango butter
.2 ounces kokum butter
.7 ounces meadowfoam oil
.2 ounces blackberry seed oil
.1 ounces jojoba oil
Essential oils (optional)

Directions
Melt kokum and mango in a pan over low heat or in a double boiler.
Add shea butter and stir to melt and combine.
Turn off heat.
Stir in meadowfoam, blackberry seed, and jojoba oils until well combined.
Pour oil/butter mixture into clean dry bowl.
Nestle bowl into a large bowl filled with ice, being careful not to introduce droplets of water into your butter.
Whisk in bowl for a few minutes while cooling over ice.
Drop in 5-10 drops of essential oils (optional)
Pour buttercream into the container you plan to store it in.
Place in fridge for 5 – 10 minutes.
Remove from fridge and whisk a few times.
Refrigerate until solidified, then store at room temperature in a jar with a lid.
Body butters and other homemade body care products with cute personalized labels make great gifts for all occasions! Learn more about all natural body care recipes in the Online Introductory Herbal Course or Online Intermediate Herbal Course, featuring over 100 recipes for health and wellness.