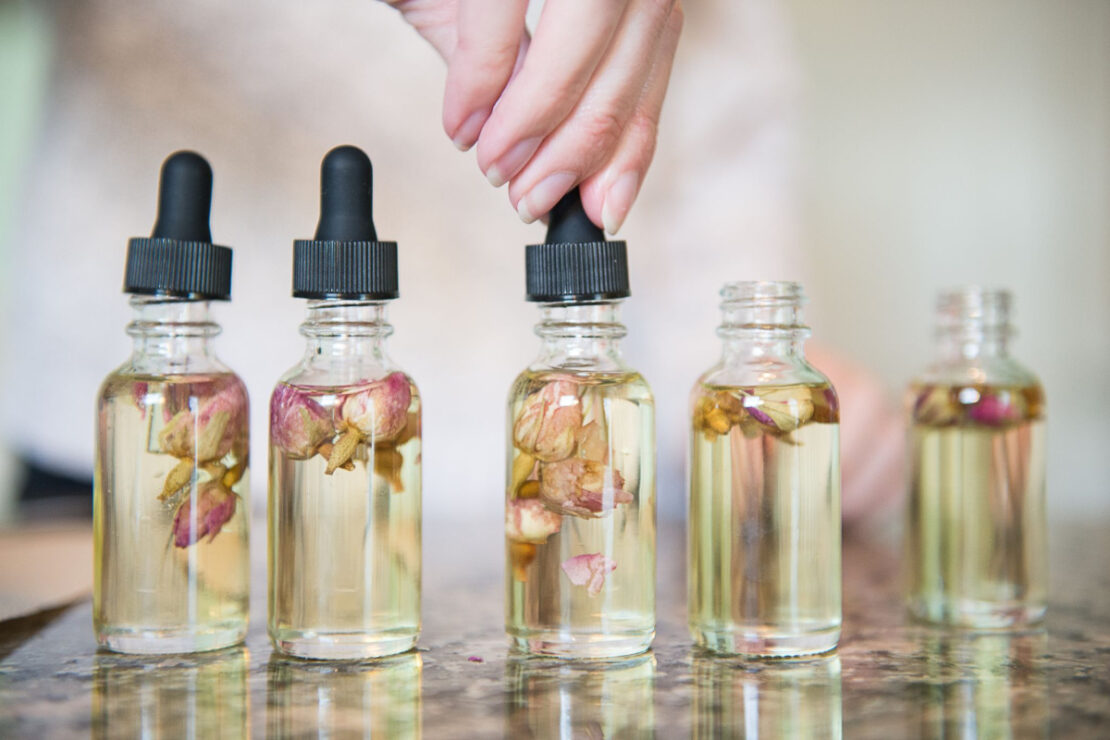 Student Feature Series: Chelsea Stephens (@wildflowerandtherose)
For the eighth installment of our Student Feature Series, we spoke with herbalist and herbal hair color specialist Chelsea Stephens. Chelsea has completed the Introductory Herbalism Course, the Entrepreneur Herbal Course, the Botanical Skin Care Course, and is currently enrolled in our Intermediate Herbal Course. She applies her herbal knowledge toward running her business, @wildflowerandtherose. Her passion resides in using the tools of our ancestors: flowers, roots, seeds, and leaves to color and nourish her clients' hair and scalps.
HA: Please tell us a little bit about yourself and how you started your path into herbalism. Many of our students will pursue Herbal Academy courses to become an herbal business owner or clinical herbalist, while others start their journey to better their or their family's wellness. Where do you fall in? 
Chelsea Stephens: My journey was sparked by my curiosity as a new mom. I, like many others, wanted very natural and simple products to use on my child. This of course spiraled over into my career as a hairstylist and awakened me to how unnatural the industry truly is. 
HA: Why did you choose to pursue your herbal education with the Herbal Academy? 
Chelsea Stephens: I needed something online, always accessible, and modern. I needed information I could digest easily, and to be able to grow at my own pace. It was a no-brainer that The Herbal Academy was my choice. I actually started at HA way back when y'all were still the Herbal Academy of New England. It's been amazing to witness and experience your growth!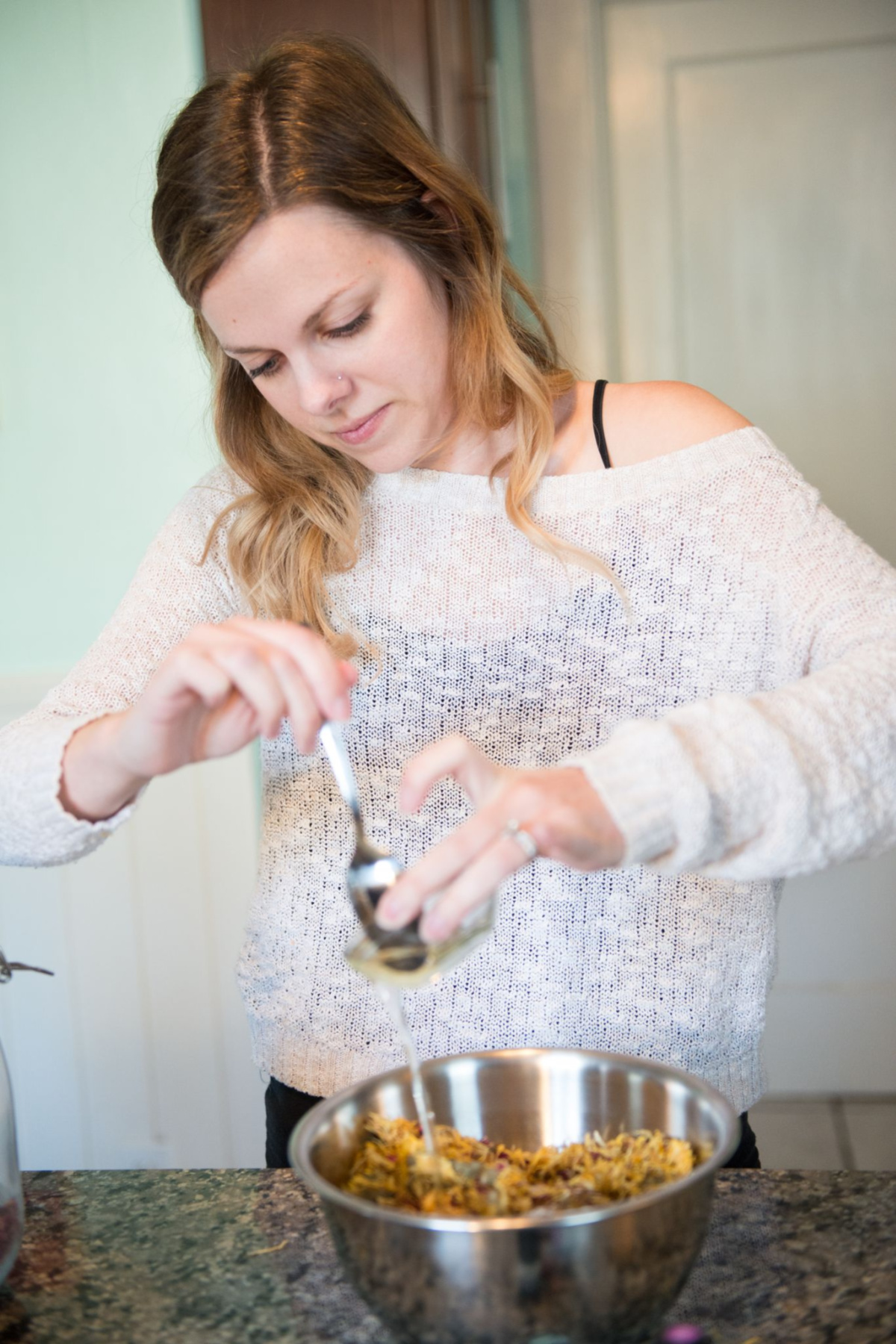 HA: Do you own an herbal business or brand?  
Chelsea Stephens: Yes, my business, Wildflower and The Rose focuses on herbalism for hairstylists and our guests. WATR is deeply rooted in true herbalism and I don't support any greenwashing, which currently seems to be the trend. Instead, my passion resides in using what our ancestors had: flowers, roots, seeds, and leaves to color, nourish, and heal our hair and scalp. And being true to the wise woman and herbalist's way, I also incorporate many offerings that support the whole being—body, mind, and soul. When one is out of balance, there is such a trickle-down effect. 
HA: How did your Herbal Academy courses help shape or improve your business? 
Chelsea Stephens: Oh gosh, it helped so much! Firstly, it gave me the courage to pursue this path. I felt confident and a lot of what I was learning, I felt as if I already knew it. The Herbal Academy has helped me remember the old ways, my roots in herbal + flower spirit modalities. The Entrepreneur Herbal Course was incredible. That course really helped guide me to be where I am today!
HA: Did your Herbal Academy courses help you avoid any potential mistakes while launching your business? 
Chelsea Stephens: The courses helped reiterate the proper language of talking about herbalism, as well as the practicality of using it. The community also helped me feel a part of something bigger! The Entrepreneur Herbal Course opened my eyes even more to the label standards and laws in regards to herbal products. I had already had a lot of experience and education behind me on legal requirements and labeling for skin and hair care, but herbal supplements were new to me. I felt like I finally got the clarity I needed.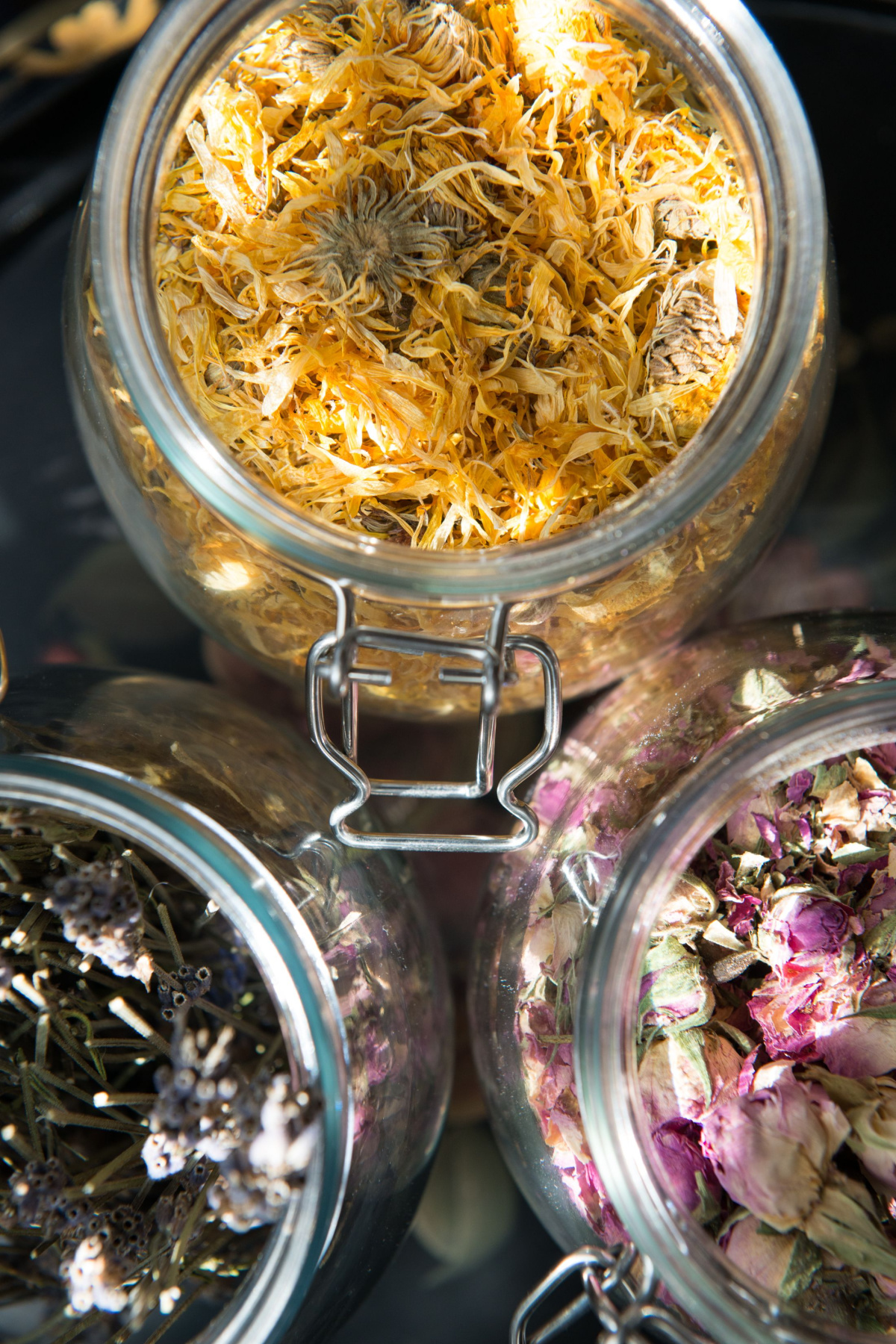 HA: Tell us, what's next for you in your herbal journey? 
Chelsea Stephens: Oh gosh so much. So I currently offer herbal hair color, aptly named Flower Hair Color Powders, which are ayurvedic herbs that are combined with dried flowers, flower essence tonics, and floral essential oils for altering one's natural hair color. I also have some really beautiful hair care cultivated from wildflowers, like wild sweet william for a cleanser and orris root in our dry shampoos. I recently launched The Wildflower Collective, which is a gathering for hairstylists wanting to follow the path of the wise woman, but in a way that incorporates her skills as a stylist. It's been really amazing to meet so many amazing women who are being called back to the plants and want to shift from hairstylists to what I lovingly call, Sacred Hair Healers. Within the Wildflower Collective, I'll teach about herbal hair color, folk flower hair care, practical magic (aka different ways to use herbalism for hair to create abundance and an income—with or without a salon), a focus on various forms of energy healing, and my favorite part, intuitive + spiritual work. As you can see, I have a lot planned!
HA: What were you looking for when you enrolled in your Herbal Academy course that you were not able to find elsewhere? 
Chelsea Stephens: It sounds silly, but I needed a platform that understood me and where I was at in life. As a new mommy, my time was limited, but I was thirsty for the knowledge. The Herbal Academy sparked alive this inner herbalist AND made it so I could easily access the material. No pressure to get everything done in 6 weeks, which was perfect.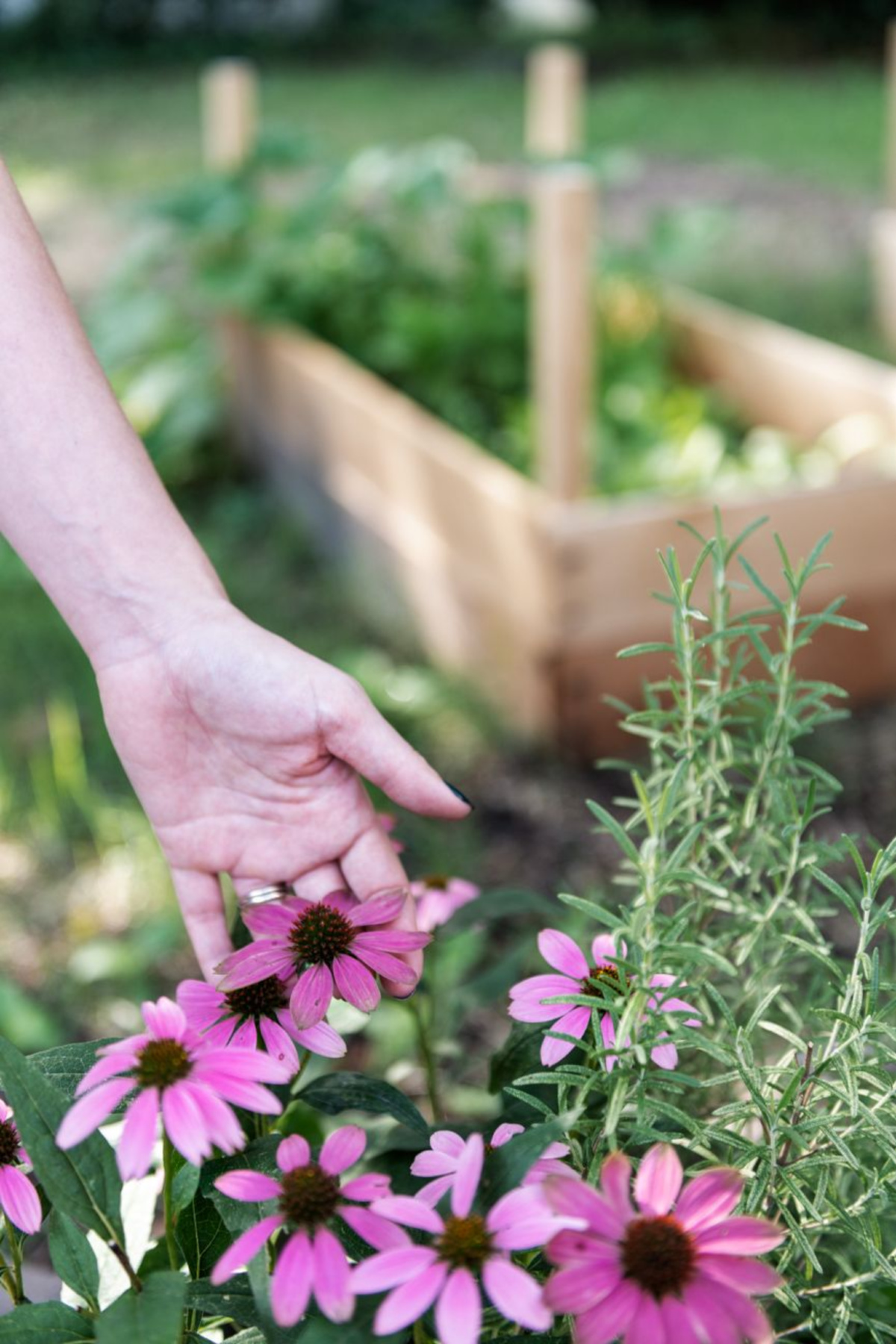 HA: If you were to recommend an Herbal Academy course to your best friend, what would you say?
Chelsea Stephens: Honestly, I recommend The Herbal Academy to strangers too! It's such a well-rounded offering, so much incredible information, and the accessibility is flawless. Plus, I really love the continuous flow of fresh content on Instagram. I'm always reposting and sharing mini-lessons and DIY's y'all have. 
HA: How has your herbal education deepened your connection with your personal health and well-being? 
Chelsea Stephens: Oh this is a heavy one. I've been challenged most of my life with chronic health issues. I've been to so many doctors and specialists I've lost count. The only thing that helped me was acupuncture and herbs. They're gentle and I love that herbalism works WITH my body instead of covering up issues. I'm still working on my healing, but having the knowledge and confidence to choose herbs that call to me, or to pay closer attention to what my body is saying, is a blessing.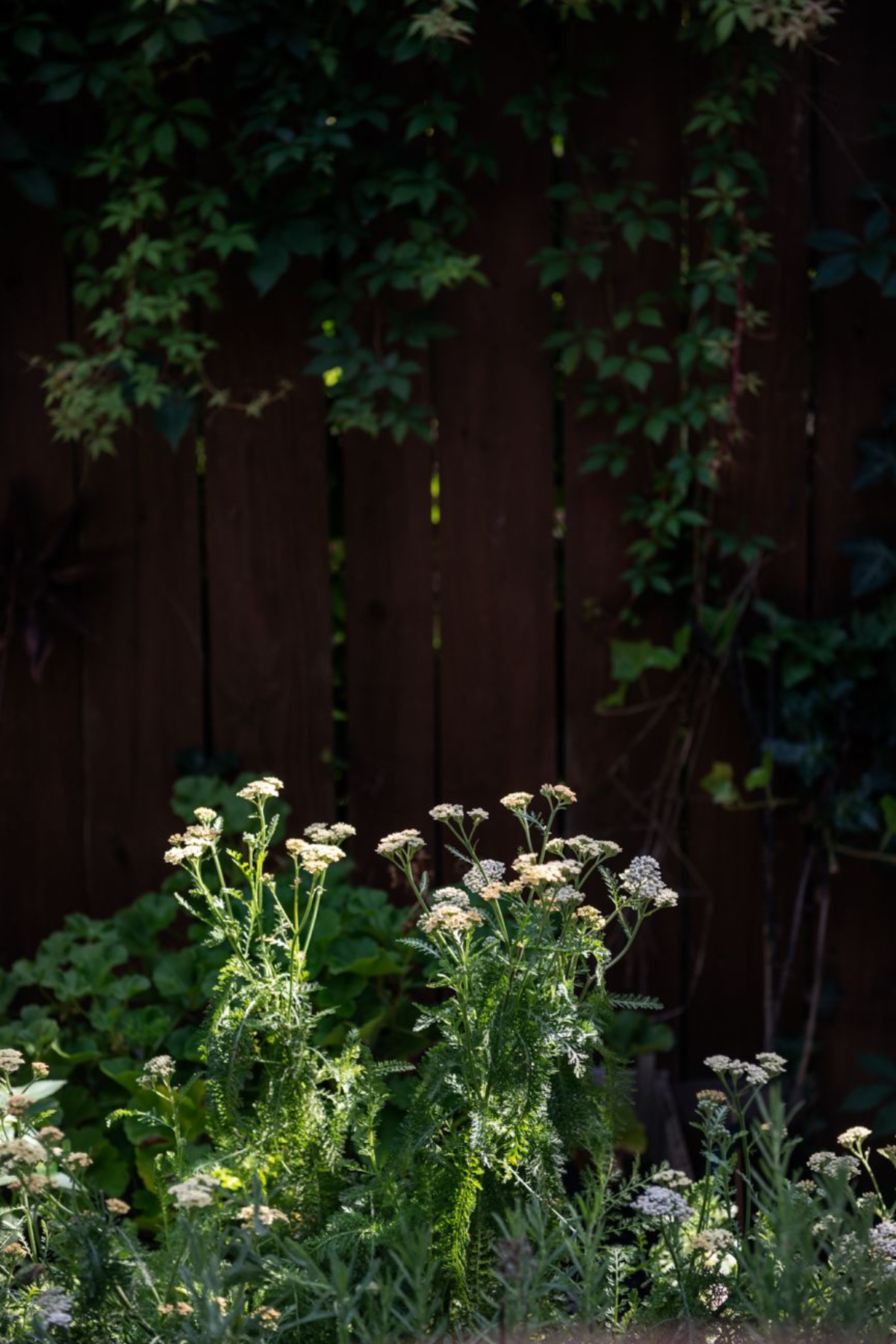 HA: Is there a specific herb that you feel particularly drawn to? If so, why do you think that is OR what is it about that plant that fascinates you?
Chelsea Stephens: Flowers. Hands down flowers. All flowers. I can't explain it. Ever since I was a little girl, I've been fascinated by them. The way they smell, how they bloom to share that spring is coming, how they grow and open. You name it, I was utterly in love. I'm currently having a love affair with yarrow as a flower essence for spiritual protection, lavender to remind me of home in Upstate NY, and the camellias that are currently blooming here in Savannah. My birthday is in February and growing up, there weren't flowers in winter. But here in the Southeast, February is alive with pink magnolia blossoms, camellia blooms, and azaleas. Utterly in love.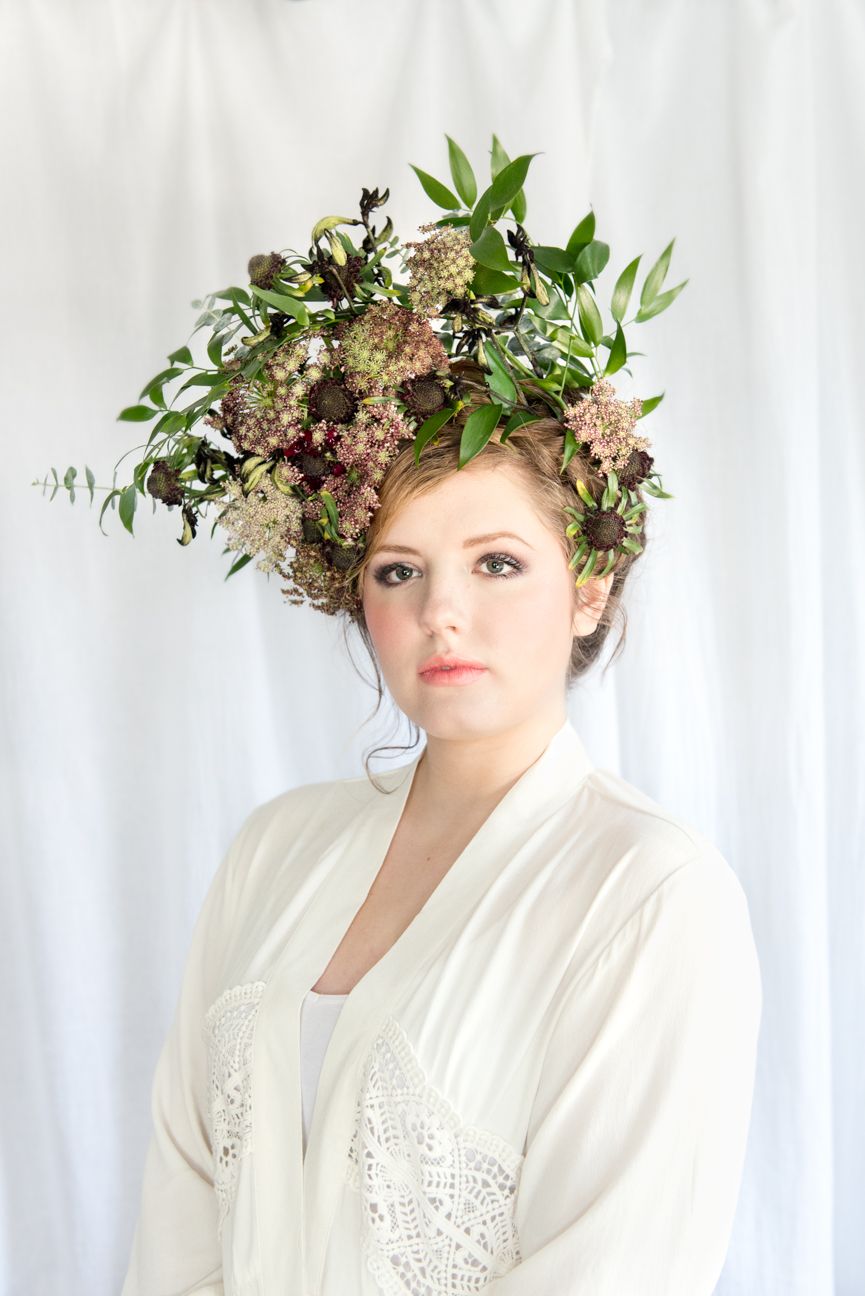 HA: Has your herbalism experience encouraged you to learn and explore other related niches, like botanical crafts, gardening, natural dying, aromatherapy, etc? 
Chelsea Stephens: My herbalism experience supported my studies in aromatherapy. I studied them around the same time and it was nice to have both available to use. I've since spent time learning about flower essences, organic skincare, and then of course my personal journey into the world of herbalism for hair. It's a category that's not really talked about. There are a few blends and plants mentioned here and there, but truly the world of hair and herbalism is enormous. I want to share that with the world.
HA: Do you have any rituals or traditions surrounding herbalism that you would like to share? These can be long-standing traditions or new ones that you've integrated into your life since taking our course. 
Chelsea Stephens: As simple as it seems, gardening has become my tradition and ritual. I have herb and flower gardens and they keep growing every year! We're actually in the midst of a last-minute move and I'm trying to figure out where I'm going to put all of my plant babies! Gardening has also become my therapy, my way to put my energy back into Mother Earth so she can reuse it as need be. She brings me home, back to myself. I pay closer attention to the breeze, trees, birds, and leaves; there's always a message coming from them. You just have to be quiet enough to hear it.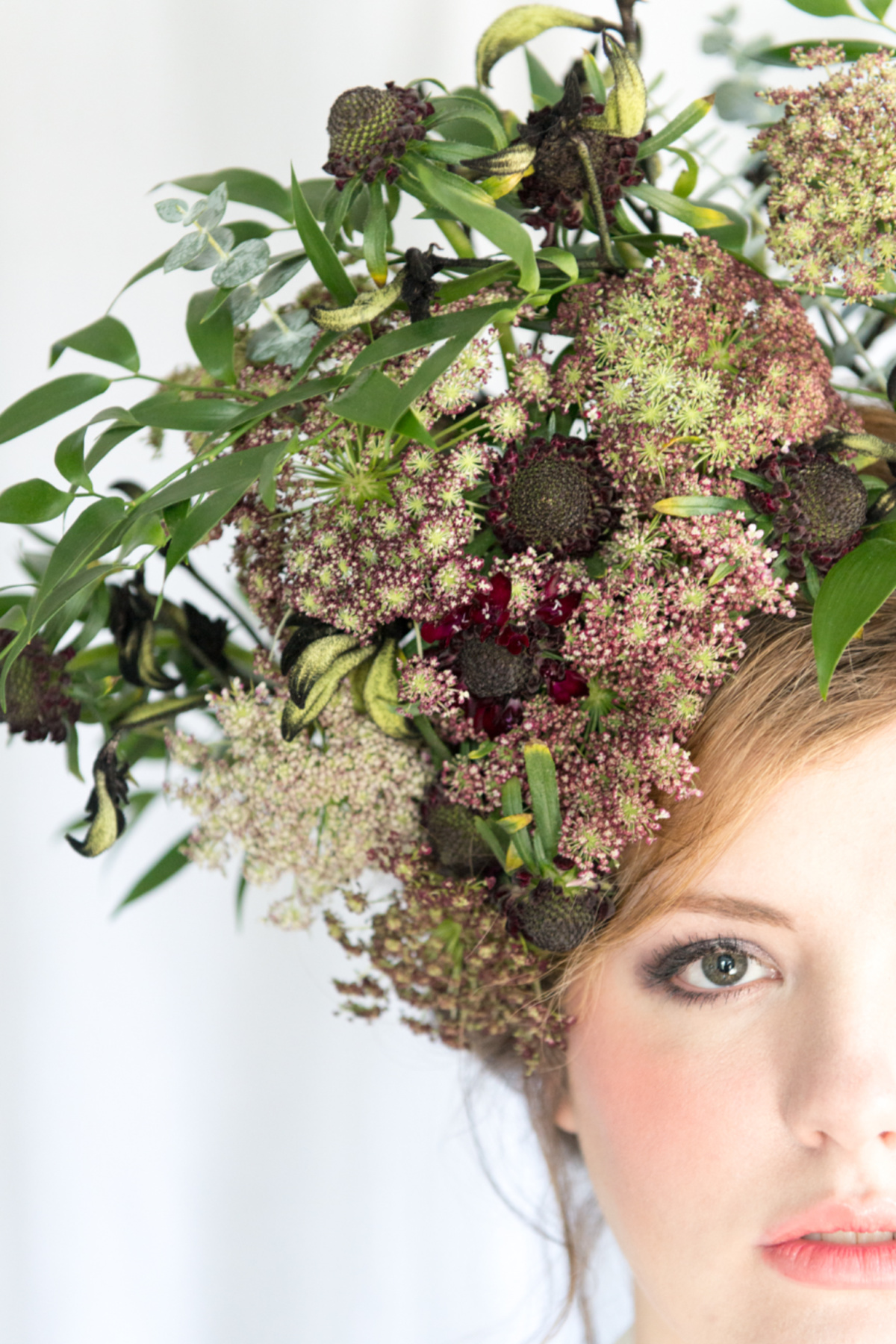 HA: What is the biggest way that herbalism has brightened your life?
Chelsea Stephens: Herbalism gave me my passion back. Over the past 5 or 6 years, I felt so very burned out, lost, and uninspired by the hair industry. It truly is an assembly line industry with factory-like expectations and not-so-great products to follow. I felt like a fraud because I live such an eco, natural lifestyle, but my career was anything but that. Three years ago I opened my own little hair studio and played with the herbs. I learned more about herbal hair color and ways to incorporate flowers into my work. And I also learned what I didn't want to do anymore. After taking the Entrepreneur Herbal Course, I made the definitive decision to close my shop. I decided to be a full-time herbalist, which was definitely a decision to negotiate with my husband, having a family, and all. So here I am! I now focus on hair, stylists, and creating a way to bring the old traditions back in a more modern way. 
HA: Has anything about herbalism—or your herbalism practice—been a pleasant surprise?
Chelsea Stephens: This sounds ridiculous but I was really surprised [that herbalism] works. Insert head droop/walk of shame! I mean, I grew up in a pretty typical privileged white household, in a small town where everyone knew everyone. Only the "hippies" used herbs. Believe it or not, my paternal side of the family is pretty in tune with nature and herbalism. I was always fascinated by my aunt and uncle's home, their herbal books, foods, and ways. But I didn't have the guidance of an elder to share that knowledge with me. So it took me discovering herbalism and trying herbs to understand the magic of it all. 
HA: What is your favorite herbalism resource (book, podcast, movie) and why?
Chelsea Stephens: The book, Flower Power by Anne McIntyre has been priceless to me. She eloquently and methodically organizes so much information about so many flowers and their uses. If I'm ever second-guessing myself, I always reach for her book first. It's kind of my flower bible.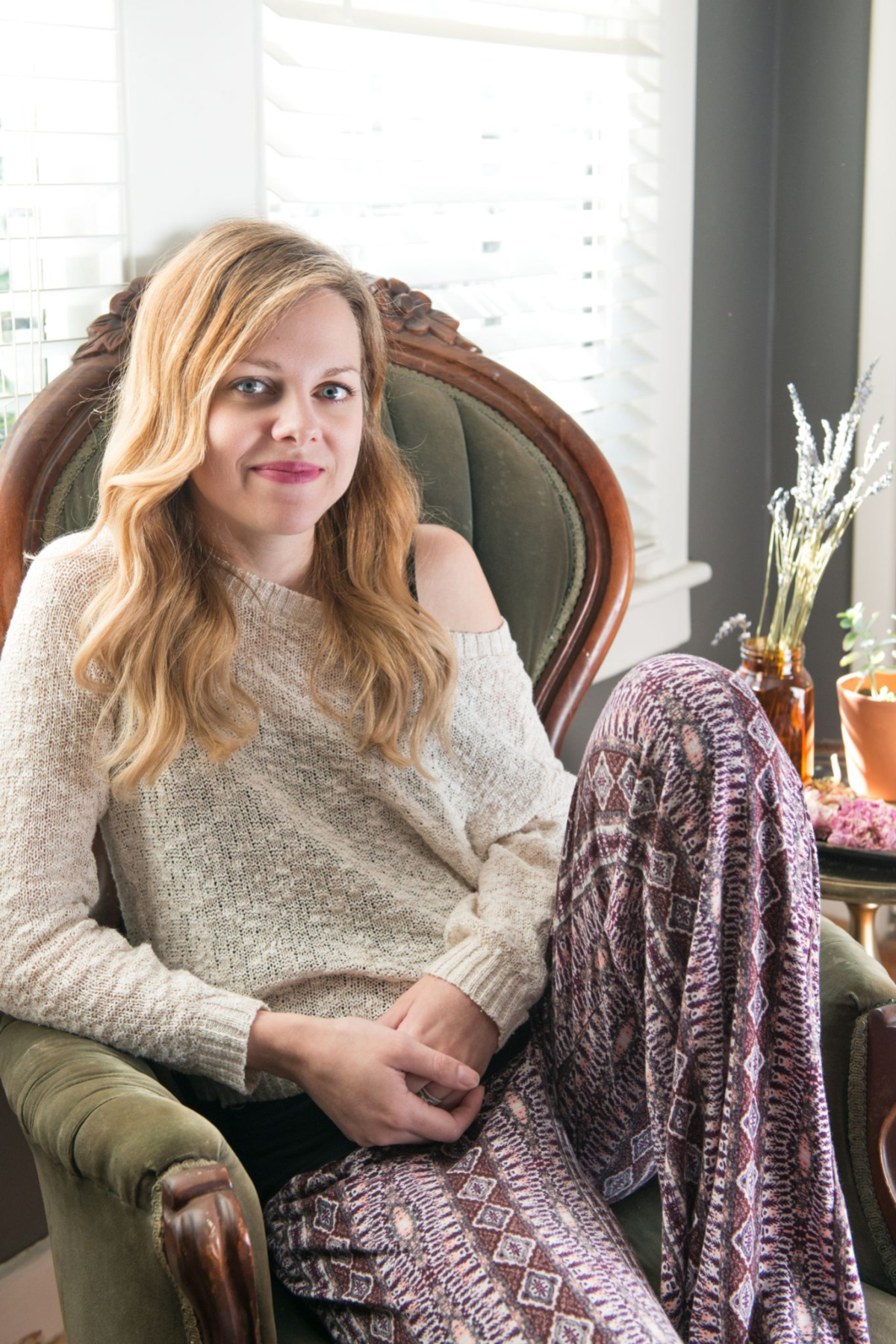 Connect with Chelsea on Instagram @wildflowerandtherose or via her website Wildflowerandtherose.com.
Stay tuned for the next installment of our Student Feature Series with Caitlin @TheLocustandHoney.
Read past student interviews with:
Katie Woods (@ritual_skincare)
Alyson Morgan (@AlysonSimplyGrows)
Cat Seixas (@TheOliveTreesAndTheMoon)
Stephanie Pavelko (@MyTinyLagunaKitchen)
Colleen Codekas (@GrowForageCookFerment)
Inspired by Chelsea's herbal journey? Further your own journey today by perusing our online herbal courses.
Photo credit: All images in this post are by Paprika Southern.