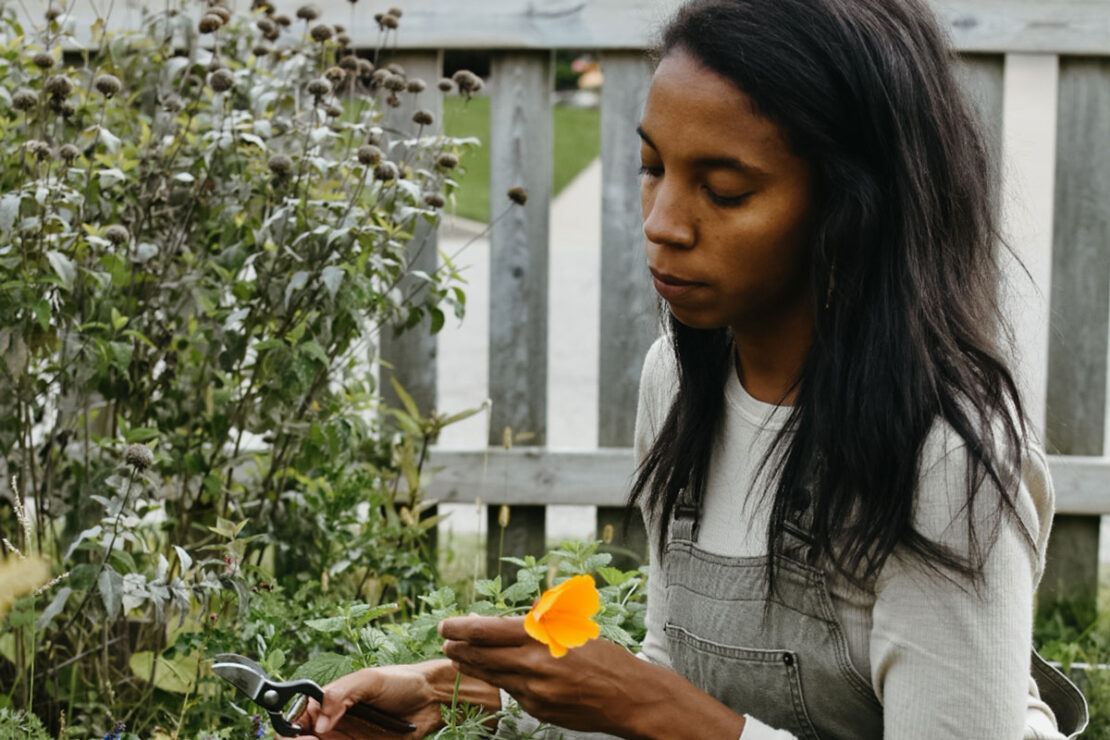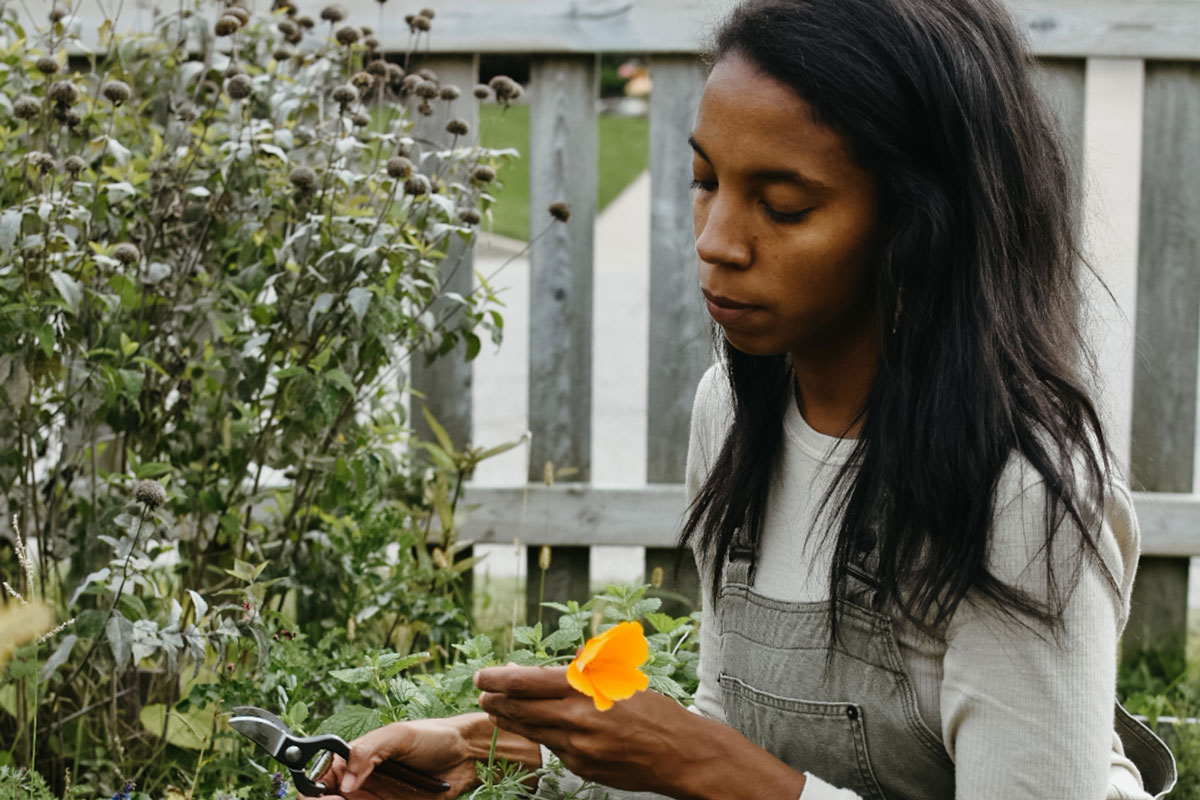 Student Feature: Alyson Morgan (@Alyson Simply Grows)
For the fourth installment of our Student Feature Series, we spoke with Alyson Morgan (@AlysonSimplyGrows). Alyson is an environmentalist, gardener, slow-living advocate, and mother who has enjoyed watching her family learn herbalism alongside her. Alyson owns Earth Star Herbals, where she offers small-batch, intentional flower essences and herbal products, blog posts, and seasonal musings. 
Alyson has completed a number of Herbal Academy courses, including the Becoming an Herbalist Mini Course, the Botanical Skin Care Course, and the Intermediate Herbal Course. We love following Alyson on Instagram, where she shares her beautiful photography and quiet moments of reflection and insight tied together with threads of herbalism, sustainability, and social justice. 
HA: Thank you so much for taking the time to speak with us! Will you please tell us a little bit about yourself and how you started your path into herbalism?
Alyson Morgan: I've always been drawn to plants. As a child growing up, I felt in the presence of elder beings standing in the Redwoods of Northern California and would pick sprigs of lavender and rosemary on walks with my parents to stick in my pockets. Some of my most vivid childhood memories were connected to those sprigs of rosemary. Now I understand it is because rosemary enhances the memory.
I really began and committed to my path of herbalism after my husband and I moved from California to the Midwest. We wanted a slower pace of life, wanted to start a family, and decided to move to his home state of Wisconsin. After a couple of years of living in the city of Milwaukee, we moved to a small, rural community. 
The cottage we purchased was owned by an herbalist. The garden she tended to and grew for her apothecary and clients became my place of learning. She walked through the garden listing the names of all her plant allies and it took a good couple of years of sitting with the plants, opening books, tasting, and exploring before I would know their songs.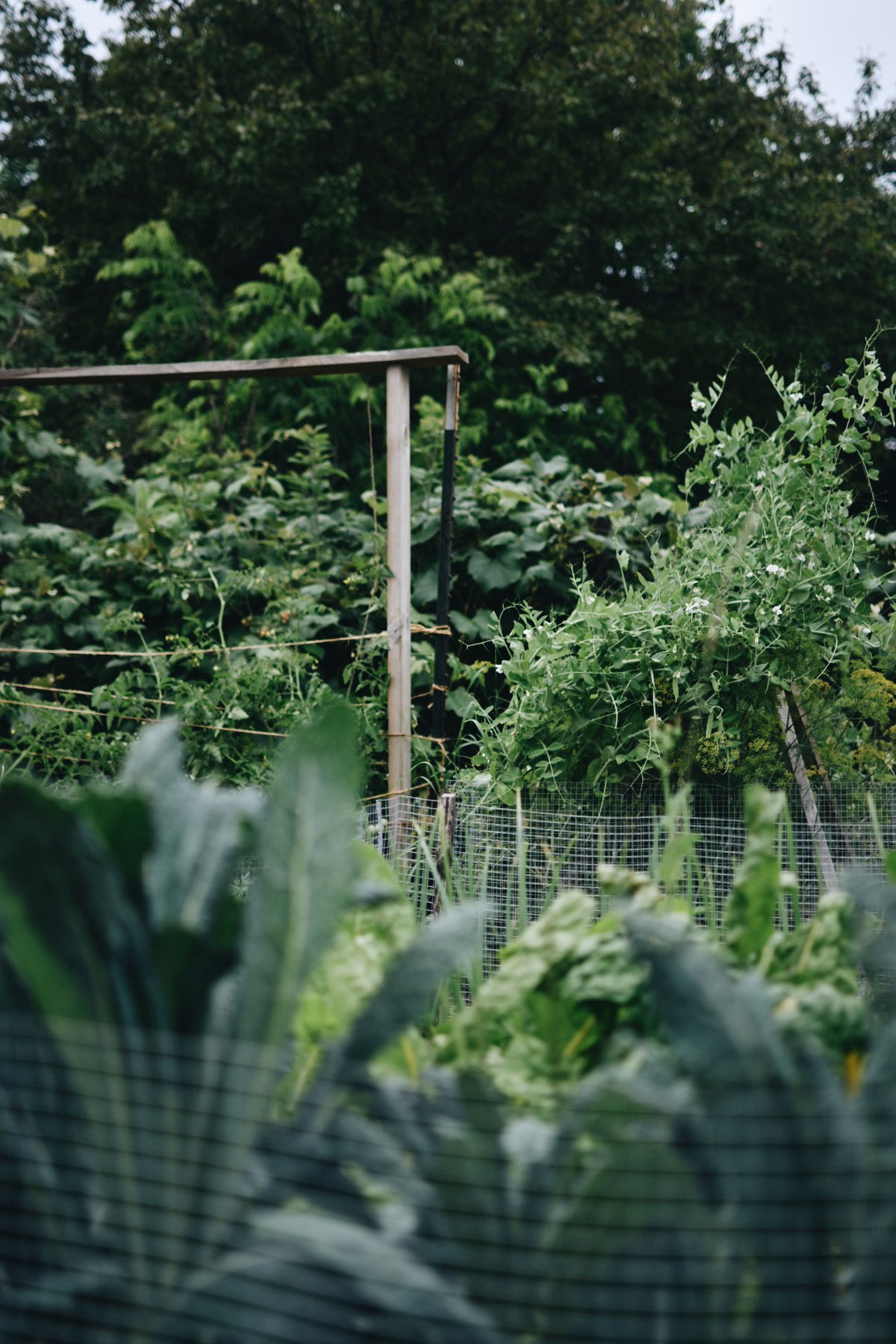 As a mother and a person concerned with the state of our earth, I studied climate change, natural resource use, and global health at the University of California, Davis. It was important to me to learn the natural resources in my environment. At first, because I wanted to know what was around me and what could support my health, but the journey became one of deeper connection to the earth. I believe everyone can have a relationship with the plants—for health and emotional support, and I truly believe that relationship is a vital piece to building resilience and adaptation to the climate crisis. 
HA: Do you own an herbal business or brand? 
Alyson Morgan: I created Earth Star Herbals to bring plants into the home for support and wellbeing during these shifts and crises of the Anthropocene (current geological era). The earth is changing, and rapidly, as we are seeing, because of human-driven activity and we are all facing—or will be facing—these consequences. 
I truly believe the plants are calling us into relationship to support us on this journey, to build a reciprocal relationship, and to provide physical, psychological, and emotional nourishment. 
Currently, I sell homemade flower essences for emotional and spiritual support. Flower essences work on the most subtle levels but have profound effects. There's not enough time or space in this article to share how different flowers have come into my life at different times to offer their support, but the plants are truly here to be in relationship with you. (Learn more about flower essences in How to Use Flower Essences for Emotional Support.)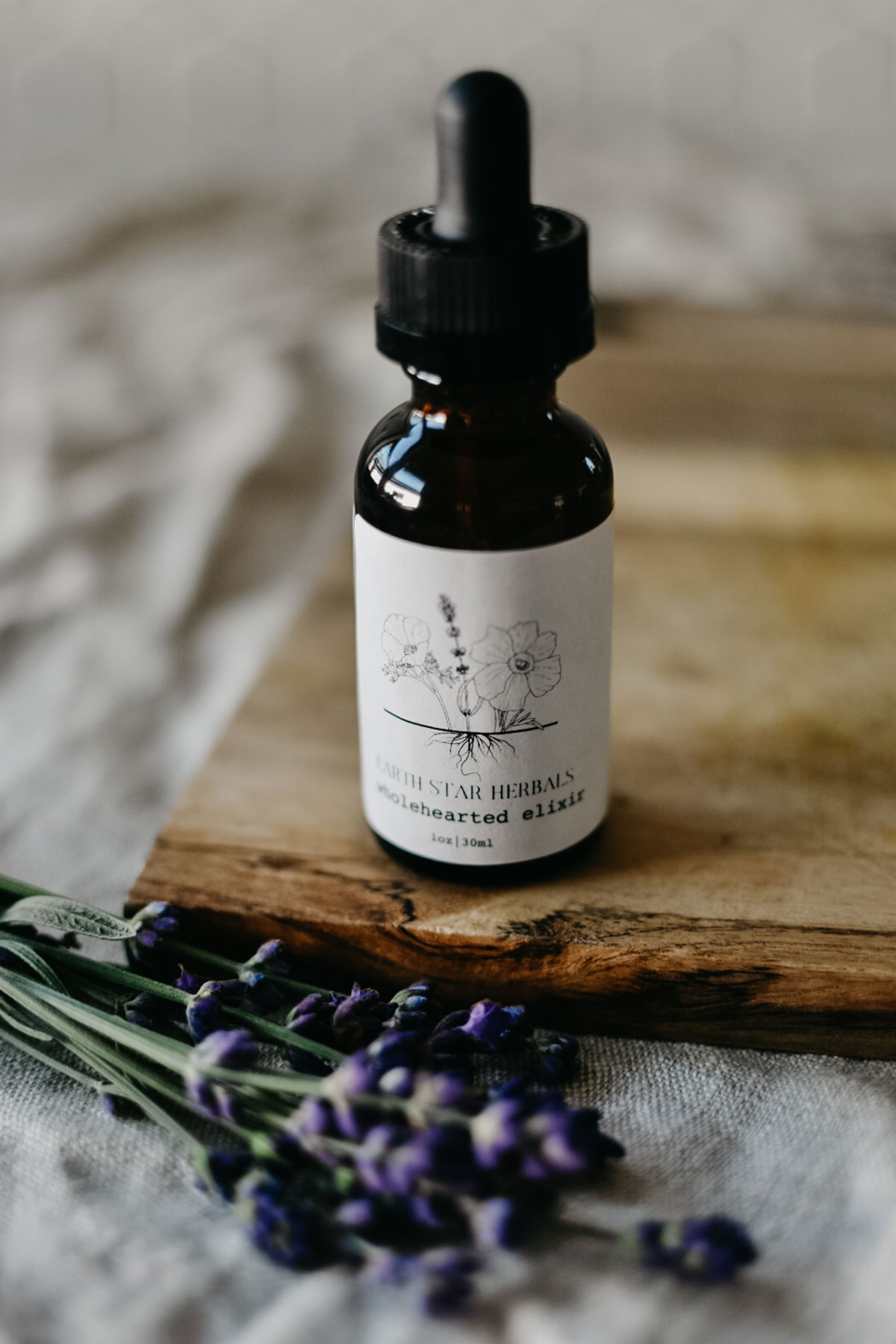 Herbal Academy courses and resources have given me the confidence to pursue my business. The depth of information and grounded practical knowledge have helped me gain the courage to put myself out there. 
HA: Why did you choose to pursue your herbal education with the Herbal Academy? 
Alyson Morgan: I was looking for a trusted resource and guide. As a mother and homemaker, I don't always have the time to go to a class or work one-on-one with a teacher, so I appreciate the self-pace of the Herbal Academy. The online resources have provided so much accessibility and ease. I am always astounded by the amount of credible research and information that is provided in the courses, materials, and free resources. I have always felt I was receiving a solid foundation and herbal education with the Herbal Academy. 
HA: What did you like most about your Herbal Academy course? 
Alyson Morgan: I love Herbal Academy courses for the depth of information. As an enneagram five, I love absorbing as many facts and perspectives as I can find. 
I've also love the textbooks that come with the Intermediate Course as well as the accompanying recipe and monograph textbook. It really brings the online course into real life in a tangible way with a book that I can write notes in, dog-ear the pages, and flip open when I need to reference course materials or look something up when I'm in the kitchen making something for the family or in my office researching for product development.
 I'm old-fashioned in that way I guess. I love the feeling of a book in my hand, and I love that the course provides that extra something.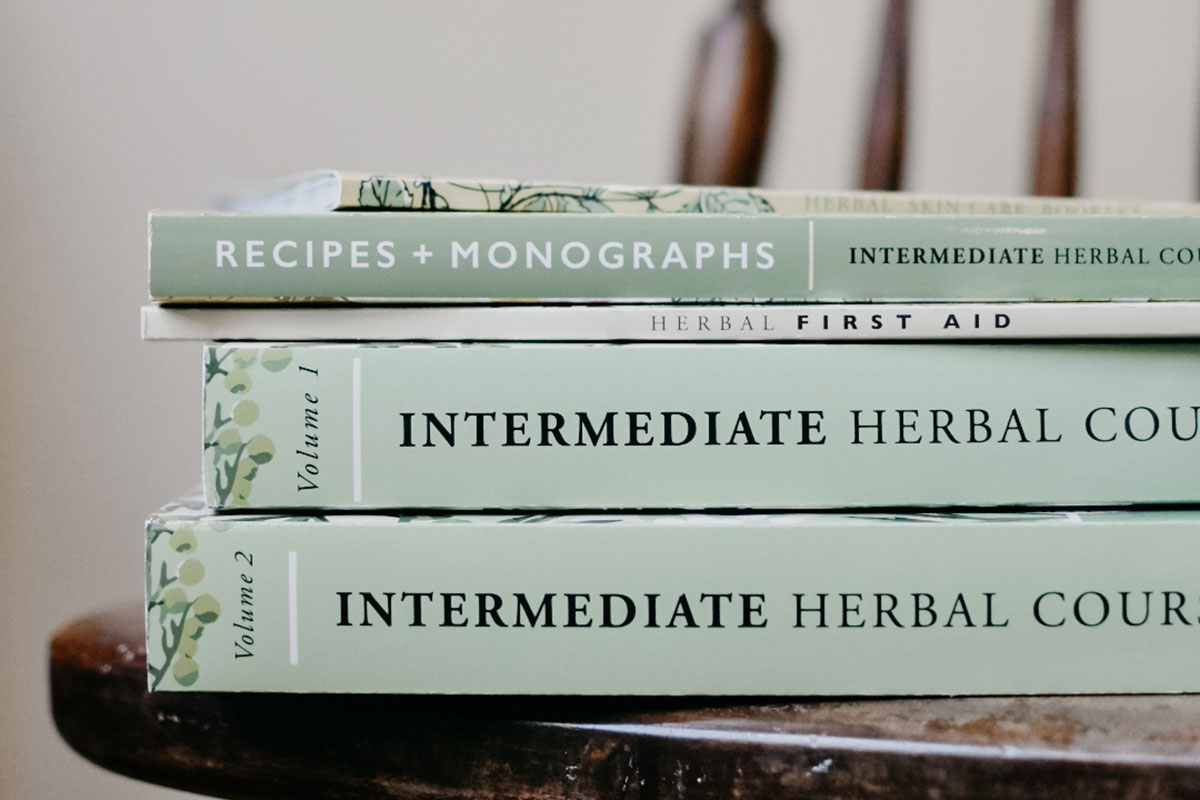 HA: How has your herbal education deepened your connection with nature and the seasons? 
Alyson Morgan: My journey and herbal education have given me such a profound appreciation for the earth. Plants that are just considered "weeds" provide nourishment and healing in so many ways, and they have for our whole human history. Plants are our ancestors, and they served our own human ancestors along the way. Becoming aware of the plants through herbal education has not only given me a better understanding of the seasons and cyclical living, but watching the plants appear in spring and dissipate in fall and knowing those plants have herbal actions that will support my body and health in that season makes me feel whole.
HA: Do you feel empowered by your herbal practice? If so, how? 
Alyson Morgan: There are so many ways I am empowered by my herbal practice. I think the most impactful one, for me, is observing that as my herbal knowledge grows, my husband, AJ, and our children, Magnolia and Griffin learn as well. As I identify more plants and relay their herbal actions, it has given them relationships with the plants and greater understanding, too. 
My children can recognize yarrow when they get scrapes outside, make a plantain poultice for themselves or friends when they get bee stings, put lemon balm leaves in their water in the summer, and love to watch the bees buzz on bee balm in the fields.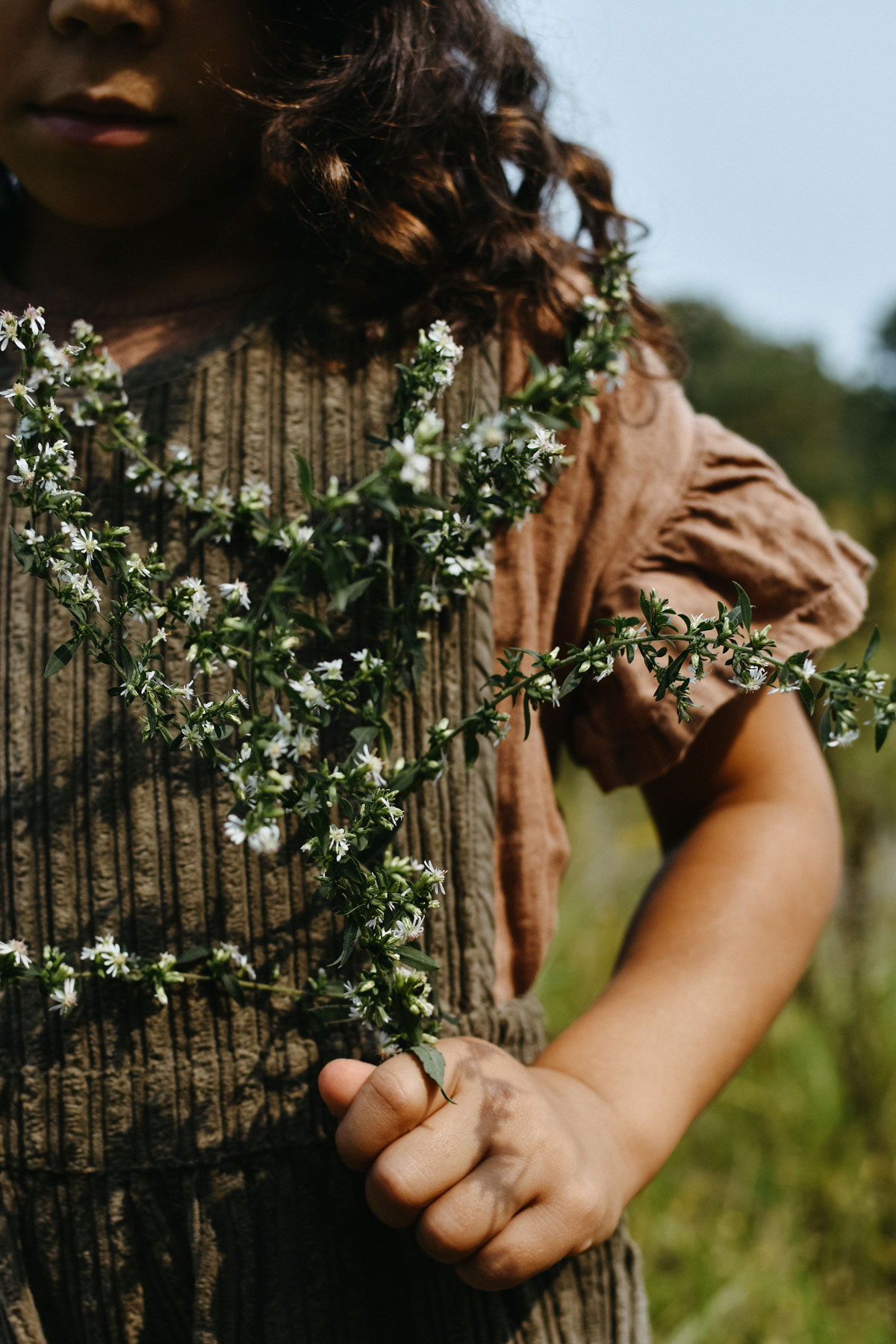 AJ has since taken up a love of mushroom hunting with me, which I can't even tell you, fills my heart with glee. He loves hunting for morels and pheasant backs, and he asks me to make chaga tea in fall. His plant identification has grown exponentially, and it amazes me to notice that as our awareness of plants grows, the more we can invite them into our daily lives. The plants have enhanced our connection, healed, and deepened our relationship in so many ways.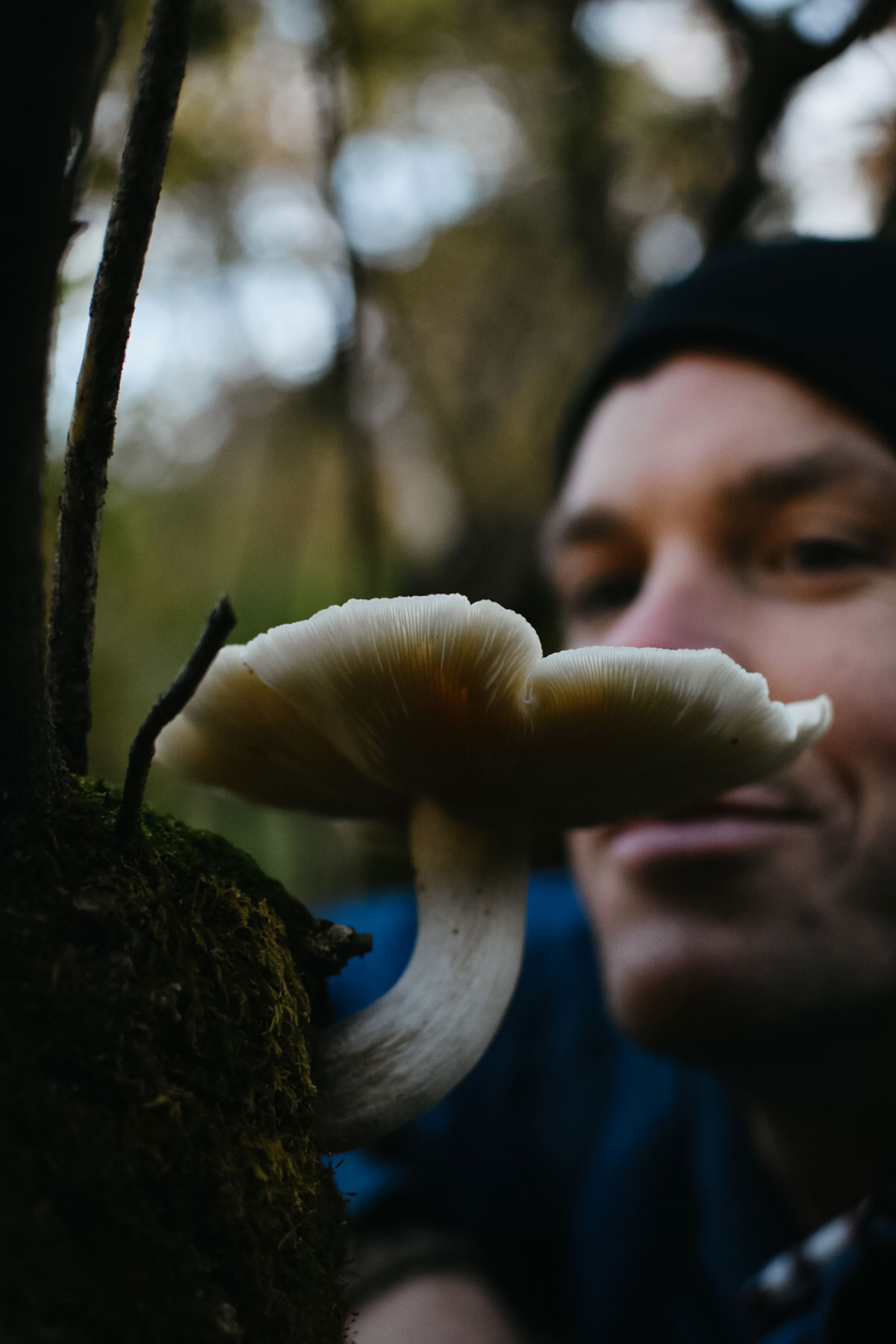 HA: Have you learned more about your ancestral roots and traditions through your herbalism studies? If so, what have you learned? 
Alyson Morgan: This question, there is so much here and so much I'm still unpacking and discovering. First, I will refer you to my piece I wrote for the Herbal Academy blog on the Roots of African American Herbalism. I have to say everything about herbalism, growing plants, and tending to the land connects me to my ancestors. I've had a harder time connecting to the plants my grandmother and great-grandmother might have used in their native land of Haiti, where my mother was born. Diving deeper into that lineage is a journey and path I've just begun. 
When I plant seeds in spring, pick and dry yarrow for my childrens' cuts, make an infusion of red raspberry leaf for stomach ailments, or add nettles to our frittatas in spring, my ancestors come alive within me. They used the plants in the same way as herbal support and food. My great-grandmother grew gardens to feed her 14 children. Although I don't know the exact recipes and remedies she used, I know she must have had yarrow and mint and elder as plant allies in her home, garden, and apothecary.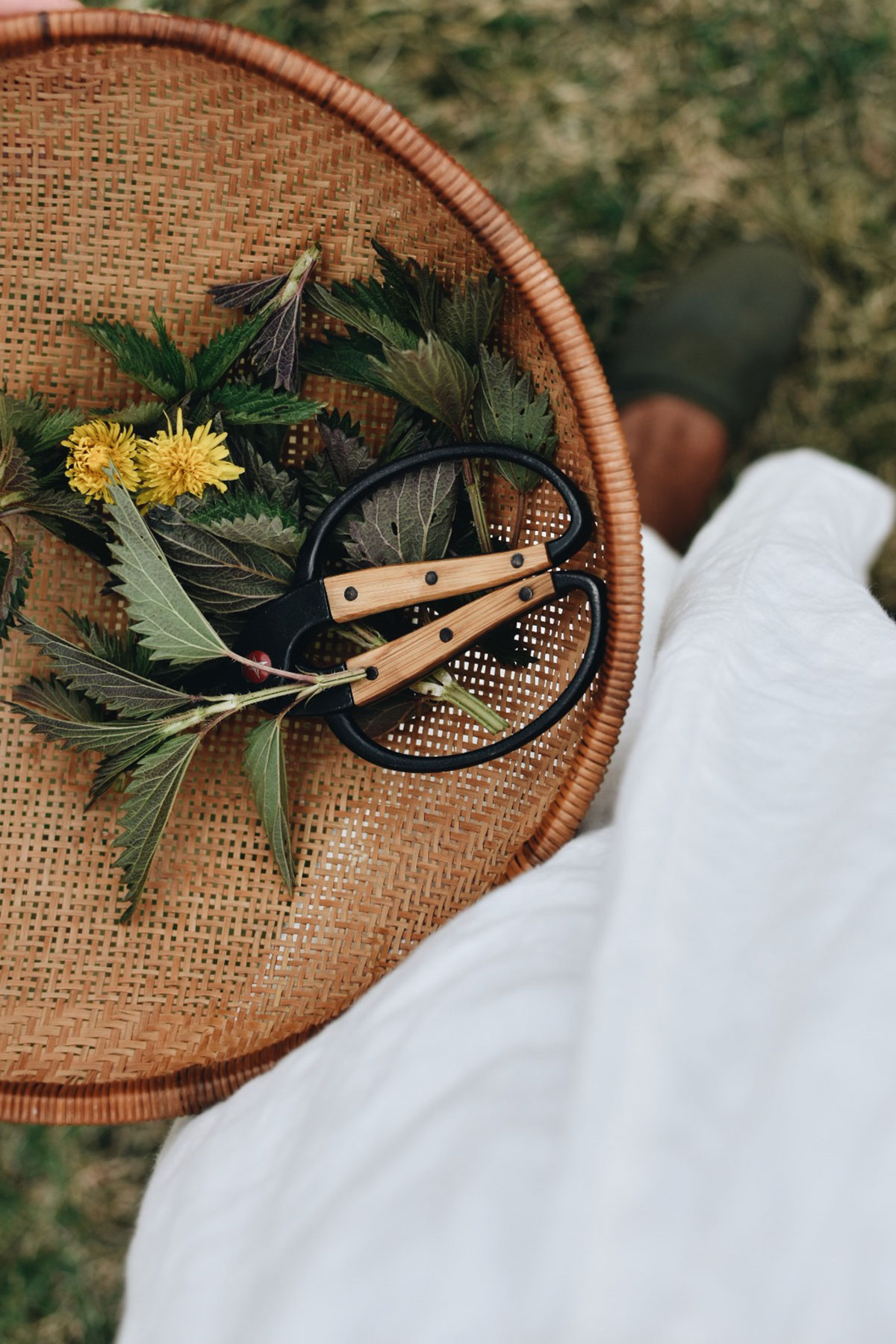 Black folks and my enslaved ancestors trusted and knew the land around them; the woods and their gardens were safe, a place of solace and healing, and in these times, it is how I feel, too. 
HA: Is there a specific herb that you feel particularly drawn to? 
Alyson Morgan: I feel drawn to rosemary, a plant I've felt connected to from my childhood, my first plant ally. Its smell is so grounding, and it truly makes me come alive in a way no other plant does. In its presence, I feel like a child again. I am grateful for that. 
HA: If you were an herb, which herb would you be?
Alyson: Lemon balm, a sunny, friendly, soothing plant friend. 
HA: What is your favorite recipe from the course(s) you've taken? 
Alyson Morgan: I have been loving the flower facial steam from the Botanical Skin Care Course. I love facial steams for so many reasons, they are truly like a cup of tea for your face, so hydrating and uplifting. I've been loving the combination of chamomile, lavender, and rose petals. Those herbs, a large bowl, boiled water, and a towel, and I check out from mothering for 15 minutes for a little spa break. Who doesn't need more moments like that these days?!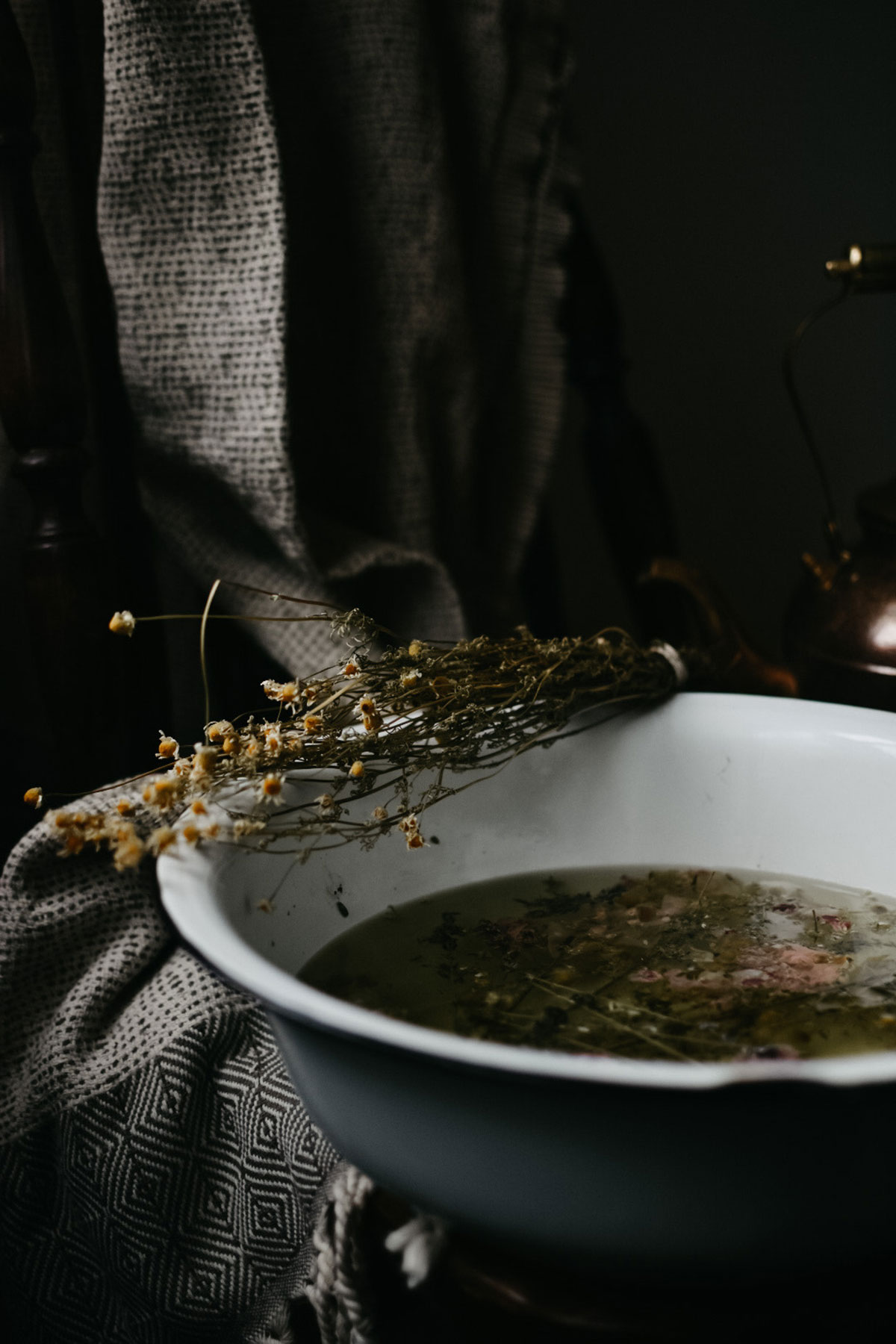 With being home all the time—and now homeschooling my children—I've found it's important for everyone's wellbeing that I take intentional breaks and space for myself. This flower steam with its nervines has been so relaxing. I'm like a new and more balanced person when I'm done.
HA: Has your herbalism experience encouraged you to learn and explore other related niches, like botanical crafts, gardening, natural dying, aromatherapy, etc? 
Alyson Morgan: I've always loved to garden, but my path with herbalism has meant that I've added more medicinal plants to my seed list in spring. I used to grow primarily vegetables, and now I grow all the herbs for winter teas and salves and flowers for my flower essences, too!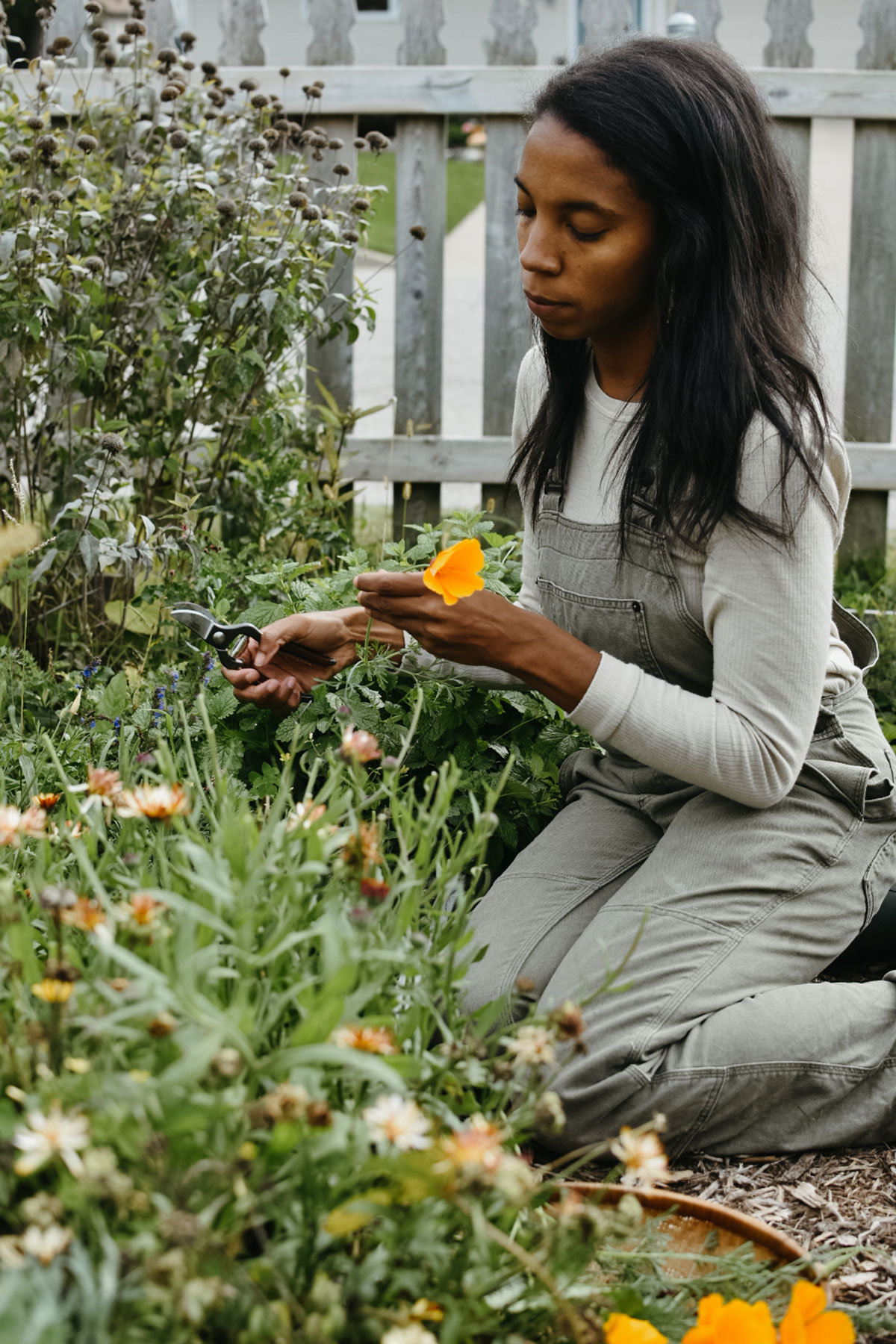 HA: How do you find yourself incorporating herbalism into your daily life? 
Alyson Morgan: 
I love herbal beverages. I find they are a lovely way for me to delineate time, a way to create ritual and have a pause in my daily life. 
I love incorporating herbal support into those moments. Whether its a daily infusion, a little cup of tea in the afternoon, an herbal shrub in the summer, or a chaga tea latte in the fall with my family by the fire. I love infusing my beverages with love, taking the time to use them intentionally, and creating a little self-care ritual all in one. 
HA: Did you feel that something in your life was missing before your discovered herbalism? If so, what do you think it was and how was herbalism helped? 
Alyson Morgan: Connection. A physical way to connect with the earth and feel one with the earth. Finding a plant, knowing its name and uses, asking for permission to pick a leaf, rubbing it between your fingers and taking a bite, you feel your place in it all, the reciprocity of existence, and you feel supported by the earth.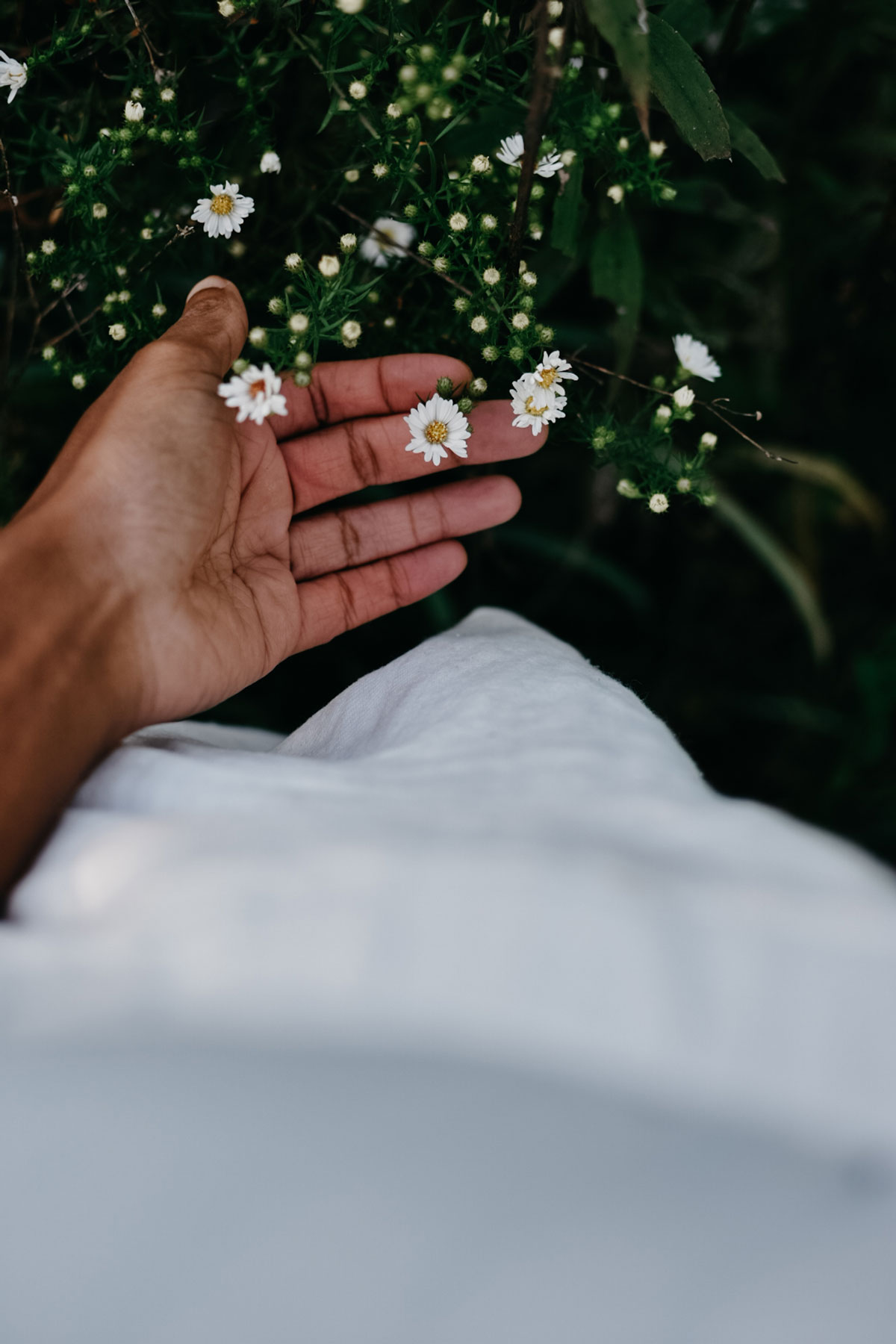 HA: Which herbalism teachers, authors, or peers do you find most inspiring, and why? 
Alyson Morgan: Oh my goodness, I can't even begin to express my gratitude for the herbal community. From the herbalist who lived in my home before me and gifted me with her garden, to all the herbalists in my community who helped me learn about the plants and grow the confidence to try one tincture or herbal honey or to take a nibble of a plant I didn't know, to the herbalists at conferences who created a community of safety and reciprocity, to the herbalists in the online community who touch my heart and help me grow from afar. Some herbalist friends and mentors, to name a few, who I'm so grateful to have met, to know, and are in relationship with are: 
Rachel Wolf of

Lusa Mama

, a local herbalist, friend, and mentor who has proved to be a light on my herbal path (

@lusa_mama

).

Asia Suler of

One Willow Apothecaries

, a teacher who helped me trust the power of my own intuition and trust my connection to the plants (

@asiasuler

). 

Herbal Academy's own

Hannah Kincaid

who I had the pleasure of meeting at the Midwest Women's Herbal Conference and I'm so grateful to have come to work with again (

@hannah_aften

). 

Linda Conroy of

Moonwise Herbs

is a friend, teacher, and mentor who runs the Midwest Women's Conference and teaches at our local Driftless Folk School. She has supported and encouraged me, and she creates the most wonderful and nourishing herbal environments (

@moonwiseherbs

). 

Sarah Corbett from

Rowan and Sage

is such a beacon of knowledge and authenticity in the online herbal space. Her teachings and coachings helped me to start my own online herbal business, and she continues to be a friend and teacher who challenges me to go deeper in my own herbal work (

@rowanandsage

). 

I look to the work of Leah Penniman at

Soul Fire Farm

and author of

Farming While Black

as a role model and voice on herbalism that speaks to my own ancestral roots. Leah has opened up my understanding of my Haitian ancestry, resilience, and how it is rooted in working with the land and herbalism (

@leahpenniman

). 

Farai Harreld of

Folk Herbalism for Everyone

always encourages me to connect to the plants and speak my truths (

@TheHillbillyAfrican

). 

Oh, there are so many more! It is how plants bring the community together that is astounding and life-giving.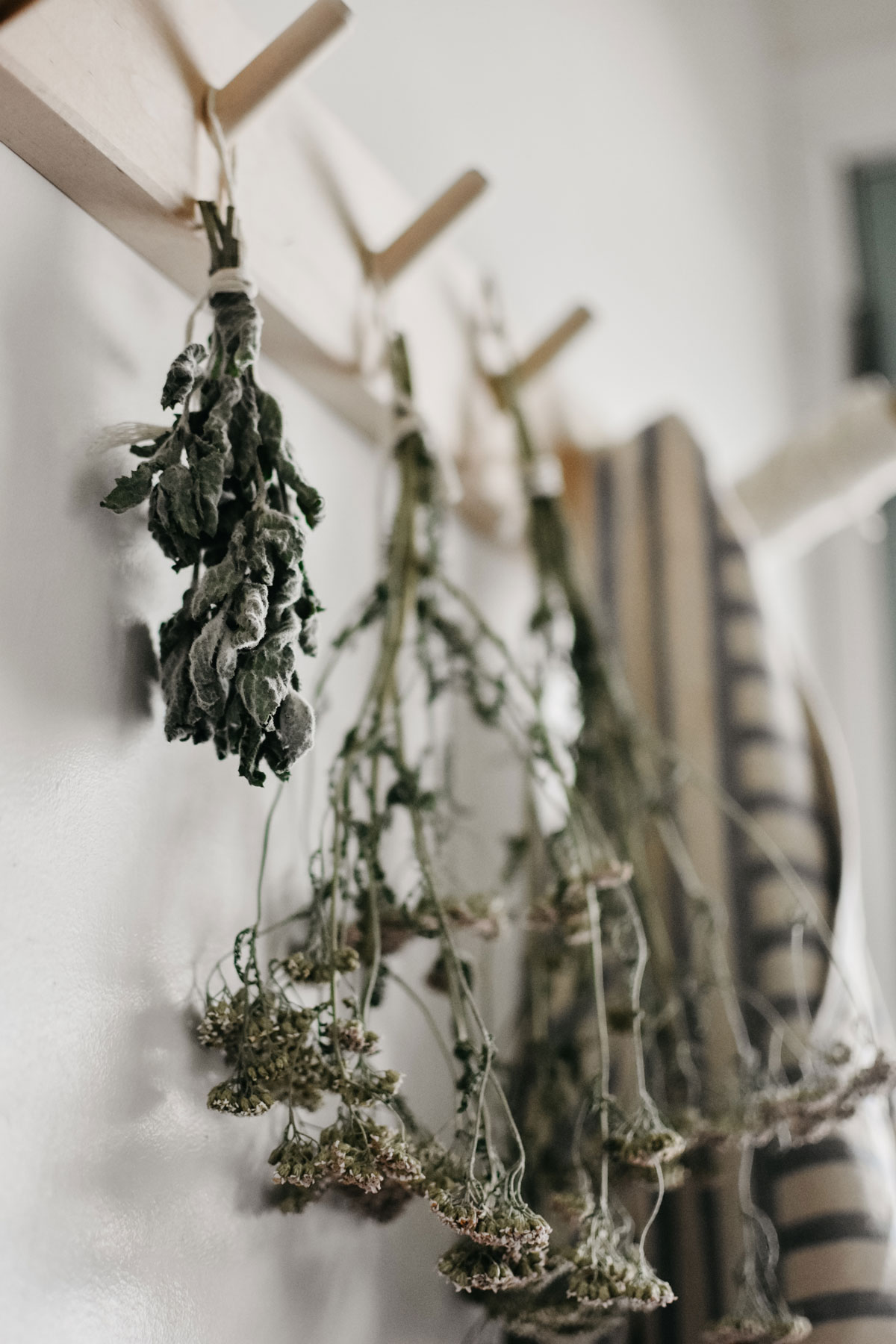 HA: What is your favorite herbalism resource (book, podcast, movie) and why? 
Alyson Morgan: Rosemary Gladstar's Herbal Recipes for Vibrant Health: 175 Teas, Tonics, Oils, Salves, Tinctures and Other Natural Remedies for the Entire Family is my ultimate go-to book for the whole family. 
HA: Do you enjoy sharing your herbal knowledge with others in your life via recipes, products, photography, blog posts, community workshops, etc? 
Alyson Morgan: I've really enjoyed sharing herbal knowledge via my Instagram @AlysonSimplyGrows and my blog and would love to do it more when time and life allows. Incorporating herbalism through food and drinks, and not just supplements and tinctures, is a way to connect with how plants can be used to support our bodies in simple and everyday ways.
HA: How has herbalism sparked your creativity? 
Alyson Morgan: With the knowledge of plant energetics and actions that I've learned through the Herbal Academy courses, I love creating seasonal recipes. For instance, elderflower is a cooling plant used in formulas and teas to support fevers, so in the summer I love blending elderflower into lemonade and shrubs to cool us from the inside out. Having the knowledge to use the plants around me to create and nourish, sparks my creativity and blends my passions.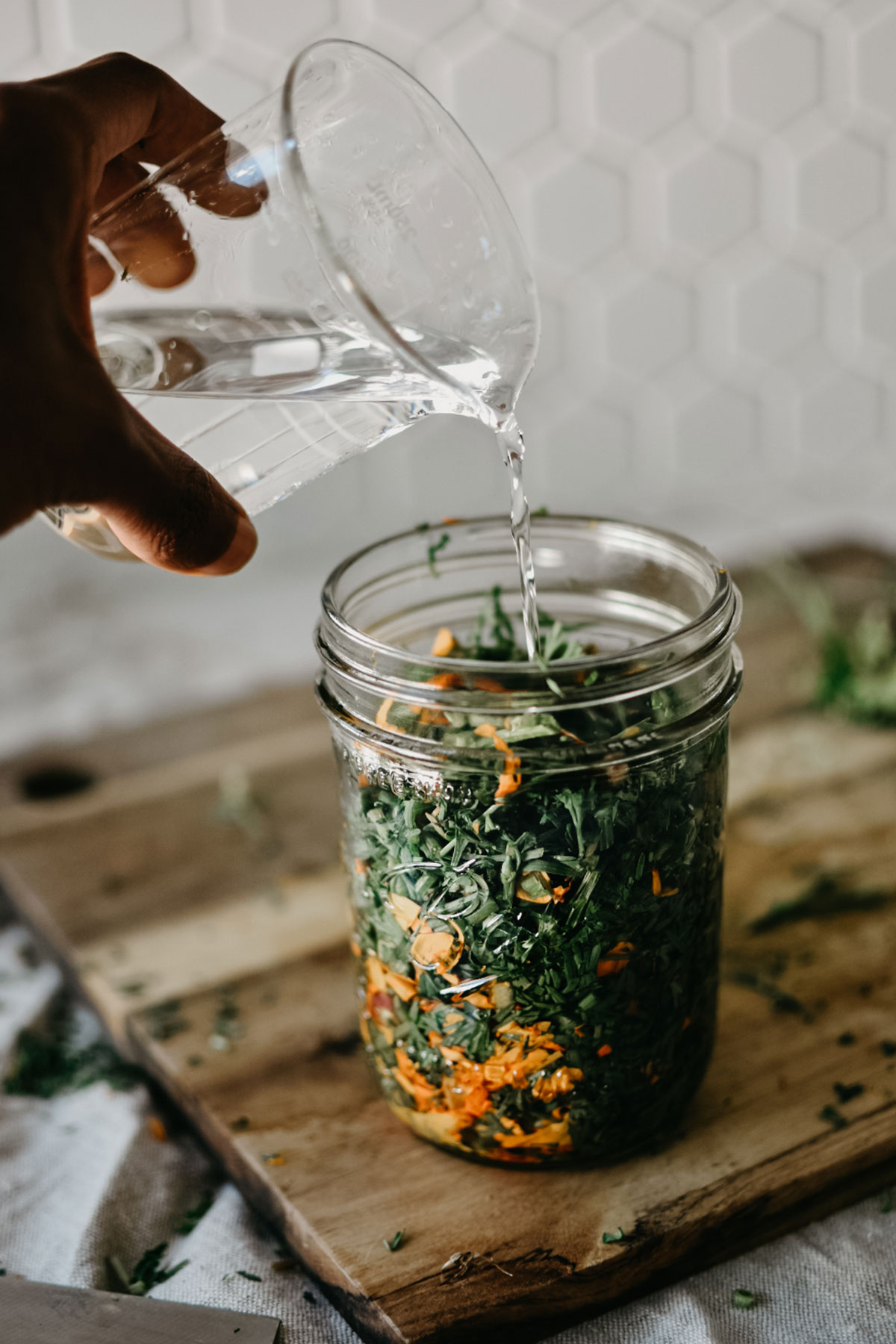 HA: If you could provide any tip or encouragement to those just starting their herbal studies, what would it be? 
Alyson Morgan: 
Start where you are. Herbalism is a lifelong journey and the layers are always unfolding. Reflect on plants you've loved for a long time, maybe plants you connected with in your childhood and research them—that is most likely where your journey began. 
Start paying attention to the plants around you, noticing their patterns and distribution and what is calling to you. Take your first steps toward plants that are already in your life, trust your inklings. Maybe it is a cup of tea you love drinking. What's in that teabag? A tree you always look up at, who is she? Get curious. Plants make up the food we eat, our homes, and the clothes we wear. Plants are all around us even when we aren't really paying attention, and those plants are often the portal to deep learning and connection with nature. 
HA: If you were to recommend an Herbal Academy course to your best friend, what would you say? 
Alyson Morgan: I recommend Herbal Academy courses to my friends all the time, actually, because there is something for everyone! There is an access point for anyone. If you can't commit to a full course, then the shorter ones, like The Foraging Course, or The Mushroom Course are all great options. I often recommend The Herbarium as an excellent place to start because you can begin to see how it's all laid out and how in-depth it is. The information on plants is so thoroughly researched, I feel safe and confident employing the skills I learn and recommending others do as well.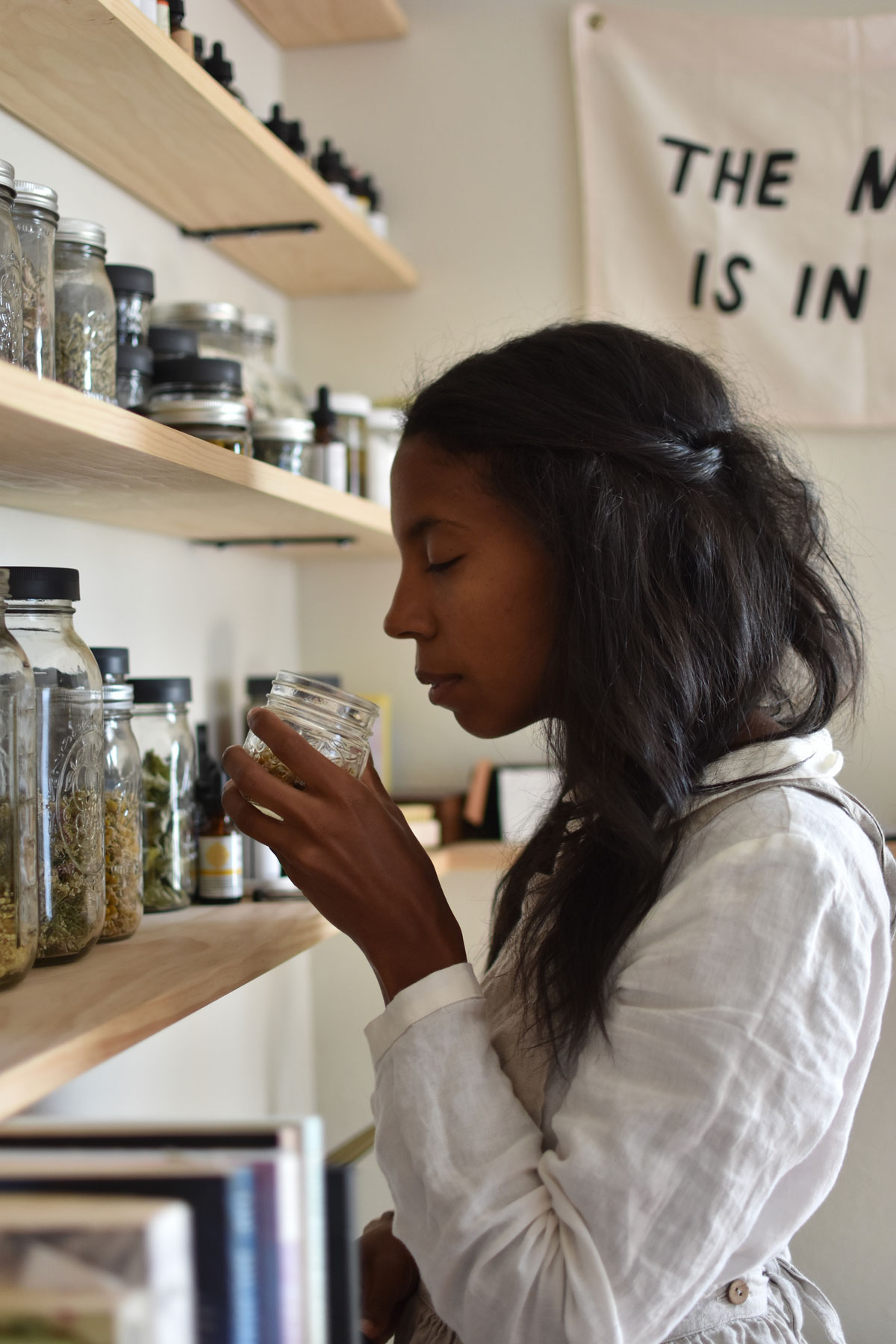 HA: Tell us, what's next for you in your herbal journey? 
Alyson Morgan: Although COVID and shifts to our lifestyles have slowed me down a bit, I'm in the middle of creating and developing more herbal products, continuing my studies to be able to craft more targeted herbal supports, and writing more about plants. My husband and I recently purchased 40 acres of farmland where we would like to build a home, and, in the future, my goal is to grow more plants to use in my business and products. 
Find More,
Explore Alyson's herbal product line or read her seasonal blog posts at Earth Star Herbals. Connect with her directly on Instagram @AlysonSimplyGrows. 
Stay tuned for the next installment of our Student Feature Series with Colleen Codekas of Grow Forage Cook Ferment (@GrowForageCookFerment), or go back in time to read our interviews with:

Cat Seixas (@TheOliveTreesAndTheMoon)
Ashley York (@WhimsyAndWhile)
Stephanie Pavelko (@MyTinyLagunaKitchen)
Inspired by Alyson's herbal journey? Further your own journey today by perusing our online herbal courses.
Photo credit: All images in this post are by Alyson Morgan.