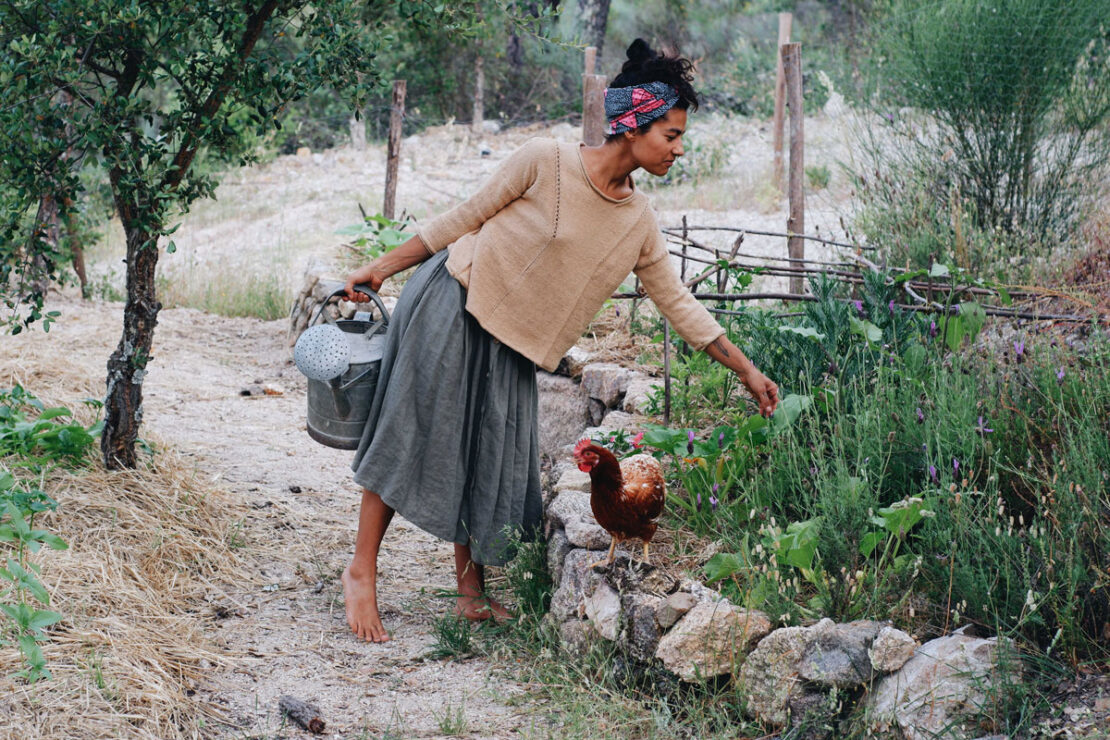 Student Feature: Cat Seixas (@ The Olive Trees And The Moon)
In the first installment of our Student Feature Series, we chatted with Cat Seixas (@TheOliveTreesAndTheMoon) about how herbalism has impacted her life for the better and empowered her to more deeply understand her family's health. Cat is an inspiration to us all. She and her partner have spent the last six years building their gorgeous off-grid home in Portugal where they seek to live a life in harmony with the seasons.
Cat is a student in our Intermediate Herbal Course, and we loved hearing about the rituals she's integrated into her life—and the plants she feels most drawn to—since expanding her education with the Herbal Academy. Cat is also a mother, gardener, Land steward, and talented knitter. We hope you enjoy this student interview with the ever-lovely Cat!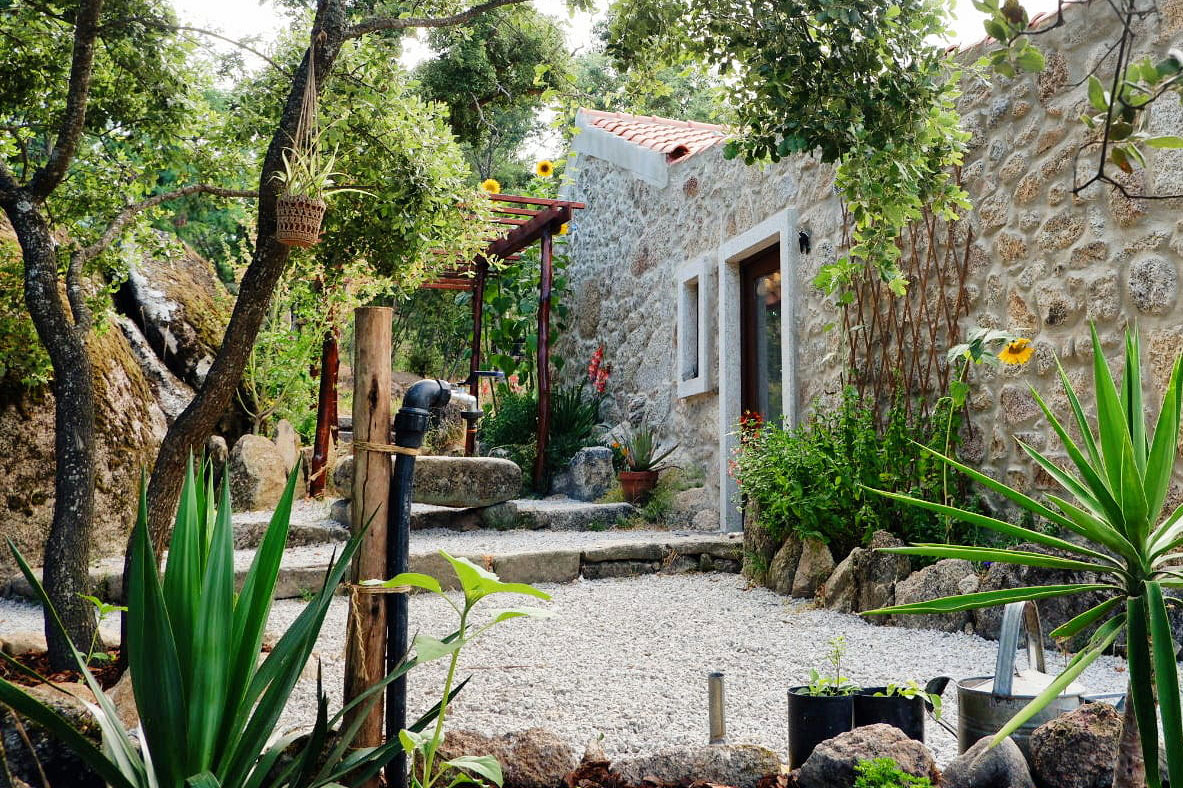 HA: How did your herbalism path begin?
Cat: I started my herbalism journey learning from our local elders when we first moved into the countryside six years ago. It was a way for me to become more in-tune with our bioregion, and to reflect that knowledge into our family's wellness. Herbalism ended up turning into a real passion, which I now use to support my family and my close community, although I don't think I will ever grow it outside of my close circle of folks.
HA: Why did you choose to pursue your education with the Herbal Academy?
Cat: I believe I came across the Herbal Academy through social media, and I always resonated with what you shared. 
My herbalism studies were mostly done through elder knowledge, books, or first-hand experience, but I was feeling the need for something deeper and more consistent. 
Some of the herbalists I follow on Instagram had studied at the Herbal Academy, which got me dreaming about doing the same myself. After having a taste of the courses with the Materia Medica Course (which was being offered for free at the time), I started saving up for a more extensive herbal course. (And then one day, one of my favorite herbalists posted a discount code, and the rest is history! )
Even though the courses are self-paced, I like that they require me to be organized with my time, which didn't really happen when I was studying alone. The different units go through the nitty-gritty of each topic, which I didn't have when learning in person with local folks, either.
I like how the courses combine the best of book learning and folk-knowledge-learning with accurate information, videos, and a check-in at the end of each unit.
HA: What do you like most about your Herbal Academy course?
Cat: I love the call to go out and try things for yourself with different fun recipes, which is how things really get into your brain! 
I also really enjoy that each unit can be printed out. I don't like spending too much time in front of a screen, so I always print each unit out to study wherever is convenient for me on that day.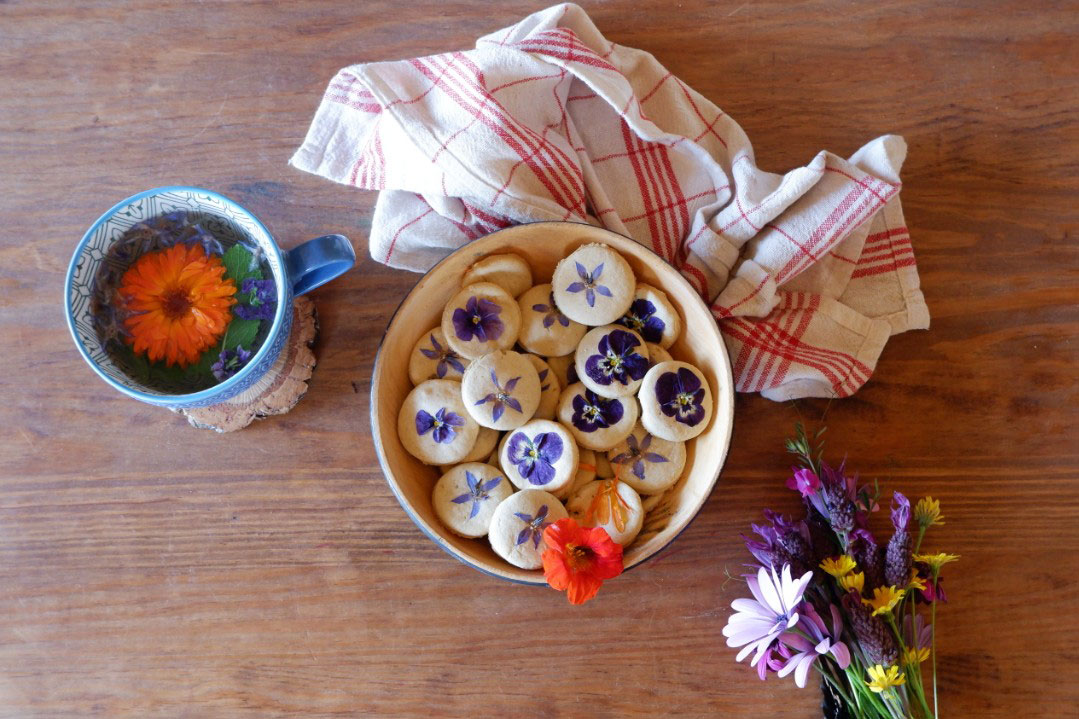 HA: How has your herbal education deepened your connection with nature and the seasons?
Working with herbs, especially if you work with fresh material, is all about the seasons. The anticipation by the end of winter, waiting for the first green leaves to appear, it's all so full of possibility. 
Greeting the different herbs of each season, and knowing they won't last more than a few weeks, makes you relate to the season in a different way.
Yes, seasons bring temperature and humidity, drought and light, but they are also flora—and the way your body behaves differently in each season, and the way your local, season-specific herbs can support you in finding balance. It's all connected!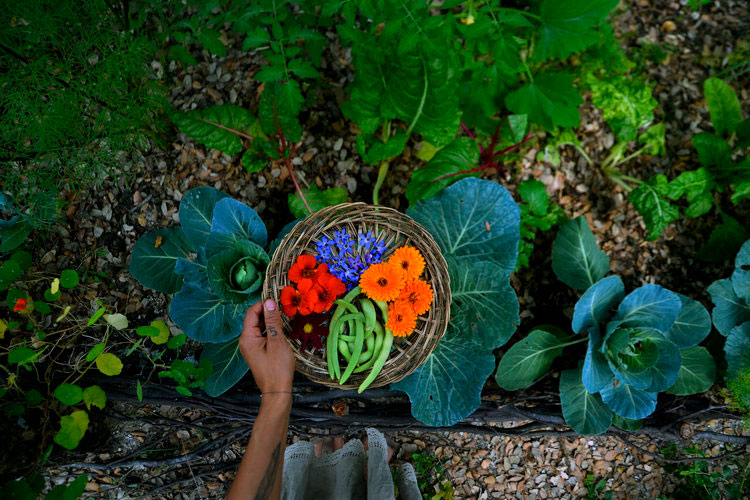 HA: Do you feel empowered by your herbal practice? If so, how?
Cat: I really do. First and foremost, I feel empowered because I've learnt about plant constituents and actions, and how these act upon the body. Then, because my studies have also led to a deeper understanding of my own body's constitution (and my family's too!). Having learnt these basics, I feel more confident making herbal choices for specific situations, which is very empowering.
HA: Is there a specific herb that you feel particularly drawn to? 
Cat: Hawthorn is an herb that calls to me loudly. I had never met her until we started tending Land, and our hill has quite a few of these growing wild—they're also next to the house and in the entrance of our garden. 
I'm fascinated by thorny plants that may seem rough and unwelcoming at first, but then with time you start getting close to. 
You realise that the thorns are not an aggression, but instead a defense, like a good boundary setting. And then she fruits, and you realise that you're relating to a plant that is actually very generous, giving freely to the creatures that live close to her. Her support is simple, and gentle. Then, when I started readingall the folklore surrounding hawthorn, my fascination became a true love affair.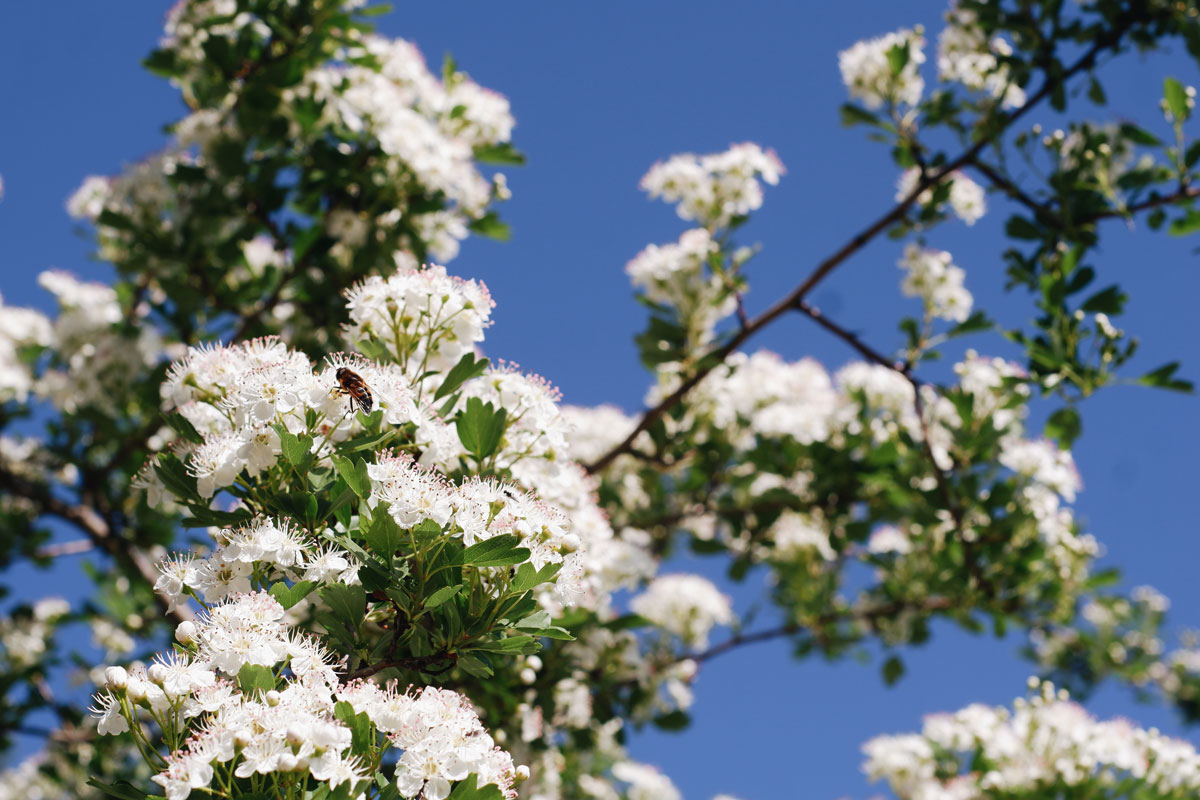 HA: If you were an herb, which herb would you be?
Cat: If I were an herb, I would probably be rosemary because she's resilient, adapted to warm and dry climates, low maintenance, and easily overlooked. But rosemary is also tender and aromatic, with so much to give. She's friendly and constant and doesn't ask for much.
HA: Do you have any rituals or traditions surrounding herbalism? 
Cat: When getting to know a new herb, I like to taste it. Before I do any other preparation, my first approach is to nibble on it, and then to infuse it. Before making a tincture, elixir, or salve out of it, —unless otherwise advised—I love to prepare a tea first. 
I enjoy getting to know an herb through taste and noticing how it makes my body feel. It's such a lovely way to connect with a herb! 
HA: What is your favorite herbalism resource (book, podcast, movie) and why?
Cat: I have two favorite herbalism books. The first one is David Hoffmann's Holistic Herbal, which goes so concisely into the different body systems and has an holistic approach to health and wellbeing. 
And also Magic and Medicine of Plants, by Reader's Digest, which I was lucky enough to find in its Portuguese edition at a local flea market. I love that this last one speaks of herbs most seen as weeds. It also includes folklore, and this edition has specifics for where each herb can be found in Portugal, where I live.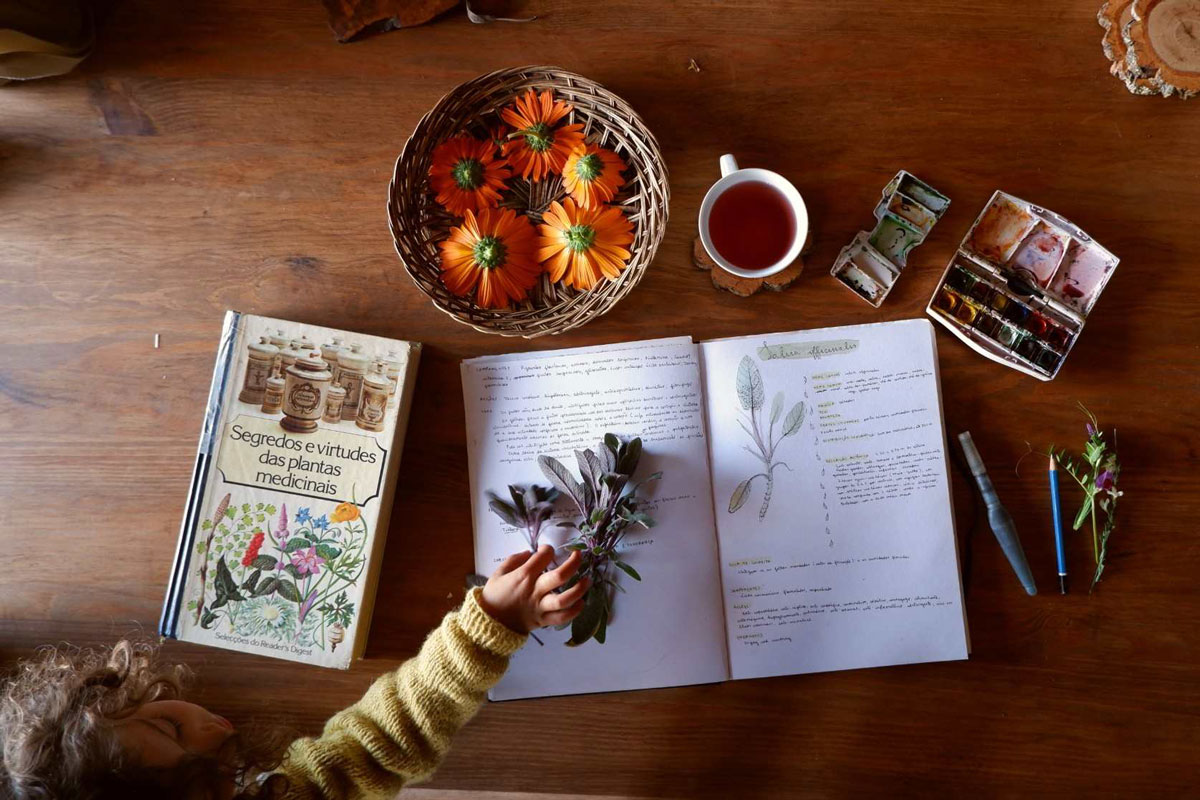 HA: What tips or encouragement would you offer those who are just starting their herbal studies?
Cat: Get a couple good bioregional plant guides, find out which herbs are local to you, and don't be afraid of asking questions! Your local elders hold so much knowledge, so don't miss the opportunity of learning from them, too!
HA: Tell us, what's next for you in your herbal journey?
Cat: Enrolling in the Intermediate Herbal Course took away my fear of alcoholic tinctures and gave me more confidence in preparing formulas with different herbs working together, so that's a venue I want to explore further. I also want to create formulas more regularly and in larger quantities, so I don't run out after sharing a handful. 
My dream is to have a cabinet full of different herbal supports, and enough knowledge for my friends and neighbors to stop by when they need advice, knowing they can trust me.
Follow Cat's herbalism journey (and soak up photos of her beautiful natural home, organic garden, and incredible knitting projects!) by connecting with her on Instagram @TheOliveTreesAndTheMoon. Stay tuned for the next installment of our Student Interview Series, featuring Ashley York (@WhimsyAndWhile). 
Inspired by Cat's herbal journey? Take the first step today by perusing our online herbal courses.
Photo credit: All images in this post are taken and shared by Cat Seixas.