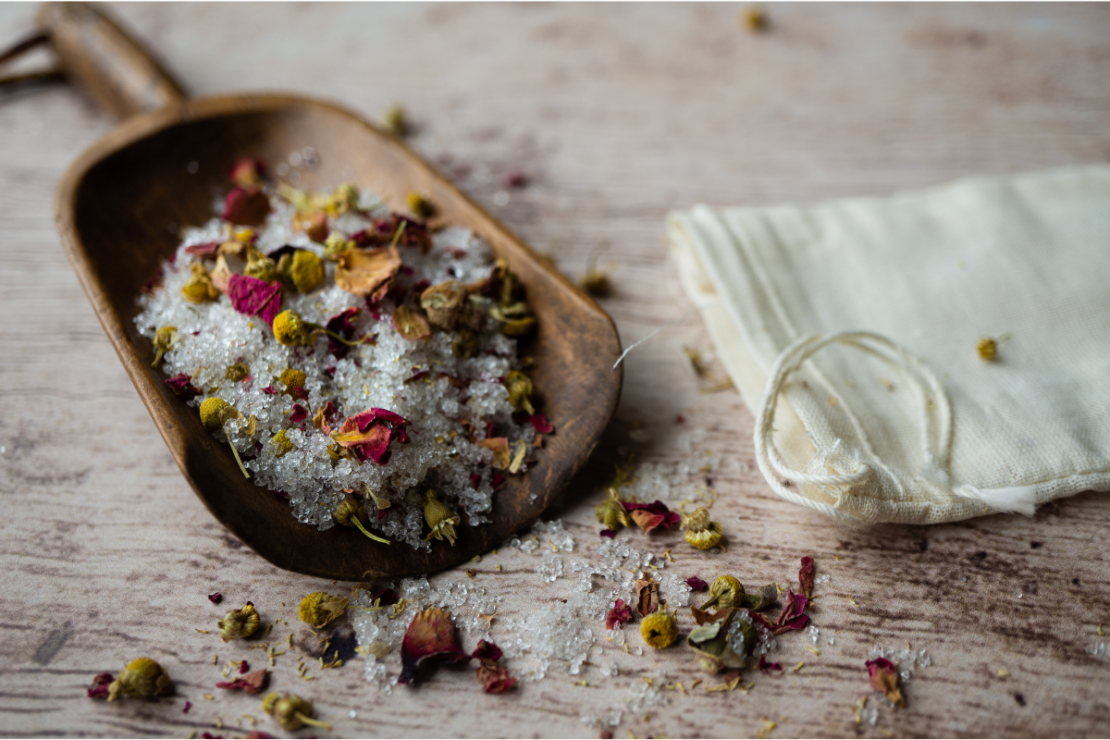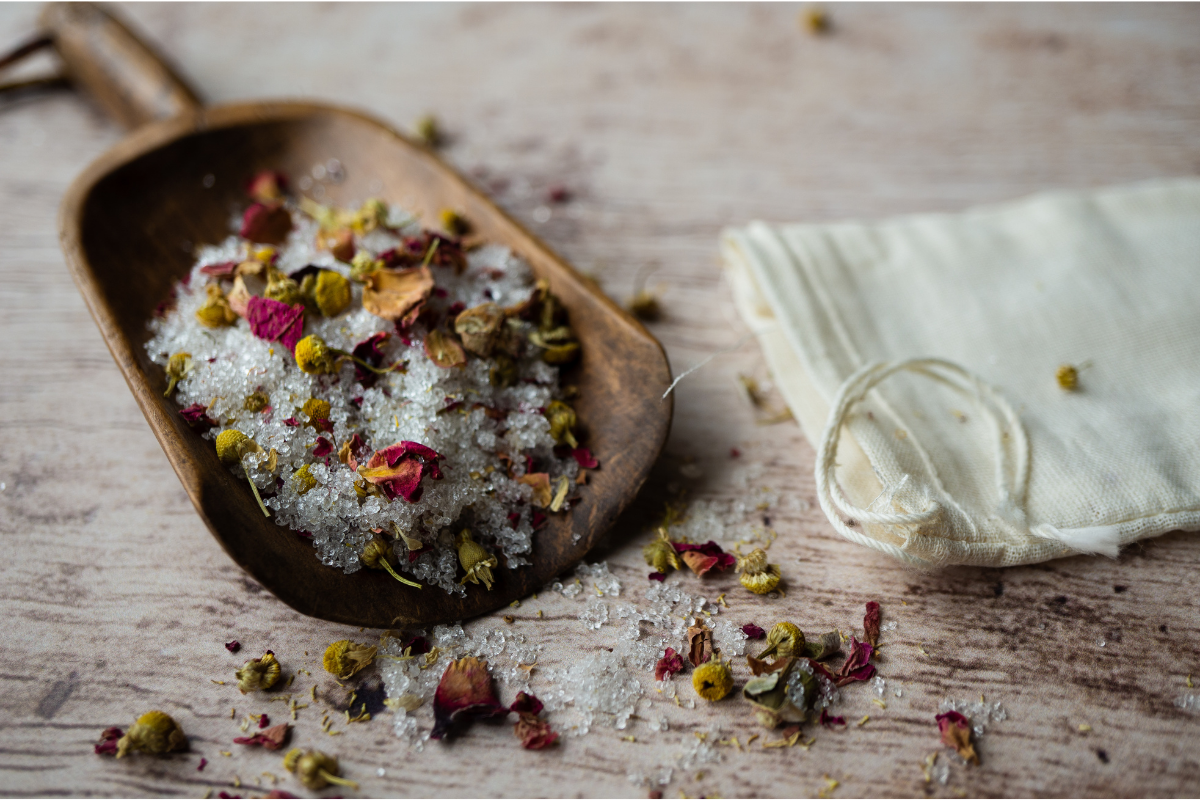 Herbal Bath Tea with Chamomile & Rose
Herbal bath tea makes a wonderful homemade gift, especially if that gift recipient is you! By blending together botanicals known for their nervine effects, this recipe includes chamomile (Matricaria chamomilla) flowers and rose (Rosa spp.) petals to combine relaxation with aromatics. 
Chamomile contains a flavonoid, apigenin, thought to be the source of the plant's sedative attributes. Apigenin works on brain receptors to induce sleepiness (Gupta et al., 2010), making it perfect for a relaxing bath. Also, due to its anti-inflammatory properties, chamomile is often used in water preparations to reduce irritation in dry skin (Justis, 2015). Rose petals offer similar nervine properties, soothing the senses and inducing a calming effect while reducing irritation in dry skin (Justis, 2015). 
Bergamot (Citrus bergamia) essential oil, made from the rind of the bergamot orange, has been found in studies to reduce anxiety by activating the GABAergic system of the body associated with muscle tension and anxiety (Lizarraga‐Valderrama, 2020). Combined with the nervine effects of rose petals and chamomile flowers, bergamot is the ideal finishing touch to this soothing bath brew. 
Because water and oil do not mix, it's best not to add essential oils directly to your bath water where they may float on top and come in direct contact with your skin. In the recipe, below, we blend the bergamot essential oil with a teaspoon of carrier oil to dilute the essential oils before mixing them with the herbal salts. Learn more about how to use essential oils in the bath in Essential Oil Bath Safety: What to Do & Not Do.
Herbal Bath Tea
This simple bath tea utilizes 'parts' instead of specific measures. Make as much of the herbal blend as you like—just be sure to keep the ratios the same. This allows the botanicals to complement rather than overwhelm each other. Self-sealing tea bags come in various sizes, making them ideal for creating an herbal tea you want to drink and soak in. If you don't have empty tea bags on hand, cheesecloth is a wonderful substitute.  
Ingredients
2 tablespoons Epsom salts
1 teaspoon rose (Rosa spp.) petals
1 teaspoon chamomile (Matricaria chamomilla) flowers
2 drops of bergamot (Citrus bergamia) essential oil
1 teaspoon carrier oil (olive, apricot, almond, jojoba, etc.)
Directions
Place carrier oil in a small bowl, add bergamot essential oil and stir to combine. 
Add dry ingredients to the bowl and mix  all ingredients with a whisk.
Place about ½ cup of the herbal blend bath into an empty tea bag. This may be more or less depending on the size of teabags you choose. Place the herbs into the bag and fill it about halfway. 
Fold over the top and seal the tea bag using a hot iron. 
Drop the herb-filled tea bag into your warm bath while the water is running, then sit back and enjoy the soothing, aromatic treat.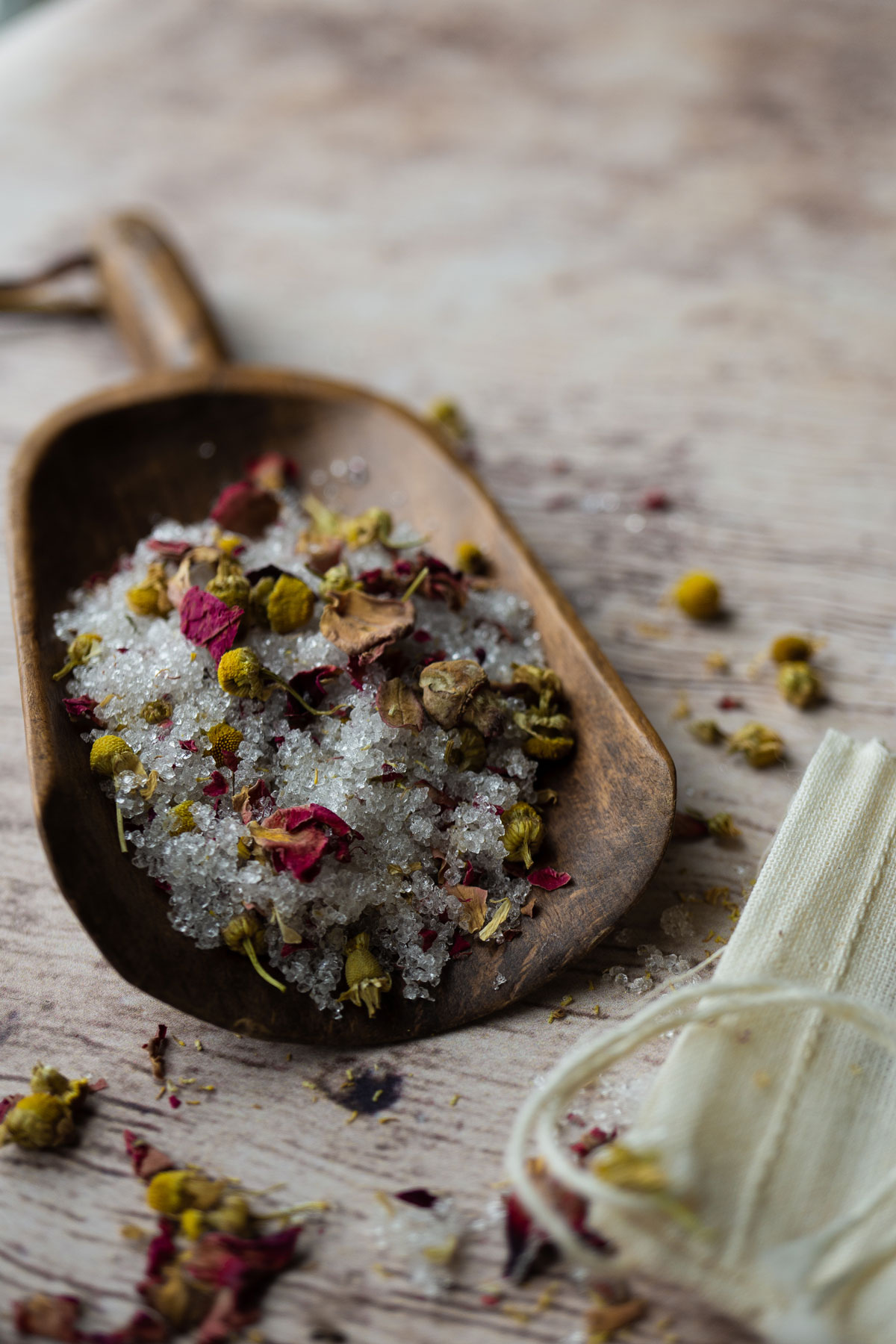 Try variations of this herbal bath tea by adding lavender, oatmeal, lemon balm, and other calming ingredients as seen in the recipes, below. 
A Relaxing Soak for Dry Skin
4 parts Epsom salts
1 part lavender (Lavandula spp.) flower
1 part ground oatmeal
2 drops grapefruit essential oil
1 teaspoon carrier oil (olive, apricot, almond, jojoba, etc.)
Keep the "Scrooges" Away: Uplifting Blend Adapted from Rosemary Gladstar
4 parts Epsom salts
1 part rose (Rosa spp.) petals
1 part chamomile (Matricaria chamomilla) flower
1 part lavender (Lavandula spp.) flower
1 part lemon balm leaf
Creating herbal bath tea blends is an opportunity to create customized gifts for friends and family. For more homemade gift ideas, be sure to check out Herbal Academy's The Herbal Gift Box. 
For more decadent herbal bath recipes, see:

How to Make a Summer Garden Bath Tea
How to Make a Nourishing Milk Bath for Self Care
Bedtime Herbal Bath Recipe with Linden, Catnip, Lavender, and More
Soothing Oatmeal Bath Recipe
DIY Lavender Bath Salts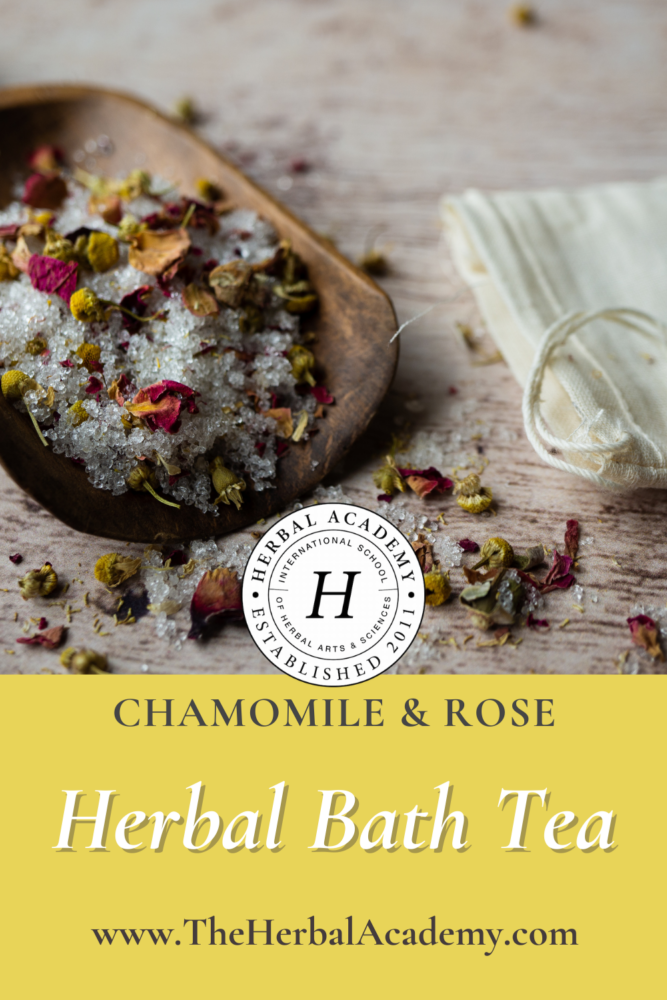 REFERENCES:
Gladstar, R. (2014). Herbs for natural beauty: create your own herbal shampoos, cleansers, creams, bath blends, and more. North Adams, MA: Storey Publishing. 
Gupta, S., Shankar, E., & Srivastava J. (2010). Chamomile: A herbal medicine of the past with a bright future. Molecular Medicine Reports, 3 (6), 895-901. https://doi.org/10.3892/mmr.2010.377
Justis, A. (2015). A family herb: chamomile flower [Blog post]. Retrieved from https://theherbalacademy.com/a-family-herb-chamomile-flower/
Justis, A. (2015). A family herb: the comforts of rose [Blog post]. Retrieved from https://theherbalacademy.com/a-family-herb-the-comforts-of-rose/
Lizarraga‐Valderrama, L. R. (2020). Effects of essential oils on central nervous system: Focus on mental health. Wiley Online Library. https://doi.org/10.1002/ptr.6854
Siegmund-Roach, S. (2019). Essential oil bath safety: What to do & not do [Blog post]. Retrieved from https://theherbalacademy.com/essential-oil-bath-safety/
Siegmund-Roach, S. (2015). A guide to essential oil safety [Blog post]. Retrieved from https://theherbalacademy.com/a-guide-to-essential-oil-safety/
Yakubowski, Y. (2013). The herbal gift box [Blog post]. Retrieved from https://theherbalacademy.com/herbal-gift-box/