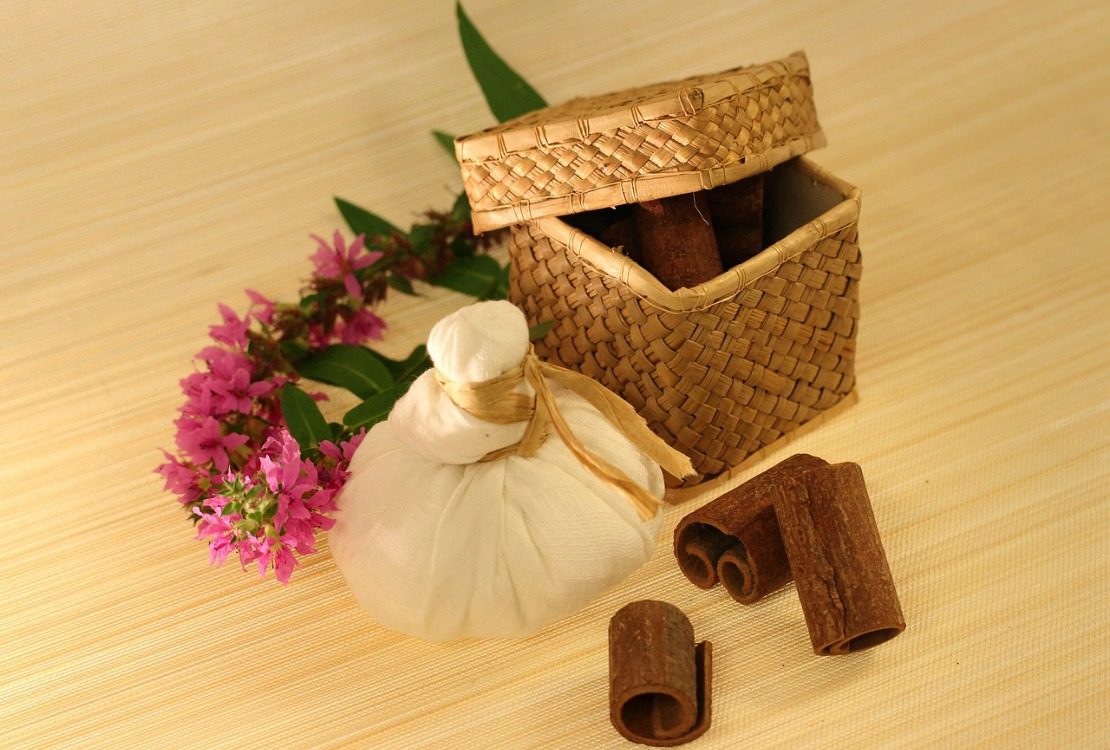 This article is written by Lena Yakubowski, yoga teacher and communications assistant at the Herbal Academy of New England. Photos by Lena.
The holidays are creeping up on us, and I know I'm not the only one feeling a financial pinch. It is a year that I've decided to tackle making all of my gifts from scratch. As I scoured the craft stores and browsed the many recipes in the Intermediate Herbalism Course, my mind began buzzing with ideas. I've been learning about plant energetics in the Intermediate Course, which helped me identify how to make a simple facial wash that has worked wonders ever since.
Naturally, I began looking at other DIY gifts I can make from simple ingredients. Knowing plants and their healing properties certainly inspired me to make my own beauty products. My draw towards making natural body products was inspired by a particular international store that shall not be named. I share a tragic love for this store, but no matter how strong my desire to purchase their amazing natural bath products, my tiny wallet protests. Really, we are star-crossed lovers.
I went to work finding recipes that were simple and began to collect the ingredients needed, one-by-one. Some great bulk herbs came from Mountain Rose Herbs and I was very surprised at how much goes a long way! Last minute herbs came to me as inspiration, so I stopped into a little local place call Debra's Natural Gourmet, in West Concord, MA. They have a great selection of herbs in bulk, so if you're in a pinch time-wise you can stop in.
As this was my first time producing products like these as gifts, I kept the concept simple and came up with a combination of recipes that can be given as a whole package or individually as gifts. After all, the face wash that I developed while studying the different properties of herbs in the Intermediate Course only involved a few simple ingredients and took little time to complete.
The first gift I made was a calming and uplifting bath tea. After all the cold weather we've had, and hustle and bustle, who wouldn't want to immerse themselves in a warming cup of fragrant tea?
Herbal Bath Tea
Ingredients
4 parts Epsom salts
1 part rose petals
1 part chamomile
2 drops of bergamot essential oil
Directions
Mix all ingredients with a whisk and then place about ½ cup into empty tea bags (Mine were from a box given to me from Teavana, 100 bags cost $5.95). You can also use cheese cloth and tie off with string.
Place the herbs in the bag about halfway, fold over the top, and iron the tea bag together.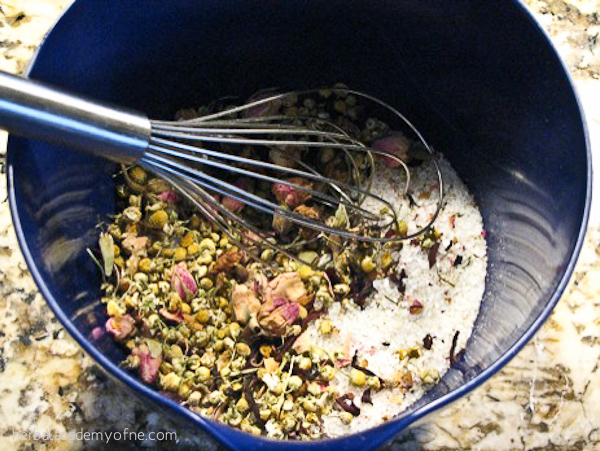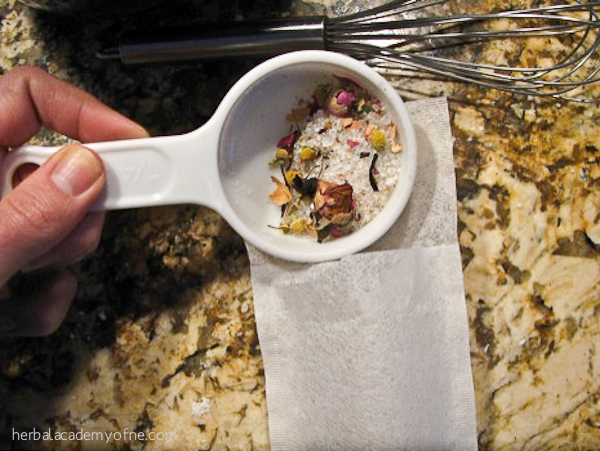 Other Suggested Combinations
Relaxing & Calming For Dry Chapped skin 
4 parts Epsom salts
1 part lavender
1 part ground oatmeal
2 drops grapefruit essential oil
Keep The "Scrooges" Away
Adapted from Rosemary Gladstar

4 parts Epsom salts
1 part rose
1 part chamomile
1 part lavender
1 part lemon balm
It is highly encouraged to experiment on your own with which herbal/oil infusions smell best!
The second gift is a warming body scrub that includes both cinnamon and ginger which are warming and great for circulation. In the winter season, warming and blood flowing properties are helpful! The rinse leaves skin soft and smelling of gingerbread cookies.
Warming Body Scrub
Ingredients
1 part ground clove
1 part grated cinnamon stick
1 part grated ginger
1 ½ cup of brown sugar
½ cup of grapeseed oil, coconut oil, almond oil (whichever you prefer!)
5 drops of orange essential oil
Directions
Mix the dry first with a whisk and then add the oil.
Place in jars and voila!
The cinnamon and ginger are particularly nice due to their warming qualities, and with all that dry skin these days the oil and scrub sure make for soft yummy feeling skin!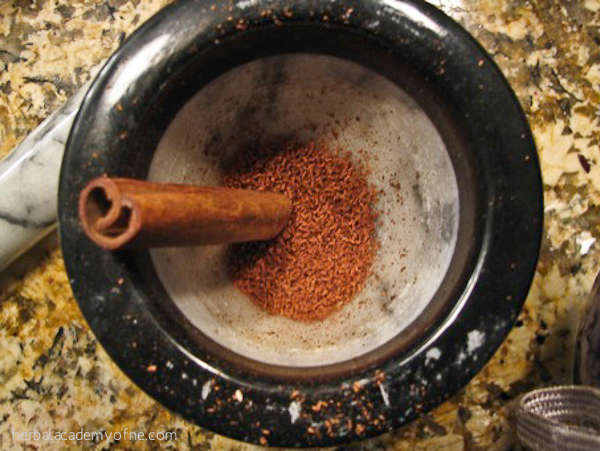 The third gift is the facial wash/scrub that inspired this whole endeavor. My original recipe includes chamomile, which is great for acne and calming the skin; lavender has similar properties and can also have a wonderful anti-aging benefit. Cornmeal is softening and exfoliating and the oatmeal is softening as well. Adding tea tree oil boosts the cleansing action of the wash!
Lena's Facial Wash
Ingredients
2 parts ground oatmeal
2 parts cornmeal
1 part ground lavender or chamomile
Optional tea tree oil (5 drops)
Directions
Mix all ingredients together until well blended and add honey tablespoon by tablespoon until the mixture forms cookie dough like consistency.
Grab a pinch and add a touch of water to form a paste.
Apply to a wet face and work in circles around entire face and neck. Rinse clean and voila—totally natural and fabulous smelling face cleanser.