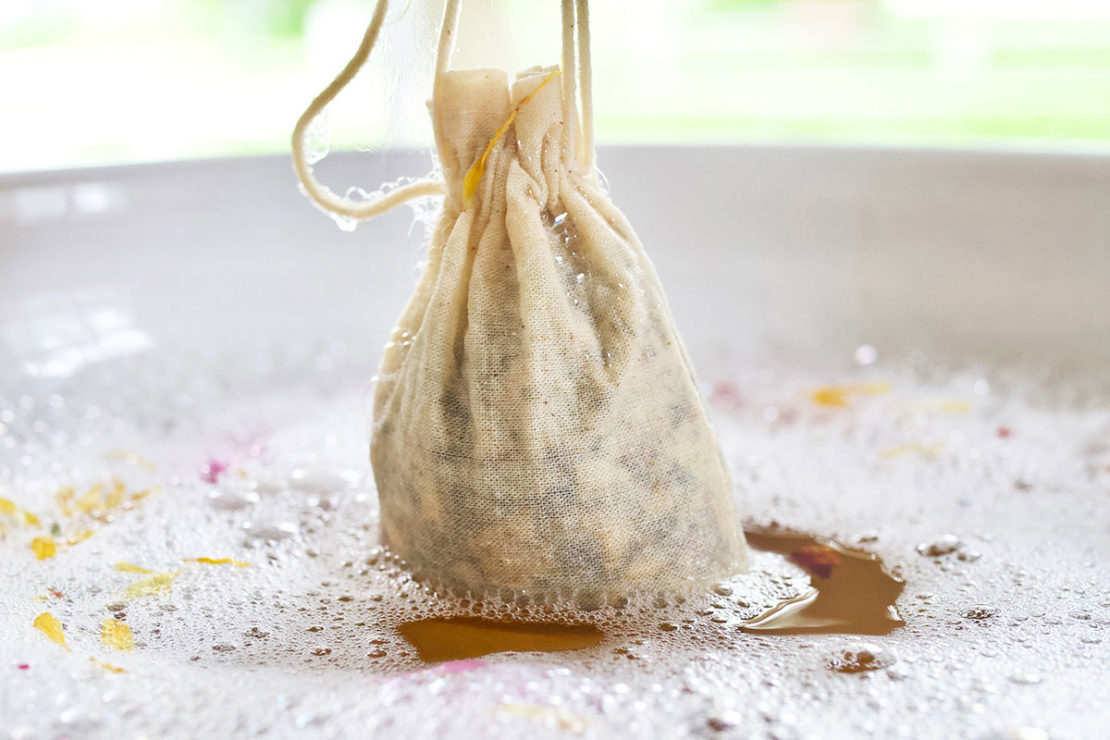 How To Make A Summer Garden Bath Tea
What's better than unwinding into a summer garden bath tea?
Much like drinking herbal teas, herbal bath teas can also be enjoyed long past the last sip, or in this case, soak. You see, when you soak in a relaxing herbal bath tea, not only does your skin soak in the calming, stress-relieving herbal benefits, but the herbs and warm water are soothing to the muscles as well.
So, whether you're choosing plants based on color and texture, such as lavender and calendula, or plants with the most robust flavors like lemon balm and peppermint for your herb garden—you can double your efforts and choose to include colorful and flavorful herbs known for relaxation in your summer garden bath tea.
Keep reading for a selection of our top five tranquil herbs to include a summer garden bath tea alongside helpful tips for planting, growing, and harvesting your relaxing summer bounty!
Growing An Herbal Tea Garden? Tips for Planting and Harvesting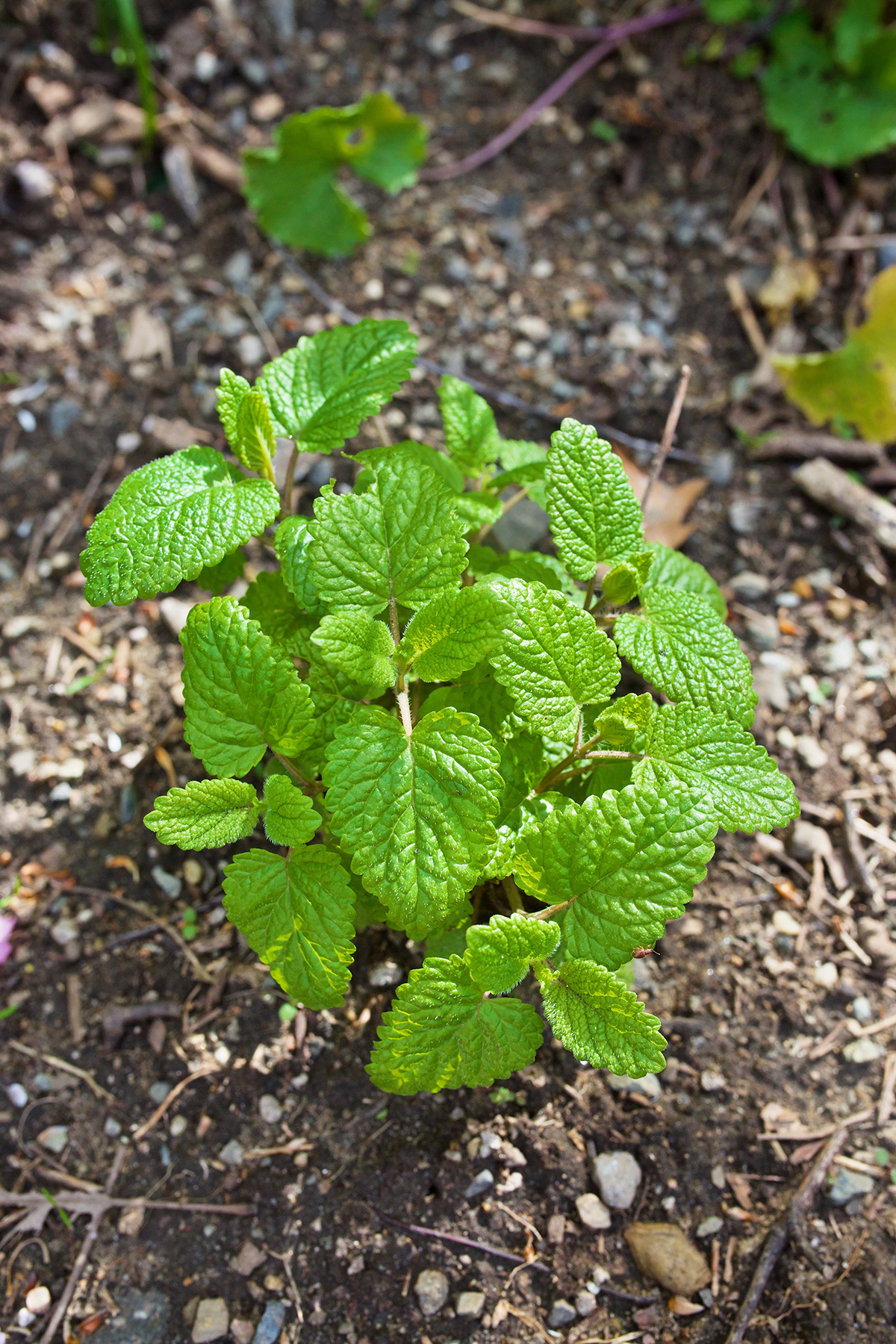 When planning an herbal tea garden, the most important thing you can do, in addition to caring for plants without the use of pesticides, is to only buy organic plants and soil. Obviously, you wouldn't want to sip on any harsh chemicals when drinking your tea, now would you? The same goes for using herbs on your skin which is the case when you harvest herbs from your tea garden and use them to make a summer garden bath tea.
When it comes to harvesting your herbs, whether to drink or to soak in, cut the herbs mid-morning, after the morning dew has dried from the leaves. Next, tie small bunches of herbs together and hang the bunches to air dry upside down for a week or two. When the stems easily break, it's a sign that the drying process is complete. If you would like to speed the process up, dry your herbs using a dehydrator instead.
No matter which drying method you choose, when your herbs are dry, carefully remove all flowers and leaves from the plant stems, and store them in airtight, labeled containers away from heat and sunlight. This helps to ensure they will last for at least a year.
The Perfect Herbs for a Relaxing Summer Garden Bath Tea
To create a relaxing summer garden bath tea, you'll want to fill your bath with the aroma of a summertime garden in a botanical medley of herbs and citrus to calm the mind and soothe the body.
Below are brief descriptions and growing tips for five herbs that would make a lovely summer garden bath tea.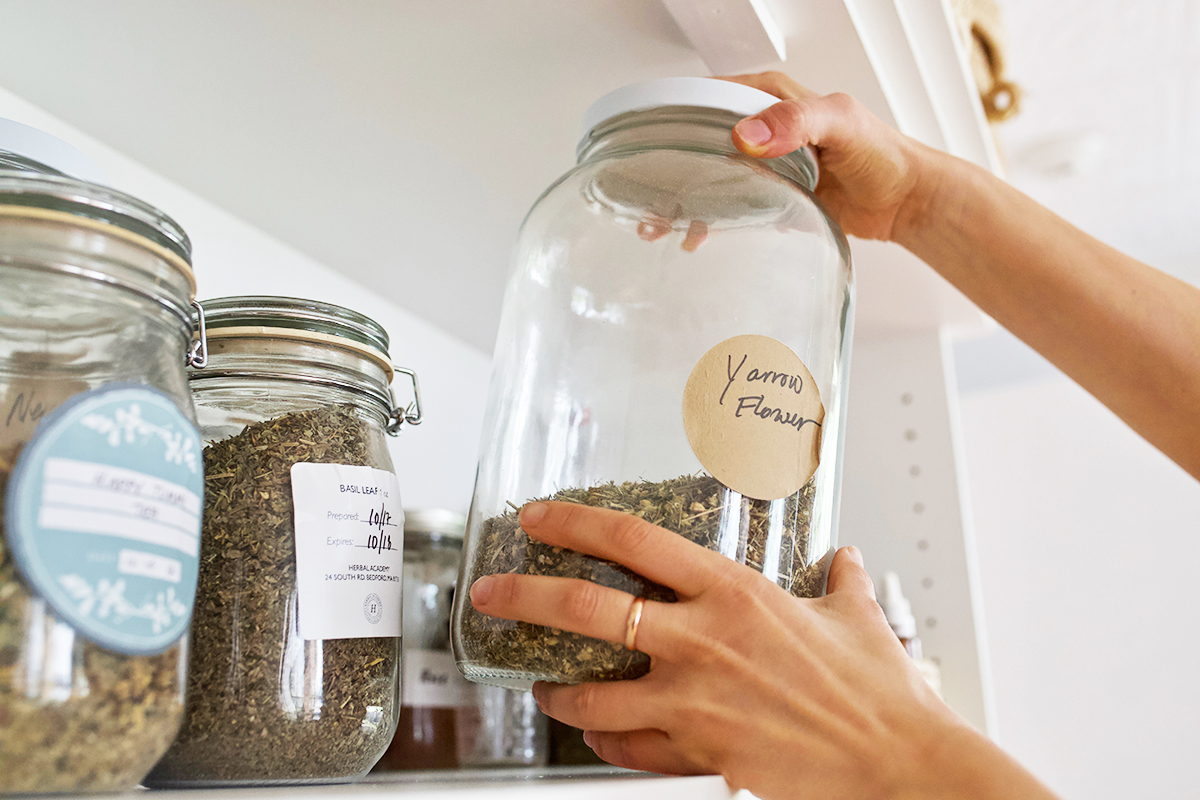 Yarrow (Achillea millefolium) Aerial Parts
The soft, creamy flower clusters on feathery silver-gray foliage of yarrow have been used since the time of the ancient Egyptians and Greeks (McIntyre, 1996). It was during this time that yarrow earned its namesake Achillea from the Greek hero Achilles.
Yarrow is a valuable garden plant, widely grown for its multipurpose use as an excellent cut flower or fresh or dried herb for teas and tinctures. The foliage of yarrow has a clean herbal fragrance that can be truly enjoyed in a summer garden bath tea. The relaxing, antispasmodic nature of yarrow also happens to be helpful for menstrual cramps (Edwards, 2000) among other things.
Yarrow Growing Tips:

Yarrow is best grown in full sun and in well-drained soil. Yarrow provides a long season of visual interest, and it is normally free of disease and pests.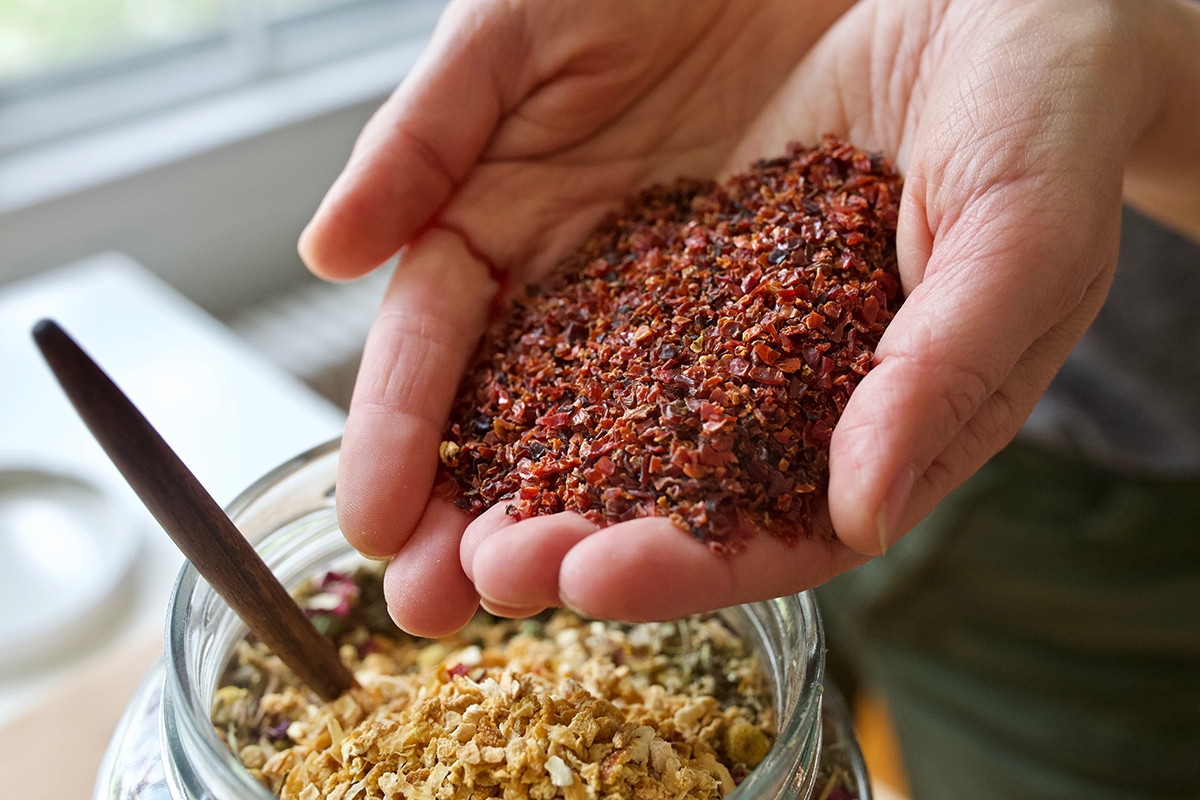 Rose (Rosa spp.) Hip
A timeless symbol of love and beauty with origins in ancient Persia, the Rosa family now boasts over 100 species (Boskabady, Shafei, Saberi, & Amini, 2011). The early use of rose likely began due to its aromatic scent and heavenly taste as a flavoring for wine and as decoration and a bath herb. While the leaves, buds, and petals can be used to make tea—the rose hips are the fruit of the rose.
Dried rose hips are high in vitamins A and C, and they are also a good source of potassium, folate, magnesium, and calcium (SELF Nutrition Data, n.d.). This makes rose hips a wonderful addition to a summer garden bath tea.
Rose Growing Tips:

When choosing roses to plant, choose ones that have a pleasing scent. Old-fashioned fragrant heirloom roses work quite well. Pick a sunny spot with well-drained soil that receives at least 6 hours of sun a day. Check often for disease or insects and prune regularly.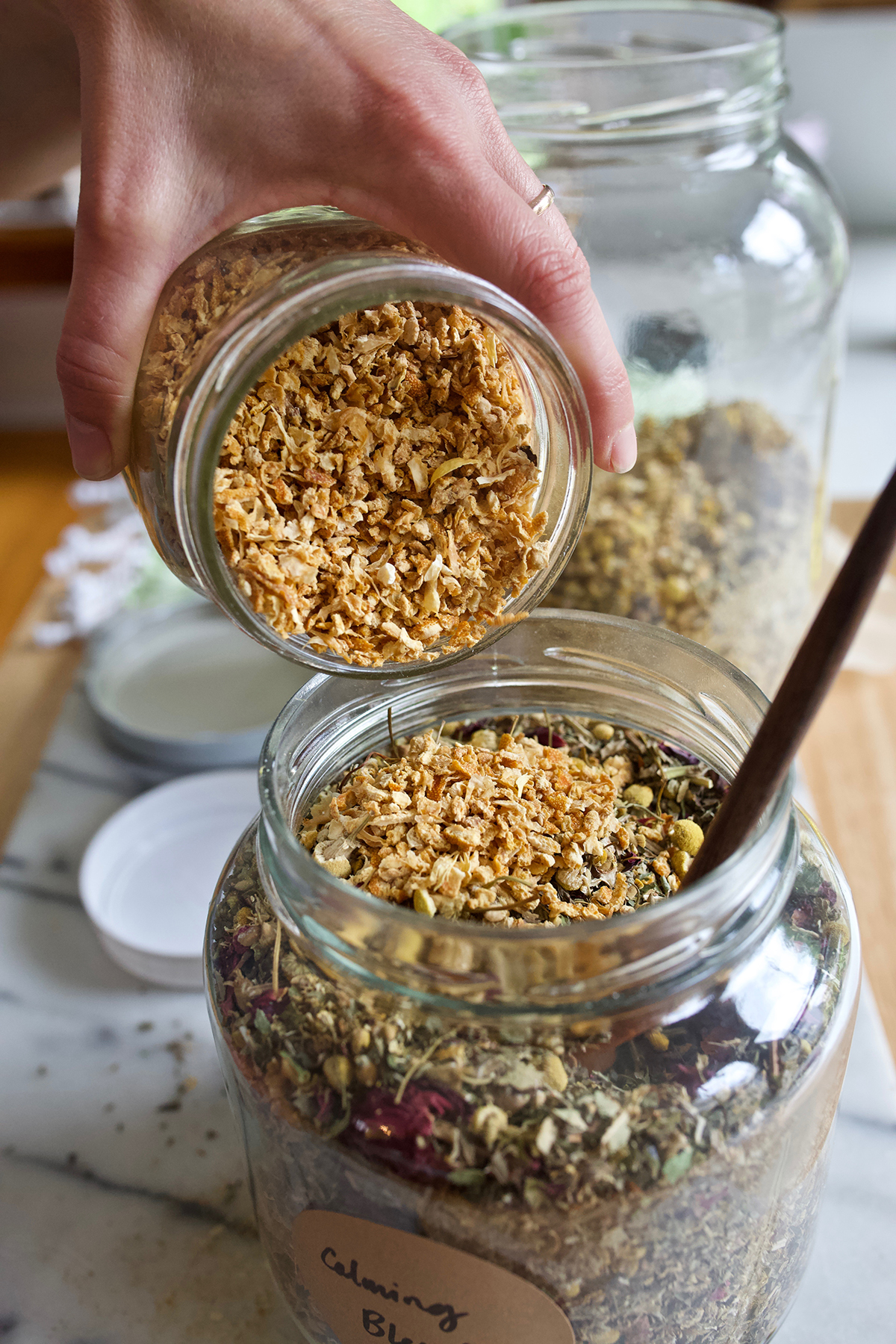 Lemon (Citrus x limon) Peel
The term lemon peel encompasses the zest, rind, and outer shell of the fruit; basically, the peel is everything but the fruit inside. Zesty, tart lemon peel is a popular addition to herbal teas for aroma and taste enhancement. Even the ancient Greeks and Romans recorded the many benefits of every part of the lemon fruit, including its peel (Arias et al., 2005).
Lemon peel contains limonene, a powerful antioxidant, and high levels of vitamin C which can give our skin a healthy boost and fight free radicals to reduce the signs of aging (Stanway, 2013). In addition, it also contains astringent properties that detoxify the body making it a powerful, yet sweet, aromatic addition to a summer garden bath tea (Earle, 2016).
While you can purchase a jar of dried lemon peel in the spice aisle of the grocery store, it can also easily be prepared at home in a short amount of time. And if you are growing your own lemons, you'll be able to stretch the value of each lemon harvested. Follow the steps below to harvest and store lemon peel, and while you're at it, pour yourself a glass of lemonade!  
How To Grate Lemon Peel
Step 1: Thoroughly wash and towel dry a lemon. (A wet piece of fruit is nearly impossible to grate.)

Step 2: Using a common vegetable grater or preferably a lemon grater, carefully run the grater over the surface of the lemon, away from your body.

Step 3: To grate lemon peel make sure to apply some pressure to avoid only removing the zest. (You should also see yellow and white areas being grated.)
How to Dry Lemon Peel
Option 1: Lay lemon peel strips on a plate with the inside of the peels (the white portion) facing upwards. Dry at room temperature for 3 to 4 days, until the peels are shriveled and no longer moist.

Option 2: Arrange lemon peels on a parchment-lined baking sheet. Dry in the oven at 200 degrees F for 25 to 30 minutes. The peels will curl up and turn stiff when dry.
Lemon Growing Tips:

A popular houseplant for sunny rooms, lemon trees boast a heavenly scent from their luscious blooms that are followed by fruit. Potted lemon trees prefer a sunny spot in the home. They can also be brought outdoors in an area protected from the wind during the warm months of summer.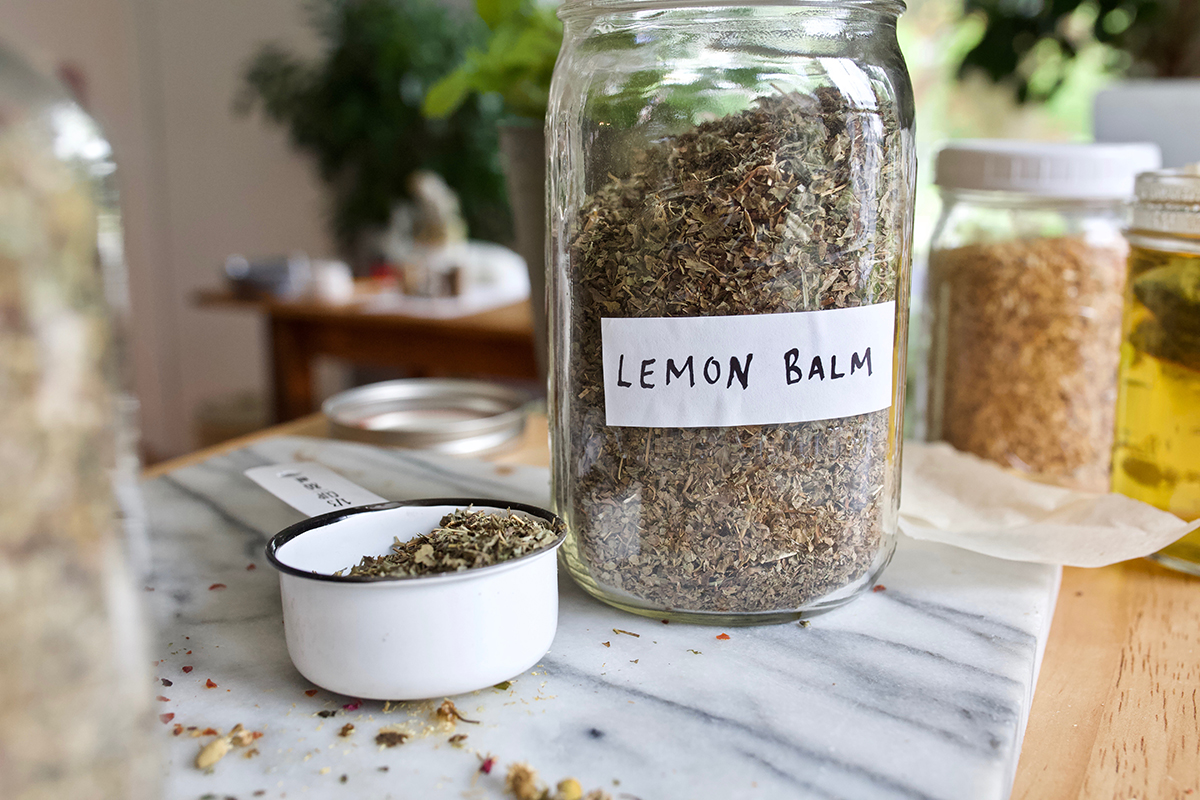 Lemon Balm (Melissa officinalis) Aerial Parts
Fine, heart-shaped leaves with scalloped edges and clusters of tiny, white flowers in late summer are visible traits of lemon balm. The sweet citrus scent and mildly lemon flavor of the leaves are what makes this herb perfect for tall cold glasses of lemony tea or an infused warm bath.
To herbalists, lemon balm is synonymous with uplifting. It soothes anxiety, depression, and nervousness (Hoffmann, 2003). Not only aiding with anxiety, lemon balm is also an ally for insomnia and sleep disturbances (Taavoni, 2013).  
Lemon Balm Growing Tips:

Lemon balm is an easy herb to grow. Plant lemon balm in well-drained soil with full to partial sun. Interestingly, most mint expands by their roots, however, lemon balm spreads by its seeds. Therefore, to control growth, remove flowers as soon as they bloom.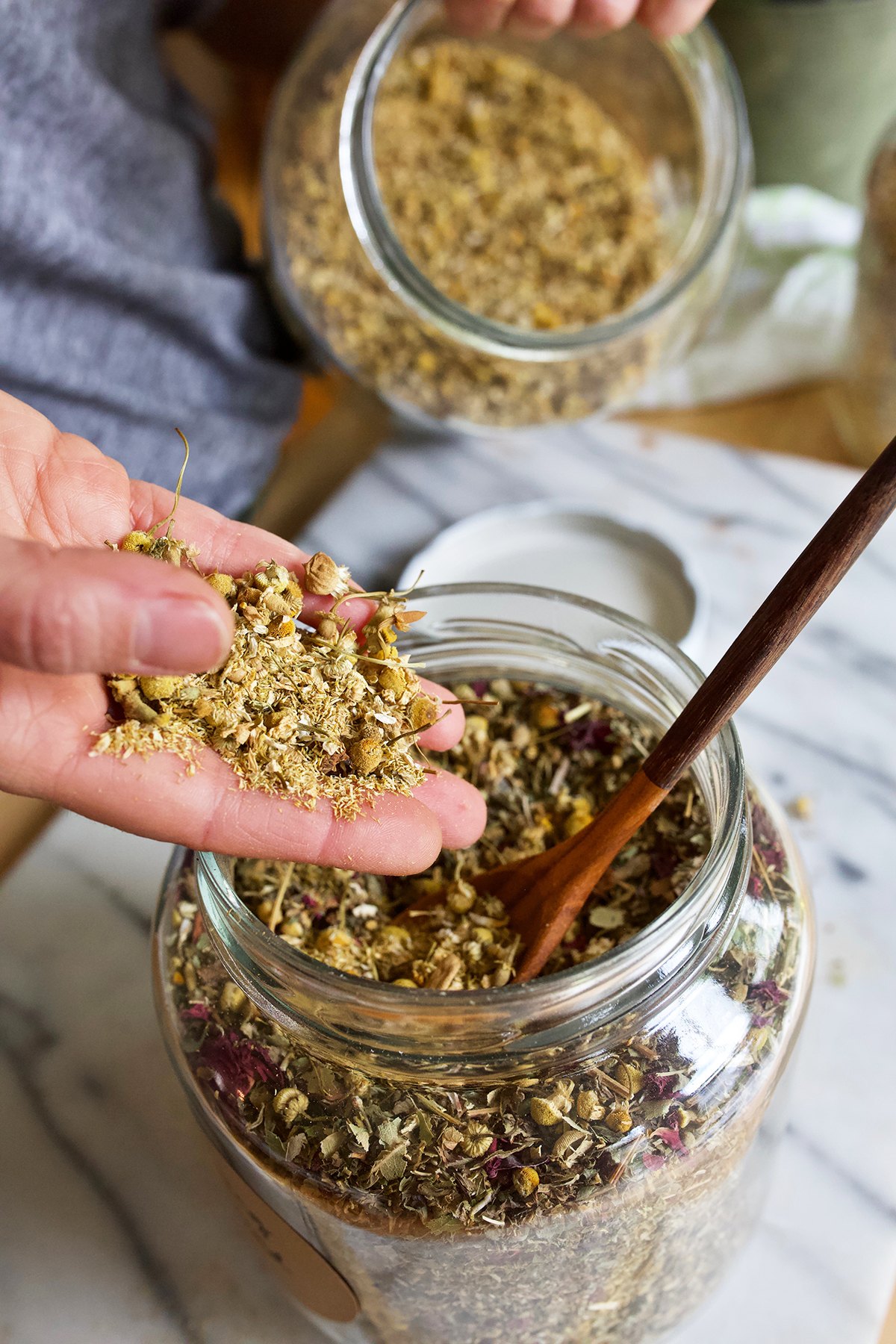 Chamomile (Matricaria chamomilla) Flower
Well known throughout the world for its gentle nature, chamomile's sweet-smelling, dainty white flowers bloom all summer along and have been collected and dried for centuries as a flavorful calming, restorative tea.  
We all know that chamomile tea is used to aid digestion and support better sleep, but did you know it is also reported to help relieve stress? In one study, chamomile was shown to have a significant anxiolytic effect in patients with a mild to moderate anxiety disorder, easing anxiety and tension (Amsterdam et al., 2012).
However, the benefits of chamomile don't stop there. In another study, chamomile eased premenstrual syndrome (PMS) by significantly reducing the emotional symptoms (Sharifi et al., 2014). All the better for a soothing ingredient a bath tea.
Chamomile Growing Tips:
Carefree, easy-to-grow chamomile thrives in well-drained soil with partial to full sun. And blossoms can be harvested every few days during the summer months!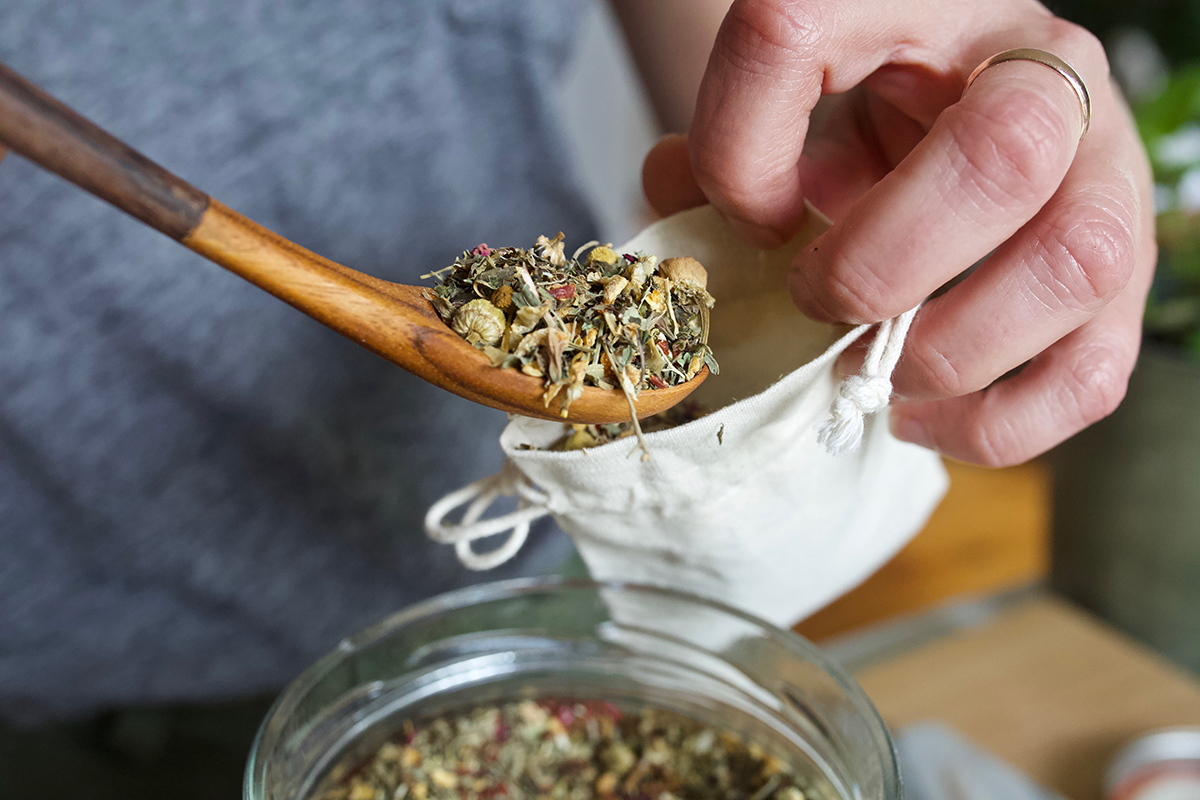 Preparing a Summer Garden Bath Tea
Who knew the herbs in your garden would be as good in the bathtub as they are in a mug? Gather the ingredients below, and in just four simple steps, you'll be ready to soak in a tranquil medley of citrus and herbs.  
Summer Garden Bath Tea Recipe
Dry herbs from your garden or purchase dried herbs to make a bath tea that lasts for months.
Ingredients
2 tablespoons yarrow (Achillea millefolium) aerial parts
1 tablespoon rose (Rosa spp.) hip
2 tablespoons lemon (Citrus x limon) peel
2 tablespoons lemon balm (Melissa officinalis) aerial parts
1 tablespoon chamomile (Matricaria chamomilla) flower
Directions
Fill a 4-ounce airtight container with 2 tablespoons yarrow. Lightly tap the container on the counter as needed to evenly settle herbs. Repeat as necessary after adding each ingredient.

Add 1 tablespoon of rosehips as the second layer, followed by 2 tablespoons of dried lemon peel as the third layer. Lastly, add two tablespoons of lemon balm and 1 tablespoon of chamomile on the top. Mix well to blend.

Cap, label jar, and store in a cool, dark place.

To make a bath tea, fill a small, reusable, natural muslin or linen drawstring bag with up to 2 tablespoons of your summer garden bath tea mix. Hang the bath tea bag from the faucet while the bathtub is filling with water. Let the water filter through the tea first, or tightly close the bag and steep in warm bath water, allowing it to float in the water beside you.

Either way, you can soak up the aromatherapy and stress-relieving benefits of herbs and citrus in this summer garden bath tea. After soaking, discard the herbs in the bag and hang to dry until your next bath tea soak.
Extend the Enjoyment of Your Herbal Tea Garden with Summer Garden Bath Tea
Now you can enjoy the lovely splendor summer brings to the garden in a bath time treat. Not only can you customize this treat with your favorites from the garden, but you'll also be confident in knowing exactly what's going into it. No dyes, no fragrance oils, or any other unnecessary chemicals needed. Just nature's best!
If you find yourself with a plentiful herb harvest this year, fill a dozen or more natural muslin drawstring bags with this summer garden bath tea mix and share them as housewarming gifts or gift toppers instead of a plastic bow—a thoughtful gift even your minimalist or zero-waste friends will appreciate. If you are looking for more ways to enjoy your summer herb garden, try creating a natural facial steam with garden herbs and summer citrus.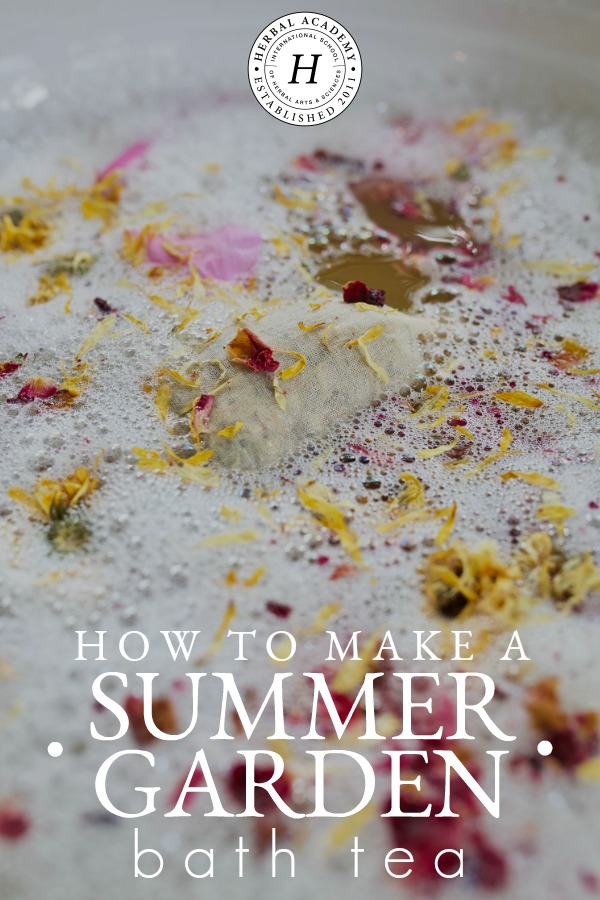 REFERENCES:
Arias, B. A., & Ramón-Laca, L. Pharmacological properties of citrus and their ancient and medieval uses in the Mediterranean region. Journal of Ethnopharmacology, 97(1):89-95.
Amsterdam, J.D., Shults, J., Soeller, I., Mao, J.J., Rockwell, K., Newberg, A.B. (2012). Chamomile (Matricaria recutita) may provide antidepressant activity in anxious, depressed humans: an exploratory study. Alternative Therapies In Health and Medicine, 18(5):44-9.
Boskabady, M.H., Shafei, M.N., Saberi, Z., & Amini, S. (2011). Pharmacological effects of Rosa damascena. Iran Journal of Basic Medical Science, 14(4): 295–307.
Earle, L. (2016). Skin: Delicious recipes and the ultimate plan for radiant skin. Hachette, UK: Orion Publishing Group.
Edwards, G.F. (2000). Opening our wild hearts to the healing herbs. Woodstock, NY: Ash Tree Publishing.
Hoffmann, D. (2003). Medical herbalism: The science and practice of herbal medicine. Rochester, VT: Healing Arts Press.
McIntyre, A. (1996). Flower power. New York, NY: Henry Holt and Company, Inc.
SELF Nutrition Data. (n.d). Rose hip dried nutrition facts and calories. Retrieved from http://nutritiondata.self.com/facts/custom/2340250/2?quantity=0.15
Sharifi, F., Simbar, M., Mojab, F., Majd, H.A. (2014). Comparison of the effects of Matricaria chamomila (Chamomile) extract and mefenamic acid on the intensity of premenstrual syndrome. Complementary Therapies in Clinical Practice, 20(1):81-8.
Stanway, P. (2013). The miracle of lemons: Practical tips for health, home and beauty. Castle House, London: Watkins Publishing.
Taavoni, S., Nazem Ekbatani, N., & Haghani, H. (2013). Valerian/lemon balm use for sleep disorders during menopause. Complementary Therapies in Clinical Practice,  19(4):193-6.