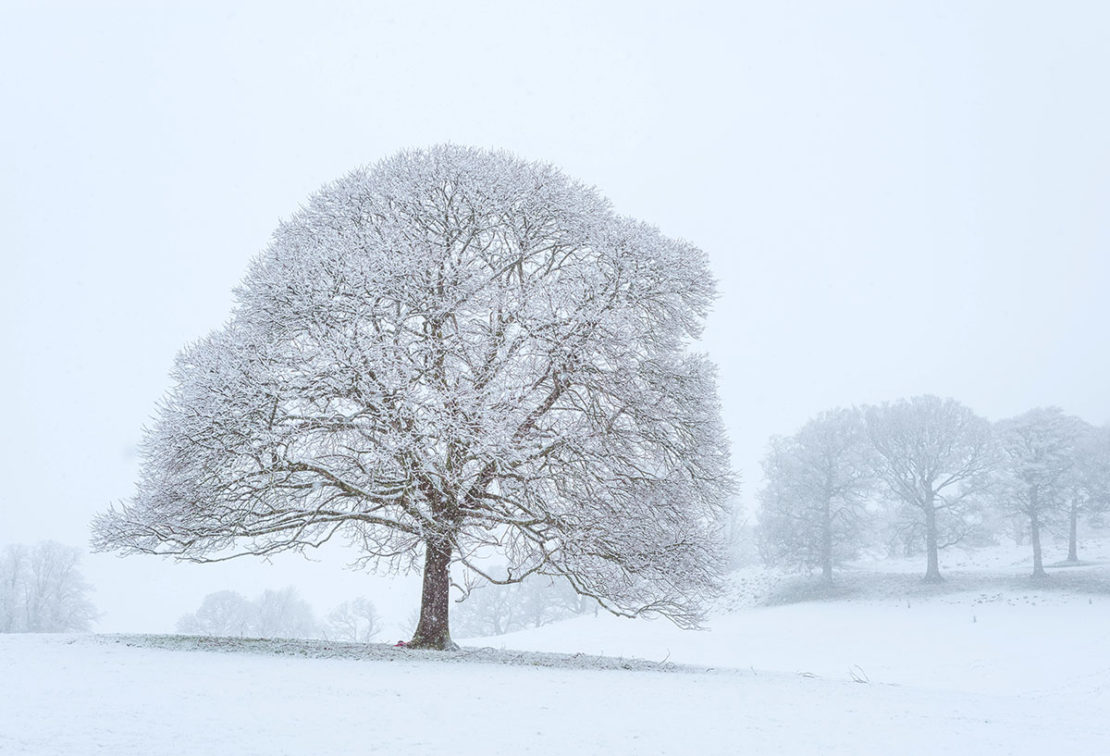 How To Stay Energetically Balanced During Winter
When you think of winter, what comes to mind? Sparkling snowflakes, red berries, and evergreens? Hot chocolate and twinkling lights? Or dark, quiet days? 
For all of the winter lovers out there, this cool, dark season can provide a wonderful opportunity to simplify life and to slow down and reflect on the past year. However, there are also those who dread the cold, harsh, dark days of winter. If you are in that camp, seasonal colds, seasonal depression, and too much time spent indoors may form the landscape of your winter experience. 
Whatever your feelings on winter, there are ways to support yourself in making this season a healthful one. This article will explore ways to stay energetically balanced during winter. We will discuss foods, herbs, and lifestyle choices that will help you stay well and vibrant throughout the darkest days of the year. 
The Big Picture—Staying Energetically Balanced During Winter
Winter is characterized by coolness and darkness, and depending on the exact time of year and climate, either dampness or dryness. 
According to Ayurveda, late fall and early winter are strongly linked to vata dosha, which is dry and cool in nature. Deep winter to early spring are linked to kapha dosha, which is characterized as cold, heavy, and damp. 
These two doshas and their corresponding energetics are quite different. However, both vata and kapha doshas require warmth for balance, which gives us a major hint as to one one way to stay energetically balanced during winter: keep warm! 
Winter Energetics 101: Keep Warm
Keeping warm during winter implies more than turning up the thermostat or putting another log on the fire. In order to stay energetically balanced during winter from deep within, consider a few ways to stoke the body's fire from the inside out: 
Eat food that is cooked and well-spiced. Focus on

soups

,

stews

, curries, casseroles, porridges, root veggies, and hot beverages. 

Include warming digestives in your food on a regular basis, such as

ginger

(

Zingiber officinale

),

black pepper

(

Piper nigrum

), and

cinnamon

(

Cinnamomum verum

). 

Boost your circulation through regular exercise. Though cold winter days can be daunting, find a way to stay active. Your body and mind will thank you for it! 
As mentioned earlier, an important aspect of staying energetically balanced during winter is taking into account the difference in energetics between early winter and late winter and adjusting self care accordingly. Let's look at each of these periods below.
Early Winter: Emphasize Nourishment
During fall and early winter, the dry and cool vata time of year, it is helpful to emphasize warm, moist, and grounding energetics in your food and herbs. Examples of helpful foods include sweet potatoes, all root vegetables, oats, nuts, dairy (if applicable), and oils such as ghee and sesame oil. Grounding, nourishing herbs include ashwagandha (Withania somnifera), shatavari (Asparagus racemosus), kapi kacchu (Mucuna pruriens), and licorice (Glycyrrhiza glabra). 
Since late fall and early winter is the perfect time to experiment with breakfast cereal recipes, here is one such recipe you can try. 
This is a great, simple recipe that comes in handy, especially when life gets busy. If you are someone who eats breakfast away from home, overnight oat recipes like this fig cardamom oat cup make for a convenient, nourishing on-the-go meal. Also, the oats, figs, dates, and almond milk provide the nourishment that is needed during early winter, the time of year in which it is important to build one's energy stores. Enjoy for breakfast or pack it to go and enjoy as a brunch or lunch on the go! If you are eating right after removing from the fridge, you can heat this fig cardamom oat cup gently for a few minutes on the stove to impart a more warming energy. Or, if you are packing it to go, it is fine to leave at room temperature for a few hours (O'Donnell, 2015).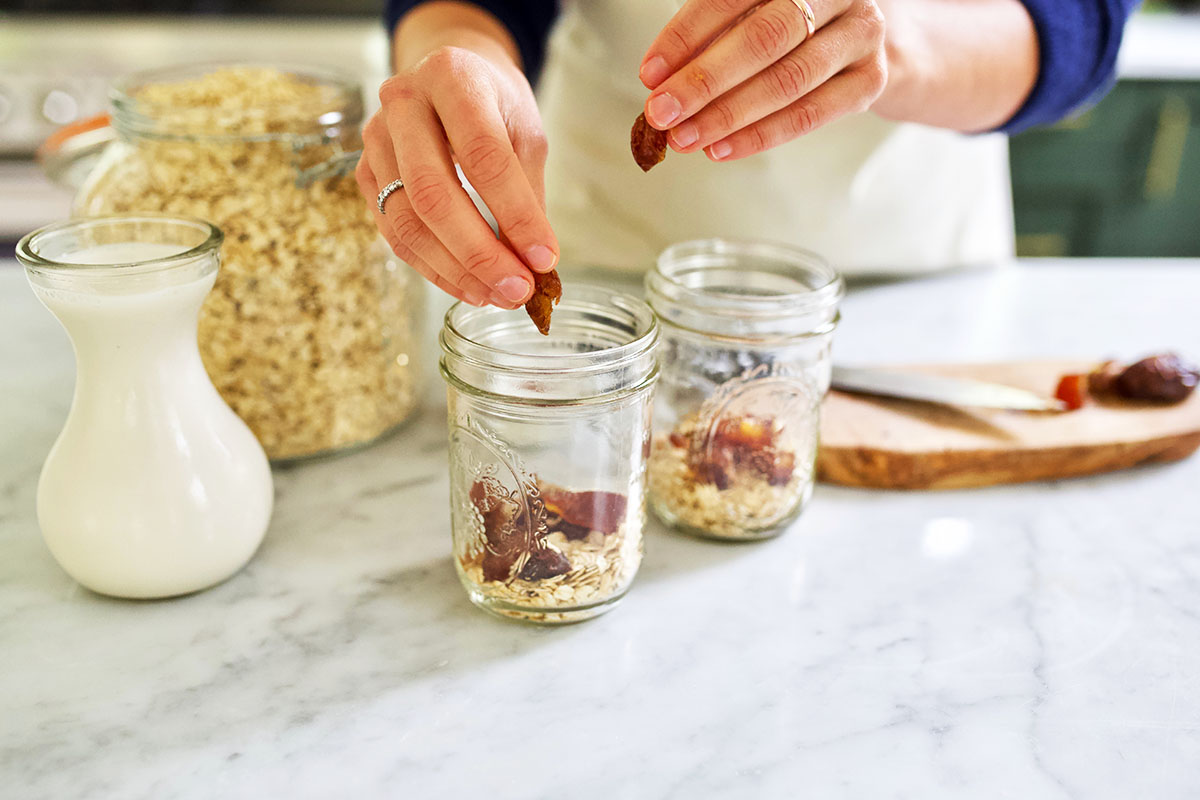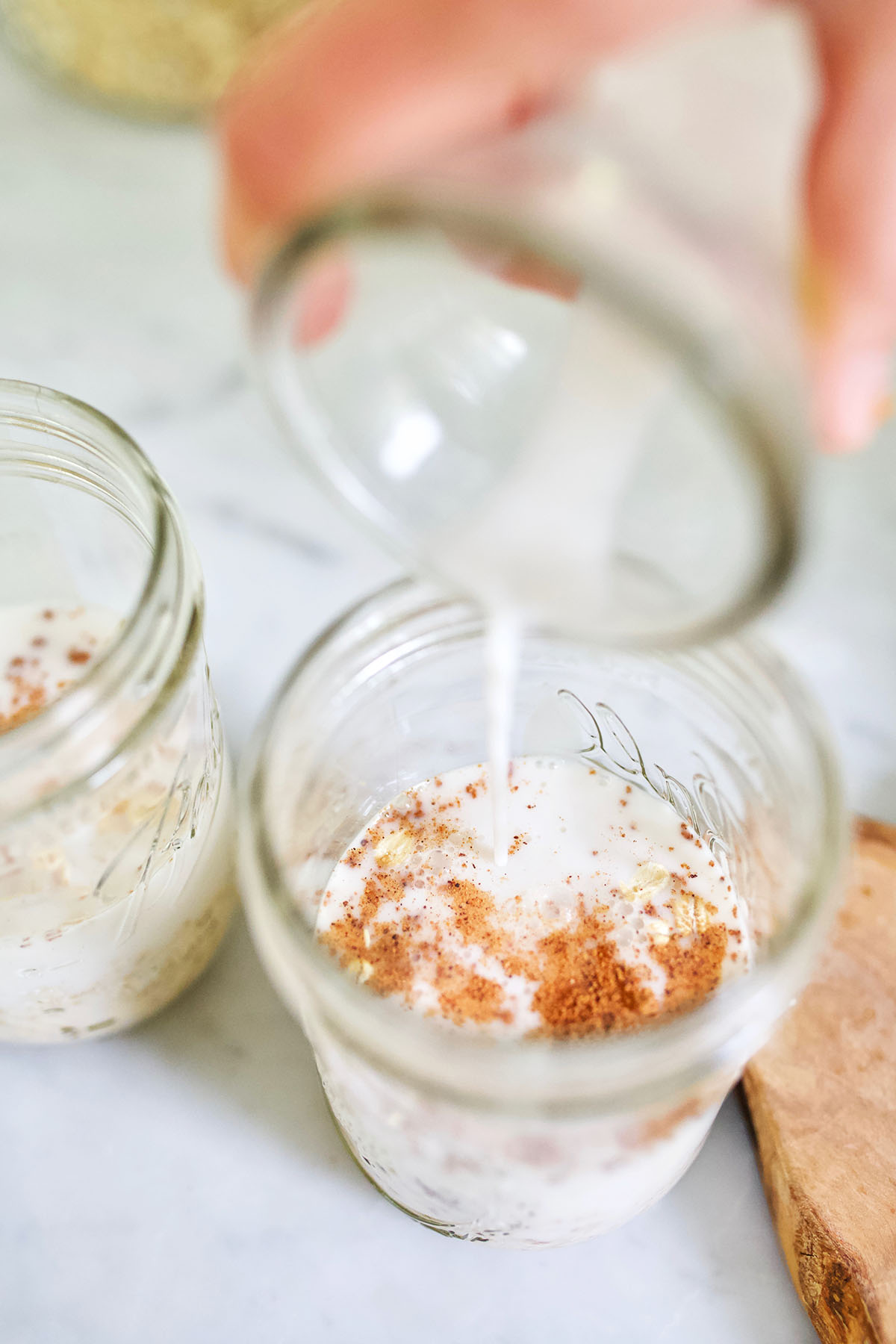 Fig Cardamom Oat Cup
Adapted from Kate O'Donnell, The Everyday Ayurveda Cookbook
Ingredients
1/3 cup rolled oats
3 dried figs or dates (or a combination of the two)
1/2 tsp cardamom (Elettaria cardamomum) seeds, ground
1/2 tsp cinnamon (Cinnamomum verum) bark, ground
1/2 cup almond or coconut milk
Directions
Combine all dry ingredients in a clean 8-ounce mason jar.

Add almond milk.

Shake or stir to combine.

Seal and keep in the fridge overnight. 
Late Winter: Lighter And Brighter
In many ways, in order to stay energetically balanced during winter, it is important to go with what nature is asking of us during this season—taking time to reflect, rejuvenate, and reconnect, or to even use those added hours of darkness to get some extra sleep! 
On the other hand, if you find yourself feeling lethargic, sluggish, melancholy, or morose during the winter, consider some tips for supporting a lighter, brighter sense of being! The latter part of winter is dominated by kapha dosha after all, and in order to balance kapha dosha, it is important to invoke lightness and brightness. 
Taking stock of your physical environment may give you some clues as to how to brighten things up. If you tend to gravitate toward dark colors and earth tones, consider incorporating orange, yellow, red, and gold. Winter may be the perfect time to add some color accents to your home, workplace, and wardrobe. For more on the significance of color, read How to Use Gemstones and Chromotherapy for Mind-Body Balance. 
Similarly, St. John's wort (Hypericum perforatum) is a particularly salient herb to consider for mood balance during the winter, as it is traditionally used to assist with seasonal affective disorder (SAD) and has an overall mood-uplifting effect. St. John's wort supports the liver's ability to clear toxins, but caution should be used, as it can  increase photosensitivity in some individuals (Groves, 2016). You can learn more about St. John's wort uses, cautions, and preparations in our post, Two Basic St. John's Wort Preparations To Know. On the whole, St. John's wort helps impart a sunny energy, so for those who get the winter blues, consider it an ally! It does interact with a number of medications, especially SSRI antidepressants, so seek guidance from your health care practitioner if you take any medications. Also, do not take St. John's wort during pregnancy without supervision (Groves, 2016).
Foods that are warm, light, and/or well-spiced will also help you stay energetically balanced during winter, particularly the latter portion of winter. Consider grapefruit, cooked dark greens, legumes, and spicy, clear soups if you want to help your body beat the winter doldrums. This Refresh-O-Rama smoothie, another wonderful recipe adapted from Kate O'Donnell, is a great way to energize your body during deep winter. It makes a wonderful light breakfast or snack, and it feels especially nice if you feel like you are coming down with a cold or if your energy is a little low and dull.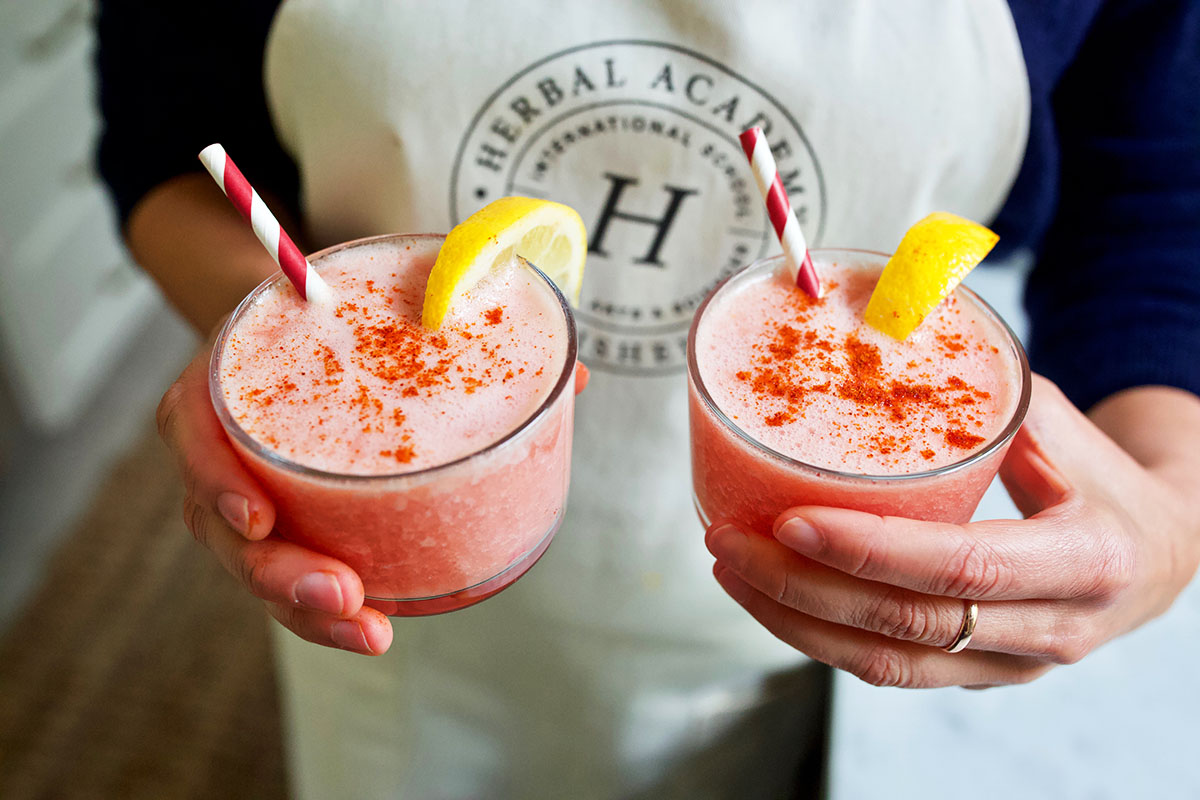 Refresh-O-Rama Grapefruit Smoothie
Adapted from Kate O'Donnell, The Everyday Ayurveda Cookbook
Ingredients
2 peeled, whole grapefruits
½-inch piece of fresh, peeled ginger (Zingiber officinale) rhizome
Juice of one lemon
Dash of cayenne pepper (Capsicum annuum) fruit, paprika (Capsicum annuum) fruit, or cardamom (Elettaria cardamomum) fruit
1 tsp honey (optional) 
Directions
Combine all ingredients in a blender and blend until smooth.

 
In Closing
If you are looking to stay energetically balanced during winter, consider the energetics of winter itself and do the opposite! Since winter is dark and cold, think bright and warm! Also, during the first part of winter, it is wise to focus on building strength and nourishment. During the latter part of winter, focus on foods that are lighter, but still energetically warming. The colors, foods, and herbs that you emphasize during the dark time of the year can go a long way in keeping you energetically balanced during winter and all year round.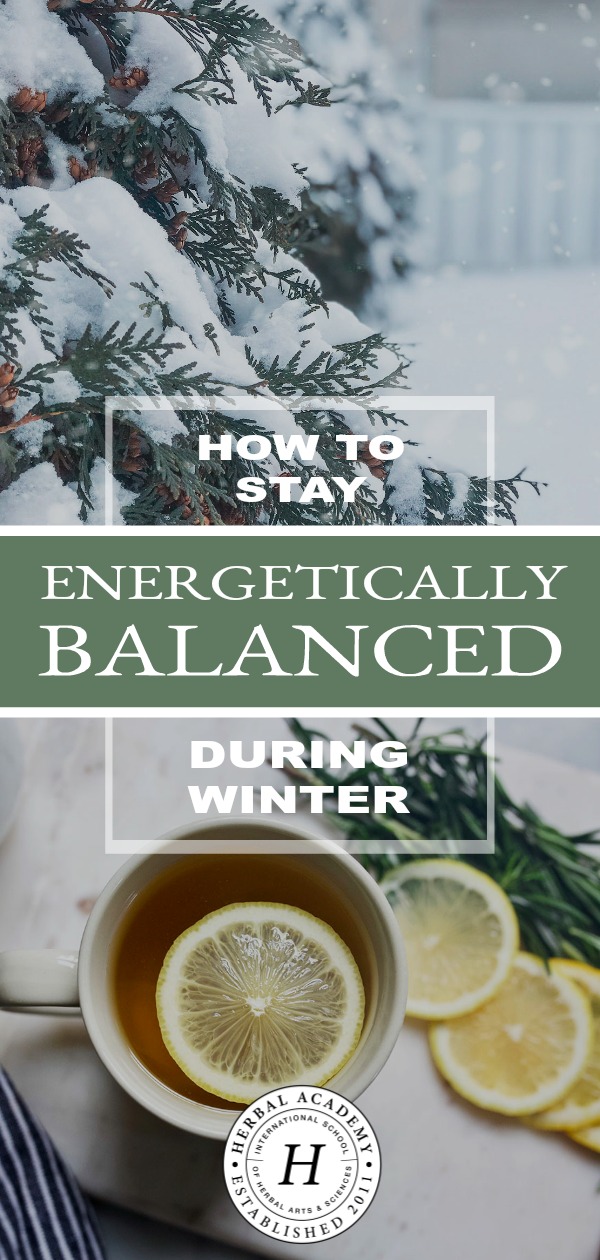 REFERENCES
Groves, M.N. (2016). Body into balance: An herbal guide to holistic self-care. North Adams, MA: Storey Publishing.
O'Donnell, K. (2015). The everyday Ayurveda cookbook: A seasonal guide to eating and living well. Boulder, CO: Shambhala Publications, Inc.