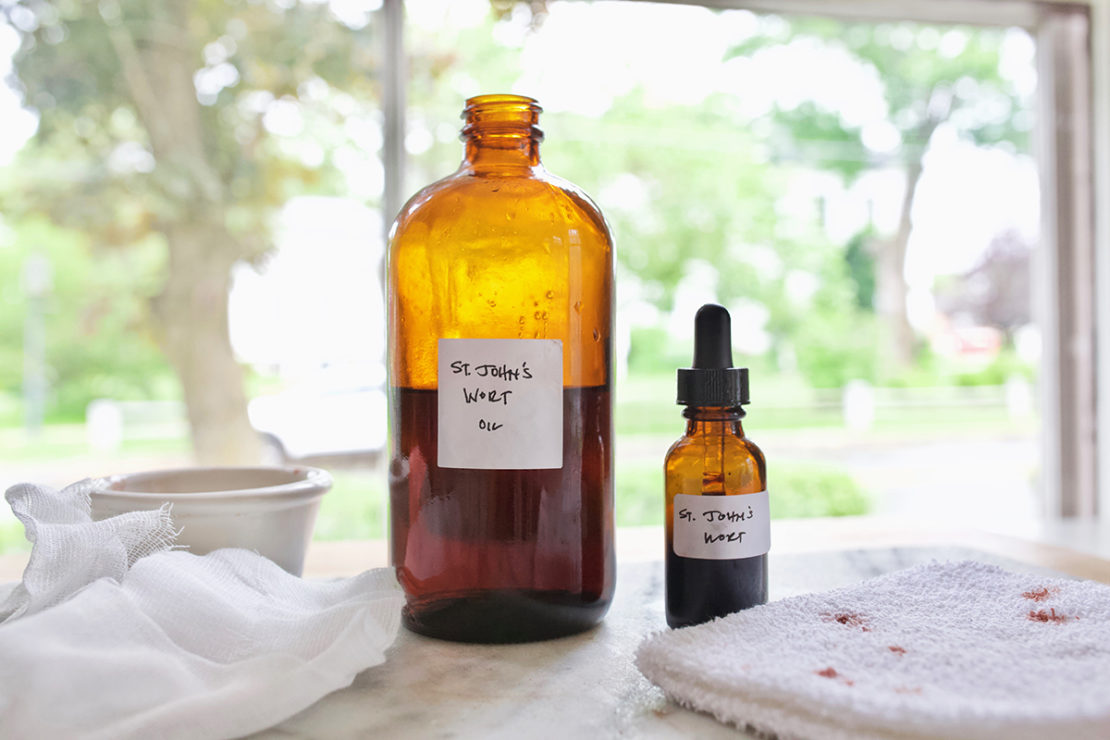 Two Basic St. John's Wort Preparations To Keep In Stock
"This is her greatest trick: Bringing light and warmth to your darkness by helping to re-create the electric leap of synapses firing and energy moving along. Call on St. John's Wort when you need a sip of sunshine so you can find your light in the darkness." – Maia Toll, The Illustrated Herbiary
St. John's wort (Hypericum perforatum), of the Hypericaceae family, is a versatile herb that originates in Europe but holds prominence in North America and other temperate climates. It has many beneficial actions that promote varying areas of wellness. It's quite possibly best known for its ability to support mild depressive and anxious states. Historically, it has been used to protect people from illness, evil spirits, and curses, and many have hung dried St. John's wort (or St. Joan's wort as it's sometimes called) above their door. The Greek word, hyperikon, loosely translated, it means "above the apparition."
There are many applications for use with St. John's wort. It can be used as a tincture, infusion, oil, salve, or liniment. St. John's wort—a sun-shiny yellow flower about 3 feet in height, holds the energy of the sun and summer season. St. John's Day, which falls annually on June 24th, is typically the beginning of its blooming season.
Energetically, St. John's wort is known as being a slightly warming and drying herb. It is also astringent, bitter, and sweet.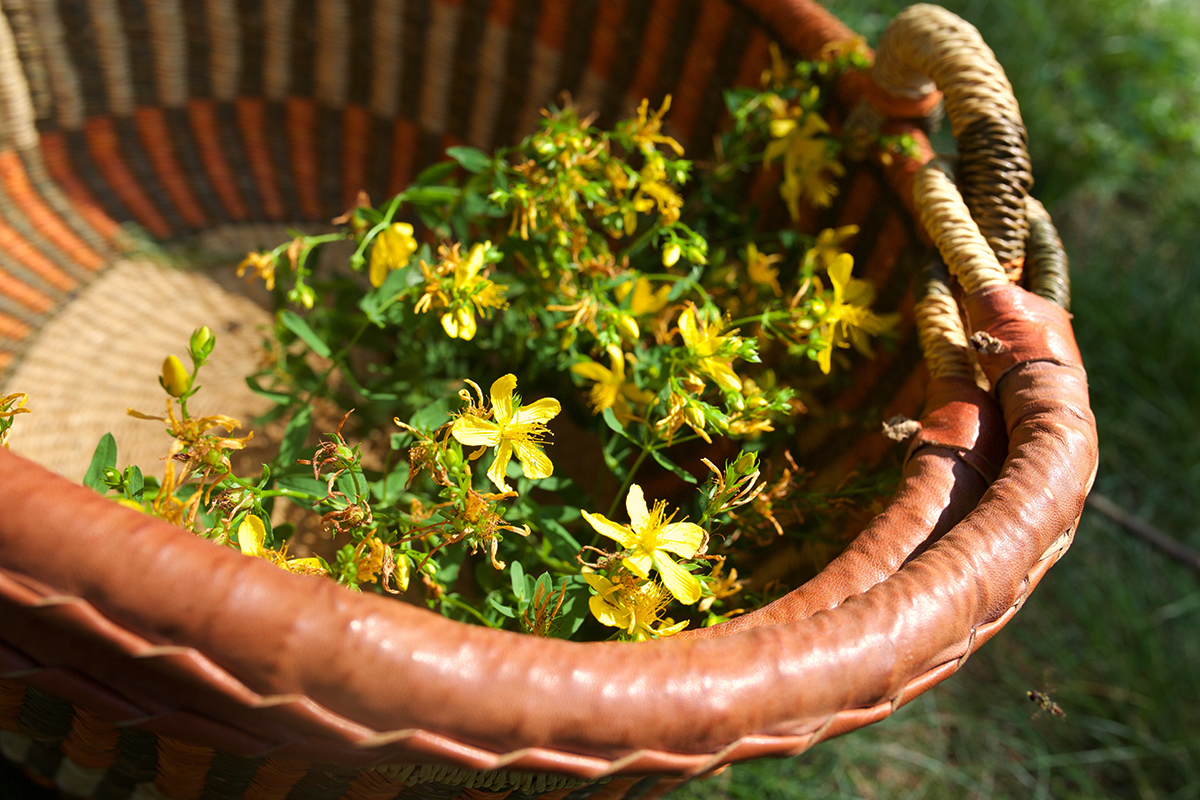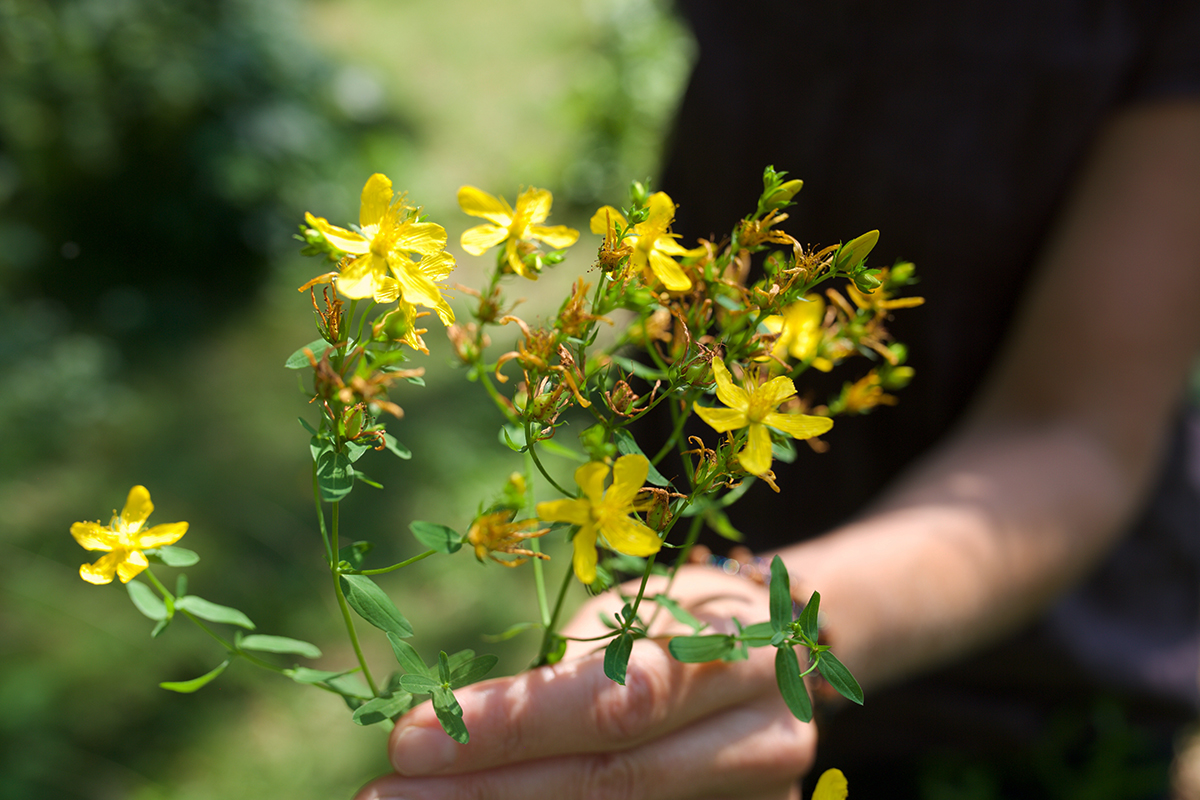 Common Uses for St. John's Wort
With its nervine and sedative properties, St. John's wort can be helpful for those who can't fall asleep or who wake multiple times within the night. It is believed that hypericin, a prominent constituent in St. John's wort, raises the concentration of melatonin which is formed from serotonin (Tilgner, 2009) and this is what contributes to St. John's wort's usefulness as a sedative. Hyperforin, as well as bioflavones, are also essential constituents of St. John's wort. Hyperforin is known to slow the uptake of certain neurotransmitters, such as serotonin, dopamine, noradrenaline, GABA, and l-glutamate, thus allowing them to circulate for longer periods of time within the body (Tilgner, 2009), and therefore, supporting restful sleep as well as balanced mood through these lingering neurotransmitters. Along these lines, it can also be used to decrease fear and night terrors.
Liver detoxification and protection can be enhanced when using St. John's wort. This herb's liver and nervine supportive properties, as well as its sunshiny nature, makes it a great go-to plant in dreary winter months when bright natural light is lacking.
As an antiviral, St. John's wort can be useful during herpes outbreaks as well as shingles (Easley & Horne, 2016). Applying St. John's wort oil topically can soothe nerve pain that accompanies infection. Using tinctured St. John's wort internally can be useful in alleviating pain and working on the virus.
St. John's wort typically needs to be taken consistently for a few weeks before one will notice an effect on the emotional body, as its efficacy shines when taken long term. This is a great herb for nervous and emotional exhaustion and stress, and it also supports a sense of community and connection as it loves to be planted where there is contact with other herbs like yarrow and plantain (Tilgner, 2009).
There are a couple of cautions to keep in mind when working with St. John's Wort. First, St. John's wort has the potential to cause photosensitivity (Hoffmann, 2003). Photosensitive reactions vary among individuals using St. John's wort and are typically seen when large internal doses of the plant are used; however, it is generally suggested that anyone using St. John's wort use caution in the sun (Hoffmann, 2003). Secondly, it's important to avoid using St. John's wort when taking SSRI antidepressants and some other medications that are metabolized through the liver (Easley & Horne, 2016) as St. John's wort, especially as a concentrated extract, such as a tincture, may decrease the efficacy of such medications because of the increased speed in which the medications would be passed through the body.
St. John's Wort Preparations To Have On Hand
When it comes to using this well-known herb, there are a couple of basic St. John's wort preparations to keep on hand, such as a simple herb-infused oil and a basic tincture. Recipes for each of these preparations can be found below.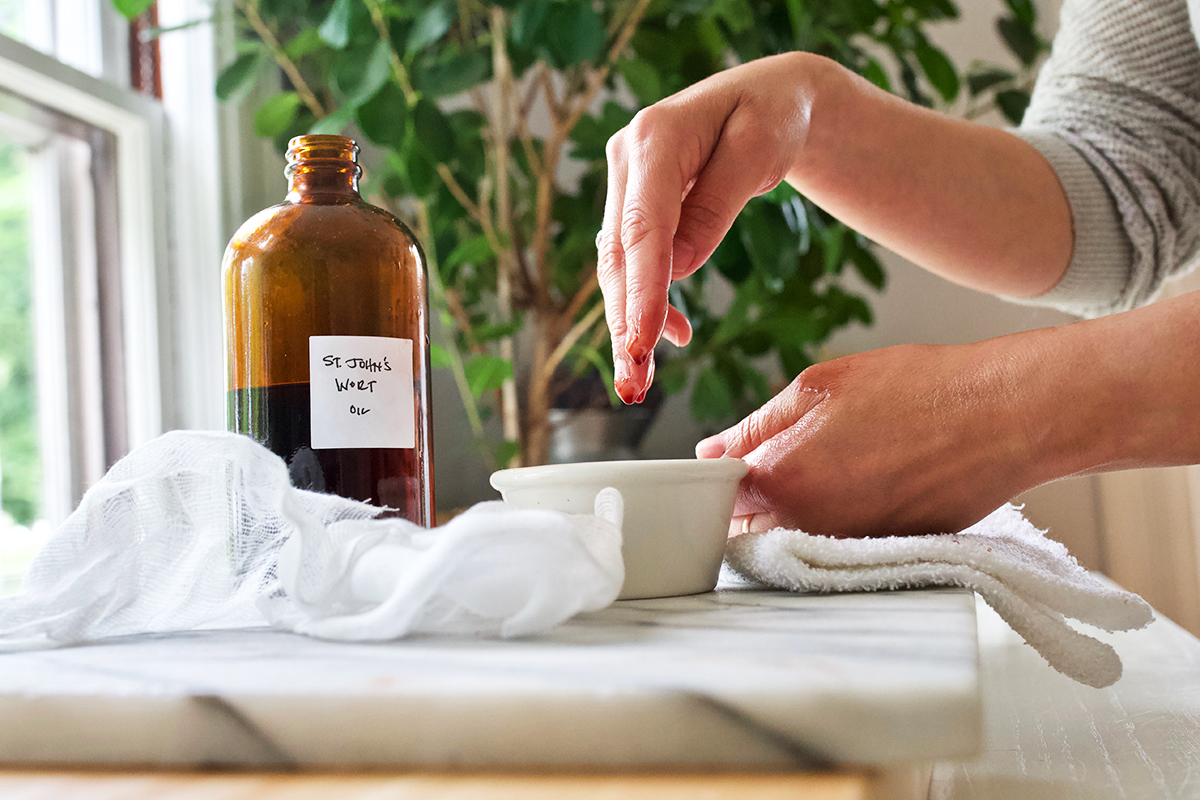 Simple St. John's Wort Oil
St. John's wort oil is ideal for skin traumas. It helps support tissue repair and recovery for external wounds. It also has the ability to help a pain picture, like nerve pain, with its topical application. It can be used for general burns, sunburns, skin inflammation, diaper rash, cuts, and bruises. This is a great first aid oil to keep in your herb chest or traveling first aid kit.
Ingredients
Fresh St. John's wort aerial parts
Organic extra virgin olive oil
1 sterilized quart-sized canning jar with lid
Directions
Place freshly picked buds and flowers and place in a pint-sized canning jar, filling the jar ¾ full of fresh herbs.

Top buds and flowers with organic extra virgin olive oil, covering the herbs by 1 inch, and seal with a lid.

Set the mixture on a sunny windowsill for 3 weeks.

When the oil is deep red, strain and bottle your final product in a labeled, amber-colored glass bottle.

Store the bottled oil in a cool and dark location.

Use topically on scrapes, cuts, burns, bruises, and areas of pain.
Using fresh St. John's wort in your preparations is of benefit. With fresh herb, you will be working with more active constituents than if using dried plant material. Freshly infused St. John's wort should turn a deep red when infused.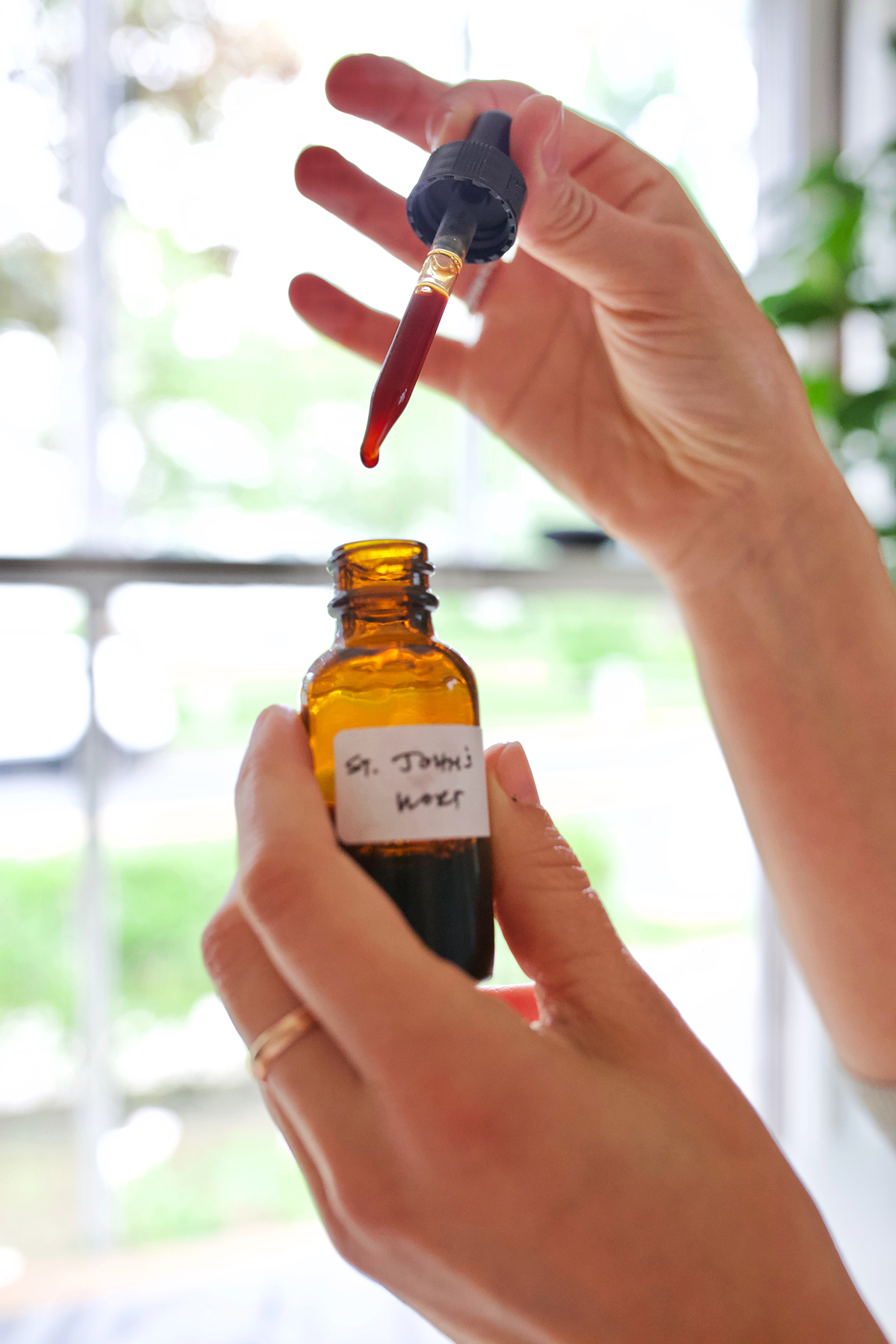 St. John's Wort Tincture
St. John's wort tincture has many uses. It can be added to the above oil recipe to create a liniment and used topically, or it can be taken internally, in a small bit of water, to support nervous tension, stress, and overall mood.
Ingredients
190-proof alcohol
1 pint-sized canning jar with lid
Fresh St. John's wort aerial parts
Directions
Collect enough plant material to fill a sterilized glass jar halfway.

Pour enough alcohol to cover herb and fill the jar.

Shake the mixture daily for 4 weeks.

Strain the herb, reserving the liquid. Compost the herbs and bottle the tincture in a labeled amber-colored glass bottle.

Keep the final tincture in a cool and dark place.

Take 15-20 drops of tincture three times a day.
To help call in the sunshine during the long winter months, prepare St. John's wort preparations during the summer in an effort to support your future self. As an herb with many actions, it can be of great use for varying acute and chronic conditions and health presentations. From burns and scrapes to darkening mood, St. John's wort preparations are profound staples to keep in your herbal toolkit.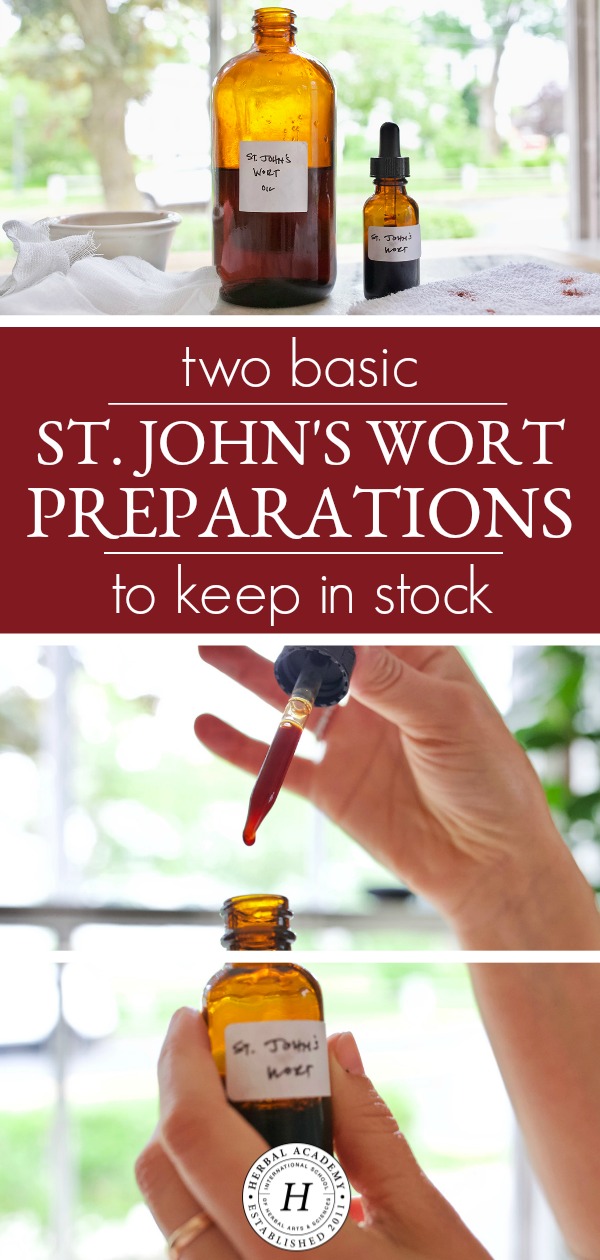 REFERENCES
Easley, T., & Horne, S. (2016). The modern herbal dispensatory: A medicine-making guide. Berkeley, CA: North Atlantic Books.
Hoffmann, D. (2003). Medical herbalism: The science and practice of herbal medicine. Rochester, VT: Healing Arts Press.
Tilgner, S. (2009). Herbal medicine from the heart of the earth. Pleasant Hill, OR: Wise Acres LLC.
Toll, M. (2018). The illustrated herbiary. North Adams, MA: Storey Publishing, LLC.