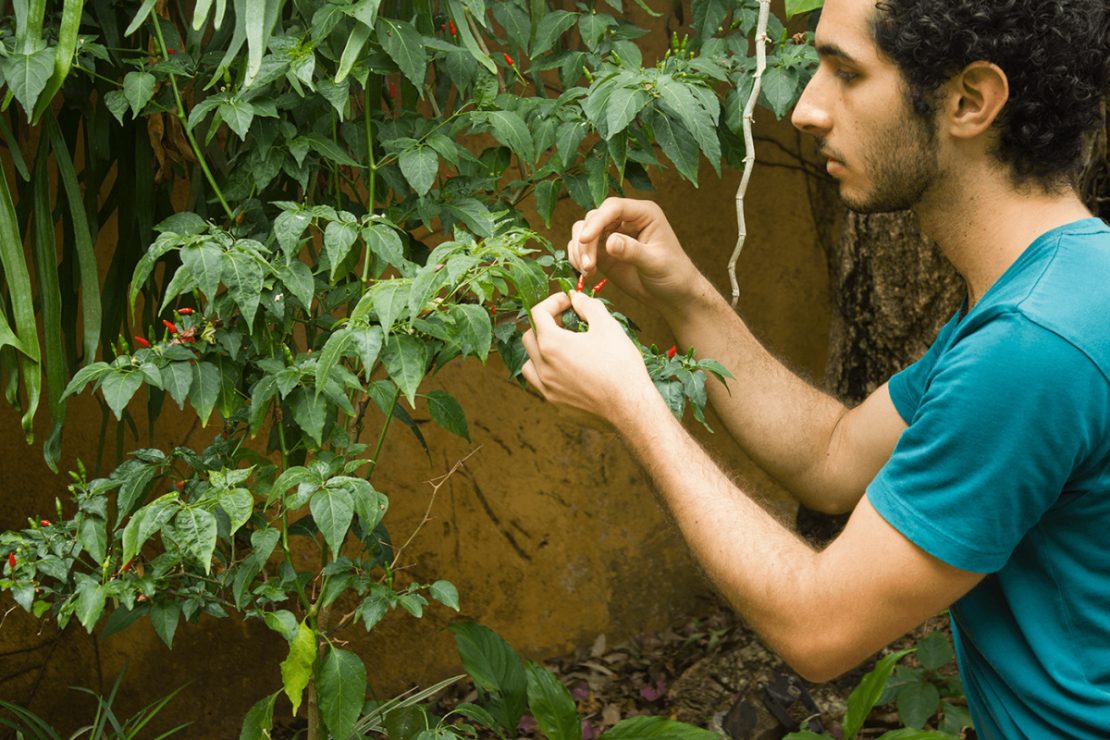 Herbal Academy Student Feature: Eduardo Yunen (@eyunen)
For the tenth installment of our Student Feature Series, we spoke with herbalist Eduardo Yunen (@edyunen). Eduardo completed the Herbal Academy's Clinical Herbalist Path, as well as the Herbal Aphrodisiacs Intensive. He has traveled to various countries learning all about organic farming, permaculture practices, and wild foraging, plus some practices to better impact our environment. He helps people through consultations when they ask for it, mainly as part of wellness coaching sessions. He also teaches and shares his knowledge through some workshops, retreats, and sometimes also through social media. You can follow him on his Instagram page where you'll find his herbal adventures and travels. 
HA: Please tell us a little bit about yourself and how you started your path into herbalism.
Eduardo Yunen: I went fully vegan (even raw vegan) when I was living in Mexico a few years ago. Even before that, I was already very concerned about environmental issues, but it was here in Mexico, while I was studying for my professional degree that I got more in contact and curious about it all. I started growing every seed from everything I ate. I planted my own basil, mint, rosemary, and even when I moved to a second house, I inherited a beautiful lavender. I was studying communications and I took advantage of some courses to go and interview people from GreenPeace, people who were growing their own food and who went to small farmers and artisan markets. I also started to get in touch with the native culture around the area of Queretaro, La Huasteca and even Chiapas and Oaxaca. It called my attention to how food was something sacred for them, but also, something more than just a peace of green that nurtures us. It was "medicine."
Instead of specializing in something related to communications, film or such, I chose to fill up those credits with some chemistry and biology courses. I was really curious about not only how our bodies worked, but how what we put into the body reacts with it.

Also while I was still living in Mexico, my father was diagnosed with Benign Prostatic Hyperplasia, and he was cured… with herbs and purely natural treatments. Again, making me see that there is a bigger picture to it all. 
HA: Why did you choose to pursue your herbal education with the Herbal Academy? 
Eduardo Yunen: I was looking for a complete, holistic program that would teach me everything I would need to know in order to pursue a deeper, spiritual, and science-based herbal path. I was also looking for an online program that I could work on at my own pace. Herbal Academy just happened to have that perfect program and system for me. 
HA: Do you own an herbal business or brand?
Eduardo Yunen: I do not run a proper herbal business, I do help people through consultations when they ask for it, mainly as part of wellness coaching sessions. I've also taught and shared this knowledge through some workshops, retreats, and sometimes also through social media. I apply this knowledge into my everyday life; I share it with family and friends, and I've run some consultations. 
HA: How did your Herbal Academy courses help shape or improve your business? 
Eduardo Yunen: Herbal Academy helped me see the different approaches to an herbal business. At first, I wanted to do it all: products, consultations, teaching, running programs. And after trying all of them, I came to realize what I like the most is helping people find harmony through nature and the power of herbs. 
HA: Did your Herbal Academy courses help you avoid any potential mistakes while launching your business? 
Eduardo Yunen: Mainly taking care of how to express the kind of business (or path) I work in. It is very delicate and very often misunderstood that working with herbs is not a medical career and you cannot claim that you will heal or cure some ailment, but you can help support and bring harmony through herbs. 
HA: Tell us, what's next for you in your herbal journey? 
My herbal journey is my everyday journey, and it is always growing and evolving. The last thing I did was traveling to Scandinavia, learning all about organic farming, permaculture practices, and wild foraging, plus some practices to better impact our environment. I am now back in the Caribbean working with tropical plants, trying to learn as much as I can in order to help people here to get more in touch with nature—and recognize the beneficial properties of most plants around us, most of which we know nothing about. I still want to keep on helping people bring harmony to their lives, through plants that will help balance their bodies and minds and open up the spirit.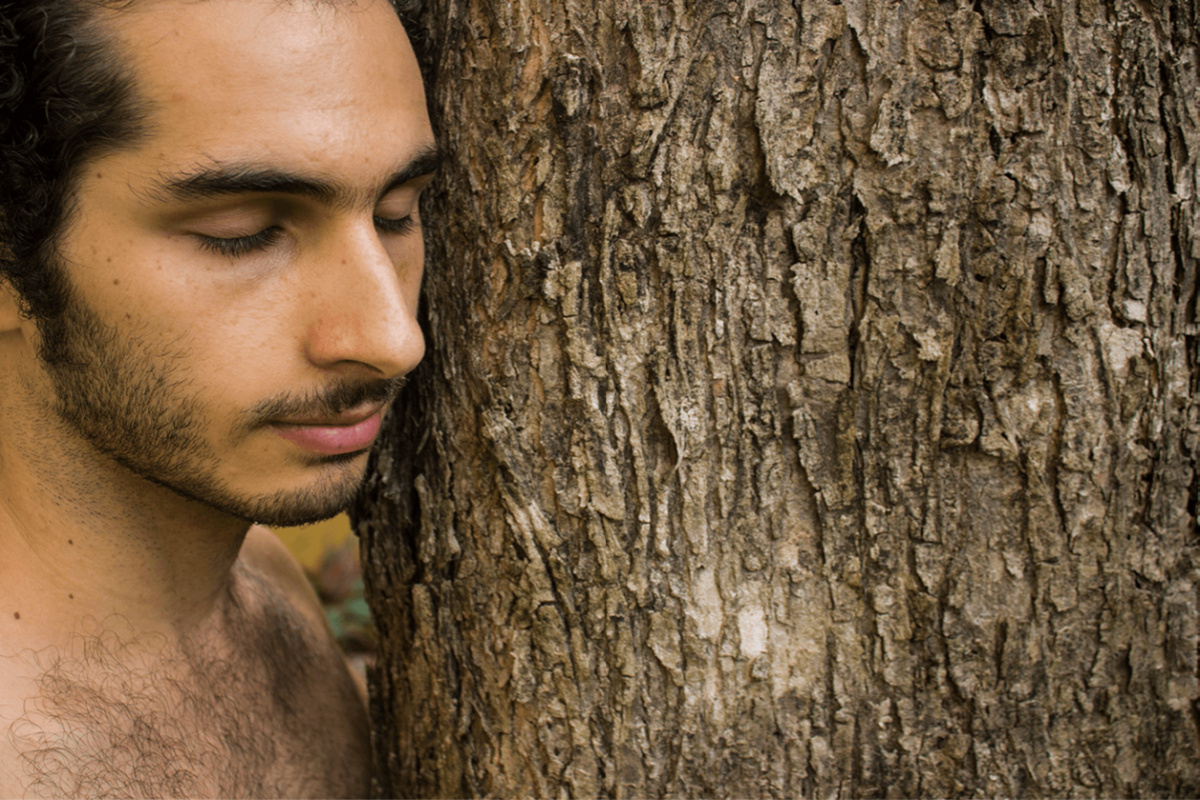 HA: What were you looking for when you enrolled in your Herbal Academy course that you were not able to find elsewhere?
Eduardo Yunen: I believe the Herbal Academy offers a very broad and detailed pensum, which I loved. Also, the holistic perspective. I was looking for not only the spiritual, the philosophical, or the practical. I was looking for all of these, and more, and I found that here.
HA: What did you like most about your Herbal Academy course?
Eduardo Yunen: The accessibility and diversity of information. 
HA: Do you enjoy the Herbal Academy online community? If so, what specifically do you enjoy? 
Eduardo Yunen: I do! I am not very fond of keeping on through social media. I do have a hard time with it, but it is always nice to enter the group and see what others are experiencing, sharing, and creating. It is a way to inspire yourself and also learn a lot more through different perspectives. 
HA: How has your herbal education deepened your connection with nature and the seasons?
Eduardo Yunen: In the Dominican Republic we do not have seasons as you have in more temperate climates. We actually say that here we have: summer, summer, summer, and hell. But, we do have dry and rainy seasons, and we also have microclimates where it rains every day, and some other places where it rarely rains. Getting in touch with plants here has made me realize these cycles, but also made me happier because I have everything year round unlike other places I have been to, such as Mexico, Argentina, or Europe. Living by the seasons is a very interesting experience, and it's been even more interesting to go through them in a range of different zones, from the tropic to (an almost) tundra in Sweden. 
HA: How has your herbal education deepened your connection with your personal health and wellbeing?
Eduardo Yunen: How has it not?! It is a very intrinsic part of life. It has always been. I've done yoga, chi kung, and I went to circus school in Barcelona, and having this knowledge not only helped me enhance the benefits of the first two disciplines, but… being a circus artist you see injuries very often, and being able to address in terms of prevention, and care when needed, really helped me through. There was this time I got a cramp so hard I was not able to breathe. I had some chili, oregano and ginger, and some other herbs with which I made a paste, and in one day I was already fine. Not completely fine as to go back to do flips right away, but fine.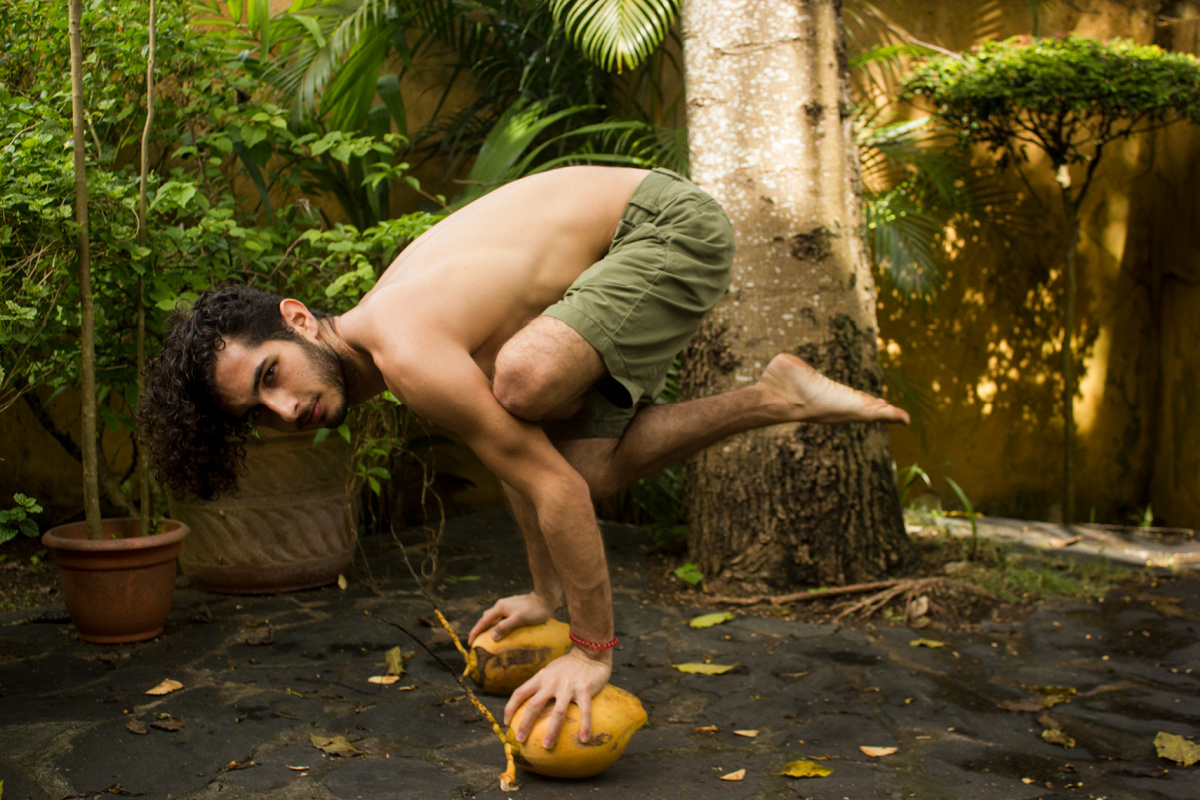 HA: Have you learned more about your ancestral roots and traditions through your herbalism studies? If so, what have you learned? 
Eduardo Yunen: Yes. Definitely. Just knowing about herbs made me go into researching about plants here, and how people in the Caribbean use them. There is a lot of folk and unwritten knowledge out there in the markets, old people, country people, and then there are also those old practices that might be from the time of when Tainos and Africans got their traditions mixed with Europeans. There are lots of fruit tree leaves that have so many medicinal values and that people in the countryside still use today, like guava, soursop, orange, cinnamon leaf which they all make into a decoction. Also, the "botellas" or bottles, which are basically elixirs or cordials where you mix up a bunch of roots with rum, wine, and/or honey. That's how the famous Mamajuana made its way into tourist shops. 
HA: Is there a specific herb that you feel particularly drawn to?
Eduardo Yunen: Cacao, all the way. I've always loved this herb, pure and bitter. This tropical perennial tree grows in bunches in the Dominican Republic, and all of it is organic, but also, even when the most valuable part of the cacao is the bean which we turn into chocolate, it's also where the more concentrated value of nutrients and enzymes hide. Cacao beans which are filled with antioxidants, anandamide, phenylethylamine, theobromine, etc.., are not the only valuable part of this marvelous tree; its leaves and hulls are also useful. I think the fact that it is so rich and beneficial for our hearts, minds, bodies, physical performance, and spirits, but also so versatile is what makes this my favorite herb. 
HA: Has your herbalism experience encouraged you to learn and explore other related niches, like botanical crafts, gardening, natural dying, aromatherapy, etc? 
Eduardo Yunen: Yes. Herbalism drove me towards working a lot on gardening and permaculture. Among other things I like having my own plants, working with them from the moment I plant the seed to the moment I harvest. I also believe it is part of our responsibility as herbalists, and as humans, to take care of the earth, and while working hands-on we are able not only to reduce or revert carbon emissions to some extent, but also heal the earth itself and make our environment beautiful and useful.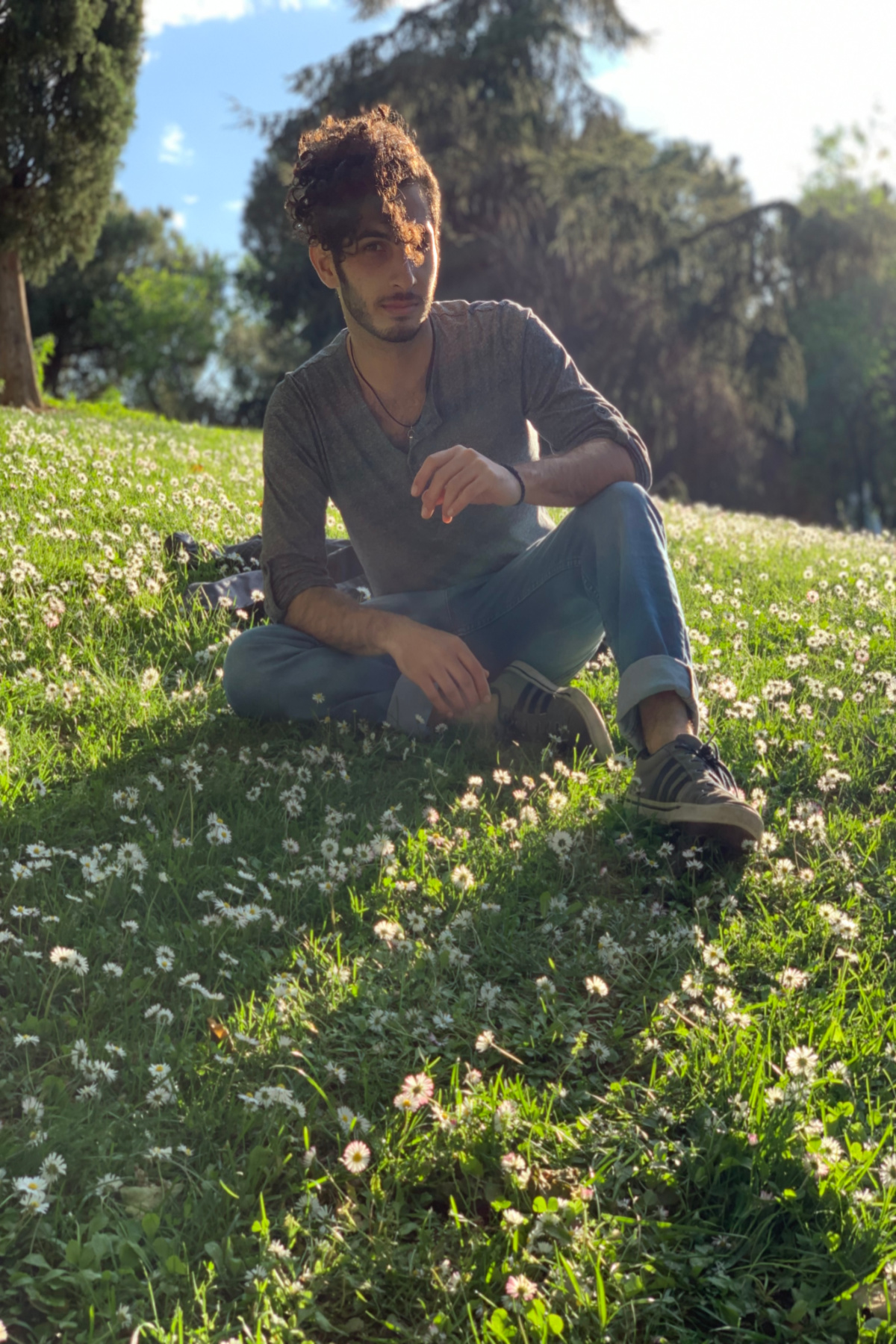 HA: How do you find yourself incorporating herbalism into your daily life?
Eduardo Yunen: Oh, it is everywhere, from the cup of hot chocolate I take every morning, to the way in which I prepare food, and all the way to the night when I usually prepare a vegan golden milk or cup of tea for better sleep. It just makes life easier, more balanced, and harmonized. 
HA: What is the biggest challenge you face in your personal or clinical herbal practice?
Eduardo Yunen: I think the biggest challenge is educating people outside of this niche. There are so many ways in which plants can help, from just healing the earth, to making a cooler environment, to cleaning the air, to helping us regain balance and harmony. And a lot of people are still wary of going back to nature, to get in touch with themselves and with the earth and to let nature "heal" them. I believe there is a powerful potential in plants, and it has been a challenge to get people to understand this. 
HA: If you could provide any tip or encouragement to those just starting their herbal studies, what would it be?
Eduardo Yunen: Just start out in the kitchen! Plant aromatics if you have a nice window. These kitchen herbs are easy to incorporate into your herbal practice. They have a lot to offer and it's always a good way to start. Experiment with flavors, make mint or cinnamon tea, put a little bit more of basil on that pomodoro, include new spices and explore out of the salt-and-pepper basic seasoning. There is a whole world, and the easiest way to start is with what you eat because basically, it already is mostly herbs.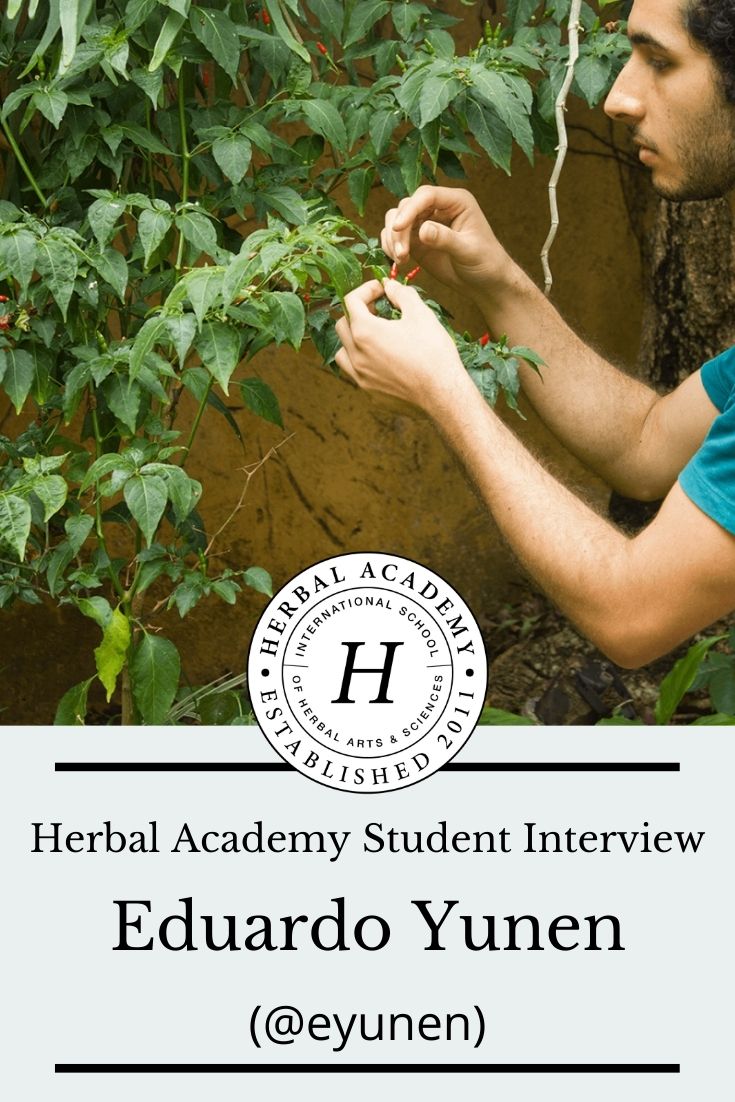 Connect with Eduardo on Instagram (@edyunen).
Stay tuned for the next installment of our Student Feature Series with Kendra (@The.Herbal.Scoop).
Read past student interviews with:
Caitlin Frazier (@TheLocustsandHoney)
Chelsea Stephens (@wildflowerandtherose)
Katie Woods (@ritual_skincare)
Alyson Morgan (@AlysonSimplyGrows)
Cat Seixas (@TheOliveTreesAndTheMoon)
Stephanie Pavelko (@MyTinyLagunaKitchen)
Colleen Codekas (@GrowForageCookFerment)
Inspired by Eduardo's herbal journey? Further your own journey today by perusing our online herbal courses.
Photo credit: All images in this post are by Eduardo Yunén.