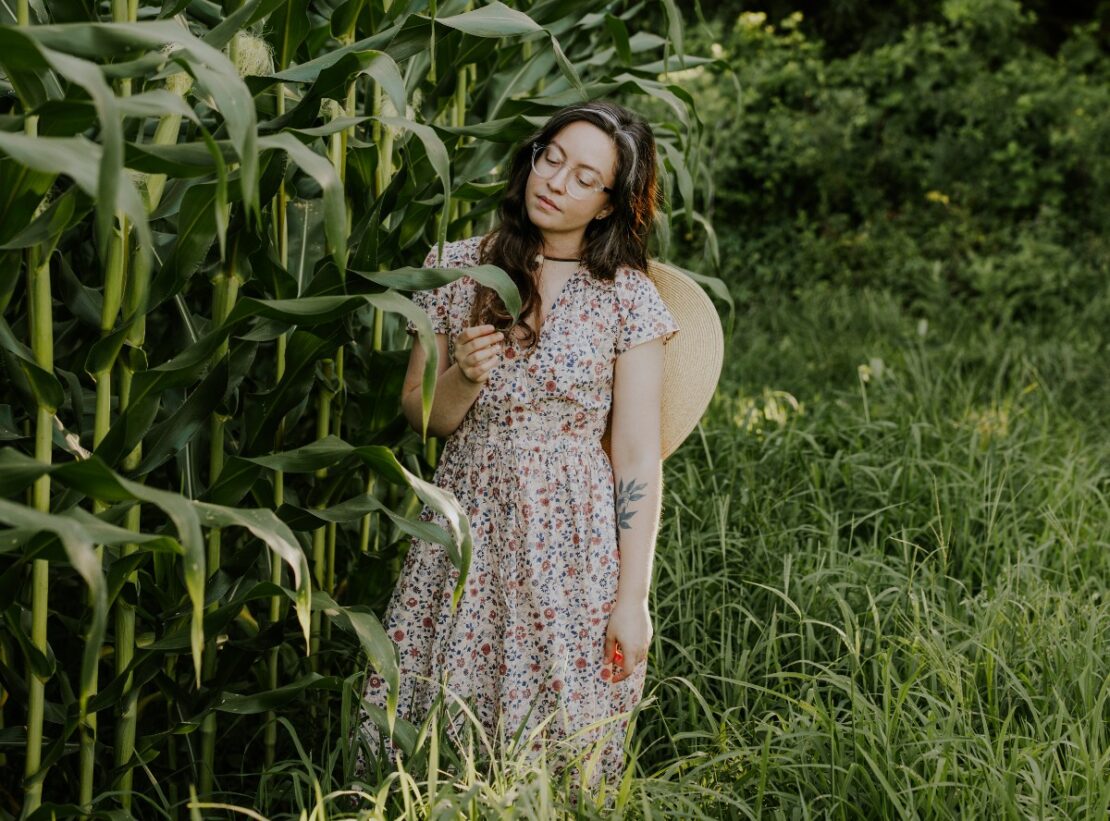 Herbal Academy Student Feature: Dagny Kream (@thecottagepeach)
We recently spoke with Dagny Kream (@thecottagepeach) as part of our Student Feature Series. Dagny is the owner of The Cottage Peach, where she shares slow-living inspiration: seasonal farm-to-table vegetarian recipes, gardening tips, seasonal crafts, traditional skills, and more. Dagny has completed Herbal Academy's Foraging Herbal Course and the Botanical Skin Care Course.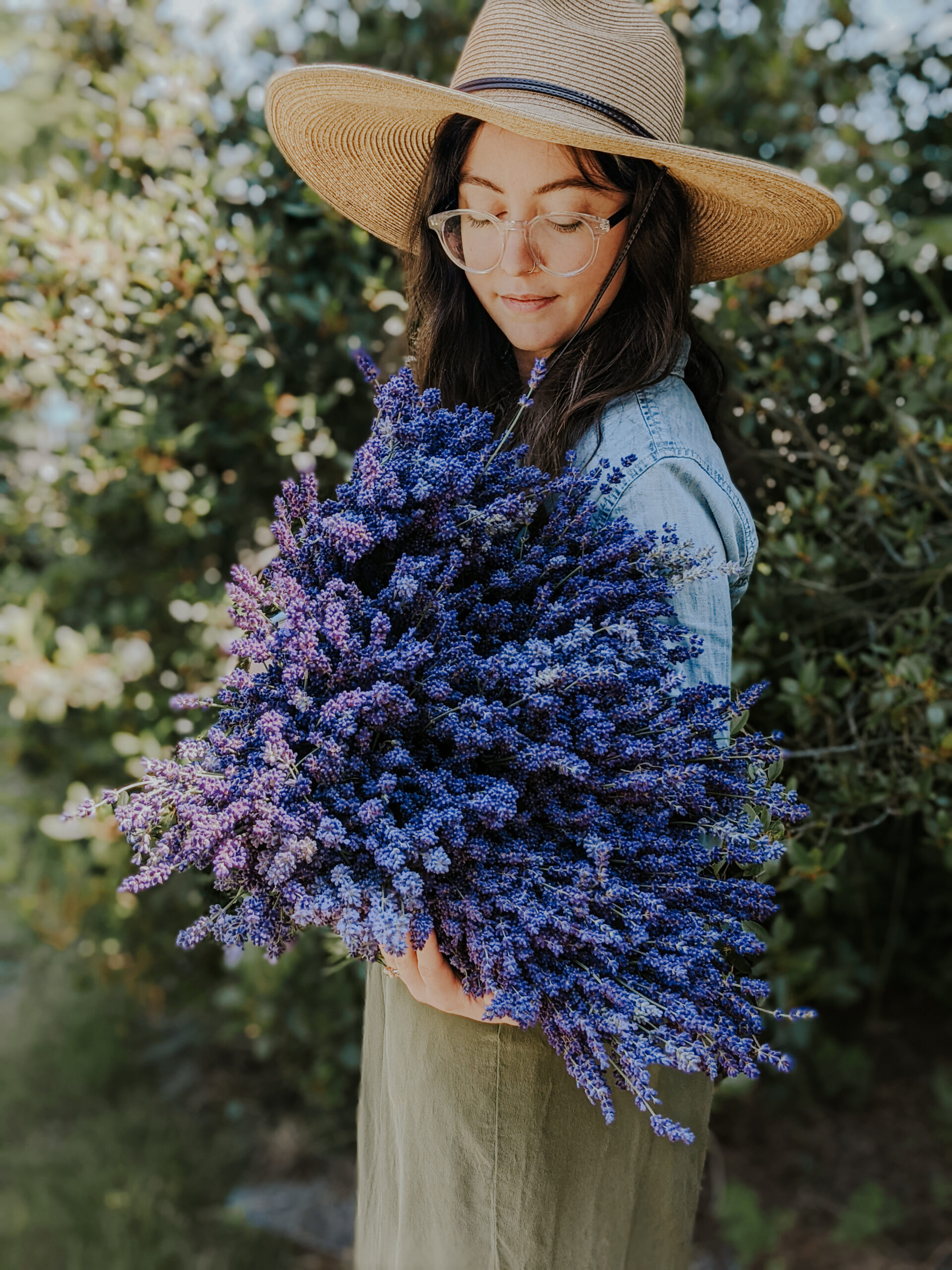 HA: Please tell us a little bit about yourself and how you started your path into herbalism. 
Dagny Kream: I have been drawn to nature since I was a child, and can vividly remember the infatuation I have always felt with plant life. I spent many hours laying on the earth in the company of tiny plants in wonder of their roots, stems, and leaves. Growing up in a rural farm town, there wasn't much else to do but be outside and I'm so grateful for that experience. I lost touch with that side of myself in my teenage years, but in my early twenties, I was diagnosed with multiple autoimmune conditions that left me feeling anxious, depressed, and out of touch with myself. Dealing with chronic pain, lack of sleep, and constant fatigue every day, and not getting answers because I was "too young" to be sick, I noticed the plants began calling for my attention again. It started with sweet, soft mullein. I noticed her out of the corner of my eye while walking our land over and over again. Eventually, I took the invitation and my study of herbalism began, one plant at a time. After mullein came purple dead nettle, chamomile, red raspberry leaf, and calendula. Then came the realization that there is food all around us if we only know where to look for it. Foraging and herbalism have allowed me to feel a sense of control over my health, giving me a way forward when I felt lost, and inspiring me to connect with nature on a deeper level. I began gardening as a way to deepen this practice and care for myself, and eventually, this path led me to start The Cottage Peach, a community of like-minded souls passionate about accessible gardening for those with chronic illness.
HA: Why did you choose to pursue your herbal education with the Herbal Academy?
Dagny Kream: Herbal Academy's vast trove of herbalism resources available through the blog and newsletter convinced me beyond a shadow of a doubt that I would find accurate, safe, and useful information within all of the courses I wanted to enroll in. I have repeatedly been impressed by both the accessible way that information is presented through the course modules and beautiful illustrations, and the research that goes into providing scientifically accurate lessons with a healthy dose of the spiritual and cultural elements behind each practice. Herbal Academy's inclusion of physical books and companion guides alongside the online coursework really help me to solidify my understanding of key concepts and provide multiple modalities from which to learn.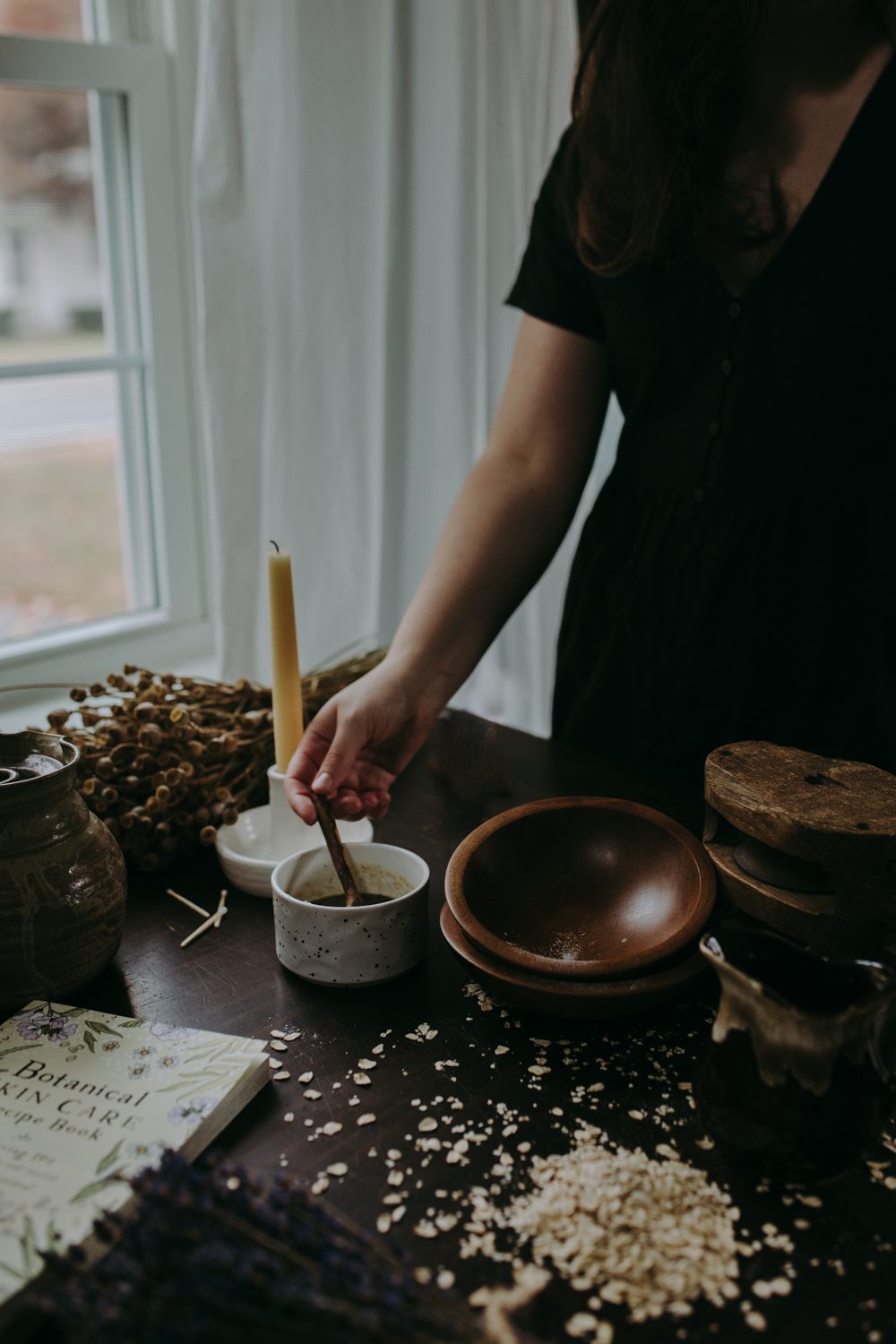 HA: Do you own an herbal business or brand?  
Dagny Kream: Herbalism is a pillar of The Cottage Peach but my business is multi-passionate just like me. I believe all my interests—gardening, seasonal crafts, and traditional skills to name a few—connect together in my herbalism path.
HA: Tell us, what's next for you in your herbal journey?
Dagny Kream: I hope to continue to deepen my understanding of the plants that call to me each season by expanding my herb garden. I'll also be attempting to replace all store-bought skincare products with homemade herbal solutions learned in the Botanical Skin Care Course. My long-term dream is to graduate from the Intermediate Herbal Course in order to equip myself with the knowledge to empower others to connect with the health-giving powers of plants.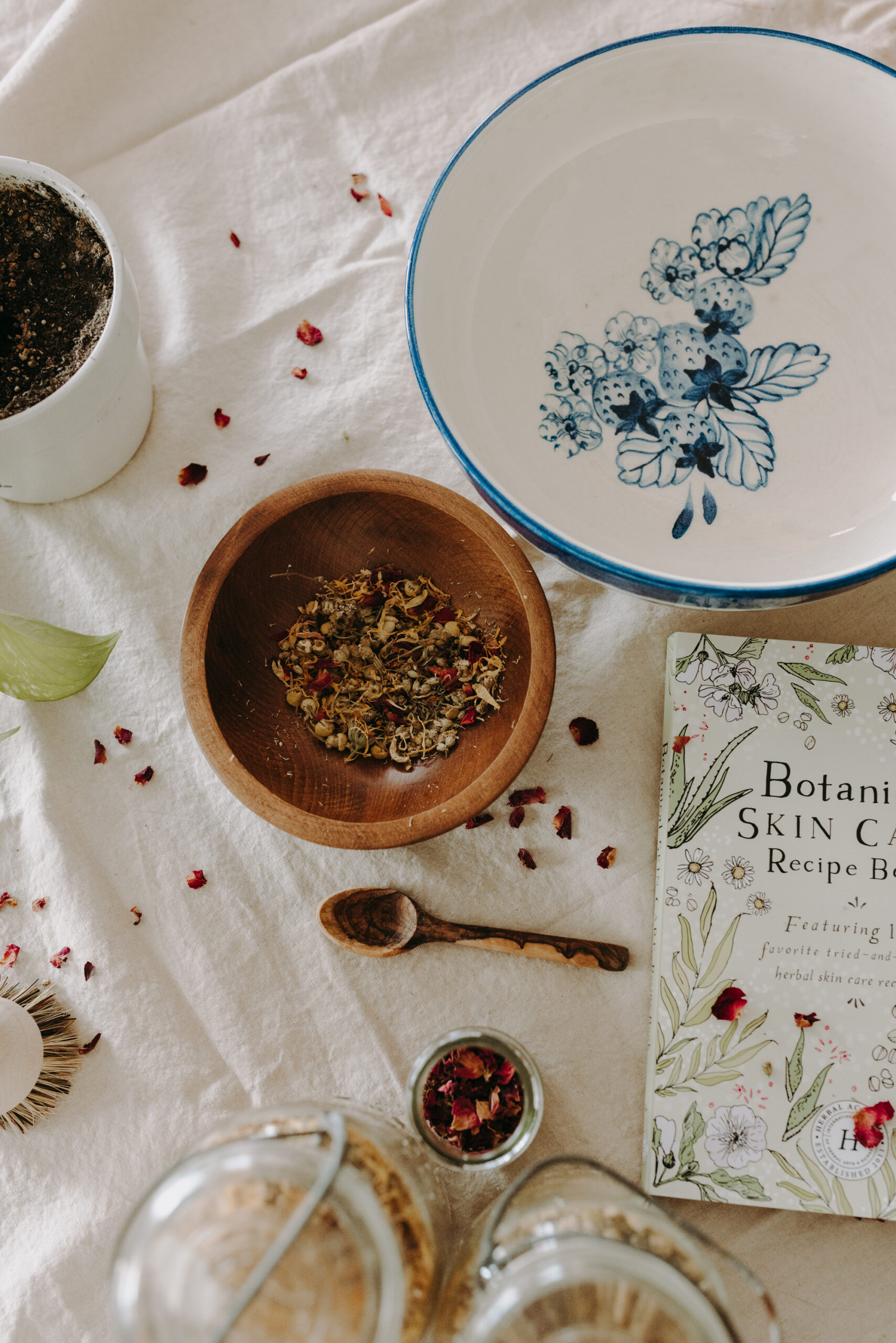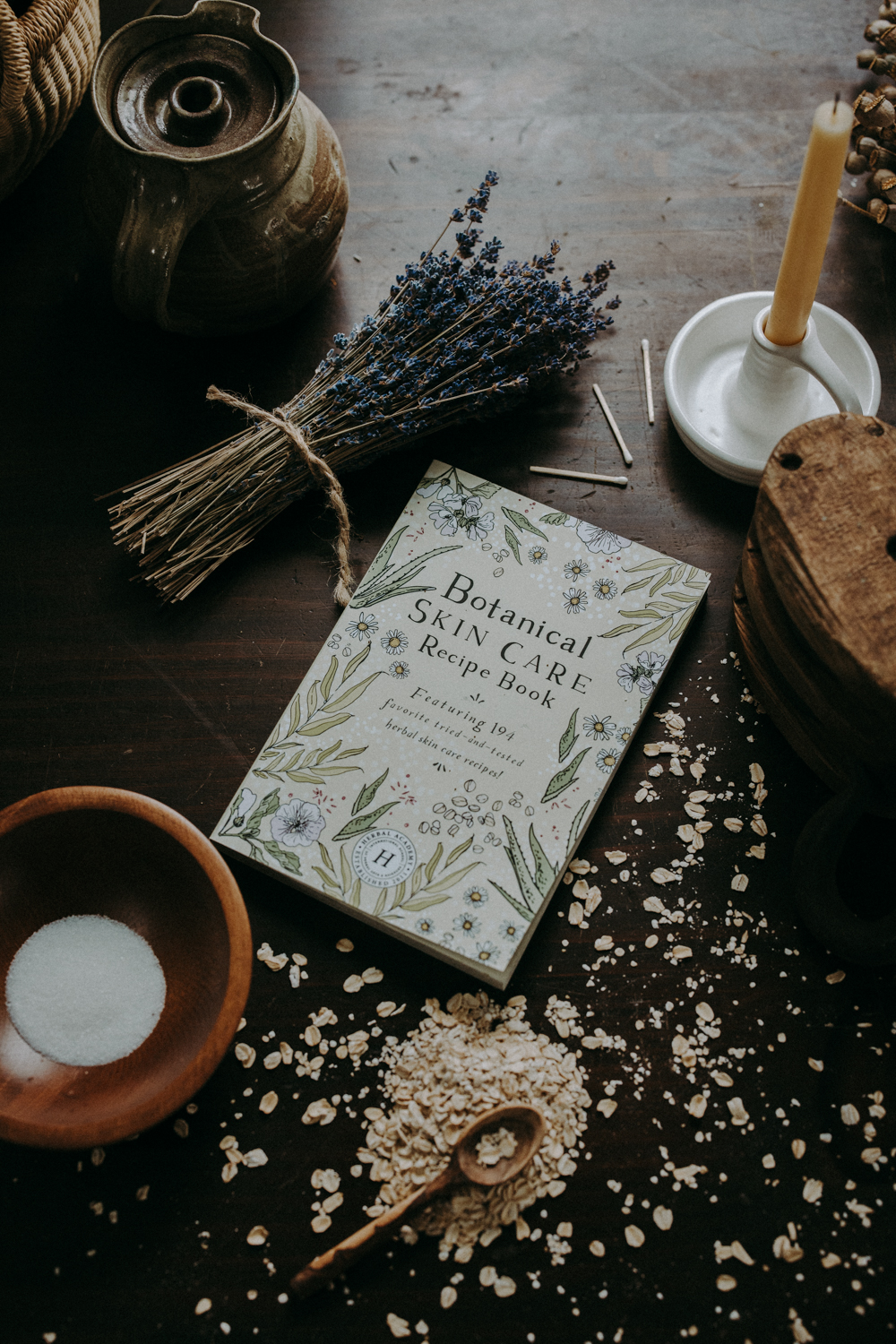 HA: What were you looking for when you enrolled in your Herbal Academy course that you were not able to find elsewhere? 
Dagny Kream: The courses I have enrolled in from Herbal Academy offered specific knowledge I was seeking in foraging and skincare products for an accessible investment. Beyond the monetary considerations, I appreciated that the online format allowed me to learn on my own timeline when I had the energy—so important when navigating life with chronic fatigue. I also appreciated that the online modules offer a blend of video + text, with PDFs that can be downloaded and referenced at a later time.

HA: What did you like most about your Herbal Academy course? 
Dagny Kream: Learning about botanical skincare and foraging through Herbal Academy, I loved how empowered I felt having so many resources at hand to learn from. My favorite piece of either course would have to be the recipes that are included that bridge the gap from textbook to experiential knowledge, allowing me to solidify my learning with real-life practices.

HA: How has your herbal education deepened your connection with nature and the seasons? 
Dagny Kream: The framework of herbalism allows me the opportunity to find excuses to connect with the seasonality of life in a way I haven't before. Living in New England, our winters are long, cold, and gray. In this environment, it is easy to feel disconnected from nature until spring returns again, but through herbalism I have new ways of exploring my relationship with plants no matter the weather outside. Furthermore, knowing that there are plants for just about every type of ailment has allowed me to see the earth through a lens of caring and protection, a reciprocal relationship that I hope to further by caring for the earth the same way she cares for me.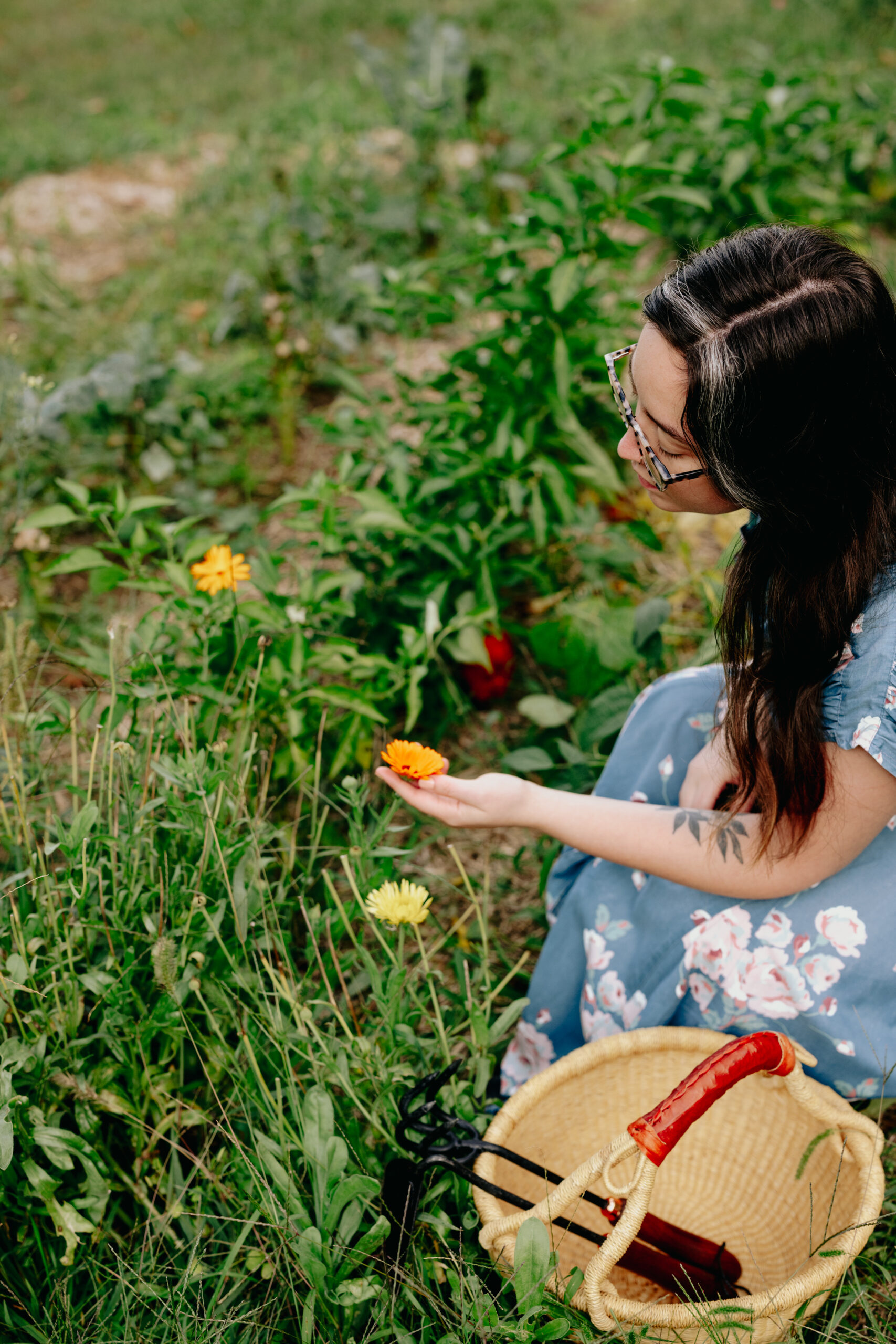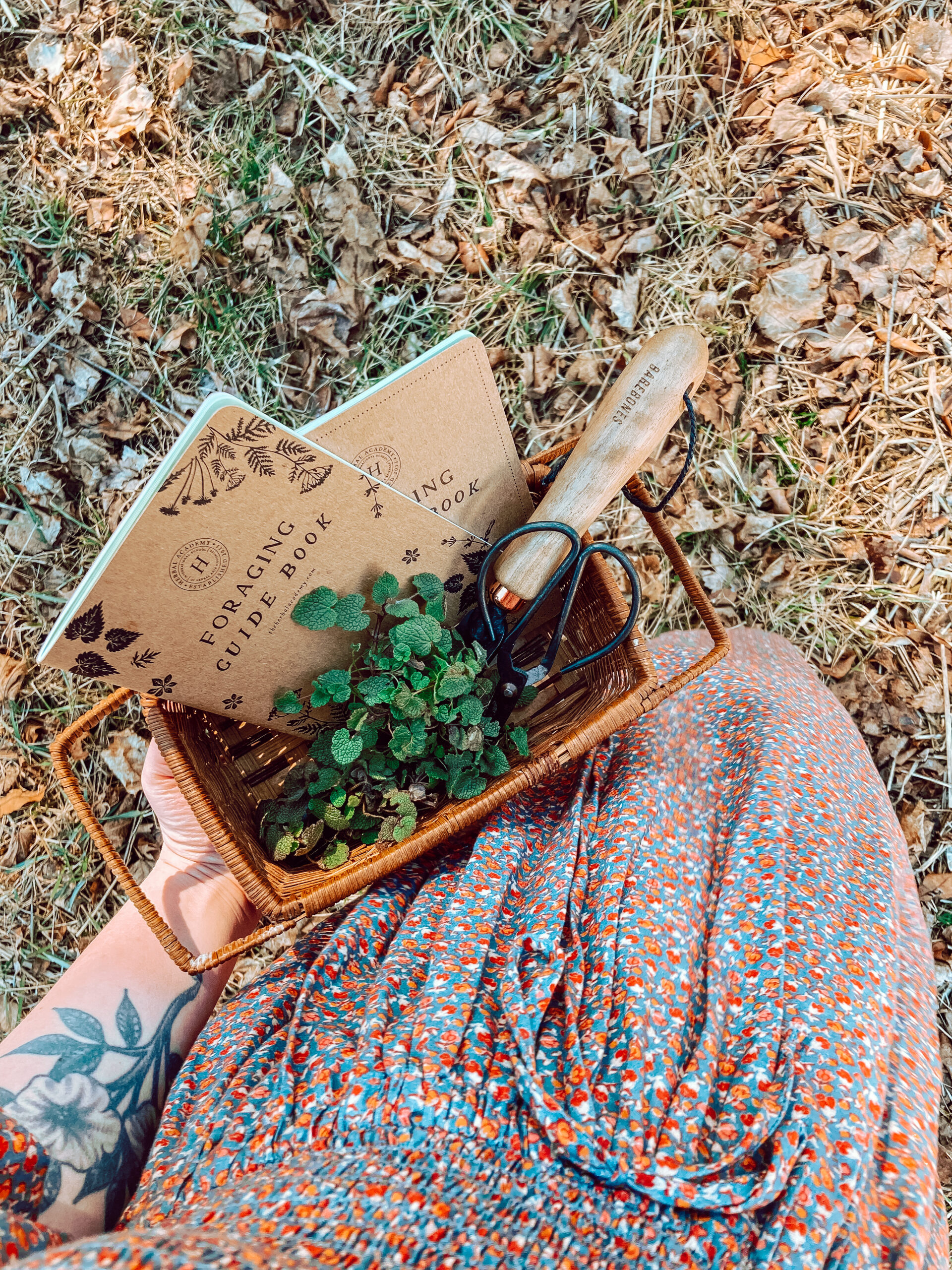 HA: How has your herbal education deepened your connection with your personal health and wellbeing?
Dagny Kream: Due to my multiple chronic illnesses, my relationship with my personal wellbeing has been fraught with challenges. Since these illnesses are invisible from the outside and I don't "look" sick, my pain often isn't taken seriously and I was left feeling like there were no options for me to heal.
Through my herbal education, I have been able to reclaim a sense of empowerment and love for myself in relationship with plants. This knowledge has been key in my journey towards health and improving my quality of life. I feel a newfound sense of trust in the outcome of my life, knowing that I can turn this challenge into a story of healing and self love.
HA: Have you learned more about your ancestral roots and traditions through your herbalism studies? If so, what have you learned? 
Dagny Kream: Yes. My great-grandparents on both sides of my family came to the US as children during times of conflict, and in the process of immigrating much of our family history was lost, and intergenerational trauma still affects us to this day. I feel the loss of that story often and wonder what my ancestors' lives were like. I had a moment of revelation while mixing up an infused oil last summer where I realized that the things my hands were doing today were things my ancestors must have done at some point, too. This realization encouraged me to look deeper into the Celtic herbalism practices that would have been a part of their lives many years ago. I started to incorporate more traditional Celtic herbs, deepening my practice. I may not have many photos or stories, or even some of the names of my ancestors if I go back far enough, but what I do have is a genetic memory of hands tending plants and helping each other.
HA: Is there a specific herb that you feel particularly drawn to? If so, why do you think that is OR what is it about that plant that fascinates you?
Dagny Kream: Rosemary has always been a reassuring presence in my life, and now that I know my body is prone to inflammation, I can see why I was drawn to it. But what I love most about rosemary is its versatility, from cooking to aromatherapy. It seems from my perspective that this sturdy herb is intentionally composed to reach out to as many of us as possible, a friend to all whether you enjoy simply baking it into shortbread, incorporating it into your skincare recipes, or infusing it into a tisane. I love "gateway" herbs like this that are familiar to so many of us because they truly invite any curious mind to see how many hidden benefits are just below the surface.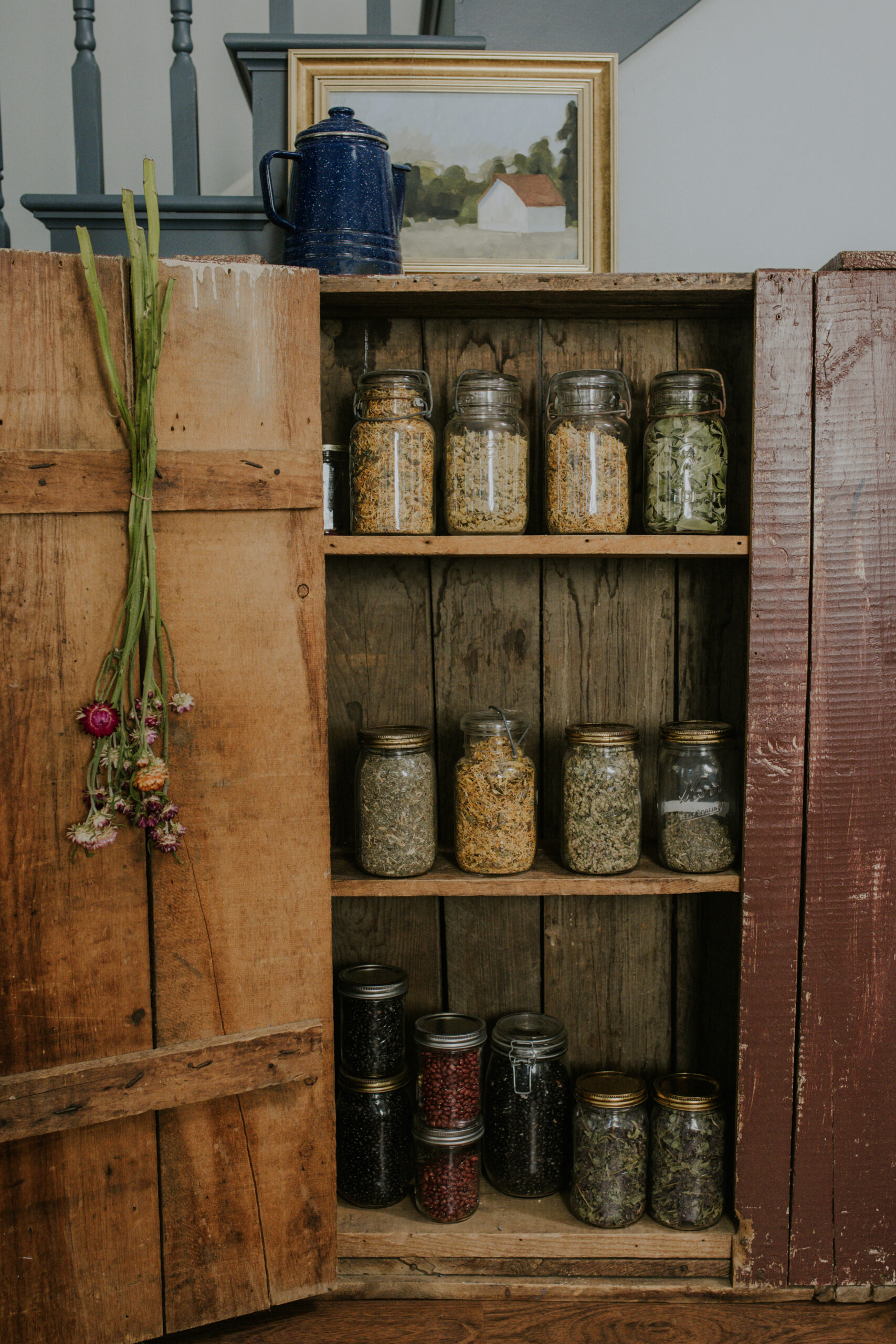 HA: How do you find yourself incorporating herbalism into your daily life?
Dagny Kream: Herbalism winds its way into my daily routines, most often in the mornings, when I choose my blend of herbs for a tisane. This moment each morning invites me to check in with myself and where I am at, providing the chance to start my day with care and intention. I will lean on plants throughout my work day as new challenges arise, picking up calendula-infused hand lotion after a moment of working in the garden soil that left my hands dry or inhaling sweet lavender for a moment of calm. On my walks, I keep an open heart and open eyes for any invitations from neighborhood plants. This mindset of discovery has led me to the most amazing things growing on my own country road—wild patches of grapes, onion grass, and autumn olive, to name a few. 
HA: What is your favorite herbalism resource (book, podcast, movie) and why?
Dagny Kream: I find important herbal knowledge in many places, including right here at Herbal Academy. Most recently, I've enjoyed Alyson Morgan's book, "Our Kindred Home." Within these pages, Alyson shares deeply about her own life experience navigating past trauma and self-identity intertwined with her beneficial relationship with plants and countless beautiful recipes to try. I learn best by hearing from others who came before me, and reading this book felt like a conversation with a trusted resource who could help me to really solidify all the bits of knowledge I have been gathering into a cohesive whole.

HA: Do you enjoy sharing your herbal knowledge with others in your life via recipes, products, photography, blog posts, community workshops, etc?
Dagny Kream: Sharing what I've learned about herbalism and foraging has become a large part of how I internalize that knowledge. On my blog I will often dive into specific benefits of individual herbs alongside a favorite recipe or two, and try to include growing information for specific herbs when relevant. Herbal photography and videography make their way over to my Instagram quite often, as we love to celebrate plants and all their beauty and benefits as a community. In this way, I can grow my confidence in my craft while contributing to my community's own empowerment in working with herbs.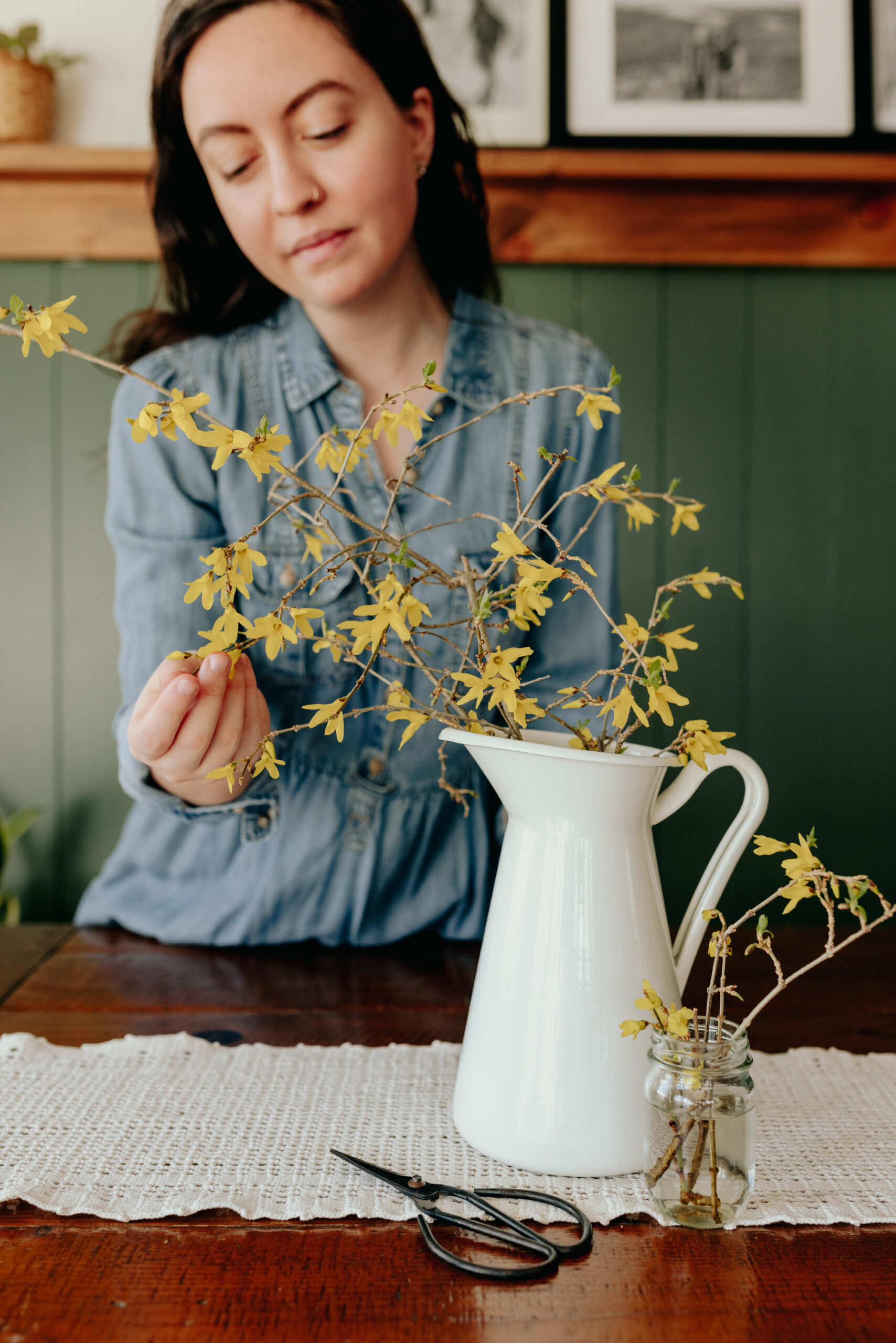 HA: How has herbalism sparked your creativity? 
Dagny Kream: With plants, even in their many similarities, no two are exactly alike. I am inspired every day by the diversity of plant life and the sheer number of ways you can incorporate plants through herbalism no matter your skill level. Knowing there is no limit to the shape or form that my herbal studies take gives me the sense that anything is possible in my creative life. I draw inspiration from the colors and shapes of nature in my work every day.

HA: If you could provide any tip or encouragement to those just starting their herbal studies, what would it be?
Dagny Kream: Start with plants that are known to be safe for almost everyone, like lavender and chamomile, so you can build your confidence. Most importantly, be very conscious of not allowing your limiting beliefs to shape what you think you can and cannot learn. It can be intimidating to enter a new field of study, especially one that deals with something that can feel complex and scientific like herbal preparations, but so much of what may feel insurmountable can become completely achievable when you get out of your own way and break it down into smaller steps. Let the plants guide you, one by one, and soon enough you'll be looking back on your studies wondering how you navigated life before you had this community of plant friends beside you.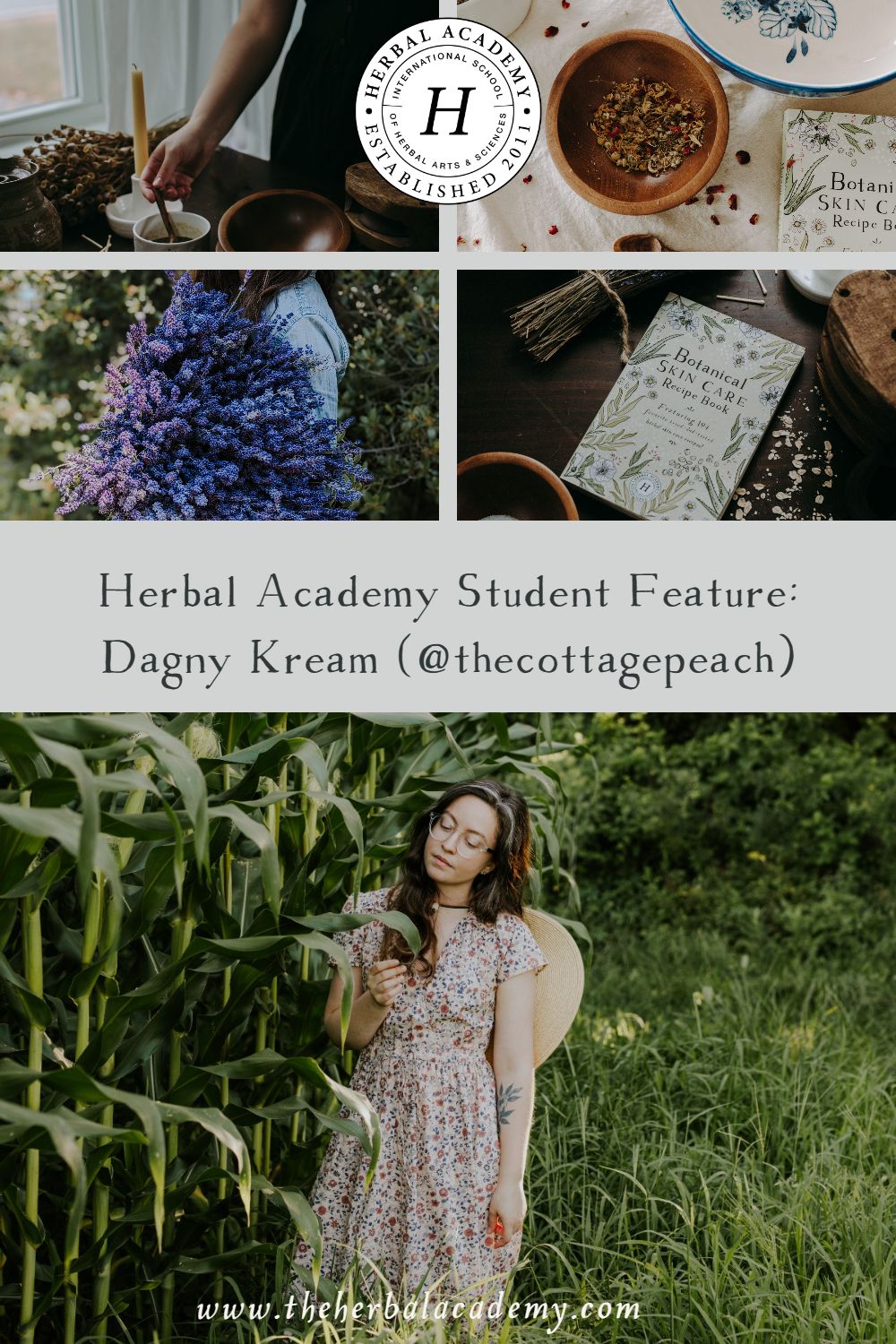 Read past student interviews with:
Laura Rubin (@nurtureforall) – Slow-living inspiration: recipes, gardening, seasonal crafts, traditional skills, and more; graduate of the Business Herbal Course
Serena Hartwell (@serenahartwell) – Forager, photographer, herbalist, and graduate of Intermediate Herbal Course and Emulsifiers and Preservatives in Botanical Products: 2 Part Intensive
Andrea Minniti (@divinebalanceco) – Writer, wildcrafted recipe creator, and graduate of The Craft of Herbal Fermentation Course and Intermediate Herbal Course
Jess Buttermore (@cedarhouseliving) – Graduate of the Botanical Mixed Drinks Workshop, photographer, gardener, and business owner.
Robin Ahrens (@barberryherbal) – Advanced Herbal Course graduate and herbalism educator.
Sarah Jaroch (@evidence_of_providence) – Business Herbal Course graduate, copywriter for herbalists, and online marketer.
Amrit-Sadhana Boyd (@theuntamedherbalist) – Canna + Herbs Course graduate, holistic anxiety coach, and herbalist.
Deema Al Huqail (@alkamicare) – Botanical Skin Care Course graduate and creator of hand-blended teas, flower essences, botanical skin care, and artisanal crafts inspired by the old and folk ways.
Inspired by Dagny's herbal journey? Further your own journey today by perusing our online herbal courses.