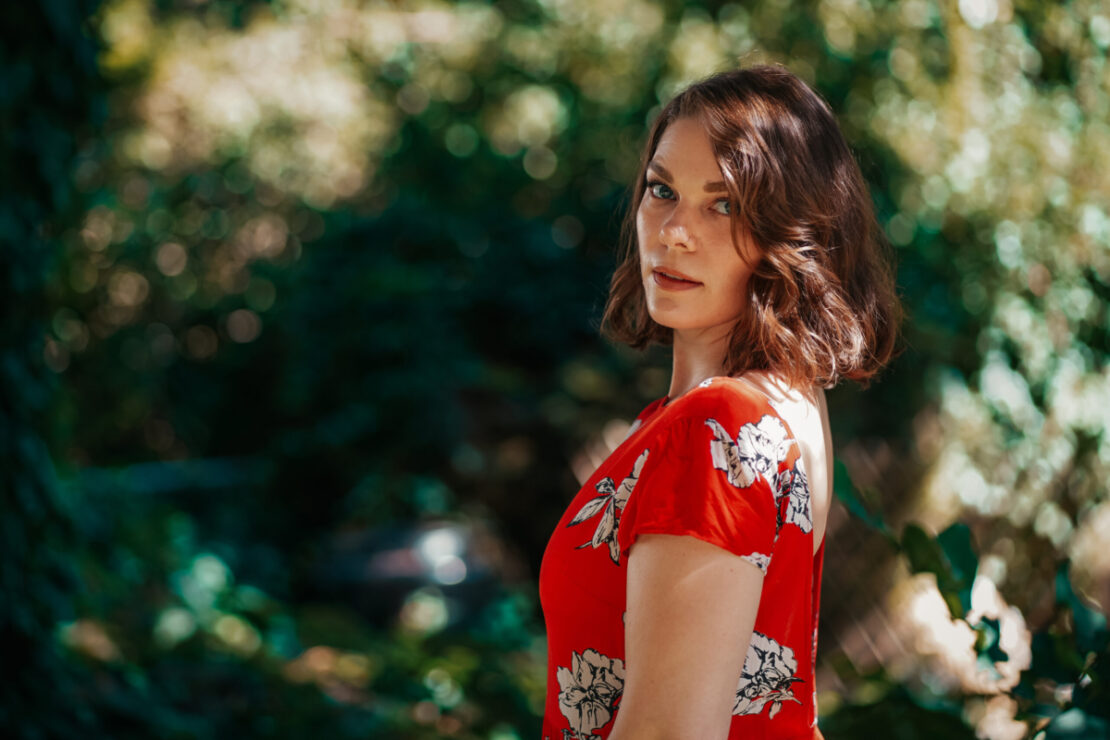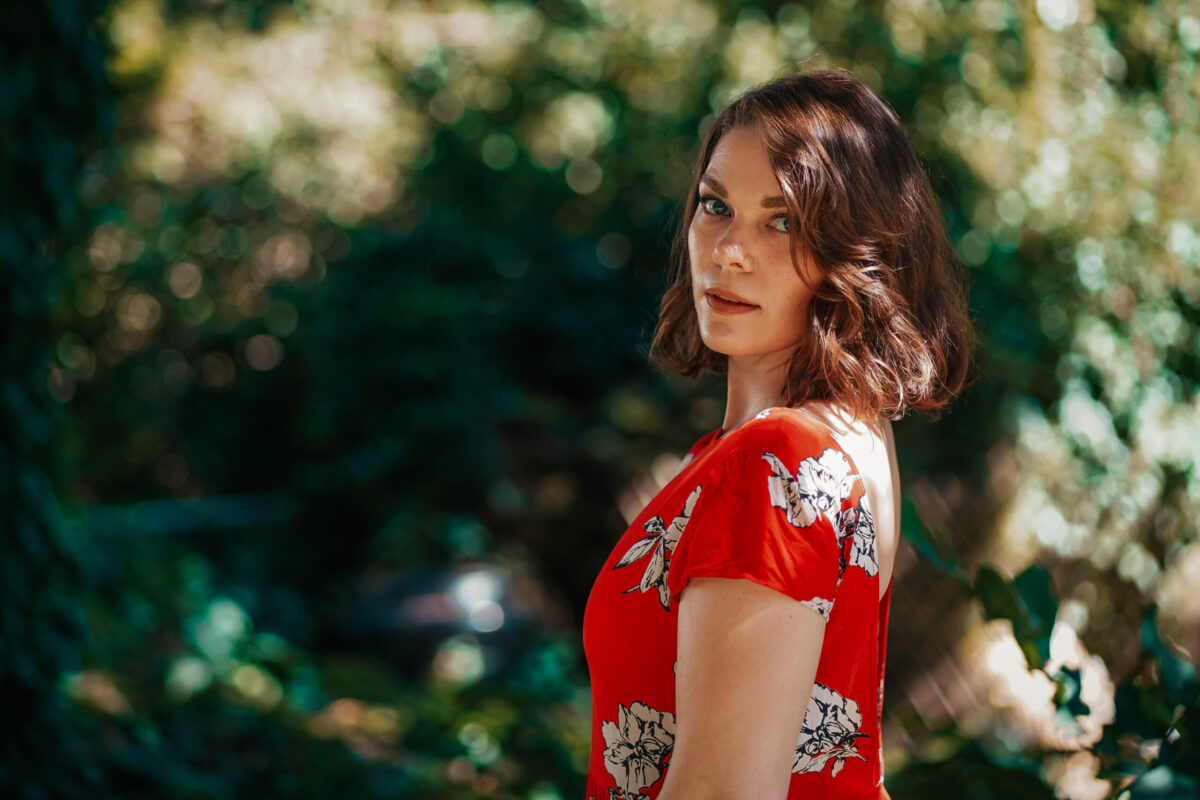 Herbal Academy Student Feature: Amrit-Sadhana Boyd (@theuntamedherbalist)
For this Student Feature, we interviewed Amrit-Sadhana Boyd (@theuntamedherbalist), owner of The Untamed Herbalist. As a trauma informed holistic anxiety coach and herbalist, Amrit-Sadhana applies extensive training and a lifetime of experience to provide her clients with a toolkit of modalities to help strengthen, nourish, and repair their nervous systems. She has completed the Introductory Herbal Course, Intermediate Herbal Course, and the Canna+Herbs Course.
HA: Please tell us a little bit about yourself and how you started your path into herbalism.

Amrit-Sadhana Boyd: I've been studying herbs since I was about 13 years old. I was always interested in how plants can be a large part of our health and healing process. About 9 years ago I started to notice that coffee was increasing my already high anxiety. I didn't want to cut it out because I loved the flavor, the ritual, and the joy it brought to my mornings. I started researching herbs I could add to my coffee to help counter the effects (not to mention that coffee in and of itself is an herb with incredible medicinal properties). That was when I started to seriously study herbalism and begin my path as an herbalist. Since then I focused my studies on herbs that help to support a healthy, calm nervous system, and that could guide me in my own trauma-healing journey. I believe that herbs and plants are our allies and support us in healing ourselves.
HA: Why did you choose to pursue your herbal education with the Herbal Academy?

Amrit-Sadhana Boyd: I wanted to deepen my studies and learn as much as I possibly could. I did some research on online programs and Herbal Academy came up over and over again as one of the most recommended programs.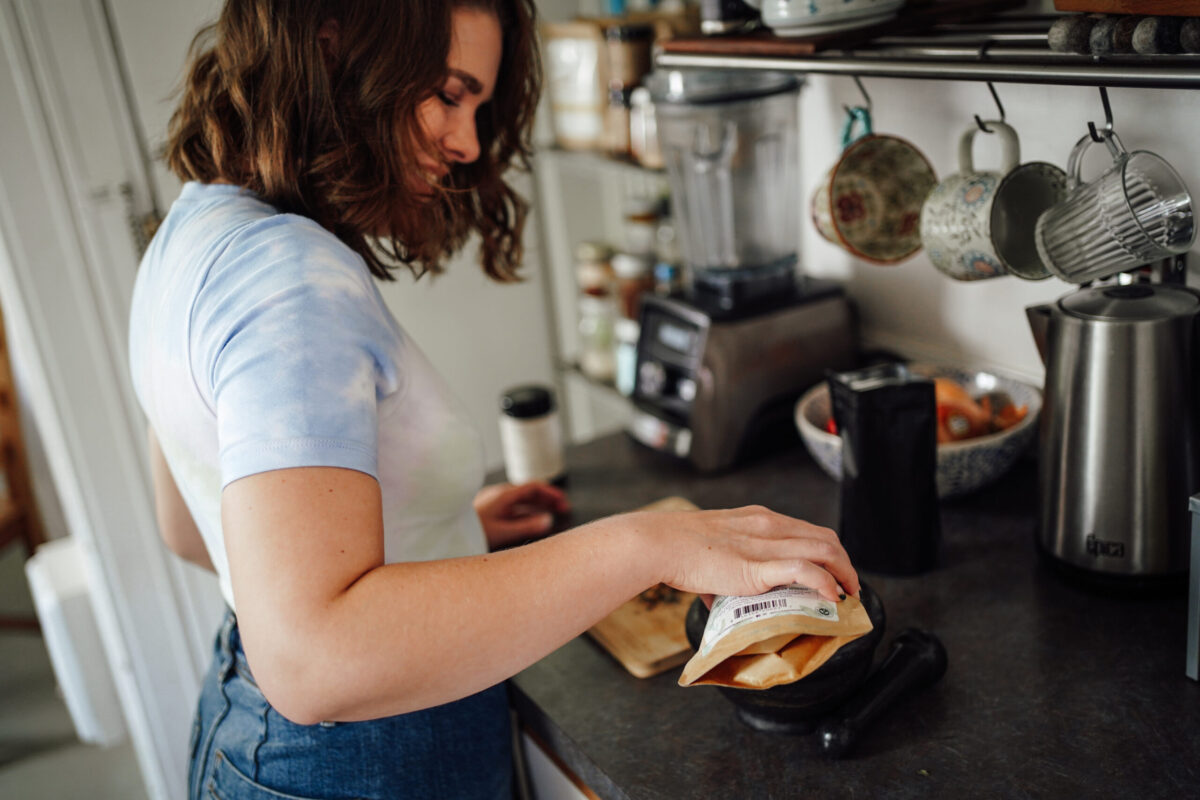 HA: Do you own an herbal business or brand?

Amrit-Sadhana Boyd: Yes, The Untamed Herbalist. I currently have one product called Beauty Nectar. It is a functional creamer with a base of organic coconut milk powder. It has shatavari and rose powder for hormone balance, anxiety and nervous system support, as well as to promote healthy hair, skin, and nails. It is blended with rose, cardamom, and vanilla and it takes any beverage to the next level.

HA: How did the Herbal Academy courses help shape or improve your business?

Amrit-Sadhana Boyd: They gave me the confidence to be able to formulate. I also use my knowledge to custom formulate herbal tea blends for my clients.
HA: Did your Herbal Academy courses help you avoid any potential mistakes while launching your business?

Amrit-Sadhana Boyd: Yes, they gave me the guidance and confidence I needed.

HA: Tell us, what's next for you in your herbal journey?

Amrit-Sadhana Boyd: Maybe another product? I continue to integrate my herbalism knowledge into the education I provide on my platforms as well as formulating special blends for clients.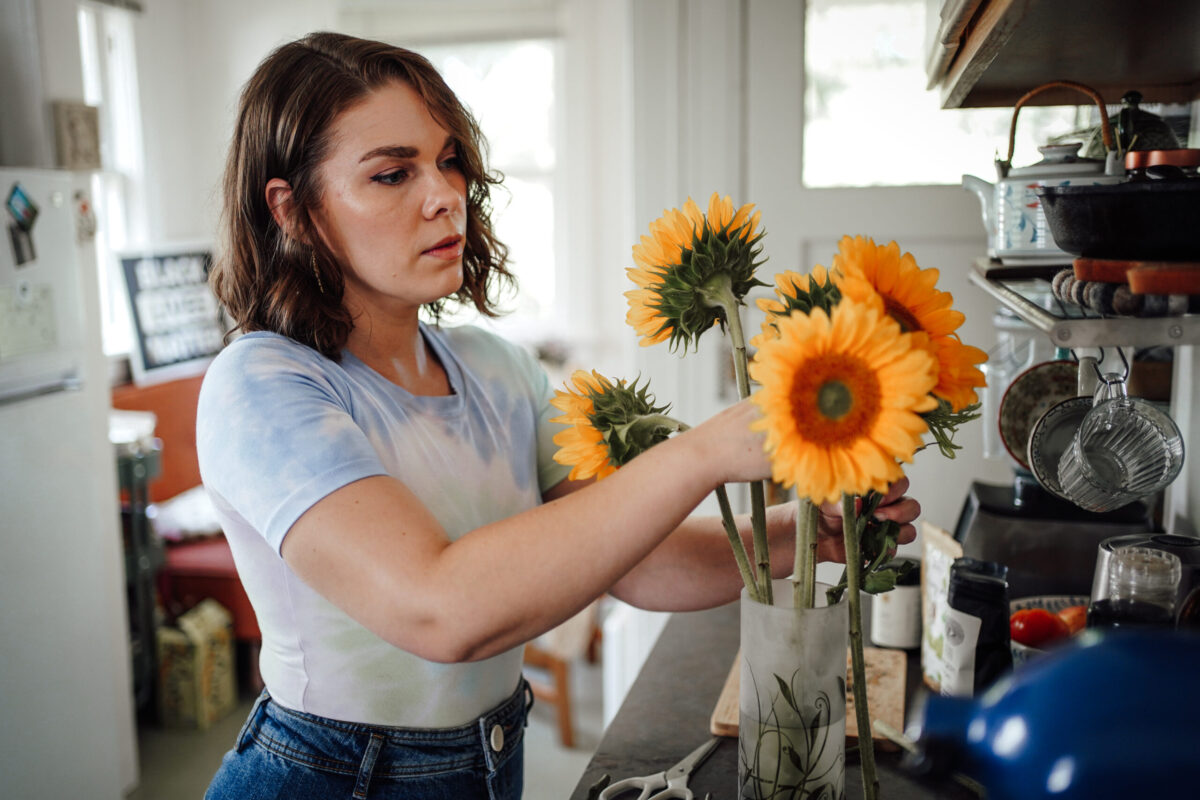 HA: What did you like most about your Herbal Academy course?

Amrit-Sadhana Boyd: It is self-led and that you can do it at your own pace. It is incredibly informative and detail-oriented. I learned everything I needed to in order to feel confident in integrating herbal medicine into my life in different ways.

HA: If you were to recommend an Herbal Academy course to your best friend, what would you say?

Amrit-Sadhana Boyd: It depends on where they are in their journey. If they are a beginner and just starting out, I would say the beginner course. It is so much info and it takes time to get through and absorb. If they are already versed in some herbal info, I would say the Intermediate Course.
HA: Do you feel empowered by your herbal practice?

Amrit-Sadhana Boyd: Yes! It has been incredibly empowering. I am reminded daily that there are ways for me to help my body. I truly believe that herbalism has the ability to support us through whatever we are going through, whether it is anxiety, low mood or depression, digestive issues, headaches, hormone balance, etc.

HA: Is there a specific herb that you feel particularly drawn to?

Amrit-Sadhana Boyd: I have a deep love for reishi and lemon balm. I believe in part this is because of their beautifully calming and nourishing effects on the nervous system. As someone who has CPTSD, healing my nervous system and learning to self-regulate is one of my main intentions in life. These herbs help me to feel safe. They create a sense of calm, like when a mother holds you closely and kisses your forehead.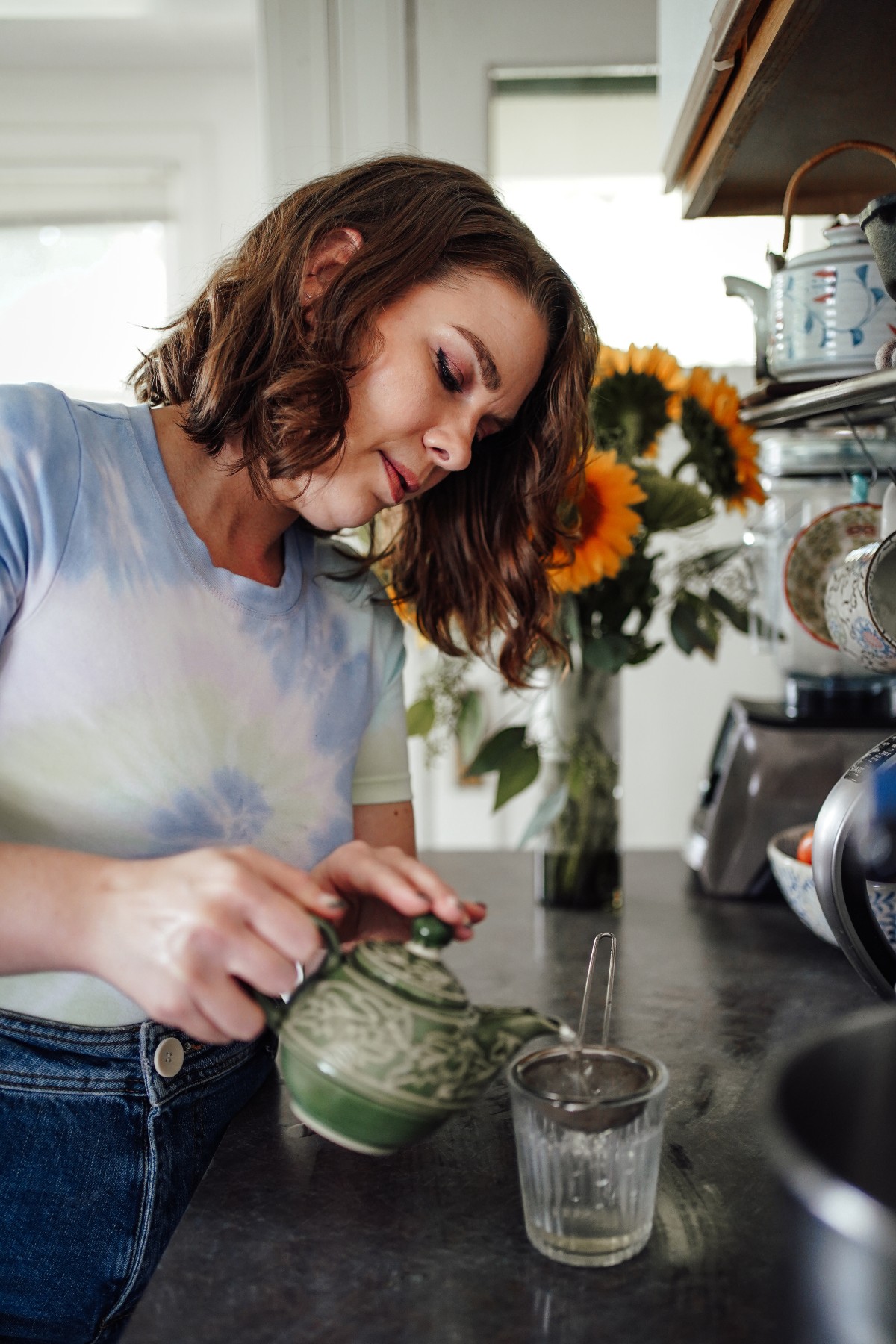 HA: Do you have any rituals or traditions surrounding herbalism that you would like to share?

Amrit-Sadhana Boyd: I put herbs in my coffee every single morning, both to support my body as well as to create intention around that process. It helps me to connect to my body and see what my needs are each day—I add herbs depending on that. I also love smoke clearing with herbs. I do this at least once a week. 
HA: How do you find yourself incorporating herbalism into your daily life? 
Amrit-Sadhana Boyd: I make a pot of tea every single day. I check in with myself and see what my body and mind feel like they need and pull herbs depending on that. I love this ritual. I also cook with a ton of herbs and spices, knowing that they don't only hold flavor but also give my body support. 
HA: Which herbalism teachers, authors, or peers do you find most inspiring, and why?
Amrit-Sadhana Boyd: Matthew Wood is one of my favorites as well as Adriana Ayales who owns Anima Mundi. She is an Indigenous herbalist and I learn so much from her.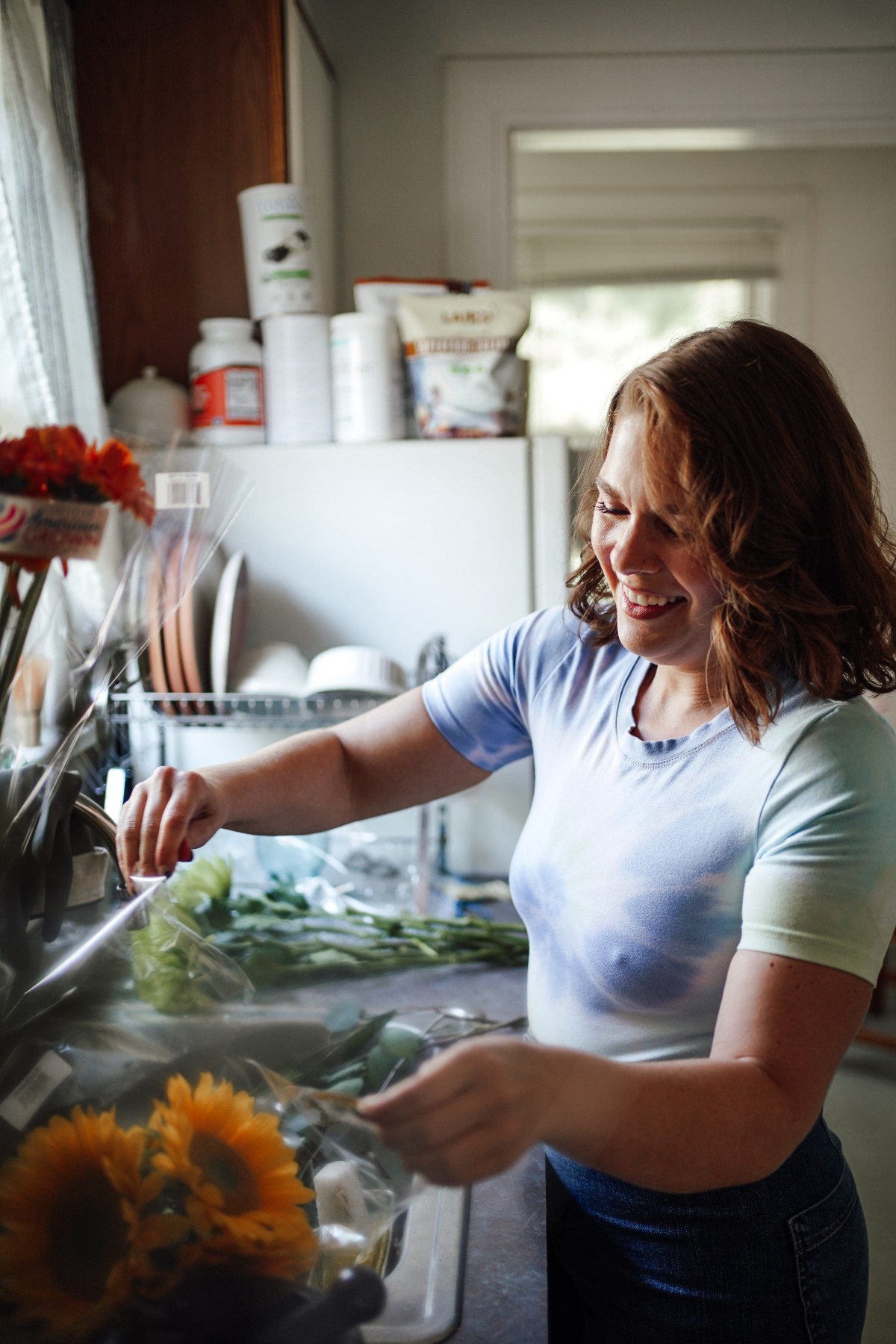 HA: Do you enjoy sharing your herbal knowledge with others in your life via recipes, products, photography, blog posts, community workshops, etc?

Amrit-Sadhana Boyd: Yes! I have made a living off it. As a certified herbalist and nervous system coach, I share with my community daily about herbs that can support their journey, what herbs work for what, and any contraindications as well as the safety and history of the herb.
HA: If you could provide any tip or encouragement to those just starting their herbal studies, what would it be?

Amrit-Sadhana Boyd: Just start researching. Take something that you deal with in your life and research herbs that support that. Also make sure you research the cultural significance of the herbs, where they came from, and how you can honor and respect that. If you are going to study herbalism, I believe it is incredibly important to discontinue appropriation and learn to honor and respect where the herbs and traditions come from.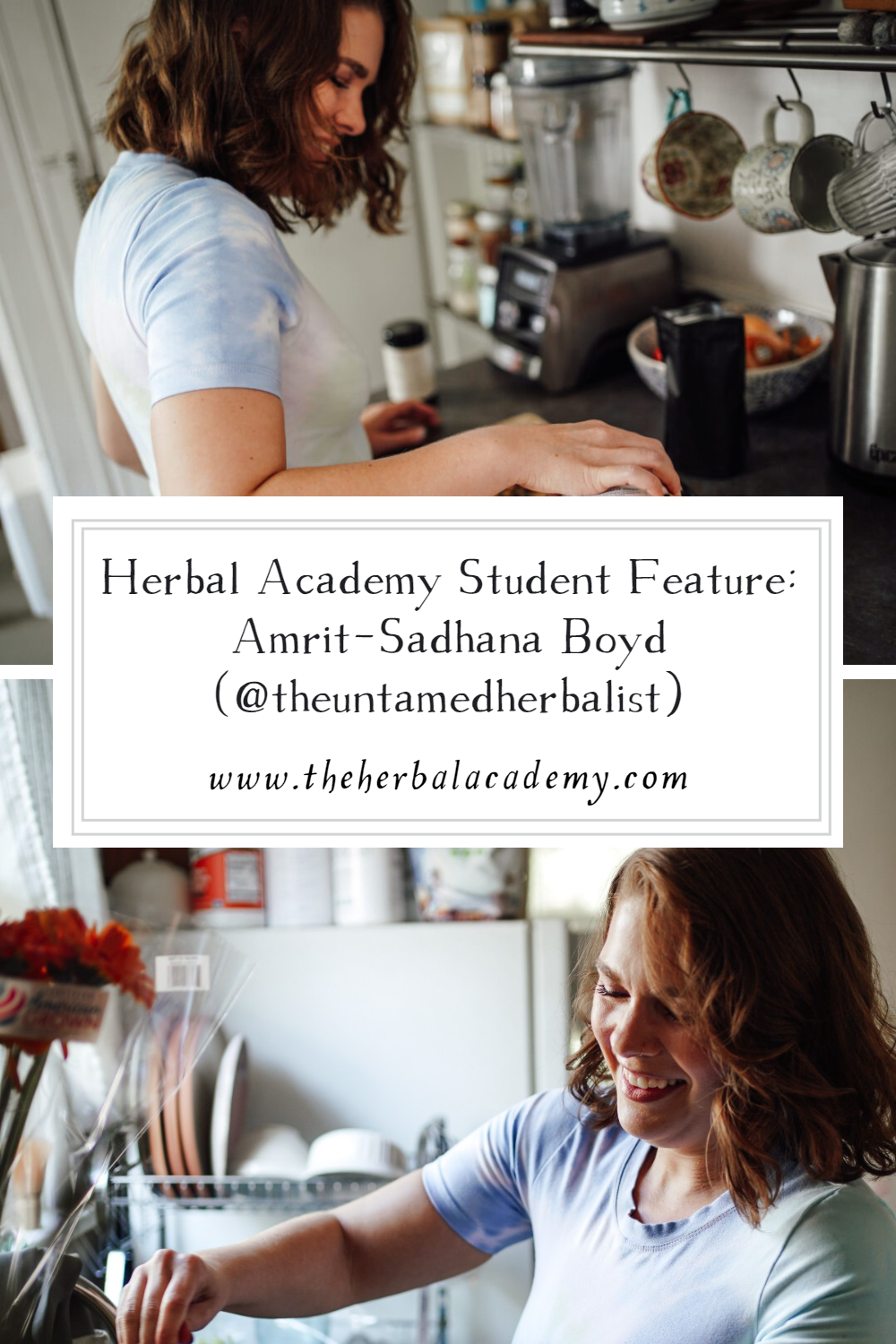 Read past student interviews with:
Anna Booth Cohen (@herbal_uprising)
Elliot Durt (@the.durt.family)
Shannon Mulligan-Mayernik (@mayernikkitchen)
Farai Harreld (@thehillbillyafrican)
Inspired by this herbal journey? Further your own journey today by perusing our online herbal courses.