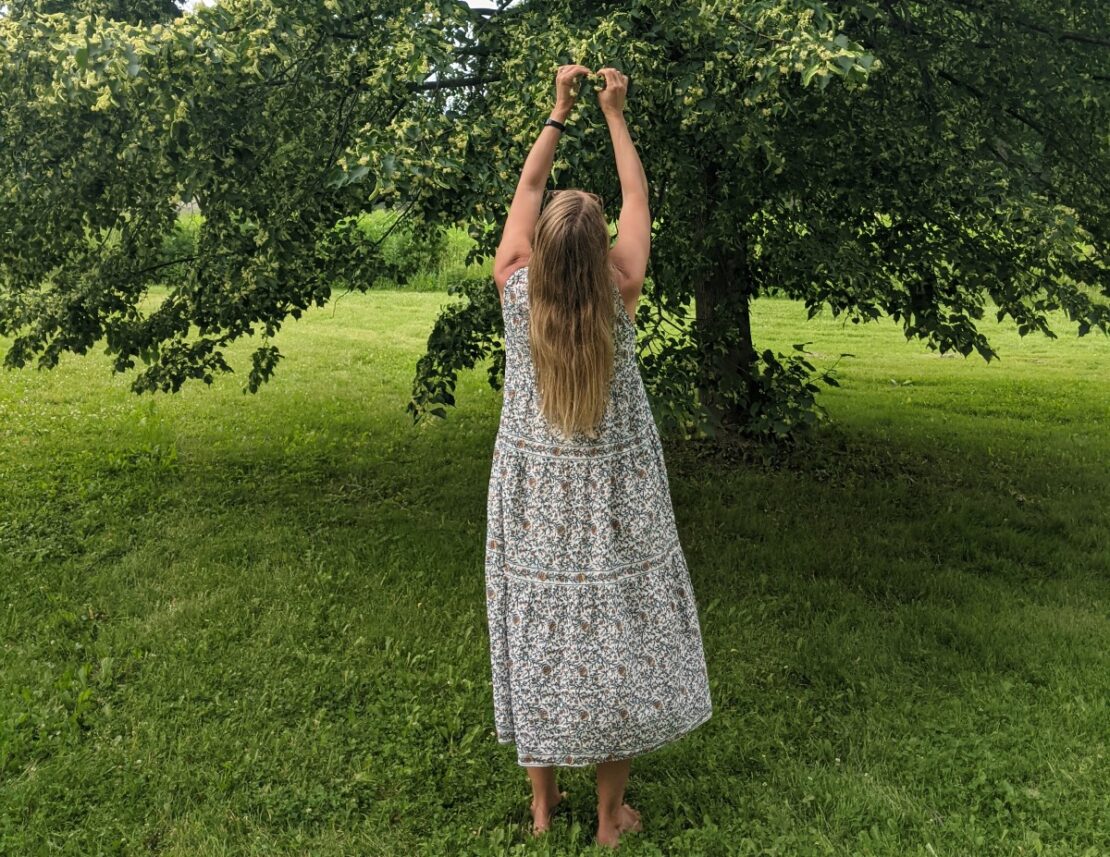 Herbal Academy Student Feature: Robin Ahrens (@barberryherbal)
Our Student Feature this month is with Robin Ahrens, owner of Barberry Herbal, where she works as an herbalism educator that teaches others how to forage and learn about the plants growing around them. Robin has completed Herbal Academy's Advanced Herbal Course, Intermediate Herbal Course, and Becoming an Herbalist Mini Course.
HA: Please tell us a little bit about yourself and how you started your path into herbalism.
Robin Ahrens: My herbal journey started young! Some of my first memories are of plants and nature. I grew up in a small town in rural Ontario, and then in the Iowa countryside. Most of my free time was spent outdoors and on my own. With a plant physiologist father and an organic gardener mother, it makes total sense that from a very young age, my eyes were pointed down and focused on the plant life around me. It wasn't until much later as an adult that I realized it isn't exactly common to know the names of all of the weeds and wild plants around me, as well as what garden plants look like as they grow. Dandelions, nettle, catnip, violets, goldenrod, hollyhocks, lamb's quarters, cilantro, elder, raspberry, apple trees, and so many other plants populated my world at that time. I vividly remember my conical fort made out of flowering goldenrod. The plant I was probably connected to most as a little kid was catnip; the aroma and soft leaves still bring back vivid feelings of being a kid outside. When I was about nine years old, I discovered a dandelion mutation and showed my dad, which he wrote a journal article on and named me as co-author.
As a teenager and young adult, plants retreated into the background of my life, but resurfaced as a passion due to health issues in my thirties. What those health issues were and are doesn't feel important to the story at this point, but what is important is that I was seeking answers and wanting to do things naturally which rekindled my interest in plants. Endless curiosity and a deep need for information, knowledge, and self-sufficiency eventually led me to pursue herbalism as a way of life. Since then, I have worked with plants to support not only myself, but my family, friends, and community as well. What I did not realize at first, but have come to understand, is that it isn't just about ingesting or using plants to feel better or achieve a wellness goal—it's about building relationships with plants and the natural world. No matter what, if I'm not feeling well and I go outside and hang out with plants, I'm going to come back feeling better. It truly never fails. These days I feel like I've come full circle back to childhood, just spending time with the plants that are out there! That's what heals me the most, and I love when I get to share that with other people.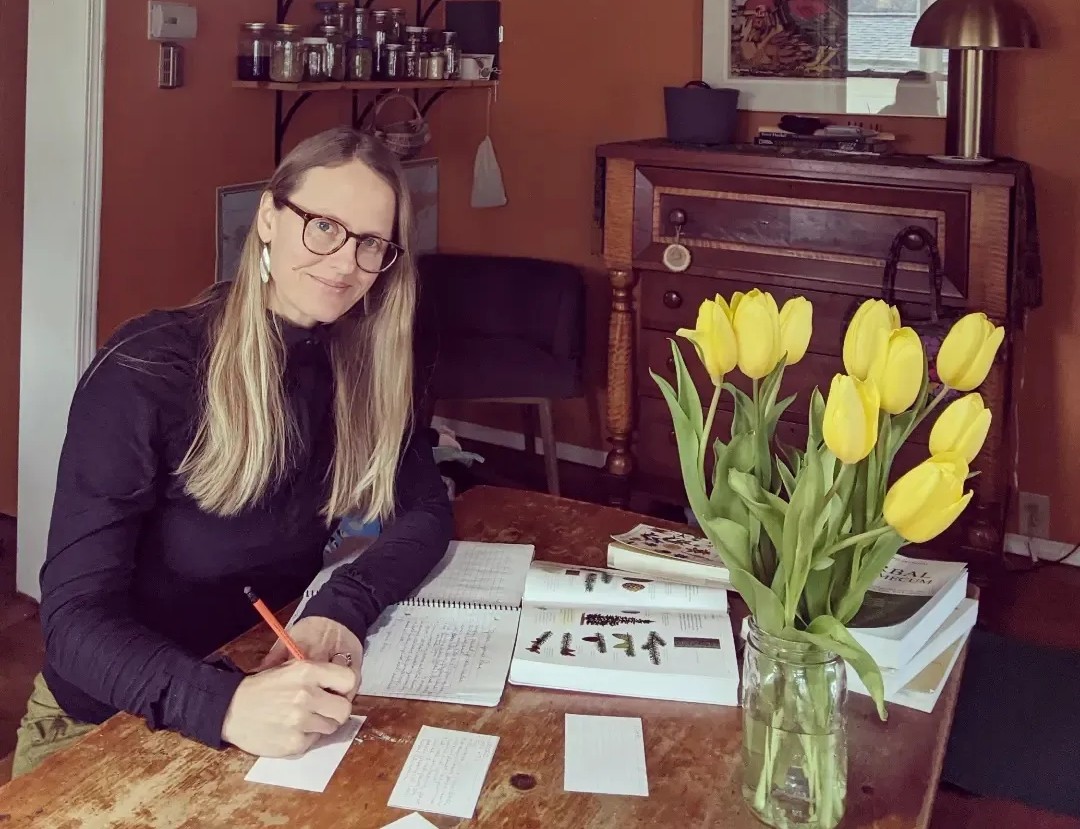 HA: Why did you choose to pursue your herbal education with the Herbal Academy?
Robin Ahrens: I found the Herbal Academy literally just by Googling herbal schools, and I'm so glad I did! Right away I got a feeling of trustworthiness and integrity from the website. I liked how there was balance: intuitive and traditional knowledge combined with science and research. This was a really good fit for me and is the reason why I still use the Herbal Academy and The Herbarium as some of my main herbal resources.

HA: Do you own an herbal business or brand?  
Robin Ahrens: I'm going to be very forthcoming with this question, because I think it's important for people to know the path is not always linear or what you expect it to be, and that's ok! My herbal business, Barberry Herbal, is always evolving. Even my business name used to be different. First I started making herbal beauty products, then took a more clinical approach, and now I'm focused on being an herbalism educator. For every phase of this process and journey, Herbal Academy has had a class with content to fit my needs. Because of the solid educational foundation I've received from the Herbal Academy, I feel like I'm able to navigate being an herbalist and wearing different hats in a knowledgeable, graceful, and safe way. I definitely feel a lot of confidence having completed the Advanced Herbal Course. There is a certain integrity associated with the Herbal Academy, and I'm proud to be a part of that. Ethics and responsibility are crucial in herbalism, and you get to really explore and learn this through the coursework. I believe this has helped me build trust in my community.

HA: Tell us, what's next for you in your herbal journey?
Robin Ahrens: What I've discovered from a lot of trial and error is that the role I enjoy the most and am most suited to is that of a teacher. I now consider myself a community herbalism educator. It took me some time to get there, but of all the herbal hats I've worn it is what feels right for me. Sharing what I've learned about herbalism and plants is deeply satisfying to me, and is important work. People want to know this stuff! I plan to continue doing plant walks and teaching at workshops for folks in my community looking to connect more with the natural world around them. It feels right to base what I teach on my own personal experience with plants. As a teacher, I can share what I've learned, and participants can take what speaks to them and leave the rest. This dynamic creates shared responsibility and mutual benefit. I also learn so much from people who attend my walks and talks.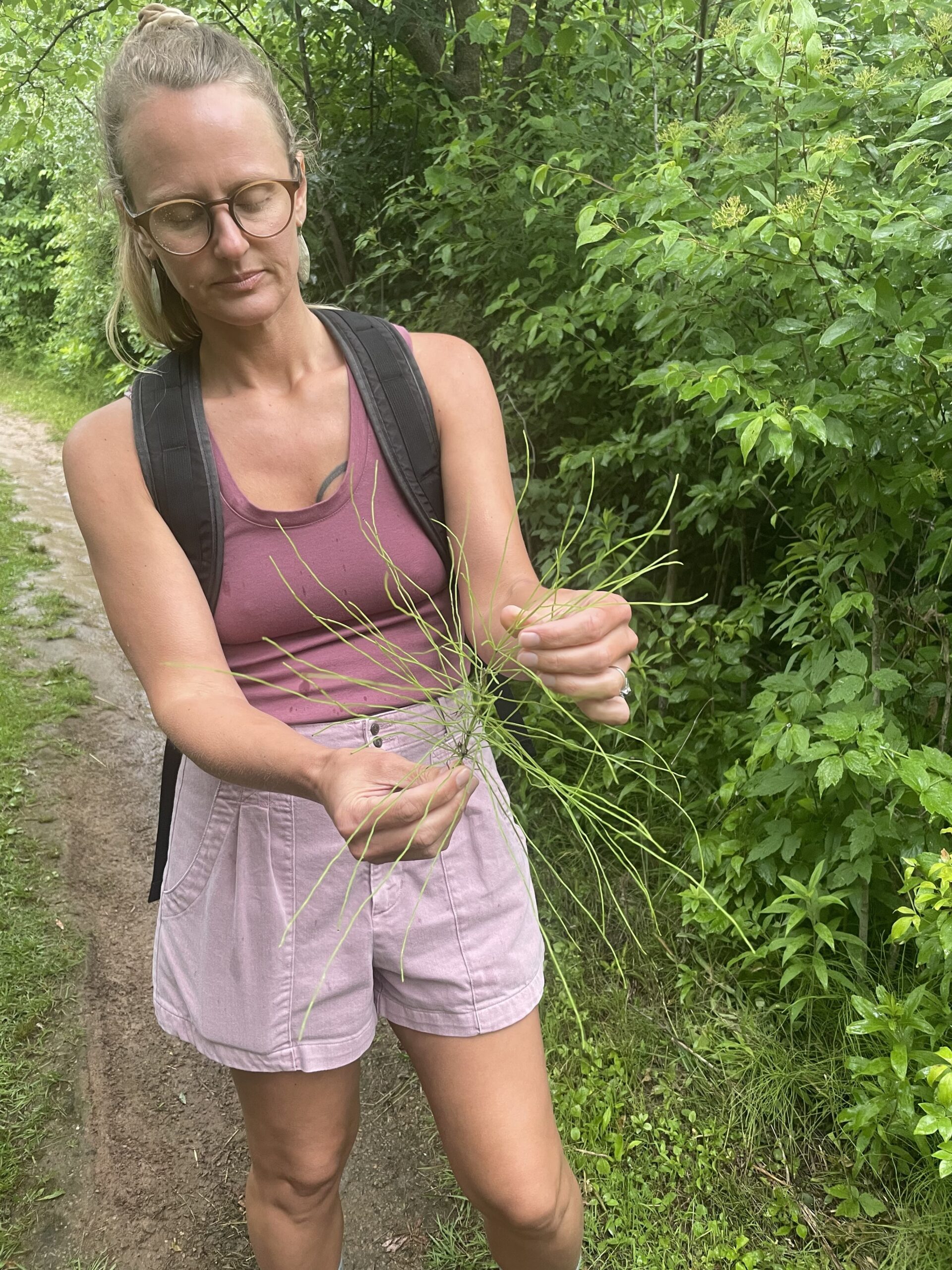 HA: What were you looking for when you enrolled in your Herbal Academy course that you were not able to find elsewhere? 
Robin Ahrens: I was looking for an herbal school with a comprehensive view of modern herbalism, a school that valued traditional herbal knowledge as well as science and research. These things do not have to be separate, so I appreciate the holistic or integrative approach taken in the coursework. The way the information is presented feels balanced and inclusive.

HA: What did you like most about your Herbal Academy course? 
Robin Ahrens: I really appreciated how each course I took incorporated elements of ethics, sustainability, responsibility, and safety. The data show herbs have an excellent safety profile, but they can be used irresponsibly and disrespectfully. Because of my coursework through the Herbal Academy, I have a solid foundation in how to be a responsible herbalist.

HA: Have you learned more about your ancestral roots and traditions through your herbalism studies? If so, what have you learned? 
Robin Ahrens: This is a great question! I became interested in this a few years ago because I wanted to become more aware of the cultural appropriation of herbal traditions and knowledge. It got me thinking about what my own ancestral herbal traditions are. When I came across the book Ashkenazi Herbalism by Deatra Cohen and Adam Siegel, I knew I had found something really special! I have Ashkenazi Jewish roots, so this book gave me a way to connect with how plantswere historically used in these communities. It even mentions the specific village in Lithuania where my ancestors lived at one time. The materia medica includes plants that have played a role in my life, like plantain, violet, nettle, and raspberry. It kind of blows my mind to know that plants are a thread connecting me to my ancestors, but of course they are.
HA: How do you find yourself incorporating herbalism into your daily life? 
Robin Ahrens: One word: tea! Of all the ways I work with herbs, making teas or infusions is the thing I do the most. Pretty much any situation calls for tea. I make tea to support my body and my children's bodies if we are feeling unwell or stressed, or just because it is nourishing or tasty. I prepare tea for friends when they visit. I make tea when I'm not sure what to do, or when I want to avoid eating sweets. I make tea when I'm cold and can't get warm, which happens a lot in Wisconsin. The ritual of tea-making combined with the soothing act of sipping works so well to slow things down and encourage mindfulness. I make tea using plants I have wildcrafted, herbs from the produce section and farmer's market, and store-bought tea bags, and with spoonfuls of homemade glycerites and herbal honeys. There is no wrong way to make tea, as long as you enjoy it. Although I will say many people don't bring their water to a full boil, which you really need to do when making herbal teas. Also, steep your tea covered for best results.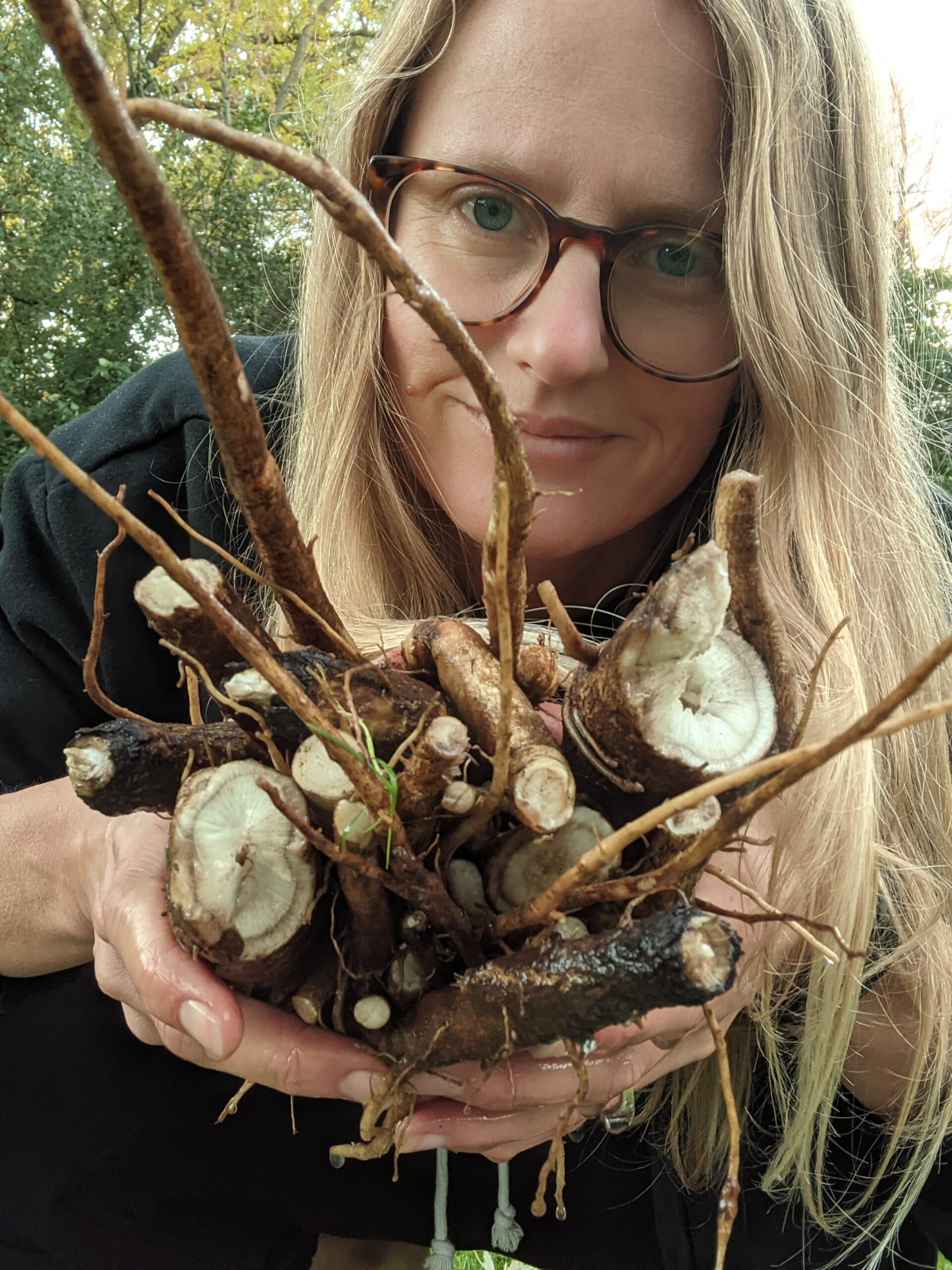 HA: Did you feel that something in your life was missing before you discovered herbalism? If so, what do you think it was and how was herbalism helped? 
Robin Ahrens: Getting interested in herbalism helped me reconnect with the natural world on a deep level. As I mentioned before, plants and the outdoors were a major part of my childhood. Somehow I partially lost that connection as a teen and young adult. Many of us know intuitively how important it is to be outside in nature, and now there is all kinds of great research on this topic. Are we so distracted by life that we forget the very thing that supports our existence? I'm so grateful that herbalism as a way of life gives me many ways to stop and remember to touch base with our Mother Earth. I really depend on this for my mental, emotional, spiritual, and physical wellbeing.
HA: Which herbalism teachers, authors, or peers do you find most inspiring, and why?
Robin Ahrens: First, would be my parents. Being plant people themselves, they helped me become one in a very natural way growing up. They still support me as an herbalist in so many ways, and I continue to learn from them. I can endlessly plant-nerd with my dad. The last time he visited in the summer we took several memorable walks, stopping often to look at and discuss plants. My mom's beneficial plant gardening and scientific tincturing are stunning. I mean, she grows ginger and schisandra in the Northwoods!
Second, would be my herbalist friends. Having herbalist friends where I live, and even virtually, has given me support, community, and opportunities to learn and be inspired. Being connected in that way makes me a better herbalist when I'm not practicing in a vacuum. It also helps me not feel alone in something that isn't exactly mainstream.
Also, Stephen Harrod Buhner's work changed my life. I refer to his books often and have always had so much appreciation for his approach, humor, and encouragement. I never met him, but his words helped me take the leap of faith to trust myself and become an herbalist. In one of his books, he writes:
…do as all people of the plant have done since time began… follow the genius inside you, not the maps your culture has given you; remain childlike so you can still ask the simple questions (which are the hardest, but most important, of all to find); seek the answers that you are uniquely meant to find; and find the work that is in you to do.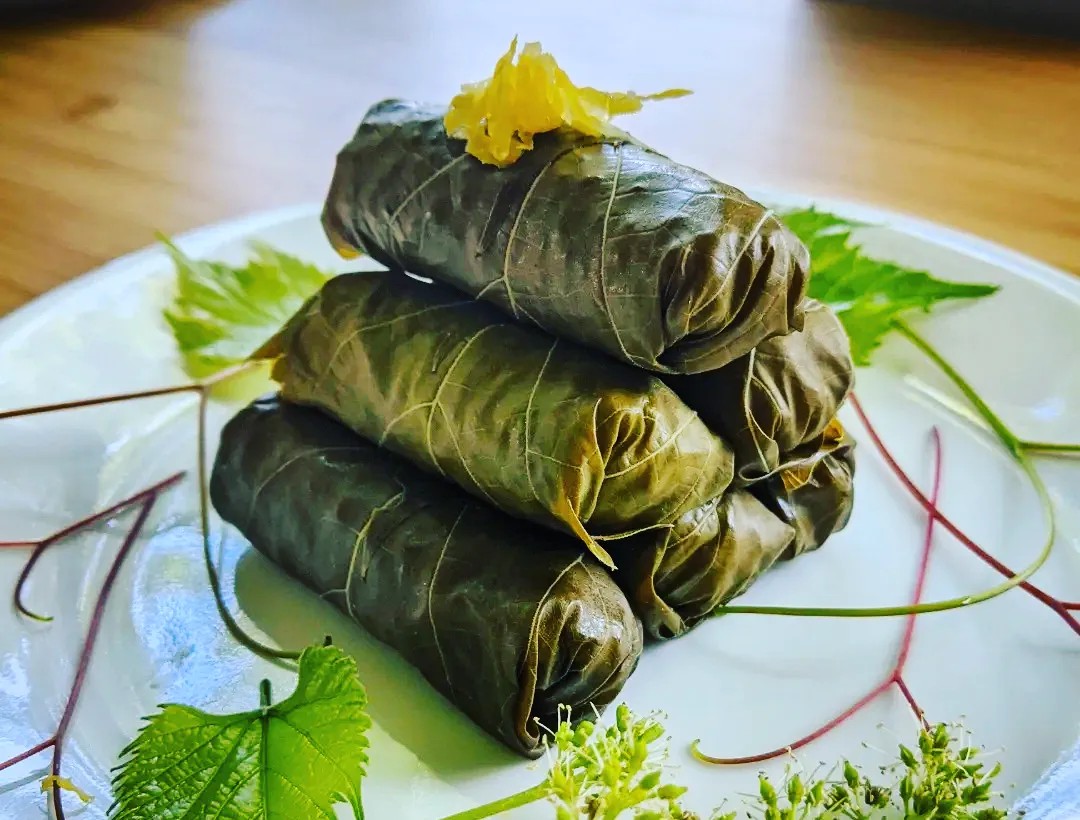 HA: How has herbalism sparked your creativity?
Robin Ahrens: I have always been an artist, and herbalism is the maindriver of my creativity these days. I love photography, and it complements herbalism perfectly. Taking photos of plants is a fantastic way to learn about them. It forces deeper observation and aesthetic appreciation, bridging science and art. I have learned to identify a huge number of plants this way. I also love making plant-based art and photographing it. Solar prints, mandalas, fresh and dried flower and plant arrangements, basket making, incense, and burning-bundle making—plants are a medium and provide so much inspiration! Viewing herbalism from a culinary perspective also helps with being creative in the kitchen. Using bioregional plants to season and flavor food is so fun and satisfying. Some of my favorite creative herbal kitchen projects have been wildcrafted sumac zaatar, brandy vanilla extract, spruce tip key lime tart, and wild foraged grape leaf dolmas. Just adding a pile of fresh chopped herbs to any dish makes it so much more nutritious, and more beautiful! I love the sensuous quality of herbs. I like Instagram because it gives me a way to share what I do creatively with plants, and get inspired by the amazing work other herbalists and plant people are doing.

HA: If you could provide any tip or encouragement to those just starting their herbal studies, what would it be?
Robin Ahrens: Spend time outdoors with wild plants and weeds! Watch them through all of the seasons. Pay attention to how you feel when you're around them. Learn about plant families and plant anatomy. Also, be open to the journey. You may think you want a certain role as an herbalist, but it could change. Try out as many roles as you can, even just for a little while. There are so many ways to be an herbalist. Don't be afraid to just go for it! The world needs more herbalists of all kinds and abilities. You are capable of this. You will never regret what you learn, and it will always serve you in some way.
Read past student interviews with:
Sarah Jaroch (@evidence_of_providence)
Amrit-Sadhana Boyd (@theuntamedherbalist)
Anna Booth Cohen (@herbal_uprising)
Elliot Durt (@the.durt.family)
Shannon Mulligan-Mayernik (@mayernikkitchen)
Inspired by Robin's herbal journey? Further your own journey today by perusing our online herbal courses.