Mom's Chamomile Tea Recipe with Lemon Balm and Linden Flower
Chamomile tea made from chamomile (Matricaria chamomilla) flower with lemon balm (Melissa officinalis) leaf and linden (Tilia cordata) flower and bract is a relaxing blend for any new mother. Gentle herbs known for their stress-relieving tendencies and nerve-soothing effects are the perfect ingredients for this hand-blended chamomile tea recipe, which can be enjoyed daily. 
Chamomile contains a bioactive agent called "apigenin" which is thought to be the primary source of chamomile's sedative effects. This flavonoid works with receptors in the brain to induce a feeling of sleepiness while reducing anxiety (Gupta et al., 2010). Thought to reduce stress and soothe the stomach, lemon balm elevates the flavor profile of the classic chamomile tea blend  (Fletcher, 2020). Linden flowers are an astringent nervine (de la Forêt, n.d.) so combining them with chamomile and lemon balm makes for one refreshing yet relaxing new mama bear brew. 
Chamomile Tea with Lemon Balm and Linden
Adding an extra level of relaxation to the classic chamomile tea, this botanical blend of flowers along with members of the mint and rose families will certainly relax the sleep-deprived new mother. Be sure to make enough for now and later! 
You'll see this and many tea recipes use the term "'parts." This means you can make as much or as little as you like as long as you keep the ratio the same. You might use just a tablespoon as a "part" to make a small batch at first; you can try and adjust for flavor if you need, or in case you don't like one ingredient. Once you have assured yourself you like and will use a blend you can use a cup as a "part" or a favorite herb scoop, or any measure you like to scale your recipe up.  
Ingredients
2 parts lemon balm (Melissa officinalis) leaf
2 parts linden (Tilia cordata) flowers and bracts
1 part chamomile(Matricaria chamomilla) flowers
1 part rose (Rosa spp.) petals
½ part spearmint (Mentha spicata) leaf
Pinch of lavender (Lavandula angustifolia) blossoms
Directions
Blend the herbs together in a clean dry bowl.
Store the tea in an airtight jar out of direct sunlight until use.
Brew tea using 1 to 2 tablespoons of the tea blend per cup of water.
Place the herbs in a shatter-resistant vessel that has a tight-fitting lid. 
Cover with just-boiled water.
Steep the tea for up to 15 minutes. 
Remove the lid and strain herb solids from the liquid. 
Drink your tea as-is or add ice to cool. 
In Closing,
New mamas, be sure to rest when the baby rests and take that opportunity to enjoy a relaxing cup of your New Mama Lemon Balm and Chamomile Tea. Self-care is so important for new parents. Baby will thank you for it. 
For more recipes for new moms, check out:
Gentle Herbal Support for New Moms
Is Red Clover Safe During Pregnancy and Breastfeeding?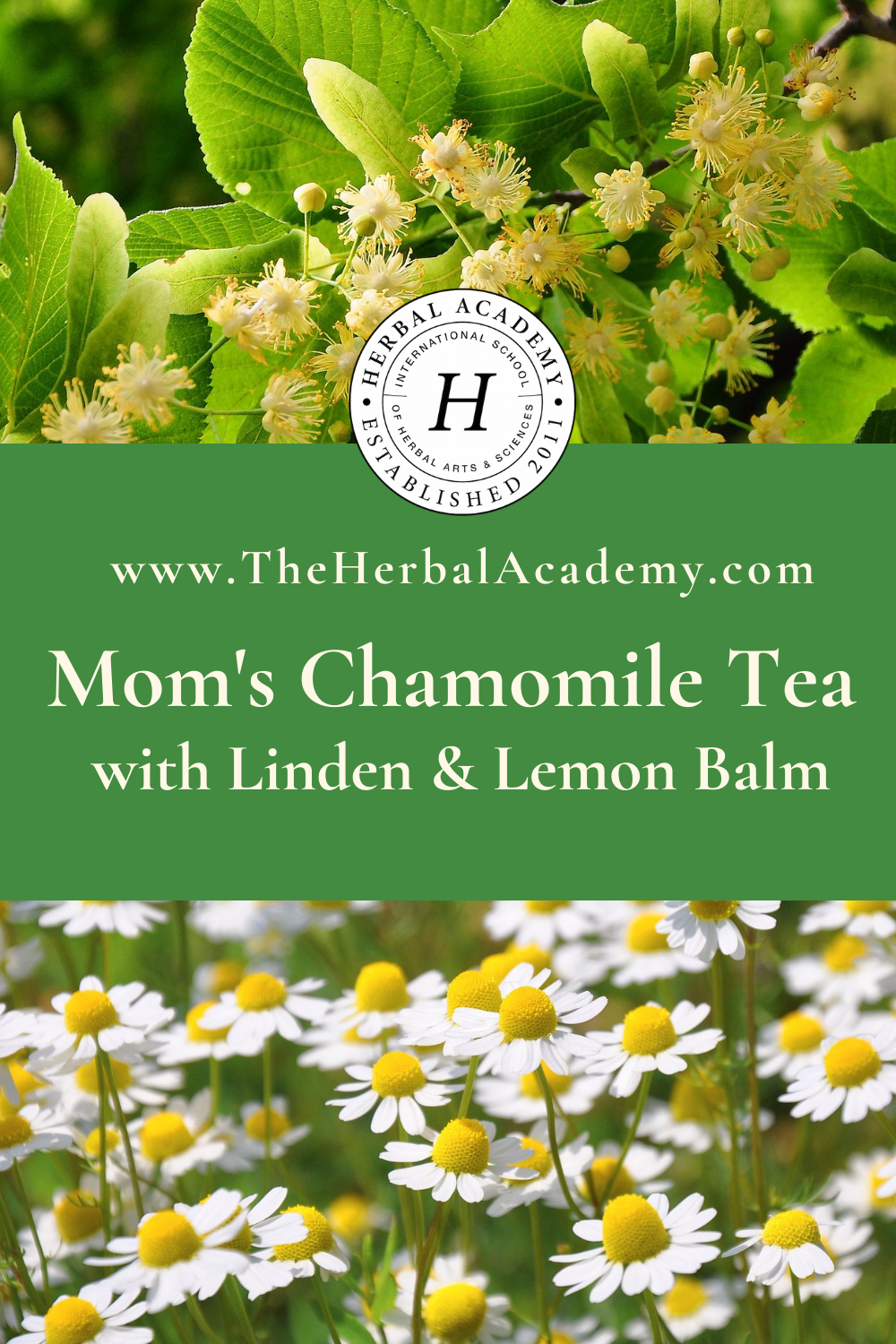 REFERENCES
de la Forêt, R. (n.d.). Linden flower tea benefits [Online article]. Retrieved from https://www.herbalremediesadvice.org/linden-flower-tea-benefits.html
Fletcher, J. (2020). Health benefits and ways to use lemon balm [Online article]. Retrieved from https://www.medicalnewstoday.com/articles/lemon-balm-uses#9
Gupta, S., Shankar, E., & Srivastava J. (2010). Chamomile: A herbal medicine of the past with a bright future. Molecular Medicine Reports, 3 (6), 895-901. https://doi.org/10.3892/mmr.2010.377
Justis, A. (2017). 6 DIY recipes for gentle herbal support for new moms [Blog post]. Retrieved from https://theherbalacademy.com/gentle-herbal-support-for-new-moms/