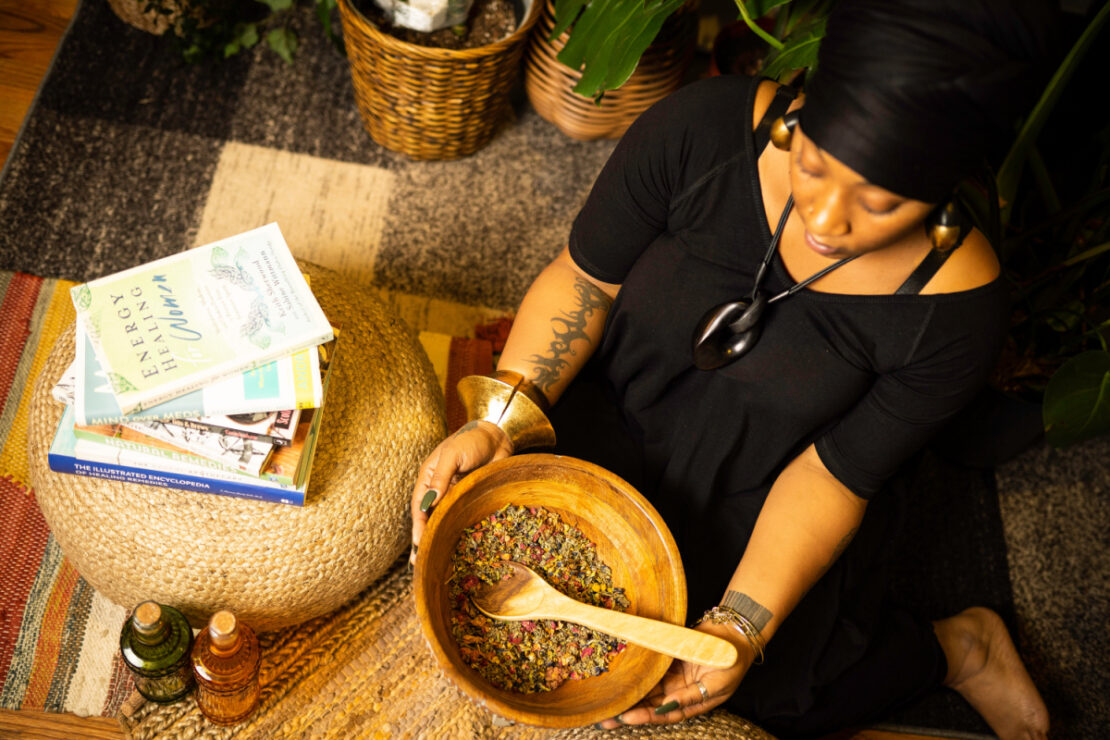 Herbal Academy Student Feature: Toni Green (@unveil_natural)
For this Herbal Academy interview, we spoke with Toni Green (@unveil_natural) to learn more about her herbal journey. Toni is a wellness advocate and owner of Unveil Natural Herbal Apothecary and Wellness Center in Belleville, New Jersey. She has completed Herbal Academy's Introductory Herbal Course, Intermediate Herbal Course, Entrepreneur Herbal Course, Herbal Aphrodisiacs Intensive, Holistic Cancer Care Course, Mastering Herbal Formulation Course, and Advanced Herbal Course.
HA: Please tell us a little bit about yourself and how you started your path into herbalism. 
Toni Green: I am a Wellness Advocate born and raised in East Orange, New Jersey. I graduated from New Jersey Challenge on Fort Dix Military Base with honors in English and Communication at the age of 16, instilled with the core values of loyalty, respect, selfless service, honor, integrity, and personal courage. I then set out to share my values with the same community that had such an impact on my upbringing, acquiring various certifications and licensure in the study of wellness and counseling. Over the next 15 years, I finally found my calling in holistic healing in the community using herbalism.
HA: Why did you choose to pursue your herbal education with the Herbal Academy?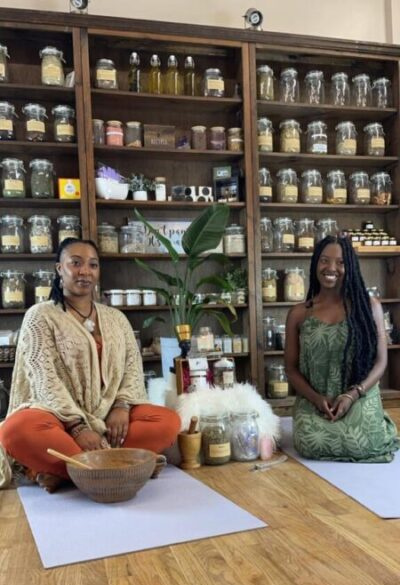 Toni Green: I decided to attend Herbal Academy after learning that my mom was suffering from liver failure. I searched for holistic healing and preparations. I came across Herbal Academy in 2017 and I have been an active student since.
HA: Do you own an herbal business or brand?
Toni Green: Yes, I own Unveil Natural Herbal Apothecary and Wellness Center in Belleville, New Jersey. Unveil Natural Herbal Apothecary seeks to connect our community with botanicals by providing raw materials, education, and carefully crafted products that aid in body and spirit. We believe this will bridge a gap that will empower our community to reclaim their health and our collective environment. 
HA: How did your Herbal Academy courses help shape or improve your business? 
Toni Green: Herbal Academy has set me up with the tools and community to propel my business in ways I never imagined. I was able to find my niche as a reproductive herbalist, teaming up with doulas and giving women a healthy birthing experience.
HA: Did your Herbal Academy courses help you avoid any potential mistakes while launching your business?
Toni Green: Herbal Academy gave me a guided step-by-step plan on how to grow and sustain my herbal business from legalities I may come across, to making sure my products and verbiage meet Food and Drug Administration (FDA) regulations. The courses also helped me to create a solid plan as a clinical herbalist.
HA: Tell us, what's next for you in your herbal journey?
Toni Green: Currently, UnVeil Natural is working to support more doulas as the demand grows for holistic home births. We advocate for women's rights,assist with healthy practices that have been around for centuries, connect individuals with birthing centers, and educate the community on the importance of combining herbalism and birth work.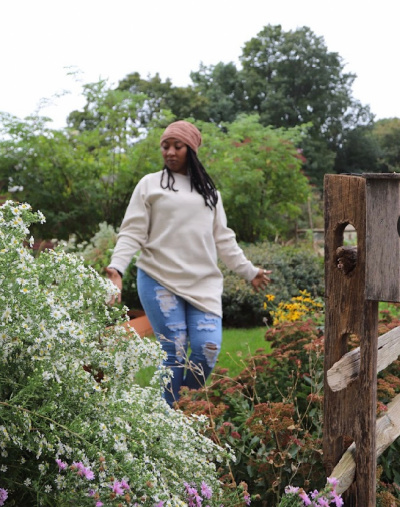 HA: What were you looking for when you enrolled in your Herbal Academy course that you were not able to find elsewhere? 
Toni Green: When I enrolled in Herbal Academy, I was looking for a community and knowledge that would help cultivate my love for herbs as well as my love of community. I was looking to bridge the gap between holistic healing and the miseducation surrounding herbs. This brings forth a more sustainable way of preserving mind, body, and spirit.
HA: What did you like most about your Herbal Academy course?
Toni Green: Herbal Academy has a program that lets you create your own vision of what herbalism looks like. The possibilities are 
endless. There is something for everyone. I especially loved the blend of knowledge and spirituality in my courses.

HA: How has your herbal education deepened your connection with nature and the seasons?
Toni Green: Once equipped with herbal knowledge, I was able to deepen my connection by putting the knowledge I learned into action, exploring nature more to find the hidden treasures. I have increased my nature walks, hiking and overall foraging, always looking to find something new. I find more inspiration every time I encounter a new herb, always increasing my knowledge of what herbs are best for each time of the year and how I can best serve my clients.
HA: How has your herbal education deepened your connection with your personal health and wellbeing?
Toni Green: When I first started my herbal education, I was definitely in the state of mind to search for alternatives to assist my family and those around me. Within that search, I have applied my education to my everyday life, thus inspiring those around me to adjust certain habits that have been imprinted. Once the knowledge is learned, it cannot be unlearned.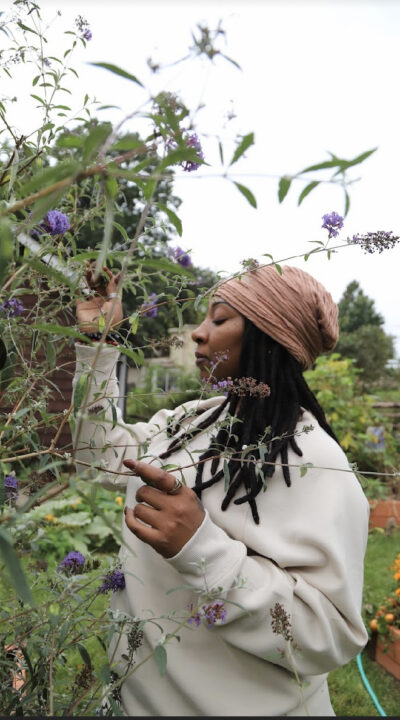 HA: Do you feel empowered by your herbal practice?
Toni Green: I am empowered by the knowledge I have acquired; I can now stand proudly and speak about the knowledge I have gained. I can now offer a contribution to my clients and others and know that they are leaving with the knowledge and tools given to me, and also leaving with a piece of me as well.
HA: Have you learned more about your ancestral roots and traditions through your herbalism studies?
Toni Green: Through my herbal studies, I found that I come from a family of horticulturists. Plants have been a big part of my upbringing. My grandmother and my mother were growers of plants. Plants and healing have been passed down to me. The ancestors would call it "growing hands."
HA: Is there a specific herb that you feel particularly drawn to?
Toni Green: Red raspberry leaf, the first herb I used as I was trying to regulate hormone levels in my body due to menorrhagia which would last 3 months at a time. After 30 days of consuming red raspberry leaf, I saw significant change and it's now been 5 years of regulation. I cannot say enough about this herb. I have been using raspberry in my practice with women regularly and it will always be a pillar on the shelf.
HA: If you were an herb, which herb would you be?
Toni Green: Mullein is an herb I use every day for clients who smoke to help cough productivity, and to move the toxins through the lungs. I also use it as an alternative to smoking nicotine. 
HA: What is your favorite recipe from the course(s) you've taken?
Toni Green: The Healthy Nursing Tea is a blend of anise seed, fenugreek, fennel, oat straw, nettle, and red raspberry leaf. It contains abundant calcium, magnesium, silica, and iron, easing colic and indigestion in infants. I recommend this recipe to all clients through postpartum, providing clients with what the body needs to sustain their milk supply, especially through these times of shortage. This recipe provides an alternative to other milk production boosters.
 HA: Has your herbalism experience encouraged you to learn and explore other related niches, like botanical crafts, gardening, natural dyeing, aromatherapy, etc?  
Toni Green: My herbal experience has moved me into using herbs for artistic healing and crafts, teaching methods of eco-dyeing and utilizing sustainable resources for the betterment of the environment. Using the eco-dyeing method I craft my bath tea using. herbal infused cheesecloth to aid in clients' experience.
HA: Do you have any rituals or traditions surrounding herbalism that you would like to share?
Toni Green: Traditionally, I have always implemented tea in my morning ritual. After taking my courses with Herbal Academy, I became more intentional about what teas I consumed in my morning ritual. Usually I say a prayer or set an intention behind what I want the tea to target and how I would like it to work in correlation with my body.
HA: What is the biggest way that herbalism has brightened your life?
Toni Green: The biggest way herbalism has brightened my life is that I get to meet a multitude of people. I am able to be a part of something bigger than myself.
HA: How do you find yourself incorporating herbalism into your daily life?
Toni Green: I follow a regimen of drinking tea, whether hot or cold, in my everyday routine as well as offering tea to my clients as a welcome into the shop.
HA: Did you feel that something in your life was missing before you discovered herbalism?
Toni Green: Before I discovered herbalism, I was always in the field of service. My career choices have always been geared towards the development of mental, physical, and spiritual 
health in the clients I serviced. Once I discovered herbalism, it was a smooth transition for me as I am a humanitarian by nature.
HA: Has anything about herbalism – or your herbalism practice – been a pleasant surprise?
Toni Green: During my herbalism practice, I am always pleasantly surprised by the reaction I receive when I advise a client of a method I have acquired and they later let me know they are feeling better or they are seeing improvements. 
HA: What is the biggest challenge you face in your personal or clinical herbal practice?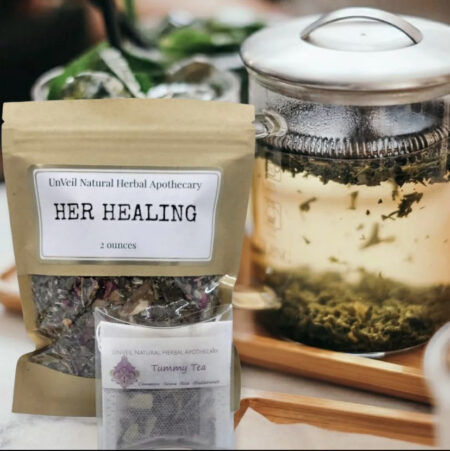 Toni Green: One of the biggest challenges I find in my practice is a lot of misinformation regarding herbalism. Since the current rise of herbalism and holistic health, I find a lot of miseducation. Some believe that these practices are a fad or a trend. When I am speaking about herbalism or clients walk in, often they have seen something on the internet and are eager to try it. Once we go into the history of medications, they soon discover that intermixing certain herbs or tinctures with medications may have an adverse effect. So, I find a lot of clients are misinformed about herbs and are surprised when I bring up a consultation and ask about prior treatments.
HA: Which herbalism books, teachers, authors, or peers do you find most inspiring?
Toni Green: 
Handbook of African Medicinal Plants

by Maurice M. Iwu 

Emma Dupree – community herbalist (1897–1996) – was nicknamed "little medicine thing" and was one of the twentieth century's greatest herbalists and teachers to the community. 

Margaret Charles Smith – midwife (1906–2004) – delivered over 3000 babies into the world. She played a huge role in the lives of Southern black women because most hospitals would not admit them as patients.

Octavia Butler's novel "The Parable of the Sower" is about Lauren Oya Olamina's journey with plants and demonstrates that building relationships with what is growing around us deepens our ability to aid our comrades in struggle.

Prescription for Nutritional Healing

by Phyllis A. Balch is an excellent reference guide for herbalists in all forms as it provides healing and nutritional guides to combat ailments in the body.
HA: Do you enjoy sharing your herbal knowledge with others in your life via recipes, products, photography, blog posts, community workshops, etc?
Toni Green: I provide a range of herbal preparations for all looking to be advised in the practice of herbalism. I host a range of events from workshops to tea parties and other social gatherings for the community to come together and be educated on what herbs can add to your life and the wellness of your vessel.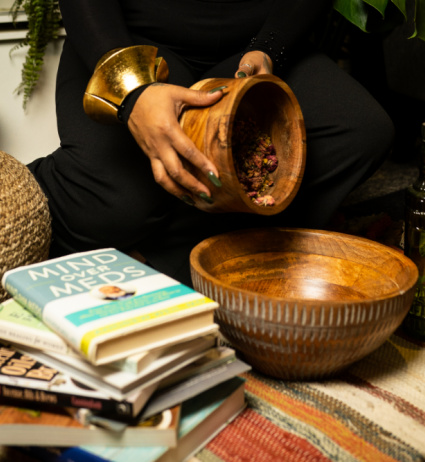 HA: How has herbalism sparked your creativity?
Toni Green: My creativity has sparked in so many ways by discovering herbalism. Each new encounter has brought an array of different ideas to my practice. Each connection I make plays a significant part in the way I structure my products as well as my business, aiding me in listening to my own intuition and those who are in full support of my practice.

HA: If you could provide any tip or encouragement to those just starting their herbal studies, what would it be?
Toni Green: Through herbalism, I was able to uncover things about myself I never even thought about. Herbalism has connected me to nature and my own generational healing. My biggest advice is to start with the herb that speaks to you and design the structure of your herbal studies around that herb. Foundation is key.
HA: Are there any elements of your herbal education in which you're still struggling to find trustworthy, well-researched information?
Toni Green: When I find myself struggling with trustworthy information, I cross reference a few resources. With the development of the internet and social media, a lot of misinformation is mixed in with the truth. I believe in multiple resources and cross-referencing.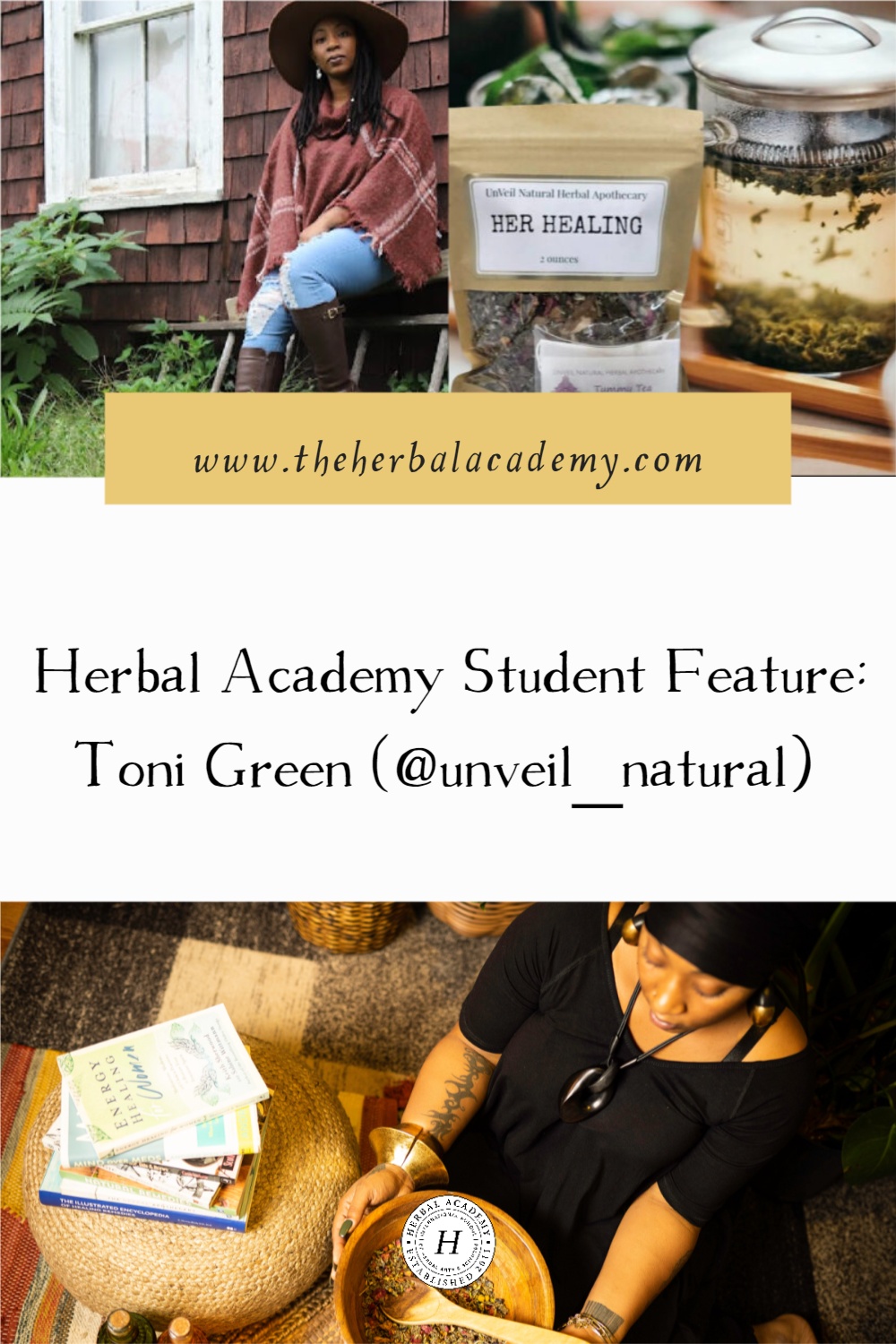 Stay tuned for the next installment of our Student Feature Series with Jovan Sage (@jovansage).
Read past student interviews with:
Anna Booth Cohen (@herbal_uprising)
Elliot Durt (@the.durt.family)
Shannon Mulligan-Mayernik (@mayernikkitchen)
Farai Harreld (@thehillbillyafrican)
Hannah Lasorsa (@hannah_aften)
Shiang-ling Bissonnette (@halfbakedbarelymeasured)
Inspired by Toni's herbal journey? Further your own journey today by perusing our online herbal courses.