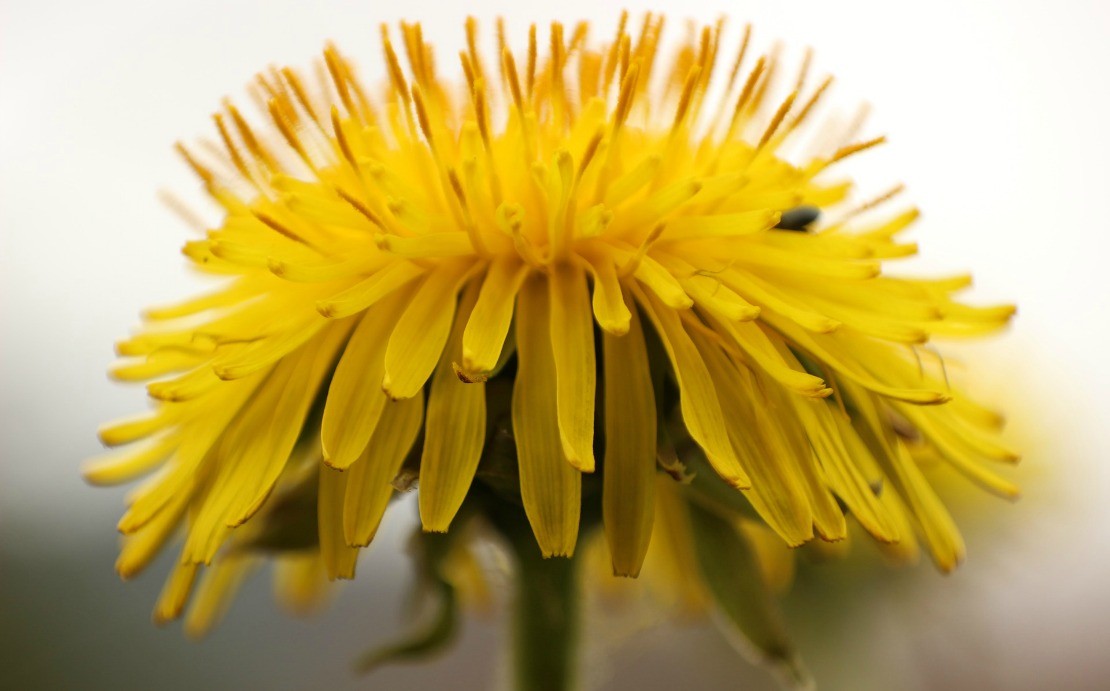 Hillsides and fields awash with vibrant greens and yellow blooms beckon us outside to enjoy warming springtime weather.
It's here, right under our feet, that we may find one of the most treasured plants in the world of herbalism. Well-known by children and often the bane of gardeners, the humble dandelion (Taraxcum officinale) is a surprisingly beneficial plant for every member of the family. Dandelion uses range from being a nutritious food to acting as a helpful herbal remedy to delighting children at play.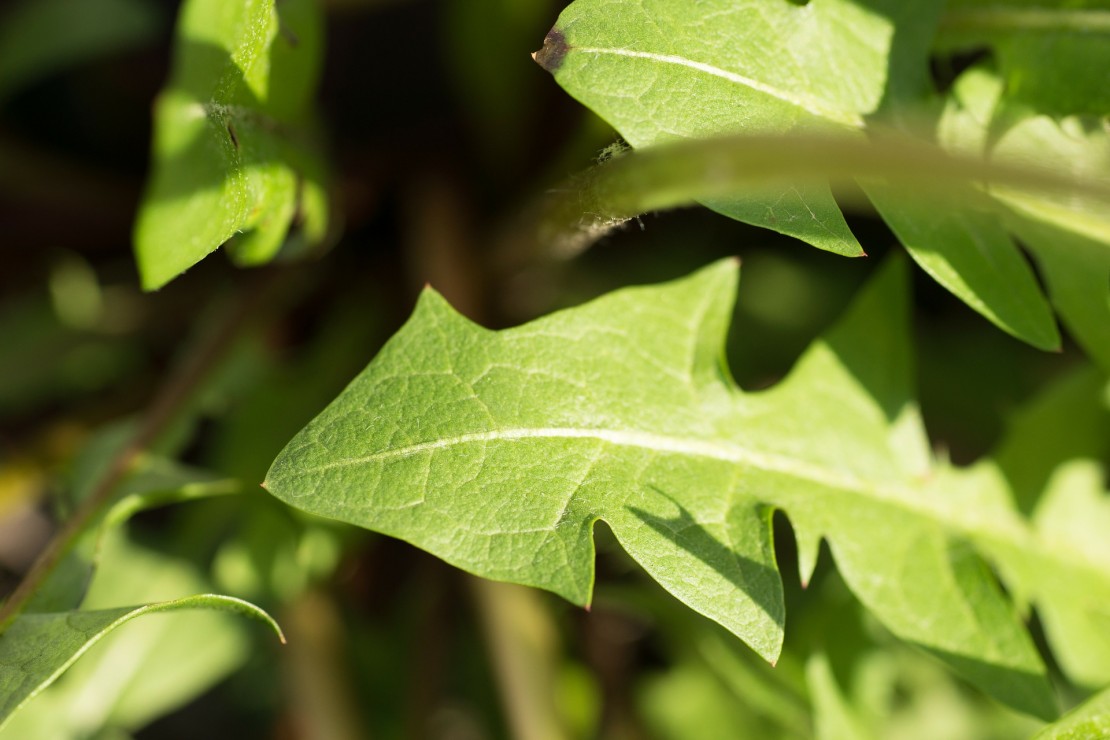 Dandelion Uses For Families 
You may want to think twice before trying to stamp dandelion from your yard as this revered plant has a long history of use as a safe herbal remedy, nourishing food, and spring tonic.
"Dandelion is, I'm convinced, one of the great tonic herbs of all times. The entire plant is restorative and rejuvenating" (Gladstar, 2001, pp. 326).
The tenacious nature of dandelion, with it's strong deep reaching taproot, suggests some of the ability dandelion has to help us be healthy and strong in our own right.
Often looked to by our ancestors as a spring food to wake up the digestion after a long winter, the bitter flavor of dandelion leaf and root helps to stimulate digestion and the flow of digestive juices. This action helps the body to better break down and absorb nutrients from food. 
Herbalist James Green explains that, "including simple, wild, fresh and free herbs such as young springtime dandelion leaves in your diet helps everything work better" (Green, 1991, pp. 178).
Everyone in the family can benefit from dandelion's gentle action on the digestive system. For folks dealing with indigestion or constipation, tincture of the root before meals may be of assistance. 
Also, dandelion's beneficial action on the liver can be of help for balancing hormonal production and clearing skin conditions such as acne and eczema (Gladstar, 1993 & Tilgner, 1999).
Dandelion is used as a superb diuretic. This action can be useful for easing issues associated with retention of fluids such as edema, premenstrual bloating, breast congestion and tenderness as well as for helping with high blood pressure associated with retained water (Tilgner, 1999, Gladstar, 1993, & Green, 1991). As an added bonus it has high amounts of potassium, which is often leached from the body during diuretic use.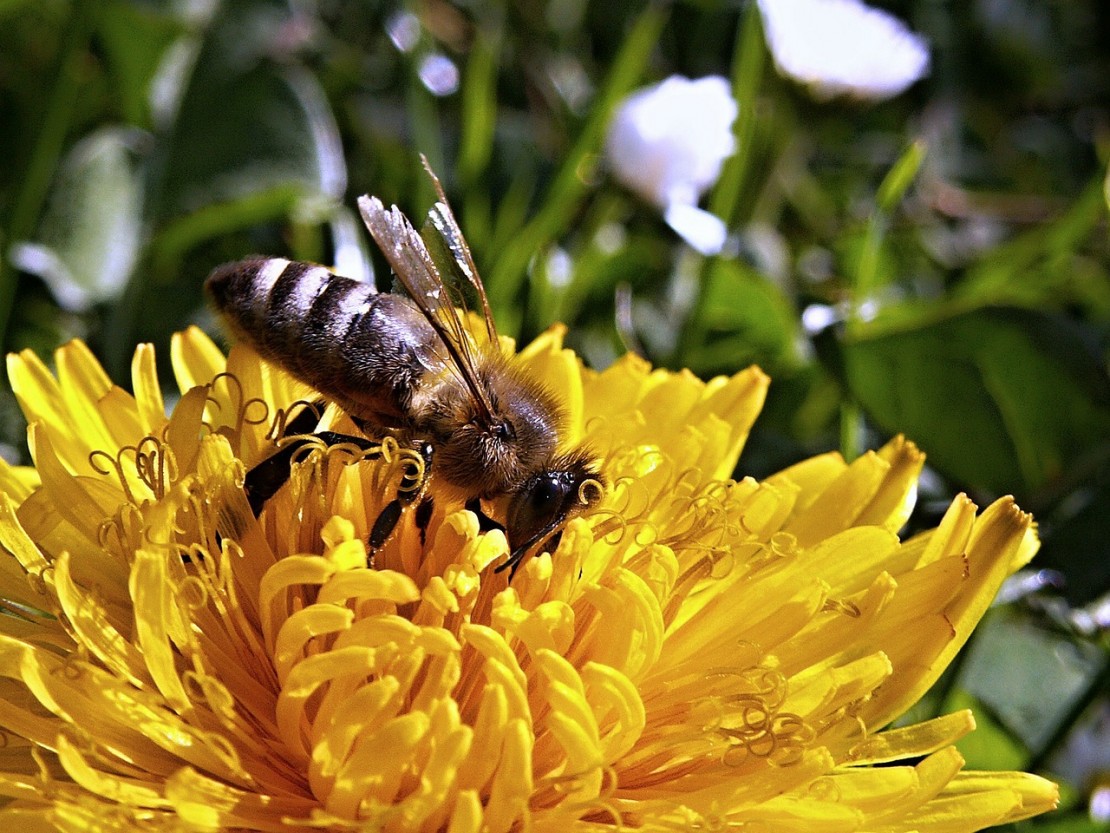 Dandelion as a Garden Companion 
"If you want to see honey bees, look for a dandelion. If you want to see ephemeral bees glinting green and blue in the sun, look for a dandelion. If you want to see iridescent flies, multicolored beetles, or camouflaged spiders, you'll find them all on a dandelion. Every year, life unfolds on the sun-yellow blooms." – Rusty Burlew, para. 5
The sunny little dandelion is a member of the large Asteraceae plant family which includes favorites such as echinacea, chamomile, daisies, and sunflowers. Though you may not think of dandelions as being beneficial for your garden, allowing this pretty little plant to thrive can help your yard to blossom too!
Just like other members of the Asteraceae family, dandelions are loved by pollinators and can help attract them to your yard which means more fruits and vegetables for your family to enjoy. As an early springtime food, dandelions provide important nourishment for bees (Hayes, 2014). With bee populations at risk, letting dandelions flower is a wonderful way to protect and support these essential pollinators.
Another added benefit is the vivacious taproot which can help to break up hard, compacted soils (Hayes, 2014). All of these are great dandelion uses in the garden, plus they are pretty and incredibly easy to grow!
Invite Dandelion Into Your Family's Kitchen 
Wonderfully nutritious and tasty, one of the best ways to reap dandelion's many uses and benefits as a family is to enjoy it in your everyday foods!
Beyond its actions as an herbal remedy, dandelion is simply a good source of healthful nutrients. All parts of it are edible and you can gather it for free from any area free of pesticide use.
Nutrient Content of 
Dandelion
Roots

Large amounts of –

iron

manganese

phosphorus

carotenes

protein

Leaves

Large amounts of –

potassium

carotenes

ascorbic acid

calcium

iron

phosphorus

B-vitamins

protein

In lower amounts –

calcium

magnesium

potassium

chromium

cobalt

niacin

riboflavin

silicon

sodium

zinc

ascorbic acid

In lower amounts –

manganese

sulphur

magnesium

silica

vitamin D
This information comes from: Susun Weed's Healing Wise (1989, pp. 143, 147).
Tasty Leaves 
The leaves make a perfect addition to leafy greens in your salad bowl. Mix them up with a variety of lettuces and other herbs such as mints, lemon balm, violet leaves, and chickweed for a vibrant, tasty salad. The leaves are also delicious steamed and topped with herbal vinegar or made into pesto. Use them as you would other greens in your recipes either in combination or alone.
Rooty Roots 
Dandelion roots can be chopped up and stir-fried with other veggies such as onions, carrots, mushrooms, squashes, and garlic. The roots also make a fine addition to soups either fresh or dried. I keep a supply of dried, chopped roots on hand to throw into soups and stews all winter long. Dried and roasted, the roots make a lovely addition to coffee or as a brew in their own right.
Delightful Flowers 
What could be better than adding beautiful, bright yellow flowers to your family's plate? Dandelion flower petals are right at home baked into muffins, cookies, and pancakes. The flowers can be made into a delightful syrup just perfect for pouring over waffles and pancakes. Get the recipe for Dandelion Syrup right here!
Dandelion fritters are a beloved treat in the springtime. Every herbalist has their own variations on this recipe classic recipe. See below for a recipe to get you started on making your own fritters. And don't forget to sprinkle sunshiny petals over salads, rice, cakes, and anything else that could use a little happiness!
Dandelion Flower Fritters
Ingredients
2 cups of dandelion flowers
1 cup of flour, you can use any kind you have on hand such as whole wheat, rice, or oat
1 cup of milk, again use whatever is handy!
1 egg
Salt to taste
Olive oil, coconut oil, or butter for frying
Optional spices:
For sweet variations try cinnamon, nutmeg, clove, or vanilla
For savory variations try garlic powder, rosemary, thyme, oregano, paprika
Directions
Gather dandelions from a pet-free, pesticide-free zone. Get the kiddos to help you!
Carefully remove the little green petal-like bracts beneath each flower. These can be bitter.
Mix the flour, milk, egg, salt and optional spices in a bowl to make your batter.
Warm the oil or butter in a skillet on the stove.
Dip each flower head in the batter being sure to coat the flower head.
Place flower side down on the pan and cook until lightly browned. The flip and cook the other side.
Drain excess fat off on a paper towel.
Enjoy with dandelion syrup, honey, maple syrup or even a nice marinara sauce!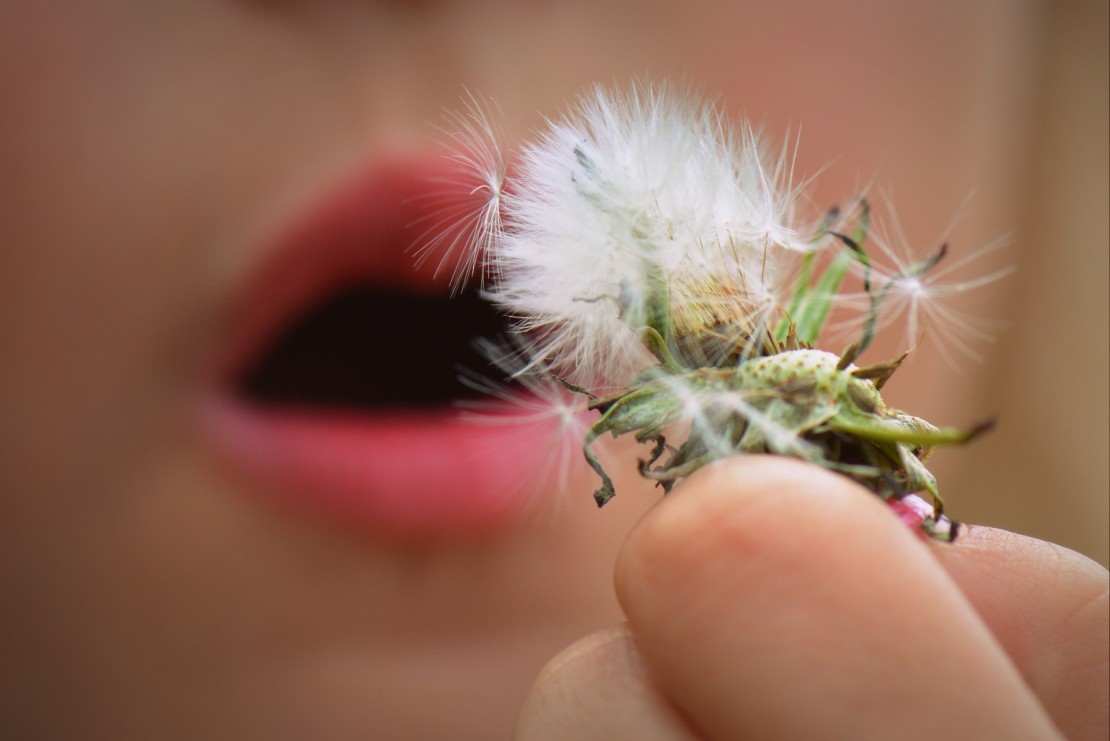 Fun With Dandelion 
Children make quick use of dandelions because they are so very fun to play with! For any young budding herbalist, dandelion is a wonderful plant to get to know when being introduced to herbalism.
Enjoy this incredible plant together! Harvest the flowers and leaves together to bring inside for culinary creations in the kitchen. Look at dandelion's leaf shape with your child. The name for dandelion is from the French "dent-de-lion", meaning teeth of a lion. This is for the shape of the leave which is serrated like big lion's teeth!
More Ways To Play
Blowing the seeds off a big fluffy puffball is a favorite of children old and small. 

Make a wish before blowing and if all the seeds come off in one breath, your wish will be granted!

Gather a big bunch of dandelions to make a pretty bouquet or weave into a crown.
Use the flowers in place of paint brushes when creating a lovely piece of art.
Dandelion Safety 
Dandelion is generally considered to be one of the safest of herbs. However it is not indicated for folks dealing with acute inflammation or blockages in the gastrointestinal tract including the gall bladder (Tilgner, 1999). And, although rare, people that are allergic to plants in the ragweed family may have sensitivities to dandelion. The milky sap from the fresh plant may also cause skin irritation in some people.
As those lovely little blooms begin to pop up this Spring, I hope you will be inspired to go outside and say hello. Then invite dandelion into your springtime adventures and allow this amazing plant to help your family be healthy and vibrant!
Gladstar, Rosemary. (1993). Herbal Healing for Women. New York, NY: Fireside.
Green, James. (1991). The Male Herbal. Freedom, CA: The Crossing Press.
Hayes, Rhonda. (2014). Top Ten Bee-Friendly Tips: #2-Tolerate Dandelions and Other Useful "Weeds." Retrieved from http://www.startribune.com/top-ten-bee-friendly-tips-2-tolerate-dandelions-and-other-useful-weeds/257190851/
Tilgner, Sharol, N.D. (1999). Herbal Medicine From the Heart of the Earth. Creswell, OR: Wise Acres Press.
Weed, Susun. (1989). Healing Wise. Woodstock, NY: Ash Tree Publishing.