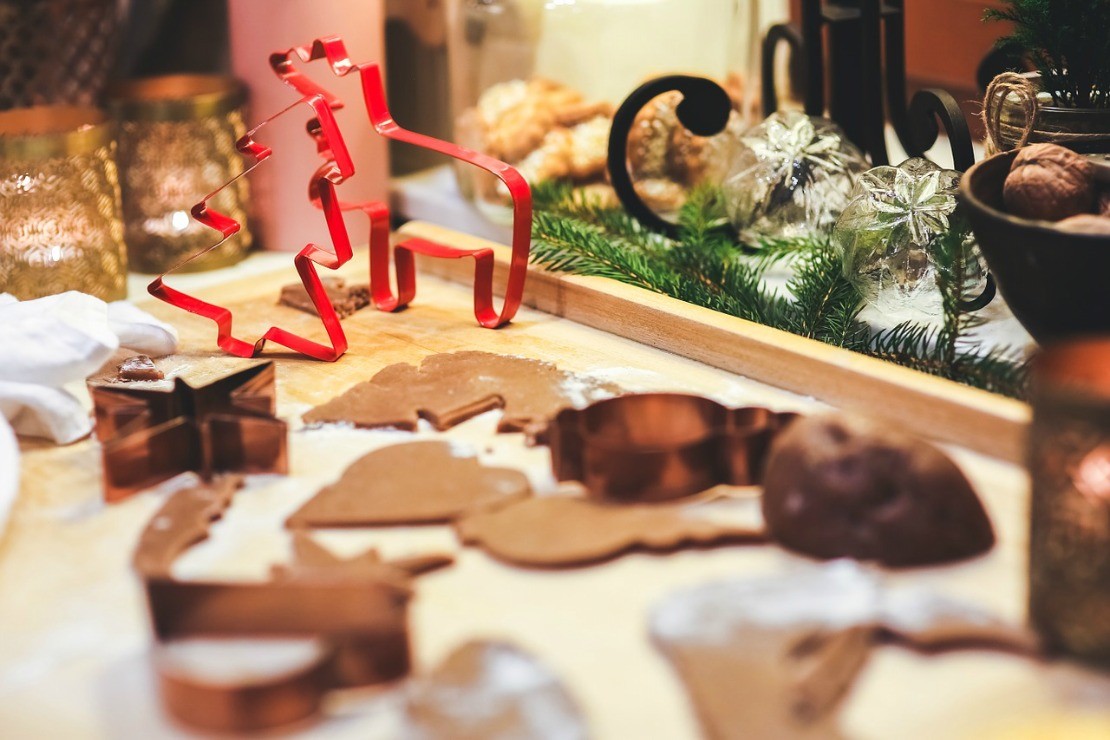 3 Delightful Herbal Holiday Cookie Recipes
Remember the simple joys of life and gather in the kitchen this holiday season to whip up a batch or two of cookies! A homemade holiday cookie is much beloved treat. Personally, I find it hard to say which I like better—baking favorite holiday cookies or eating them with friends and family! These delicious herbal holiday cookie recipes bring a tasty, unique herbal twist to this cherished holiday tradition.

Sweet Spiced Gingerbread Cookies 
Each year my girls and I whip up a big batch of these fragrant gingerbread cookies and have a cookie decorating party. We love this recipe because it is so very full of aromatic herbal goodness. You can leave these yummy cookies plain or decorate them with your favorite icing and toppings. Or, try out some of the ideas below for a tasty icing flavored with rose or orange flower water and colored with beet powder!
Sweet Spiced Gingerbread Cookies
Adapted from Honey Bear Bakery
Ingredients
Cookies:
½ cup butter or coconut oil
¼ cup honey
¾ cup molasses
¼ teaspoon ground cloves
½ teaspoon ground nutmeg
1 heaping teaspoon ground cinnamon
½ to 1 teaspoon freshly grated ginger, adjust the amount depending on how spicy you like your gingerbread]
Sprinkle of ground black pepper, optional
Zest from 1 organic orange
½ teaspoon baking soda
¼ cup hot water
2 ¾ cups of whole wheat flour
Icing:
1 cup powdered sugar
1 to 3 tablespoons of milk, any kind that suites your fancy
1 teaspoon of flavoring such as vanilla, almond or even consider trying a hydrosol like rosewater or orange flower water
Beet powder for coloring
Decoration ideas:
Crystallized ginger
Dried candied orange peel
Papaya chunk
Raisins
Shredded coconut
Goji berries
Dried cherries and blueberries
Dark chocolate chips
Crushed natural candy cane
Directions
To make the cookies: Start by placing the butter/oil, honey, and molasses in a bowl and blend until creamy.
Mix in the spices.
In a separate bowl, mix the baking soda and hot water together making sure the baking soda is dissolved then add to the first mixture, blending well.
Finally add the flour and stir well to blend.
Chill the dough for at least 30 minutes.
Preheat oven to 325 degrees and grease your cookie sheet.
Then roll it out on a floured surface to ¼" thick. If it is too sticky, you can add a little extra flour to make it easier to roll.
Cut into shapes and bake for 15 to 20 minutes, they will firm up as they cool.
To make the icing: Simply mix all the ingredients together using a whisk or fork to blend until smooth. Adjust liquid levels to adjust thickness of icing. The have fun decorating with your choosen toppings!

Rosemary & Honey Shortbread  
Signifying remembrance, rosemary brings a sense of continuity to a time of year when many folks are looking back on the past year and taking stock for the new one to follow. And if you love all things rosemary and butter then these melt in your mouth shortbread cookies are the perfect cookie for you! They are not your typical holiday cookie, offering rich buttery flavor complemented with bright herbaceousness. The rosemary really is almost reminiscent of pine making this a wonderful cookie to include on any cookie platter.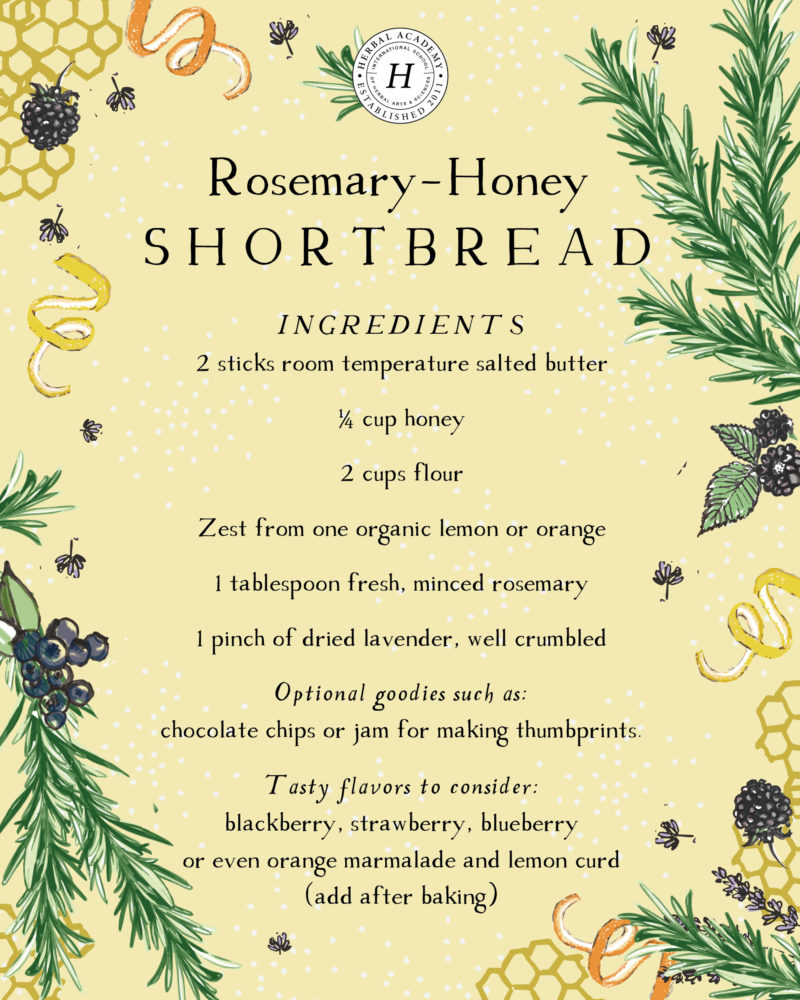 Rosemary & Honey Shortbread
Adapted from People's Company Bakery
Ingredients
2 sticks room temperature salted butter
¼ cup honey
2 cups flour
Zest from one organic lemon or orange
1 tablespoon fresh, minced rosemary
1 pinch of dried lavender, well crumbled
Optional goodies such as chocolate chips or jam for making thumbprints. Tasty flavors to consider: blackberry, strawberry, blueberry or even orange marmalade and lemon curd (add after baking)
Directions
Cream the butter until fluffy.
Add honey and beat to incorporate.
Then add the flour, rosemary, lavender, and lemon zest, continuing to beat until all the ingredients are very well blended together.
Preheat the oven to 325 degrees
For plain shortbread cookies: Chill the dough for at least 30 minutes.
Roll the dough into 1" balls and place on a greased cookie sheet.
Press the dough down a bit with a cookie press, fork, or your fingers. The dough can be crimped along the edges if you wish with a folk. Poke a hole (or holes) all the way through the shortbread.
For thumbprint cookies with goodies: Chill the dough for at least 30 minutes.
Roll the dough into 1" balls and place on a greased cookie sheet.
Press a thumbprint into the center of each ball. Add a filling such as jam or chocolate chunks/chips.
Bake for 15 to 20 minutes or until the edges are slightly brown.
The cookies may be very crumbly until they cool and harden.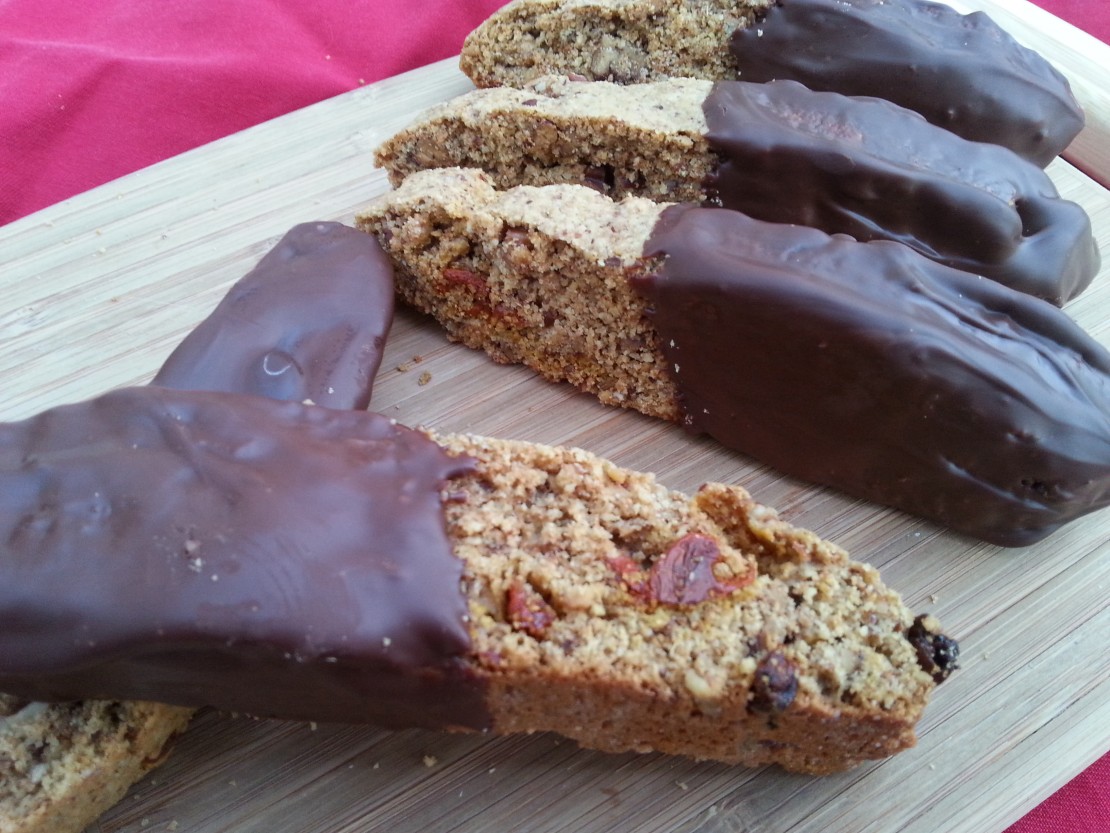 Dark Chocolate Dipped Anise Seed Biscotti With Roasted Nuts & Goji Berries 
Biscotti, filled with the tastiness of anise, is one of my favorite treats especially when dipped in coffee or hot chocolate. In this recipe, the lovely flavor of anise is brightened with a bit of freshly zested orange while richly flavored, healthful nuts and goji berries fill out the rest of the cookie. Try wrapping up a few of these sturdy cookie to give as a simple yet much appreciated gift!
Chocolate Dipped Anise Seed Biscotti With Roasted Nuts & Goji Berries
Ingredients
2 cups whole wheat pastry flour
1 cup almond meal
1 ½ teaspoon baking powder
Sprinkle salt
3 teaspoons anise seeds, crushed with a mortar & pestle if possible
¾ cup turbinado or sucanat sugar
6 tablespoons melted butter
2 teaspoons vanilla
Zest from 1 big organic orange
3 eggs
1 cup of roasted, roughly chopped nuts such as hazelnuts, almond, pecans, or walnuts
⅓ cup goji berries
12 to 16 ounces of dark chocolate chips
Directions
Preheat the oven to 350 degrees and grease and flour a cookie sheet.
Whip together butter, sugar, and vanilla.
Add eggs and orange zest and beat until well blended.
Stir in the flour, almond meal, baking powder, anise seeds, and salt.
Fold in the chopped nuts and goji berries.
Form the dough into 2 logs that are about 10" x 3" and place on cookie sheet.
Bake for about for 25 minutes or until the logs are brown on the edges and firm in the center.
Let cool while reducing the oven temperature to 250 degrees.
Slice the logs at an angle into biscotti that are about ½" thick.
Carefully return the biscotti to the cookie sheet, they may be crumbly.
Bake for 10 to 15 minutes until the cookies start to firm up then turn them over to toast the other side.
While the cookies cool and harden, prepare the chocolate.
Place the chocolate chips in a bowl and then put that bowl over a pan of water with the bowl suspended above the water.
Melt the chocolate chips and mix the chocolate until smooth.
Dip the biscotti in the chocolate or use a spoon to spread the chocolate on the biscotti. Then set the biscotti on parchment paper to harden.
When the chocolate has harden, store in an airtight container.
For more herbal holiday fun, check out these offerings here at the Academy:
Happy holidays!
REFERENCES
Cooperative Whole Grain Educational Association. (1993). Uprisings, the whole grain baker's book. Ann Arbor, MI: CWGEA.