Indulge Your Sweet Tooth With Real Peppermint Hot Cacao
When the temperature drops and the scarves, hats, and gloves come out of storage, hot cacao is a staple beverage in my home. I don't like to do just plain chocolate though – I have a flair for changing things up by making something tasty that is also super healthy (I like to make tasty treats that I can forgivably eat as much as I want, without worrying about my sugar or calorie intake), which is how this peppermint hot cacao was created.
When I was a child, my mom ALWAYS filled our home with hot cocoa, year around. She had a certain weakness for it, and therefore it was genetically passed down to me. When I first started experimenting with making my own healthy hot chocolate, one of the first flavors that came to mind was peppermint cocoa.
Raw Cacao is full of antioxidants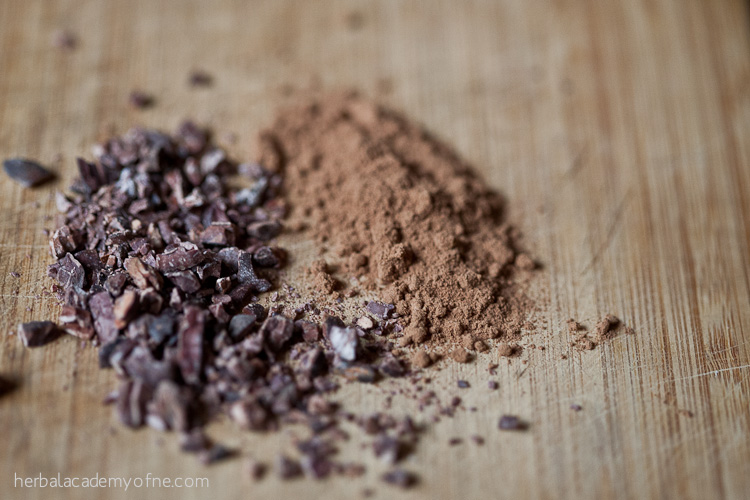 Chocolate lovers rejoice – being healthy doesn't mean giving up chocolate; in fact, it may even be healthier (in terms of antioxidants) than black or green tea, and even red wine. According to the October 2003 edition of the Journal of Agricultural and Food Chemistry, researchers compared the antioxidant capacity of black tea, green tea, red wine, and cocoa, and concluded that cocoa has the highest antioxidant activity (Lee et al., 2003). Cocoa is very high in magnesium (USDA, n.d.), and its flavonoid content may benefit the cardiovascular system (Vlachopoulos et al., 2005).
Ditch corn syrup candy canes for real peppermint leaf
Many flavored cocoa recipes call for candy canes or peppermint extract, which can contain a plethora of synthetic ingredients used to give the peppermint flavor. I like to skip all of that and use the real thing in my hot cocoa. And, by using real peppermint leaf you can harness the healing benefits of peppermint tea in your hot cacao! Not only does peppermint make chocolate taste even better (is that even possible?), but it can also ease with digestion and stress. Find organic peppermint leaf here and find organic, raw, fair-trade cacao powder here.
Peppermint hot cacao
This hot cacao is made even healthier by using unrefined sugars such as maple syrup or honey. The coconut oil give this hot cacao that requisite yummy creaminess, while also giving you a heart healthy dose of essential fatty acids and lauric acid. To add even more yumminess to your cup of hot cacao, try adding in some healthy homemade marshmallows  to kick up the creamy flavor!
Peppermint Hot Cacao
Ingredients
2 cups non-dairy milk (I use coconut milk with a dash of canned coconut milk for an extra creamy texture)
2-3 Tbsp. maple syrup (or honey, but maple syrup has a less prominent flavor)
2 Tbsp. raw cacao powder (you can substitute cocoa powder if you don't want the darker flavor of raw cacao)
1-2 Tbsp. peppermint dried leaf (depending on how minty you want your hot cacao. You can also substitute 1-2 peppermint tea bags or 2-4 Tbsp. fresh peppermint leaves)
1 Tbsp. coconut oil
1-2 Tbsp. dairy-free dark chocolate chips or raw cacao nibs (optional – for an even more chocolatey decadence)
Directions
In a saucepan, combine peppermint leaf and milk, and bring milk to a boil over medium heat, stirring frequently to keep milk from burning.
Remove from heat and allow to steep for ten minutes, covered. Strain peppermint and return to medium heat.
Whisk in cacao powder, coconut oil, maple syrup, and chocolate chips/cacao nibs (if using).
Serve hot and top with marshmallows or whipped cream!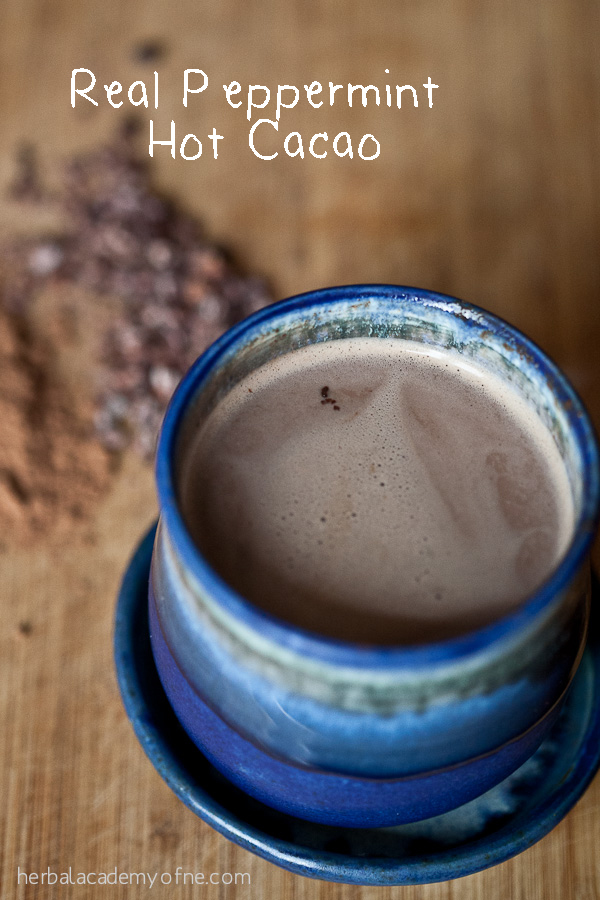 This post was written by The Hippy Homemaker, Christina, who loves to share what she's learning about green and eco-friendly living, natural health, aromatherapy, herbalism and more!
REFERENCES
"Cocoa, dry powder, unsweetened." USDA National Nutrient Database for Standard Reference, Release 27. Retrieved November 2014 from http://ndb.nal.usda.gov/ndb/foods/show/6146
Lee KW, Kim YJ, Lee HJ, Lee CY. (2003). Cocoa has more phenolic phytochemicals and a higher antioxidant capacity than teas and red wine. J Agric Food Chem. 2003 Dec 3;51(25):7292-5.
Vlachopoulos C, Aznaouridis K, Alexopoulos N, Economou E, Andreadou I, Stefanadis C. (2005). Effect of dark chocolate on arterial function in healthy individuals. Am J Hypertens. 2005 Jun;18(6):785-91.