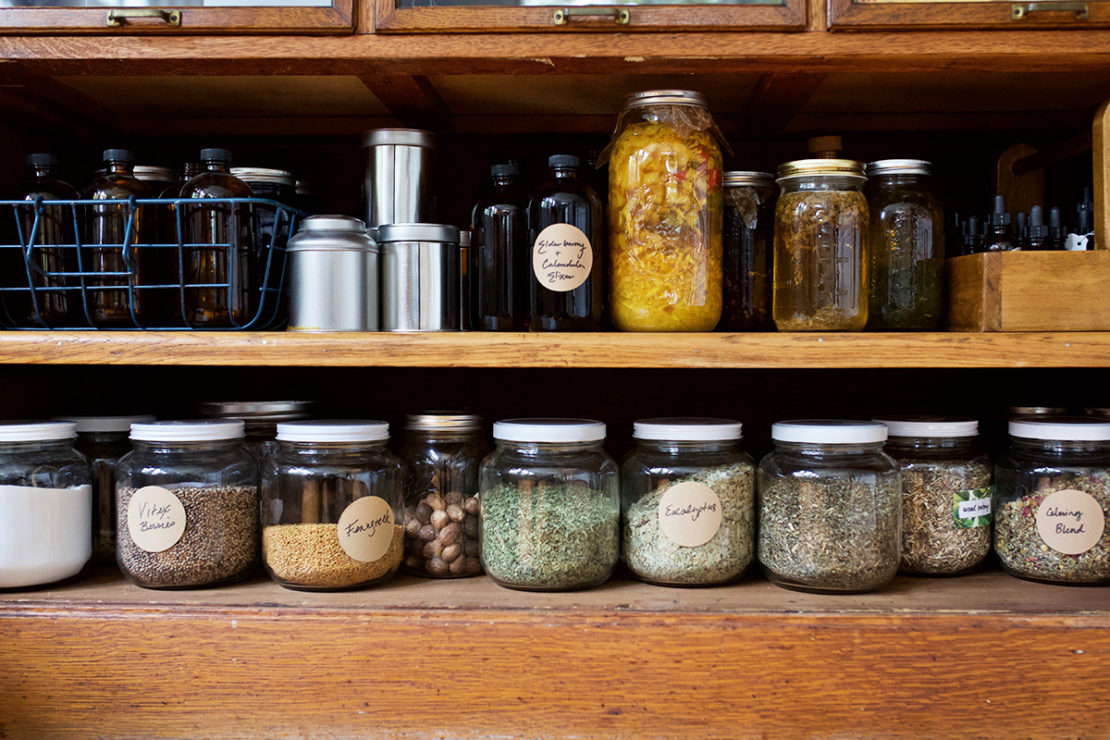 How To Stock Your Winter Home Apothecary: Herbal Allies For Colder Months
Depending on where you live, it might still feel like summer or perhaps the colder days of the year have already begun. Our work as herbalists involves tuning in to the seasons, and for those of us who garden or wildcraft, this includes paying attention to the growing cycles and when to harvest plants. Another core part of our seasonal preparations involves thinking ahead so we can plan for the winter. With cold and flu season right around the corner, it's essential to have your winter home apothecary stocked with herbs that can support you and your family when you most need it. 
When illness sweeps through a household in the dead of winter, it's ideal to have your herbal preparations already made and ready to use, especially if you are the one who is sick and must take care of yourself! In this article, I will share with you how to stock your winter home apothecary, including my favorite herbal preparations to have on hand and essential herbal allies for colder months.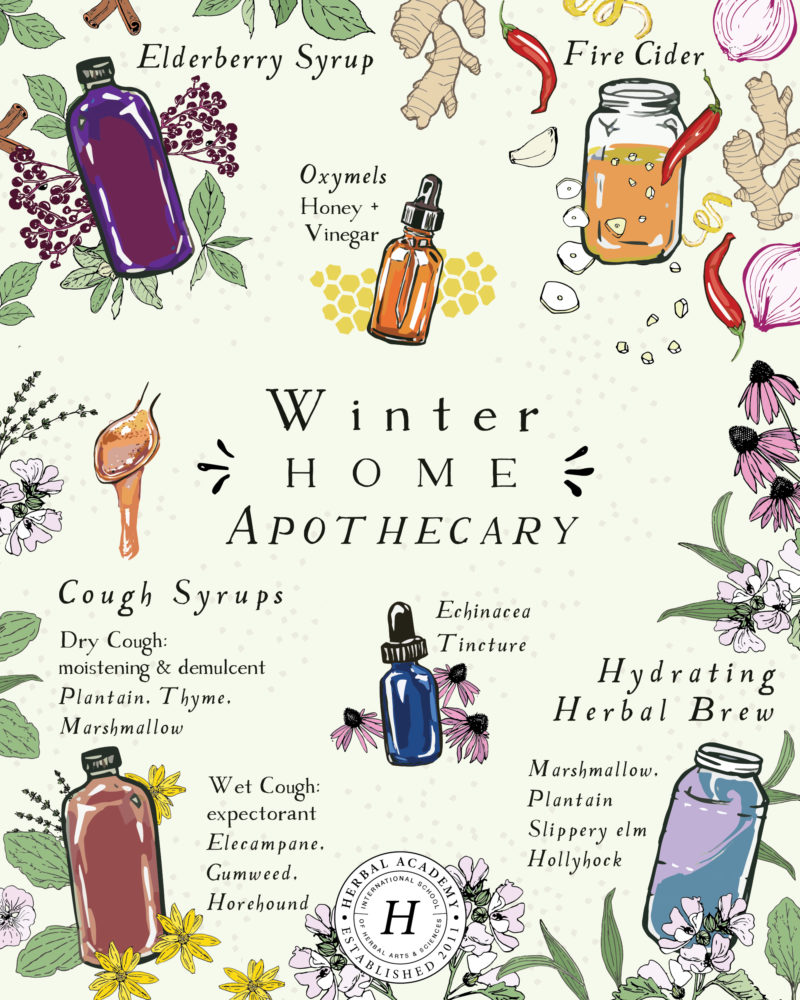 Herbal Preparations To Stock Your Winter Home Apothecary
Here is a list of some staple herbal preparations that I always ensure my winter home apothecary is stocked with before cold weather arrives. Feel free to adjust the herbs you use in each preparation based on what ailments you face most often, which herbs you have on hand, and what suits your taste palette best! 
Remember to always research each herb you choose thoroughly for any personal safety concerns or contraindications before using them.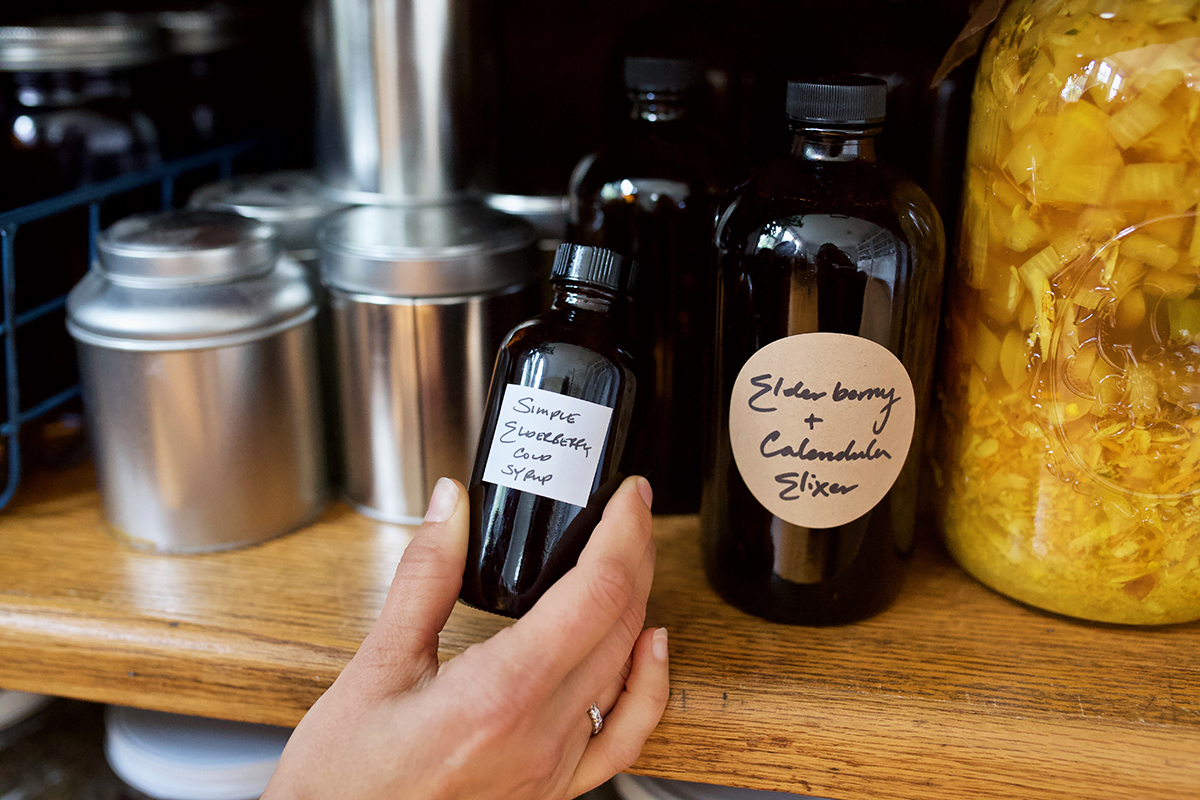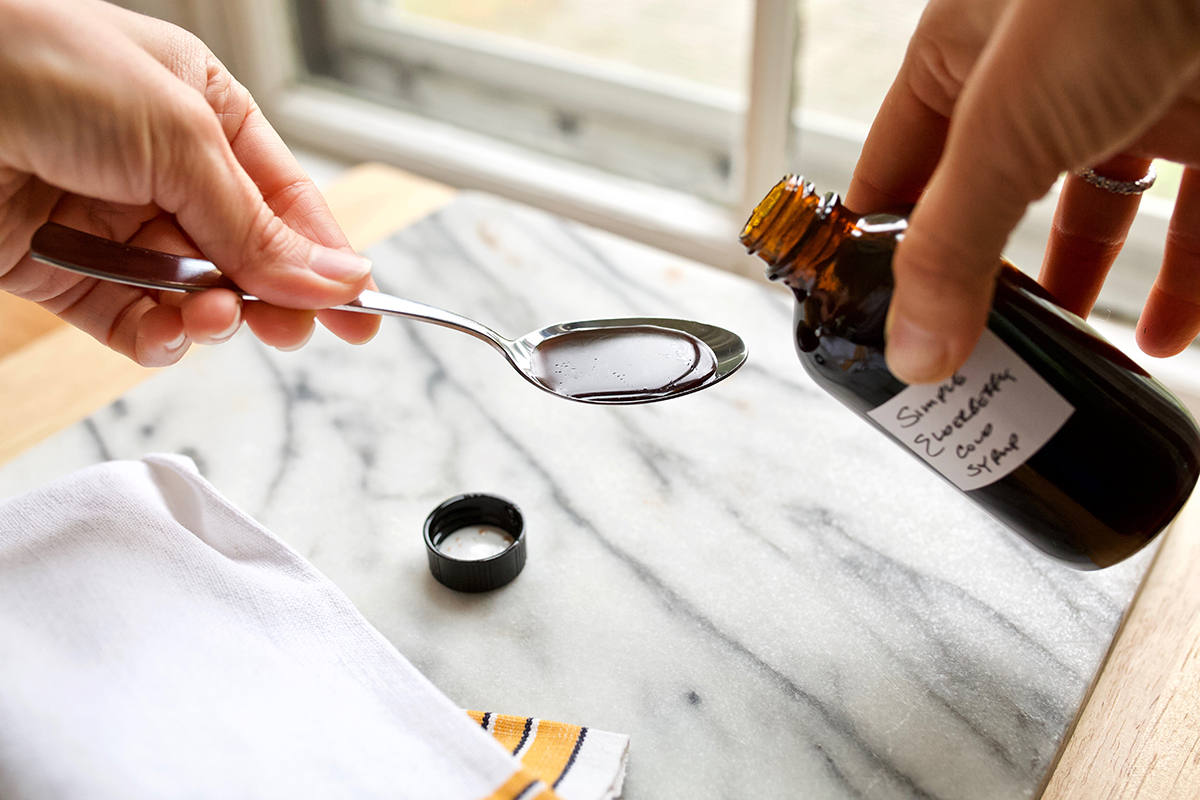 Immune-Stimulating Syrups
I always ensure that I have at least one immune-stimulating herbal syrup on hand before cold and flu season hits. Although herbal syrups are relatively fast to make in a pinch, it makes life so much easier to have them on hand when a sore throat hits or when you need immune support as soon as possible. Stock your winter home apothecary with a classic immune-stimulating elderberry syrup. Families or individuals who are exposed to colds and the flu regularly may choose to use elderberry syrup daily throughout cold and flu season. Others may choose to use it only when they suspect they may have been exposed or when they experience signs of a cold or the flu. 
Elder (Sambucus nigra) berry has been shown to decrease both the duration and the severity of the flu when taken regularly throughout sickness (Zakay-Rones et al., 1995). Sometimes I like to add in other antioxidant-rich or immune-stimulating herbs, such as rose hips (Rosa spp.) or astragalus (Astragalus membranaceus), although I always keep elderberries as the primary herb in my formula.
In addition to having a classic elderberry syrup on hand, I like to have a cough syrup (or two) in my winter home apothecary. I find it's helpful to have one syrup that's specifically formulated for wet coughs (or those where mucus is coming up) and another for dry coughs (where no mucus is present and the throat feels raw and dry). Consider whether you feel coughs tend to be a recurring issue in your household or not. If one type is more common than the other, this can help you decide which herbal syrup would be most appropriate for your winter home apothecary.
For a dry cough-supporting herbal syrup, I favor moistening, demulcent, and inflammation-soothing herbs along with antispasmodics. Some herbs with these actions include plantain (Plantago major or P. lanceolata) leaf, thyme (Thymus vulgare) leaf, licorice (Glycyrrhiza glabra) root, and marshmallow (Althaea officinalis) root. 
For  a wet cough-supportive herbal syrup, I tend to focus mainly on expectorant herbs such as gumweed (Grindelia squarrosa) flower, horehound (Marrubium vulgare) leaf, and elecampane (Inula helenium) root. Note that either of these syrups could also be made into an oxymel (see the section below on oxymels) as well. 
Follow the instructions in our How To Make An Herbal Syrup blog post to make immune-supportive herbal syrups at home, and check out our post on How To Make Vegan Herbal Syrups if honey is not a part of your diet.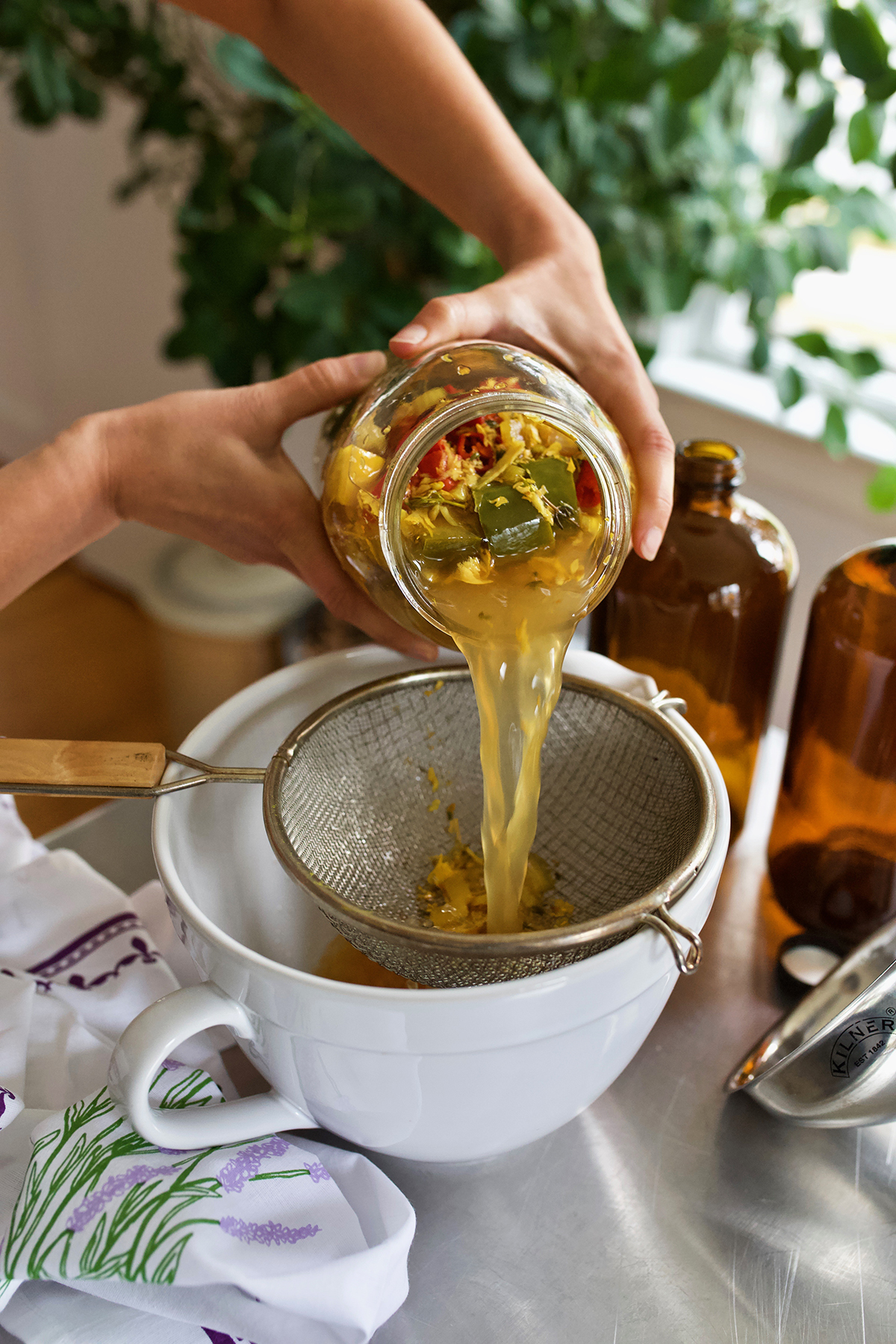 Fire Cider
Fire cider is a staple herbal preparation to stock your winter home apothecary with every year. A traditional herbal "folk" recipe for both supporting the immune system and warming up our circulation, fire cider is a wonderful preparation to use both preventatively throughout flu season and acutely when you feel the "tickle" of an illness coming on. Fire cider is an herbal-infused vinegar that uses commonly found kitchen herbs, and you can customize the ingredients depending on what you like or have on hand. Plus, it's fun and easy to make!
Horseradish (Armoracia rusticana) root is a common herb used in fire cider for its strong, warming diaphoretic action, and it also helps support healthy bacteria flora in the gut (Murray et al., 2005). Ginger (Zingiber officinale) rhizome is another herb that is often included to increase circulation throughout the body while modulating inflammation and stimulating immunity so that viruses cannot take hold (Murray et al., 2005). Other herbs that lend themselves well to fire cider include garlic (Allium sativum) bulb, turmeric (Curcuma longa) root, thyme (Thymus vulgare) leaf, and cayenne (Capsicum annuum) fruit.
Think spicy, pungent, and powerful herbs when you are creating your fire cider brew to stock your winter home apothecary! Fire cider is commonly taken by the spoonful as a quick daily dose, but you can dilute it in a little water if you prefer. Ultimately, don't shy away from the spice even if it does not appeal to your palate. Read our post on How To Make Homemade Fire Cider for one of our favorite recipes and more tips on preparing your own fire cider this year.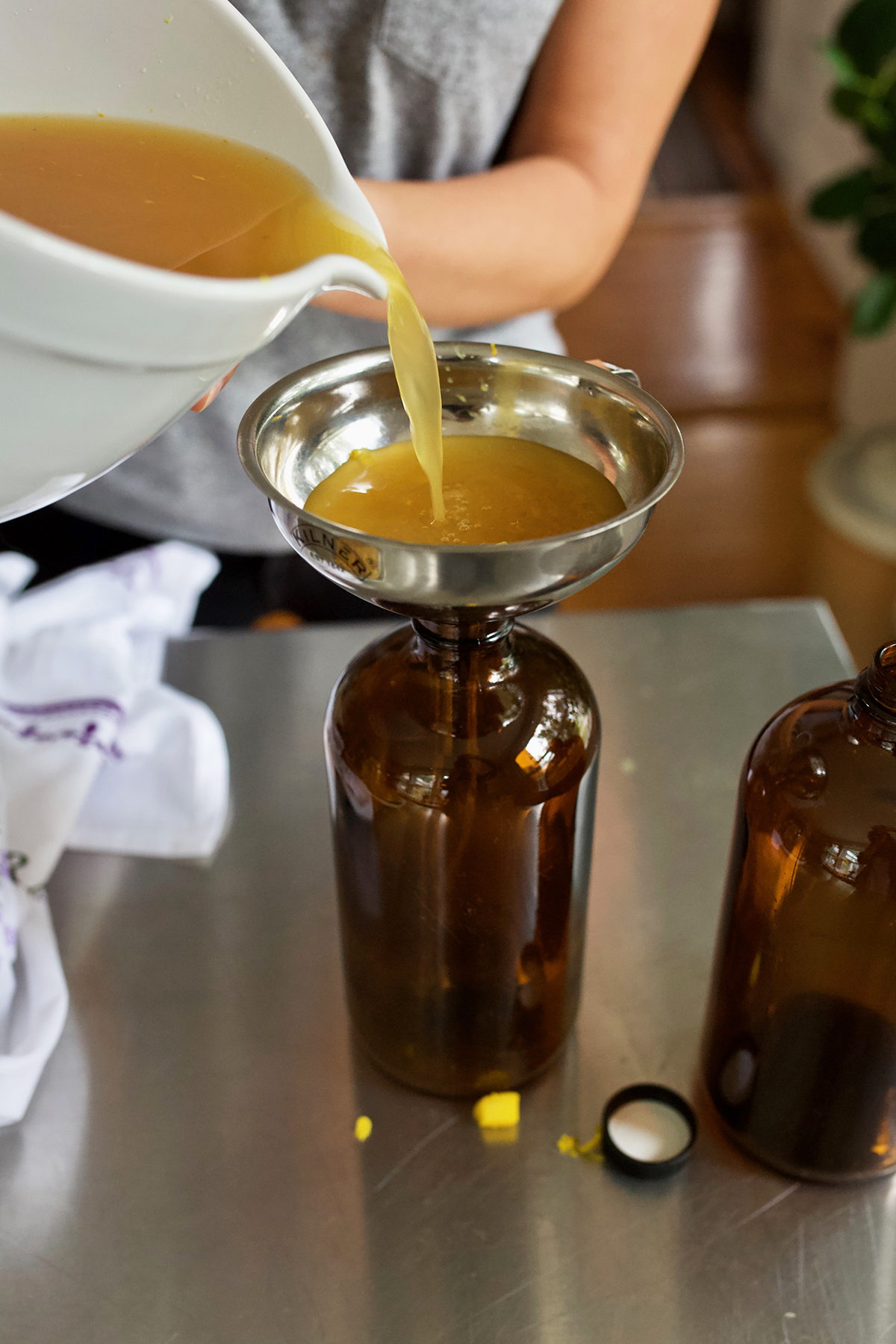 Oxymel
Herbal oxymels are one of my favorite herbal preparations to use throughout the winter months. Not only are they soothing for a dry, scratchy throat, they are also quite convenient to take on-the-go. Unlike syrup, which tends to be the thickest liquid herbal preparation and often messier to dispense,oxymels can be easily poured into smaller dropper bottles and tossed in your bag for acute support. Made from vinegar and honey, oxymels are a tasty and simple herbal preparation for your winter home apothecary. 
Since oxymels use raw honey as a base ingredient, this makes them inherently palatable and easy to mask the more pungent and intense flavors of certain herbs. I typically focus on incorporating immune- and respiratory-supportive herbs with more pungent aromatics like garlic (Allium sativum) bulb and cayenne (Capsicum annuum) fruit, or those which are extremely bitter by nature such as horehound (Marrubium vulgare) leaf. 
It can be helpful to prepare one or two different oxymels when stocking your winter home apothecary depending on which uses occur most often in your household throughout the season. I typically prepare one oxymel focused on supporting dry coughs (which often need immediate soothing support on-the-go) and another oxymel for general immune support. Note that because oxymels contain raw honey, do not give them to children under 12 months old. 
While syrups and oxymels are generally similar in nature, there are several differences to take note of which can help you determine which preparation to use. Given their vinegar content, oxymels tend to have a longer shelf life and a more expectorant quality to them. In addition, oxymels are generally lower in sugar than herbal syrups. Since vinegar contains a more pungent aroma and taste, syrups are often a better option for children or adults with sensitive taste buds. Consider these differences when deciding which herbal preparations would be most indicated to stock your winter home apothecary with this year.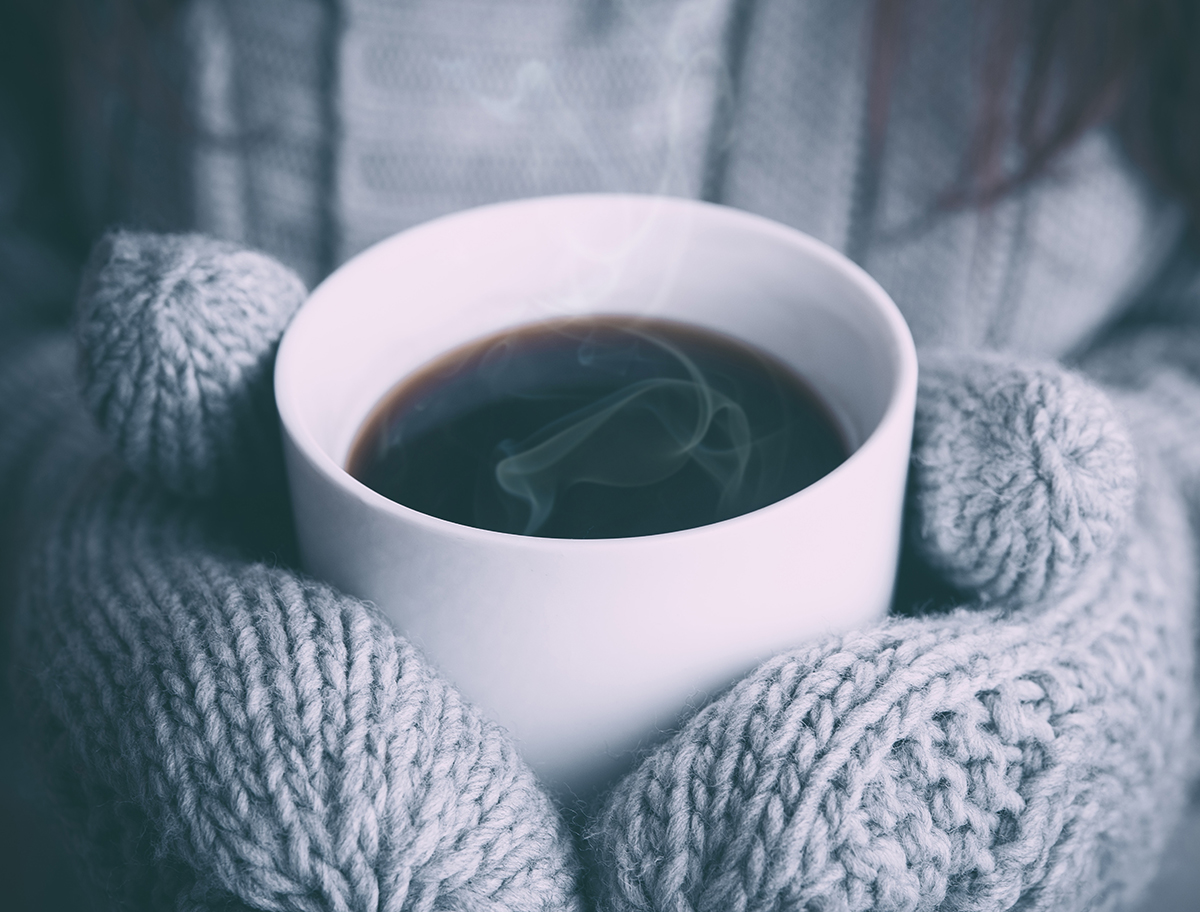 Hydrating Herbal Brew
Staying hydrated is essential throughout the colder months when we spend a lot of time indoors in the dry heat. If you also live in an area where the environment is naturally dry, daily hydration is even more crucial! Lucky for us, there are several herbal allies that we can include in our winter apothecary for tea making, helping us to stay hydrated all season long. 
You can pre-mix your own winter tea blend with moistening and demulcent herbs, or simply stock up on a few select herbs that you can prepare as a simple infusion as needed throughout the cold and dry months. Some of the staple herbs I use in hydrating herbal brews include marshmallow (Althaea officinalis) root, plantain (Plantago major or P. lanceolata), slippery elm (Ulmus rubra) bark, and hollyhock (Alcea rosea) flower. All of these herbs are incredibly demulcent and generally soothing to tissues, both inside and out. 
Try preparing your hydrating herbal brew as an overnight cold infusion to bring out even more demulcency. Enjoy your brew daily or as needed during dry spells throughout the wintertime.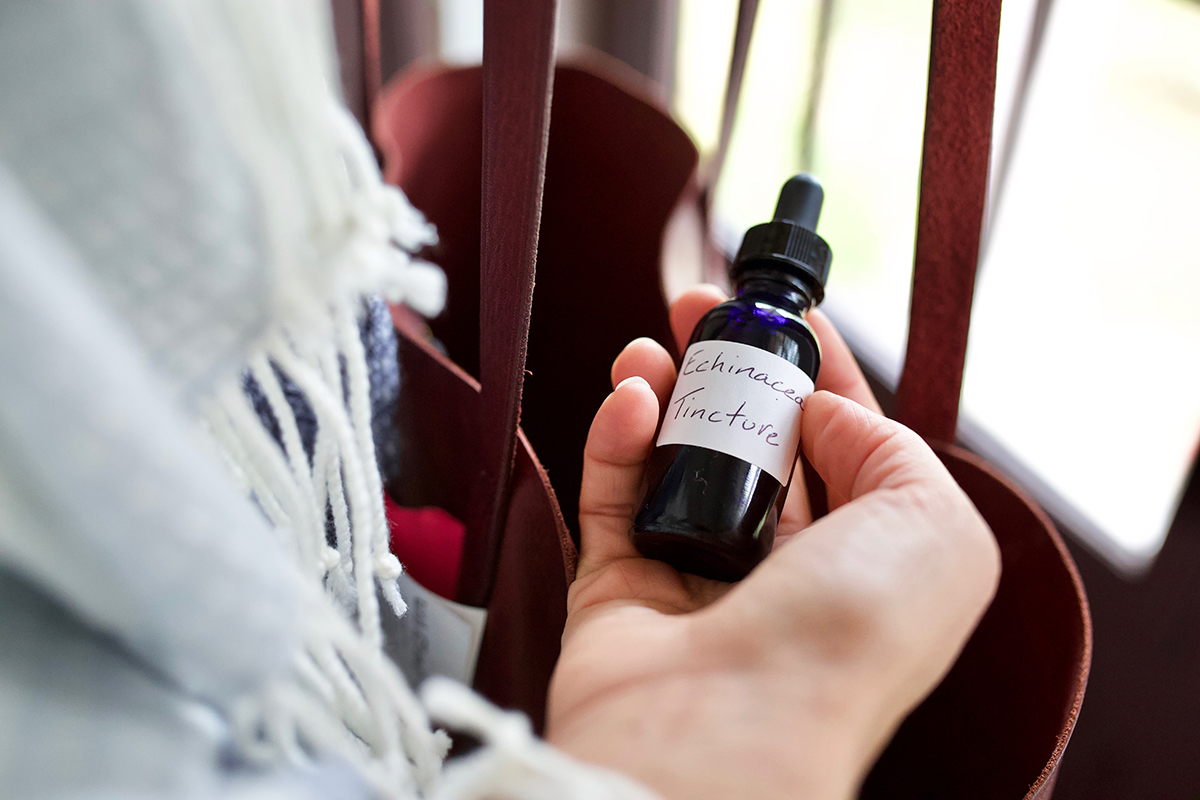 Echinacea Tincture
Last but not least, be sure to stock your winter home apothecary with a simple echinacea (Echinacea purpurea or E. angustifolia) tincture before cold and flu season hits! Echinacea is a tried and true herbal ally for the acute onset of colds and flu (Holmes, 1989). This herb has been used for hundreds of years as an immune-stimulant and modulator, offering specific help for microbial imbalances and viruses (Holmes, 1989). When you start to feel that tickle in the back of your throat indicating that some kind of bug might be coming on, you'll want your echinacea tincture on hand to help ward it off! 
While I typically reserve echinacea tincture for these acute moments, it is also extremely useful to take preventively, especially when you are in environments where you are exposed to different kinds of bacteria, such as airports and schools, for instance. Although you can prepare echinacea root as a decoction instead, using it as a tincture is most convenient for immediate herbal support when sickness strikes. 
Read our post here to learn how to make your own herbal tincture.
Staying Well All Winter Long
Although it still might feel a bit early to focus on stocking your winter home apothecary, it's always best to prepare as much as you can in advance so you feel supported through all of the challenges the cold months ahead can bring. 
Looking for more ways you can use herbs this winter? Adopt the warming winter ritual of making herbal truffles for good circulation through our recipe here.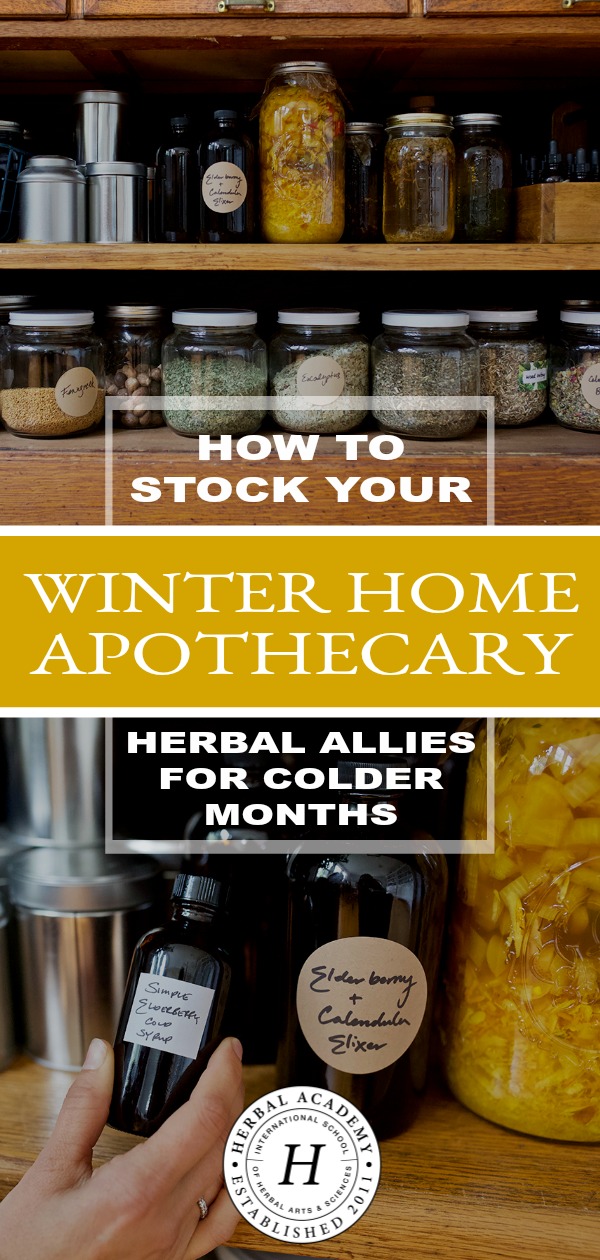 REFERENCES
Holmes, P. (1989). The energetics of Western herbs (Vol. 2). Boulder, Co: Snow Lotus Press.
Murray, M., Pizzorno, J. & Pizzorno, L. (2005). The encyclopedia of healing foods. Boca Raton, FL: CRC Press.
Zakay-Rones, Z., Varsano, N., Zlotnik, M., Manor, O., Regev, L., Schlesinger, M., & Mumcuoglu, M. (1995). Inhibition of several strains of influenza virus in vitro and reduction of symptoms by an elderberry extract (Sambucus nigra L.) during an outbreak of influenza B Panama. Journal of Alternative and Complementary Medicine, 1(4), 361-369. http://doi.org/10.1089/acm.1995.1.361