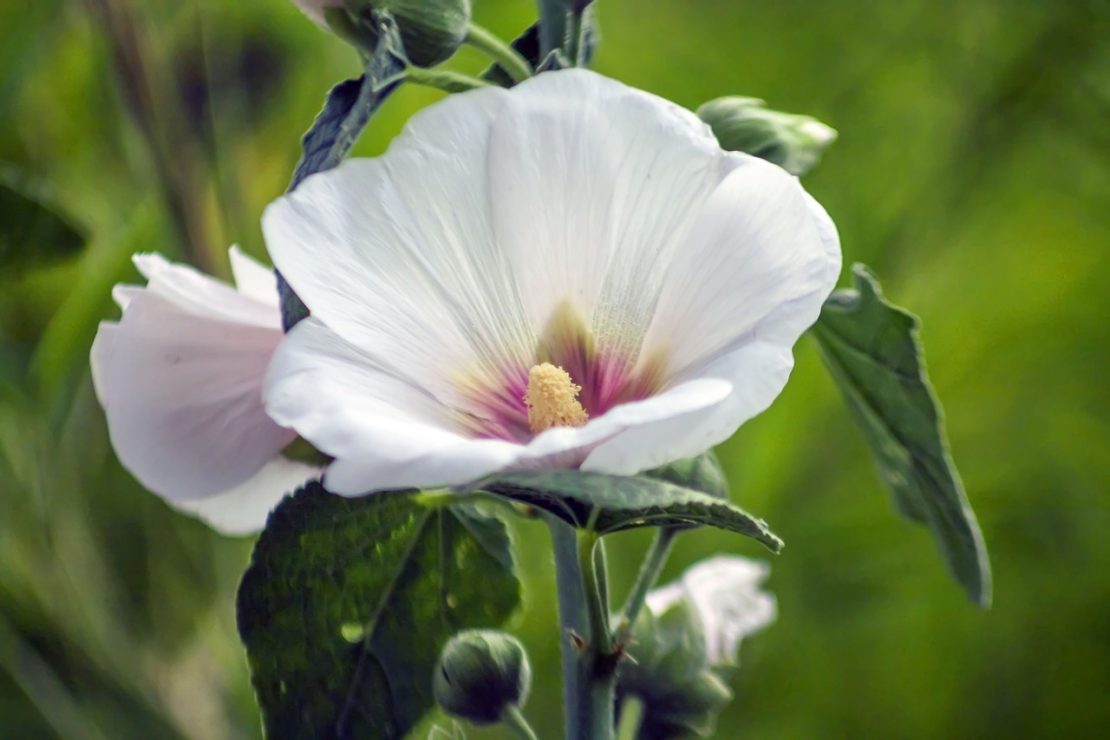 5 Ways To Use Hollyhock In Your Materia Medica
You may have admired hollyhock (Althaea rosea) already in gardens, along bike paths, or in other sunny locations as a beautiful and commonly used ornamental. After all, its gorgeous tall stalks with large and vibrant rose-esque blooms tend to demand attention! But did you know that these stunning blooms are also an herb that can be used in your materia medica? Its gentle, emollient, and inflammation-soothing properties are worth taking note of. Read on to learn 5 ways you can use hollyhock in your materia medica.
5 Ways To Use Hollyhock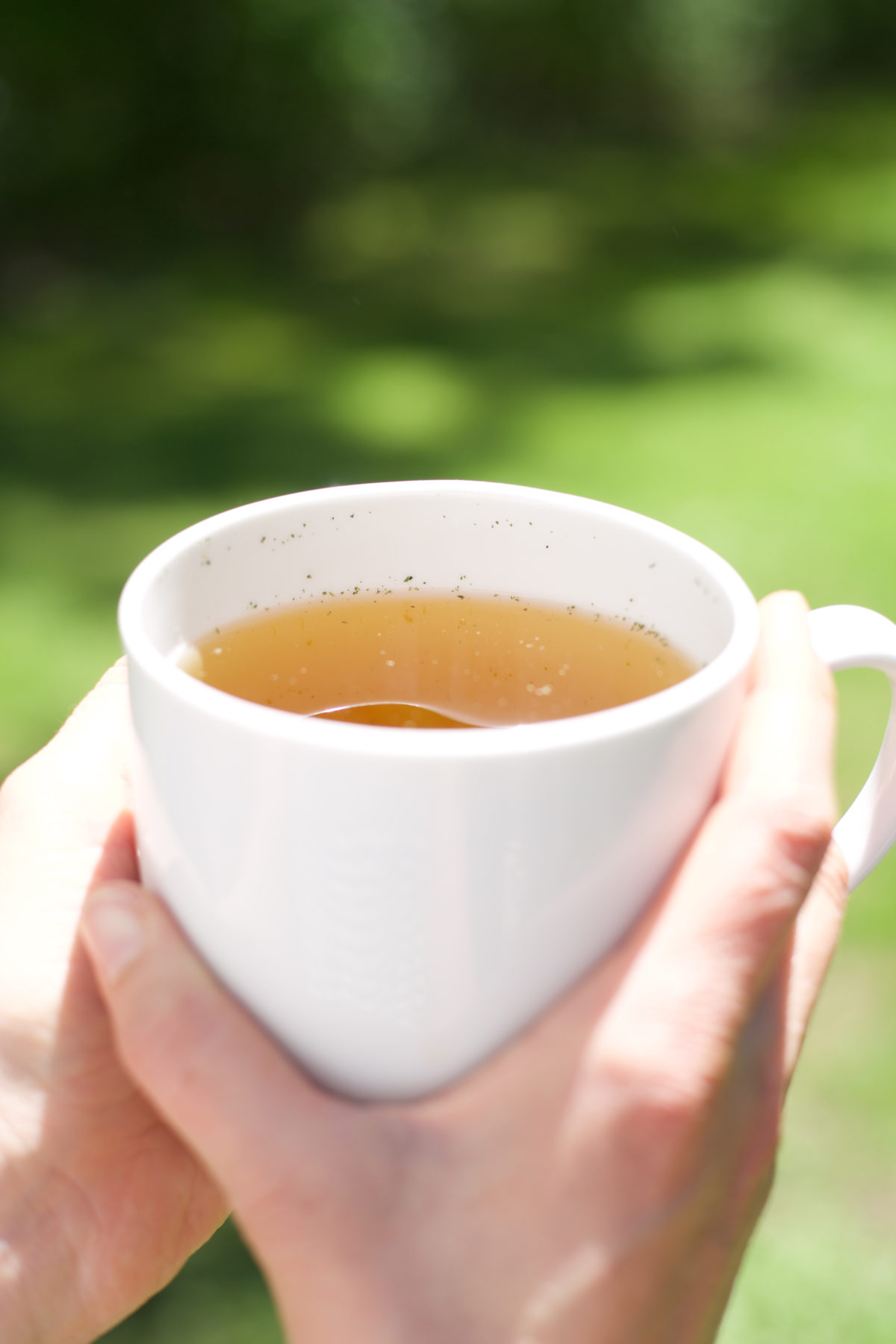 1. As an Inflammation-Soothing Tea
A well-known property of hollyhock is its demulcent quality. Demulcent herbs, like hollyhock, help soothe irritation and inflammation by creating a film over the mucosa they contact. You can use hollyhock as an herbal tea to help soothe inflammation of tissues in the gastrointestinal, genitourinary, and respiratory tracts (Skenderi, 2003).
Since the majority of herbs are intensely drying in nature, when a moistening and mucilaginous herb comes along, it is important to take note! Adding a dried hollyhock flower or two to your herbal infusion is a great way to balance the energetics of an overly dry formula and soothe irritation to the mucous membranes. When our tissues become hot, dry, or inflamed from irritants like seasonal pollen and environmental toxins or from sore throats or eating something overly spicy, hollyhock can be helpful as a cooling and soothing tea.
Flavor-wise, hollyhock is quite neutral, which makes it easy to combine with other herbs in a formula. To extract more of the cooling demulcent properties from hollyhock in a tea, try preparing it using an overnight cold infusion method.
2. As a Mouthwash, Rinse, & Gargle
In the same way that hollyhock soothes inflammation in our respiratory, gastrointestinal, and genitourinary tracts, it can also calm irritation in the mouth. To use hollyhock as a mouthwash and herbal rinse are both fabulous ways to soothe inflammation in the mouth and gums.
As a gargle, hollyhock can help ease the symptoms from a dry cough, hoarse throat, and tonsillitis (Holmes, 1989). Given its gentle nature, using hollyhock as a mouthwash and rinse can be incorporated into a simple daily practice.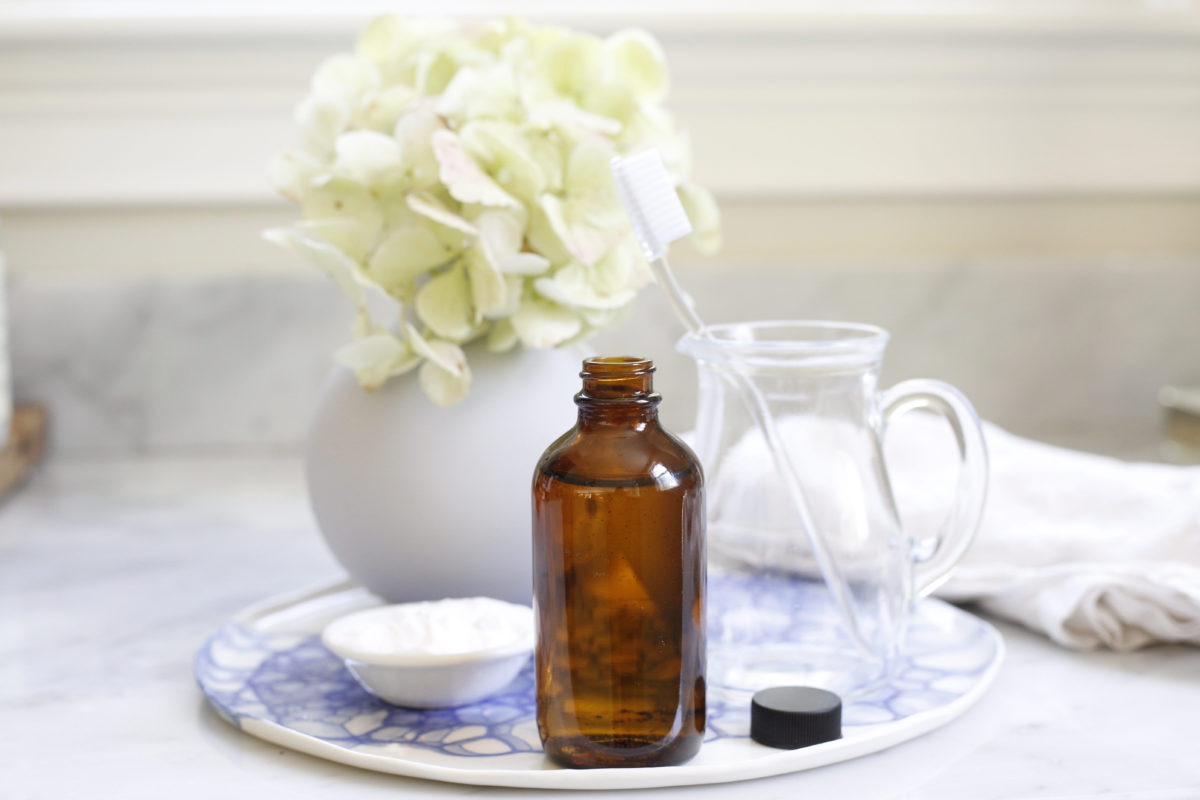 Basic Hollyhock Mouthwash
Ingredients
2 dried hollyhock flowers
1 cup water
optional: 1 teaspoon vodka
Directions
Place hollyhock flowers in a jar.
Pour cool or room temperature water over hollyhock. Cover and allow the tea to infuse overnight (or approximately 8 hours).
Strain hollyhock flowers from the liquid using a fine mesh strainer into a bottle or jar.
If desired, add vodka to help preserve the mouthwash for up to 5 days if refrigerated.
Rinse and gargle with mouthwash daily for 20-30 seconds.
Store, covered, in the refrigerator. Mouthwash will keep for 2-3 days without adding vodka.
3. As an Herbal Wash, Compress, & Poultice
Hollyhock can be a supportive ally for general skin inflammation and irritation when used as an herbal wash, compress, or poultice. The cooling, demulcent quality of hollyhock is considered very similar to that of marshmallow root (Althaea officinalis), only slightly milder in nature (Holmes, 1989).
Traditionally, in Brazil, it is noted that hollyhock leaves are applied directly to an area of inflammation on the body as a poultice, while in the Middle East the mucilage from hollyhock is mixed with dough and olive oil and then applied to tumorous areas or directly on bruises (Duke, 2008). Alternatively, in Peru, hollyhock leaves are cooked in oil or milk, mashed into a poultice, and applied onto swollen areas (Duke, 2008).
Making a poultice using hollyhock leaves can also be a great tool for calming irritation from insect bites and stings. Before applying a poultice, you may want to steam the leaves slightly so they become more pliable and can bend around the skin.
Skin conditions showing dryness, heat, or damp-heat are more indicated for using hollyhock as an herbal wash and compress (Holmes, 1989). Learn more about herbal compresses and fomentations here.
4. By Eating the Petals & Young Leaves
Using hollyhock as an edible is a great way to add vibrant color to foods and get a boost of flavonoids in your diet. Although the full nutrient and constituent profile of hollyhock is not well studied, the flowers are reported to contain flavonoids and mucilaginous polysaccharides (Skenderi, 2003). While the young hollyhock leaves and flower buds need to be cooked before being eaten, hollyhock flower petals can be eaten cooked or raw (Duke, 2008).
Be aware that since hollyhock is commonly planted as an ornamental, it could be sprayed with pesticides or treated with other chemicals you do not want to ingest. Also, be sure to check inside your hollyhock flower before eating in case any critters have made a home inside.
5. As a Natural Coloring Agent
One unique property of black and dark red hollyhock petals is their ability to color different mediums! While many herbs carry rich or vibrant colors, not all can transform the appearance of our teas and potions. One way to use hollyhock is by incorporating it in your herbal wines, teas, and juices to instill a deep, rich color (Skenderi, 2003; Duke, 2008). Note that this is specific to the black and dark red hollyhock flowers only and not the lighter colored varieties.
Another way you can use hollyhock as a coloring agent is for natural fiber or hair dye. For fibers, the final color ends up as a deep bluish-lavender. Using hollyhock as a natural hair dye can be great for neutralizing the yellowish tones in grey hair or as a complementary herb in formulas for natural blonde hair dye (so it doesn't turn out too "yellowish" in appearance).
Simple Hollyhock Hair Dye Rinse
Ingredients
1 cup fresh purple or dark red hollyhock flowers
4 cups water
Directions
Place your hollyhock flowers in a jar.
Bring water to boil, then pour over hollyhock in a heat-safe container. Cover and allow the tea to infuse for about 20 minutes.
Strain hollyhock flowers from the liquid using a fine mesh strainer into a bottle or jar.
Allow to cool to lukewarm, room temperature, or chill in the fridge until you are ready to use.
After cleaning your hair in the shower, rinse your hair with the hollyhock tea, working the liquid through your hair from roots to tips.
Rinse well with clean water then condition your hair, if desired.
Repeat weekly for best results.
More Than Just Another Pretty Flower
Although we have only covered five ways to use hollyhock in your materia medica here, hollyhock has been used traditionally around the world for a plethora of other purposes. Some of these applications have dropped away in modern use (such as mixing hollyhock juice with spiderwebs to help staunch bleeding!) but others are still readily applied in different herbal practices today (Duke, 2008).
After taking a deeper look at some of the ways you can use hollyhock in your materia medica, it's clear that hollyhock really is more than just another pretty flower! Which ways will you use hollyhock today?
Learn about more edible flowers and how to use them in our post here.
Start Building your Materia Medica with these free pages!
If you want to get started compiling some herbal monographs for yourself, we're including a free download of the materia medica pages from our beautifully designed 
Materia Medica Journal
. You are welcome to download and print this black and white herbal monograph spread to
get your materia medica started
!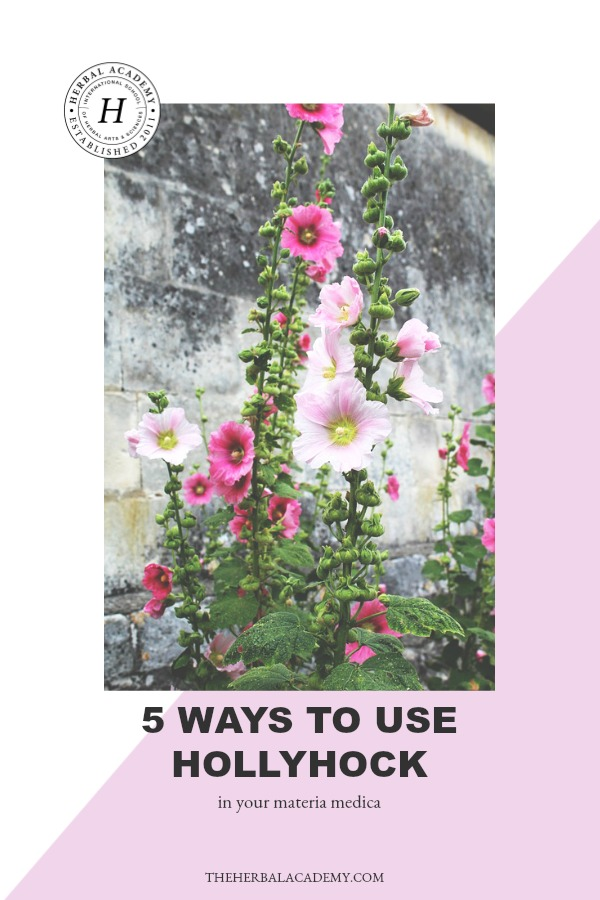 REFERENCES
Duke, J.A. (2008). Duke's handbook of medicinal plants of the bible. Boca Raton, FL: CRC Press.
Holmes, P. (1989). The energetics of western herbs. Cotati, CA: Snow Lotus Press.
Skenderi, G. (2003). Herbal vade mecum. Rutherford, NJ: Herbacy Press.