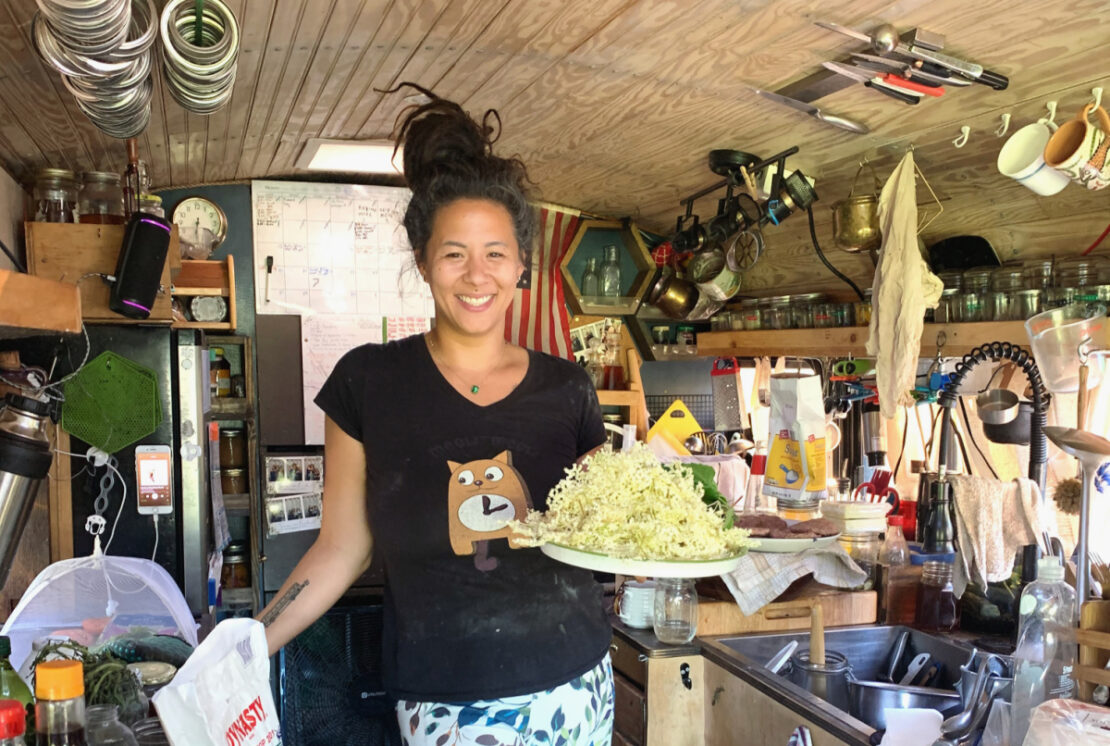 Herbal Academy Student Feature: Shiang-ling Bissonnette (@halfbakedbarelymeasured)
For this Student Feature, we sat down with Herbal Academy graduate, Shiang-ling Bissonnette of Half Baked Barely Measured. We enjoyed hearing more about her path into herbalism and how she manages herbalism in a self-converted school bus. You can also follow her journey on TikTok and Instagram as @halfbakedbarelymeasured. Shiang-ling has taken Herbal Academy's Natural Perfumery Course, Mastering Herbal Formulations Course, the Intermediate Course and is a member of The Herbarium.
HA: Please tell us a little bit about yourself and how you started your path into herbalism.
Shiang-ling Bissonnette: Herbalism and a healthy relationship with food have always been a part of my life. My mother is Chinese from Taiwan and half-assed practiced what her poor and intelligent farmer mother taught her—ginseng, ginkgo biloba, goji berries, echinacea, lemongrass, ginger, turmeric, tinctures, and hot oils, weird elixirs, and endless ferments that only she could identify. I now have this talent too!. She'd take her time looking through health books and resources, trying to understand her second language's medical information.
She always taught us to ask questions, no matter who laughs…she'd say, "If you don't know, you'd better find out". Somewhere along the way, I became disassociated with it all and we'd become more "Western". 
When I became a mother, I struggled with anxiety and postpartum depression while parenting through deployments and training. I slowly became another bulk-buying consumer, following the crowd to whatever was convenient. I could feel the cycle begin… I  knew there was a more natural, simple approach. Sometimes it's hard to switch gears, even for the better.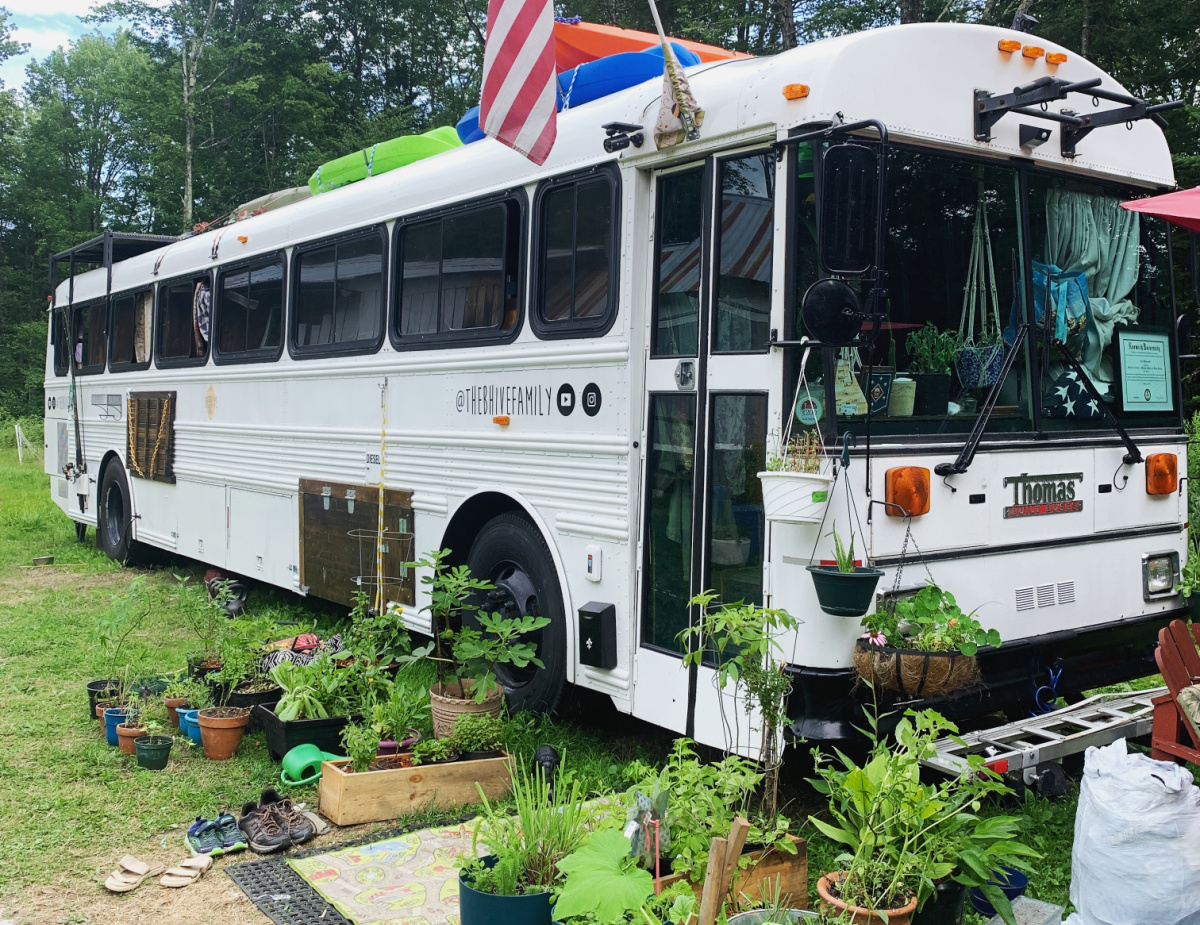 In 2018 my husband got out of the military pretty rapidly, something we hadn't planned. With this newfound freedom, we decided to sell everything and begin full-time traveling in a self-converted school bus. Through our journey of transitioning out of "military life" to civilian, being around each other ALWAYS, building a tiny home from scratch, learning how to homeschool (and be around the kids ALL the time), selling everything, and more,t gave us the time to really understand where our health really was. We learned that my husband's TBIs and PTSD affect him daily and have their triggers, that I needed to get my anxiety in CHECK, and realistically both my husband and I were overweight and leading a half-assed healthy-ish lifestyle.
Over the past 3 years we have been living nomadically, foraging, eating with the seasons, growing, and learning as much as we can about the beauty, power, autonomy, and simplicity of living naturally. 
HA: Why did you choose to pursue your herbal education with the Herbal Academy?

Shiang-ling Bissonnette: I really enjoy well-organized resources and information. The courses here are well thought out and created with ease of learning in mind. It's straight to the point and has PLENTY of "try it yourself" projects that help you get the hands-on experience that you need when incorporating herbal medicines.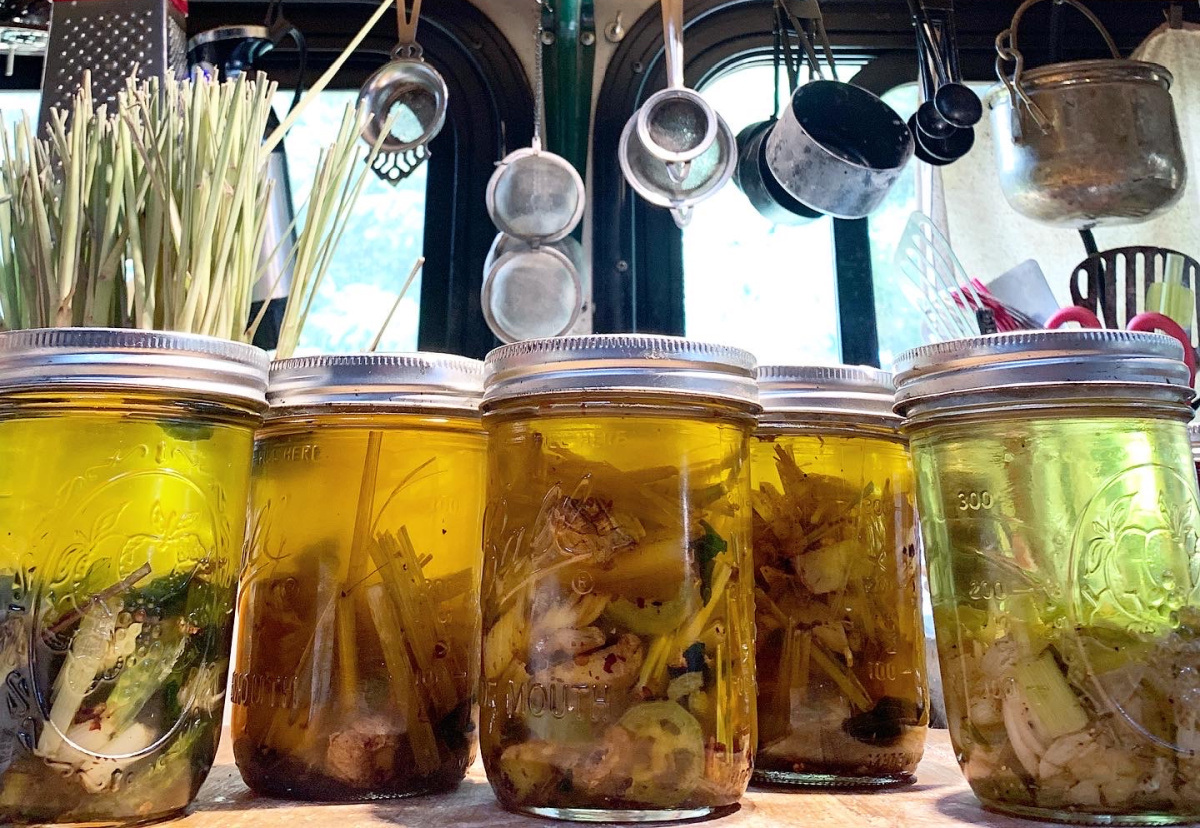 HA: Do you own an herbal business or brand? 

Shiang-ling Bissonnette: Yes, a brand that is developing into a business…slowly. 
Whilst traveling nomadically and still really honing my "craft", I've worked on creating small batches of herbal products our home needed and uses like first aid items, herbal infusions for cooking, and personal care items. No batch is ever small so what is extra after our family's needs, I will gift, trade, or sell. The small amount of profit just helps to keep the cycle going around while slowly teaching the ones I share with and sell to about why I've poured my focus into natural and holistic. I've been sharing on Instagram and Tik Tok accounts my musings, projects, and personal creations of food, herbs, and kitchen "info-tainment".
HA: How did your Herbal Academy courses help shape or improve your business?

Shiang-ling Bissonnette: I thoroughly enjoy learning the science behind the how and why. The courses are set up so you understand information from the core and I believe that understanding this way is an important part of educating others. It differentiates herbal medicine from a  cure or replacement for pharmaceuticals and distinguishes it as a reconnection with health and the path to wellness.
HA: Did your Herbal Academy courses help you avoid any potential mistakes while launching your business? 
Shiang-ling Bissonnette: It takes a lot of energy to operate a business, and I am really enjoying this part of the journey where I learn and make as much as I can for myself. As I hone it in, I share with others that are looking to simplify their lives. I like understanding the correct nomenclature and verbiage that is used to promote a healthy understanding and respect for plant medicine. Until we get stable I will continue with my small batch goals and expand as we get onto property!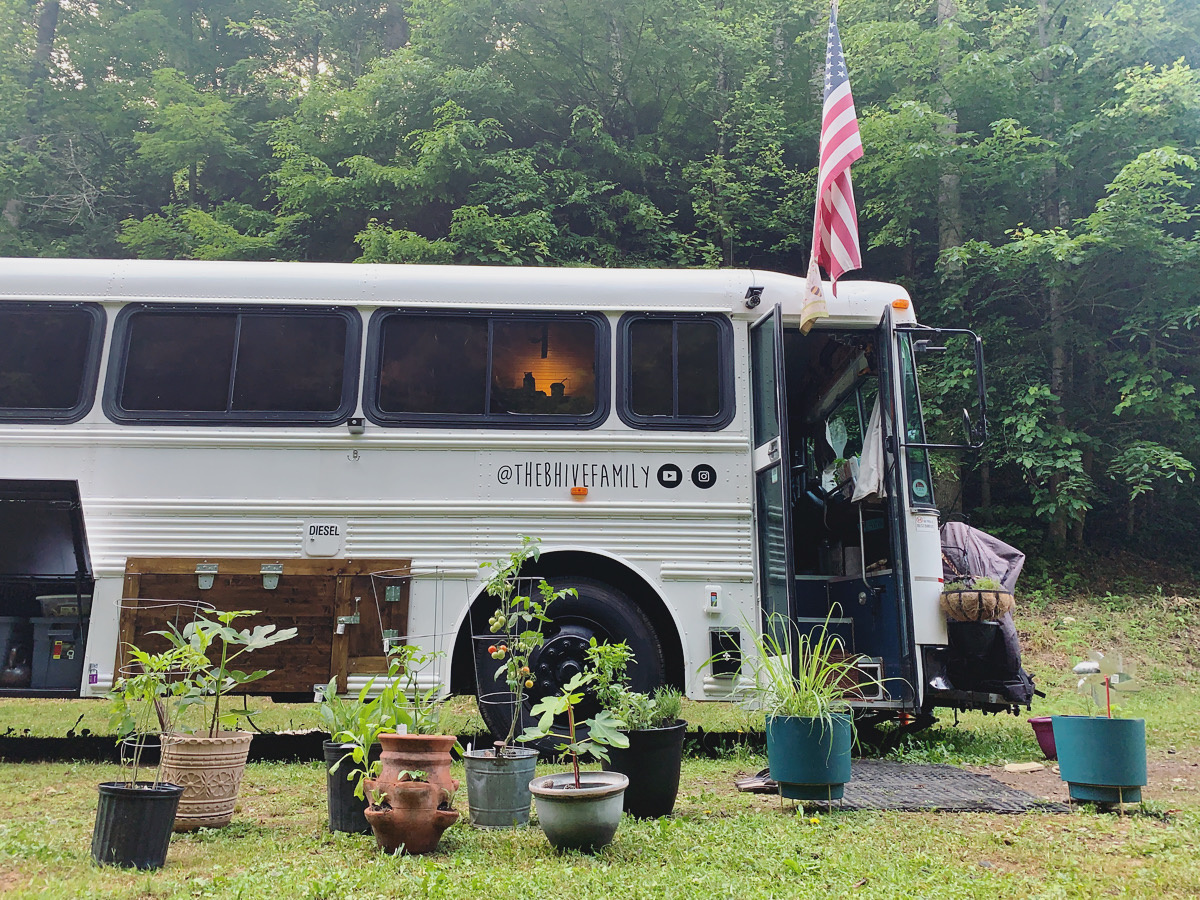 HA: Tell us, what's next for you in your herbal journey?

Shiang-ling Bissonnette: Currently, our bus is FULL of herbs, plants, meat, and fungi from all over the USA, and with our deeply practiced skills, we now look futuristically to beginning our permaculture homestead. Our goal is to create a self-sustainable farm, growing enough to provide food for our families, surrounding communities, and to support the expansion of our home-crafted herbal items. 
HA: What were you looking for when you enrolled in your Herbal Academy course that you were not able to find elsewhere?

Shiang-ling Bissonnette: Personally, I didn't look through too many other course platforms. I needed something that was cost-effective yet a solid source of information. I took a free mini-course and I really liked how the HA course platform is clean, well resourced, organized, informative, and has a really supportive and communicative group!
HA: If you were to recommend an Herbal Academy course to your best friend, what would you say?
Shiang-ling Bissonnette: If someone was interested in learning more about herbalism, this is a wonderfully resourced, empowered, and knowledgeable community. I say community over "course/school" because I know if I have a question or need some support in understanding the material that I can reach out and I will get an answer or at least some direction. Herbal Academy is an empowered community effort to educate the masses about plant medicine and natural living.
HA: Do you enjoy the Herbal Academy online community? If so, what specifically do you enjoy?

Shiang-ling Bissonnette: Well for one, we travel full time. Social media and the ability to network are important. I cultivate my social media feeds to primarily be groups and people I follow to learn from in ALL subjects. I can open my feed up and get inundated with information and questions that will pique my curiosity to do further research. I like that this group is a sprinkling of "I'm SO new to herbs, they make me nervous" to someone that's so seasoned they shoot fire cider and take tinctures straight and can ID many medicinal plants by smelling them. It's how a community passes on the pertinent information, learning from the "wise", and empowering others to learn and share the knowledge with their communities.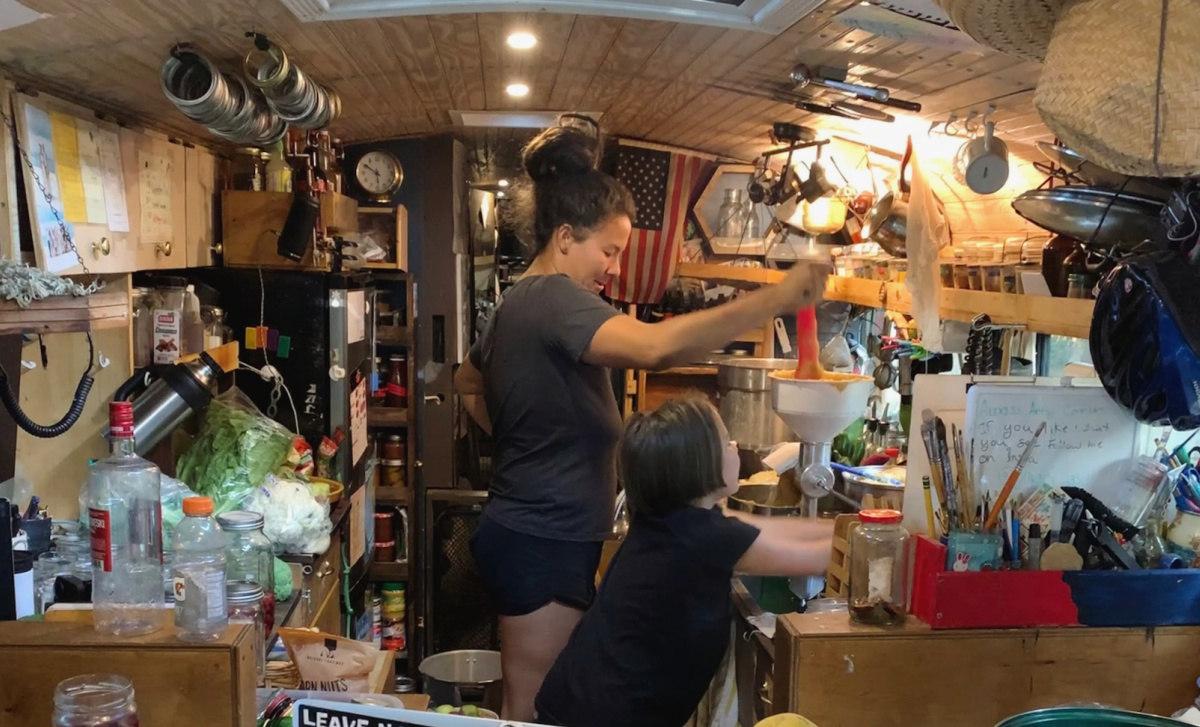 HA: How has your herbal education deepened your connection with nature and the seasons? 
Shiang-ling Bissonnette: I grew up half-naked in the woods… mixing aloe and things in my mom's outdoor mortar and pestle. I'm pretty sure nature has always been within me. I do think the disconnect came when the education about natural ways dwindles out of our school systems. They "learn" about things that relate to 'nature," but it's not taught that FOOD IS LIFE. Without good food, our society's health is collapsing. I know feeding the masses was a revolutionary industry, but we have realized how badly most of those convenient creations have turned our biology upside down. I deeply feel like education is empowerment and that nature is grounding. We incorporate nature into our homeschooling and daily living.
HA: How has your herbal education deepened your connection with your personal health and well-being?
Shiang-ling Bissonnette: Life moves fast… and then you have four kids, a bit of extra weight, bad habits, a mortgage and bills, and animals…and you kinda just let your health rely on "I'm young enough and healthy-ish". We only really started to focus on our health as we were detaching from what had been our reality for 14 years. Everything was an attempt to do things differently, so I took the opportunity in my newfound time to really focus on eating healthier by understanding what our bodies really needed and why. Taking the time to educate myself on the products on the shelves and research how to make my own (but the original simple and natural way)  I call it being 'OG Basic AF.'
HA: Do you feel empowered by your herbal practice? 
Shiang-ling Bissonnette: A favorite quote of mine is "A jack of all trades is a master of none, but oftentimes better than a master of one." Knowledge is power, and no one can take that from you. We are living in an age of information, most of which can be right at our fingertips. I feel like if you aren't using that to better yourself, you're missing out. I feel incredibly empowered by learning and doing so many things with my own two hands—and teaching our children the same. Seriously there is no better feeling than to be able to harness a skill, whether it be intellectual or physical.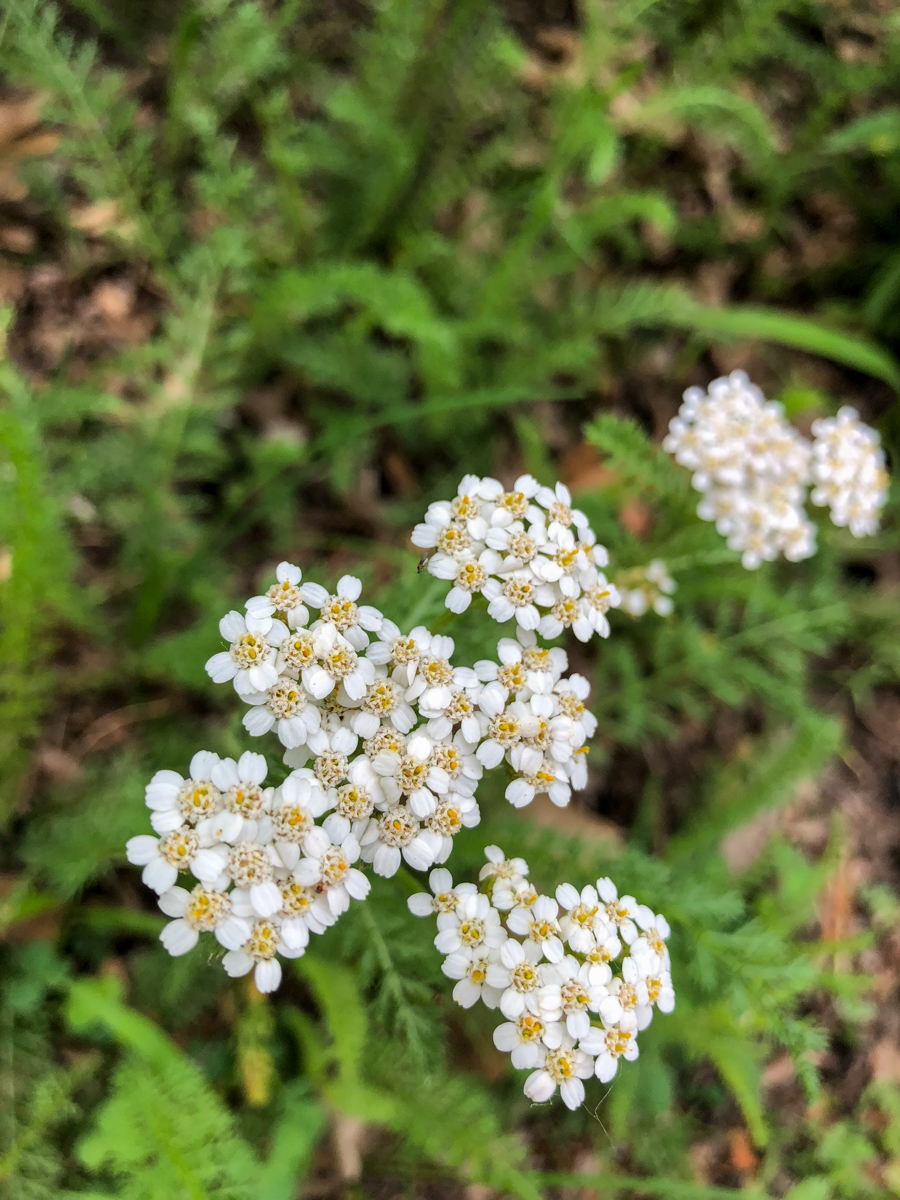 HA: If there is a specific herb that you feel particularly drawn to? If so, why do you think that is OR what is it about that plant that fascinates you?
Shiang-ling Bissonnette: Currently, my favorite is Achillea millefolium– yarrow. Our family is a rough/tough, outdoors/hands-on, always-building, and subsequently always getting some sort of injury. We have found that using an infusion of yarrow into either alcohol (tincture) or in isopropyl alcohol (linament) is a wonderful antiseptic, styptic ( stops the bleeding), and analgesic wound spray. Another favorite is Symphytum officinale– comfrey. Its constituents (such as allantoin) stimulate granulation and tissue regeneration and have anti-inflammatory and analgesic properties. For our family, I formulated 'da Balm,' a healing balm that we use in conjunction with the Hemo-Stop-It Spray and our Pack-It Powder (yarrow leaves grounded to pack into deeper wounds). These have become staples in our first aid kit and are in constant rotation to make in large batches—foraged or grown!!
HA: If you were an herb, which herb would you be?
Shiang-ling Bissonnette: Cannabis indica. I hate to use the words 'struggle,' but I have had to learn how to deal with my anxiety, postpartum depression, pains, and my own woes. I wholeheartedly believe that cannabis helped my healing process. It slowed the chaos in my head down to a manageable prioritized list. I became more grounded and understood how my brain and body need to be nourished. I won't say it's the fix, because it works differently for each individual, but I have seen amazing effects on myself, family, and friends from this amazing plant medicine.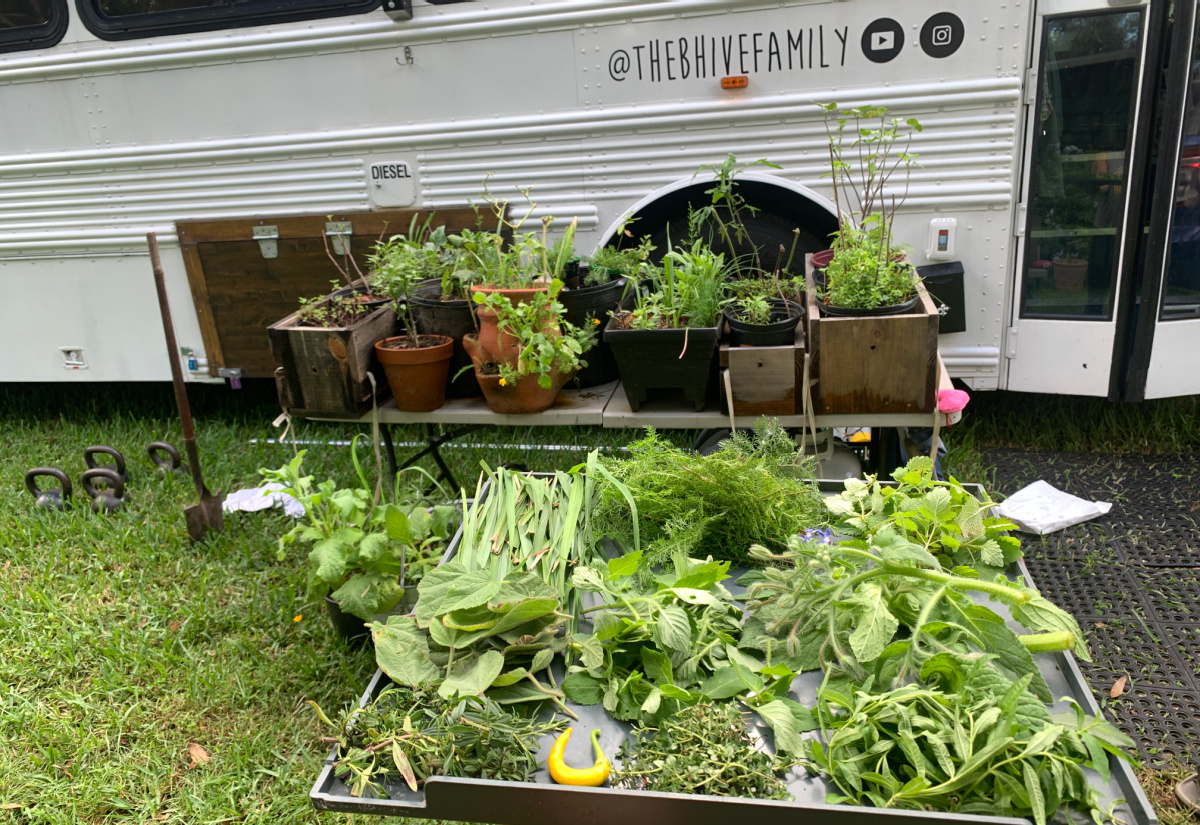 HA: Has your herbalism experience encouraged you to learn and explore other related niches, like botanical crafts, gardening, natural dying, aromatherapy, etc? 

Shiang-ling Bissonnette: As I dove deeper into herbalism, I wanted to be able to grow and do it myself as much as I could. I began focusing my gardening only on medicinal, edible plants. 
HA: Do you have any rituals or traditions surrounding herbalism that you would like to share? These can be long-standing traditions or new ones that you've integrated into your life since taking our course. 
Shiang-ling Bissonnette: I personally am not spiritual, nor do I have much of a ritual with the things I do. I leave it cleaner than I found it, harvest what I need and will use, and am very mindful and careful to create recipes that are zero waste and low impact. I put a lot of effort into just being better, sustainable, and low-waste.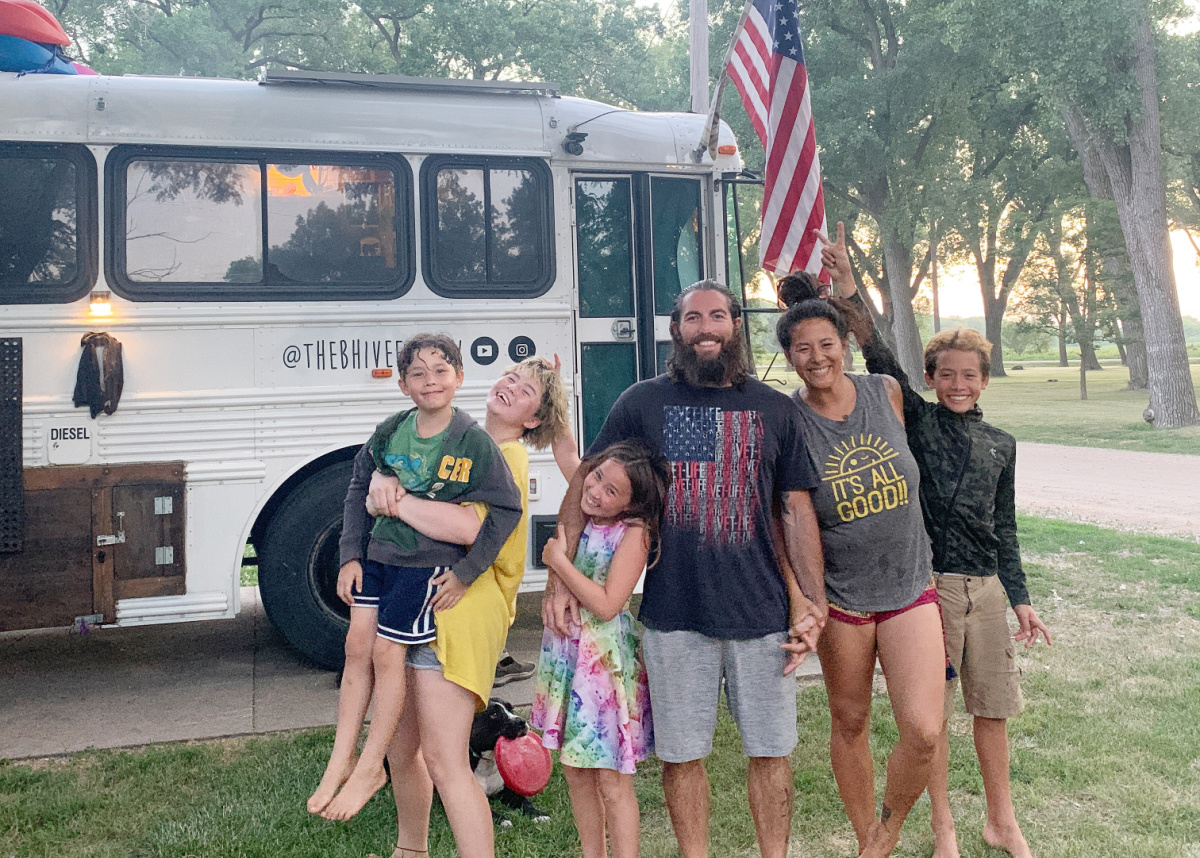 HA: What is the biggest way that herbalism has brightened your life? 
Shiang-ling Bissonnette: My whole family and people within our circle are becoming healthier and more knowledgeable about what should be natural. The more I learn and become excited, the more I share and inspire others to live more whole and natural. I don't preach it, I just live it. When someone asks me about it, I give them all of what I have and a little bit more. To me it's important to share knowledge; it's empowering and freeing. 
HA: How do you find yourself incorporating herbalism into your daily life?
Shiang-ling Bissonnette: I don't think a day doesn't go by where I'm not creating or making something that involves herbalism. There are herbs and spices that are cooked into daily and foraged items that are collected and planned over "how to consume it best".
I feel like herbalism inspires self-discovery and creations made from individual needs. Sure there are generalized items, but once you begin to dig deeper into the "why are you seeking herbal" you begin cultivating your herbal journey to what inspires "good" in yourself.

HA: Do you enjoy sharing your herbal knowledge with others in your life via recipes, products, photography, blog posts, community workshops, etc? 
Shiang-ling Bissonnette: Oh yes, I can't help it. I love sharing to be an inspiration to others, but I also like to challenge them. If I can deal with the EXTRA hurdles of having a tiny kitchen and limited space, I hope others can see that and still get that spark of inspiration to invest more into themselves and their skills.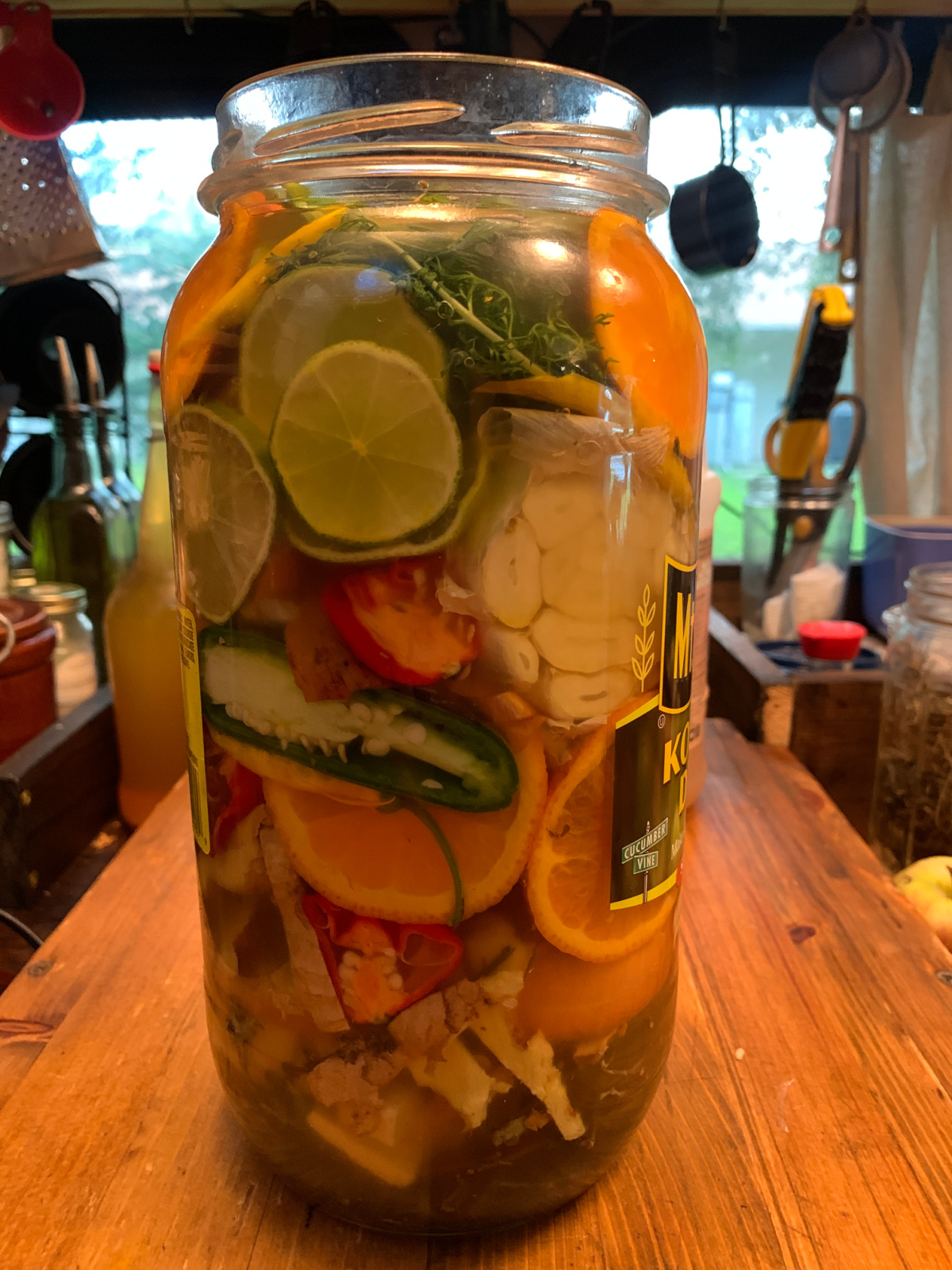 HA: How has herbalism sparked your creativity?

Shiang-ling Bissonnette: Herbalism is endless. Herbalism isn't a 'one-pill fix-all.' It's loving and learning about yourself, and incorporating herbal remedies that can support your personal ailments. So many different combinations and possibilities come when you learn more of the herb's properties and how they can work with your body… each herb works with each person differently. 
HA: If you could provide any tip or encouragement to those just starting their herbal studies, what would it be?

Shiang-ling Bissonnette: Try to forage and DIY from the beginning. I think that it really helps in gaining a better understanding of what you are working with. Another huge thing—don't try to make HUGE batches of everything. Start small—1pint jars or smaller just to start and figure out why you are making it. Is it because everyone is getting into the herbalism trend and making vegan mug candles and you could too? Make the stuff you need and slowly expand. Learning is never-ending, so try to enjoy that journey. Don't try to jump into the trend of creating a business and needing to make everything everyone else is. Start with your why and explore that. My "why" was to help myself and my family become healthier. The desire to create a business and make items for others comes strongly when you begin to learn and change. Learn and grow your knowledge and share that first!
HA: Are there any elements of your herbal education where you're still struggling to find trustworthy, well-researched information?
Shiang-ling Bissonnette: I think we are in an era where information is right at our fingertips. Definitely be sure you're using credible sources, scholarly articles, and checking citations! In an effort to build my own library of resources, I have been adding new books monthly. I like the ease of access that the internet provides, but due to our current lifestyle, we go off-grid enough that it is really beneficial to have solid, hard copies of medically-researched information.
Pinterest/Instagram/The Spruce Eats are all awesome INSPIRATIONAL content, but after that spark of inspiration, I reach for a resource like Medical Herbalism or Herbal Formularies for Health Professionals and other "textbook" resources to deepen my knowledge. From there I can formulate correctly and appropriately.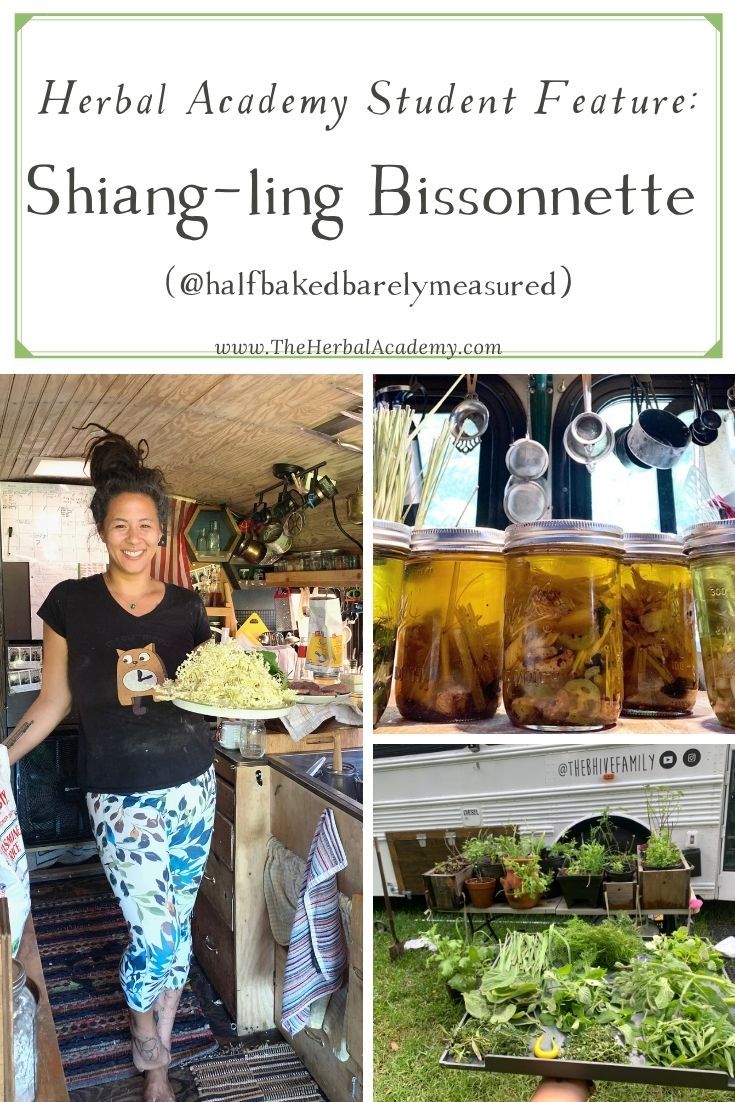 Stay tuned for the next installment of our Student Feature Series with Jake Lasorsa (@meadowroot).
Read past student interviews with:

Liz Witter (@backcountrybotanicals)
Adriana Jensen (@backcountrybotanicals)
Jess Madsen (@the.wildcraft)
Nana Meriwether (@drinkcale)
Erin Ethier (@EarthlyRemediesByErin)
Kendra Payne (@the.herbal.scoop)
Eduardo Yunen (@eyunen)
Caitlin Frazier (@TheLocustsandHoney)
Inspired by Shian-ling's herbal journey? Further your own journey today by perusing our online herbal courses.