Stress-Be-Gone Balm Recipe (and Video!)
In trying times, it's inevitable to feel anxious and stressed. When we are burdened with these emotions, everyday tasks often become more difficult and we don't feel like ourselves.

While there are many ways to ease stress and anxiety, including nutrition, exercise, and various herbal preparations, it's nice to have something on hand that's quick and easy to use. An herbal balm formulated with nervine herbs and essential oils is a great option that is simple to make and can be accessed at a moment's notice. Besides the supportive ingredients in a homemade stress-soothing balm, the act of applying it can also invoke a sense of calm. Apply your balm to pulse points, on temples, or just below the nostrils (but not too close to the nasal mucous membranes) as needed. Take a few deep breaths and set your intention as you do so.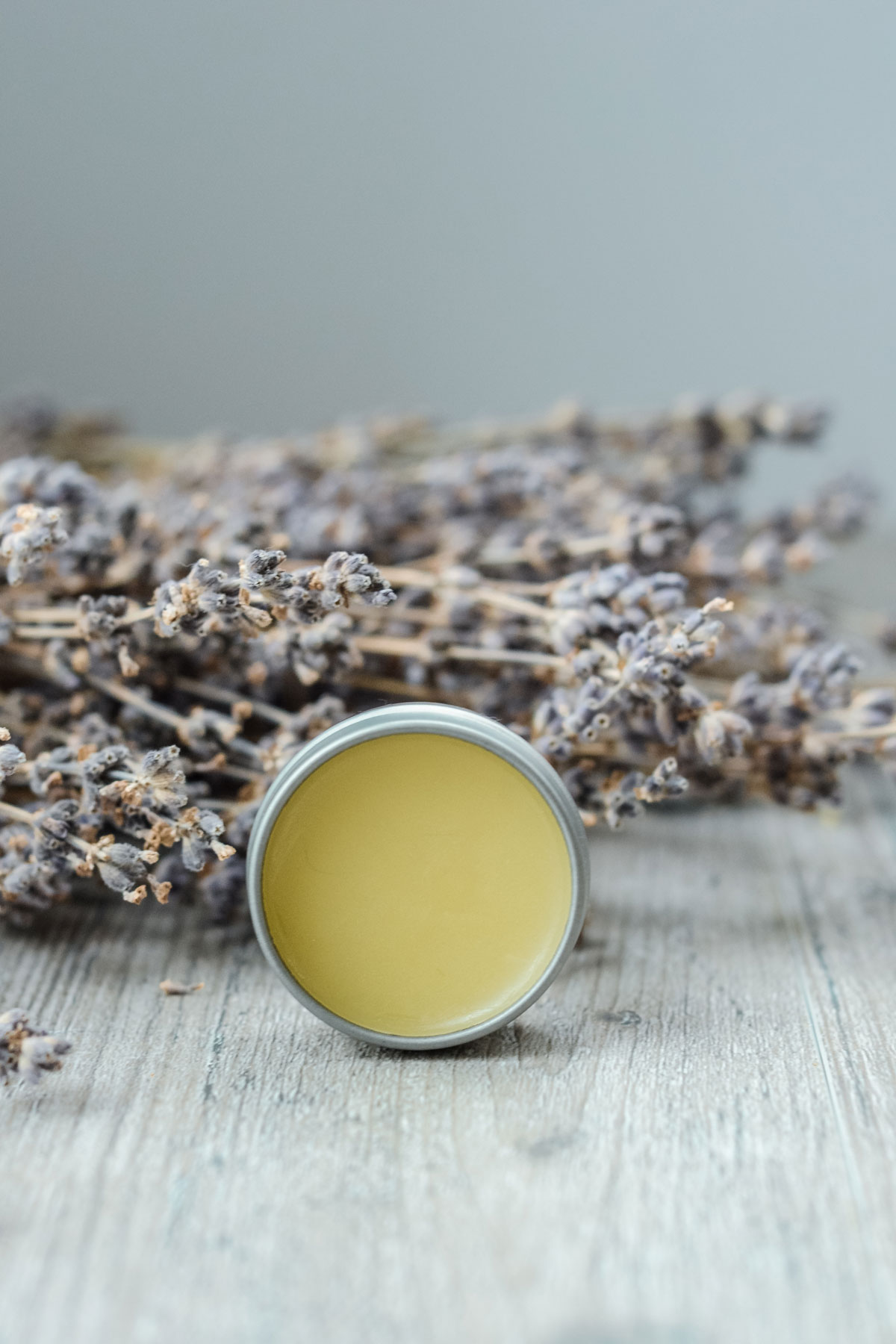 Before we get to our Stress-be-Gone Balm recipe, let's briefly talk about the ingredients to give you a better understanding of why they are included.
Lavender-Infused Oil
The base of our Stress-Be-Gone Balm is lavender-infused oil. This oil gives the balm a light, relaxing scent and provides easy access to the peaceful properties of lavender (Lavandula spp.). Lavender-infused oil is extremely easy to prepare and has a myriad of uses. Besides providing the base for many types of balms and salves, the infused oil can be used alone on minor skin irritations and bug bites, as a massage oil, and included in homemade body scrubs. 
This delightful herb has long been a helpful ally for emotional support. Lavender brings a sense of calm and is thought to support the central nervous system (Keville & Green, 1995). 
Lavender is relatively easy to find. Students get discounts to some herb suppliers such as Mountain Rose Herbs, Bulk Herb Store, and Harmonic Arts. While some stores are running low in stock or behind in deliveries during these times, you can check out Starwest Botanicals and Frontier Co-op for options, too.
If you find lavender helpful in managing stress, then you may also enjoy including it in herbal bath soaks and lavender sachets and dream pillows.
Calming Essential Oils
Our recipe gives you the option of using 14 drops of calming essential oils, such as lavender (Lavandula angustifolia), neroli (Citrus x aurantium), sweet orange (Citrus x sinensis), vetiver (Chrysopogon zizanioides), sweet basil (Ocimum basilicum), lemon verbena (Aloysia citrodora), German chamomile (Matricaria chamomilla), rose geranium (Pelargonium graveolens), and/or rose otto (Rosa damascena). This option is provided in the hope that you can choose from the essential oils you have on hand and customize the scent to suit your preferences.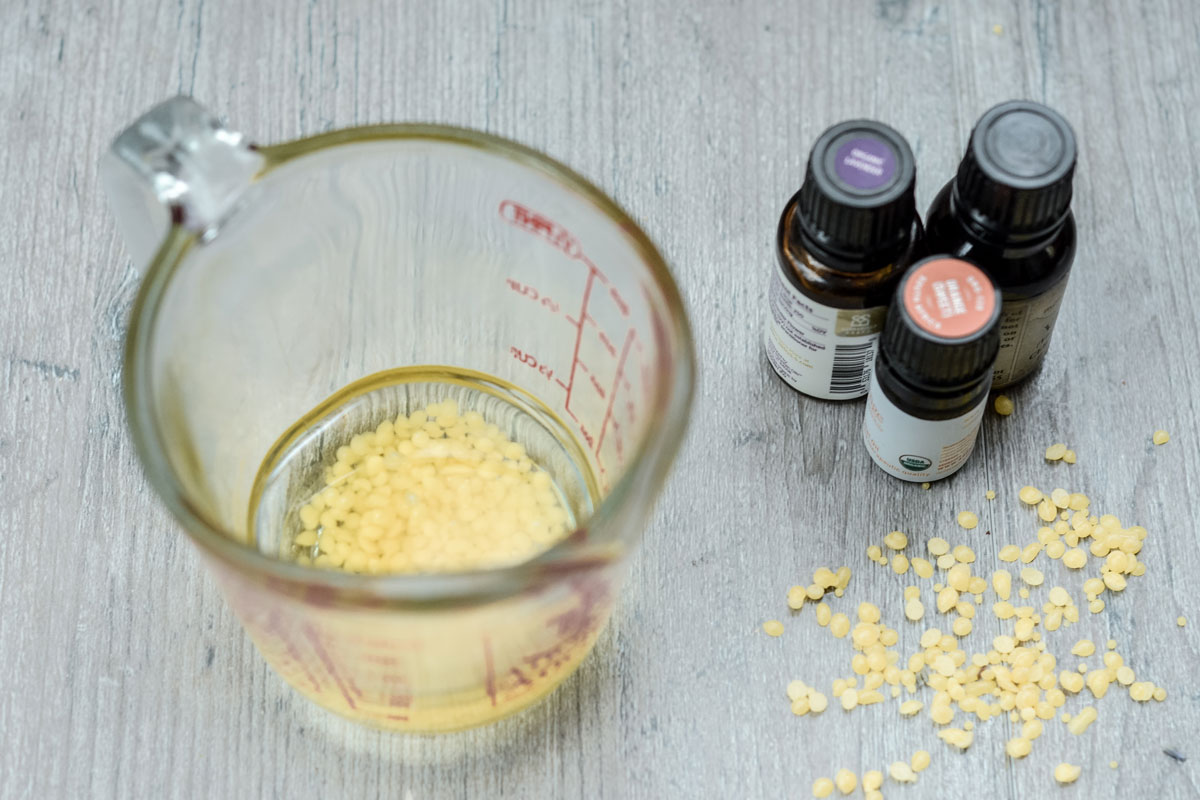 All of the suggested essential oils pair well together, so play with various combinations to find the blend you like best. This could look like 5 drops of lavender essential oil, 5 drops of chamomile essential oil, and 4 drops of rose geranium essential oil, or any combination of your choosing. Be sure to note that the suggested amount is 14 drops total. This creates just shy of a 1% dilution, which is suitable for frequent application and generally considered safe for use on the temples and under the nostrils where this balm tends to work best. Even though this dilution is suitable for most people, everyone is different and it is important to watch for any skin irritation that may occur. 
For more information, see:

How to Choose the Right Lavender Essential Oil 
The Ultimate Essential Oils Guide 
A Guide to Essential Oil Safety
Beeswax
If you've made balms before—or if you're a student in our Botanical Skin Care Course—then you already know that beeswax is usually included in balms and salves to help them thicken and solidify. It also has moisturizing qualities, which is a nice bonus! If you are vegan, or prefer not to use beeswax, then you can experiment with candelilla wax or carnauba wax instead. It is important to note that these waxes are very hard and cannot simply be substituted one-for-one with  beeswax. If using candelilla or carnauba wax, you will need to reduce the amount of wax in the recipe by approximately ½-¾. However, be aware that there are potential sustainability concerns with both candelilla and carnauba wax, so do your research before buying.
The following Stress-Be-Gone Balm recipe is adapted from the Herbal Academy's Intermediate Herbal Course and incorporates calming essential oils in an herb-infused base. The base for the recipe is lavender-infused oil, however plain oil can be used as well. If you don't have access to lavender—or need the balm quickly—rest assured knowing that the essential oil blend is supportive and effective all on its own. 
Stress-Be-Gone Balm Recipe
Keep this Stress-Be-Gone Balm in your purse, by your nightstand, or in your pocket for easy access when feeling anxious, overwhelmed, or frustrated—however stress manifests for you. Apply it to pulse points, your temples, or just below the nostrils as needed. 
Ingredients
45 mL (1.5 fl oz) lavender-infused coconut oil or olive oil (or mixture of both)
3.5-4.5 g (0.12 -0.16 oz) beeswax
14 drops total of calming essential oil(s) of choice: lavender (Lavandula angustifolia), neroli (Citrus x aurantium), sweet orange (Citrus x sinensis), vetiver (Chrysopogon zizanioides), sweet basil (Ocimum basilicum), lemon verbena (Aloysia citrodora), German chamomile (Matricaria chamomilla), rose geranium (Pelargonium graveolens), and/or rose otto (Rosa damascena).
3 0.5 oz metal salve tins
Directions
Over low heat, warm coconut and/or olive oil in a double-boiler reserved specifically for cosmetic projects. Add the beeswax, warming until just melted. 

Remove double-boiler from heat. 

Add essential oils, stir, and then swiftly pour into tins before the mixture hardens. (This recipe should fill approximately 3 0.5 oz metal salve tins, or you can use lip-balm tubes if you already have some on hand).

Label accordingly, and apply to temples as needed. Take a deep breath, and feel the relaxing effects of this soothing balm wash over you. 
Clean up
Because oil and wax repel water, wipe down your double-boiler with a clean rag as much as possible before running it under warm, soapy water. If you have extra balm that didn't fit in your tins, then use this opportunity to lavish yourself with warm salve on your hands, feet, and any other parts of your body that may need a soothing, moisturizing touch. 
We hope you find this Stress-Be-Gone Balm recipe to be a helpful addition to your stress-support toolkit! To learn more, see Calming Tea Recipe & Natural Stress Management (With Video!) to ease feelings of stress and bring a sense of calm to your day-to-day life with a delicious, nervine tea and stress-reducing lifestyle practices.
To learn more about natural ways to deal with stress—from lifestyle choices to simple recipes—enroll in our short course,
Herbal Self-Care for Stress Management
.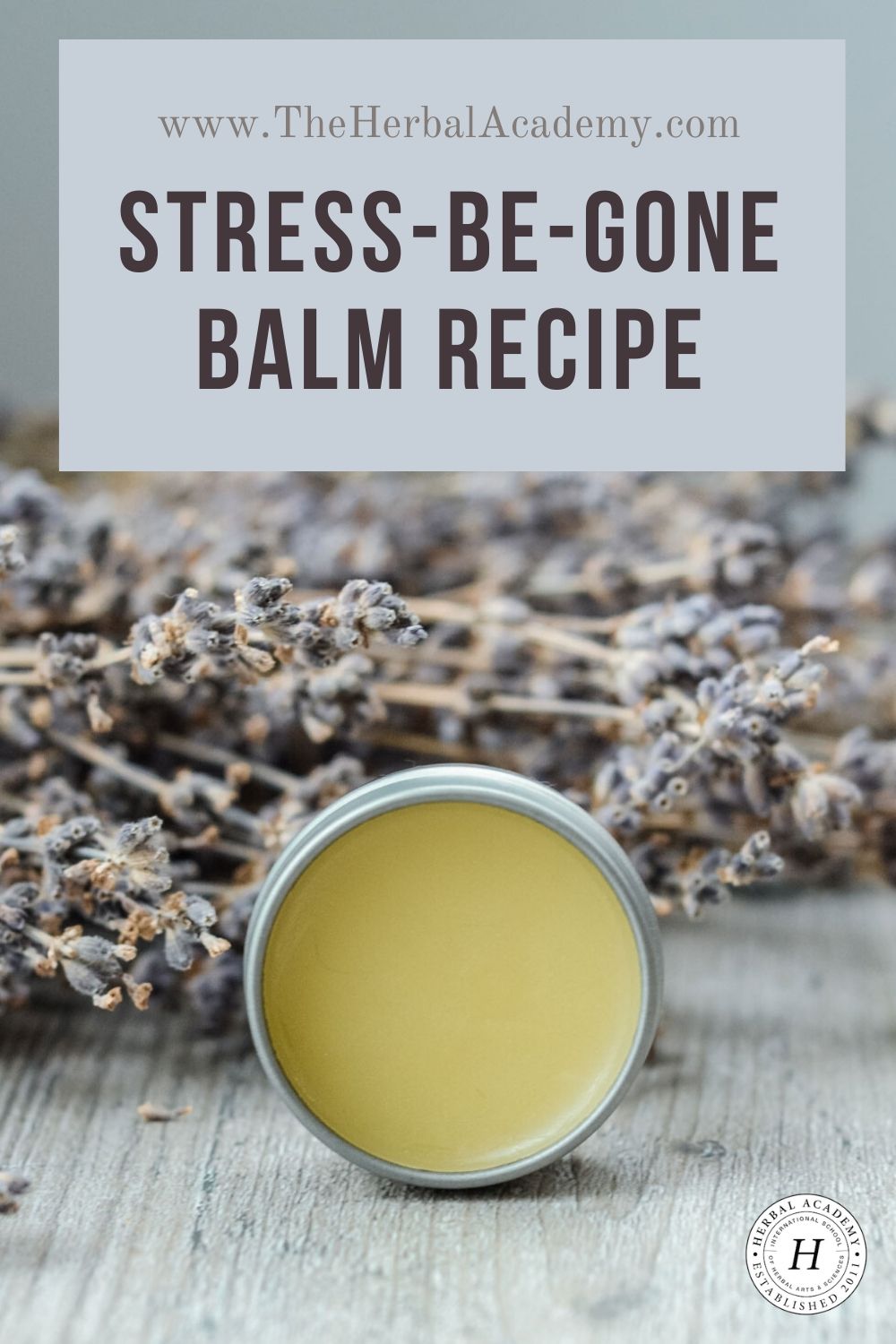 REFERENCES
Keville, K., & Green, M. (1995). Aromatherapy: A complete guide to the healing art. Berkeley, CA: The Crossing Press.